As the world becomes increasingly technological, language learning has evolved too. You no longer need to rely on a textbook as the only source of grammar rules or use pen and paper to memorize new words. Language apps are an effective replacement for these old-school methods, and that's exactly how we felt while testing Speakly.
It is a language-learning app that focuses on teaching you vocabulary easier, faster, and in a conversational way. Speakly is best for those who want to learn a second language without the hassle of attending traditional classes. This Speakly review will cover its main features, learning materials, and much more.
A simple way to master new vocabulary quickly
Speakly stands out with a unique and personalized approach to learning words and phrases. You get to practice vocabulary with spaced repetition algorithm, accessible interface, and top-tier speech recognition technology. The Speakly App packs all the essentials to get conversational in a second language.
⭐ Rating:
8.0

★★★★★

🥇 Available languages:
8 (see below)
📈 Suits best for:
Novices
🛒 Payment options:
1 Month/3 Months/6 Months/12 Months
💵 Price:
$9.99 – $69.96
⌚ Hours of lesson time:
250+
🔄 Refund policy:
14-day money-back guarantee
🎁 Free Trial:
✔️
English, German, Finnish, Italian, Estonian, French, Russian, and Spanish
Disclaimer: Lingomee is an independent review site that may benefit from affiliate programs. Buying through our links makes our efforts possible without additional costs to you. Learn more here.
A Brief Overview of Speakly
Speakly is an innovative language platform founded in Estonia by Ingel Keskpaik and Ott Ojamets. It offers a wide range of language lessons for eight languages, from beginner to advanced learners. Due to the methods used in Speakly, we found that it is best for when you are just starting.
Speakly covers most of the essential language elements, but its biggest strength is teaching vocabulary. Not only do you get to use a repetition algorithm to memorize words and phrases, but these words are also put into context. Most language apps try to incorporate such elements, but with Speakly, you learn vocabulary without many distractions.
The Speakly app provides personalized plans tailored to your language skills for a more streamlined approach. Users can learn at their own pace and track their progress easily. Speakly has gamified exercises that make learning more enjoyable, and users can compete against each other in challenges to motivate themselves.
Speakly also offers native speaker tutors for one-on-one sessions to help users with pronunciation and other language-related issues. The app also provides users with real-time feedback to help them improve their language-speaking skills efficiently.
Primary Features
At its core, Speakly is quite a simple language-learning app that provides vocabulary, reading, and writing practice. The number of features it packs can be considered a downside, but the quality is more important than quantity while learning a second language.
Vocabulary exercises are the core feature of the app. You are presented with new words and then have to translate them. Speakly uses a smart repetition algorithm to help you memorize the words better.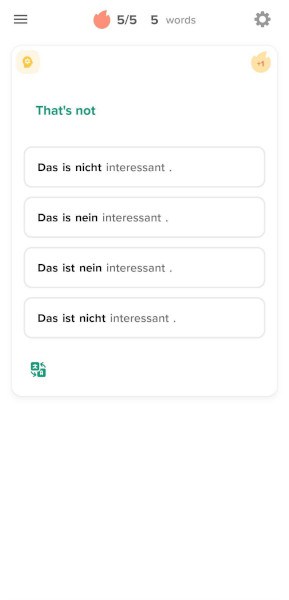 Later you get to write the words in full sentences, which also helps you to start reading in your target language. That is how you will spend most of your time with Speakly, and we must admit it isn't something particularly engaging.
Luckily, Speakly offers many additional features which help to break the monotony. Below are some of the most unique features you can find on Speakly to learn a second language.
LIVE language course
Speakly allows you to converse with a native speaker tutor through Skype. The lessons start by mapping your level before setting goals to achieve throughout your learning period. The introductory meeting is then set up, where you can meet your tutor and familiarize yourself before the lessons commence in their native language.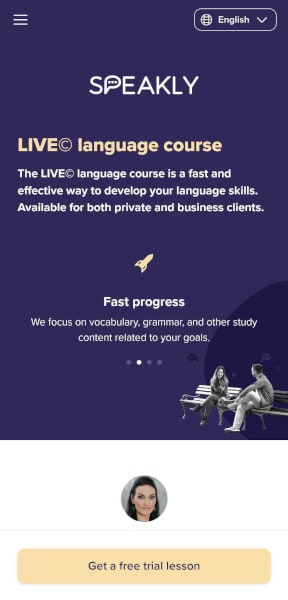 The programs in all eight languages require you to attend eight LIVE meetings monthly. The time and pace aren't enforced, so we found it easy to schedule the lessons. The tutors are certified and try to motivate students at every step of the journey.
It is possible to learn a second language with group classes of up to six students. They are a bit cheaper, but the value is similar. The number of students isn't too big for such lessons, so the tutor explains all the phrases you might not know.
LIVE-situations
Speakly's Live Situations lets language learners practice their speaking skills in-depth with interactive conversations for all eight languages available to learn on the app. The listening exercises provide various conversation scenarios and tips on responding in real-life situations.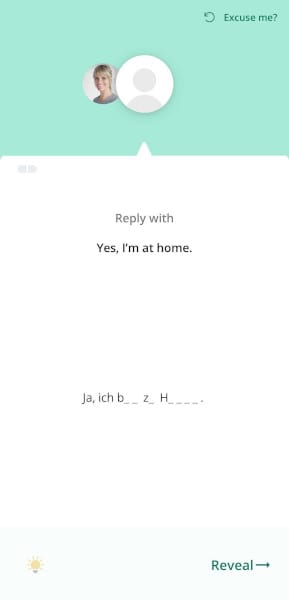 Music Recommendation
Speakly has a Music Recommendation feature that helps users learn vocabulary through songs. Unlike other apps, it provides language learners with a variety of music recommendations for every language.
Suppose you are learning German. The Music Recommend will provide you with the most relevant words and phrases from songs based on your level. This way, it ensures they build off the words and phrases you've already learned.
These songs are arranged in levels and can only be unlocked one after the other. For instance, if you are learning Spanish, you can access a playlist of songs prepared by Speakly's cofounder, Ingel. There are 138 levels with songs from different genres and artists such as Shakira and Carlos Vivez.
Activity Log
The activity log is a feature for anyone who likes to keep track of their progress. It is like a journal where you can review your second language daily. It helps manage your time and approach all the tasks planned for the day. You can also see your day streak, the number of words to go, and the chapters remaining.
The Excellence of The Learning Material
We have researched the teaching material of Speakly and found that it offers good value for its price. Like most language apps, the program has its structure and provides clear instructions and guidance. Language learners will find it easy to maneuver through the platform, whether they are first-time learners or returning users.
Additionally, Speakly focuses on teaching words in context, which is particularly beneficial. It helps ensure that words are understood and remembered in the correct context. For example, it is easier for a user to know how to use new vocabulary for ordering food when it appears in that context.
The lessons are comprehensive and cover a wide range of topics, which includes grammar, vocabulary, and pronunciation. We especially appreciate the focus on pronunciation, which is often overlooked in other apps for vocabulary. The topics are arranged into lessons in order of complexity.
Grammar Instruction
The app, including the free version, does an excellent job teaching basic grammar. It provides a comprehensive library of grammatical rules, vocabulary, and explanations that make it easy to understand and apply the rules to your conversations.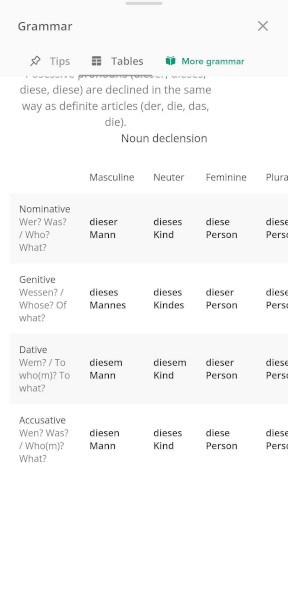 Speakly can provide more advanced grammar lessons with a focus on examples and repetition of the mistakes you made previously. But it is important to note that this is a premium feature available for users with a monthly or lifetime subscription. Other apps like Lingodeer, Clozemaster, and LinguaLift also heavily focus on grammar teaching.
Verbal Practice
The app allows users to practice speaking the language while learning, making the process more immersive. It provides audio recordings of native speakers you can use to compare your pronunciation. An automatic feedback system that gives you tips on improving your accent further.
However, most speaking exercises involve monotonous recordings, so you will still need some practice in real-life situations. LIVE language course fills this gap successfully for beginners. You can also check Baselang, Lingoda, or Italki platforms, where you could practice with native speakers.
Reading
Reading exercises use text-to-speech technology to read out words and sentences, allowing language learners to practice listening and pronunciation. It also includes questions about the text that help to reinforce reading comprehension. Unfortunately, there weren't any longer texts, so advanced and intermediary learners will need additional language learning resources.
Writing
Speakly will ask you to write words in your target language from time to time. As with most language apps, it will provide you with feedback on grammar and spelling mistakes if you make any. Unfortunately, Speakly doesn't provide an in-built keyboard for languages with special characters, such as German.
We found that Speakly gives more attention to pronunciation, so these exercises are more frequent in this language-learning app. If you want to get more writing practice, you should enable write-cards manually in your study settings under the optional exercise types.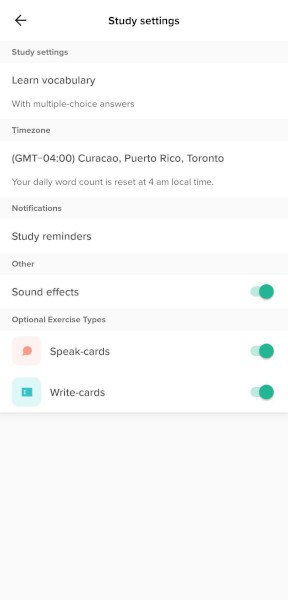 Vocabulary
Speakly has one of the most extensive collections of new vocabulary among language apps. With a streamlined approach, one language can have 4000+ words. The app breaks down the language into easy-to-understand pieces, allowing users to quickly and effectively learn the basics.
You get to see the words in different sentences across multiple exercises, and frequent repetition helps to retain the new vocabulary. The app also allows users to interact with native speakers, encouraging them to use the learned words.
Repetitiveness
The Speakly app is more fun than a regular textbook or classroom lessons. We were able to learn a language for extended periods without getting bored. However, you must meddle with the learning schedule and the activity log yourself.
Of course, you should expect some monotony as spaced repetition is used throughout the app. It is nothing unique to Speakly, as most language apps suffer from this issue. But Speakly's approach is effective, and we found that limiting your sessions made a huge impact.
Speakly Alternatives and Competitors
Speakly vs Lingvist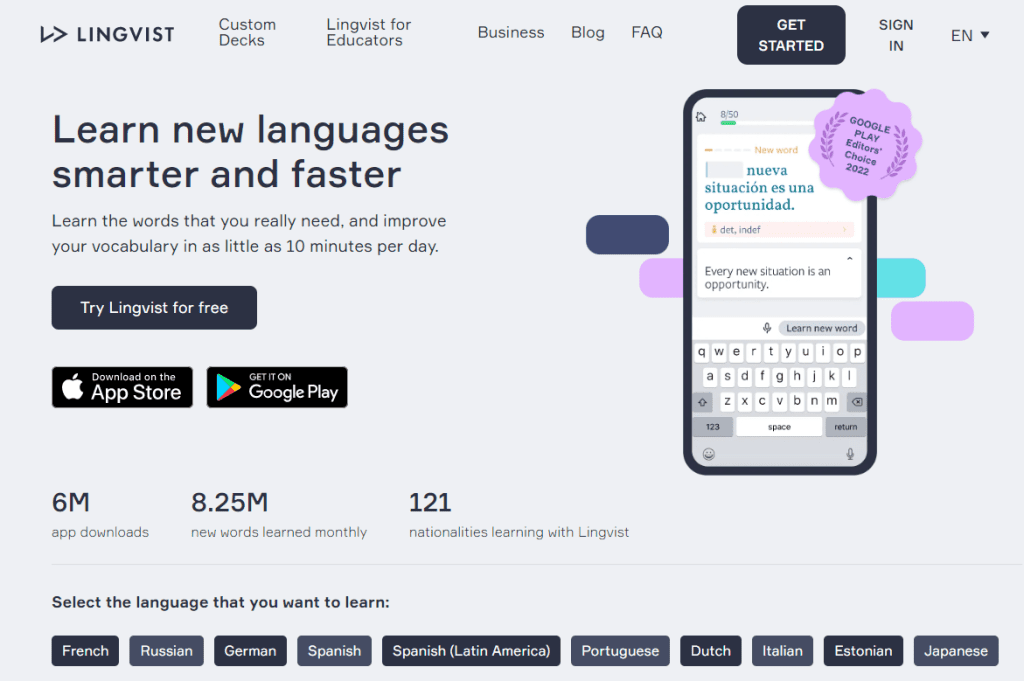 Lingvist is primarily a vocabulary-building app. Its tracking system and custom flashcard decks help you to memorize new words faster. The features and price are similar to Speakly, although the latter covers a bit more advanced levels. It's a great idea to try both apps. Learn more in this Lingvist review.
Speakly vs Busuu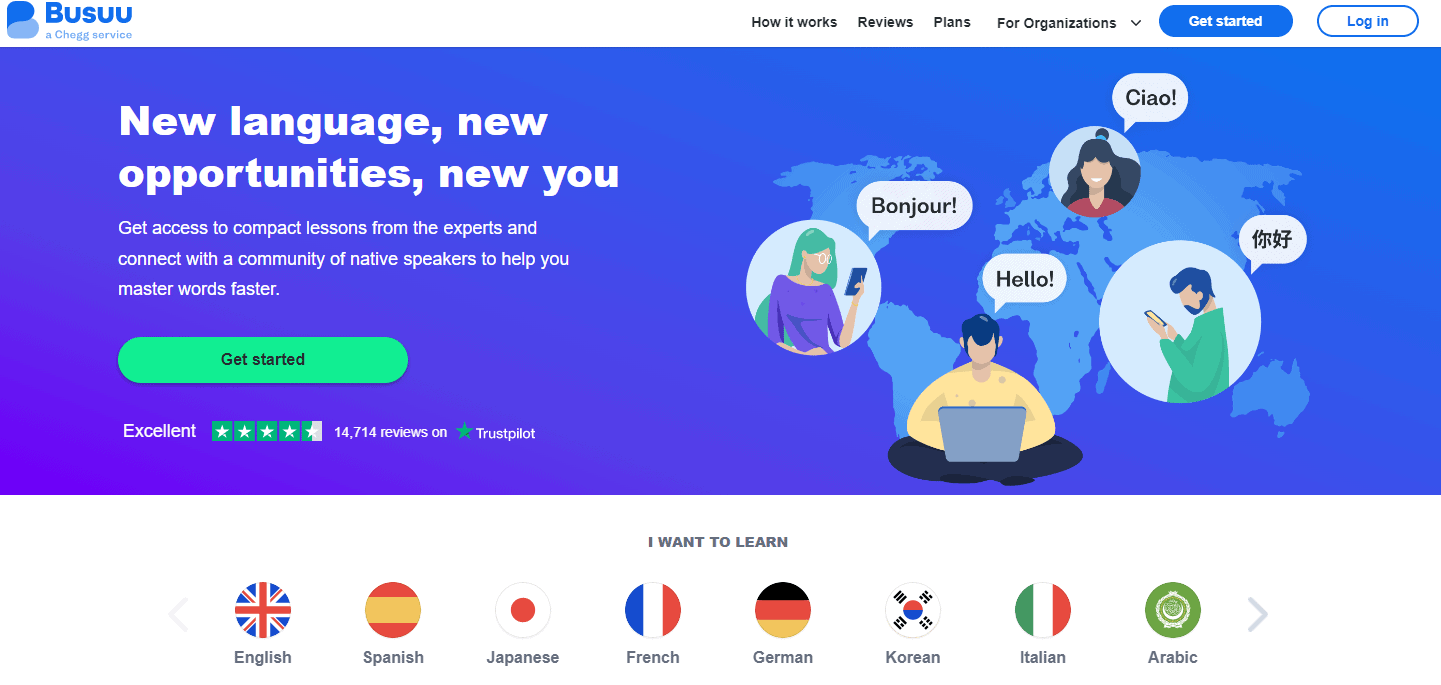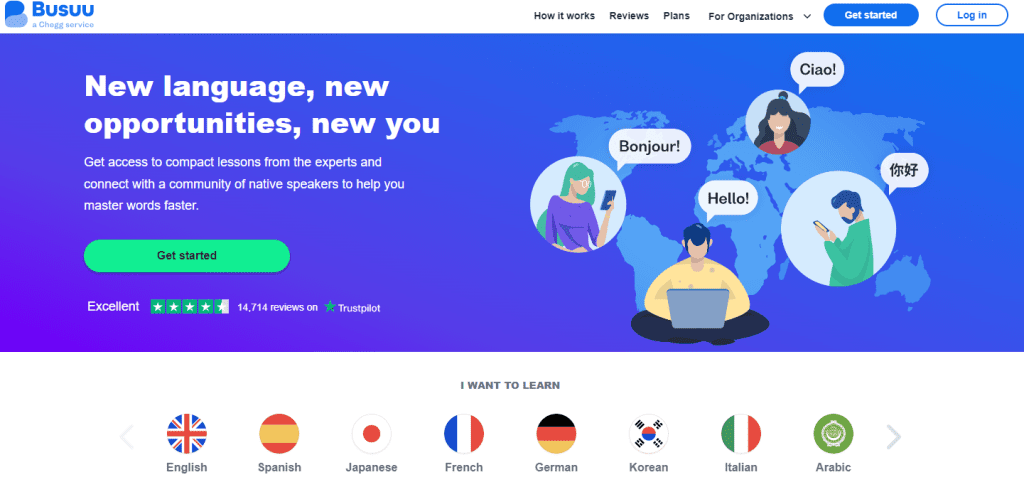 Busuu is a language learning app that combines personalized feedback from native tutors with self-learning exercises. Comparatively, it's better for perfecting your writing and conversational skills, while Speakly is better for beginners and is a bit cheaper. Learn more in this Busuu review.
Speakly vs MosaLingua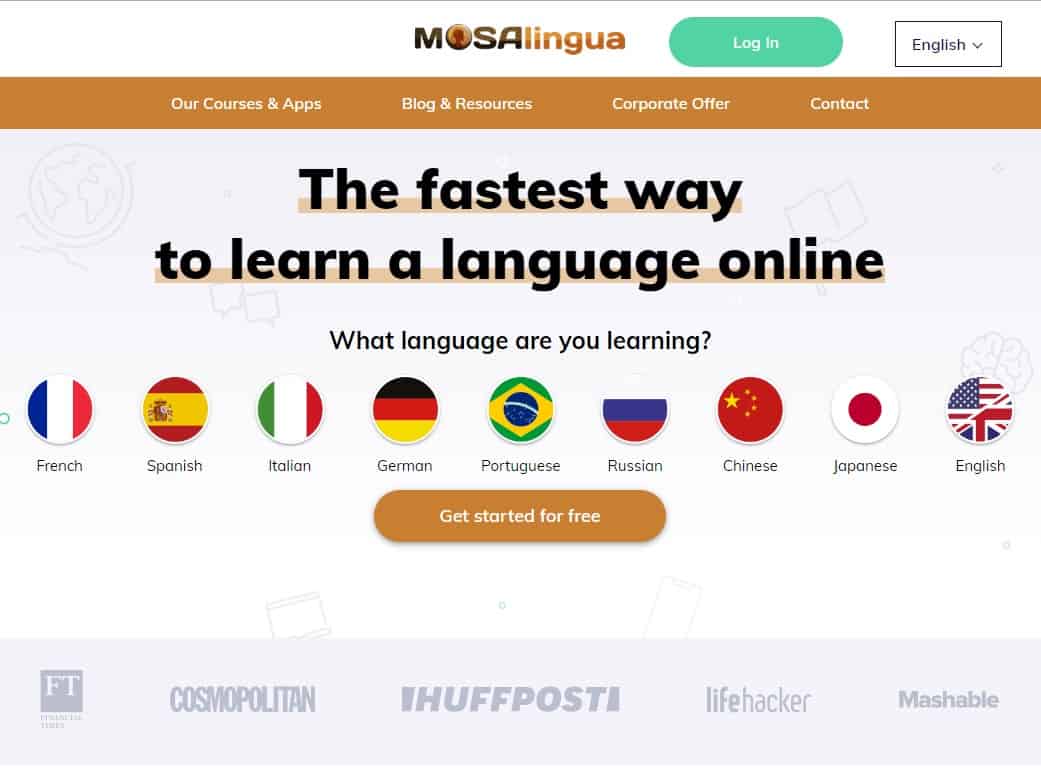 MosaLingua is another close alternative to Speakly, with powerful flashcards and spaced repetition system. We found that MosaLingua is a bit better at teaching specialized cultural nuances and grammar rules. The differences aren't crucial, so the choice depends on your preferences. You can read this MosaLingua review to learn more.
What Areas Require Enhancement?
A few areas in the Speakly language learning app could be improved, such as adding more detailed information about the course structure and allowing them to jump ahead. Language learners that are already fluent would benefit from knowing what topics will be covered, such as grammar, pronunciation, and cultural information in a specific language.
Although the idea behind Speakly is to stay consistent and simple, it could still use more diverse exercises to get the most out of language learning. For example, they can include more interactive quizzes, tests, and games. Compared to language learning apps like Duolingo, Speakly lacks variety.
Additionally, it can incorporate more audio-visual components and instructions in the target language. Videos and audio recordings, such as podcasts, would make the language app more engaging and immersive. For immersion focused apps I personally recommend FluentU or Lingopie.
Speakly Price
The app allows users to pay per month, with the option to purchase a lifetime subscription. The 1-month and 3-month plans give access to one language, while the 6-month and 12-month plans provide access to multiple languages offered. 
Prices range from a $9.99 monthly subscription for one language to $64.99 yearly for all languages. Additionally, the lifetime subscription is $89.99. Speakly provides excellent value for the price, with access to vocabulary lessons, writing and speaking exercises, basic grammar notes, "live" challenges, listening practice, and music recommendations. 
| | | |
| --- | --- | --- |
| Subscription | Price | Payment |
| 1 Month | $9.99 | Charged monthly |
| 3 Months | $23.99 | One charge of  $23.99 |
| 6 Months | $44.99 | One charge of  $44.99 |
| 12 Months | $64.99 | One charge of  $64.99 |
| Lifetime | $89.99 | One charge of  $89.99 |
You can only learn one language with one and three-month subscriptions. However, the rest of the subscriptions allow you to learn any language.
Free Trial
Speakly offers a 7-day free trial to try out the app before purchase. During the trial period, you can use all the features of Speakly and decide if it's right for you.
Once the trial ends, your account will change to the free version, which offers limited access to the app. Unfortunately, the free trial is only available once you add your payment card.
Speakly Coupons and Discounts
At certain times of the year, such as holidays or during the school year, Speakly gives out coupons that range from 20-40% off the full price. These offers are exclusive to the Speakly app, so check it out for the best deal.
Refund Policy
Speakly provides refunds under a 14 Days Money Back Guarantee. Customers can get a full refund within 14 days of purchase if unsatisfied with the product. The refund process may take up to 7 to 10 business days.
Speakly: Is it a Good Investment?
Overall, Speakly provides excellent value for money compared to its competitors. The app offers a variety of features for a reasonable price, such as access to vocabulary lessons, writing and speaking exercises, grammar notes, and audio-visual components.
Compared to similar apps vocabulary-based apps, such s Memrise, Speakly has more features for a similar price. For example, many language learning apps will charge a premium for access to classes with native speakers, while Speakly includes a free lesson in all of its plans.
Customer Service
Speakly's customer support is well-regarded for its responsiveness, helpfulness, and friendliness. Customers report that their emails are usually answered within the same day. Speakly also has an extensive FAQ and blog to help customers find answers to their questions without contacting support.
Final Thoughts
We had a great experience using Speakly. It's intuitive and interactive with smart artificial intelligence making it effective for beginners. We highly recommend it to anyone learning a new language by expanding their conversational vocabulary.