Lingomee is an independent review site that may benefit from affiliate programs. Buying through our links makes our efforts possible without additional costs to you.
Learning Swedish is challenging for most of us who speak English, as the language has many differences and lacks much popularity. There are only a few resources for learning Swedish, with other apps ignoring certain language concepts. However, the best apps to learn the Swedish language are committed to providing a long-term solution for interested non-native speakers.
Apps for learning utilize different technologies to provide the best Swedish course solutions, like new vocabulary exercises, audio lessons, and language exchange. All the best apps to learn Swedish come with a completely free trial period. They cover most of what you need – pronunciation, writing, reading, and grammar knowledge.
Convenient scheduling of the courses will help you learn efficiently, even if it is a part-time project. But finding the best app to achieve fluency can be unnecessary trouble. That's why we gathered all the best apps to learn Swedish in one place. Pick one that suits your style and start real-life conversations with native speakers.
TOP 3 Best Swedish Learning Apps
Overall Best App to Learn Swedish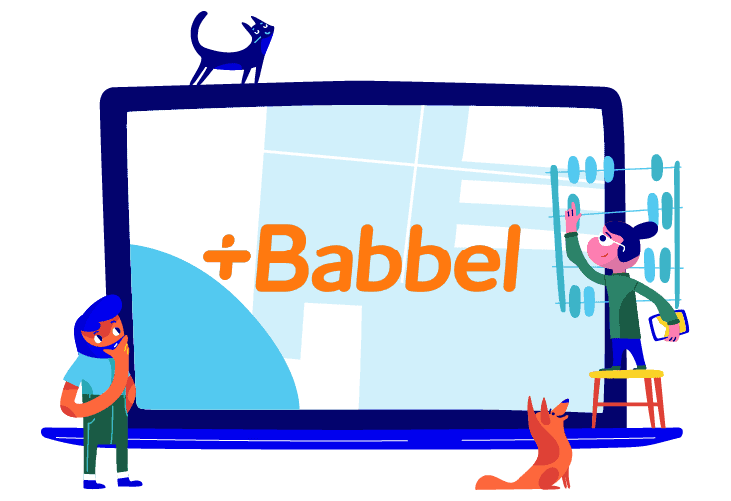 A premium yet affordable platform to learn Swedish
Best Swedish App for Beginners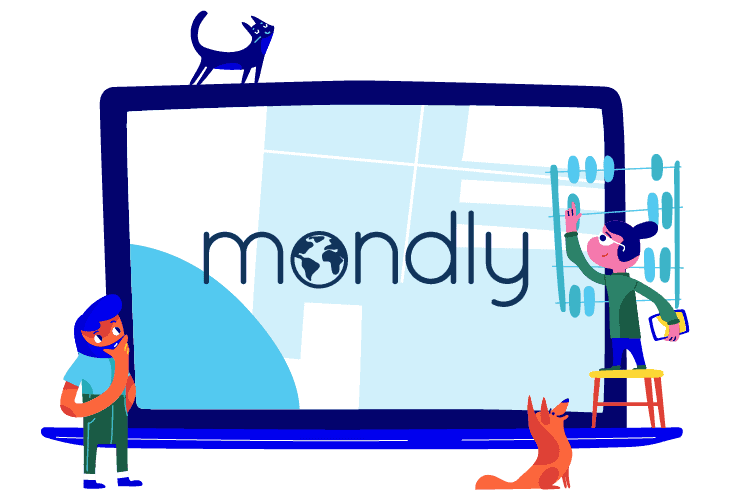 An effortless Swedish language learning with cutting-edge technology
Best Swedish App for Audio Lessons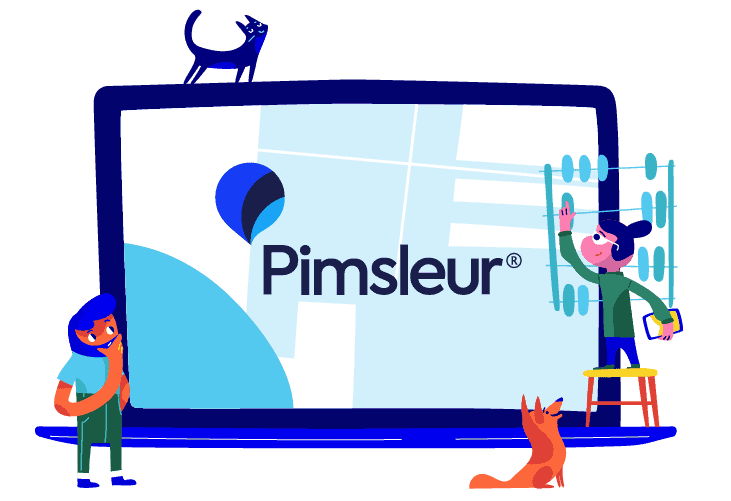 A compelling app with audio lessons to learn Swedish
The Best Swedish Learning Apps of 2023
How to Choose the Best Swedish Language Learning App
The language learning market is saturated, so finding the best apps to learn swedish is time-consuming. It takes throughout research and testing to see what's actually effective. Here at Lingomee, we're all about making it easier for you. We benchmark all products through the same measures.
| | |
| --- | --- |
| ⭐ Rating | A sum of user experience, content quality, features, customer support, and value for money. |
| 🥇 Available languages | Most relevant for studying multiple languages but tells a lot about the best apps to learn Swedish. |
| 📈 Suits best for | Evaluations are based on ACTFL guidelines, but we also measure how fast you will move up a level. |
| 🛒 Payment options | Shows how flexible the pricing plans are and, in most cases, how much you can save. |
| 💵 Price range | A measure of much you should expect to spend on a language-learning app. |
| 📚 Hours of study time | An approximate measure of how much language learning material there is for one language. |
| 🕒 Time commitment | Optimal daily dedication for the best results, as spending more time isn't always the best strategy. |
| 💻 Platforms | Where you can use the best apps to learn Swedish. |
| 🔄 Refund policy | A money-back guarantee is a safeguard for your money. |
| 🎁 Free Trial | Most of our best apps to learn Swedish do not require a credit card to signup. |
TOP 11 Best Apps to Learn The Swedish Language - Our Comprehensive List
Overall Best App to Learn Swedish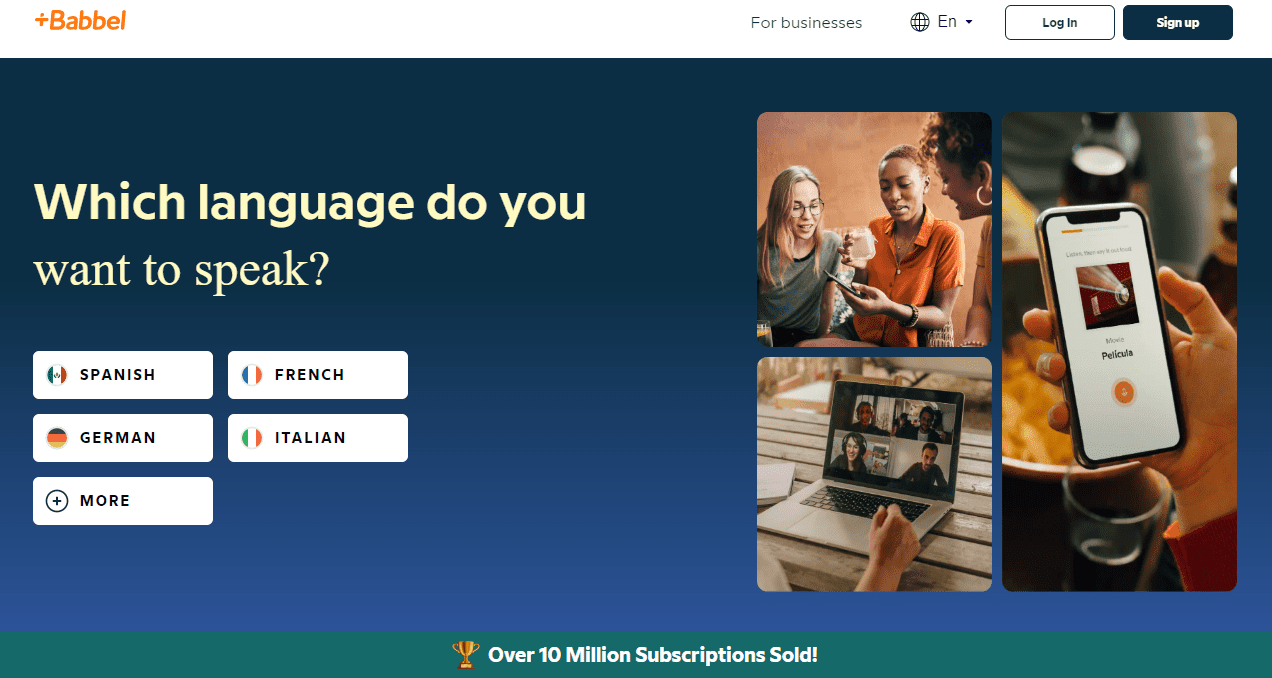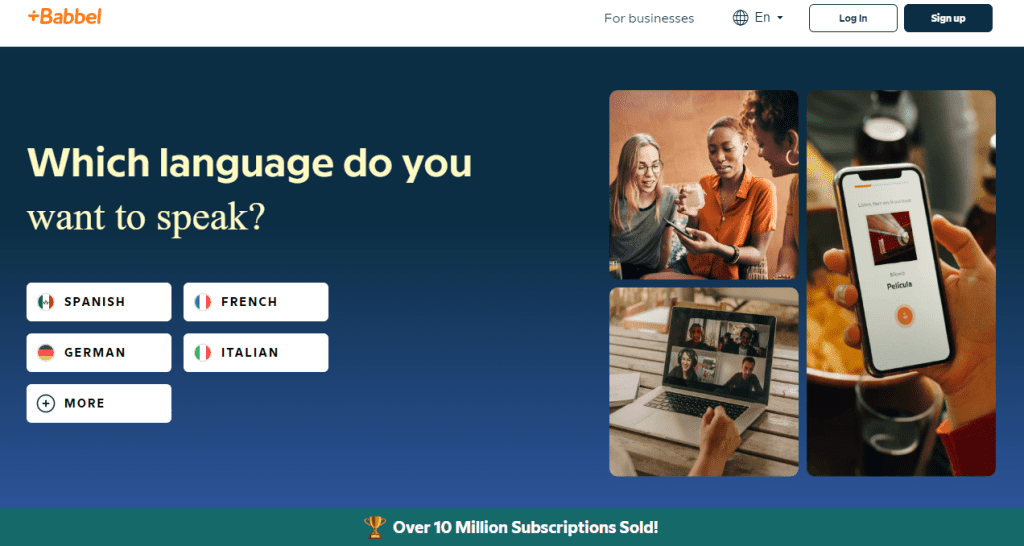 Babbel is an easy-to-use and scientifically proven Swedish language-learning app. It's full of engaging lessons, podcasts, review exercises, and games. Babbel is balanced for beginners, but every language learner will find a use for it.
| | |
| --- | --- |
| ⭐ Platforms: | Web, iOS, Android |
| ⌚ Time commitment: | 30 minutes per day |
| 💵 Price: | $14.95 – $349 |
| 🔄 Refund policy: | 20-day money-back guarantee |
| 🎁 Free Trial: | ✔️ |
Speech Recognition System – test your pronunciation with what might be the most accurate voice recognition software on the market.
Babbel Live – participate in hour-long lessons with certified language instructors.
Mini Games – break out of the rut with a variety of engaging language-learning games.
Everyday Conversations – improve your speaking skills while following a dialogue in a real-world setting.
Why Babbel is The Overall Best App to Learn Swedish
Babbel is a good language learning app with simple and academically proven Swedish courses. It's packed with exciting Swedish lessons, including games, audio recordings of native speakers and videos. Babbel's features for Swedish course fit everyone from complete beginners to advanced learners.
Regardless of your level, this app to learn Swedish will help you build a strong grammar foundation, and listening skills. Also, you'll learn Swedish culture in the easiest way, as Babbel covers numerous topics on the way of life of native speakers. Finally, for solidifying what you learned, Babbel offers a patented speech recognition tool and regular self-tests.
Pricing
Babbel gives free access to the first class of all courses and two free Babbel Live lessons. A subscription costs $14.95 monthly, but an annual plan lowers the price to only $7.45. A lifetime subscription unlocks all languages forever for $349. But Babbel live lessons will still cost you from $50 per month.
Best Swedish App for Beginners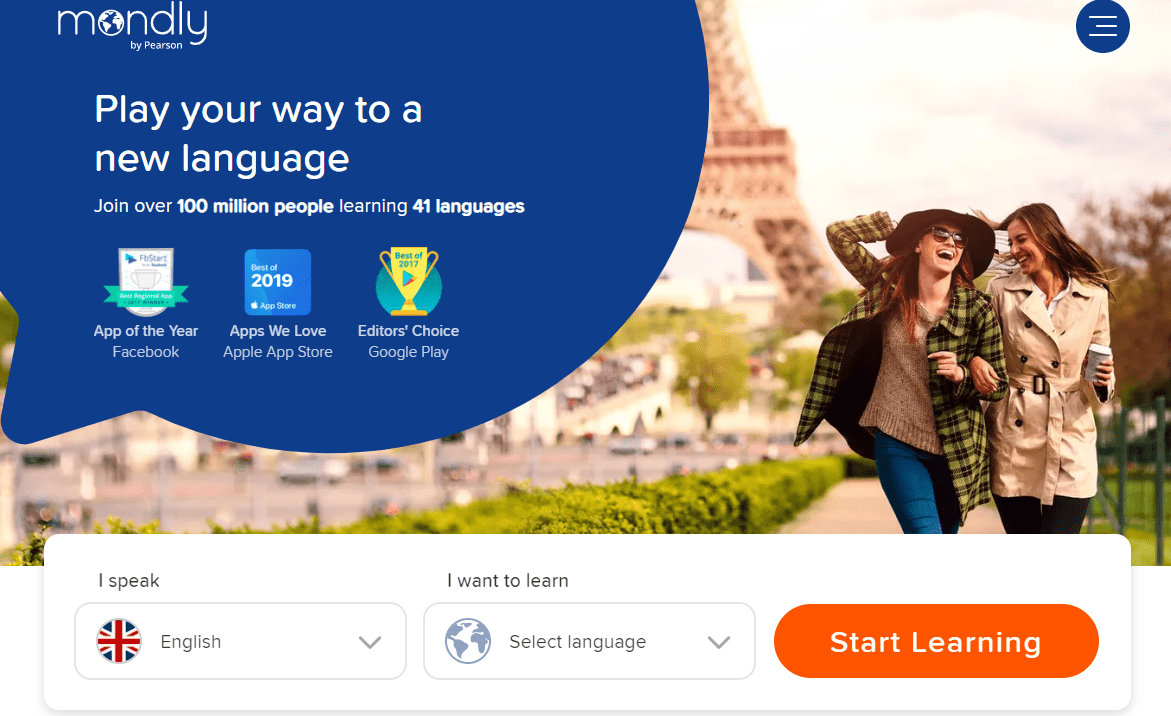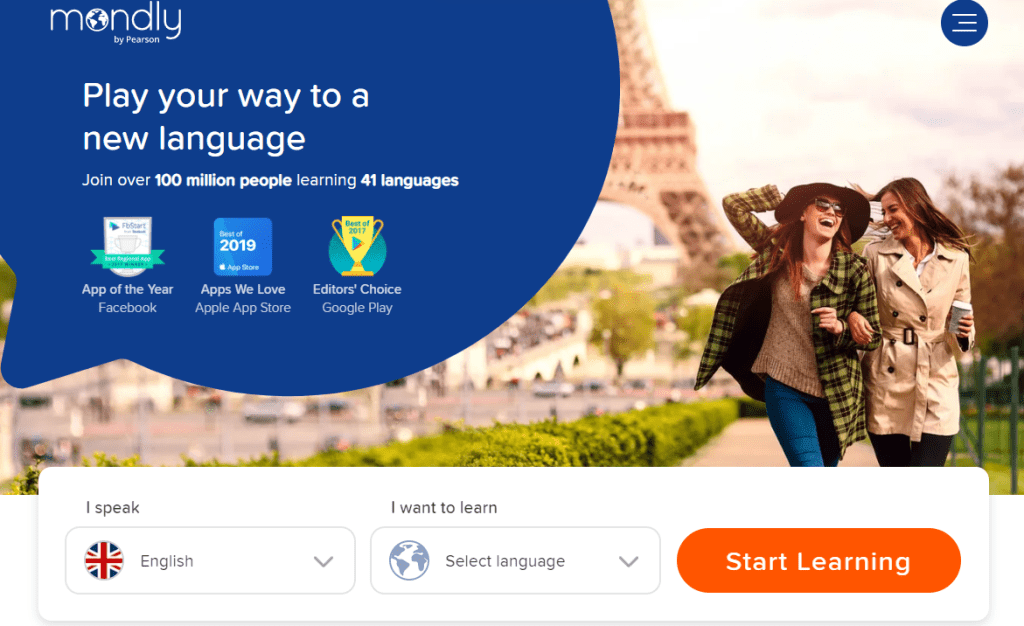 Mondly might be the most innovative Swedish language-learning app on the market. It appeals to language learners of various levels with gamified and even virtual reality lessons. Language learning is guaranteed to be fun with Mondly.
| | |
| --- | --- |
| ⭐ Platforms: | Web, iOS, Android |
| ⌚ Time commitment: | 30 minutes per day |
| 💵 Price: | $9.90 – $89.99 |
| 🔄 Refund policy: | Individual |
| 🎁 Free Trial: | ✔️ |
Speech Recognition Technology – gain confidence in speaking with advanced voice recognition.
Interactive Chatbot – receive instant feedback on your conversational skills.
AR and VR Modules – engage with digital characters and objects while learning a language.
Mondly Kids – immerse your kids into a foreign language through interactive games.
Why Mondly is The Best Swedish App for Beginners
Mondly focuses on educating complete beginners in learning the Swedish language through its game-like lessons. They combine bits of everything a novice needs – Swedish grammar, pronunciation lessons, and a lot of useful vocabulary. An essential factor is that you can record your progress and constantly test your understanding of the new language.
You're in luck if you need engaging lessons with many Swedish words. This beginner Swedish app allows you to switch between different modes of learning but visual learners will find the most useful for the cutting-edge technology used in Mondly's Swedish lessons. Mondly is one of the best apps to stay motivated while learning a new language, not just Swedish.
Pricing
The payment options of Mondly are flexible – you can pay every month ($9.99), every three months ($29.97), or annually ($47.99). The lifetime subscription ($89.99) has great value for money, providing access to all languages and features. You can also try out Mondly with the seven-day free trial.
Best Swedish App with Lifetime Plan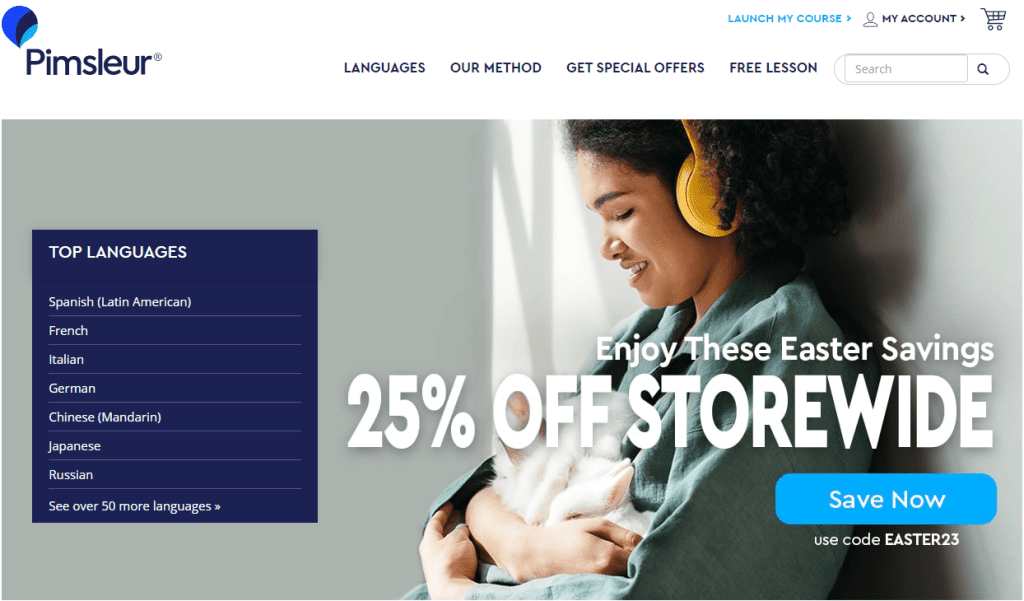 Pimsleur gets you conversational in a new language with interactive audio lessons and games. A Swedish native-speaker instructor will walk you through basic vocabulary and the most important concepts for reading, grammar, and writing.
| | |
| --- | --- |
| ⭐ Platforms: | Web, iOS, Android |
| ⌚ Time commitment: | 30 minutes per day |
| 💵 Price: | $14.95 – $575 |
| 🔄 Refund policy: | 30-day money-back guarantee |
| 🎁 Free Trial: | ✔️ |
Driving and Offline Mode – download audio lessons for offline use and easily control the app while driving.
Speak Easy challenge – build conversational skills, expand vocabulary, and get conversational in real-life settings.
Voice coach – advanced speech recognition technology for pronunciation practice.
Speed Run Game – memorize and translate words quickly with an interactive game.
Why Pimsleur is The Best Swedish App with Lifetime Plan
Having access to Pimsleur's audio-only lessons is almost the same as having a private teacher. That's why it's one of the best apps to learn Swedish with a lifetime plan. You get to speak Swedish, learn words, grammar, Swedish culture, and much more through the learning process without a paid subscription.
Pimsleur is a good language learning app also because of its exquisite layout that is easy on the eyes. Although it's not for visual learners and focuses more on listening skills via real-life conversations of native Swedish speakers. The instructors are also native speakers and cover all the vocabulary words and grammar rules that are used in the dialogues. It's enough to try the completely free trial, and you will see it's worth it for a lifetime subscription to learn Swedish.
Pricing
Pimsleur offers affordable subscription options ranging from $14.95 monthly audio-only course to $150 for all-inclusive individual courses. Premium Pimsleur account provides access to all available languages and levels. The seven-day free trial is a great way to test Pimsleur before purchasing.
Best Swedish App for Audio Lessons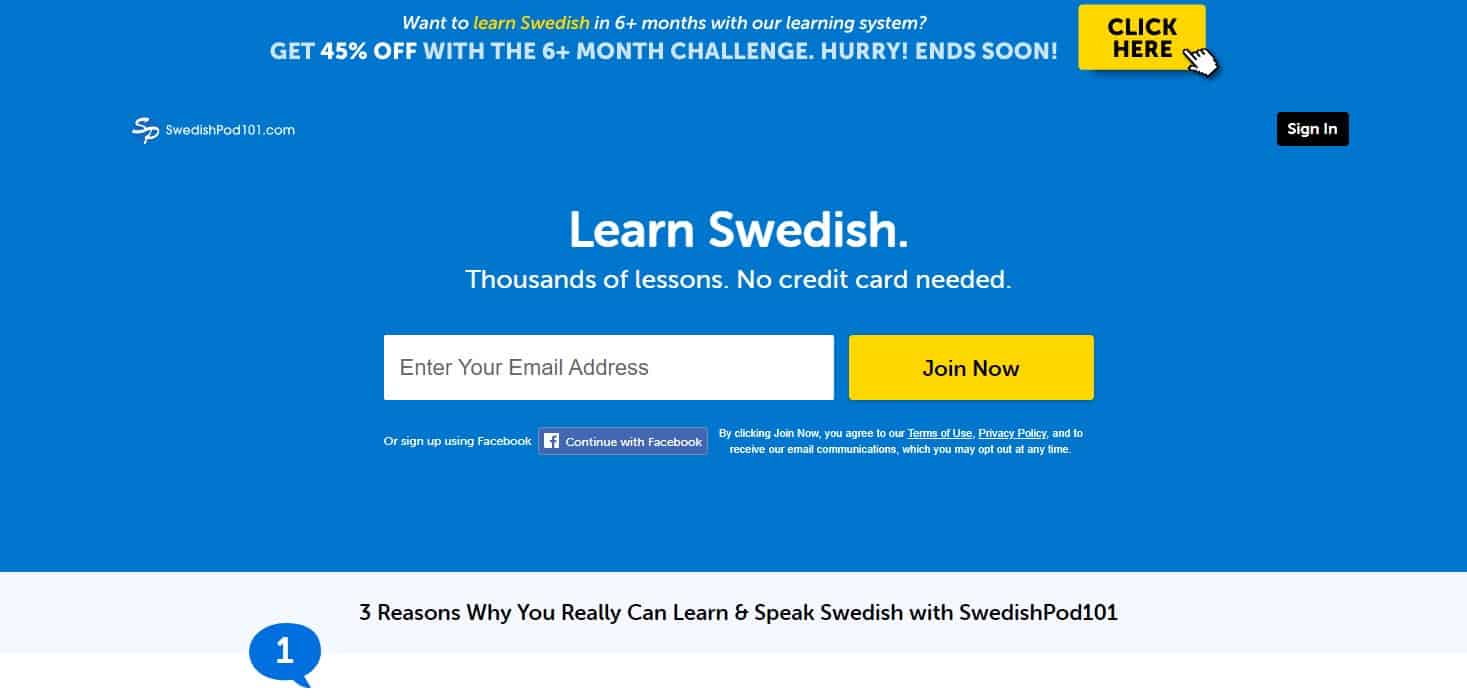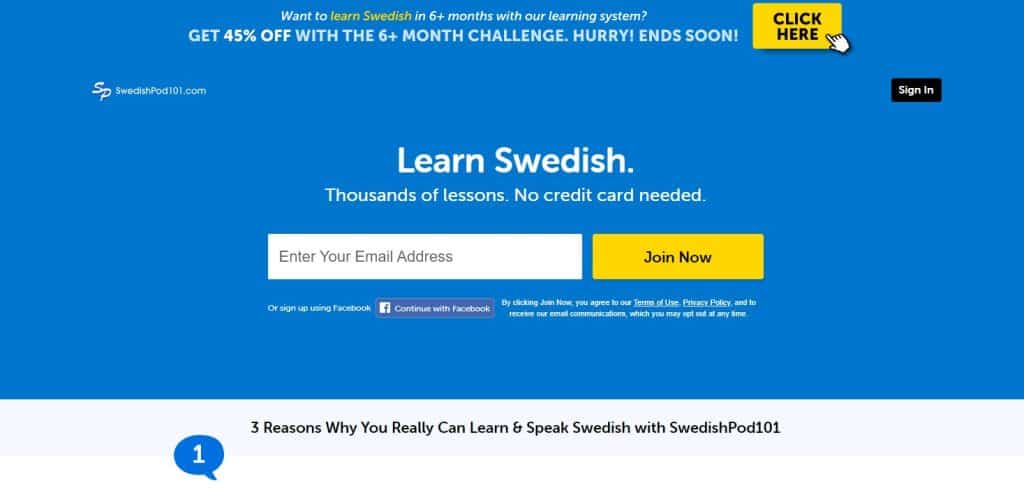 Why we like SwedishPod101
Swedish Pod 101 provides an extensive collection of podcast-like language courses with the same high-quality standard in each. Listen to native speaker dialogues adjusted for your level and accessible at your own pace.
| | |
| --- | --- |
| ⭐ Platforms: | Web, iOS, Android |
| ⌚ Time commitment: | 40 minutes per day |
| 💵 Price: | $4 – $552 |
| 🔄 Refund policy: | 60-day money-back guarantee |
| 🎁 Free Trial: | ✔️ |
Pathways – learn with personalized lesson plans suiting your interests.
Dialogues – follow native speaker conversations while making notes and recording yourself.
Vocabulary – study each word separately with its pronunciation and translation.
Lesson Notes – read comprehensive yet concise notes on the most crucial concepts of your target language.
SwedishPod101 Overview
Swedish Pod 101 is undoubtedly among the best apps to learn Swedish. It facilitates learning Swedish culture with an in-depth Swedish course full of words and phrases used by native speakers. You'll also enjoy the app's flexibility to learn Swedish at your own pace as you can switch between video and audio recordings, reading, and grammar practice.
Best App to Learn Swedish with Spaced Repetition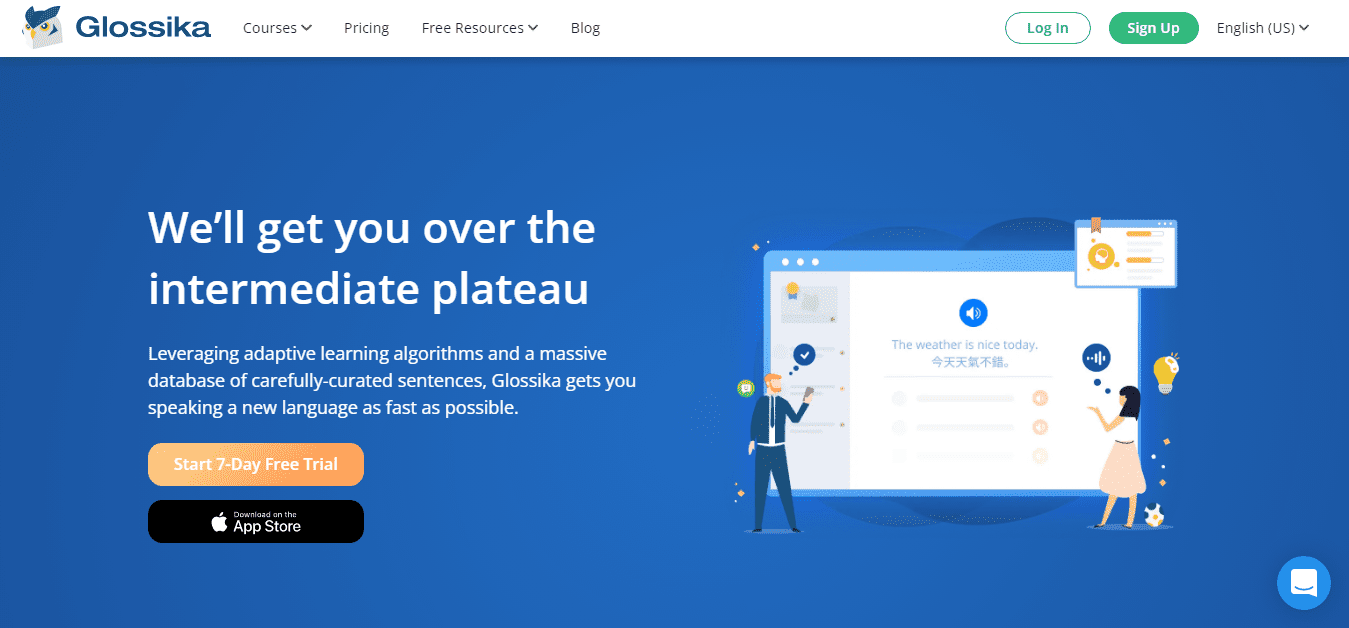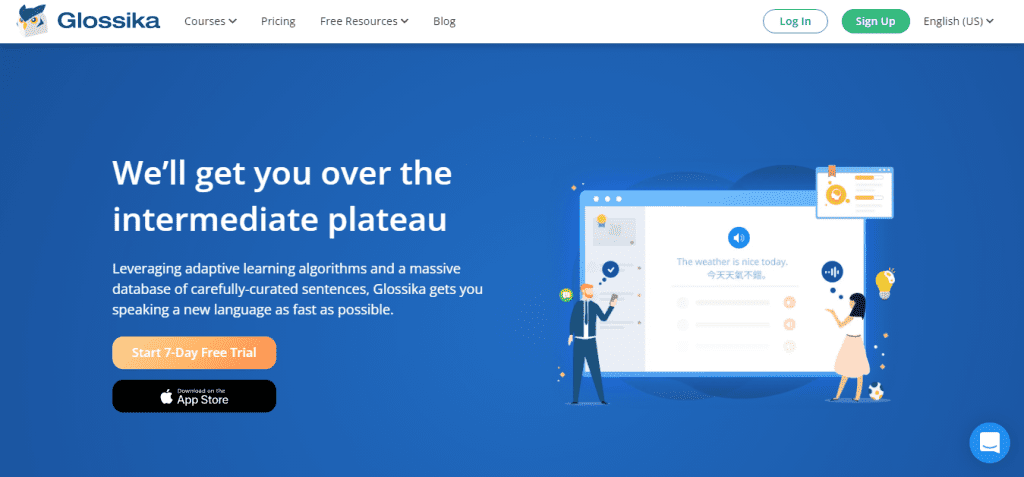 Glossika helps to overcome the Swedish intermediate-level gap by exposing language learners to numerous native-speaker audio recordings. The listening and speaking exercises work with one of the best spaced repetition systems on the market.
| | |
| --- | --- |
| ⭐ Platforms: | Web, iOS, Android |
| ⌚ Time commitment: | 20 minutes per day |
| 💵 Price: | $13.33 – $30.99 |
| 🔄 Refund policy: | 60-day money-back guarantee |
| 🎁 Free Trial: | ✔️ |
Learn new items –  use spaced repetition to remember new words and phrases.
Review – constantly rehearse the words with an algorithm that remembers where you need more practice.
Stories – read books with the help of native speaker recordings.
My Skills – achieve more by knowing what you already learned and what lies ahead.
Glossika Overview
If you are caught in-between intermediary knowledge and relatively advanced lessons, Glossika is the app to learn Swedish for you. Frequent repetitions of the language concepts and essential words efficiently improve your Swedish language skills closer to native speakers. All it takes is to incorporate 20 minutes of spaced repetition practice with Glossika into your learning process.
As one of the best apps to learn Swedish, it employs personalized repetition technology to assist you in learning complex aspects of Swedish more naturally. You'll get to practice thousands of sentences, vocabulary words, and even some Swedish grammar. You'll be able to utilize the Swedish words and phrases learned in the app right away without worrying about translation.
Best Swedish App to Find Tutors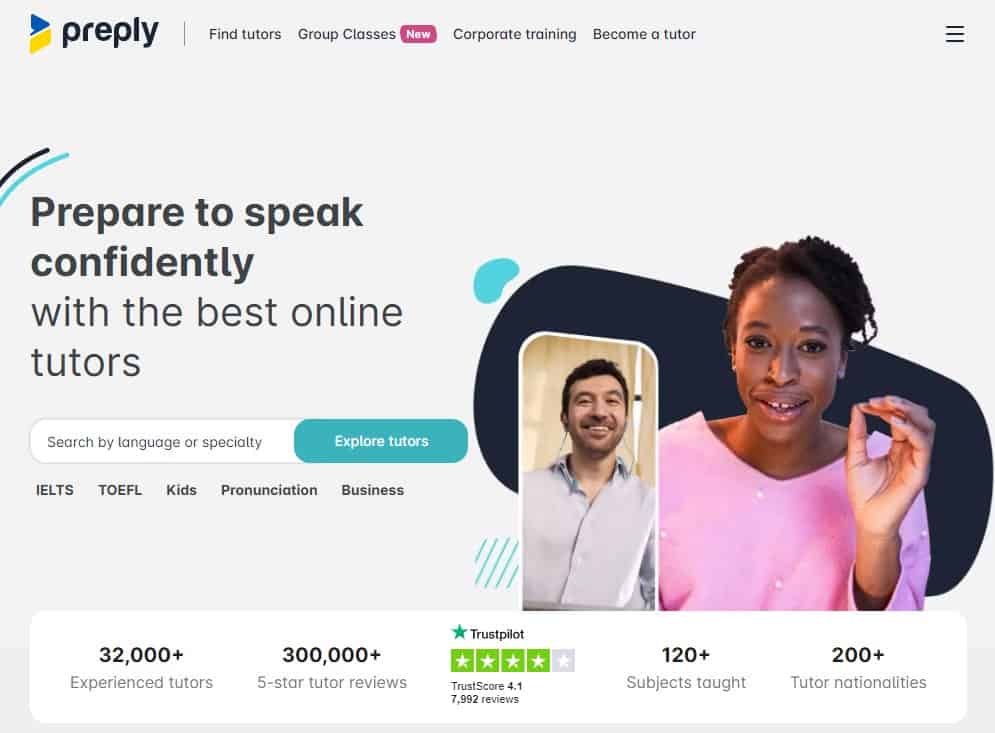 A diverse selection of native-speaker teachers, flexible scheduling, and customized lessons makes Preply stand out as an online tutoring platform. Their generous refund system guarantees you'll find a live tutor for Swedish on Preply. 
| | |
| --- | --- |
| ⭐ Platforms: | Web, iOS, Android |
| ⌚ Time commitment: | Few hours a week |
| 💵 Price: | $3 – $40 |
| 🔄 Refund policy: | 14 or 90-day refunds |
| 🎁 Free Trial: | ✔️ |
Thousands of Tutors – jump into foreign language learning with a native tutor for almost any language there is.
One-on-one Lessons – personalize your language learning experience with a personal tutor.
Preply Classrooms – utilize an interactive solution that allows your language teacher to share screens, show slides, record lessons, and much more.
More than language learning – learn more than a language with courses on photography, business, graphic design, and much more.
Preply Overview
Preply is a good language-learning app if you want to interact with native Swedish speakers as your tutors. We found that it's faster to learn new words and complex grammar knowledge if your tutors are native speakers. You'll also be learning Swedish in a personalized manner, as all tutors are professionals who can make you start speaking fast.
Preply allows you to select the ideal foreign language teacher. You can choose who has the best lessons or the one with favorable scheduling for you. Preply enables the tutors to organize and schedule classes, with some offering flexible lessons. Being charged by the app, they are supposed to set personalized rates.
Best App to Learn Swedish Before a Trip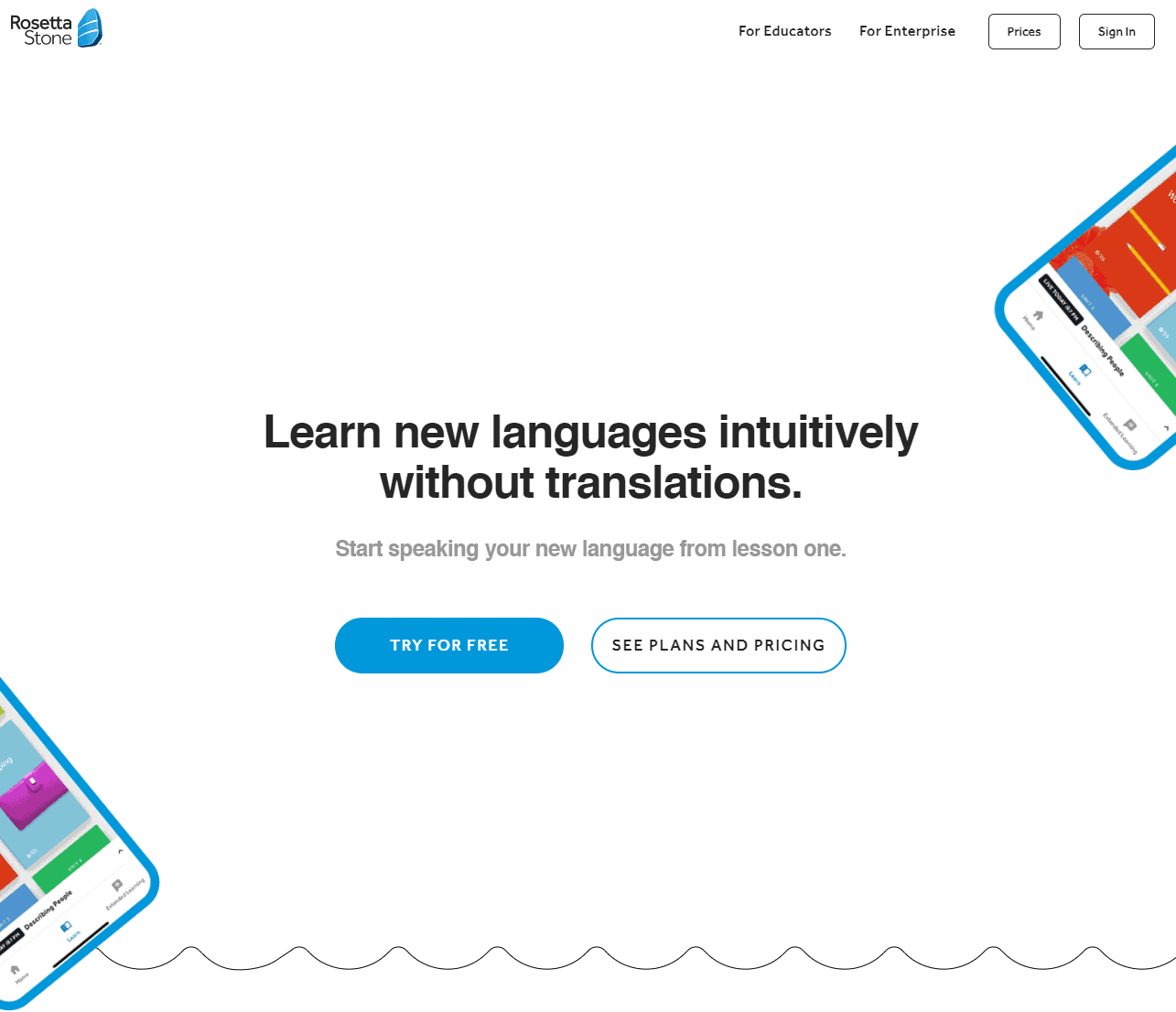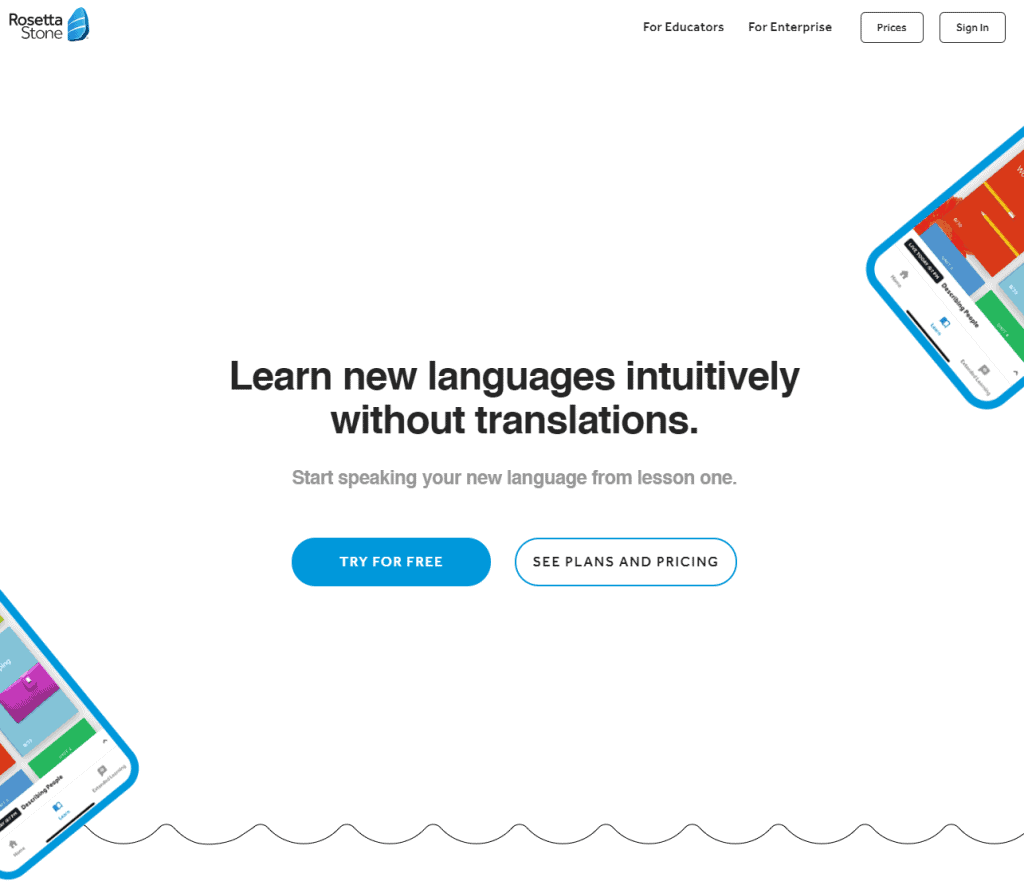 Why we like Rosetta Stone
Rosetta Stone immerses you in the target language by associating pictures, audio, and the written word. You will pick up Swedish grammar naturally while various bonus features complement and speed up your stages of learning Swedish.
| | |
| --- | --- |
| ⭐ Platforms: | Web, iOS, Android |
| ⌚ Time commitment: | 30 minutes per day |
| 💵 Price: | $11.99 – $179 |
| 🔄 Refund policy: | 30-day money-back guarantee |
| 🎁 Free Trial: | ✔️ |
Core Lessons – associate images with words and native speaker audio recordings. 
The Phrasebook – practice real-life pronunciation with voice recognition software.
Stories – improve reading and listening skills with native speaker-narrated material.
Live tutoring – participate in twenty-five minutes long live lessons with experienced tutors.
Rosetta Stone Overview
Rosetta Stone is perfect for learning Swedish if you are planning to travel to Sweden or be around native speakers of the language. It is a good language learning app because of ample resources for visual learners to quickly learn Swedish words and cultural nuances.
Rosetta Stone allows you to pick your preferred topic, and you automatically get the Swedish grammar words needed for it. Swedish lessons also allow you to translate new words and phrases, which saves time spent on tools like Google Translate.
Best Swedish App for Vocabulary Improvement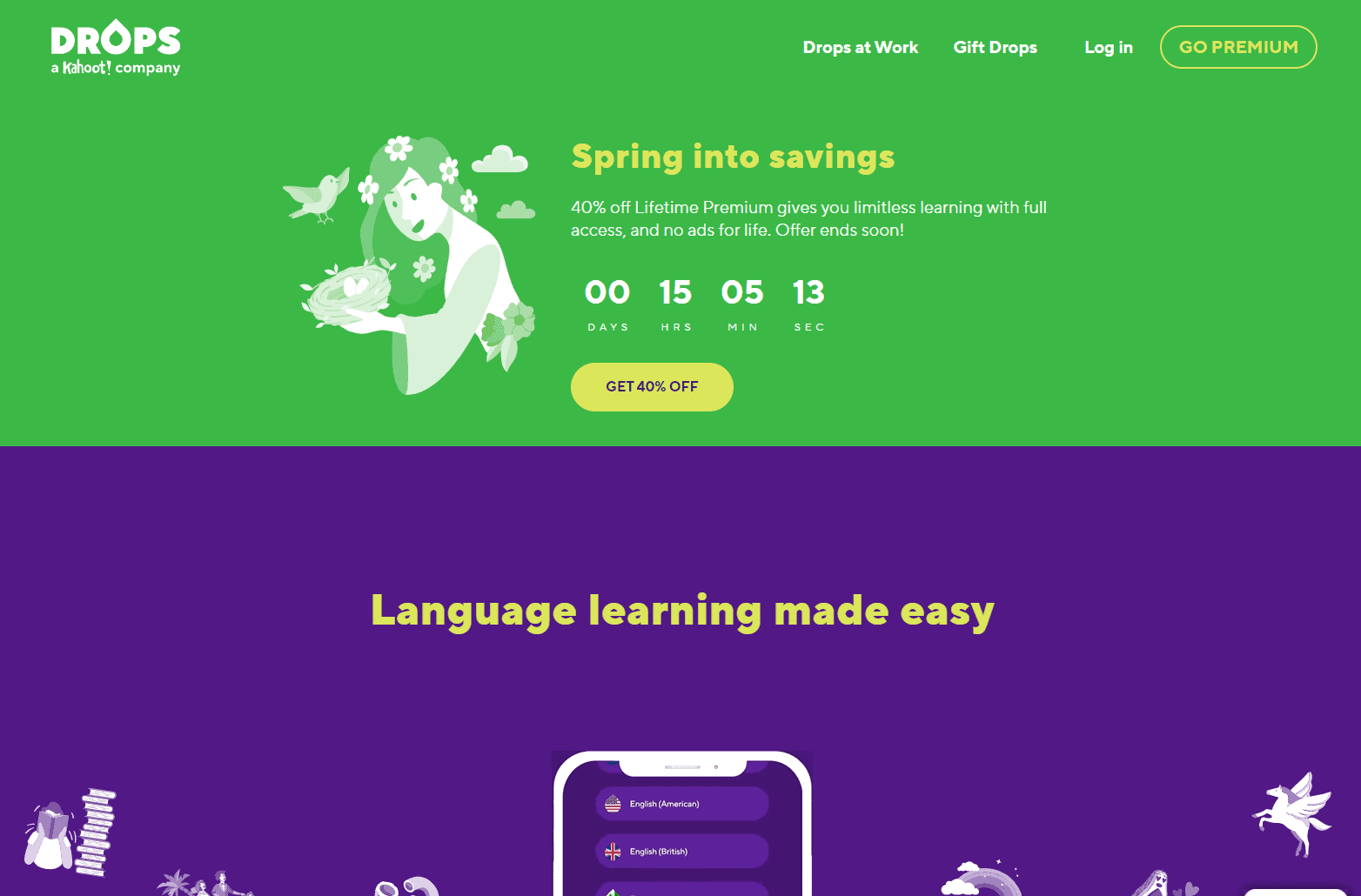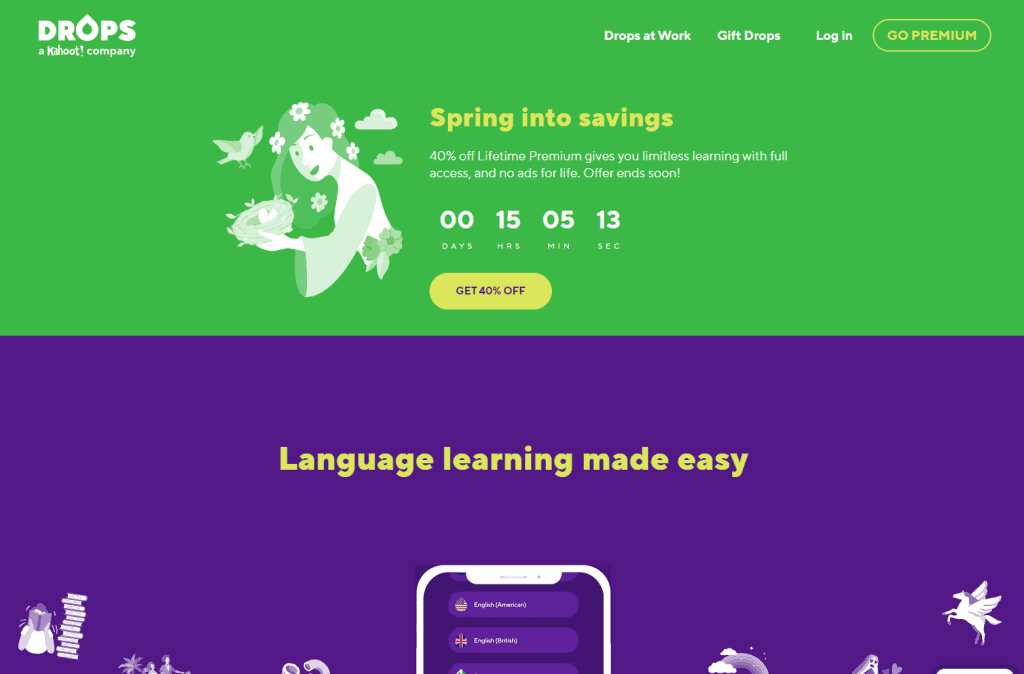 Drops is a unique app with a focus on Swedish language vocabulary building. It has brief lessons and a minimalistic interface that is easy to use. The Drops app will help you learn new words and phrases quickly.
| | |
| --- | --- |
| ⭐ Platforms: | Web, iOS, Android |
| ⌚ Time commitment: | 15 minutes per day |
| 💵 Price: | $13 – $159.99 |
| 🔄 Refund policy: | 14-day money-back guarantee |
| 🎁 Free Trial: | ✔️ |
5 Minutes Lesson – quickly find and learn new words with their pronunciations in a game-like exercise.
Track Your Progress – stay on your language learning plan with automatic reminders, statistics, and milestones.
Tough Word Dojo – identify and practice words you struggle pronouncing or remembering.
Premium features – many vocabulary topics, listening practice games, unlimited learning sessions, and much more at your fingertips.
Drops Overview
The Drops app is excellent if you are intermediate learning Swedish and want to improve your Swedish vocabulary and pronunciation. It can include discovering Swedish words or other different meanings and useful vocabulary. The software categorizes Swedish grammar into many subjects, covering most of what is necessary to engage in real-life conversations.
Additionally, Drops' design has multiple fun and interactive activities to learn Swedish. All of them improve your Swedish vocabulary and are constantly updated with new words. Drops app is great for the long-term acquisition of new vocabulary, and that's what makes it one of the best apps to learn Swedish.
Best Swedish App for Speaking Practice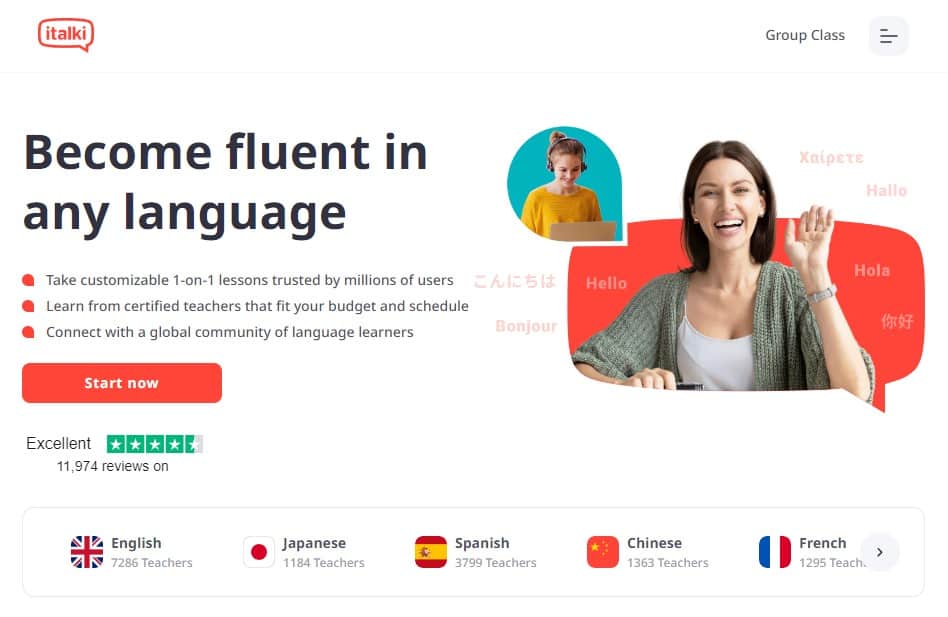 italki is the most popular online tutoring platform with a wide selection of teachers for the Swedish language. The language exchange App provides all you need for tutoring and even some additional practice possibilities outside the classroom.
| | |
| --- | --- |
| ⭐ Platforms: | Web, iOS, Android |
| ⌚ Time commitment: | Few hours a week |
| 💵 Price: | $4 – $50 |
| 🔄 Refund policy: | 100% satisfaction guarantee |
| 🎁 Free Trial: | ✔️ |
Teacher Filtering – find the right tutor with the help of relevant filters.
italki Classroom – take classes with an in-built software without worrying about compatibility.
italki Credits – pay with a virtual currency and save money.
italki Discover – find various activities created by the italki community.
italki Overview
Learning Swedish with native speakers is a fun way to start speaking. italki app is the best option for fingin such tutors. One factor is that the platform categorizes teachers into professional teachers and community tutors. The latter do not have any professional qualifications, but are native speakers and are perfect to start speaking Swedish.
This aspect gives a chance for all levels of practice to learn Swedish pronunciation at their own pace. You can count on improving how you speak Swedish, with teachers having speaking and listening classes, in different Swedish approaches. All of them include testing your fluency regularly via exercises and activities in and outside online classes.
Best App To Learn Swedish Reading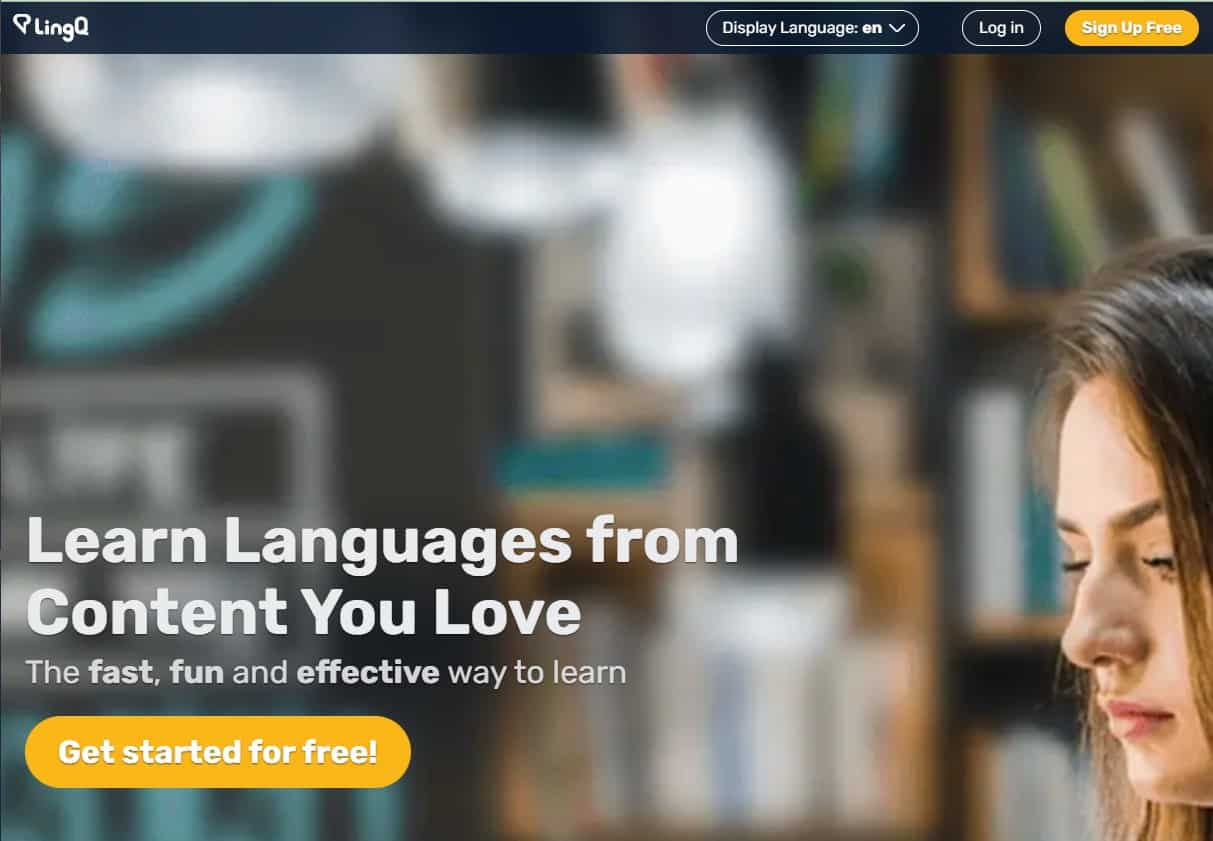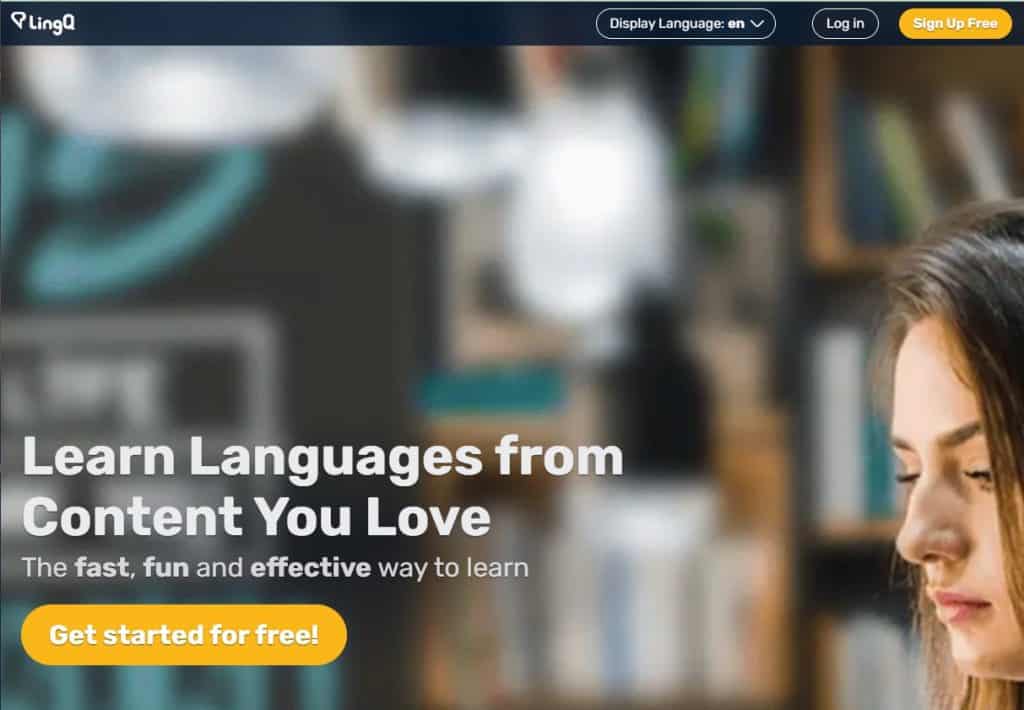 LingQ houses a wide selection of custom language learning content unique to the Swedish language. Its simple and interactive design organizes various podcasts, books, news articles, and songs for a culturally rich language experience.
| | |
| --- | --- |
| ⭐ Platforms: | Web, iOS, Android |
| ⌚ Time commitment: | 30 minutes per day |
| 💵 Price: | $7.99 – $34.99 |
| 🔄 Refund policy: | 90-day money-back guarantee |
| 🎁 Free Trial: | ✔️ |
LingQ Reader – listen, read, and compile learning materials adjusted to your pace.
Flashcards – rehearse words you learned with color-coded, spaced repetition-powered card decks. 
Upload – import videos, reading materials, songs, and more to learn foreign languages faster.
LingQ Community – discuss pain points and participate in friendly competitions with other language learners.
LingQ Overview
LingQ is a language learning tool that enables learning Swedish by listening and reading through the content also used by native Swedish speakers. You'll learn Swedish via the app's immersive technique, which helps you grasp new words in real-life situations. The reading materials include news articles, short stories, blog posts, and more.
You have complete control over how you achieve fluency – what you study and where you listen to the chosen topics or courses. One excellent feature is viewing the meanings of new vocabulary words by tapping on them to add to your personal dictionary. The combination of these concepts exposes you to the Swedish language's divisions, increasing your understanding of the native language.
Best Swedish App With Free Access​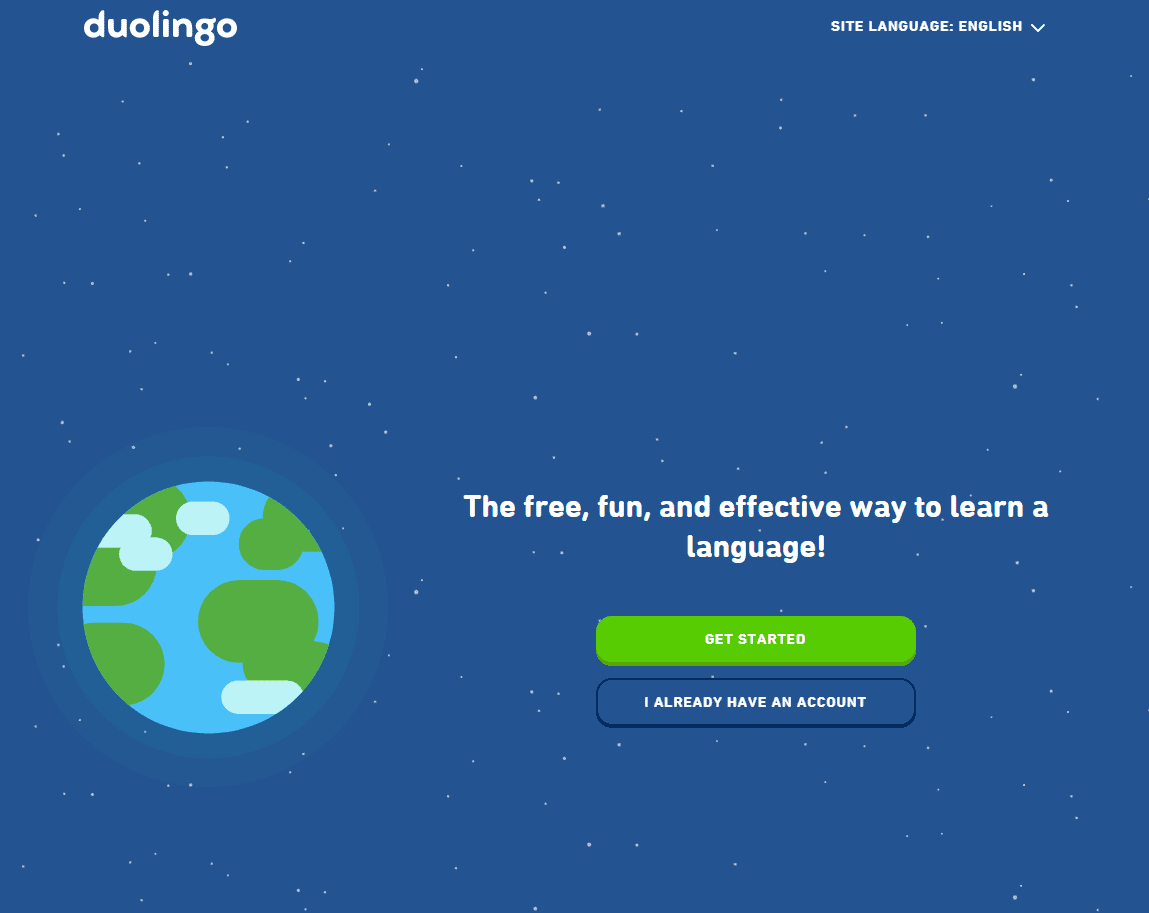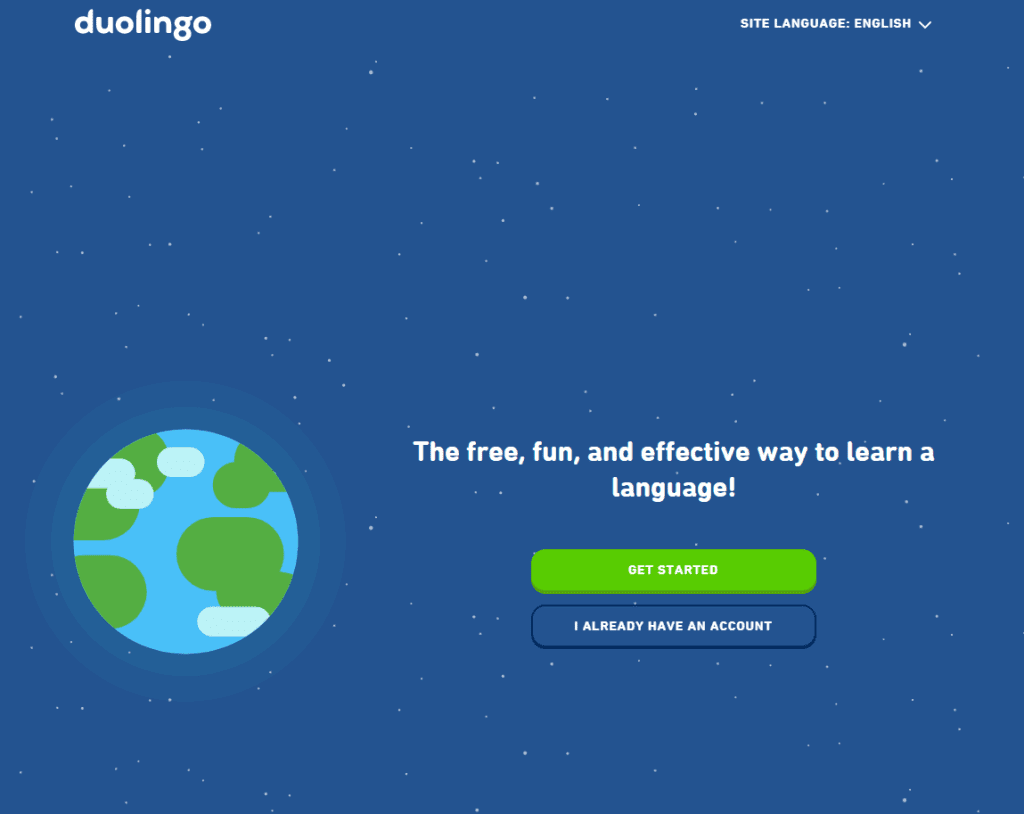 Duolingo is the most gamified language learning experience you can get for the Swedish language. Just like in a video game, you must collect gems and earn XP while learning basic concepts of a new language.
| | |
| --- | --- |
| ⭐ Platforms: | Web, iOS, Android |
| ⌚ Time commitment: | 15 – 30 minutes per day |
| 💵 Price: | $9.99 – $79.99 |
| 🔄 Refund policy: | 48-hour refunds |
| 🎁 Free Trial: | ✔️ |
Gems, XP points, badges… – motivate yourself to learn with an abundance of elements from mobile games. 
Stories – read and listen to interactive stories bringing you closer to a real-life experience.
Roleplay – converse with a chatbot that can adjust to your proficiency level.
Personalized lessons – delve into short lessons teaching the basics of the target language while focusing on your weak spots.
Duolingo Overview
Duolingo is designed as a game to make learning Swedish engaging for everyone. But its free version is what makes it one of the best apps to learn Swedish. You get completely free access to the complete Swedish course, and some languages even have additional tools like free podcasts.
Swedish does not have that much content, but the Duolingo app is still a great choice that will motivate you to start speaking. We recommend trying their completely free trial that is without ads and doesn't limit mistakes. It's more than enough to grasp the Swedish course for complete beginners.
Each student who wants to speak Swedish as their new language will find many apps in our carefully picked list. We have you covered with interactive activities, immersive audio recordings, language exchange possibilities, and advanced grammar Swedish courses. You can begin learning Swedish today and discover the potential of speaking Swedish on a native language level.
Best Apps To Learn Swedish: FAQ
Perhaps the best method to learn Swedish is to live in Sweden and interact with native language speakers. But that's not always possible, and it's extremely expensive. A better option is to learn words that Swedish Speakers use with language learning apps. You can efficiently learn Swedish as a native language through many apps, but you must choose one that fits your learning method.
For example, strictly audio apps for learning Swedish will help improve your speech, thus an easy time interacting with native speakers. Swedishpod101 and Pimsleur are excellent apps to learn Swedish this way. They use quality audio recordings in Swedish lessons, essential words practice, grammar, reading, and writing classes.
Yes. You can speak Swedish one year from now as a beginner, using the mentioned language learning apps. However, it will take more than 700 hours of practice to reach higher levels.
It is best to start with learning the Swedish alphabet and use apps with native speakers as tutors. Preply and Rosetta Stone are good apps to learn Swedish, as they introduce you to professional tutors for effective progress while learning Swedish.
Letters 'Z,' 'Q,' and 'W' are part of Swedish grammar but are hard to come by in Swedish vocabulary. They are mostly used in loan terms, with the letter mainly switched with the letter 'S' by Swedish speakers.
Mondly is your best bet to speak Swedish phrases, and new words with these letters. Similar to Mondly, other apps in our best apps list also offer content to test your understanding of such unique letters and sounds.