Busuu is a popular language-learning platform suited for new and intermediate students. While the platform has over 100 million registered users and courses in over twelve languages, the main strength of Busuu is to provide personalized feedback and real-life communication skills from native speakers.
Doing so ensures learners enhance their communication skills through tailored feedback that helps them learn languages fast. 
This Busuu review examines the platform by focusing on its features and benefits, user feedback, and pricing to help you determine if it's worth investing in.
An Engaging and Personalized Language Learning
Compared to other language learning apps we have reviewed, the Busuu app stands out as it offers the freedom to learn a new language on the go and at your pace. The interactive platform allows you to write, speak, and listen to classes with real-time feedback from natives worldwide. It may not offer +20 different languages like Mondly or Clozemaster, but overall course material is significantly higher!
You can use the adaptive learning algorithm to help tailor your classes to meet your skill level. It's perfectly suited for beginners and intermediate students. 
⭐ Rating:
8.8

★★★★★

🥇 Available languages:
12 (see below)
📈 Suits best for:
Novices and Intermediates
🛒 Payment options:
Monthly/3 months/12 months
💵 Price:
$9.99 – $79.99
⌚ Hours of lesson time:
250+
🔄 Refund policy:
14-day money-back guarantee
🎁 Free Trial:
✔️
German, Spanish, French, Chinese (Mandarin), Portuguese, Italian, Turkish, Polish, Japanese, Dutch, Arabic, Russian
Disclaimer: Lingomee is an independent review site that may benefit from affiliate programs. Buying through our links makes our efforts possible without additional costs to you. Learn more here.
About Busuu
After launching in 2008, the Busuu app has focused on providing structured and personalized learning by suggesting lessons based on your progress and customized study plans to help set up goals to suit the needs of language learners. 
The language learning app emphasizes user experience with a convenient interface that is easy to navigate. The simplified and intuitive mobile app allows you access to all lessons with progress tracking capability, making it easy to save and resume classes at any point. 
Videos and audio recordings help students improve their listening and writing skills in any language. Learners also receive accurate feedback from native speakers after submitting written exercises. Combining these two language courses helps students improve their skills in the target language.
Using the platform is straightforward. You start by choosing a language you want to learn and taking a placement test to determine your language skills. Doing so helps the language learning program understand your basic language knowledge and the needed help. 
Busuu combines different learning techniques in their language courses to help students grasp the language basics, accelerating their learning capabilities. Spaced repetition is one of the techniques used to help students get familiar with certain vocabularies once they're repeated more often. 
Listening exercises equip learners with comprehension skills when they listen to recordings from native speakers and answer questions. 
Writing exercises help learners practice their writing skills in a target language and receive personalized feedback from native speakers. If fluency is your main goal, than Italki or Preply apps are more suitable.
Busuu Key Features
Busuu has many features – language-level placement tests, personalized learning plans, and grammar exercises. The features complement each other to create a comprehensive and immersive learning experience. For instance, grammar and vocabulary exercises prepare students to understand the grammar rules for a conversation exercise with a native. 
Busuu features are of high quality, especially vocabulary builder, where users learn through flashcards and quizzes, making it easy to remember words and phrases. Each feature briefly explains how a student will benefit from completing it. Busuu wouldn't have achieved all the success without industry-leading features.
Language Level Placement Test
Students wishing to use Busuu to learn a new language must take a language-level placement test. The multi-choice questions help to determine a learner's current level and take roughly ten minutes to complete.
After getting the results, learners can start at the appropriate level instead of guessing what they already know. 
You don't need a Busuu premium account to complete the test, as you can do so even with the free version. The language placement test is available for all languages. Busuu differs from most other language apps since the tests are structured to measure your language level before the AI structures and recommends lessons.
Personalized Learning Plans
Every student learns differently, with some having busier schedules than others. The adaptive algorithm on Busuu language courses helps student track their progress throughout the language-learning process. 
The algorithm recommends customized content, like audio and video recordings, based on the initial assessment test. The test determines your proficiency in the target language and the areas you should improve. 
The algorithm also considers your progress and recommends personalized lesson plans to help you easily achieve your goals. Students can access interactive quizzes and tests to receive positive, accurate, and trustworthy feedback from other language learners or experts to help them grasp the language concept quickly. 
You can choose a personalized learning plan to learn multiple languages, but it's always best to stick with one language course before proceeding to the next to help you master the language quickly. Additionally, each language has different grammar rules, which overwhelms students, especially new learners. 
Grammar and Vocabulary Exercises
Busuu program includes interactive resources for grammar and vocabulary exercises where language learners can improve their writing, speaking, and listening skills.  Activities like matching games, multiple-choice, and fill-in-the-blank help students master the concept and improve their language learning capability.
The grammar exercises equip you with the grammar rules of the target language. Here, you'll learn sentence structure, noun gender, and verb conjugation. 
The vocabulary exercises help you learn and pronounce all the words and phrases fluently. You'll also learn verb tenses, direct and indirect speech, and how to use modal verbs like would, should, can, etc.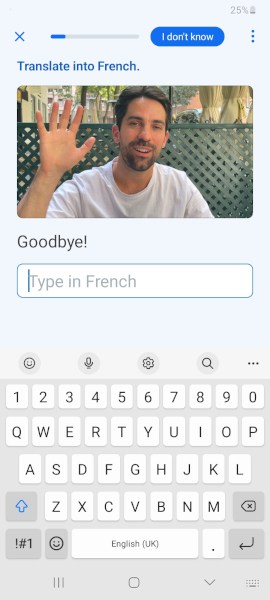 Conversation Practice with Native Speakers
This essential feature helps students improve their understanding of the target language by interacting with native speakers. Busuu app allows users to search and connect with native speakers based on availability, location, and interest. Students interact with natives through Busuu chats or video calls, receiving real-time feedback and correction. 
Native students also earn credits as compensation for helping other students learn their language quickly. Busuu has a quality control team to monitor feedback from experienced students and native language speakers to ensure its accuracy and high quality.
Less popular languages available on Busuu:
Quality of the Learning Material
Busuu offers high-quality teaching material providing a comprehensive language learning experience. The lesson structure contains clear instructions that are engaging and interactive. 
The personalized learning approach is the cornerstone of Busuu's success, where the app adapts to the learner's goals and objectives. However, some users raised concerns about the lack of advanced classes to help them master the language in depth. Another problem is finding a suitable native speaker to help learn the language quickly.
The average lesson takes 10 to 15 minutes, making it ideal for students busy with other projects. Busuu has different subscription options, each with a varying number of classes. A lesson completion period depends on the learner's commitment and individual pace. 
However, Busuu estimates that students can take 20-25 hours to complete a beginner's course, 30-40 hours for an intermediate course, and 50-60 hours for an advanced course. 
Grammar Instructions
Busuu has invested heavily in grammar instructions, making them comprehensive and interactive. The instructions have clear explanations and examples to help students understand the rules of the language they're studying. Most of the explanations are text-based, offering a clear overview of the grammar concept and rules. 
They're also short reads and to the point, touching on the key points to ensure learners understand grammar concepts and rules. There are also game-like activities like drag-and-drop and fill-in-the-blank exercises to make the learning experience fun and engaging.
Grammar lessons are productive due to their structure and organization based on topics and study levels. Busuu's grammar lessons range from basic concepts like sentence structure and verb conjugation to advanced ones like passive voice and subconjunctive mood. Each topic has clear instructions, examples, and practice exercises helping students master the content. 
The grammar lesson levels are also based on the Common European Framework of Reference for Languages (CEFR). The levels range from A1 for beginners to C2 for advanced students. Users also access interactive exercises which students use to practice lessons they've learned. 
Verbal Practice
Students benefit from verbal practice speaking to improve their pronunciation skills while conversing with native speakers. The feature is available to all members, and students can connect and schedule conversation classes with native speakers. 
Busuu has other verbal activities like speaking practice drills and pronunciation exercises to help improve pronunciation. The platform uses voice recognition technology to help students improve their verbal practices. The technology comes in handy in recognizing words, regardless of your accent, helping students improve their speaking skills. 
Additionally, engaging and learning from native speakers is Busuu's strong suit. These native speakers provide accurate corrections and feedback, helping students recognize where to improve. The interaction also prepares them for real-life conversations and how to use that language in various contexts. 
Reading
Busuu app has a catalog of diverse and engaging reading tasks to help students understand the language. The app's reading tasks include dialogs, stories, and articles, accompanied by audio recordings, a vocabulary list, and comprehension questions. All of it helps students practice exercises and understand the language. 
The reading tasks are significant in preparing students to learn how to read and understand written text in their language of interest. Busuu's reading tasks introduce readers to the alphabet and words to help form a constructive sentence. 
Although the number of reading tasks varies with language, Busuu offers sufficient tasks to ensure the student learns enough to understand the target language basics. 
A language like Chinese, which uses logographic writing, has enough writing tasks to help students recognize the characters and form meaningful sentences. 
Writing
Busuu has interactive and structured writing tasks to help students understand and familiarize themselves with writing in a foreign language. The tasks include short and long sentences, phrases, and paragraphs, which they submit to native speakers for correction and feedback. 
Writing lessons also include guidance and examples to help students understand sentence structure, vocabulary, and grammar. 
Vocabulary
Learning a new language requires understanding and mastering vocabulary. Busuu has vocabulary-building exercises to help students memorize and practice phrases and new words in their target language. The vocabulary-building exercises include flashcards, fill-in-the-blank, and matching to help students discover and learn new words. 
Busuu has a spaced repetition algorithm called Vocabulary Trainer, which helps students memorize new words. The algorithm shows words in repeated intervals to help students retain the words they learned earlier. Doing so has proven effective for new and intermediate students. 
Repetitiveness
Busuu ensures classes remain interactive, engaging, and fun for students through various activities and exercises. The platform's artificial intelligence helps to personalize classes based on the student's progress and learning skills by recommending relevant topics and examples that keep changing to avoid repetition. 
The length of a language course depends on the learner's progress and level, but it's common for students to complete a level in 20-30 hours. The individualized approach helps students to focus on their weaknesses through engaging and challenging tasks, which reduces the feeling of repetitiveness. 
Busuu Review: Simplicity of Operation
Busuu has a user-friendly and intuitive interface. The clean and interactive design accommodates easy navigation, allowing you to see and access all the content. You can also download lessons for offline use through the mobile application, allowing you to study on time, even without an internet connection.
The feature is handy for those constantly moving or traveling a long distance where you spend hours without an internet connection.
The blue and white color pallets enhance the app's visibility, allowing you to see different functions and sections. Compared to LinguaLift, Busuu has unique featured. Thanks to the balanced text and background contrast, you can use the app for longer without straining your eyes.
The language app has clear and concise instructions and labels guiding users in using the application. The onboarding process is straightforward, allowing first-time users to get familiar with the platform and begin their classes immediately.
Busuu uses high-quality and engaging visuals, such as videos and photos, to enhance your learning experience. The impressive loading speed allows you to complete the exercises and lessons with minimal delays.
What Areas Could be Improved?
While Busuu provides an exciting language learning experience, some sections require improvements. Although Busuu has a great design,  simplifying the user experience further for new users by making it more streamlined would help learners easily find their way around the application.
Detailed instructions to get started and intuitive navigation would come in handy to new students who are not yet familiar with the application.
Busuu lacks explanations once you progress to more advanced lessons. And then give some examples for certain levels or certain languages.
Although Busuu has structured lessons covering every crucial topic in any language, going through the grammar classes is overwhelming since there's much to learn. From grammar rules to activities and exercises aimed at helping you cover a target language in-depth, structured grammar tests require attention and commitment to complete and understand the language concepts.
Busuu Prices
The two main options are a Busuu premium and a limited free version. Busuu premium subscription further contains two options – Premium and Premium Plus. The Premium plan allows you to access all premium features, while the Premium Plus also includes one-on-one video lessons with an assigned personal tutor. 
There is a cost-per-language policy. So you could pay between $9.99 and $13.99 monthly, depending on your subscription plan and the target language. There's also a lifetime plan where you access Busuu's lessons and features for a one-time investment of $249.99.
| | | |
| --- | --- | --- |
| Subscription | Price | Payment |
| 1 Month | $13.99 | Charged monthly |
| 3 Months | $31.99 | One-time charge |
| 6 Months | $49.99 | One-time charge |
| 12 Months | $79.99 | One-time charge |
| Lifetime | $249.99 | One-time charge |
Free Trial
Busuu has a 7-day free trial for the premium version, where users access all features, including the personalized learning ones. However, you must enter your payment information, but the card will get charged only once the trial period ends. 
Busuu Coupons and Discounts
Busuu offers occasional discounts and coupons, allowing users to access premium features at a reduced price. The first subscription period discount is the most common, followed by special holiday offers, such as Christmas and Halloween. 
Busuu's referral program is an incentive where users get free access to the Premium and Premium Plus versions by referring a new user. 
Refund Policy
Busuu has a 14-day money-back guarantee, where users can request a refund if they change their minds. However, they shouldn't have completed 30% of the classes to qualify for a refund. Any refund request after 14 days or after completing 30% of the classes will not be approved. It's crucial to note that Busuu doesn't offer refunds for business plans. 
Users should contact customer support when they decide to request a refund. The refund is paid through the same payment method used to purchase the membership. 
Busuu Pricing Compared to Competition
It's safe to say that Busuu is competitively priced compared to other language apps like Rosetta Stone, Drops app or Babbel.
Busuu's free version briefly introduces the course, with paid plans unlocking all the features that help users learn a language easily. Still, the free version is a great opportunity to try out the platform and learn the basics of your target language.
Although some competitors might have some more advanced features than Busuu, the feedback from native speakers has helped to cement it as one of the best language-learning apps in the market.
Busuu Authorization
Busuu language app is a multi-award-winning learning platform, with the European Language Label being one of its finest awards. The platform has received recognition from learning institutions and businesses, including the Educational App Store award of the Best Language Learning App of 2019.
The German Federal Employment Agency has recruited Busuu as their official language course provider, teaching their employees and staff members foreign languages. 
The accolades and recognition by top institutions are a testament that Busuu is worth the investment. It's the best place to build your comprehension skills in any language, allowing you to go from a novice to a near-native speaker quickly. 
Busuu Ratings from Other Users
Google Play Store – 4.6 (10M+ downloads)
Apple App Store 4.6 – (267.3K ratings)
G2 – 4.3
Trustpilot – 4.3
Busuu Assistance to Clients
Busuu has outstanding customer support department on its app and website platforms. You can reach them through email or chat. Email support response time is approximately 24 hours, with instant chat support available during specific hours. 
Based on customer reviews, Busuu's customer services exceed expectations, with clients reporting utmost satisfaction with how the team handles their queries and concerns. There have been cases where the team over-delivers and provides personalized services to help clients.
There is an FAQ section providing information on some common questions that users might have. The blog section is packed with additional information that users might find useful, like actionable tips for learning a language. It's also where you learn the cultural insights of Busuu and what sets it apart from the competition. 
My Verdict
Busuu offers a personalized approach to language learning, where users get feedback from native speakers and AI. Busuu has set up an impressive benchmark in the language learning industry. If you want to learn a new language in an interactive environment, Busuu is worth looking at.