Getting fluent in a foreign language isn't a solitary task. Eventually, you'll need practice with a good teacher to fill in the gaps. Finding one isn't easy – you must agree on the schedule, teaching style, and budget. Joining an online language-learning community is the best solution. 
italki is the most popular platform connecting language learners with thousands of skilled teachers in hundreds of languages. This review of italki covers its main features, user experience, and everything else you need to know to find the best teacher for you.
A convenient and affordable platform for finding private tutors
The number of language partners and languages in italki is staggering, but the platform is still easy-to-use. There are many filters, a neat classroom interface, and possibilities to engage with the community outside the language lessons. You will find a professional teacher with italki in no time.
⭐ Rating:
9.0

★★★★★

🥇 Available languages:
130+ (see below)
📈 Suits best for:
Intermediates and Advanced
🛒 Payment options:
in-app currency
💵 Price:
$4 – $50 per lesson
⌚ Hours of lesson time:
Not applicable
🔄 Refund policy:
100% satisfaction guarantee for free lessons
🎁 Free Trial:
✔️
italki has more than 130 languages available. The most popular are English, Spanish, Japanese, French, German, Chinese, Korean, Italian, Russian, Portuguese, Arabic, and Hindi.
Disclaimer: Lingomee is an independent review site that may benefit from affiliate programs. Buying through our links makes our efforts possible without additional costs to you. Learn more here.
Quick Overview of italki
italki has been the most popular middleman for language learning since 2007. You don't have to follow any curriculum or a pre-selected teaching style. Instead, the italki platform connects language learners with native teachers. Language tutors fully control how they teach so students can get personalized online lessons.
The overall design directs you to teachers on italki right from the start. You won't need to complete any placement tests or read about the methodology. Although there are tests to see how much you learned from online classes, and you can make a study plan to track your progress.
There are only three steps to start using italki. First, you choose a teacher from the list while filtering for language, level, and country. Then you read teacher reviews and book a trial lesson. Finally, you connect with your italki teacher. That's it. It really is that simple.
italki takes care of every technical detail for your online lessons – the payment methods, the video environment, the review system, and scheduling. That's not to say there aren't any activities outside the italki classroom. You can practice together with the italki community, participate in quizzes, listen to podcasts, and much more.
italki Review: Main Features
While italki shares some aspects with language-learning apps for self-studying, its features are all about learning the target language with other students and language teachers. But online interactions with strangers can get stressful, especially if it's a professional teacher of a foreign language. Luckily, most of the italki community is friendly and understanding.
Since italki is like a marketplace for private lessons, we cannot attribute the teacher quality to the italki platform. Instead, you should look at how it takes care of everything else to aid you in learning a language. italki does a great job, and it's all thanks to its well-thought-out features.
Teacher Filtering
The "find my teacher" section in italki shows every language teacher and filters them by native language, proficiency levels, and study goals. Later filters include lesson categories, such as business, conversation practice, test preparation, and more.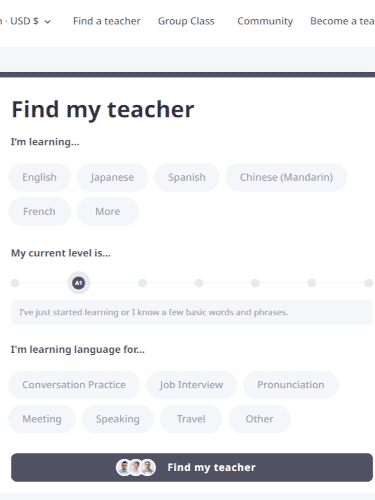 Expect to build your own curriculum and find your own schedule by choosing where the italki teacher is from, whether she is a native speaker, and when she is available. Most professional teachers are expensive, but the price can also be filtered too.
When choosing a new teacher on italki, it is crucial to look for reviews, how many lessons they did, and the quality of their video introduction. None of this can be filtered, but it is easily accessible in the language tutor profile to help you decide on an italki teacher for your target language. There is also other app called Live Lingua that will automatically match a teacher for your needs.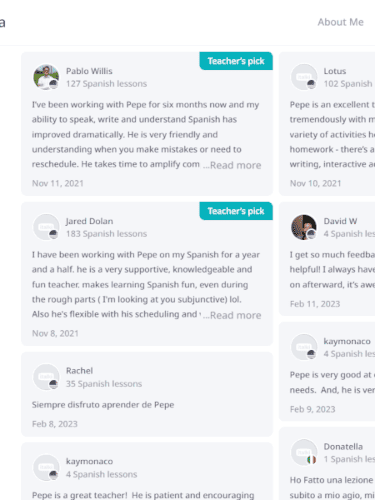 Instant lessons
In most cases, you can only schedule lessons for a later time. But some language tutors can show they are immediately available for italki lessons. It is possible due to the instant lesson feature. Instant lessons are only available for thirty-minute trial lessons, and the class begins in five minutes.
You will see the "available now" mark if the language tutor has this feature turned on. Understandably, the feature isn't available for too many teachers, and most have availability turned off. Still, it's a quick way for language learners to find trial lessons and for language tutors to find students.
italki Classroom
Taking online classes used to require additional software and a lengthy setup. It is no longer the case if you use the italki classroom. It's an in-built video calling and screen sharing tool with everything the language learner and italki teacher needs. You can even send messages to language teachers before the class begins.
You don't need to download additional software or worry about compatibility. The classroom works smoothly with the italki app and most popular browsers. But if your italki tutor doesn't use the classroom interface, other alternatives, such as Skype, FaceTime, or Google Hangouts, are still available.
italki Credits
Paying for online language classes is complicated. Your best teacher can live on the other side of the globe and use a different currency. italki credits solve this problem. It's a virtual currency used to pay for lessons, tests, and activities on the italki platform.
italki credits are equal to US dollars, but we found it cheaper to use them than real currency. You will only pay one processing fee instead of multiple ones every time you schedule lessons. However, keep in mind that italki credits can expire if you are inactive for twelve months.
italki Discover
If you have reached your daily language learning goals with private lessons, head to the "Discover" tab. There you can find a variety of activities created by the italki community.
Podcasts will help you to learn by listening. Teachers on italki created most of them covering various cultural and language-related topics.
Quizzes teach new concepts or help to rehearse what you already know. They are often paired with other activities, such as podcasts, or are created by language tutors as homework after italki lessons.
My vocabulary section is where the italki community posts their own sets of words for anyone to practice. The number of them varies among languages, but we found that you can get almost unlimited Spanish lessons there. Other major languages are similar.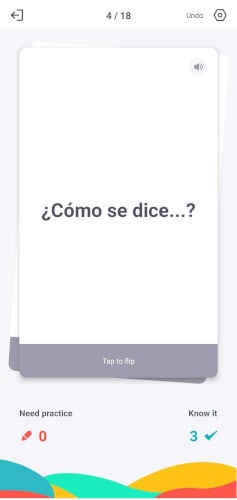 The certificate tab provides language learners with tests from professional teachers and two special paid tests. There's the Oxford online placement for proficiency in English grammar and the italki language test for French, Spanish, German, Japanese, Portuguese, and Italian language proficiency.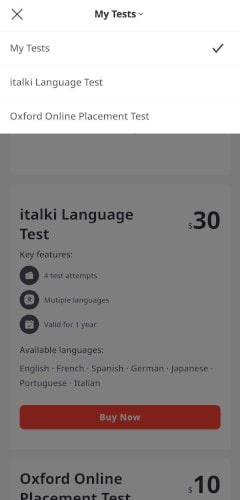 Additionally, the "you might like" feed includes italki's free features – articles and prompts. They allow you to interact and practice speaking with italki teachers and other learners.
italki Community
The community tab is where you can find language exchange partners. You can ask language learning-related questions, complete user-created exercises, and even follow community tutors frequently posting on the platform. The feel of this section resembles language learning blogs or a social media platform for language learning.
The section has a lot of free opportunities when learning a language. However, we feel this section isn't well moderated and is flooded with teachers and community tutors advertising their paid services. Finding language exchange opportunities would be easier with a bit more quality control.
Lessons Quality
Many online language exchange and tutoring apps struggle to ensure the quality of those who teach languages. While some freedom is required for different teaching styles, every language-learning app must strike its own balance. italki achieves it by ranking its instructors into two types.
Professional teachers are verified by the italki team. They must provide evidence of experience in giving language lessons in an academic institution or hold a relevant university degree.
Community tutors are native speakers or people fluent in the target language. They are willing to help others learn a language or participate in a language exchange.
Don't expect more pricey professional teachers to be better by default. After some trial lessons, we found that a good community tutor can be as effective as (or even better!) a professional teacher with a fancy diploma. 
Taking a trial lesson and reading reviews of other language learners is the best way to figure this out. Of course, this will take some time as individual lessons range from 30 to 90 minutes. Depending on your learning style, a few trial lessons should be enough to find a good teacher.
Any professional teacher on italki will provide you with grammar, writing, and reading materials. Interactive quizzes will help to learn and rehearse vocabulary, and video lessons, along with podcasts, will keep practicing verbal skills. Overall, the italki lessons cover everything you need for language learning.
Available Languages on italki
You can find over a hundred different languages in this platform! For most popular languages we included Italki as the best app for live tutoring sessions. Here is a list of most popular languages where Italki is featured:
italki Review: Ease of Use
The italki app is organized into tabs that you can find at the bottom. Somewhat confusingly, free resources, such as quizzes and podcasts, can be found in multiple places. While the language learning app feels professional in its use of colors and labels, the categorization takes time to get used to.
We found the website to be a bit better organized than the italki app. The main reason is that the italki classroom worked better on a PC. The language learning app is more suitable for the social features of italki in the "Discover" and "Community" tabs.
For first-time users, we recommend finding and messaging language tutors on the app and then switching to the web version for taking online classes. However, this applies to most online tutoring platforms, as sitting through a 90-minute lesson with your phone in hand isn't convenient.
In terms of loading times, the italki app and website work almost perfectly. The experience is smooth even when loading large quizzes and podcast collections. Although we had buffering issues with several lessons, this can hardly be blamed on italki.
Italki Alternatives & Competitors
Italki vs HelloTalk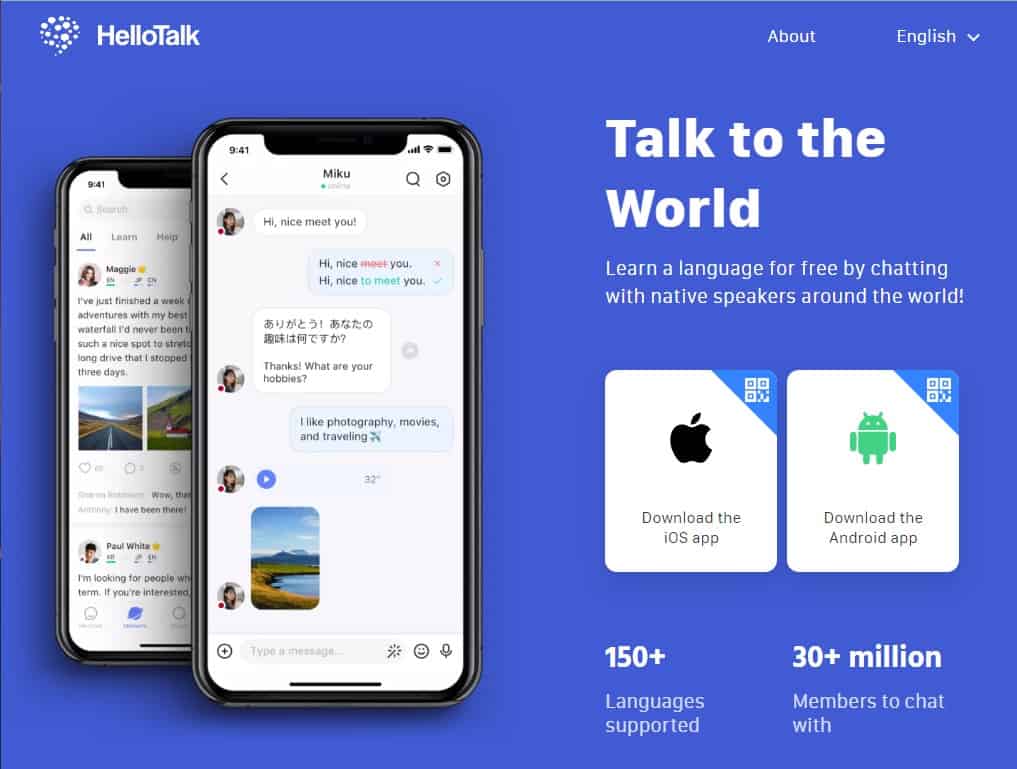 HelloTalk is a text-based language exchange platform where you can connect with other learners and tutors. Its various features, such as an AI-assisted grammar tool, help a lot in this process. We found learning on HelloTalk less demanding than in video lessons on italki. You can read more about it in this HelloTalk review.
Italki vs Verbling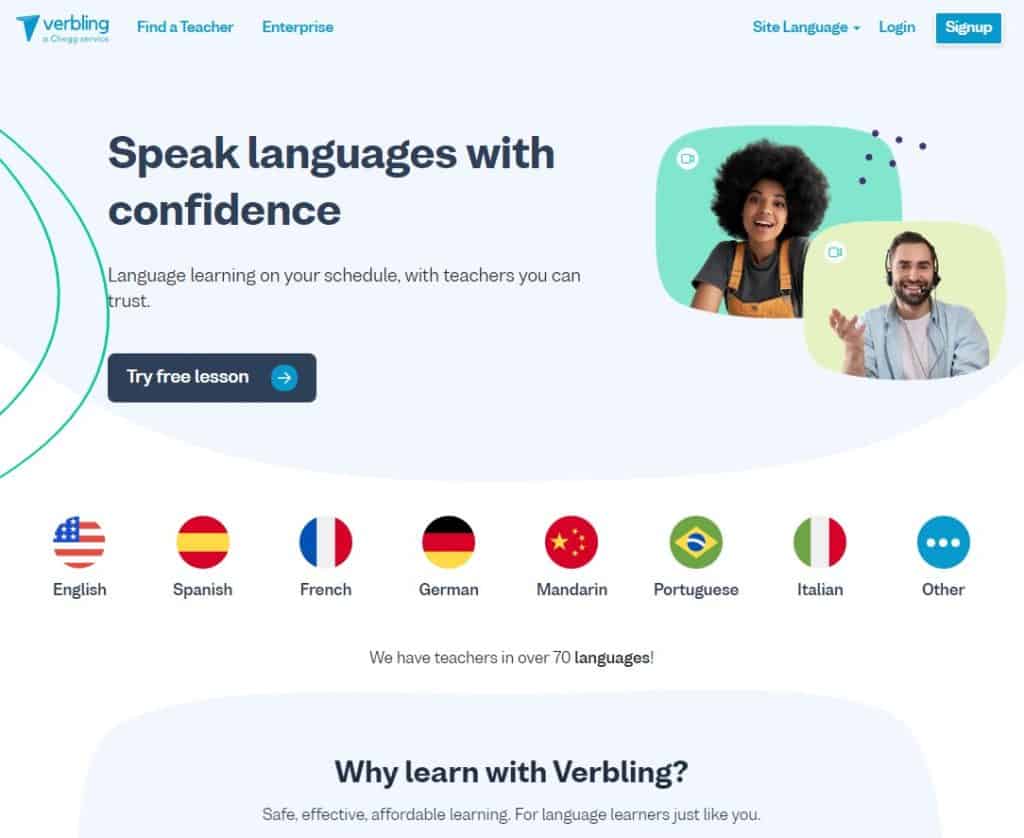 Verbling is a close alternative to italki, which mostly differs by carefully selecting its tutors. italki allows community tutors with no formal teaching experience to participate. Generally, this raises the prices on Verbling a bit, but it's easier to find tutors for some. You can find more information in this full Verbling review.
Italki vs Lingoda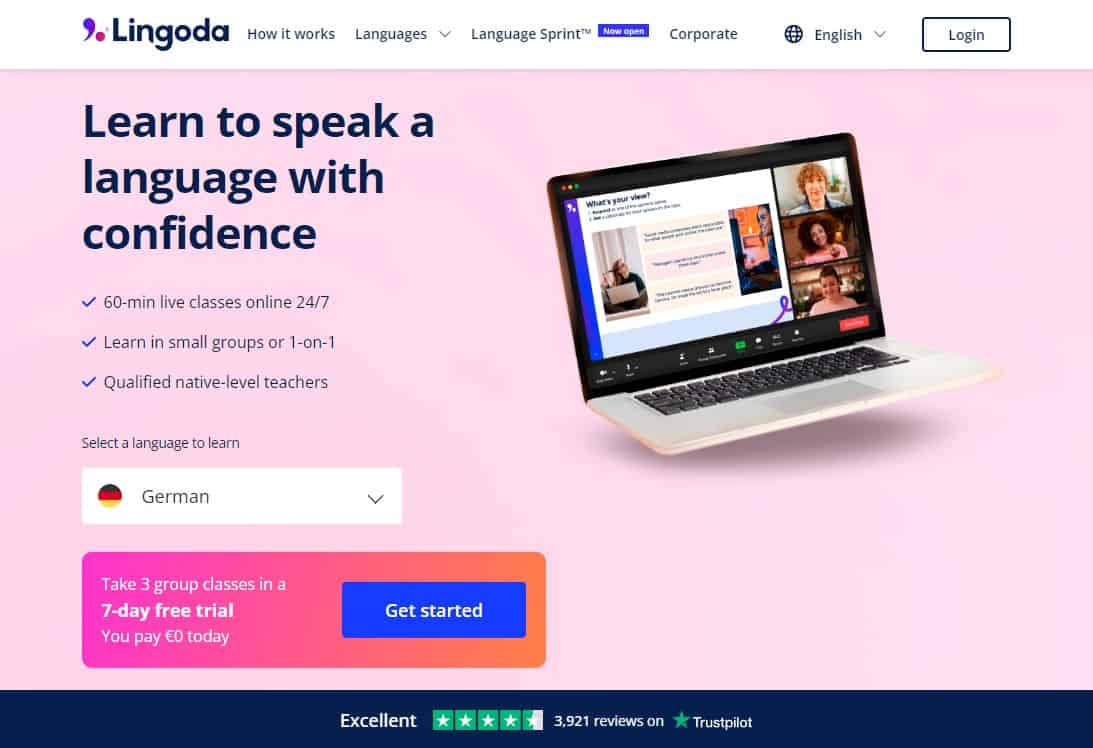 Compared to italki, Lingoda resembles a traditional classroom experience much more by providing group classes. It effectively lowers the prices and provides interaction with other students. The biggest differences from italki are the classroom interface and the fact that Lingoda supports only four languages. Learn more in this Lingoda review.
Italki vs Preply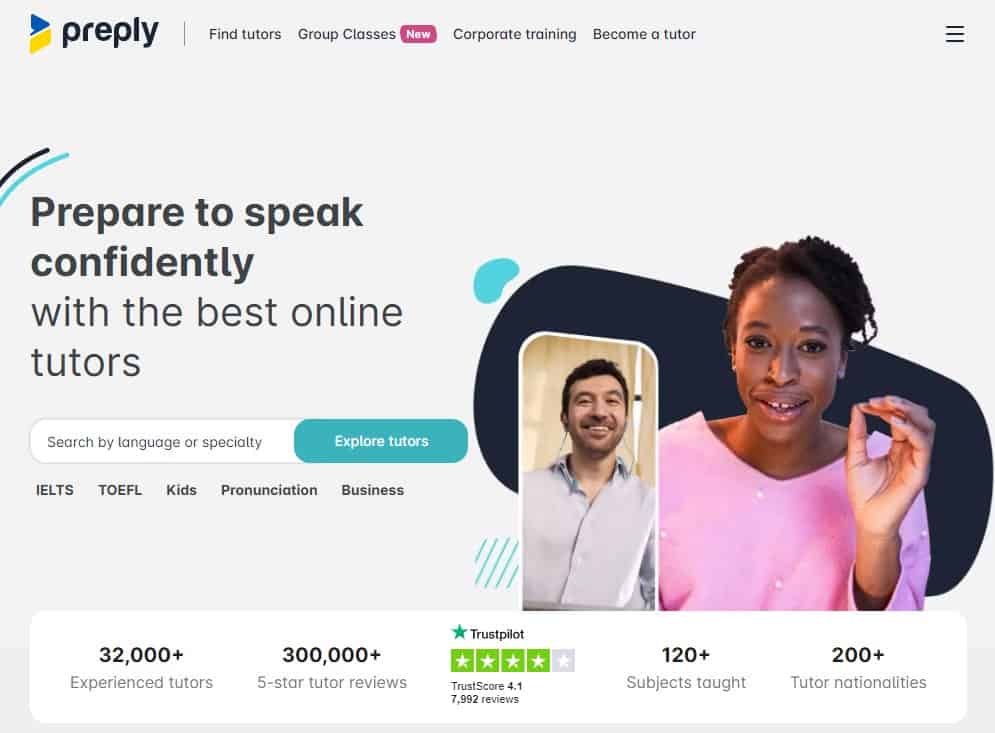 Preply and italki are closely competing as the most popular online tutoring platform. The classroom interface is similar, although we favor Preply's search a bit more. The number of tutors depends on the language, but italki has a bit more of them since they allow community tutors. Check this Preply review before deciding.
Italki vs Baselang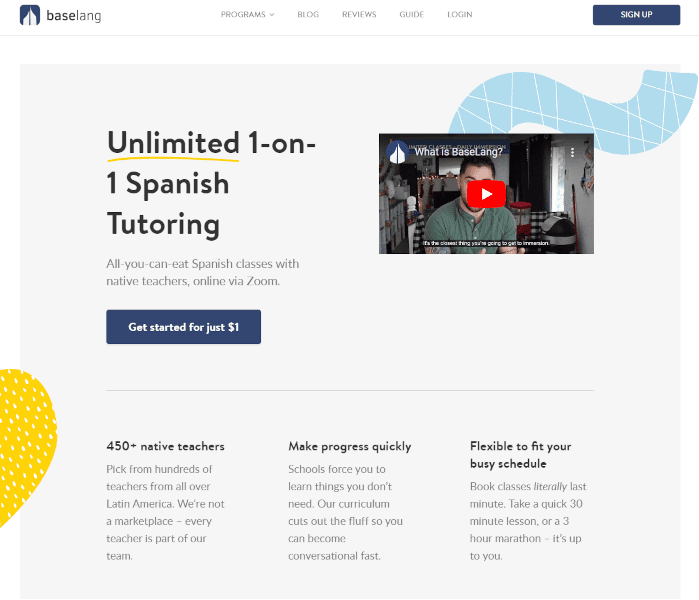 Baselang provides structured and affordable one-on-one tutoring with native speakers. Italki is one of the most popular platforms for finding a tutor yourself, but Baselang focuses only on Spanish and provides a tutor with a pre-made curriculum. If finding a tutor yourself is too difficult, read our Baselang review.
What Could Be Improved?
While language tutor filtering on italki is one of the best in the market, it could still use some minor improvements. We haven't found a filter for regional dialects, which could be important if you want to learn a new language in a specific variation.
italki doesn't provide a structured curriculum, such as Lingoda, to its language teachers. However, some of them have structured their lessons in a specific way. Better functionality in tutor profiles or filters would help find this information. 
Lack of moderation in the "Discover" and "Community" sections of the italki app is evident. Every italki tutor is screened well, but the amount of content on the language learning platform makes it difficult to find what is best for your learning style.
Many free resources and feedback are just community tutors promoting their services. It isn't bad in itself, as it helps find private tutors faster, but it also encourages incomplete answers.
Prices could be better moderated too. Some community tutors charge way more than certified teachers. A platform with as many teachers as italki should put some sort of pricing caps to help learners better understand who is worth their time. 
Lastly, a better motivational system might draw more language learners to the platform. Many students today are used to heavy gamification provided in apps like Mondly or Duolingo. The possibility to create your language learning plan is a good start in solving this small drawback.
italki Pricing
Language lessons on italki can range from four to fifty dollars per session. As with most online tutoring platforms, it all depends on the language and the tutor. For example, there is plenty of cheap Hindi tutors, while all Swiss German native speaker teachers start from ten dollars.
italki credits equal US dollars. The smallest amount you can buy is $20. It is enough for two lessons with most tutors. You can also purchase italki credits in different currencies, but a third-party processing fee will be applied. 
Those who consider to teach languages on italki should know that every italki tutor is charged a 15% commission fee. So, if a lesson costs $10.00, the language teacher will receive $8.50.
Free Trial
Quizzes, podcasts, and other content on italki are free for everyone, while language lessons require italki credits that you must purchase. However, every user gets three trial lessons free of charge. After that, you can get a discounted trial lesson, but not every language tutor provides them.
italki Coupons and Discounts
As with most language learning programs, italki offers regular discounts on special occasions, like Christmas or Valentine's day. Teachers on italki can also set their own prices for lesson packages which often come at a discounted price. We found that purchasing packages is the best way to save money on italki.
There is also an italki referrals program allowing you to earn credits for every friend you invite to the platform. You will get $10 for each friend that purchases $20 italki credits for the first time.
Refund Policy
italki provides a 100% satisfaction guarantee for two out of three trial lessons, meaning that you can retake them if the tutor hasn't met expectations. Further lessons can only be refunded in italki credits.
Other students see it as a drawback as it eliminates any possibility of a cash refund. But we think it really makes it easier for everyone since you get them back almost immediately. Besides, italki is quite flexible in giving out refunds.
italki Pricing Compared to Competition
Pricing on italki stands out from other online tutoring platforms with its credit system. While platforms like Preply also allow teachers to set their own prices, the payments are in US dollars, and many users find themselves paying a lot in processing fees to learn a new language.
Lingoda is another tutoring platform, but instead of paying for individual teachers, you pay a subscription fee and get structured language lessons. However, italki also allows teachers to sell lesson packages. So if you find skilled teachers with professional courses, the experience can be similar to Lingoda.
If we also account for the free resources and the number of other languages in italki, it's a really competitively priced platform. Native language tutors on italki can really save you some money. Of course, italki alternatives are still worth considering if your language learning goals differ.
Accreditation
Most professional teachers on italki are certified, and it shows on their profiles. Although there is no way to see the documents themselves, one trial lesson is usually enough to see if that is really the case. 
As a platform, italki is used by numerous companies worldwide and is even trusted by Oxford to provide their placement test. However, we haven't found any academic institutions or authoritative native speakers to recognize the italki's own placement test.
italki Ratings from Around the Web
Google Play Store – 4.3 (1M+ downloads)
Apple App store – 4.7 (2.5K ratings)
italki Review: Customer support
We were able to find most answers on italki's support page. There's also the customer success bot, which provides mostly the same information in a chat format. Unfortunately, there is no live chat function, and you can only reach their support via an online email form.
We contacted them with some suggestions for fileting improvement, and they got back to us only after a few days. However, the answer times may vary depending on the subject of your inquiry. Likely, more pressing issues, like stuck payments or reporting language partners, would be answered sooner.
italki Review: Conclusion
Anyone can find a private tutor on italki to learn a new language with. Alghtou it is best for those who aren't complete novices and want to save on private lessons. A host of free features and a vibrant community of native speakers is what makes us come back to this language-learning app.