Flashcards are a well-known method for memorization. Language students have used them to remember new vocabulary for quite some time. But as with most language learning methods, there is still much room for improvement.
Lingvist is a language learning app that takes flashcards as its basis and aims to expand your vocabulary. It provides customizable decks and offers various ways to learn new words while teaching grammar and syntax contextually. 
It might be the best improvement to the old-school flashcard system. This Lingvist review will cover its features, price, learning materials, and everything else to test whether this is the case.
A fun and efficient tool for vocabulary practice
Learning new words with Lingvist never gets boring. It has various exercises, custom decks, challenges, and much more.  Lingvist brings all these together with a superb tracking system, which provides insights into your progress. All these features make Lingvist a near-perfect resource to build vocabulary.
⭐ Rating:
8.9

★★★★★

🥇 Available languages:
9 (see below)
📈 Suits best for:
Novices and Intermediates
🛒 Payment options:
Monthly and Annual
💵 Price:
$9.99 – $79.99
⌚ Hours of lesson time:
280+
🔄 Refund policy:
14-day money-back guarantee
🎁 Free Trial:
✔️
Lingvist Brazilian Portuguese, Lingvist Dutch, Lingvist Estonian, Lingvist French, Lingvist European Spanish, Lingvist German, Lingvist Italian, Lingvist Japanese, Lingvist Latin American Spanish, and Lingvist Russian.
Disclaimer: Lingomee is an independent review site that may benefit from affiliate programs. Buying through our links makes our efforts possible without additional costs to you. Learn more here.
A Brief Overview of Lingvist
Lingvist's primary focus is to teach users new words and track their learning progress. Like many language learning apps, it utilizes spaced repetition to embed everything in your long-term memory.
What makes Lingvist unique is the ability to create your own courses and the tracking system that gives you detailed data on your progress. You can enter paragraphs of text and it will compile the words in Lingvist's database into a custom course.
Before starting to learn with Lingvist, you can take a placement test, which usually places learners at a lower level than they actually are. So you might need to go over some content that you already know. The placement test asks whether or not you know the words in the target with a small focus on grammar.
Lingvist teaches new words in a sentence and expects you to understand the grammar from context. The app supplements this contextual learning with an elaborate grammar tips section. The information provided in this section is thorough but it isn't interactive. It is essentially a handbook that walks you through various grammar rules. If your primary focus is on grammar learning, than Rocket Langues, Lingodeer, Speechling and Babbel are more engaging.
Lingvist Review: Primary Features
The language courses offered on Lingvist are mostly aimed at teaching vocabulary. The features that come alongside the lessons diversify the way you learn a new language beyond picking up new words. Below are some of the best Lingvist features.
Custom flashcard decks 
Lingvist's custom flashcard decks feature enables users to create unique decks. This feature helps users create custom decks on what they want to learn by allowing them to create their own courses. There are several ways Lingvist allows this.
You can enter a paragraph of text in your target language, and the app will compile the words into a custom flashcard deck. It will gather all the words in the text that matches Lingvist's database.
You can also enter a word to collect related words into a deck. For example, entering an animal name will gather everything related to animals in that deck. You can expand it by adding new words without a limit on deck size.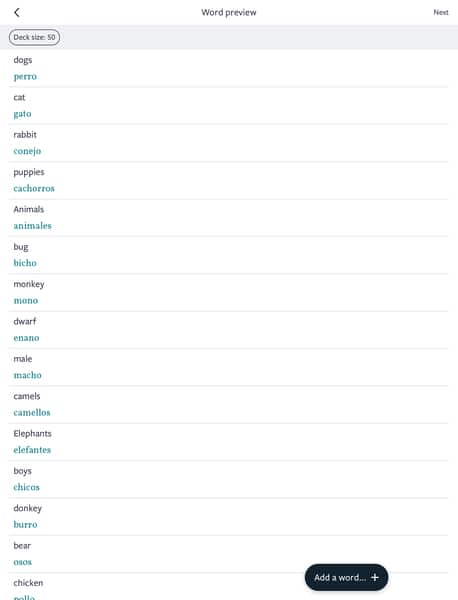 Grammar tips
Lingvist courses don't cover grammar in-depth. There aren't heavy grammar-focused practices in the lessons. The app expects you to learn it naturally along the way. Many language learning apps follow a similar structure. Luckily, Lingvist doesn't neglect grammar altogether.
The app has grammar challenges and a section that explains concepts tables and textbook-like chapters. The explanations include the alphabet, nouns, adjectives, prepositions, and more. It covers most of what you need to know in your target language. 
The grammar tips are made separately for beginner, intermediate, and advanced learners. So you can find grammar explanations relevant to your level.
Challenges
Lingvist challenges are exercises that bring everything you learn throughout the lessons in one place.
The grammar challenge asks the user to select the correct words to fill in the blank space. You can pair this with the tips section to improve your grammar skills.
The listening challenge plays a sentence or conversation for the user. Then asks a question about it. For example, you listen to the narrator talking about the weather and the app asks what the weather is like.
The reading challenge prompts a sentence to measure your reading comprehension. It tests your attention to detail while reading sentences in the target language.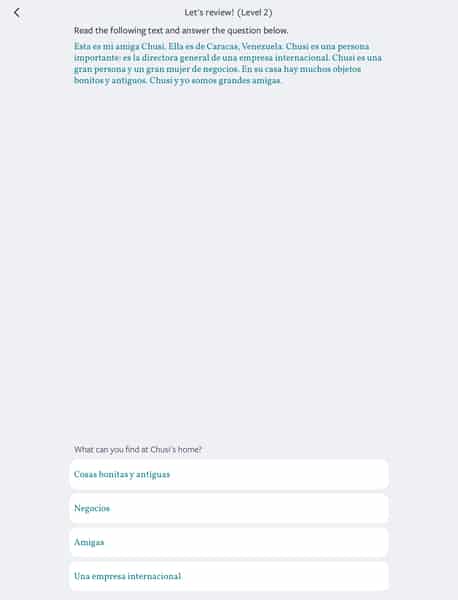 The content in Lingvist challenges varies by language. Language courses have a different amount of content available. For example, when you learn Russian, there is less content than in a more popular language such as Spanish.
Insights to track progress
Lingvist provides detailed insights on your path to fluency. It shows how many words you've learned and currently studying. It also displays the words the app reminded you that might be fading away from your memory.
You can filter every word by how much they are practiced. So you know what words need the most attention. This data is available for different time intervals. Tracking progress daily, weekly, and monthly allows language learners to analyze their progress efficiently.
This feature works as a great substitute for gamification. While many apps provide a game-like experience, Lingvist aims to show user progress in detail to keep your motivation and engagement while learning words.
The Excellence of The Learning Material
One Lingvist lesson can take anywhere between five to fifteen minutes to complete. You see a few words in your native language and type what it means in the target language. If you don't know the correct word, you can reveal the flashcard to learn.
In a nutshell, this is how Lingvist teaches you new words. It then employs the spaced repetition system and various exercises to help keep everything in your long-term memory.
There's also the deck review. You can use this to go over the words you learned for the second time without new words appearing.
All Lingvist lessons follow simple instructions. Going from the first flashcard to the last in each session is easy to follow.
Vocabulary
Lingvist stands out in the vocabulary practice. It is essentially a vocabulary app utilizing lessons and challenges focused on teaching new words to help learners retain them. It is especially good for beginner and intermediate-level students.
You learn a new word and repeat it several times. After some time, they appear again and are used in sentences but with blank spaces for you to fill in. You can also utilize challenges on your level to make sure you learn vocabulary for good.
Grammar Instruction
The grammar practices in Lingvist lessons don't cover a lot. They only go over the basics. The app expects you to pick up grammar as you go but gives tools that touch more on grammar.
The grammar challenges help you put what you learned from the lessons together. But there aren't many of them and we were able to finish all the grammar challenges in about half an hour.
The best way to get detailed grammar explanations within the app is through the tips section. It provides insights into how different grammatical concepts work. However, there aren't many ways Lingvist incorporates these explanations in the lessons, which can be a downside for more advanced users.
Verbal Practice
Lingvist recently introduced conversations for speaking practice. Like many other apps, it utilizes speech recognition technology. As the conversation feature is still under development, there isn't a lot of content. Lingvist also says that speech recognition isn't perfect yet. But there were no issues during our testing for this Lingvist review.
These exercises are based on set scenarios. So you get an idea of what to expect from the practice before starting. The app shows what you need to say and corrects pronunciation mistakes.
While the conversations follow a set path, they are based on real-life situations, preparing you to speak with native speakers. The conversations follow simple lines such as asking people if they speak English or asking someone about their job. 
Reading and Writing
During Lingvist lessons, you repeatedly type the learned words. This aspect of the learning method improves reading and writing skills.
The reading challenges focus on improving attention to long-form sentences. You read, and the app asks you a question about the sentence. The questions measure how well you understand it.
Along with the reading challenge, typing learned words helps keep everything in the long-term memory. And with the help of spaced repetition, you write well over thousands of words multiple times. 
Repetitiveness
As with any other language learning app that uses spaced repetition, the first few hours can get repetitive. After that, learning with Lingvist goes on very smoothly.
Many other apps provide a game-like experience, which makes learning languages feel more engaging and less repetitive. Lingvist skips this aspect. It has a more professional look that presents what you need for learning only. For some, this can add to the repetitiveness of Lingvist in the early stages.
Overall, Lingvist doesn't feel repetitive once you finish a few flashcards when learning vocabulary. It covers more than 5000 individual words for most Lingvist languages. You will have new words for vocabulary practice to last months.
Lingvist Review: Accessibility
The Lingvist app and website follow a minimalistic design. It doesn't have flashy animations or bright colors, which can feel dull when compared to other apps. For example, Duolingo offers animations, and Rosetta Stone has detailed images. A user switching from apps like these may want more visuals.
The Lingvist app is light and responsive. Getting yourself familiarized with it takes minutes. The loading times are quick on the app, but the browser version tends to get slow. This slowing down isn't an issue with the few features Lingvist has. It's more apparent in the lessons where you enter the words you're learning.
What Areas Require Enhancement?
Lingvist primarily focuses on vocabulary while teaching the most common words in the language. It is a great way to prepare yourself for conversing with native speakers. Still, like any other language-learning app, Lingvist isn't perfect. If you want to hear native speakers, you can read our guides of these apps:
You can also take classes with native speakers:
Lingvist flashcard decks can get monotonous. The spaced repetition gets boring when used only with flashcards. Various Lingvist features diversify the learning experience, but the app feels quite dry if you aren't after learning new words. Nonetheless, this is the focal point of Lingvist. It's for language learners wanting to expand their vocabulary.
Additionally, the browser version could use some improvement. Everything is accessible from the web but loading flashcards can keep you waiting. Luckily, the app covers what the browser version lacks.
Lastly, language learners used to the game-like experience may find Lingvist's user interface a bit bland and unmotivating.
Linguist Price
Lingvist offers two pricing options – monthly and annual. The monthly subscription costs $9.99. The yearly subscription is $79.99, which comes out to $6.67 a month.
Once you subscribe to a plan, you will have access to everything Lingvist offers. It doesn't limit to specific languages or require additional purchases to unlock certain features. Unfortunately, Lingvist doesn't have a lifetime subscription, but the yearly plan is a great value for money.
| | | |
| --- | --- | --- |
| Subscription | Price | Payment |
| Monthly | $9.99 | Charged monthly |
| Annual | $79.99 ($6.67/month) | One charge of  $79.99 |
Free Trial
Before subscribing to Lingvist, you can sign up for a 14-day free version. During this period, you will have access to the most important features needed to get the feel of this vocabulary app.
Lingvist Coupons and Discounts
Lingvist occasionally offers discounts on the annual plan. When signing up, check the notifications box to get promotional emails. 
Refund Policy
Lingvist issues refunds which you must request within 14 days of the purchase. Contact their support for purchases made on the Google Play Store and on their website. For Apple App Store purchases, contact Apple. The refund takes less than a week, but they don't guarantee a full refund due to transaction costs.
Lingvist: Is it a Good Investment?
Lingvist implements various ways to teach vocabulary. It isn't a language learning resource that provides comprehensive education. The grammar instructions and the verbal practice options are good examples of this. Lingvist also misses quarterly and lifetime subscriptions. But the 14-day free trial should be enough to test the learning experience.
Compared to other popular language apps, it offers good value for the money. For example, a month of Babbel or Rosetta Stone will cost 14.95 and 11.99, respectively. Safe to say, the pricing of Lingvist is well below the competition. The yearly subscription comes down to roughly $6 a month.
Recognitions
From its early start-up days, Lingvist has received numerous awards. It got recognition as the brightest start-up and headlined in the TechStars program. It also received funding from the EU as part of the Horizon 2020 program.
Lingvist Ratings From Customers
Google Play Store – 4.3 (1M+ downloads)
Apple App store – 4.6 (2.5K ratings)
G2 – 4.1
Trustpilot – 3.7
Customer Service
The only way to contact Lingvist is by email. There is no live chat support or a phone number to call them. Lingvist is quick to give support on user inquiries. If you're having problems with your subscription, there is also the Lingvist blog and an extensive FAQ page.
What Makes Lingvist Unique?
Lingvist is by far one of the best language-learning apps for expanding vocabulary. It works well for beginner-level and intermediate language learners. The app utilizes customizable flashcards and offers different exercises to help with vocabulary building. Lingvist keeps a close eye on user progress, ensuring you get the most out of the app.