Lingomee is an independent review site that may benefit from affiliate programs. Buying through our links makes our efforts possible without additional costs to you.
Many language learners struggle to master their target language because it is hard to improve their pronunciation. It's a common problem faced by language learners, especially those living in a non-Spanish-speaking country like the northern US, with fewer possibilities to practice speaking. But Spanish learning apps are a solution for many interested in learning to speak Spanish.
Spanish learning apps are perfect for learning since they're accessible, affordable, and convenient. The access to a course with learning materials without attending a physical classroom offers great language learning flexibility. The apps also connect you with native speakers, with whom you can practice speaking and discover new words.
We will review the best apps to learn Spanish suitable for beginners and advanced learners. These Spanish apps support different learning styles, including quizzes, interactive exercises, and games to help you learn the Spanish language quickly.
My Selected Favorite Apps to Learn Spanish
Most Well-Rounded Spanish App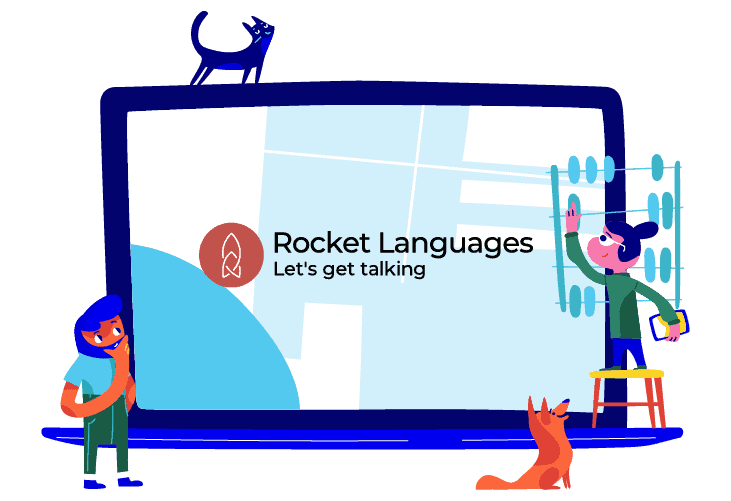 The most comprehensive audio-based language learning platform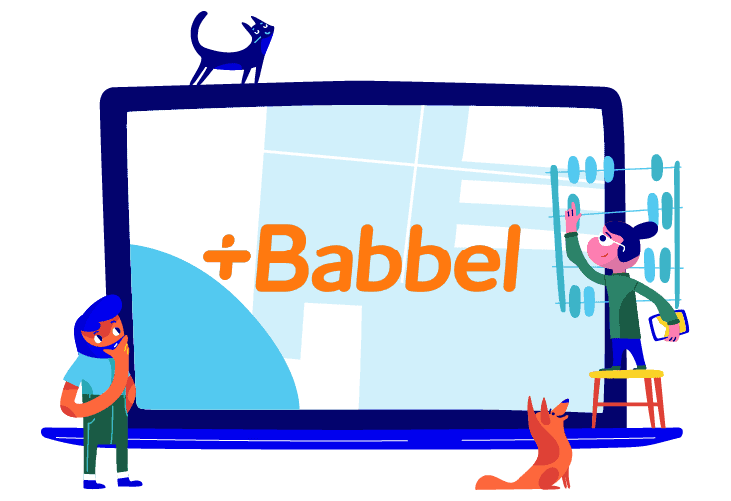 A premium yet affordable Spanish learning experience for beginners
Best Spanish App with Lifetime Access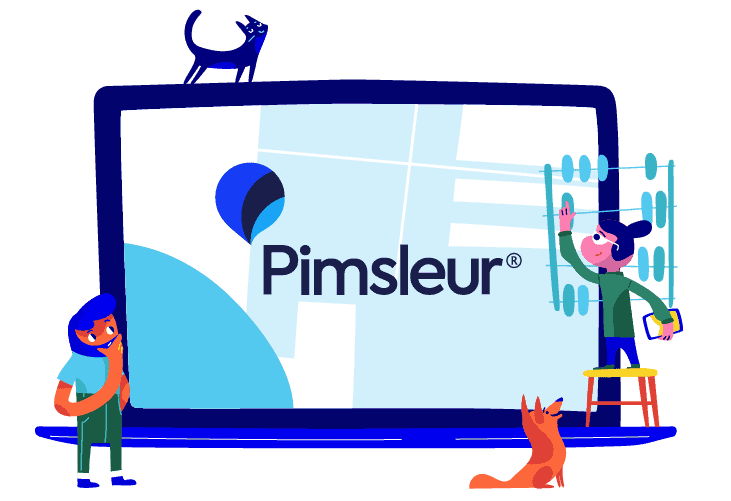 A compelling app with audio lessons for learning Spanish
How to Choose the Best App to Learn Spanish?
The language learning market is saturated, so finding the best apps to learn Spanish is time-consuming. It takes throughout research and testing to see what's actually effective. Here at Lingomee, we're all about making it easier for you. We benchmark all products through the same measures.
| | |
| --- | --- |
| ⭐ Rating | A sum of user experience, content quality, features, customer support, and value for money. |
| 🥇 Available languages | Most relevant for studying multiple languages but tells a lot about the overall quality of the platform. |
| 📈 Suits best for | Evaluations are based on ACTFL guidelines, but we also measure how fast you will move up a level. |
| 🛒 Payment options | Shows how flexible the pricing plans are and, in most cases, how much you can save. |
| 💵 Price range | A measure of much you should expect to spend on a language-learning app. |
| 📚 Hours of study time | An approximate measure of how much language learning material there is for one language. |
| 🕒 Time commitment | Optimal daily dedication for the best results, as spending more time isn't always the best strategy. |
| 💻 Platforms | Where you can use the language learning software. |
| 🔄 Refund policy | A money-back guarantee is a safeguard for your money. |
| 🎁 Free Trial | We prefer language learning programs not requiring a credit card to signup. |
Rocket Languages – Overall Best App to Learn Spanish
Babbel – Best Spanish App for Beginners
Pimsleur – Best Spanish App with Lifetime Plan
SpanishPod101 -Best Spanish App for Audio Lessons
Glossika – Best App to Learn Spanish with Spaced Repetition
Preply – Best Spanish App to Find Tutors
Mondly 

– Best App to Learn Spanish With Gamification

FluentU 

– Best Spanish App for Grammar

LingQ – Best App To Learn Spanish Reading
Duolingo 

– Best Spanish App With Free Access
10 Best Apps to Learn The Spanish Language
Overall Best App to Learn Spanish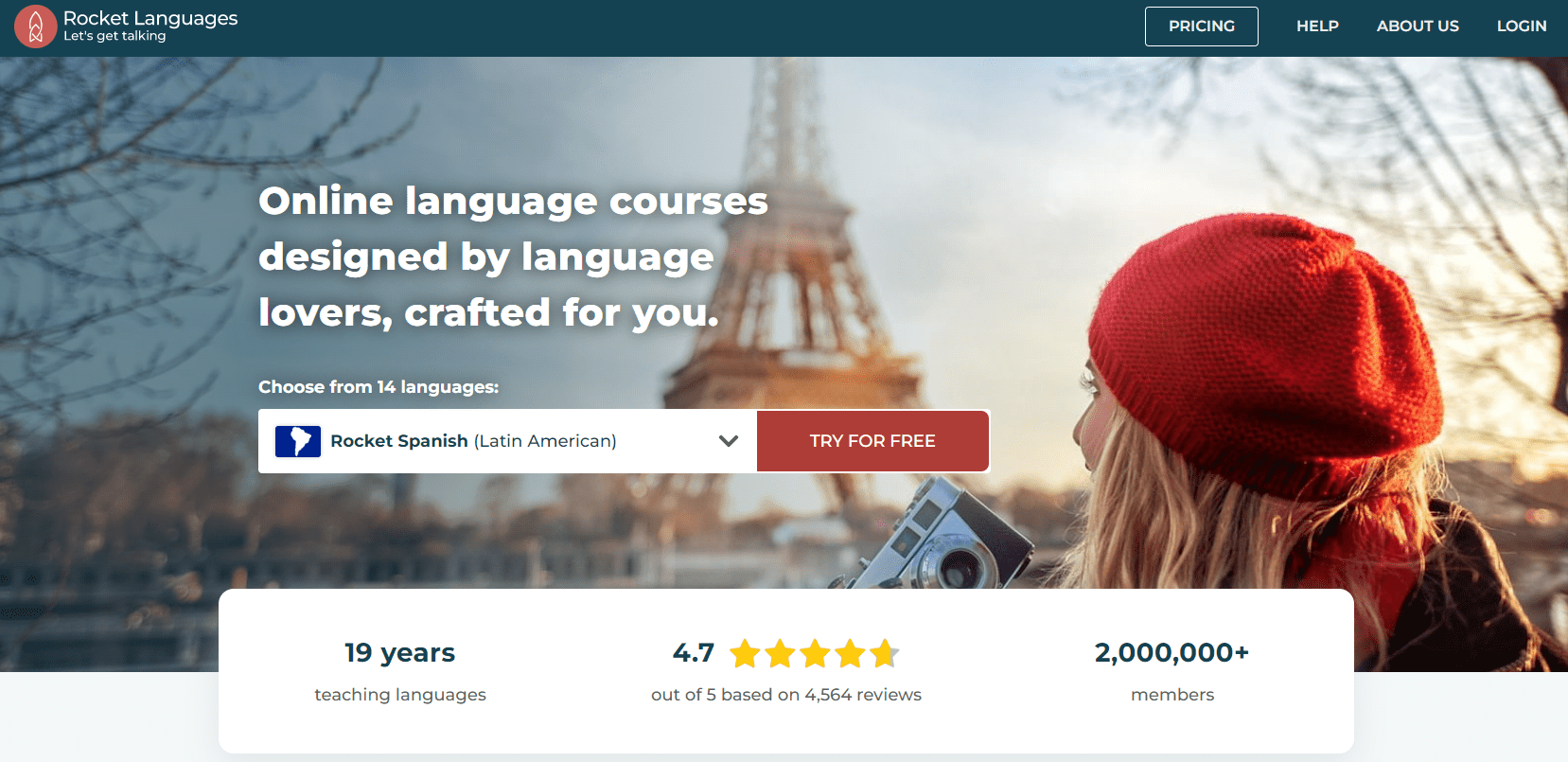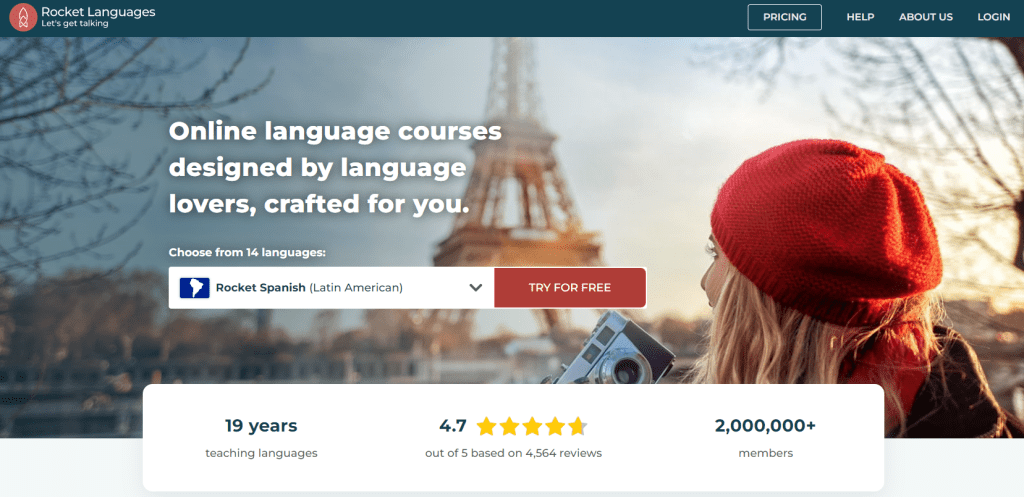 Why we like Rocket Spanish
Rocket Spanish covers everything you need to learn a new language – from speaking and grammar to culture and immersion. The highly interactive app is also affordable, which makes it one of the best apps to learn Spanish language course.
| | |
| --- | --- |
| ⭐ Platforms: | Web, iOS, Android |
| ⌚ Time commitment: | 40 minutes per day |
| 💵 Price: | $15 – $260 |
| 🔄 Refund policy: | 60-day money-back guarantee |
| 🎁 Free Trial: | ✔️ |
Interactive Audio Lessons – talk the Spanish of native speakers through real-life interactions.
Play It! – take the role of a speaker in a dialogue and practice your pronunciation.
Reinforcement Activities – use multiple exercises to memorize the Spanish language in every aspect.
Progress-Tracking – stay on your learning path with a gamified motivational system app dashboard.
Why Rocket Languages Is The Overall Best App to Learn Spanish
Rocket Languages' comprehensive language-learning approach makes it one of the best Spanish learning apps. It focuses on interactive audio lessons, allowing learners to learn Spanish quickly. The inclusion of interactive exercises like listening comprehension helps students improve their listening practice. The course covers pronunciation, grammar, vocabulary, and cultural nuances, making it a well-rounded Spanish app.
Pronunciation practice comes in handy for improving intonation, accent, and rhythm. The speech recognition features allow learners to send recordings of themselves speaking and receive instant and helpful feedback from native speakers to improve their conversational Spanish.
The lessons are of high quality, with the course covering pronunciation, grammar, vocabulary, and cultural nuances, making it a well-rounded Spanish app.
Rocket Spanish app pricing starts from $99.95, which might seem expensive compared to other apps. But it's not. Instead of paying a subscription fee, you get access to all the course contents for one price. Forever. Rocket languages also have an unlimited free trial with access to some introductory content. There really isn't any reason not to try it.
Best Spanish App for Beginners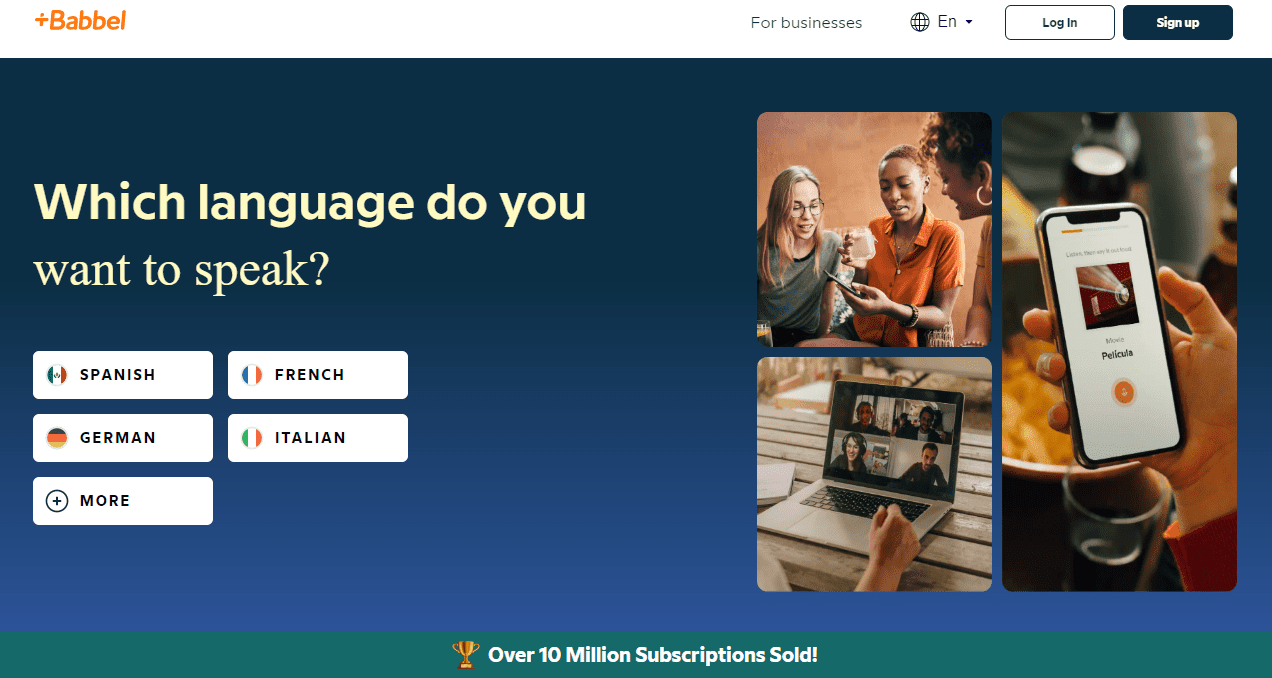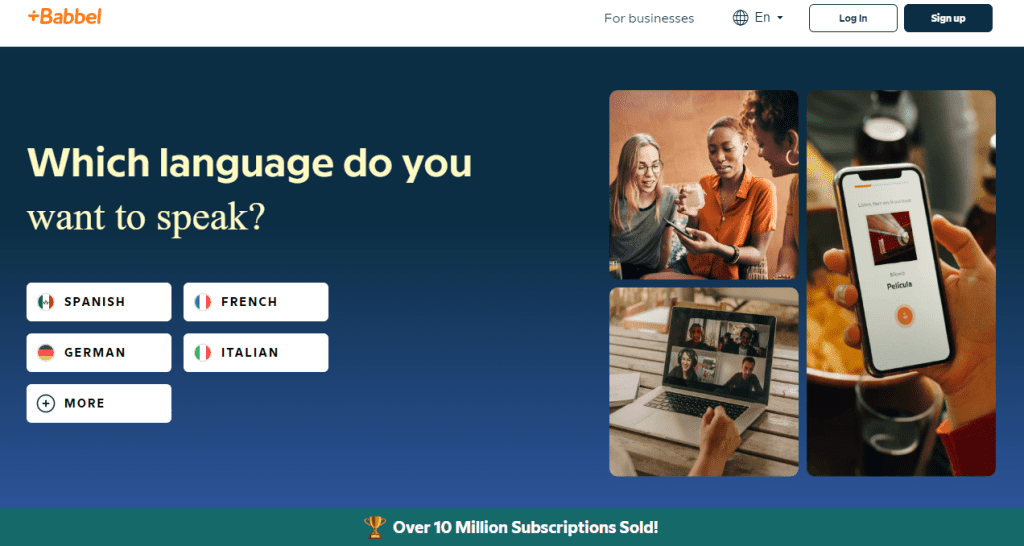 Why we like Babbel Spanish
Babbel is an easy-to-use and scientifically proven Spanish learning app. It's full of engaging lessons, podcasts, review exercises, and games. Babbel is balanced for beginners, but every language learner will find a use for it.
| | |
| --- | --- |
| ⭐ Platforms: | Web, iOS, Android |
| ⌚ Time commitment: | 30 minutes per day |
| 💵 Price: | $14.95 – $349 |
| 🔄 Refund policy: | 20-day money-back guarantee |
| 🎁 Free Trial: | ✔️ |
Speech Recognition System – test your Spanish pronunciation with what might be the most accurate voice recognition app software on the market.
Babbel Live – participate in hour-long lessons with certified language instructors.
Mini Games – break out of the rut with a variety of engaging language-learning games.
Everyday Conversations – improve your speaking skills while following a dialogue in a real-world setting.
Why Babbel Is The Best Spanish App for Beginners
The structured Spanish lessons, user-friendly app interface, and efficient teaching methodology are why Babbel is the best Spanish app for beginner courses. The real-life conversations, like asking for directions, ordering food, and discussing hobbies and interests, help learners improve their Spanish speaking and listening skills and prepare them for everyday use.
The structured lessons explain the Spanish grammar rules in detail. For instance, an introduction of a basic grammar context is followed by an example of how to use the context in a conversation or text. Audio recordings of the lessons help improve your pronunciation and listening skills. The high-quality lessons also include interactive exercises and quizzes to help students practice Spanish.
Babbel app gives free access to the first class of all courses and two free Babbel Live lessons. A subscription costs $14.95 monthly, but an annual plan lowers the price to only $7.45. A lifetime subscription unlocks all languages forever for $349, which is great compared to other apps. But Babbel live lessons will still cost you from $50 per month.
Best Spanish App with Lifetime Plan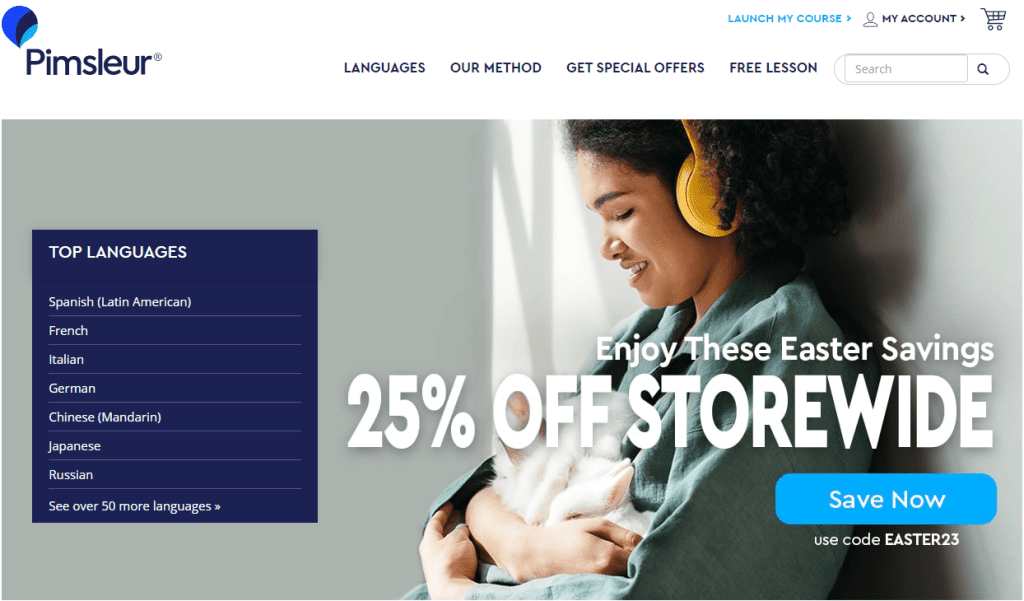 Why we like Pimsleur Spanish
Pimsleur app gets you conversational in a new language with interactive audio lessons and games. A native speaker instructor will walk you through basic vocabulary and the most important concepts for reading, grammar, and writing.
| | |
| --- | --- |
| ⭐ Platforms: | Web, iOS, Android |
| ⌚ Time commitment: | 30 minutes per day |
| 💵 Price: | $14.95 – $575 |
| 🔄 Refund policy: | 30-day money-back guarantee |
| 🎁 Free Trial: | ✔️ |
Driving and Offline Mode – download audio lessons for offline use and easily control the app while driving.
Speak Easy challenge – build conversational skills, expand vocabulary, and get conversational in real-life settings.
Voice coach – advanced speech recognition technology for pronunciation practice.
Speed Run Game – memorize and translate words quickly with interactive app games.
Why Pimsleur Is The Best Spanish App with Lifetime Plan
Pimsleur's conversational fluency approach makes it the best Spanish app with lifetime access. The audio lessons are structured to provide conversation fluency and prepare learners for real-life conversation practice where they need to talk in Spanish. Learners also converse with native speakers to learn vocabulary.
The lifetime access allows you to revisit the learning app as many times as you need to reinforce your skills. The cultural content provides learners with an insight into what to expect in a Spanish-speaking country, including customs and cultural norms. The short lessons and a progress-tracking tool help learners complete the Spanish courses quickly and monitor their progress in app dashboard.
Pimsleur app offers affordable subscription options ranging from $14.95 monthly audio-only course to $150 for all-inclusive individual courses. Premium Pimsleur account provides access to all available languages and levels. The seven-day free trial is a great way to test Pimsleur before purchasing.
Best Spanish App for Audio Lessons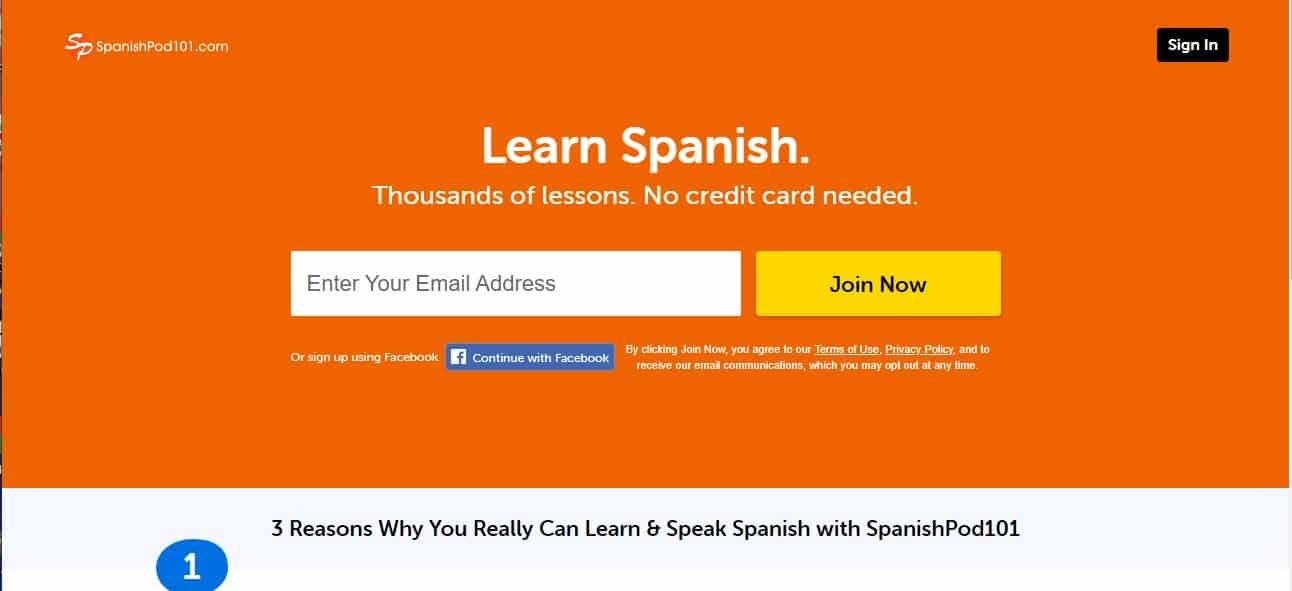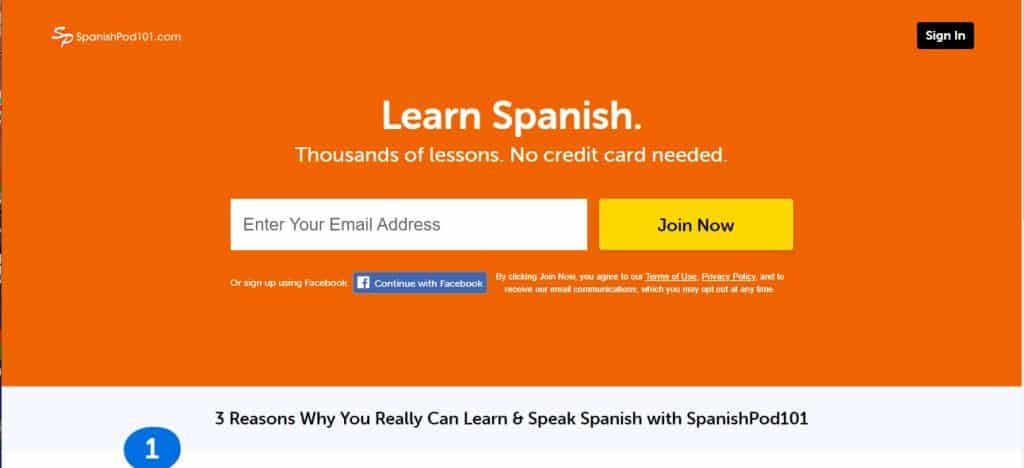 Why we like SpanishPod101
Spanish Pod 101 app provides an extensive collection of podcast-like language courses with the same high-quality standard in each. Listen to native speaker dialogues adjusted for your level and accessible at your own pace.
| | |
| --- | --- |
| ⭐ Platforms: | Web, iOS, Android |
| ⌚ Time commitment: | 40 minutes per day |
| 💵 Price: | $4 – $552 |
| 🔄 Refund policy: | 60-day money-back guarantee |
| 🎁 Free Trial: | ✔️ |
Pathways – learn with personalized lesson plans suiting your interests.
Dialogues – follow native speaker conversations while making notes in app and recording yourself.
Vocabulary – study each word separately with its pronunciation and translation.
Lesson Notes – read comprehensive yet concise notes on the most crucial concepts of your target language.
Spanish Pod 101 is the best app to learn Spanish for auditory learners due to its emphasis on audio and video lessons. The audio quality is amazing, ensuring you get the conversation and accent clearly. Students are taken through a series of conversations between native speakers to prepare them for real-life conversations.
The lessons also help improve your pronunciation and accent skills in Spanish, allowing students who prefer to listen and watch to get a practical approach to learning the new language.
The language lessons include vocabulary and grammar explanations, ensuring students receive a well-rounded learning experience. They cover culture, like formal and informal languages spoken across Latin America. You also learn about the geography and history of every region, including traditional foods and drinks. The Spanish lessons are suited for beginner and advanced learners.
Best App to Learn Spanish with Spaced Repetition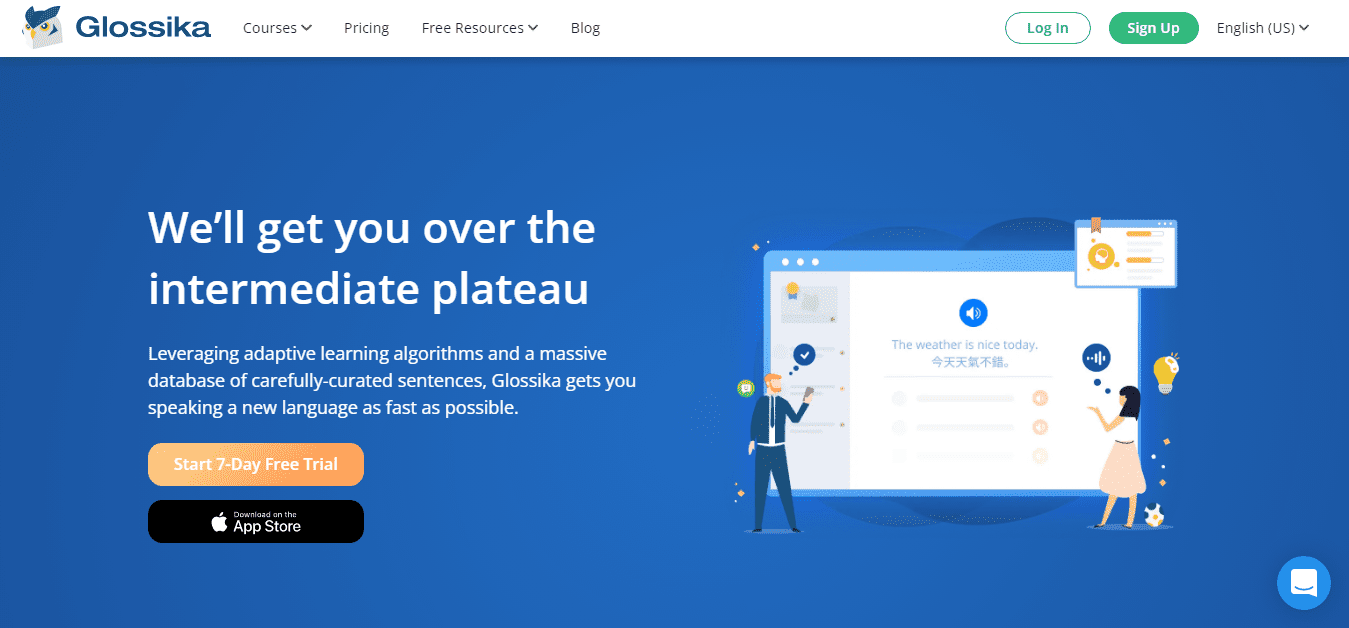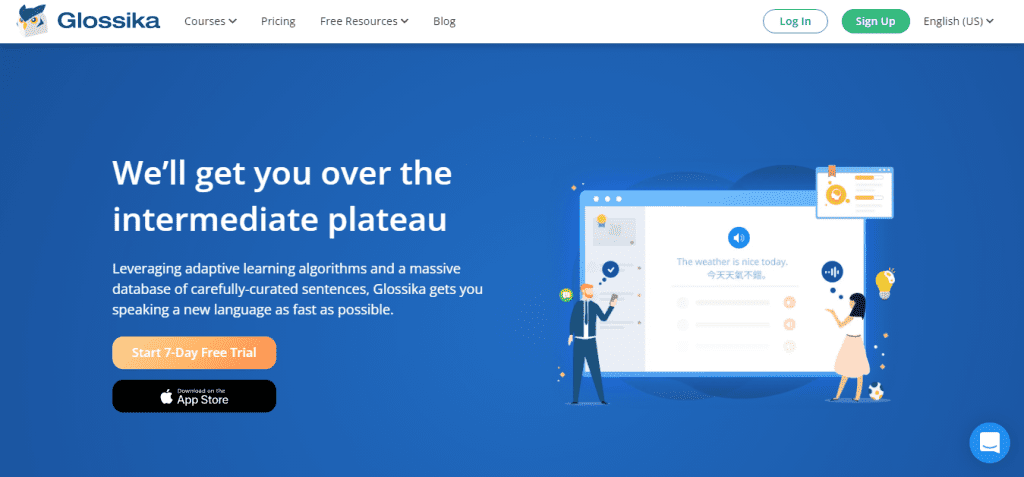 Glossika app helps to overcome the intermediate-level gap by exposing Spanish learners to numerous native-speaker audio recordings. The listening and speaking exercises work with one of the best spaced repetition systems on the market.
| | |
| --- | --- |
| ⭐ Platforms: | Web, iOS, Android |
| ⌚ Time commitment: | 20 minutes per day |
| 💵 Price: | 13.33 – 30.99 $ |
| 🔄 Refund policy: | 60-day money-back guarantee |
| 🎁 Free Trial: | ✔️ |
Learn new items –  use spaced repetition to remember new words and phrases.
Review – constantly rehearse the words with an app algorithm that remembers where you need more practice.
Stories – read books with the help of native speaker recordings.
My Skills – achieve more by knowing what you already learned and what lies ahead.
Glossika uses drilling of sentences and repetition methodology to help learners retain Spanish words effectively. The spaced repetition algorithm offers a rating system of between 1 and 5, showing how easy or hard it's to remember new words or sentences.
Students are presented with a sentence in a specific sequence and are required to speak Spanish out loud. Glossika app then uses this feedback to determine the best way to learn vocabulary. Difficult phrases are repeated more often than easier ones.
Spaced repetition is effective in learning and memorizing new Spanish words. Glossika app adapts to a student's learning style, ensuring it presents the sentences in optimal intervals for learning Spanish effectively.
Best Spanish App to Find Tutors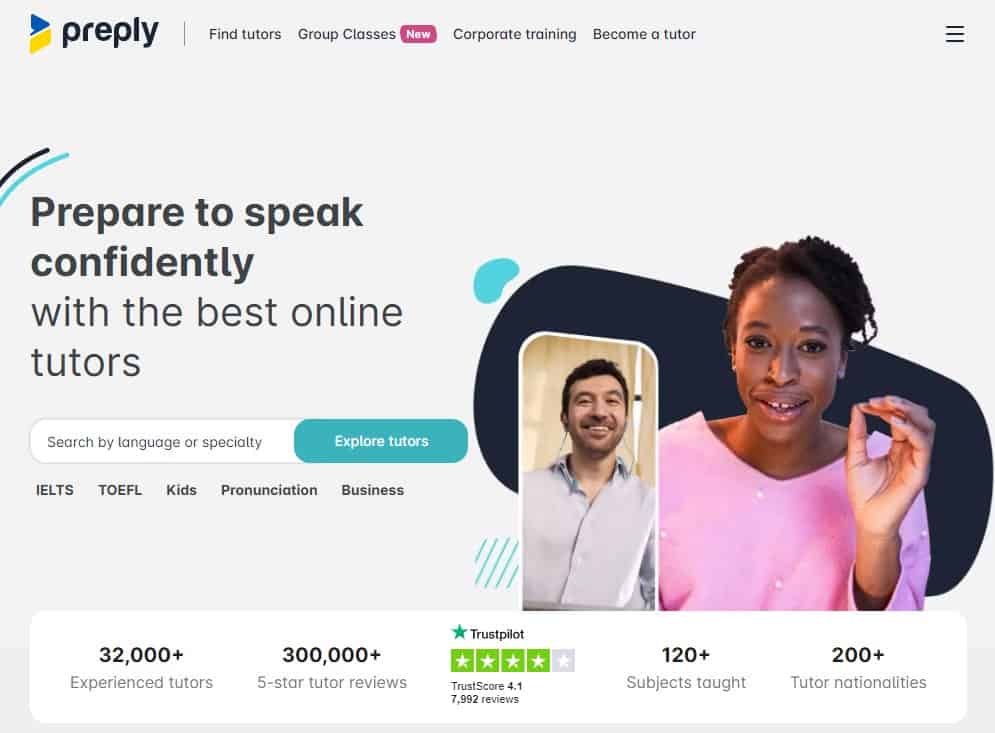 A diverse selection of native Spanish speaking teachers, flexible scheduling, and customized lessons makes Preply app stand out as an online tutoring platform. Their generous refund system guarantees you'll find a live tutor for foreign language on Preply.
| | |
| --- | --- |
| ⭐ Platforms: | Web, iOS, Android |
| ⌚ Time commitment: | Few hours a week |
| 💵 Price: | $3 – $40 |
| 🔄 Refund policy: | 14 or 90-day refunds |
| 🎁 Free Trial: | ✔️ |
Thousands of Tutors – jump into native language learning with a native tutor for almost any language there is.
One-on-one Lessons – personalize your language learning experience with a personal tutor.
Preply Classrooms – utilize an interactive app solution that allows your language teacher to share screens, show slides, record lessons, and much more.
More than language learning – learn more than a language with courses on photography, business, graphic design, and much more.
Preply is one of the best apps to learn Spanish due to its highly-qualified and experienced tutors who use a personalized approach to teaching. Preply is renowned for tailoring Spanish lessons based on the student's needs, goals, and fluency, allowing learners to progress at their own pace.
What makes Preply app stand out is its ability to connect students with qualified and experienced  tutors with years of experience teaching Spanish. Preply has strict qualification requirements for any live tutor, ensuring that only the best are selected for the work.
Best App to Learn Spanish With Gamification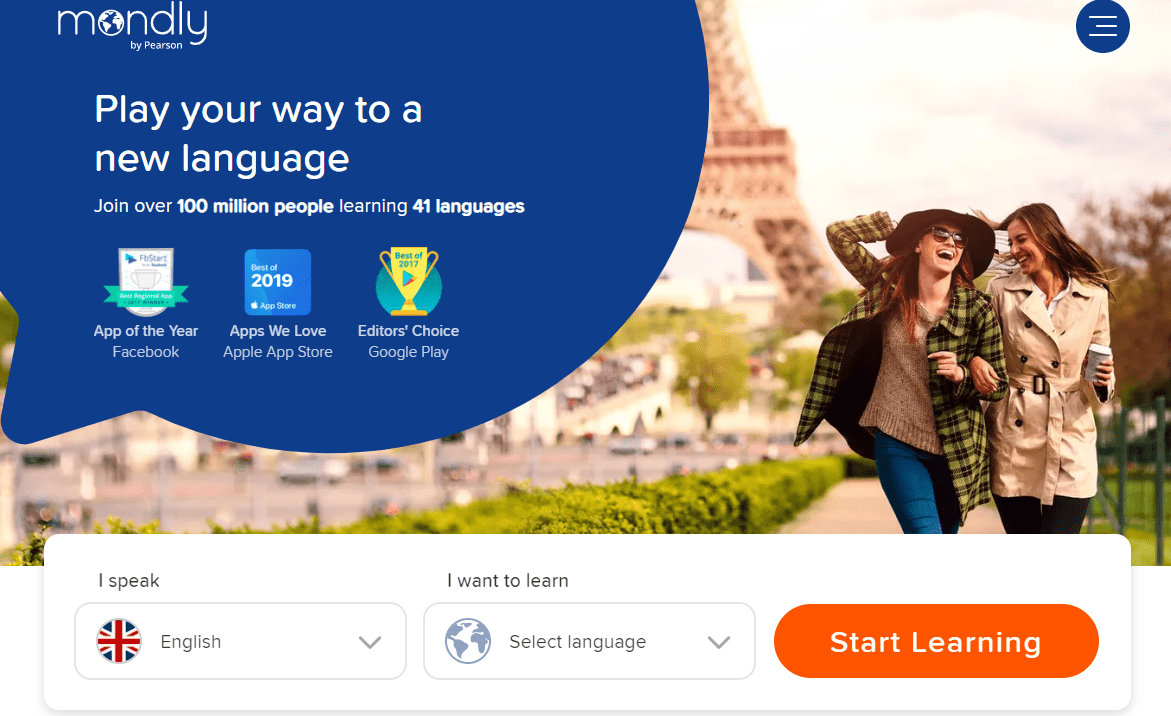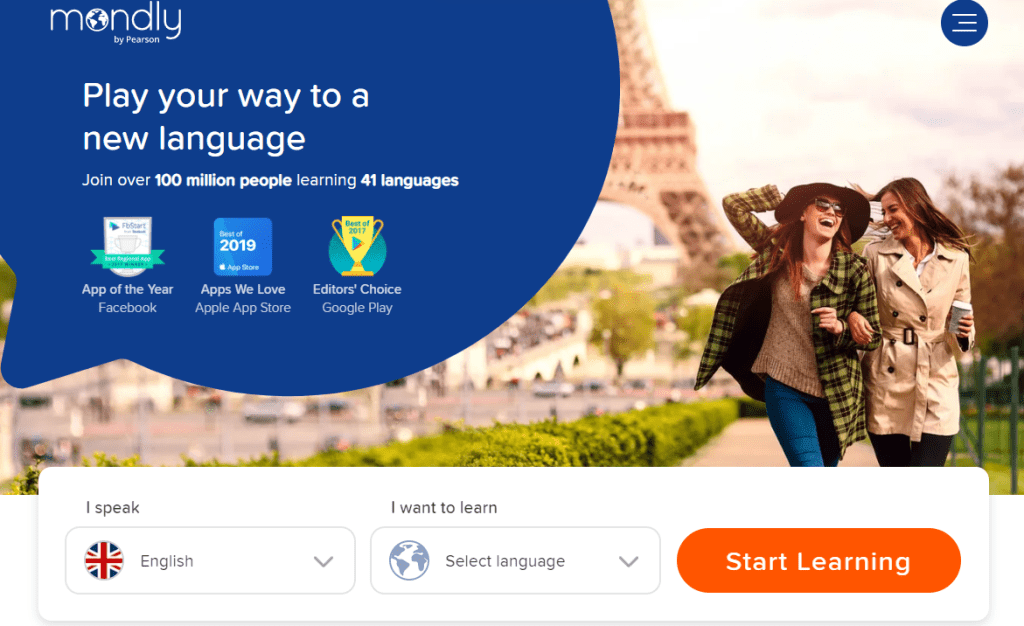 Mondly might be the most innovative Spanish learning app on the market. It appeals to language learners of various levels with gamified and even virtual reality lessons. Language learning is guaranteed to be fun with Mondly.
| | |
| --- | --- |
| ⭐ Platforms: | Web, iOS, Android |
| ⌚ Time commitment: | 30 minutes per day |
| 💵 Price: | $9.90 – $89.99 |
| 🔄 Refund policy: | Individual refunds |
| 🎁 Free Trial: | ✔️ |
Speech Recognition Technology – gain confidence in speaking with advanced voice recognition app.
Interactive Chatbot – receive instant feedback on your conversational skills.
AR and VR Modules – engage with digital characters and objects while learning a language.
Mondly Kids – immerse your kids into a foreign language through interactive games.
Mondly app uses the game-like learning style to help students learn a new language quickly. Word games like vocabulary builder, word matching, fill-in-the-gaps, and conversation mode have proven extremely effective. The gamification approach helps to create an interactive and lively Spanish learning environment suitable for beginners and advanced learners.
There are rewards for passing the interactive Spanish grammar and pronunciation tests, with an app leaderboard showing how well you are studying Spanish. The point system includes daily challenges, where learners receive points, which might include new words or phrases. Completing a specific milestone, like mastering a topic, unlocks achievements that reflect your learning progress in learning Spanish. 
Best Spanish App for Grammar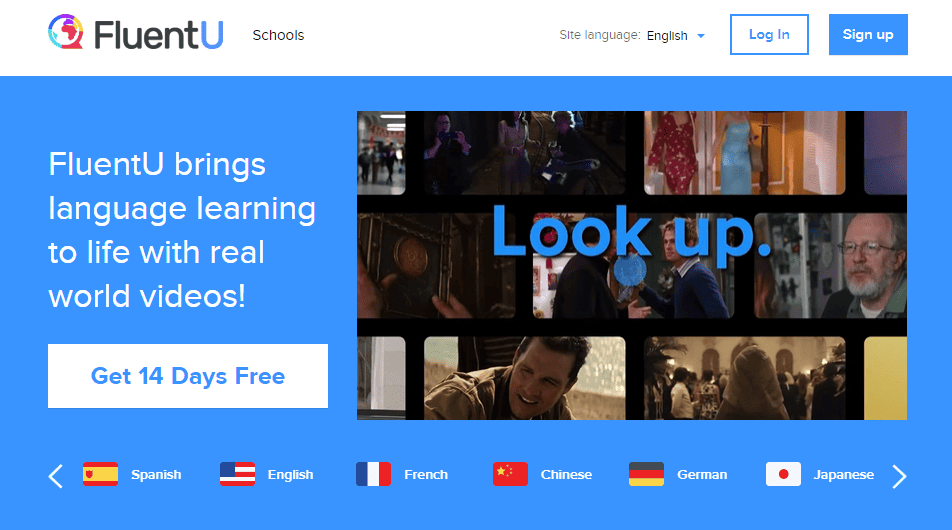 FluentU app is built around a huge library of videos with transcriptions and translations for each language they cover. It individualizes the learning of vocabulary, grammar, and culture through foreign language immersion.
| | |
| --- | --- |
| ⭐ Platforms: | Web, iOS, Android |
| ⌚ Time commitment: | 15 minutes per day |
| 💵 Price: | $29.99 – $143.99 |
| 🔄 Refund policy: | 20-day money-back guarantee |
| 🎁 Free Trial: | ✔️ |
Audio and video lessons – find what native speaker content you want from a large variety of options.
Flashcards – create your own flashcards from the videos you watched for later study.
Dictionary – define words in their context with selected videos.
FluentU Translator – look up information while watching videos to get translations and definitions of words.
FluentU app helps improve Spanish grammar through videos and interactive grammar exercises. The video approach involves playing real-world videos to students, like news clips, music videos, and movie trailers. Students understand the Spanish nuances and grammar use in a different context.
FluentU app includes Spanish grammar exercises, like interactive grammar quizzes, where learners must select the correct answers based on previous grammar lessons. Multiple-choice questions also teach grammar mastery, with fill-in-the-blank exercises helping build relevant vocabulary skills. The interactive grammar tips and multiple choice exercises provide instant and accurate feedback, letting students know how to improve.
Best App To Learn Spanish Reading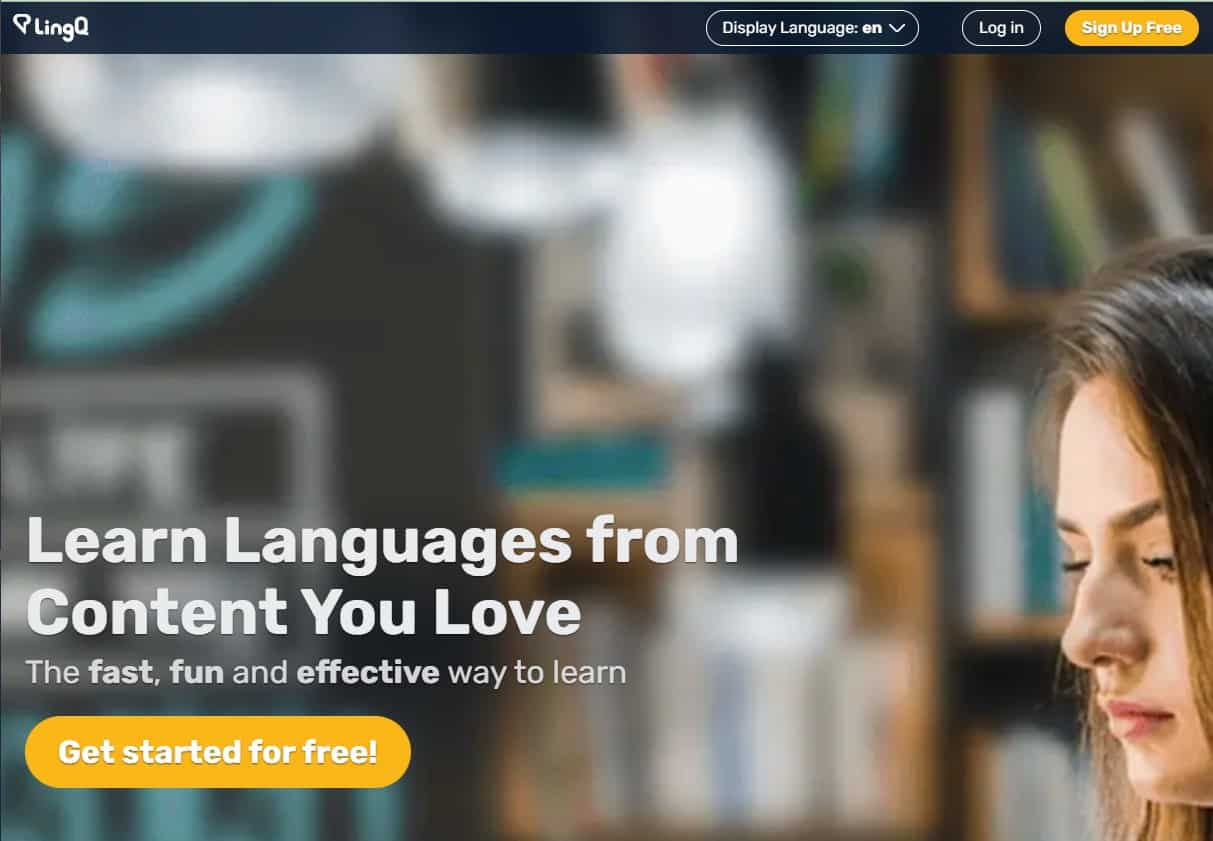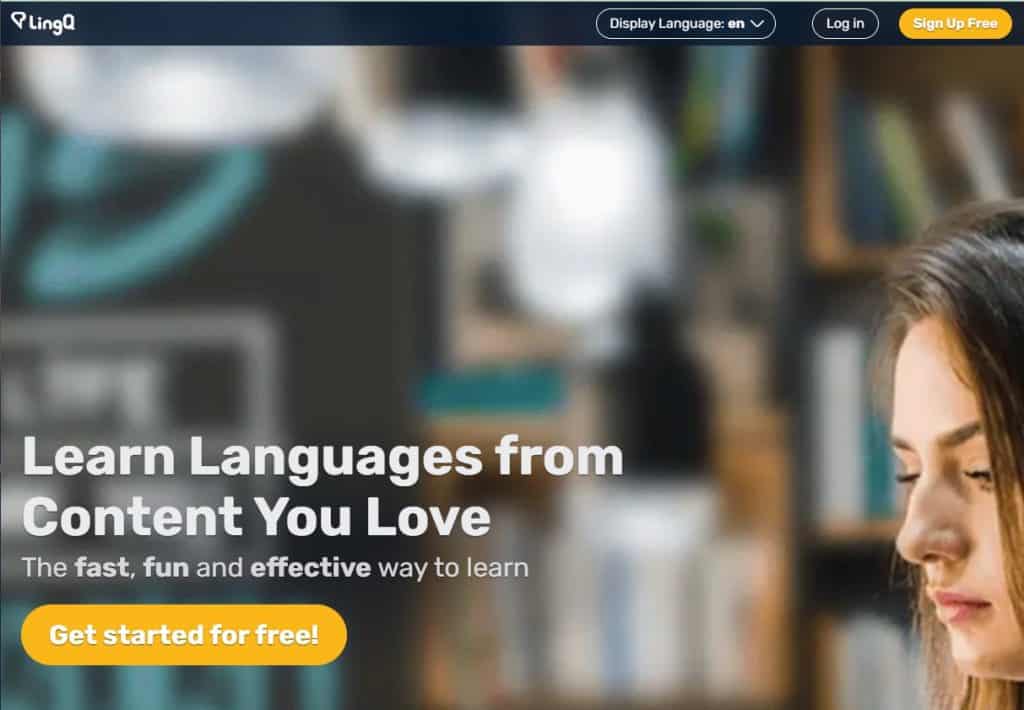 LingQ app houses a wide selection of custom language learning content unique to your target language. Its simple and interactive design organizes various podcasts, books, news articles, and songs for a culturally rich language experience.
| | |
| --- | --- |
| ⭐ Platforms: | Web, iOS, Android |
| ⌚ Time commitment: | 30 minutes per day |
| 💵 Price: | $7.99 – $34.99 |
| 🔄 Refund policy: | 90-day money-back guarantee |
| 🎁 Free Trial: | ✔️ |
LingQ Reader – listen, read, and compile learning materials adjusted to your pace.
Flashcards – rehearse words you learned with color-coded, spaced repetition-powered card decks.
Upload – import videos, reading materials, songs, and more to learn foreign languages faster.
LingQ Community – discuss pain points and participate in friendly competitions with other language learners.
LingQ app provides a series of Spanish texts in the form of blog posts, books, and news articles for students to improve reading comprehension and learn vocabulary. LingQ also utilizes built-in translation tools like word look-up allowing users to check words and their meanings.
A tool like a highlight allows learners to spot words in a text that they can research later. These translation tools make LingQ one of the best apps to learn reading in different languages.
The progress-tracking tool allows students to see how far they've come in their studying Spanish. The app uses machine learning and artificial intelligence for analyzing students' reading levels, vocabulary, and grammar to suggest useful content. There's also a personalized one-on-one class with Spanish native speakers. 
Best Spanish App With Free Access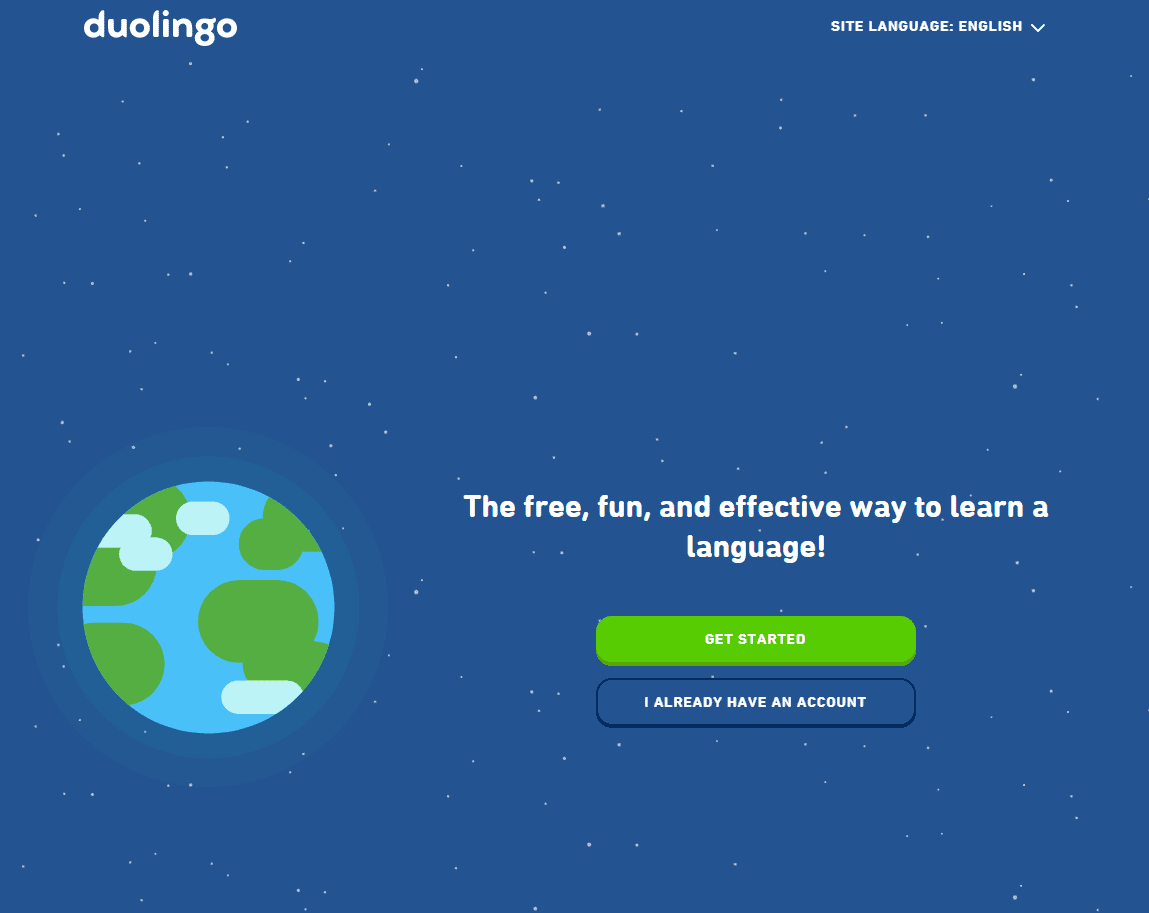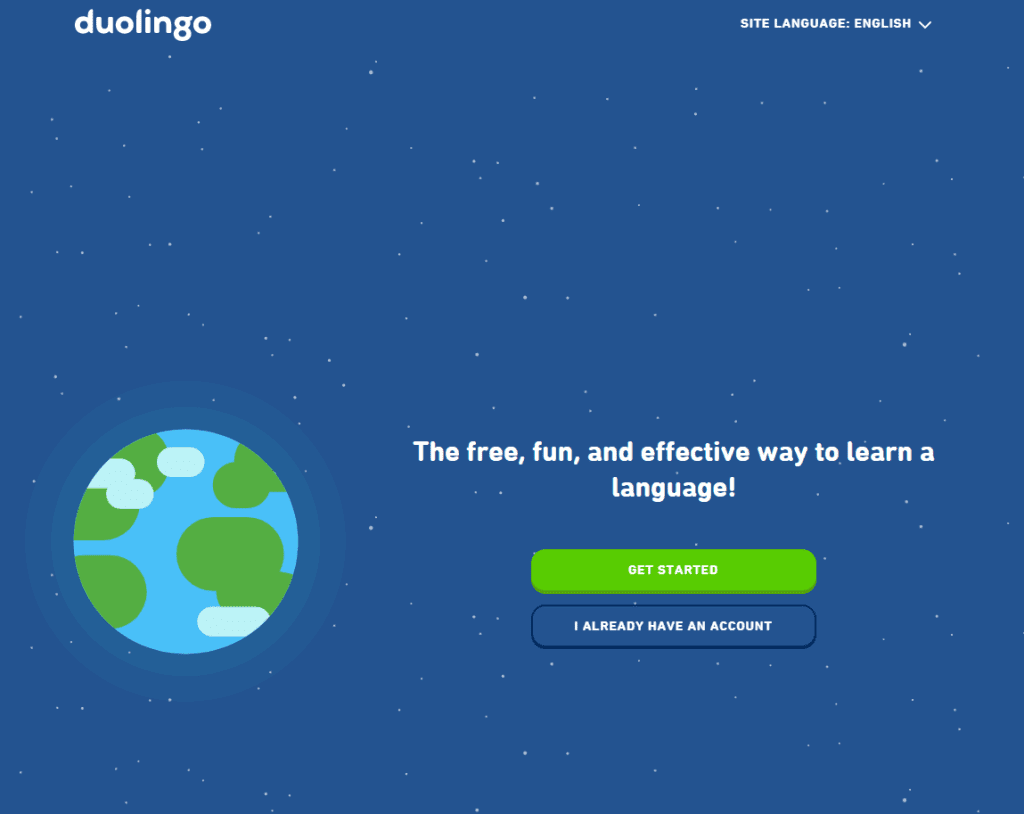 Duolingo app is the most gamified language learning experience you can get. Just like in a video game, you must collect gems and earn XP while learning basic concepts of a new language.
| | |
| --- | --- |
| ⭐ Platforms: | Web, iOS, Android |
| ⌚ Time commitment: | 15 – 30 minutes per day |
| 💵 Price: | $9.99 – $79.99 |
| 🔄 Refund policy: | 48-hour refunds |
| 🎁 Free Trial: | ✔️ |
Gems, XP points, badges… – motivate yourself to learn with an abundance of elements from mobile app games.
Stories – read and listen to interactive stories bringing you closer to a real-life experience.
Roleplay – converse with a chatbot that can adjust to your proficiency level.
Personalized lessons – delve into short lessons teaching the basics of the target language while focusing on your weak spots.
Duolingo is the best free app for learning Spanish due to its grammar practice, vocabulary exercises, and game-like interactive lessons you'd find in many paid language learning apps. The use of repetition and adaptive learning helps to personalize the learning experience, allowing students to plan their classes based on their skill levels and pace. 
The free app is also perfect for improving listening skills since it contains Spanish culture and custom lessons to help students prepare for real-life experiences when visiting Spanish-speaking regions. The free practice includes Spanish songs and stories, where learners can see the sentence structure and word use within a text. 
Frequently Asked Questions When Learning Spanish
It's not difficult to learn Spanish, but it might be overwhelming at first. Studying with intermediate learners and tutors should help to smooth the start. Learning Spanish through Spanish apps like Rocket Languages, Babbel, and Pimsleur will equip you with basic conversational skills quite quickly. Listening to Spanish podcasts and music will also help immensely.
Some learners cannot do without Spanish English dictionary to assist in word and phrase definitions, while visual learners tend to advance more quickly with video material. If you're watching a Spanish movie, turn on the interactive subtitles instead of changing the audio language.
The answer depends on your current Spanish fluency level and goals.
Beginners will advance fastest with the Babbel due to its detailed and gamified approach.
If your goal is to improve conversational Spanish first, go with Pimsleur.
If you are struggling to retain new phrases, go with Mosa Lingua or Glossika, as they use an advanced spaced repetition system.
For enhanced grammar tips and reading practice, you should choose LingQ and FluentU. 
Preply and Speakly are perfect for improving your speaking skills since they have live classes taught by Spanish native speakers.
Overall, there is a choice no matter your fluency level and your goals for Spanish lessons. 
How quickly you can learn Spanish depends on your situation. However, using language learning apps like Rocket Languages, Babbel, SpanishPod101, or others will yield the fastest results. They all contain informative grammar lessons that cover topics like Spanish verbs. At the same time, they help you to start learning Spanish with plenty of cultural insights for Spanish-speaking regions.
It all makes the Spanish learning process faster, especially when you need to account for different Spanish language accents. European Spanish has pronunciation differences from European Spanish, like the sounds 'th,' 'c,' and 'z.' Mexican Spanish has a unique pronunciation and vocabulary from Latin Spanish. All these factors impact your Spanish learning speed.
Spanish learning apps are perfect for someone looking to learn Spanish without attending a physical class. They're affordable compared to hiring a tutor, and the classes are structured to include everything you would want to learn in Spanish. Many of them even include offline access.
Sign up for one of the best apps to learn Spanish and start your language-learning journey.