Lingomee is an independent review site that may benefit from affiliate programs. Buying through our links makes our efforts possible without additional costs to you.
Bengali is the seventh most spoken language in the world. English speakers usually have more difficulties because the Bengali vocabulary, pronunciation, and grammar are different from what they are used to. But being fluent in this language can be helpful if you plan to visit west Bengal.
The best way to learn Bengali is to speak the language and constantly practice writing. We have many online language learning apps to help out. Every app in our list has features that include native speakers who will help you pronounce Bengali words.
We tested the most popular platforms to find the best apps to learn Bengali language. They help you with vocabulary and improve how you pronounce Bengali words. Here we look at the prices, customer ratings, payment methods, and everything you need to know about the best Bengali learning apps.
My TOP 3 apps to learn Bengali
Best Overall App to Learn Bengali 
Learn Bengali with an efficient spaced repetition algorithm 
Best Bengali App for Novices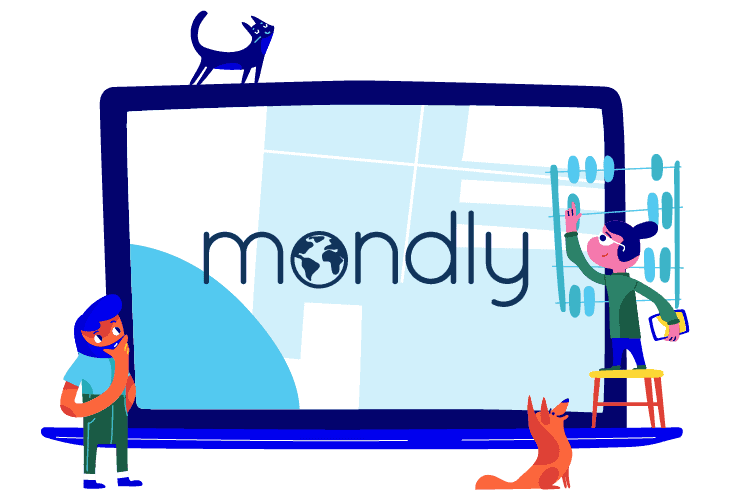 An effortless way to learn Bengali with cutting-edge technology
Best Bengali Learning App for Online Classes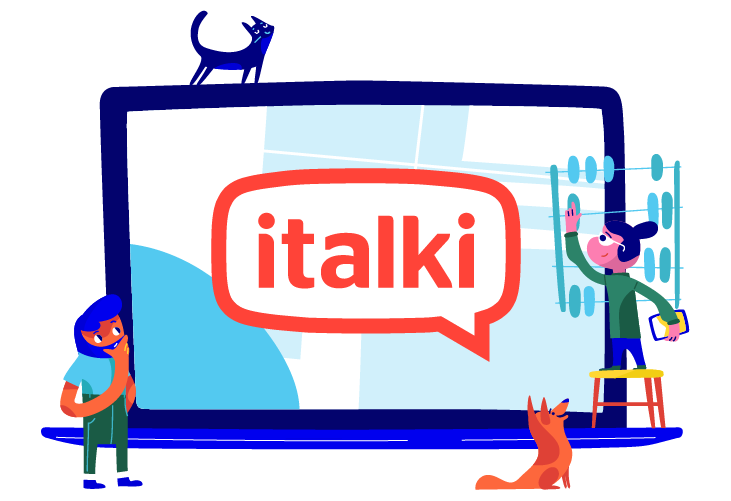 A convenient and affordable platform for finding Bengali tutors
The 5 Best Apps to Learn Bengali
How to Choose the Best Bengali Language Learning App
The language learning market is saturated, so finding the best apps to learn Bengali online is time-consuming. It takes throughout research and testing to see what's actually effective. Here at Lingomee, we're all about making it easier for you. We benchmark all products through the same measures.
| | |
| --- | --- |
| ⭐ Rating | A sum of user experience, content quality, features, customer support, and value for money. |
| 🥇 Available languages | Most relevant for studying multiple languages but tells a lot about the best apps to learn Bengali online. |
| 📈 Suits best for | Evaluations are based on ACTFL guidelines, but we also measure how fast you will move up a level. |
| 🛒 Payment options | Shows how flexible the pricing plans are and, in most cases, how much you can save. |
| 💵 Price range | A measure of much you should expect to spend on a language-learning app. |
| 📚 Hours of study time | An approximate measure of how much language learning material there is for one language. |
| 🕒 Time commitment | Optimal daily dedication for the best results, as spending more time isn't always the best strategy. |
| 💻 Platforms | Where you can use the best apps to learn Bengali.  |
| 🔄 Refund policy | A money-back guarantee is a safeguard for your money. |
| 🎁 Free Trial | Most of our best apps to learn Bengali online do not require a credit card to sign up. |
TOP 5 Best Apps to Learn Bengali Language - Our Comprehensive List
Best Overall App to Learn Bengali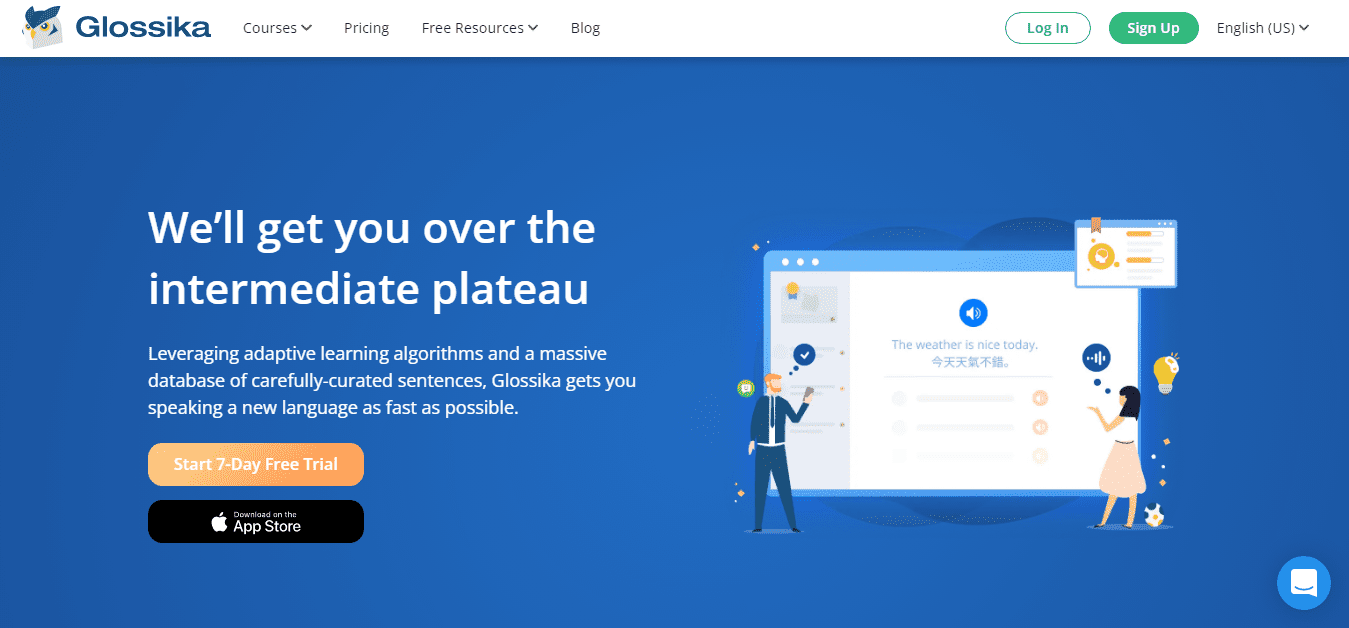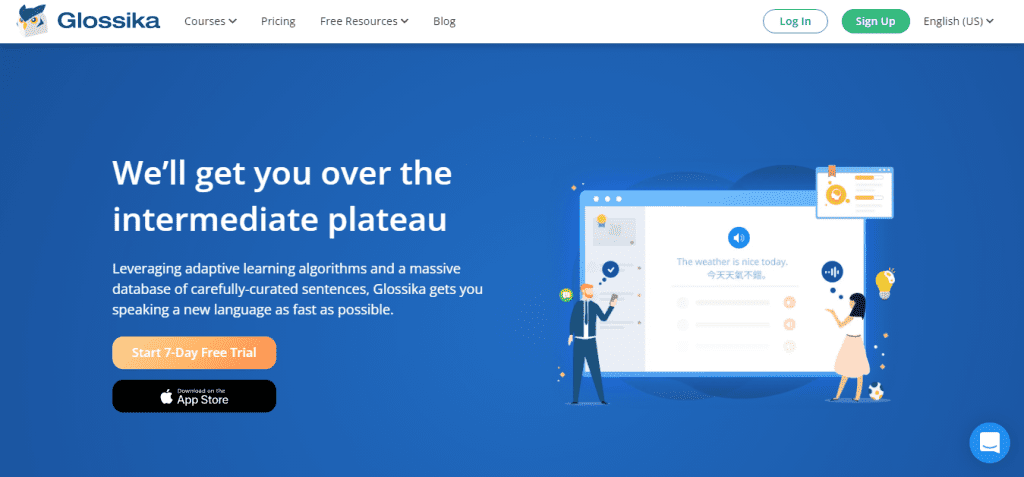 Glossika helps to get past the intermediate level by introducing its learners to audio recordings of native speakers. The native speakers help with listening and speaking exercises with one of the best spaced repetition systems on the market.
| | |
| --- | --- |
| ⭐ Platforms: | Web, iOS, Android |
| ⌚ Time commitment: | 20 minutes per day |
| 💵 Price: | $13.33 – $30.99 |
| 🔄 Refund policy: | 60-day money-back guarantee |
| 🎁 Free Trial: | ✔️ |
Learn new items –  use spaced repetition to remember new words and phrases.
Review – constantly rehearse the Bengali words with an algorithm that remembers where you need more practice.
Stories – read books in native language with the help of native speaker recordings.
My Skills – achieve more by knowing what you already learned about the native language and what lies ahead in the structured course.
Why Glossika is The Best Overall App to Learn Bengali
Glossika is the best app for learning Bengali because its lessons are simple and easy to understand. You get to hear the native speaker pronounce Bengali vocabulary, and then you repeat after them. It's a good way of learning some new vocabulary and becoming better in the language pronunciation.
The native speakers mention common words, which helps build confidence, especially during conversational Bengali.  They also use native languages to help customize user learning plans. The app features an algorithm that prevents you from forgetting common words. You are introduced to new vocabulary after a few lessons to keep you up to be familiar with most of the Bengali words.
Pricing
A basic plan of Glossika covers one language and costs $16.99 per month, or just $13.33 if you pay annually. A Pro version provides unlimited access to all languages including Bengali language, and costs $30.99. It's costly compared to other language learning apps, but for Bengali language, we think it's the best choice. You can take the seven-day free trial before committing to these plans.
Best Bengali App for Novices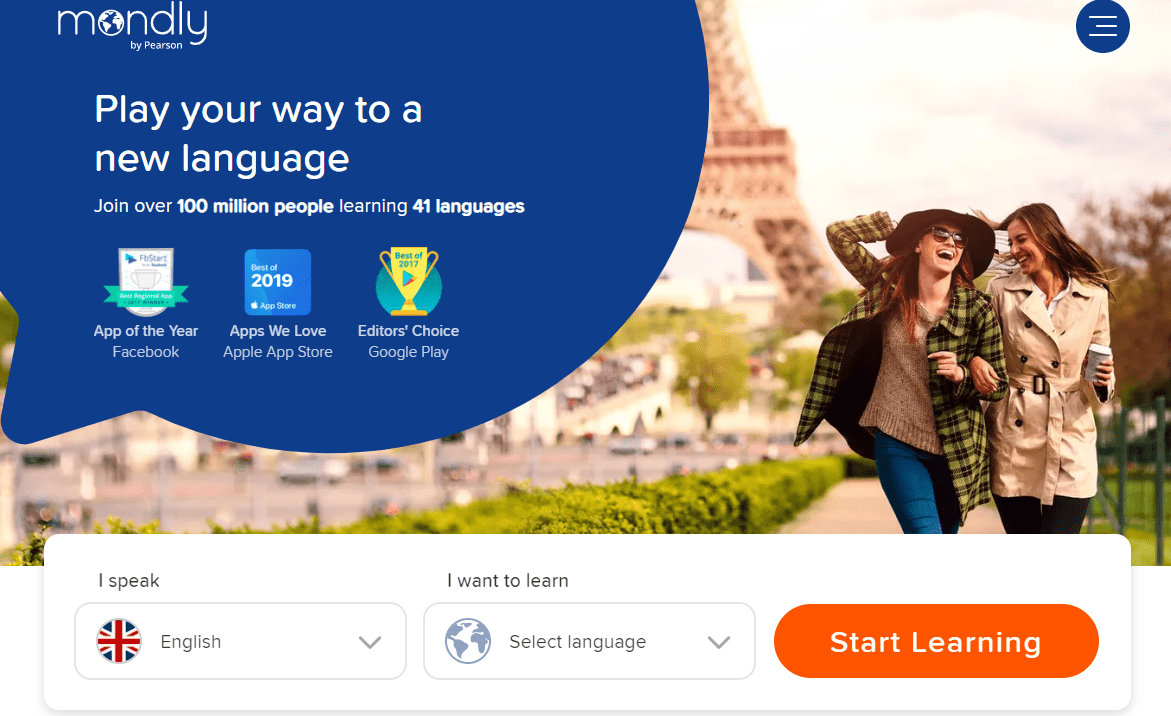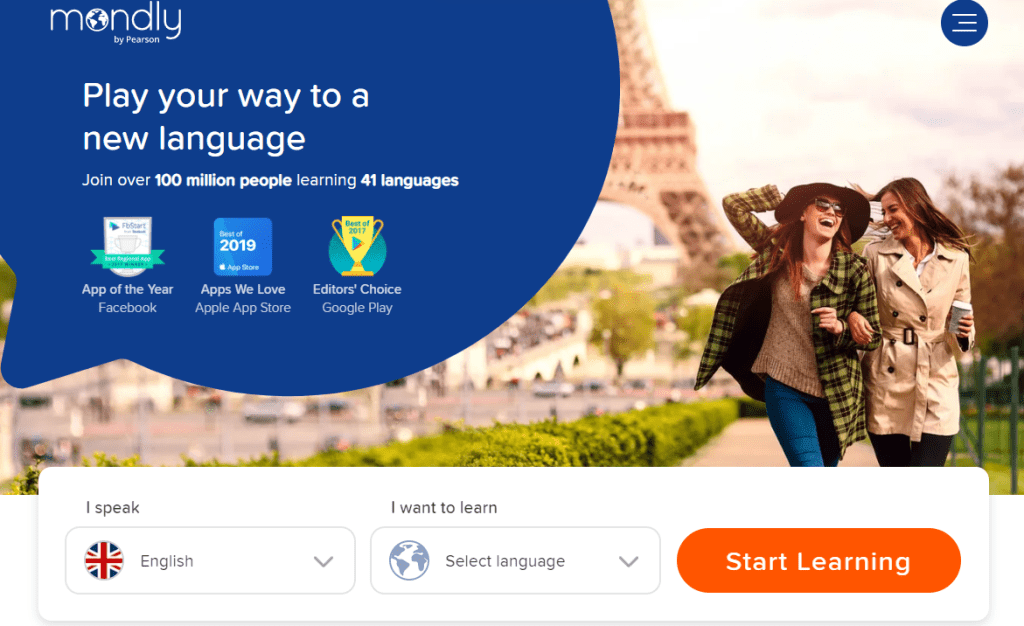 Mondly might be the most innovative Bengali language-learning app on the market. It appeals to language learners of various levels with interactive games and even virtual reality lessons. Learning Bengali online is guaranteed to be fun with Mondly.
| | |
| --- | --- |
| ⭐ Platforms: | Web, iOS, Android |
| ⌚ Time commitment: | 30 minutes per day |
| 💵 Price: | $9.90 – $89.99 |
| 🔄 Refund policy: | Individual  |
| 🎁 Free Trial: | ✔️ |
Speech Recognition Technology – gain confidence in speaking Bengali with advanced voice recognition.
Interactive Chatbot – receive instant feedback on your conversational Bengali.
AR and VR Modules – engage with digital characters and objects while learning Bengali language.
Mondly Kids – immerse your kids into learning Bengali language through interactive games.
Why Mondly is The Best Bengali App for Novices
Mondly is a good app for Bengali learners because it uses different categories of learning resources to help you learn Bengali as if it were your native language. The app uses mini-games to take you through different lessons of pronunciation, grammar, vocabulary, conversation skills,
Mondly is a good starting point for beginners thanks to its interactive learning modes, making Bengali easy. You can learn Bengali language through the app as it uses native speakers to teach practical lessons that are mostly focus on improving your conversation skills. Beginners can go through the Bengali course with ease because Mondly app is simple and easy to navigate through.
Pricing
The payment options of Mondly are flexible – you can pay every month ($9.99), every three months ($29.97), or annually ($47.99). The lifetime subscription ($89.99) has great value for money compared with other apps, providing lifetime access to all languages including indo aryan languages. You can also try out Mondly with the seven-day free trial.
Best Bengali Learning App for Online Classes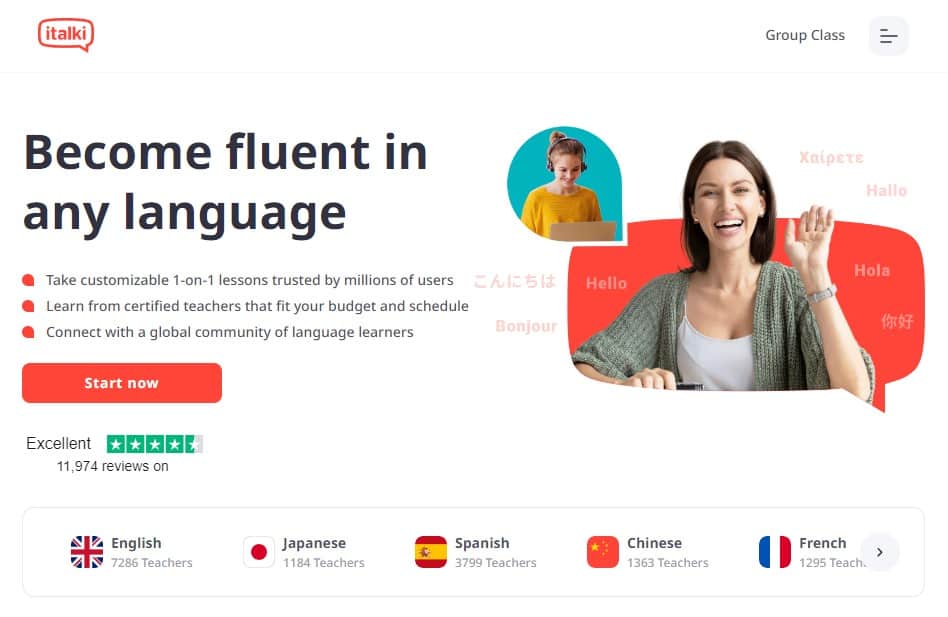 italki is the most popular online tutoring platform for Bengali Learners with a wide selection of Bengali tutors. The language exchange app provides a unique way to learn Bengali online and even some additional practice possibilities outside the classroom for advanced learners.
| | |
| --- | --- |
| ⭐ Platforms: | Web, iOS, Android |
| ⌚ Time commitment: | Few hours a week |
| 💵 Price: | $4 – $50 |
| 🔄 Refund policy: | 100% satisfaction guarantee |
| 🎁 Free Trial: | ✔️ |
Teacher Filtering – find Bengali tutors to assist you in learning at your own pace with the help of relevant filters.
italki Classroom – take the Bengali course with an in-built software without worrying about compatibility.
italki Credits – pay with a virtual currency and save money when learning a new language.
italki Discover – find various activities created by the italki community.
Why italki is The Best Bengali Learning App for Online Classes
italki is the best app for improving your conversational Bengali. You can easily find Bengali tutors who are native speakers to help you understand the language better and work on your pronunciation. The app also gives you the option to choose between a professional tutor and a community tutor. The professional tutors have specialized in Bengali language teaching, thefore this is one of the best apps to learn Bengali if you want to improve your conversational skills.
There is an added advantage of getting your lesson plans in other Indo-Aryan languages. New users get trial lessons at discounted prices. After that, you can pay as you go for Bengali tutors. The italki app connects Bengali learners with tutors across the world. You can access the lessons directly on their website without downloading the app on your phone. 
Pricing
Bengali learners pay for lessons with italki credits. They are equal to US Dollars, and the smallest amount you can buy is $20. Bengali tutors on italki set their own prices. They range from four to fifty dollars per lesson. You also get three trial lessons, and many Bengali tutors provide discounts for lesson packages.
Best App to Learn Bengali with Instructors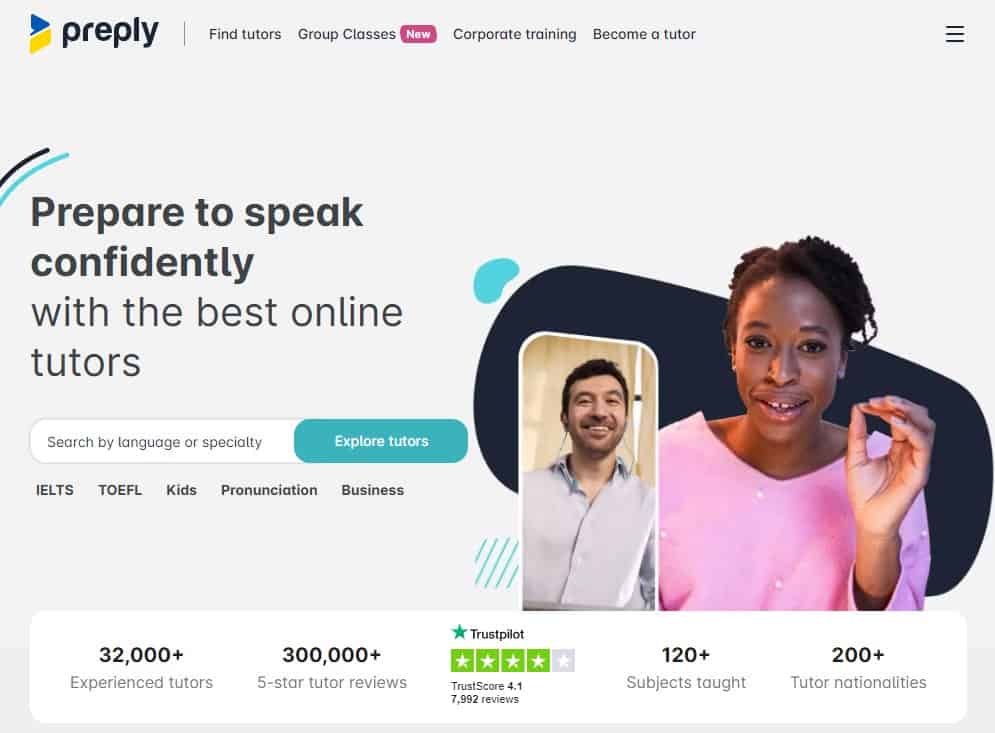 A diverse selection of native-speaker teachers, flexible scheduling, and customized lessons in mango languages make Preply stand out as an online tutoring platform. Their generous refund system guarantees you'll find Bengali tutors . 
| | |
| --- | --- |
| ⭐ Platforms: | Web, iOS, Android |
| ⌚ Time commitment: | Few hours a week |
| 💵 Price: | $3 – $40 |
| 🔄 Refund policy: | 14 or 90-day refunds |
| 🎁 Free Trial: | ✔️ |
Thousands of Tutors – jump into foreign language learning with a native speaker for almost any language there is. You can even find Bengali tutors for your mother tongue.
One-on-one Lessons – personalize your learning experience with a personal tutor.
Preply Classrooms – use an interactive method allowing native speakers to share screens, recorded lessons, and much more.
More than language learning – Bengali learners can learn more than a language with photography, business, and graphic design courses.
Preply Overview
Preply is an affordable app that you can use to learn Bengali. It has fair pricing and guarantees refunds for language lessons you didn't find effective. There are many tutors to choose from, and most of them are native speakers of the language. It makes Bengali easy for anyone to learn, whether it's grammar, pronunciation, vocabulary, or any other difficult lessons.
You can plan your online lessons and learn Bengali through Preply virtual classrooms. You get tutor replacements when you are not satisfied with your Bengali tutor. Preply is among the best apps for learning Bengali. It improves the pronunciation of words and the proper use of Bengali grammar.
Best App to Learn Bengali for Free​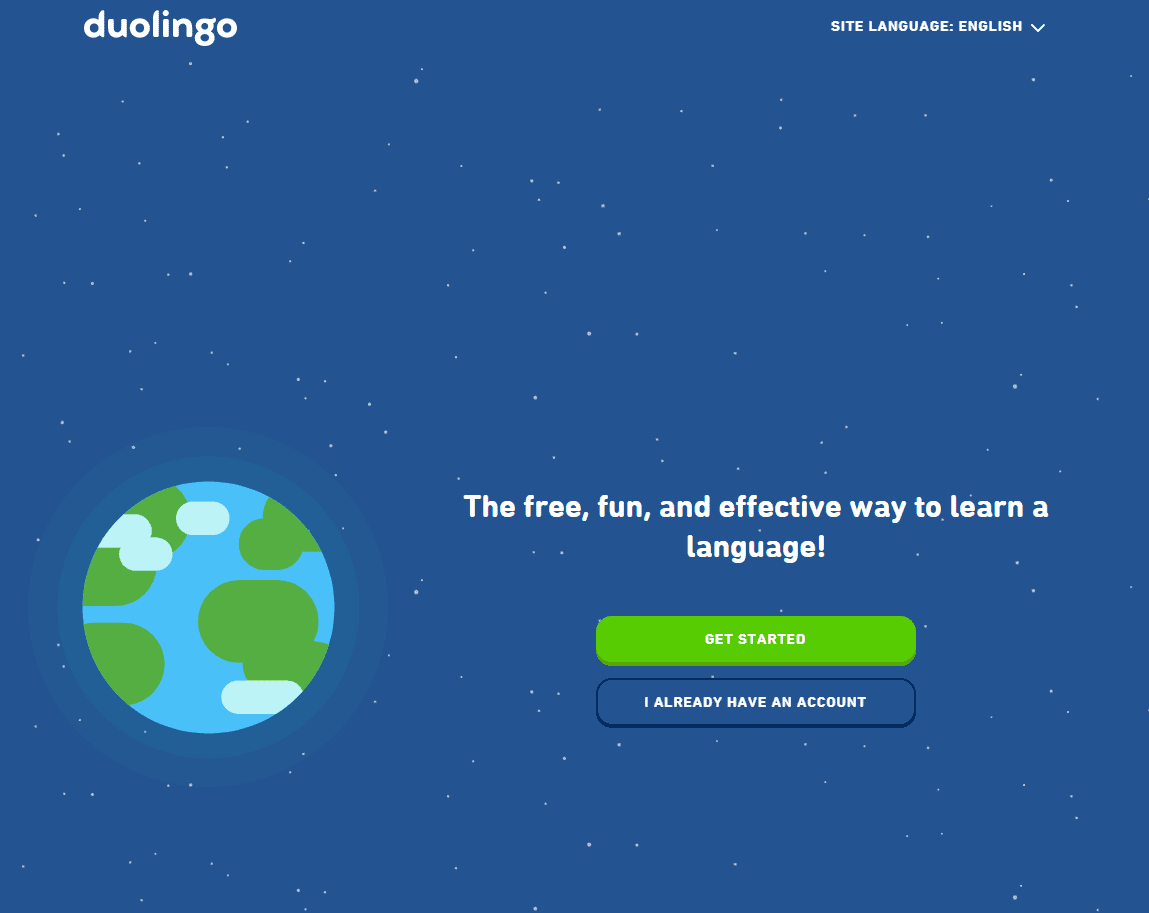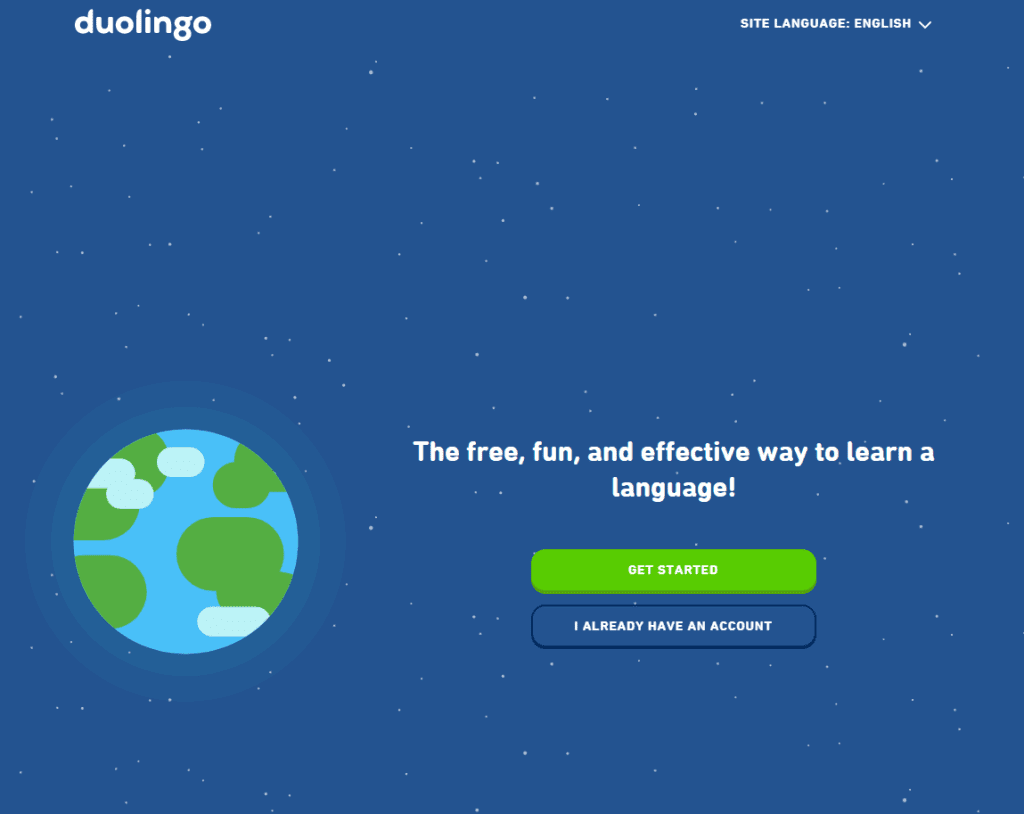 Duolingo is the most gamified language learning experience you can get for the Bengali language. It uses mini games to teach the language. Just like in a video game, you must collect gems and earn XP while learning basic concepts of a new language.
| | |
| --- | --- |
| ⭐ Platforms: | Web, iOS, Android |
| ⌚ Time commitment: | 15 – 30 minutes per day |
| 💵 Price: | $9.99 – $79.99 |
| 🔄 Refund policy: | 48-hour refunds |
| 🎁 Free Trial: | ✔️ |
Gems, XP points, badges… – motivate yourself to learn with an abundance of elements from mobile games that make Bengali easy. 
Stories – read and listen to interactive stories from native speakers bringing you closer to a real-life experience. This makes speaking Bengali easy.
Roleplay – converse with a chatbot that can adjust to your proficiency level and word order, a good starting point for beginners.
Personalized lessons – delve into short lessons teaching the basics of the target language vocabulary while focusing on your weak spots.
Duolingo Overview
Duolingo is among the best apps for learning Bengali for free. The app gives you a unique language learning experience that resembles a mobile game. You can use the free version and become better at speaking Bengali, and with the paid one, you can learn Bengali grammar, advanced vocabulary, practice writing, and more.
When you know common words a native speaker uses, you can say you are articulate in that language. Duolingo can bring you to this level. However, to become fluent in any language, you must converse with native speakers in their language. Duolingo will not get you on that level compared to other apps. Alghtou limited in advanced language skills, Duolingo is still the best free app for learning Bengali.
Best Apps To Learn Bengali: FAQ
We now wrap up this guide, having covered all you need about the best apps you can use to learn Bengali. The language is easy to learn, provided you use the right resource. Some of these Bengali apps have native speakers as tutors to improve how you speak Bengali and your overall pronunciation. This option is for advanced learners, but you should get ready for these lessons.