Duolingo is the most downloaded education app, with over 9 million daily users. If you're into learning languages, chances are you've heard of it. However, after the November 2022 update, the Duolingo you know and Duolingo now are vastly different.
The last update brought many changes to how Duolingo teaches a new language. Our in-depth Duolingo review will cover how Duolingo works in 2023 to help you determine if it's still the right language learning program for your learning style.
A popular tool for gamified language-learning
Millions of users love Duolingo because it's fun! You collect gems and earn XP to compete in leagues with fellow language learners. While it transforms learning into a game, it still covers extensive topics. Duolingo is free and accessible to everyone who wants to learn a language.
⭐ Rating:
8.5

★★★★★

🥇 Available languages:
39+ (see bellow)
📈 Suits best for:
Novices and Intermediates
🛒 Payment options:
1 Month/12 Months
💵 Price:
$6.99 – $168
⌚ Hours of lesson time:
1000+
🔄 Refund policy:
48-hour refunds
🎁 Free Trial:
✔️
Arabic, Chinese, Czech, Danish, Dutch, Esperanto, Finnish, French, German, Greek, Haitian Creole, Hawaiian, Hebrew, Hindi, Hungarian, Indonesian, Irish, Italian, Japanese, Korean, Latin, Norwegian, Polish, Portuguese, Romanian, Russian, Scottish Gaelic, Spanish, Swahili, Swedish, Turkish, Ukrainian, Vietnamese, Welsh, Zulu.
Disclaimer: Lingomee is an independent review site that may benefit from affiliate programs. Buying through our links makes our efforts possible without additional costs to you. Learn more here.
A Quick Look at Duolingo
Gamification is at the forefront of Duolingo. The language app has been this way since 2009, allowing users to learn a language in an entertaining and affordable way. It can be downloaded without paying, but the free version has some restrictions.
Since the recent update, Duolingo now includes an organized structure. The new layout replaces the language tree aimed to give a more strategic approach to learning a language.
Units progressively cover advanced topics, starting from greetings and basic sentences. Further lessons advance to talking about your health insurance, for example. Each unit has about ten sections, with three to five lessons covering different topics, such as greeting people and shopping for clothes.
When you begin learning with Duolingo, you can take a placement test or start from scratch. The placement test is quite extensive. It asks you to listen and translate, choose correct answers from a word bank, match pairs, and more. Additionally, you get to choose your learning goals, but we didn't find that it affects individual lessons a lot.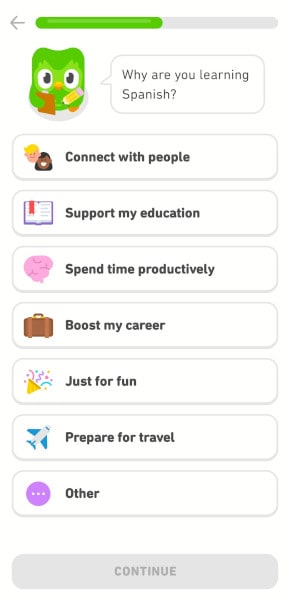 The language app allows skipping units. It can make you miss some basic concepts, although some users prefer to have access to more content from the start. But you must take a Duolingo test and have less than three (five for Plus members) wrong answers to jump to a unit.
The paid and free app versions are identical in the accessible content. However, the free version is ad-supported, requires users to wait or earn hearts to continue learning, and doesn't have some of the features like Mistake Review and Explain My Answer.
Duolingo Review: Key Functions
Duolingo's gamification comes with various features that help you learn. You're never short of new learning material with lessons that teach using diversified ways. For example, the stories and listening exercises further enhance your reading and listening skills.
What Duolingo teaches may feel repetitive. But the app is never monotonous, with numerous features going outside the standardized lessons.
Gems, XP points, badges, and more
Gamification is a big part of Duolingo. It is fulfilled with XP points and Gems. The XP points position you on the leaderboard, and Gems work as a Duolingo currency. Competing apps like Clozemaster are starting to add similar features.
You can spend Gems to freeze your daily streak to prevent it from resetting, refill hearts to resume language learning after multiple mistakes, and take harder lessons that earn you extra XP. Finishing lessons grants you Gems, but you can also buy them in the Duolingo store.
Throughout your language learning journey, you also earn badges to show off how far you've progressed. Badges are essentially the same as achievements in games. They are a way for the language app to recognize your progress and keep you motivated.
Stories
Under the Practice tab, you can read and listen to interactive stories that improve your reading and listening skills. The stories also appear in the units to test your comprehension while touching on previous lessons.
Duolingo stories are narrated to help with inflection and pronunciation. A character speaks a line, and you select or translate their dialogue part. In a way, it works like audio lessons with each story having a summary of your incorrect answers that reviews them in a custom exercise.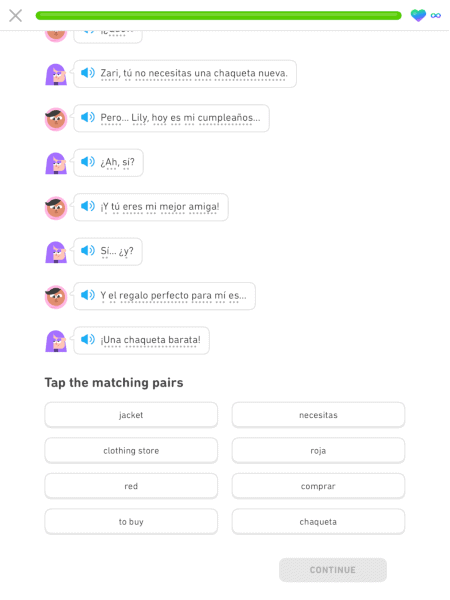 There is also a Duolingo podcast with a transcript to improve listening skills. You can listen to it on major streaming platforms and the Duolingo website. They complement audio lessons and stories in a casual way.
Personalized practice
Aside from the spaced repetition system that tracks and adapts to your learning, Duolingo offers personalized practices. There is a place to review the mistakes made in the individual lessons. Mistakes Review first shows a list of the incorrect answers and compiles them into a custom exercise.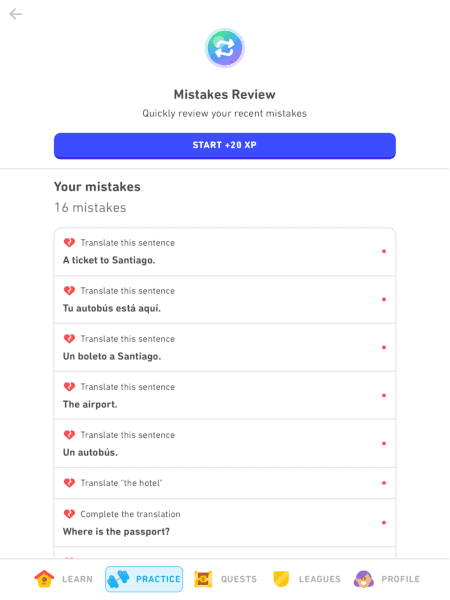 You can also review what you learned throughout the day before logging off with Today's Review. It focuses on the weak areas, similar to Mistakes Review, but in a more broad and less targeted way. Today's Review emphasizes the core of the target language.
Roleplay and Explain My Answer
Roleplay and Explain My Answer are currently available on iOS devices to users in Australia, Canada, Ireland, New Zealand, the UK, and the US with a Duolingo Max subscription.
Roleplay is essentially Duolingo's chatbot. It follows simulated conversations that mimic real-life scenarios. The dialogues in Roleplay follow simple lines and adjust to the user level. Beginners and advanced learners alike can benefit from the Roleplay feature to build confidence in using the foreign language.
Duolingo Lessons
The lessons are short but detailed. They teach different aspects of the target language with various exercises. You fill in the blanks, translate, type what you hear, and more.
The variety makes Duolingo lessons a comprehensive teaching material that improves grammar, listening, speaking, reading, and writing altogether. If you want to improve a specific skill, such as listening, you also have the option to do that with focused listening exercises.
There is also a helpful feature called Explain My Answer feature integrated into the Duolingo platform. It's available to Duolingo Max members and gives insights into correct and incorrect answers on demand. It helps users understand the nuances of the language by pinpointing mistakes.
Distinction in the Quality of Lessons
Duolingo lessons are short and simple. Whether you take a Duolingo Spanish course or want to learn some endangered languages, you can finish one lesson in less than five minutes. It enables users to spread learning throughout the day. Why not practice French while you wait for the next train?
While short lessons are convenient, they sometimes feel too superficial. It can add to the repetitiveness if they aren't teaching new words and covering only what you already know. The amount of content in Duolingo eases this problem.
The lessons might be effortless at times, but there's a ton of material for English speakers to learn. Take the Spanish course as an example. It has 216 units, with ten sections that each have three to five lessons. With this much content, you're never short of practice, especially listening exercises. For more advanced learners there are better alternatives like Lingopie, FluentU, and Yabla.
Grammar Instruction
Duolingo covers grammar from the first lesson to teach nouns, verb forms, and more. You learn grammar by matching pairs, selecting the right determiners, and doing other exercises. The grammar points become more difficult as you advance, adapting to your progress.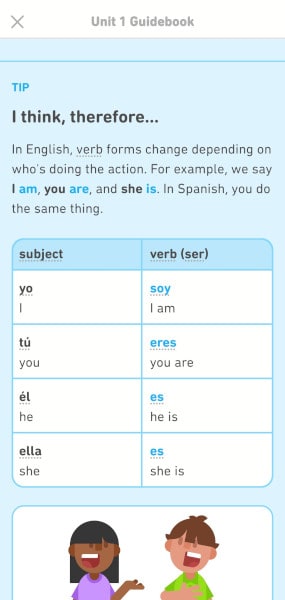 There is also a guidebook, which covers grammar rules along with key content learned for every unit. If the grammatical concepts in the target language are challenging, you can take a break from the lessons and read the guidebook to advance your understanding.
Verbal Practice
Although the drills to practice speaking appear quite randomly in Duolingo, it usually includes the words you practiced previously. It's a good approach to building confidence in your overall ability to speak a new language.
In addition to the speaking exercises in the lessons, you can rehearse what you learned by doing a speaking review. It compiles the new words and phrases into sentences and shows what you must read out loud.
Duolingo app incorporates speech recognition technology to measure your pronunciation skills. The new words you pronounced correctly appear blue. If you mispronounce, you only need to repeat the individual words until you pronounce them correctly.
Similarly, you can do a listening review. The listening exercises play a sentence, and you must select the correct words and phrases from the word bank. These reviews adapt to user progress, making each of them effective for listening and speaking skills.
Reading
Duolingo's lessons rely heavily on translating your native language to the target language or vice versa. In a way, this is a form of reading practice that familiarizes you with complex sentences.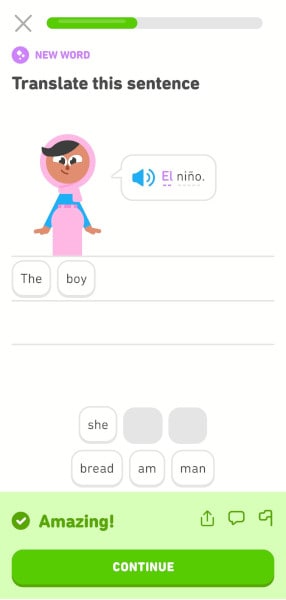 The individual lessons don't skip reading-focused exercises, though. You fill in the blanks, read a text to answer accordingly, and learn how to pronounce non-Roman scripts to read in an entirely different alphabet.
You can take the reading skills acquired from the lessons further by utilizing the stories feature. Stories supplement reading and listening exercises by asking questions about what you read. All these help language learners build strong reading comprehension skills.
Writing
You don't do a lot of active writing, but Duolingo asks you to write both your native and the target language. You mostly choose the right words from a word bank.
The word bank and focus on translating individual words improve writing skills in the target language. Duolingo gets users accustomed to this in all the lessons. 
For languages that don't use Latin characters, Duolingo teaches how to write and pronounce them, along with the meaning of individual letters. The language app makes it easier to write non-Roman characters with its tracing feature. It outlines the characters for you to trace with your finger.
Vocabulary
Duolingo constantly introduces new words as you move from one unit to another. It doesn't specifically target learning vocabulary but brings new words in various ways to keep them in your memory. There are flashcards, multiple-choice questions with images, and exercises introducing new words.
It isn't the best language learning app to build vocabulary since it isn't Duolingo's mission. It doesn't specifically target words like Lingvist or other similar language apps. Duolingo aims to be complete for improving your overall language skills.
Nonetheless, you can learn vocabulary with Duolingo, but the amount of new words depends on the course. For example, the Duolingo Spanish program has over 4,000 words – enough to converse with native speakers, while Ukrainian only covers a little over 1,000. If vocabulary expansion is your main focus, than you can try apps like Glossika and MosaLingua.
Repetitiveness
While spaced repetition helps to remember new words, it can make lessons repetitive. It isn't unique to Duolingo. Other language learning apps utilizing the spaced repetition system feel repetitive as well. But Duolingo's short lessons make it worse.
Before you finish a sizable amount of material, the lessons can get tedious. But the more you stick to the Duolingo app, the less monotonous it feels to learn. 
The monotony is most apparent if you're learning multiple languages simultaneously as the exercises are the same. However, the motivational system of XP points and badges is a great attempt at solving repetitiveness while learn a language.
Duolingo Review: User Friendliness
Duolingo has a friendly user interface with no shortage of animated characters and things popping up to brighten your learning. These design elements add up to a game-like experience. 
Some users may find it distracting and even childish. But that's a question of taste, and Duolingo's simple layout appeals to many casual users.
Getting familiar with Duolingo takes less than ten minutes. Your learning materials and socials are at the bottom. Gems, streaks, and languages are on the top of the language app. Everything loads almost instantaneously, and even when you have to wait, the app displays useful tips with new words on the loading screen.
Overall, the Duolingo app is pleasant to use, but most users might prefer something looking more professional.
What Should Be Upgraded?
While Duolingo courses teach in a structured way, it focuses heavily on repetition, which can feel tedious. Heavy gamification and short lessons aim to balance the monotony, but it just makes it feel unprofessional. Duolingo could benefit from a more varied language program, especially early on.
If you only need to learn a specific topic, such as traveling, it's hard to find what's relevant on Duolingo. Sure, the language app teaches content needed to converse with a native speaker on a trip, but you must unlock units or jump ahead. Or you can try app like Pimsleur that focuses on real speakers that provide authentic accent. Here is our full Pimsleur review.
If you only have a basic understanding of the foreign language, neither is possible. The recent update did not improve Duolingo for finding language learning topics. The new learning path takes an even more linear approach with levels and more spaced repetition.
The structure that Duolingo dictates is all there is. Users must stick to it to learn a new language. While other language courses like Memrise have categories, Duolingo lacks a similar approach allowing users to select what they want to learn. If you are advanced learner you can check our featured language app roundups in most popular categories:
Duolingo Costs
Duolingo is a freemium language app. The core lessons are available at no cost, and the content is the same for all the subscription models. The main difference is the ads and the limit on mistakes shown in hearts. The free version is ad-supported, has a cap on mistakes, and lacks some features.
For an unlimited, ad-free learning experience and extra features like offline usage, you can sign up for Duolingo Plus for $6.99 a month or $83.88 annually. 
Recently, Duolingo introduced a new subscription model called Duolingo Max. With this subscription, you unlock Roleplay and Explain My Answer features. Duolingo Max costs $30 a month or $168 yearly. It's currently available to select countries using iOS devices.
| | | |
| --- | --- | --- |
| Subscription | Price | Payment |
| Duolingo Plus (1 Month) | $6.99 | Charged monthly |
| Duolingo Plus (12 Month) | $83.88 | Charged annually |
| Duolingo Max (1 Month) | $30 | Charged monthly |
| Duolingo Max (12 Month) | $168 | Charged annually |
Free Trial
Depending on your location, Duolingo plus offers a 7 or 14-day free trial to Plus and Max memberships. The free period is enough to test if the paid version works for you.
Duolingo Coupons and Discounts
Duolingo rarely offers discounts as the learning tool is essentially free to use. Nonetheless, it goes on sale occasionally on holidays and other occasions.
Refund Policy
Duolingo provides refunds, but you must request them within 48 hours of the purchase. Refunds only apply to the subscription. The in-app purchases are nonrefundable.
Duolingo Pricing Compared to Competition
For its price, Duolingo courses are below many other language learning apps. It costs less than Rosetta Stone, Babbel, and many others. Plus, users can skip paid subscriptions. If you want even cheaper programs, than take a look at Mondly and Busuu courses.
The paid and free lessons have some differences, and the extra features help users review mistakes and refine new words more quickly. The pricing and the content available in each language make Duolingo plus stand out in terms of pricing. However, the amount of gamification might not be for everyone.
Validations
Since its launch, Duolingo has received multiple awards and recognitions. It was chosen as Apple's app of the year in 2013 and included among TIME magazine's 50 genius companies.
Duolingo Evaluations from Other Customers
Google Play Store – 4.5 (100M+ downloads)
Apple App store – 4.7 (1.8M ratings)
G2 – 4.5
Trustpilot – 1.5
Duolingo Review: Client Support
The only way to get support from Duolingo is by email. Despite the widespread popularity, there is no phone number to call or live chat on the website. The email response takes a few days, and we doubt it's answered by native speakers in all languages.
Duolingo has an extensive FAQ section that answers common user problems and questions. Their blog can also be helpful by providing insights into how the language app teaches. Conveniently, it is accessible from the app.
Duolingo Review: What Separates it from Others?
Duolingo app turns language learning into a brain exercise. It covers in-depth topics in the languages offered with many new words, heavy gamification and short, simple lessons at its core. There's a reason for its popularity among language learners.