Lingomee is an independent review site that may benefit from affiliate programs. Buying through our links makes our efforts possible without additional costs to you.
Learning Hebrew language is challenging, especially for learners outside the Hebrew-speaking regions. Mastering the alphabet, grammar, new words, and phonetics requires regular practice and guidance by a native speaker.
Luckily, there are quite a few apps to learn Hebrew that simplify the learning process. Even the basic subscription allows anyone to access playful lessons and various materials regardless of geographical region. Some of the apps also connect learners to native speakers or tutors who take their students through all the Hebrew language aspects.
Most apps in our list provide a comprehensive course tailored to meet your needs. Their simplified and aesthetic user interface makes it easy to find all the learning materials and motivates you to learn Hebrew. This roundup looks at some of the best apps to learn the Hebrew language and why they're great in particular categories.
My TOP 3 Apps to Learn Hebrew
Best Overall App to Learn Hebrew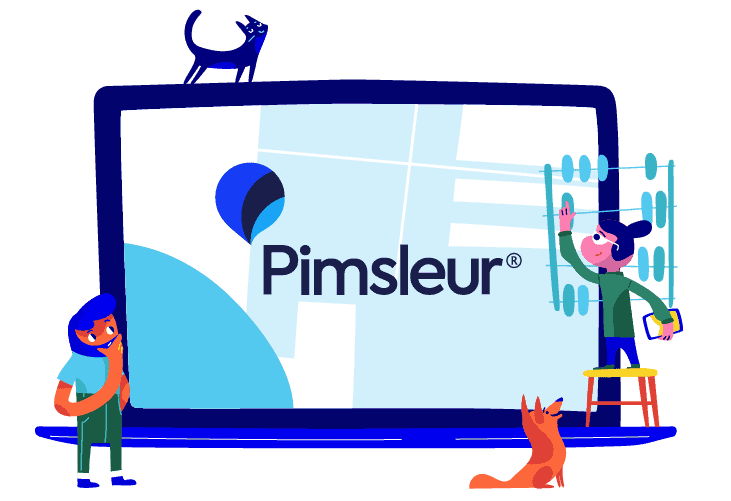 A compelling app with audio lessons to learn Hebrew
Best Hebrew App for Novices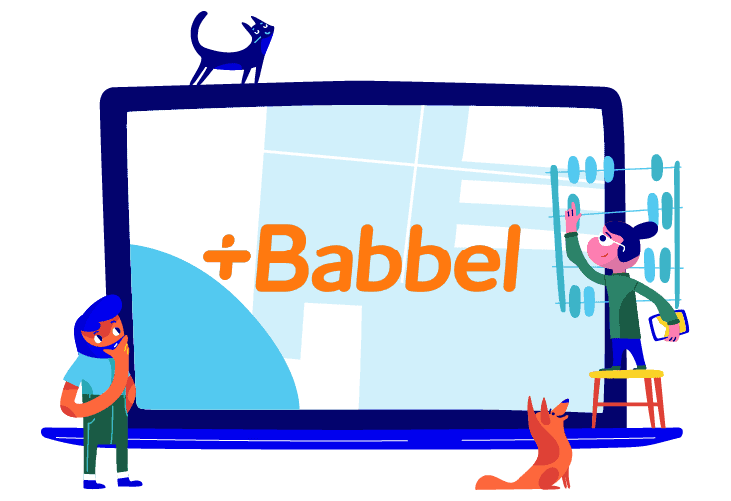 An effortless Hebrew language learning with cutting-edge technology
Best Hebrew App for Traveling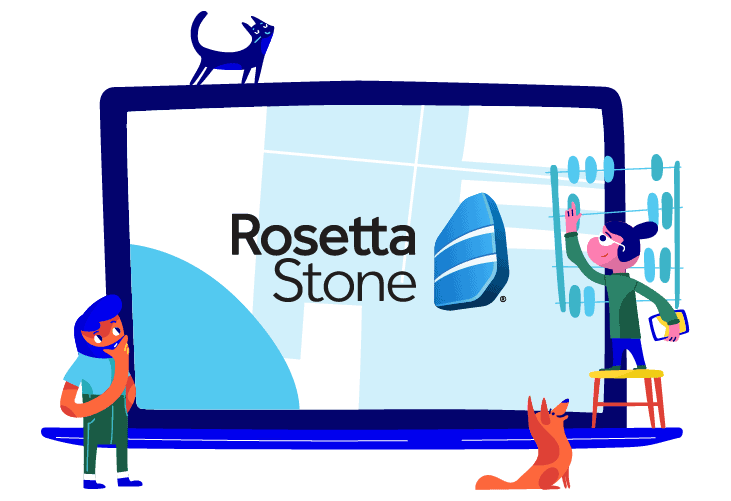 A vibrant interface that will help you learn vocabulary of Hebrew quickly.
How to Choose the Best App to Hebrew App?
The language market is saturated, so finding the best apps to learn Hebrew language is time-consuming. It takes throughout research and testing to see what's actually effective. Here at Lingomee, we're all about making it easier for you. We benchmark all products through the same measures.
Pimsleur – Best Overall App to Learn Hebrew
Mondly – Best Hebrew App for Novices
Rosetta Stone – Best Hebrew App Before Traveling
HebrewPod101 – Best App to Learn Hebrew with Audio
Memrise – Best Hebrew Learning App With Flashcards
Preply – Best App to Learn Hebrew with Instructors
Ling App – Best App to Learn Hebrew Vocabulary
Duolingo – Best App to Learn Hebrew for Free​
Best Apps to Learn Hebrew: Comparison Table
8 Best Apps to Learn Hebrew Language
Best Overall App to Learn Hebrew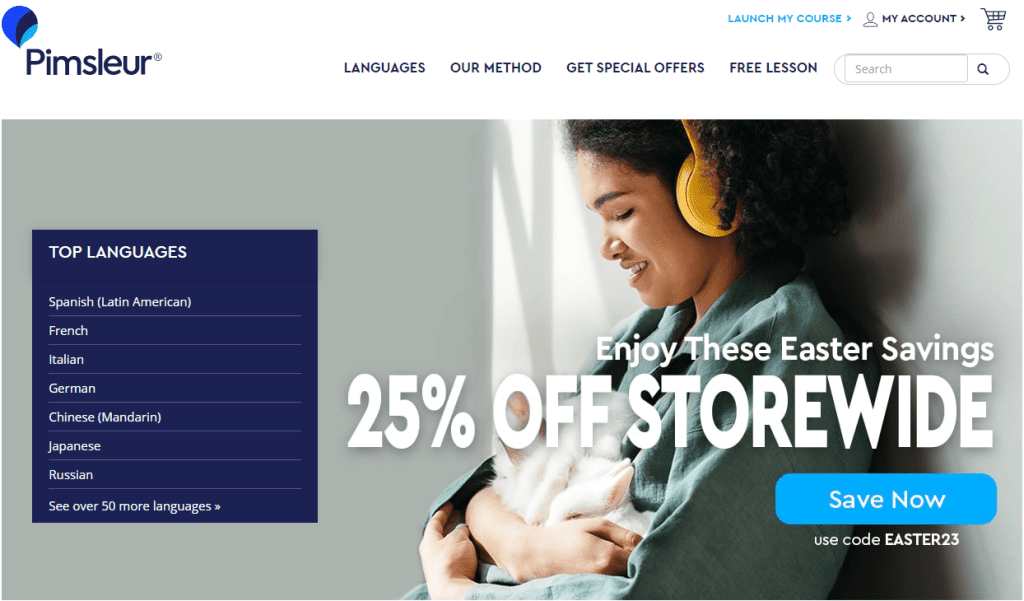 Pimsleur gets you conversational in a new language with interactive audio lessons and games.  Native Hebrew speakers will walk you through basic vocabulary and the most important concepts for reading, grammar, and writing.
| | |
| --- | --- |
| ⭐ Platforms: | Web, iOS, Android |
| ⌚ Time commitment: | 30 minutes per day  |
| 💵 Price: | $14.95 – $575 |
| 🔄 Refund policy: | 30-day money-back guarantee |
| 🎁 Free Trial: | ✔️ |
Driving and Offline Mode – download audio lessons for offline use and easily control the app while driving.
Speak Easy challenge – build conversational skills, expand vocabulary, and get conversational in real-life settings.
Voice coach – advanced speech recognition technology for pronunciation practice.
Speed Run Game – memorize and translate words quickly with an interactive game.
Why Pimsleur is The Best Overall App to Learn Hebrew
Pimsleur Hebrew courses are tailored to suit beginner and advanced learners, allowing everyone to choose their studying level. Pemsleur's curriculum teaches fundamental language aspects like Hebrew grammar, vocabulary lists, and pronunciation. The conversational learning style approach is perfect to practice speaking, allowing learners to improve their Hebrew skills and speak confidently.
Pimsleur course isn't limited to the modern Hebrew language, as learners also study Biblical Hebrew, making it perfect for those who wish to study religious scriptures and ancient texts. Doing so also exposes learners to the cultural context, making them appreciate the language's history and connect more with the locals. Pimsleur is the best overall app for learning Hebrew.
Pricing
Pimsleur offers affordable subscription options ranging from $14.95 monthly audio-only course to $150 for all-inclusive individual courses. This is the best app to learn Hebrew language and Pimsleur's premium account provides access to all available languages and levels. The seven-day free trial is a great way to test Pimsleur before purchasing.
Best Hebrew App for Novices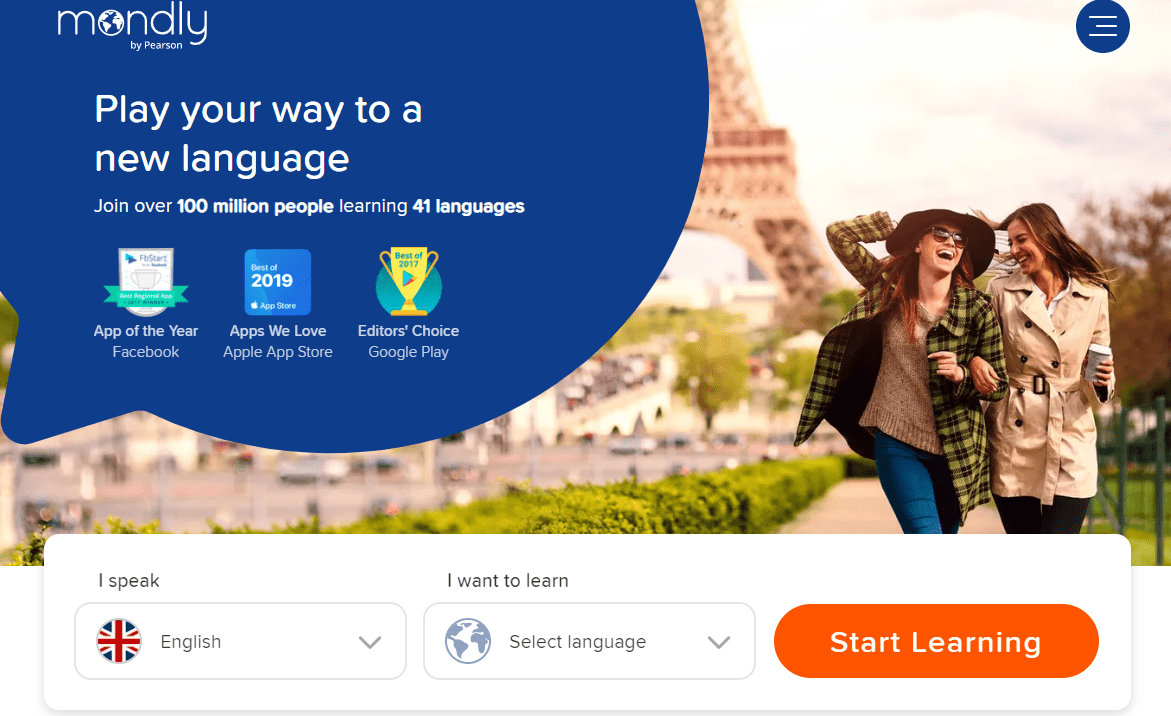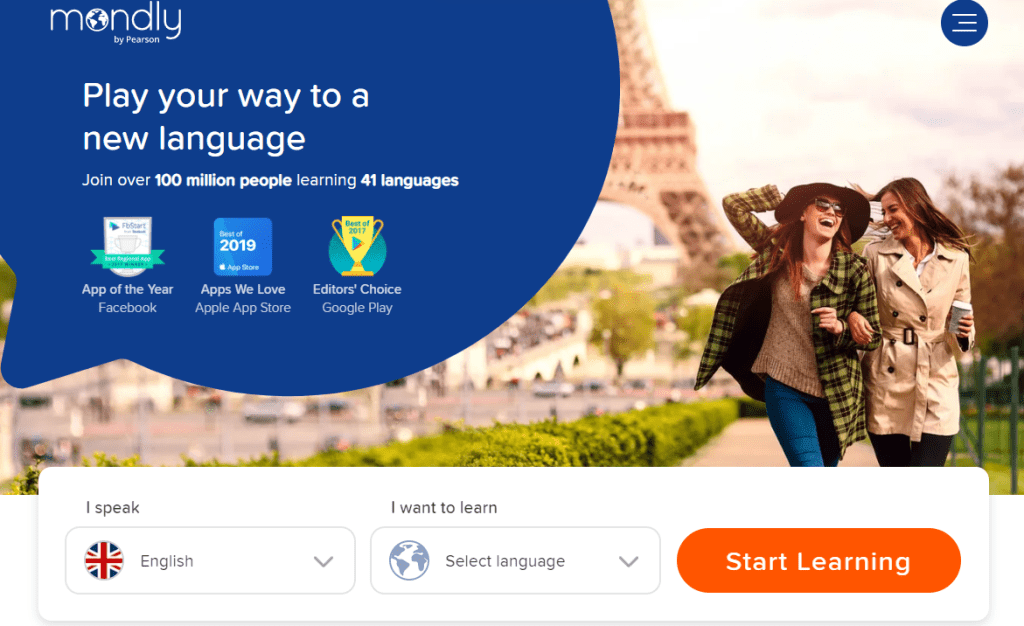 Mondly might be the most innovative Hebrew language-learning app on the market. It appeals to language learners of various levels with gamified and even virtual reality lessons. Language learning is guaranteed to be fun with Mondly.
| | |
| --- | --- |
| ⭐ Platforms: | Web, iOS, Android |
| ⌚ Time commitment: | 30 minutes per day |
| 💵 Price: | $9.90 – $89.99 |
| 🔄 Refund policy: | Individual  |
| 🎁 Free Trial: | ✔️ |
Speech Recognition Technology – gain confidence in speaking with advanced voice recognition.
Interactive Chatbot – receive instant feedback on your conversational skills.
AR and VR Modules – engage with digital characters and objects while learning languages.
Mondly Kids – immerse your kids into a foreign language through interactive games.
Best Hebrew App for Novices, Why Mondly is the Winner?
Mondly is a great learning app for novices due to its interactive nature. Its comprehensive and well-structured course touches on every language aspect, like teaching basic Hebrew words, grammar, and sentence structure, creating a solid foundation for learning Hebrew language further. The built-in interactive dictionary helps you look up any Hebrew word.
Mondly's focus on modern Hebrew through interactive lessons helps learners remember vocabulary, learn pronunciation, and improve comprehension. The learning materials include audio lessons, grammar explanations, speech recognition, and accurate feedback, providing learners with a proper language foundation. Mondly's short Hebrew lessons enable you to complete the course quickly so you can learn Hebrew fast and at your pace.
Pricing
The payment options of Mondly are flexible – you can pay every month ($9.99), every three months ($29.97), or annually ($47.99). The lifetime subscription ($89.99) has great value for money, providing access to all languages and features. You can also try out Mondly with the seven-day free trial.
Best Hebrew App Before Traveling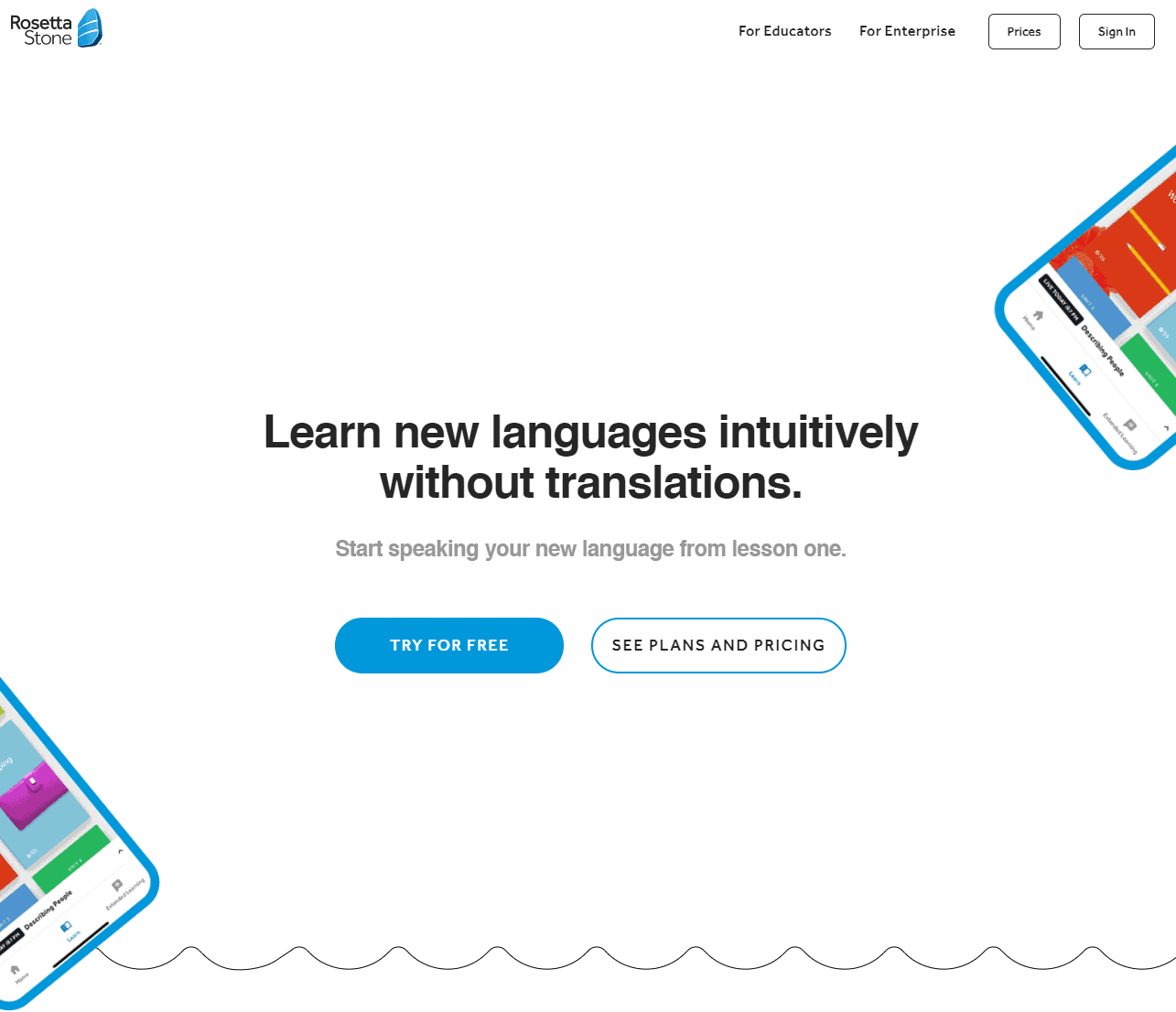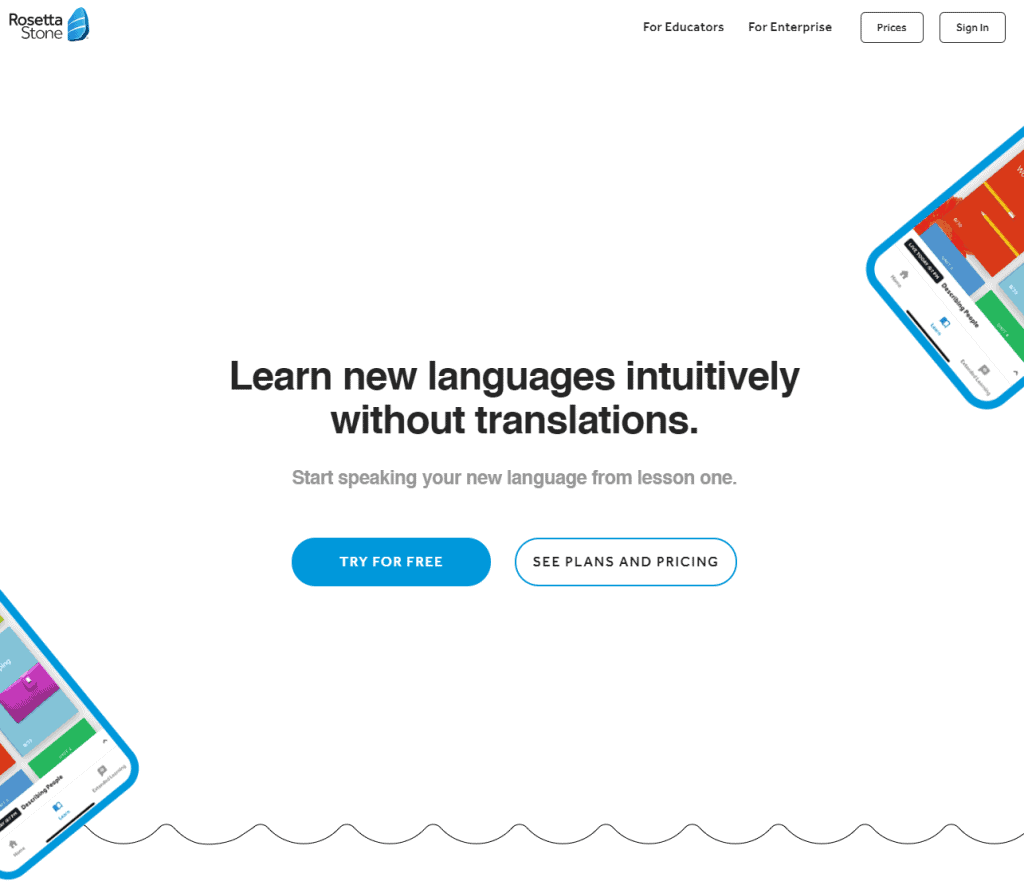 Why we like Rosetta Stone
Rosetta Stone immerses you in the target language by associating pictures, audio, and the written word. You will pick up the Hebrew grammar naturally while various bonus features complement and speed up your learning process.
| | |
| --- | --- |
| ⭐ Platforms: | Web, iOS, Android |
| ⌚ Time commitment: | 30 minutes per day |
| 💵 Price: | $11.99 – $179 |
| 🔄 Refund policy: | 30-day money-back guarantee |
| 🎁 Free Trial: | ✔️ |
Core Lessons – associate images with words and native speaker audio recordings. 
The Phrasebook – practice real-life pronunciation with voice recognition software.
Stories – improve reading and listening skills with native speaker-narrated material.
Live tutoring – participate in twenty-five minutes long live lessons with experienced tutors.
Rosetta Stone Hebrew Overview
Rosetta Stone has interactive activities and exercises to help teach Hebrew words used in daily conversations. Such new words include ordering food, greeting, and asking for directions. Spaced repetition ensures learners remember vocabulary easily, which comes in handy when traveling. Rosetta Stone also has playful lessons touching on the grammar component to provide a well-rounded understanding of the language. 
The language app's focus on conversational Hebrew equips learners with the confidence to speak freely in a controlled environment. Additionally, Hebrew lessons in Rosetta Stone are progressive, ensuring new lessons build on previous ones by including new Hebrew words, grammar rules, and sentence structure. So it's a good app to use when you're traveling.
Best App to Learn Hebrew with Audio
HebrewPod101 provides an extensive collection of podcast-like language courses with the same high-quality standard in each. Listen to native speaker dialogues adjusted for your level and accessible at your own pace.
| | |
| --- | --- |
| ⭐ Platforms: | Web, iOS, Android |
| ⌚ Time commitment: | 40 minutes per day |
| 💵 Price: | $4 – $552 |
| 🔄 Refund policy: | 60-day money-back guarantee |
| 🎁 Free Trial: | ✔️ |
Pathways – learn with personalized lesson plans suiting your interests.
Dialogues – follow native speaker conversations while making notes and recording yourself.
Vocabulary – study each word separately with its pronunciation and translation.
Lesson Notes – read comprehensive yet concise notes on the most crucial concepts of your target language.
HebrewPod101 Overview
HebrewPod101 is known for authentic audio lessons, allowing learners access to audio recordings by Hebrew native speakers. The audio recordings cover conversations, with which you can practice speaking. The self-paced learning approach provides flexibility, with learners tracking their progress as they continue audio and video lessons. This is the best app to learn Hebrew language with audio lessons.
Besides improving speaking skills, HebrewPod101's lessons also improve listening comprehension with professional audio recordings. HebrewPod101 also has interactive quizzes and exercises to reinforce what learners have covered in the Hebrew lessons.
Best App to Learn Hebrew With Flashcards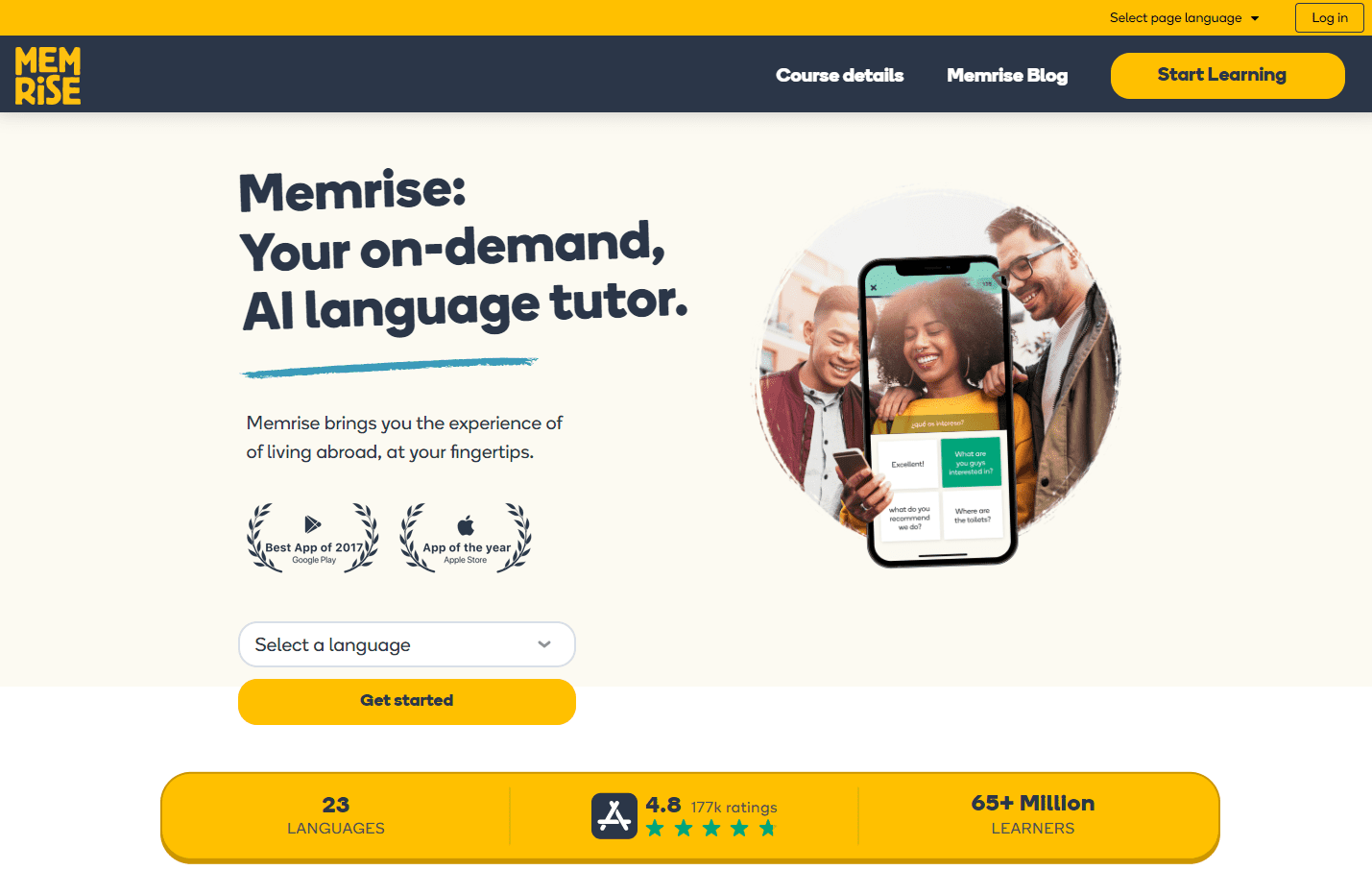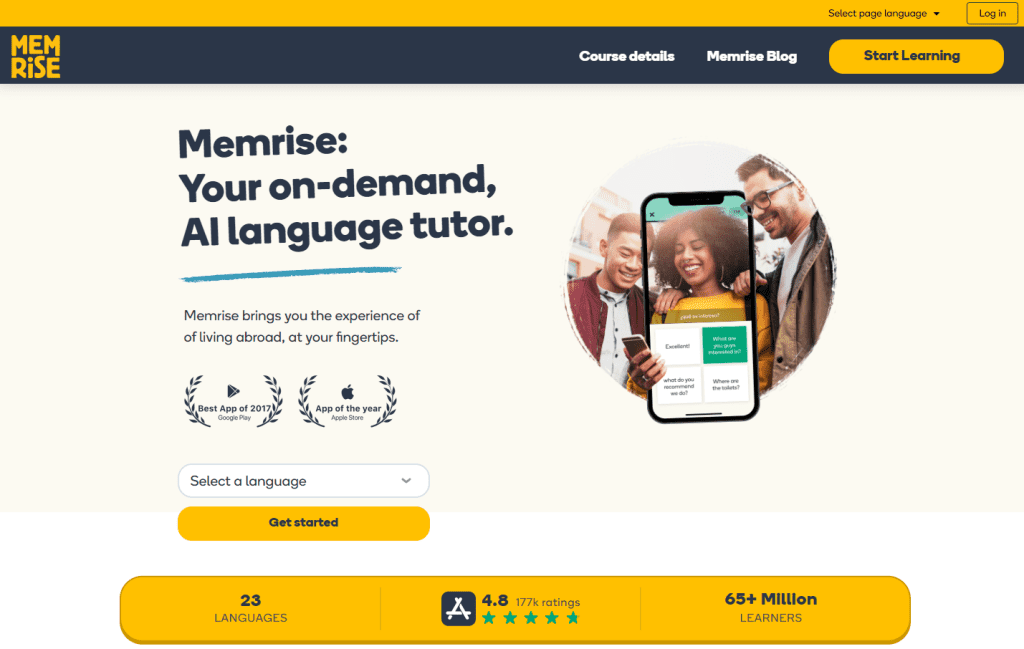 Powered by flashcards, spaced repetition, and AI, Memrise is a great app to memorize Hebrew words and reach conversational fluency. Besides official tools, Memrise promotes language learners to upload courses on topics of interest.
| | |
| --- | --- |
| ⭐ Platforms: | Web, iOS, Android |
| ⌚ Time commitment: | 30 minutes per day |
| 💵 Price: | $8.49 – $119.99 |
| 🔄 Refund policy: | 30-day money-back guarantee  |
| 🎁 Free Trial: | ✔️ |
Chats and Missions – get conversation practice with a chatbot and complete missions to use the language in everyday scenarios
Review to Retain – flip flashcards with word translations and videos to memorize them.
User-created Content – use relatable materials nourished by other students for language learning.
Immerse – measure what you've learned in the material with fun videos.
Memrise Hebrew Overview
Memrise is a Hebrew learning app best for students interested in enhancing their vocabulary by learning words. Memrise uses a comprehensive Hebrew phrasebook containing flashcards with essential new words and phrases, covering topics like greeting, food, travel, and daily formal and informal conversations. 
Memrise uses a personalized learning style, where learners choose the appropriate difficulty. The app teaches with spaced repetition and visual associations to improve active recall and vocabulary acquisition. Memrise's flashcards also associate new Hebrew words with catchy melodies. Memrise also allows learners to create and share their flashcards with others to improve their Hebrew skills.
Best App to Learn Hebrew with Instructors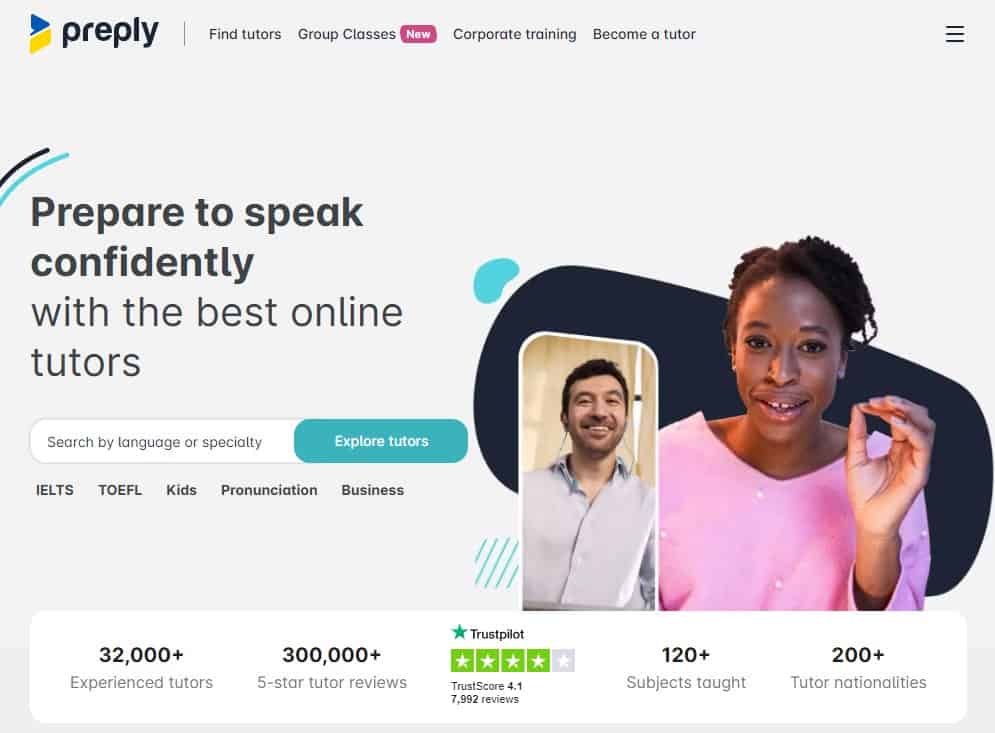 A diverse selection of native-speaker teachers, flexible scheduling, and customized lessons make Preply stand out as an online tutoring platform. Their generous refund system guarantees you'll find a live tutor for Hebrew on Preply. 
| | |
| --- | --- |
| ⭐ Platforms: | Web, iOS, Android |
| ⌚ Time commitment: | Few hours a week |
| 💵 Price: | $3 – $40 |
| 🔄 Refund policy: | 14 or 90-day refunds |
| 🎁 Free Trial: | ✔️ |
Thousands of Tutors – jump into foreign language learning with a native tutor for almost any language there is.
One-on-one Lessons – personalize your language learning experience with a personal tutor.
Preply Classrooms – utilize an interactive solution that allows your language teacher to share screens, show slides, record lessons, and much more.
More than language learning – learn more than a language with courses on photography, business, graphic design, and much more.
Preply Hebrew Overview
Preply vets its Hebrew tutors to ensure they're qualified and experienced in language teaching. Preply Hebrew tutors are mostly native speakers with a proven track record of teaching. Doing so ensures learners receive authentic experience when learning Hebrew and get immediate feedback to improve their language skills for good.
Besides creating customized lessons, Hebrew teachers engage their students in dialogues, exposing them to authentic intonation and correct pronunciation. The language app's tutors use interactive and engaging teaching styles, like role-playing, which makes lessons fun for all learners.
Best App to Learn Hebrew Vocabulary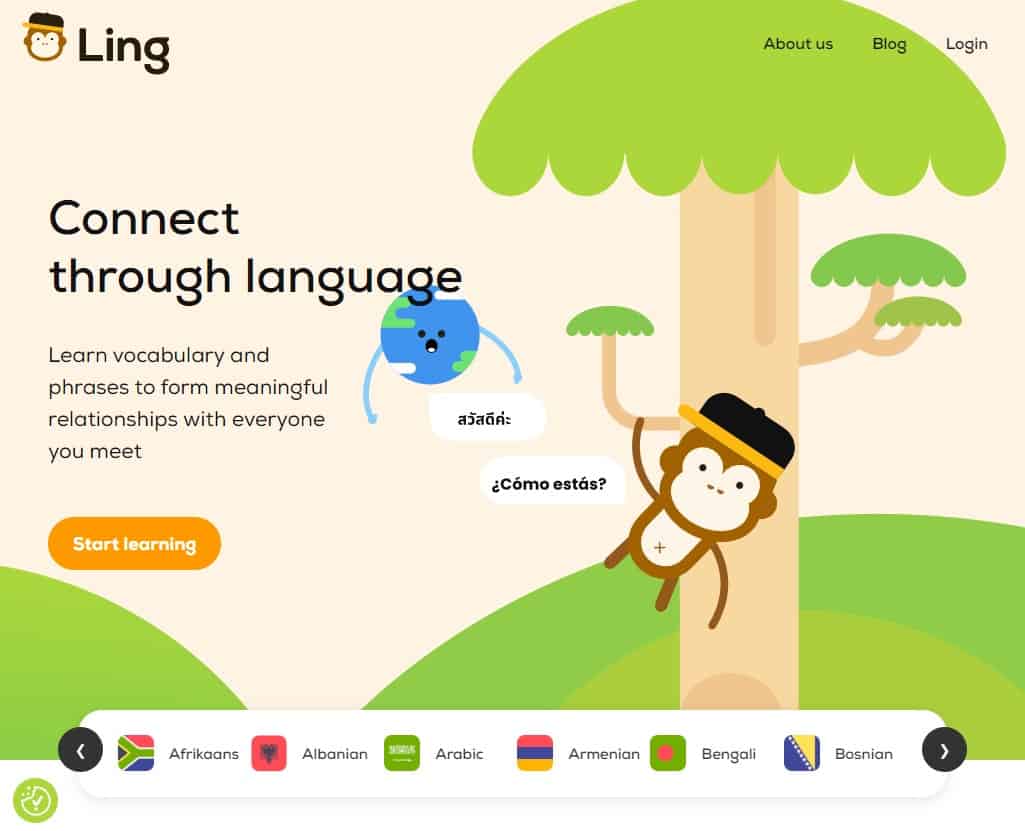 With many hard-to-find languages, the Ling app is an effective option for many language learners. Short and gamified lessons will provide the necessary background to make the first steps in understanding the Hebrew language.
| | |
| --- | --- |
| ⭐ Platforms: | Web, iOS, Android |
| ⌚ Time commitment: | 10-20 minutes per day |
| 💵 Price: | $8.99 – $149.99 |
| 🔄 Refund policy: | 30-Day money-back guarantee |
| 🎁 Free Trial: | ✔️ |
Ling lessons – spell, write, match, and choose the correct words from a list.
Chatbot – start a dialogue in your target language with a helpful AI.
Review – rehearse the learned vocabulary by answering questions from completed courses.
Exam – test your knowledge in a timed exercise format.
Ling App Hebrew Overview
The Ling App's spaced repetition and interactive exercises make it the best platform for learning Hebrew vocabulary. By reviewing new Hebrew words at optimal intervals, the Ling App's learning methodology makes it easy for learners to remember vocabulary and how to use words to form meaningful sentences.
The language app has good structure of Hebrew lessons with a collection of Hebrew words and vocabulary lists to help students learn vocabulary progressively. The aesthetic user interface, including a clear design and intuitive navigation, makes lessons fun and engaging, boosting motivation. The Ling App's structured Hebrew course also touches on Hebrew verb formation and how to use them in sentences.
Best App to Learn Hebrew for Free​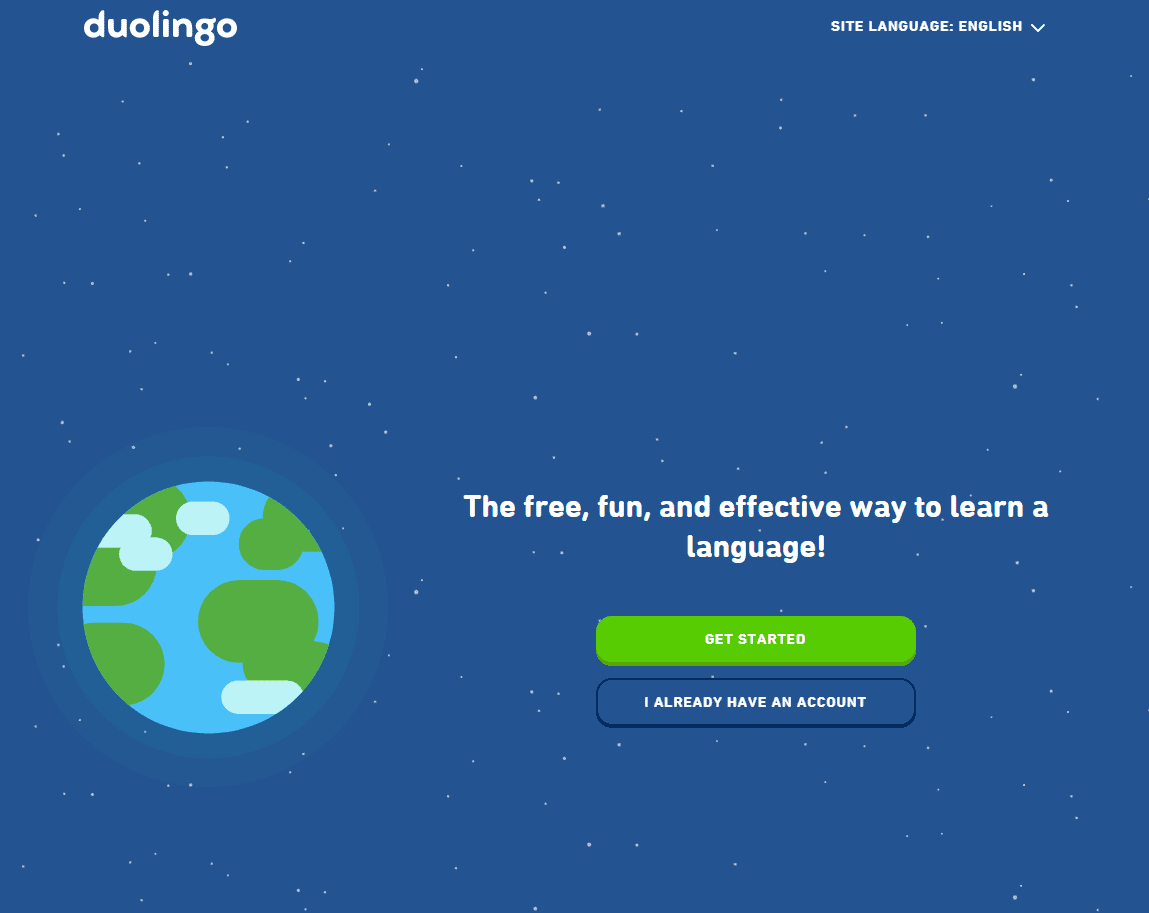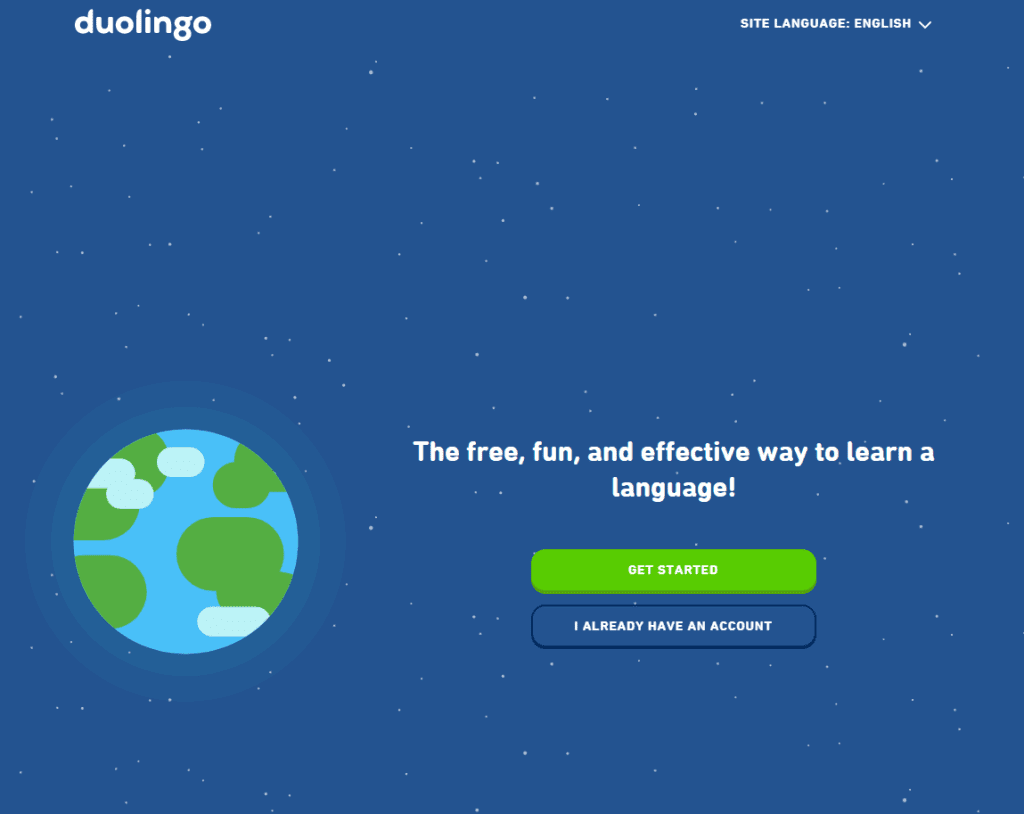 Duolingo is the most gamified language learning experience you can get for the Hebrew language. Just like in a video game, you must collect gems and earn XP while learning basic concepts of a new language.
| | |
| --- | --- |
| ⭐ Platforms: | Web, iOS, Android |
| ⌚ Time commitment: | 15 – 30 minutes per day |
| 💵 Price: | $9.99 – $79.99 |
| 🔄 Refund policy: | 48-hour refunds |
| 🎁 Free Trial: | ✔️ |
Gems, XP points, badges… – motivate yourself to learn with an abundance of elements from mobile games. 
Stories – read and listen to interactive stories bringing you closer to a real-life experience.
Roleplay – converse with a chatbot that can adjust to your proficiency level.
Personalized lessons – delve into short lessons teaching the basics of the target language while focusing on your weak spots.
Frequently Asked Questions When Learning Hebrew
Best Apps to Learn Hebrew: Wrap-Up
Our roundup contains some of the best Hebrew learning apps for a well-rounded understanding of the language. If you're interested in words, grammar, verbal practice to speak Hebrew fluently, and cultural aspects, there's always an app in this roundup. You can also learn Hebrew free of charge with content from Mondly, Drops, and Duolingo.