If you are looking for a language course that adjusts to what you know and is created by experts, look no further. Babbel is the answer. They know that without a solid foundation, your building blocks will be faulty, and your knowledge tower will crumble.
The Babbel app covers everything for beginner learners with a strong focus on vocabulary, pronunciation, and grammar. Millions of customers consider it the best tool for learning languages. But with so many competitors, is it still true today?
A premium yet affordable language learning app for beginners
Babbel offers a science-proven method for language learning with an easy-to-use interface and an inviting price tag. Engaging lessons come with podcasts, reviews, and even games. Babbel's language course will help any beginner to make their first steps towards fluency in their target language.
⭐ Rating:
9.3

★★★★★

🥇 Available languages:
14 (see below)
📈 Suits best for:
Novices
🛒 Payment options:
3 Months/12 Months/Lifetime
💵 Price:
$14.95 – $349
⌚ Hours of lesson time:
260+
🔄 Refund policy:
20-day money-back guarantee
🎁 Free Trial:
✔️
Babbel Spanish, Babbel French, Babbel German, Babbel Italian, Babbel Portuguese, Babbel Russian, Babbel Turkish, Babbel Dutch, Babbel Swedish, Babbel Norwegian, Babbel Polish, Babbel Danish, Babbel Indonesian, and Babbel English.
You can find separate guides for specific languages here:
Babbel Evaluation From Our Perspective
Disclaimer: Lingomee is an independent review site that may benefit from affiliate programs. Buying through our links makes our efforts possible without additional costs to you. Learn more here.
Quick Overview of Babbel
With more than fifteen years of helping language learners improve, Babbel is a well-polished product. Right from the start their app signals quality. The slick and professional design, the easy signup process, and a well-thought-out walkthrough ensure this experience.
There are only fourteen languages in Babbel, but every one of them is tailored to your native language, which you choose at the very beginning. The language courses in Babbel promise to bring you from fluency in one language to another. 
It is a scientifically proven method to learn languages, often neglected by other apps. After all, it is common sense that a native Italian would take a different route to German than someone who is fluent only in American English, Ukrainian, or some other languages.
Students can provide some more information to personalize their language learning – age, knowledge of the target language, and why they want to learn it. Conveniently, these settings allow the Babbel app to estimate how much time you will need to reach your goal.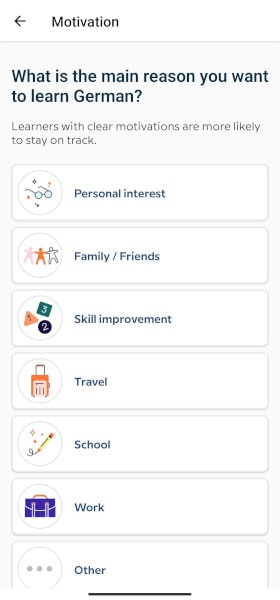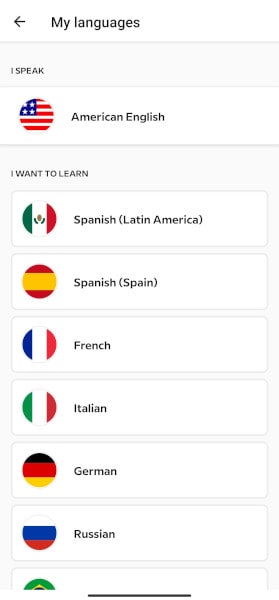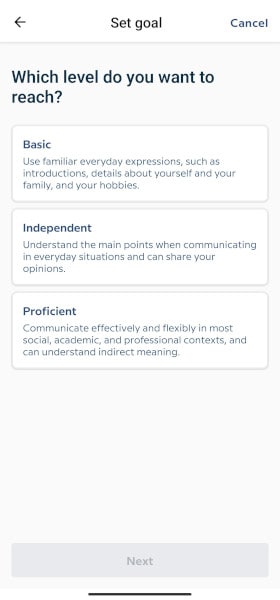 Advanced learners can start at a higher level by taking a three-minute-long placement test to adjust their level. Babbel teaches everything expected from a language learning program – writing, reading, speaking, listening, and grammar. The variety of features provides effective memorization and some level of gamification. Lingodeer is another app that provides decent memorization.
Babbel Review: Main Features
Only a few other language learning programs can compare with the number of features Babbel provides. The main Babbel lessons make use of multiple interactive exercises. Expect to match images to native speaker recordings, fill in the blanks for dialogues, and pronounce words and phrases yourself. By doing this babbel review we found 9 most important features: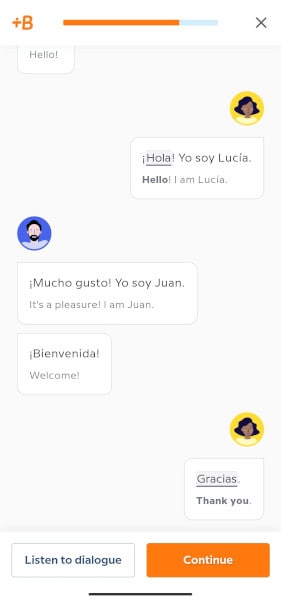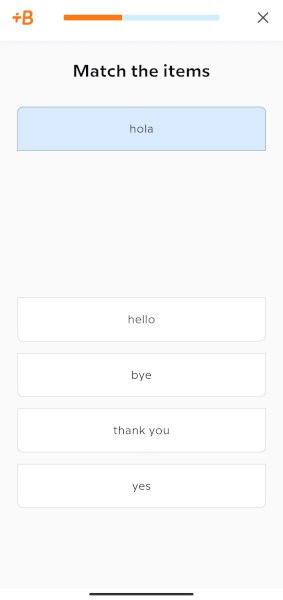 All of these features create a general feel of a quality textbook personalized and made interactive on your phone. But unlike regular language lessons or many other language apps, you can take your time or skip ahead while accessing everything at your own pace.
Other features supplement what Babbel offers in the main lessons with an abundance of audio content, memorization techniques, cultural context, and games. Let's look into all of them one by one.
Speech Recognition System
Babbel's speech recognition software is one of the best in the market, so we recommend using it as much as possible. The setup is simple, and it works accurately even in loud environments. Like many other similar solutions, Babbel uses a database of native speaker recordings to compare with your pronunciation.
Of course, some inaccuracies are unavoidable, but it wasn't bothering us often compared to other language-learning apps. Judging from many good reviews, other users feel the same. All in all, Babbel's speech recognition software will guide you in the right direction, but don't expect it to replace a live tutor.
Babbel Live
No software can fully replace learning with language instructors. Babbel live fills this gap by providing hour-long lessons with certified language instructors in groups of six other learners. There are plenty of lessons every day of the week on topics that supplement the main language course.
Babbel live costs an additional subscription, but the first two sessions are free. Language teachers create a stress-free environment for practicing language skills that balance group differences. The only real drawback of these Babbel lessons is their limitation to learn Spanish, Italian, French, and German.
Mini Games
The main language courses can get repetitive. Babbel knows it and provides some engaging alternatives for language learning in the games section. Every target language has a different set relating to the vocabulary of that language.
Go through a maze of Italian words, conjugate German verbs to build a tower, or use correct Spanish spelling to help a kitten. It is a great and well-thought-out addition to the Babbel app. If this won't get you hooked on learning a new language, hardly anything will.
Babbel Magazine
In addition to the main language learning experience, Babbel provides plenty of expert articles and two-minute stories on various topics. Ranging from self-learning tips to cultural differences, they are what most foreign language students will want to read from time to time.
Unfortunately, the articles in Babbel magazine are not entirely in your target language and only introduce some words and phrases. We think it's a missed opportunity to provide some language immersion which is otherwise lacking in this language-learning app.
Culture Bites
Culture bites enrich language learning with some context. They are a collection of quick tips about the customs of a foreign language. We found them to be convenient on the go since all of the cultural bites are narrated by native language speakers. Your source language translations are available as well. LinguaLift also does great job at teaching cultural aspects.
Babbel Podcasts
Target language podcasts are a great opportunity to improve your listening skills. Some of Babbel's courses lack this feature, but Spanish, French, German, and Italian languages have a lot to offer. There's a variety of themes for levels up until the intermediate. 
For example, the Babbel Spanish course has a podcast called A Zero To A Hero that follows a beginner in her language learning journey. More advanced podcasts include complex topics, such as global news stories narrated by native speakers in Babbel Nachrichten, which supplements the German course.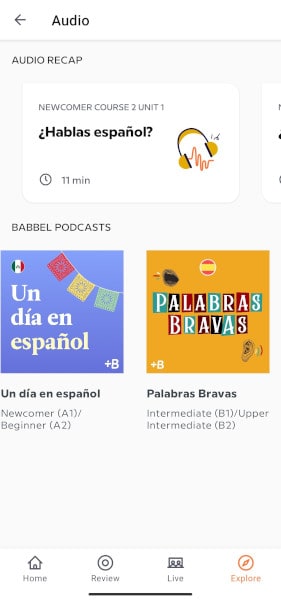 Audio Recap
Even the easiest of podcasts might be too hard for some beginner learners, but there's an audio recap to get you started. It is a target language conversation that only uses the vocabulary you already know. The dialogues are broken down into parts and explained in your source language.
Everyday Conversations
To improve speaking skills, Babbel offers you to practice some common words and phrases in a real-life conversational setting. Telling something about yourself, introducing others, ordering food, and other useful everyday topics are included.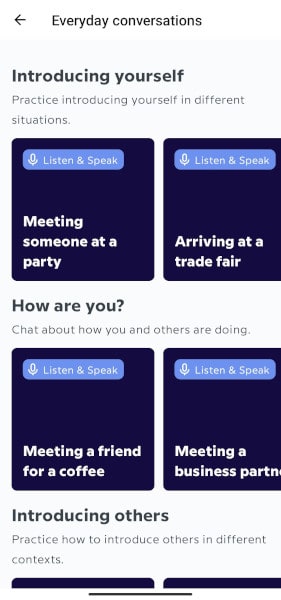 These short lessons follow a listen-and-repeat structure. First, you listen to the dialogue in the target language. After that, you can say your part as if you were in that conversation while the speech recognition software evaluates your pronunciation. It is a great language learning method often used in real-life classrooms.
Review Manager
Reviewing what you have already learned is often the most tiresome part of language learning. Babbel helps by proving three options for rehearsal.
Flashcards are a time-proven method to remember words and phrases. Babbel makes it more engaging with photos, audio, and a swipeable interface.
Speaking review is aimed at rehearsing your pronunciation by switching up the order of words you learned in lessons.
Writing gives you the possibility to practice writing words and phrases you learned.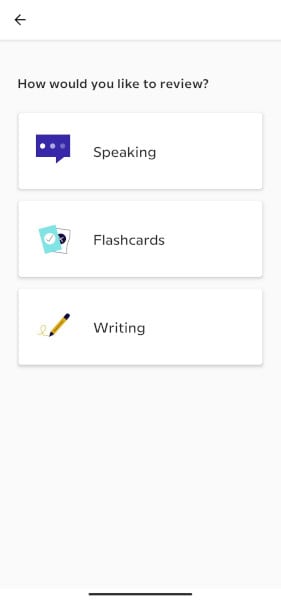 Repetition here is unavoidable and it shows that it is more effective with the use of spaced repetition and easier with helpful hints if you get stuck somewhere.
Babbel Review: Alternatives and Competitors
Babbel vs Rosetta Stone Review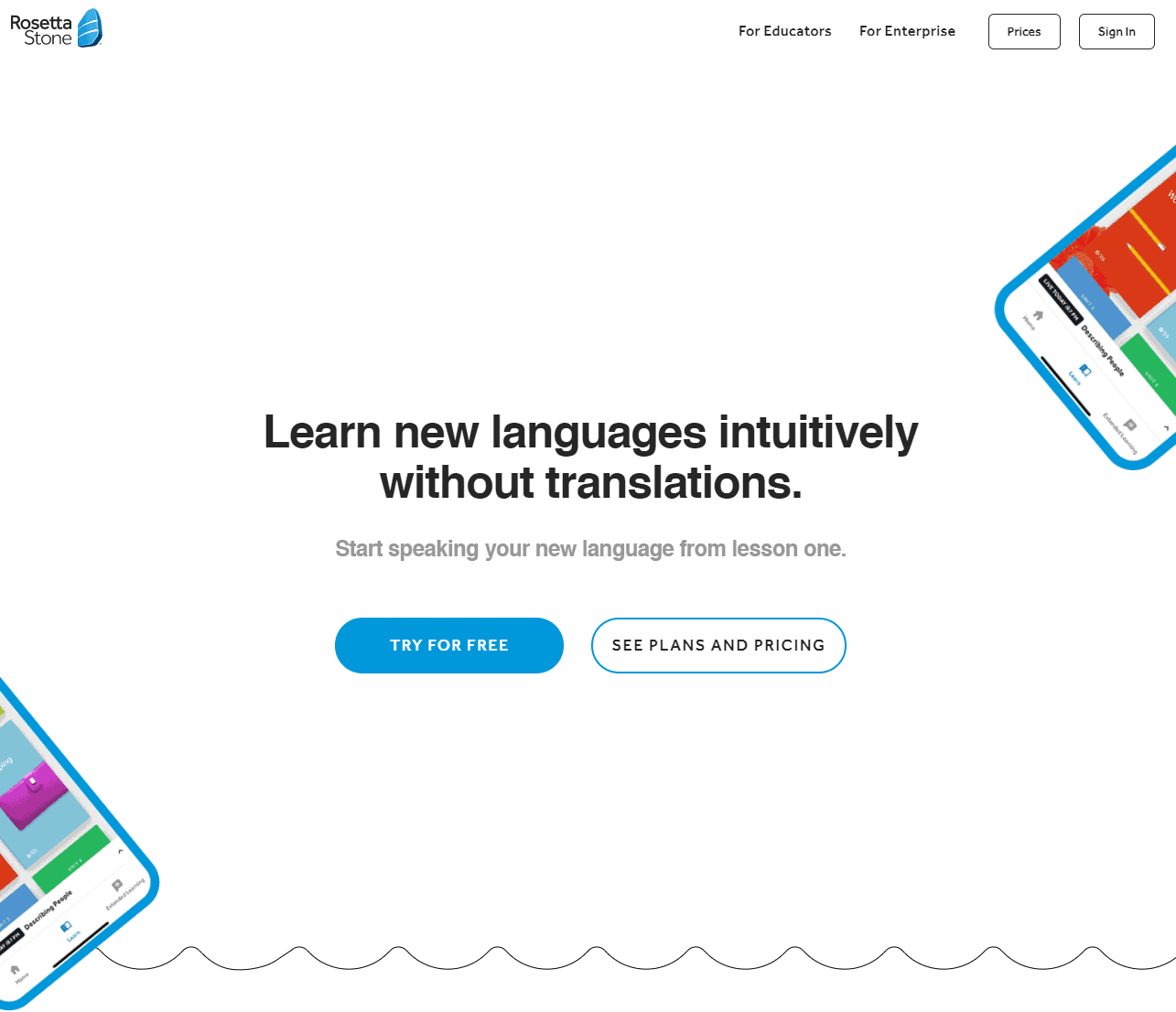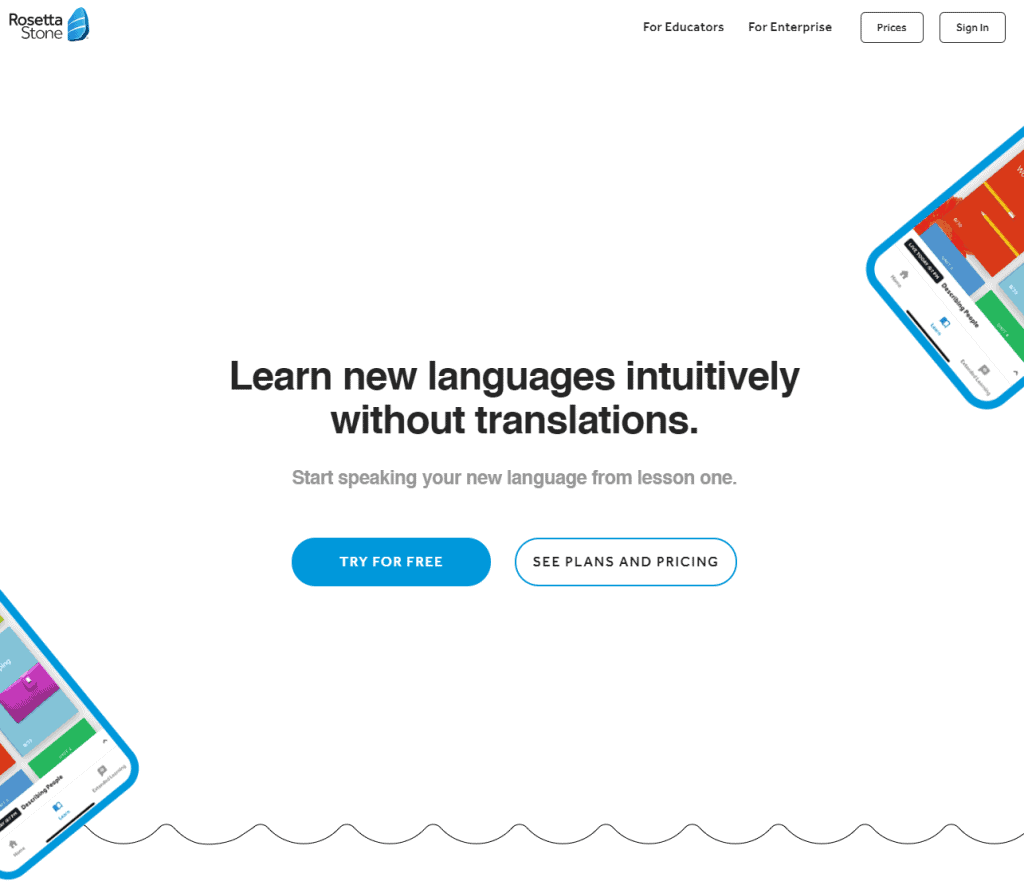 Rosetta Stone and Babbel share a lot of similarities in lesson quality and depth. The differences lie in the methods they use. Rosetta Stone relies on dynamic immersion exposing you to the target language without translations or grammar rules. Babbel will be a better choice for those who need textbook-like explanations and less learning through immersion. Read our full Rosetta Stone review here.
Babbel vs Duolingo Review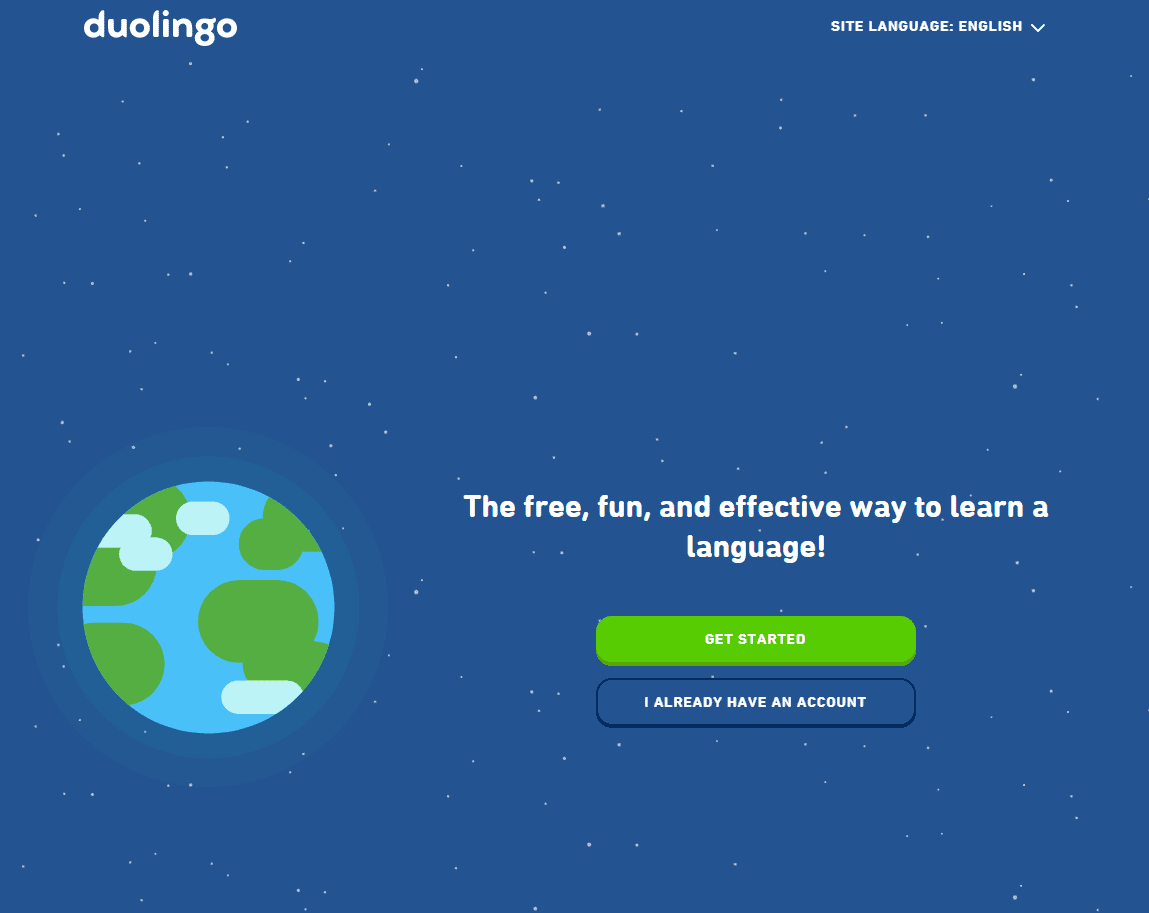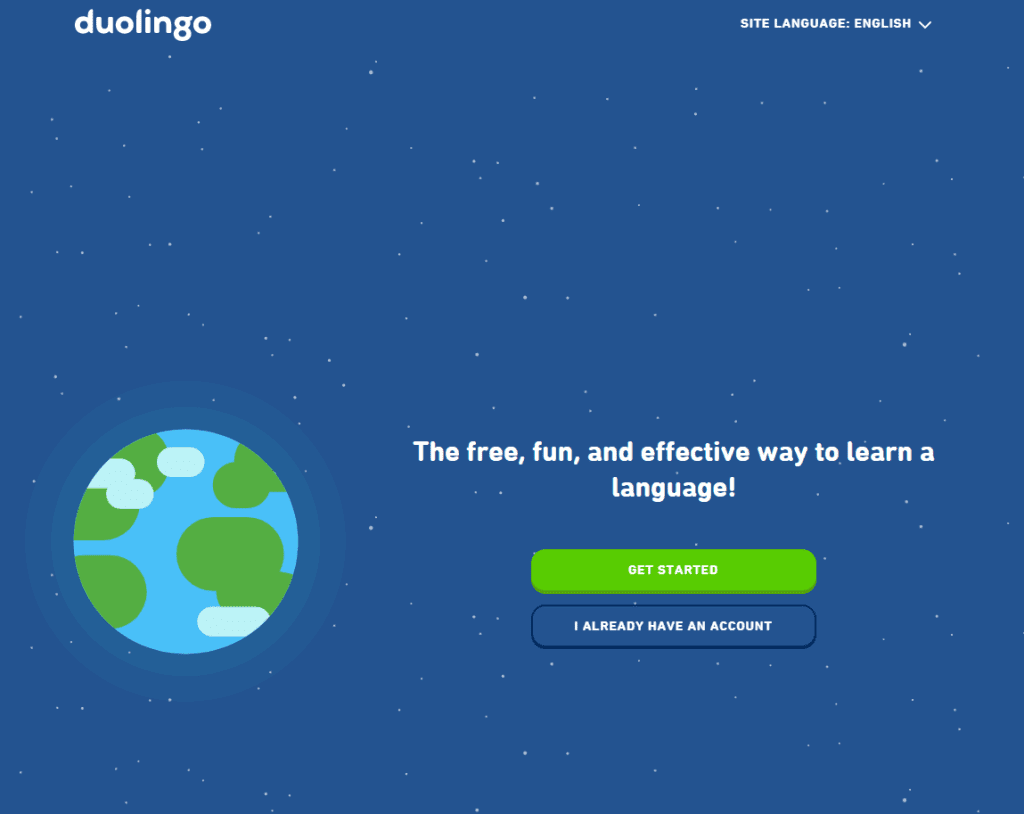 Duolingo is a fully gamified language learning app with a popular free version aimed at casual learners. Choose it if you are one of them. However, Babbel has more depth to its lessons and all content is fine-tuned by professionals. If you take language learning seriously, Babbel is a better option. Check our full Duolingo review here.
Babbel vs Lingopie Review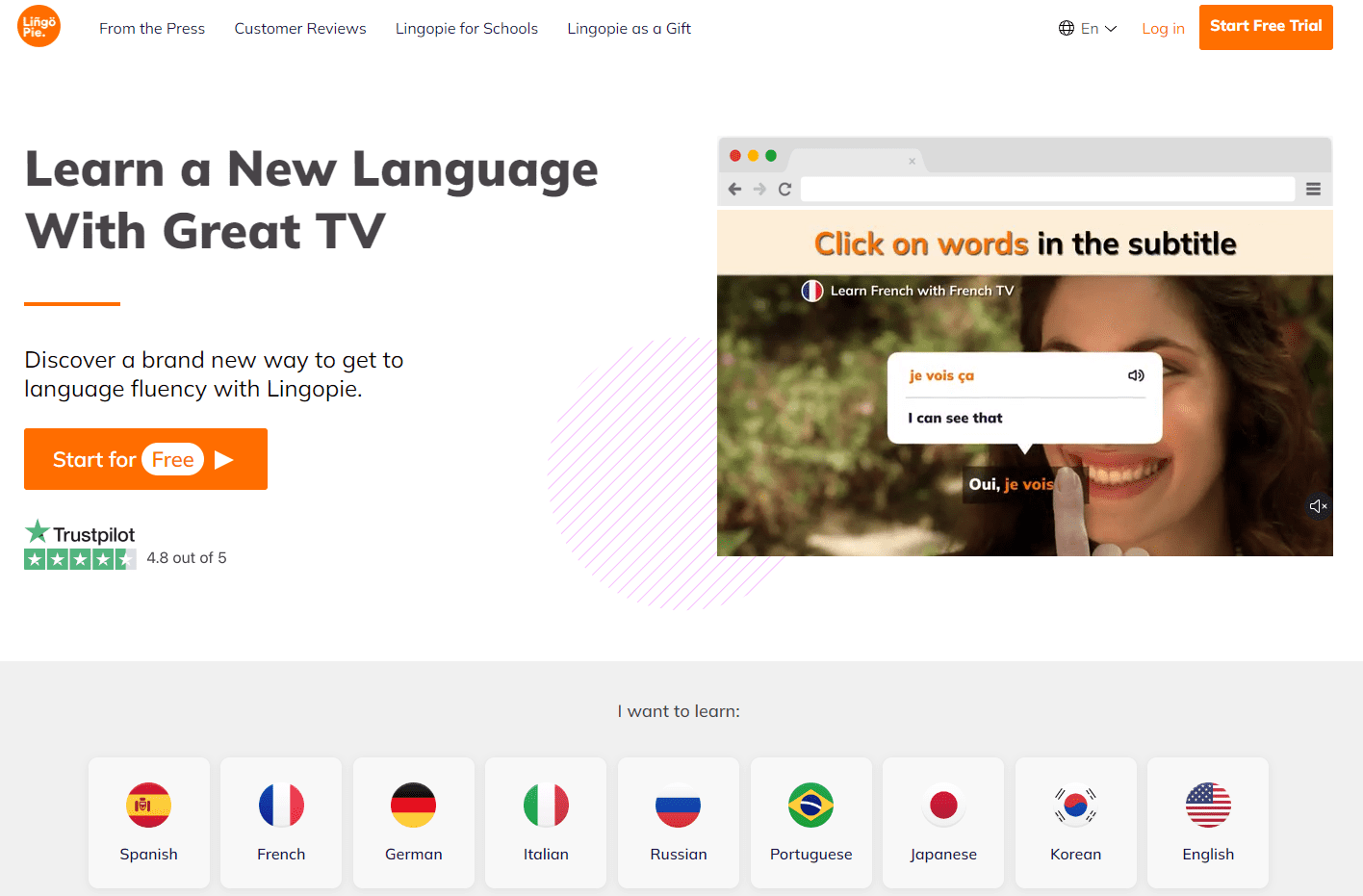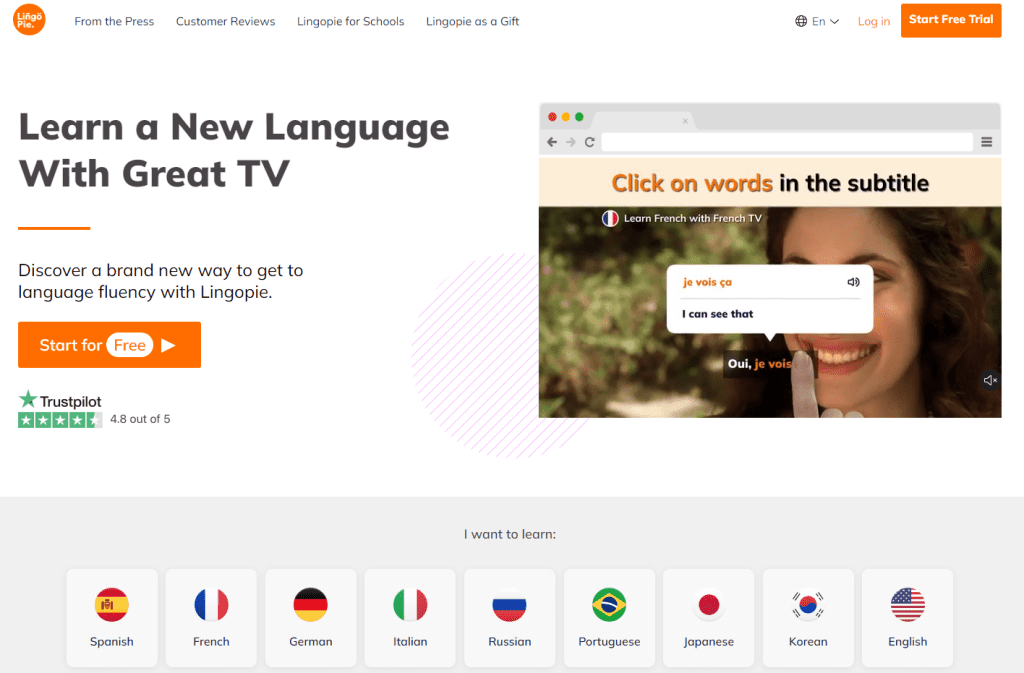 Lingopie uses a vastly different approach than Babbel. Simply put, it uses real TV content to immerse you into the target language. Nevertheless, these two products go well together. While Babbel helps from the first lesson, Lingopie can improve your language skills to move further. You can read our full Lingopie review to learn more.
Babbel vs Mondly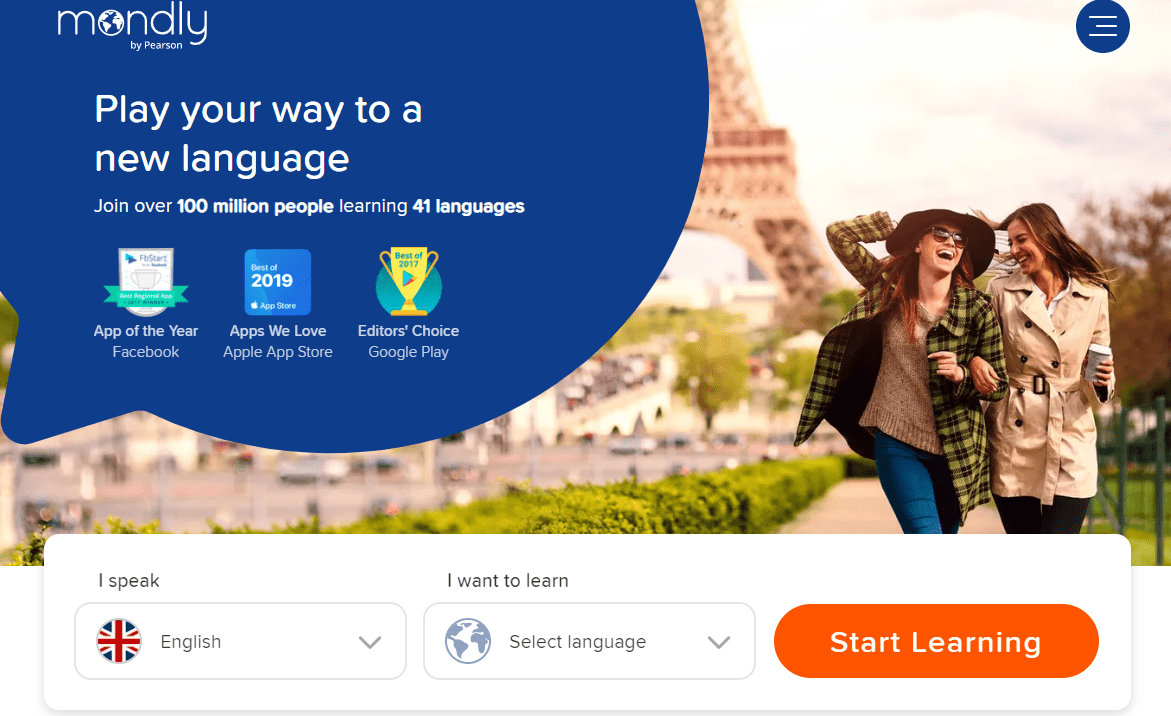 Babbel follows a structured, step-by-step approach to language learning. It introduces learners to new vocabulary and grammar concepts gradually, building on previously learned material. Mondly, on the other hand, incorporates a combination of gamification and artificial intelligence (AI) into its teaching methodology. You can read our full Mondly review to learn more.
Babbel vs MosaLingua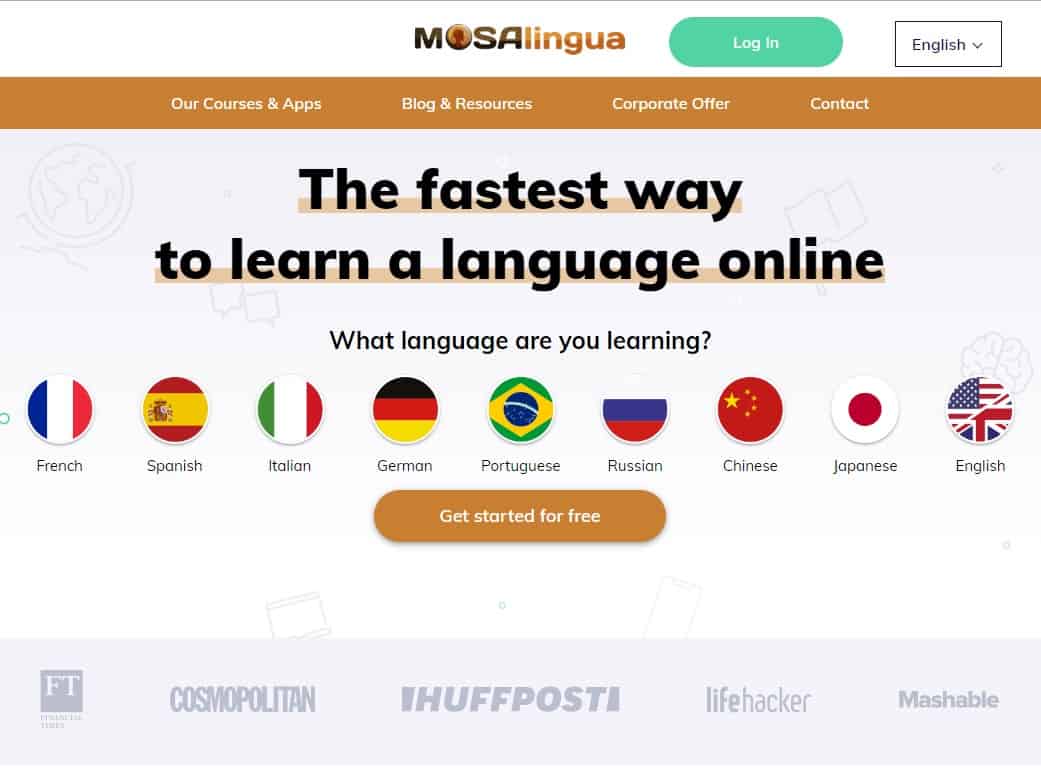 Babbel emphasizes practical vocabulary, grammar, and conversation skills. MosaLingua, on the other hand, follows a spaced repetition system. It leverages flashcards and memory techniques to reinforce vocabulary and grammar rules. Learn more about the app in this MosaLingua review.
For more traditional language learning path, you can check our Lingoda review.
Babbel: Lessons Quality Evaluation
Babbel's lessons cover everything from beginner courses to intermediate-level exercises, and learning a new language takes roughly a year. However, the number of lesson units varies with each language course with an average of twelve. Each lesson has from two to six courses.
We found that learning with this app German, Spanish, Italian, and French languages have the most material for business competencies, grammar, and vocabulary words and phrases. If we account for all the additional lessons, Babbel can keep you busy for around two years with them.
Unfortunately, not all languages can compare in length with the ones mentioned above. Other languages, such as Polish or Indonesian, lack variety in course content. It is the biggest drawback of Babbel's lessons. Still, everything they did include uses the same expert-created learning techniques.
The lesson format resembles a quality textbook and takes around fifteen minutes. First, new vocabulary is introduced with images and recordings of native speakers. Then, you will be spelling words, matching translations, and pronouncing them. Advanced language learners also get grammar explanations and suggestions at higher levels.
The lessons are well-structured and progress evenly but are oriented quick learners. Others will need more time to review previous lessons.
Grammar Instruction
Out of all language learning apps, Babbel review definetly showed might the best at grammar lessons. Not only the concepts are explained concisely, but you also get to practice them. Interaction with grammar is crucial while learning languages because long explanations can actually slow you down.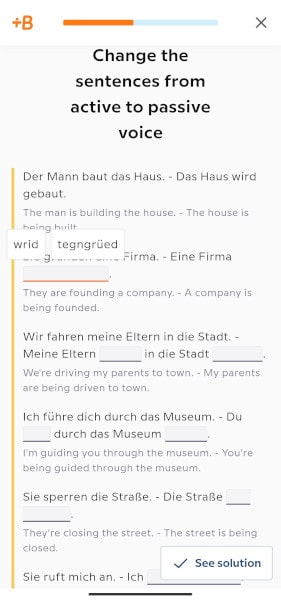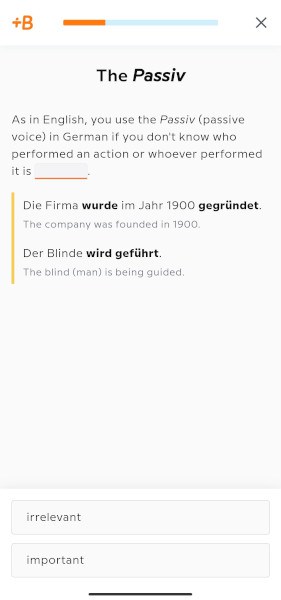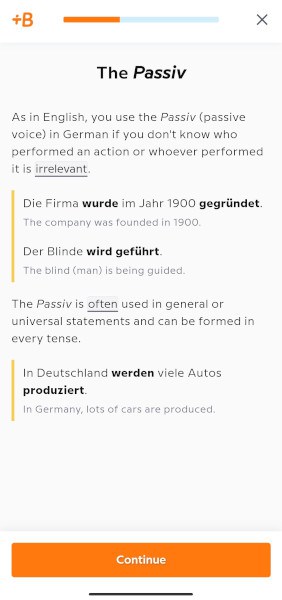 Some language learning apps ignore grammar lessons for this reason, but it's a mistake in most cases. You can't expect a German course to give you more than a basic understanding without their case marking system, pronouns, conjugations, and other concepts. Babbel strikes a near-perfect balance between explaining and practicing.
Verbal Practice
Speaking fluently in a new language is the end goal for most learners. With the help of Babbel's speech recognition system, this goal is partially achievable without interacting with native language speakers. There's plenty of basic vocabulary and phrases you can learn to pronounce for daily usage.
However, variety in accents other than formal ones and adjustments for pronunciation speed would be great additions. So the verbal part of the Babbel program can only get you so far. Eventually, you will need a Babbel live subscription to interact with native language teachers.
Writing
Babbel teaches writing all words and phrases you encounter. The process is gradual and complex spelling isn't forced. First, you will add syllables to complete words, only later writing them in full. Repeating words can get boring, and you will find yourself guessing the spelling from the length of blanks provided.
To solve this problem, we recommend enabling the strict spelling mode in the settings and using the in-built keyboard. It will force you to write the entire word correctly before proceeding. It is useful when getting familiar with unknown characters in your target language, such as "Ü" in German.
Vocabulary
Lots of vocabulary practice is the cornerstone of Babbel's course quality. In fact, many think that it is a go-to language app for memorizing words and phrases. It is especially true when you want to learn Italian, German, Spanish, or French.
Many other languages do not cover so many words. For example, we found quite a few words missing from the Polish and Indonesian courses. But even with those languages, you can be sure that Babbel will cover everything from writing, reading, pronunciation, and even image association.
Repetitiveness
Most of the content for language study in Babbel is unique. The only exception is images, which can appear irrelevant to the languages and cultural context. But compared to other language learning apps, such as Rosetta Stone, it isn't a huge problem.
Babbel doesn't focus so much on language immersion. Instead, it gives a solid foundation of grammar and use cases. So the repetitiveness is well balanced by features such as podcasts, mini-games, and everyday conversations. Making them supplementary doesn't make Babbel too gamified and preserves a professional feel.
Babbel Review: Ease of Use
Babbel makes a great job directing users to their first lesson right after signing up. The same holds for the whole design. It doesn't waste any space, and users aren't overloaded with flashing colors, unnecessary settings, or a complicated study plan.
Your previous progress gets restored even if you switch between languages. Babbel encourages this as you can learn multiple languages at once. For example, you can work on your German course with all the explanations in Spanish and vice versa.
A highlight of the Babbel design is the review process. Usually, it is one of the most challenging tasks when you learn a new language. With Babbel, there's a separate tab for review, reminder notifications, and even a phone widget.
Both the mobile app and the website work smoothly, and there are little to no loading screens. The progress automatically transfers from one to another with no compatibility issues. They both are of equal quality, which often isn't the case with other language apps.
Babbel Review: What Could Be Improved?
The lack of lessons for intermediate-level learners is the biggest drawback of Babbel. We found some language courses only stay at the beginner level. The problem is most notable for Indonesian, Russian, and Polish languages. So, advanced learners might not get the most value from Babbel.
More language immersion features for exposing users to native speakers and original reading material are needed. This drawback is compensated with the lessons in Babbel live, but only the Italian, French, German, and Spanish course include this feature. Other language learning programs use too much of the source language.
Some narrators sound unnatural even when the dialogues presented are on everyday topics. You are unlikely to find people actually speaking in the way presented in Babbel, but it's a problem more for advanced learners. Adding more for the speed of pronunciation or accents would help here.
A small number of languages you can learn on Babbel may be a disadvantage for advanced learners and polyglots. On the other hand, the language courses available are of high quality and aimed at novice learners.
How Much Does Babbel Cost?
The longer your Babbel subscription, the cheaper it will get to learn a language. This pricing strategy isn't something new, and the price is better justified in terms of the learning experience provided.
| | | |
| --- | --- | --- |
| Subscription | Price | Payment |
| 1 Month | $14.95 | Charged monthly |
| 3 Months | $12.65 | One charge of  $37.95 |
| 6 Months | $11.15 | One charge of  $66.90 |
| 12 Months | $7.45 | One charge of  $89.40 |
| Lifetime | $349 | One charge of  $349 |
A major drawback of Babbel's pricing is separate subscriptions for every language. Currently, there are no plans for those who want to learn a few languages at once. The only exception is the lifetime subscription. Other apps like FluentU may offer more content, but it will also reach higher monthly cost.
However, you will still need to pay additionally for language lessons on Babbel live, which is quite costly. The options below also include access to all the features of Babbel's mobile app.
Subscription
| | | |
| --- | --- | --- |
| Subscription | Price | Payment |
| 1 Month | $99 | Charged monthly |
| 3 Months | $70 | One charge of  $209 |
| 6 Months | $60 | One charge of  $359 |
| 12 Months | $50 | One charge of  $599 |
Free Trial
Babbel works on a freemium basis. You can try any first lesson in any language without entering any credentials. There is also a possibility to try out two Babbel live lessons free of charge. Some Babbel alternatives are more generous with their free trial, but it is enough to try out the Babbel app yourself.
Babbel Coupons and Discounts
By doing this babbel review we found plenty of discounts to various groups – military personnel, healthcare workers, educators, and their students. Other discounts are available throughout the year on New Year's, Black Friday, and similar dates. There is also a referral program that can earn you money for each invited friend.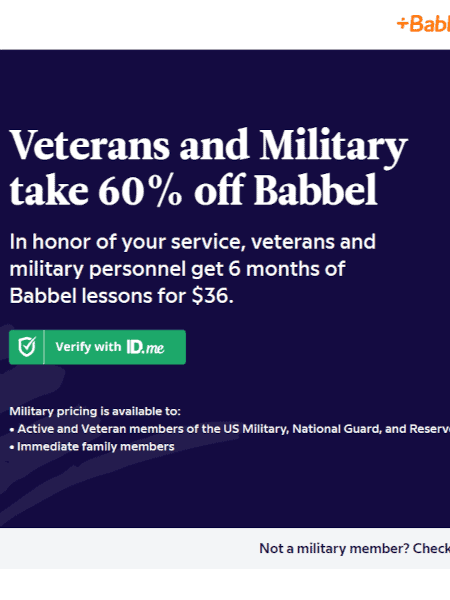 Refund Policy
In the unlikely case that you are unsatisfied with what Babbel offers, there's a 20-day money-back guarantee. It is a standard procedure, and you will need to contact their customer support representative. 
Canceling your Babbel subscription without a refund is even easier and possible from the account settings. Beware that the refund policy differs if you purchase from the Apple app or Google play stores.
Babbel Pricing Compared to Competition
Babbel Spanish, German, French, and Italian courses are the best value option for beginners. Hardly any other language learning apps can compare in their price – to value ratio. Only Lingopie is cheaper with a similar amount of lessons, but we found its user experience and video-only approach to be a bit worse.
Those looking for language immersion should consider Rosetta Stone, although Babbel is a bit cheaper and covers grammar. Both options have a similar number of lesson units but will still lack depth for upper intermediate-level learners. In such cases, private lessons are the way to go.
Babbel live subscription can get expensive as you pay for a whole month instead of each lesson. If you won't participate at least a few times per week, it's better to find options charging for each class separately. Italki has a more flexible pricing model to solve this problem.
Accreditation
Babbel is rooted in scientific research, and studies are proving its worth. One paper reported that over sixty percent of Babbel users improved their grammar and vocabulary knowledge with this language-learning app. 
Needless to say, many academic institutions and businesses use Babbell to help people learn languages. Even if it doesn't come with standardized certifications, it will prepare you for the tests.
Babbel Ratings from Around the Web
Google Play Store – 4.7 (50M+ downloads)
Apple App store – 4.7 (438K ratings)
G2 – 4.2 
Trustpilot – 4.0 and almost 20 000 reviews on Trustpilot
Babbel Review of Customer support 
Babbel does a great job when supporting customers. Their help page has some useful articles, and a chat option is available if you haven't found your answers. Their automated bot isn't something extraordinary but can answer the most basic questions. It's a nice touch that saves customers time.
You will have to fill out an email form for complicated or money-related questions. While doing this babbel review we emailed and babbel and they gave answer in a couple of days, which can be frustrating while waiting for a refund. But in comparison to other language apps, this is a short wait.
My Verdict
Babbel is one of the best tools to learn a language. It efficiently teaches basic vocabulary and grammar with interactive exercises. Unfortunately, Babbel is mostly for beginners and supports only a handful of languages. Advanced learners will need other resources, but anyone can find use in such a high-quality mobile app.