Learning a new language can be a lot of fun, but it also requires a lot of dedication and patience. It's even harder without the right tools, but language learning apps like Clozemaster allow starting to learn a new language easier.
Clozemaster is an easy-to-use, no-frills, fill-in-the-blank language learning app ideal for advanced language learners. It doesn't offer users any content that won't help them learn their target language as naturally as possible.
In this article, we get to know Clozemaster better so every eager language learner can determine if it's worth their time and effort.
A unique learning experience loved by intermediate students
Clozemaster stands out from other language-learning apps. It's completely focused on one simple concept—using fill-in-the-blank exercises to go from intermediate to fluent quickly. With thousands of new words and various features, Clozemaster is a great choice for learning vocabulary.
Clozemaster Review Summary
⭐ Rating:
8.4

★★★★★

🥇 Available languages:
71 (see bellow)
📈 Suits best for:
Intermediates
🛒 Payment options:
Monthly/Yearly/Lifetime
💵 Price:
$8 – $140
⌚ Hours of lesson time:
300+
🔄 Refund policy:
30-day money-back guarantee for yearly subscriptions
🎁 Free Trial:
✔️
Afrikaans, Albanian, Amharic, Arabic, Armenian, Azerbaijani, Busque, Belarusian, Bengali, Breton, Bulgarian, Cantonese, Catalan, Cornish, Croatian, Czech, Danish, Dutch, Esperanto, Estonian, Finnish, French, Galician, Georgian, German, Greek, Guarani, Hebrew, Hindi, Hungarian, Icelandic, Indonesian, Interlingue, Irish, Italian, Japanese, Kazakh, Korean, Latin, Latvian, Lithuanian, Lojban, Macedonian, Mandarin Chinese, Mandarin Chinese Traditional, Māori, Nahuatl, Norwegian Bokmål, Occitan, Persian (Farsi), Piedmontese, Polish, Portuguese, Romanian, Russian, Scottish Gaelic, Serbian, Slovak, Slovenian, Spanish, Swahili, Swedish, Tagalog, Thai, Toki Pona, Turkish, Ukrainian, Vietnamese, Welsh, Yiddish.
Disclaimer: Lingomee is an independent review site that may benefit from affiliate programs. Buying through our links makes our efforts possible without additional costs to you. Learn more here.
A Quick Look at Clozemaster
Launched in 2017, Clozemaster is a language-learning app designed to be immersive. The Clozemaster app has a retro look that is quite pleasing. Users can learn vocabulary in the context of real sentences which makes them useful.
Clozemaster doesn't give language learners random new words or phrases to learn. Instead, you'll learn sentences and words that apply to real-life situations and sound natural.
You'll have access to a vast library of language resources – phrases, full texts, and sentences covering various topics such as anthropology, history, geography, and philosophy. With spaced repetition, learners can memorize new words and phrases easily. 
Clozemaster is a language app with a worksheet-inspired approach to learning that is accessible and without any complicated tasks. You'll listen to audio or read some text and then have to fill in gaps in sentences from the content you just enjoyed. You can choose the correct word from provided options or choose to fill the answers in yourself.
This app is best for intermediate learners, so we recommend you get introduced to your target language before using it. You'll need to know the basics of the new language, or you might get confused and discouraged when starting out with Clozemaster.
Clozemaster Review: Key Functions
There are several features that make Clozemaster stand out, and all of them help beginners get fluent in a fun, natural way. Some features focus on grammar, while others assist you in speaking by offering native-spoken audio like uTalk. 
We'll take a closer look at each of the features now so you can know what to expect when using the Clozemaster app. 
Fluency Fast Track
One of the most popular features of Clozemaster is the Fluency Fast Track. It seeks to develop your language skills by providing sentences with gaps to fill in. You will be expected to choose the right word from a list to complete the sentence.
When using the Fluency Fast Track feature, every sentence will appear with an English translation underneath so you can understand it. Clozemaster lets you customize your language pairs. For example, if you chose Arabic and French, with Arabic being your native language, the translation will be in Arabic.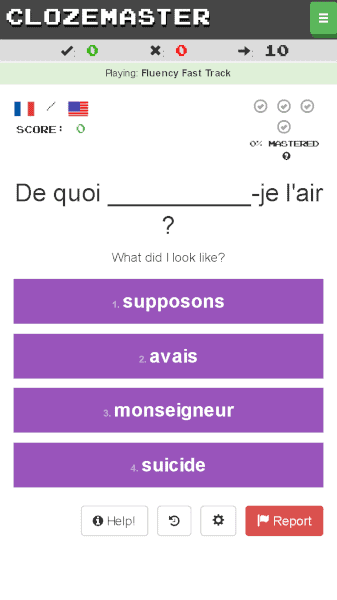 Fluency Fast Track lets you start off with the most common words in relevant sentences until you've learned enough to move on to learn more words. Eventually, you'll get to master more than 50,000 words, depending on the language you've chosen.
Grammar Challenges
Clozemaster's Grammar Challenges focuses on the formal side of language learning. You won't be studying any specific subject, but you will be practicing grammar rules that help to understand the language in general.
This feature provides sentences with missing words you must fill in for them to have the correct grammatical structures. 
Here's an example:
You can choose difficult grammar points and work with sentences to practice them in context. For example, you can learn more about German verbs or French prepositions if they're giving you trouble while learning.
Cloze-Reading
With Cloze-Reading, you can read content that covers many different topics from sociology to art and everything in between. All texts come from Wikipedia sources so they are fairly accurate and informative.
You can choose the topics most interesting to you with so many titles under each topic you won't get bored. A great addition is the tiny colored boxes indicating the difficulty of the text you want to read. 
Every Cloze-reading section includes at least one missing word you have to fill in. When you click on the gaps, you will see the possible options you can choose from to make things a bit easier.
Cloze-Listening
This feature is similar to the Cloze-Reading one in terms of what you are tasked to do. You'll listen to a sentence and then have to fill in the missing word. Cloze-Listening is a great way to improve your listening comprehension.
Unfortunately, Cloze-Listening is unsuited for a complete beginner as it requires some understanding of the target language. Rather, it is a great way for an intermediate learner to move toward fluency.
All Cloze-Listening contain exercises contain background noise and different accents so you get used to focusing on what people are saying in real situations. All the audio comes from the Mozilla Common Voice project and is as natural as possible.
Speaking Practice
Clozemaster's speaking practice functions more like a pronunciation exercise. You won't speak with tutors or natives to improve your skills and will get speaking exercises instead. 
This feature uses text-to-speech to provide learners with audio versions of the text. Most audio recordings feature natives, but it varies depending on the target language. 
The speaking practice is not available on the Clozemaster app, and can only be accessed from the website on Google Chrome. Although the Opera browser is supported, other browsers like Firefox may run into trouble with the app. 
Some languages don't have audio yet, but it's possible that this will be updated later on. Popular languages like French, Spanish, and Japanese all have speaking skills you can improve.
Cloze-Collections
This feature is only available to Pro users and lets you create, add, and play your own custom Cloze Collections of sentences. It makes your learning experience more personalized and encourages more efficient learning.
With this Pro feature, you can create collections of sentences you want to revisit later and keep them easily accessible. It lets you focus your studies on the sentences that are the most important to memorize.
The Distinction In The Quality of Lessons
The language learning principles of Clozemaster are easy to grasp, and the instructions are clear. The overall use of the app is easy-to-follow, even once the difficulty level rises and more complex sentences are introduced.
The learning material is of good quality, and are entertained while learning your target language. Each lesson can take between five to ten minutes, depending on how long you need to memorize the material. There are no time restrictions, so you can spend as much time on lessons as you want.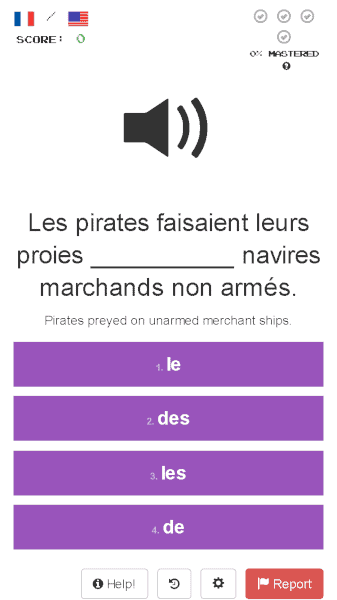 Clozemaster is continuously expanding the learning material, and the more popular languages like German, French, Japanese, and Spanish have more content. Lesser-known languages like Afrikaans don't have Cloze Reading or Speaking Practice.
Another drawback is that Clozemaster doesn't offer any personal classes with tutors or teachers. That's unfortunate because speaking to actual natives can really enhance your learning experience and encourage you to keep learning.
Clozemaster is definitely not the best starting point if you're only beginning to learn. For example, Japanese learners who don't know any Kanji will face trouble reading the sentences. There is an option to get translations that explain the Kanji, though, as seen below:
Still, in general, the quality of the language lessons on Clozemaster is exemplary and still keeps the fun in language learning.
Grammar Instruction
The grammar learning that Clozemaster offers is somewhat incomplete. There aren't any dedicated grammar lessons that teach you how the language works, and it is disappointing. The Pro version makes up for it and offers you a chance to practice specific grammar points, such as prepositions in context.
The Grammar Challenges allow language learners to focus on specific concepts through a group of sentences. While this doesn't amount to grammar lessons, it does give you a natural feel for how the language's grammar works. It is great for advanced learners, but complete beginners will struggle.
Verbal Practice
Clozemaster's verbal practice falls a bit flat, unfortunately. You can still improve your listening skills, but speaking exercise is a bit abandoned part of Clozemaster. Although there is one feature available for Pro subscribers.
You can listen to natives speaking in different situations with a big variation in difficulty level. Once you have listened to the audio, you will be asked to complete sentences by filling in the gaps. With the Pro version, you can record yourself saying the correct word.
Reading
The Clozemaster app gives a lot of attention to reading comprehension. You'll get plenty of opportunities to read in the language you're learning. There are also translations to help with understanding unknown words and phrases.
You can also choose to listen and read sentences concurrently, which can help improve your reading comprehension. You'll have to answer multiple-choice questions about the text, or you can choose to type in the answer.
Reading exercises are often the most repetitive part of language learning. Thanks to the variety of topics, you won't get bored with the Clozemaster's text as easily as you might with other learning apps.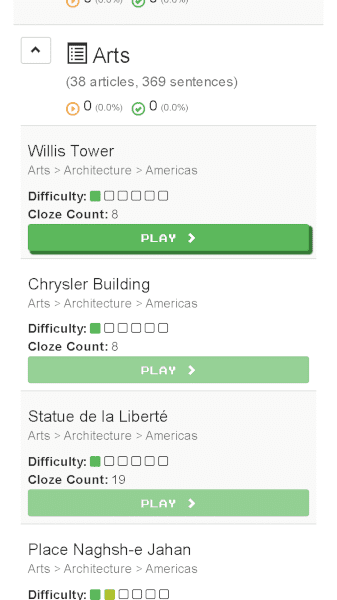 Writing
Although writing isn't the main focus while learning a language with Clozemaster, it's possible to improve for those who are confident enough. In most cases, you will read or hear content and must fill in the missing word afterward. If you want to, you can write the answers yourself.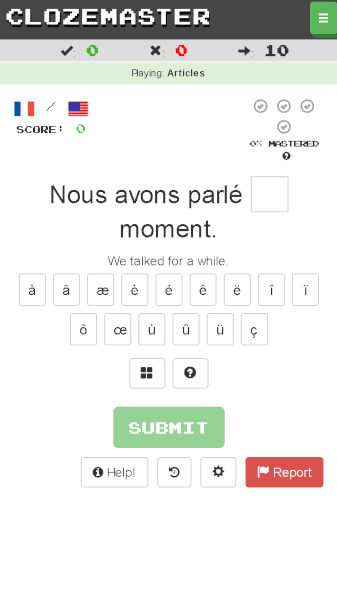 This approach lets you get used to the new words before you can move on to writing them. It can be a great way of mastering many languages. If writing is your main focus, than you should consider Ling App, Lingvist, Lingualift, Lingodeer, or Yabla. 
Vocabulary exercise
There isn't a lack of new vocabulary while learning with Clozemaster. You'll get exposed to a lot of new terminology as you study, and you can use hints when you don't understand the words or phrases.
While using the language app on a desktop, you can highlight a word and use one of several sources to translate it. Resources for translating vocabulary include Google Translate and Tatoeba.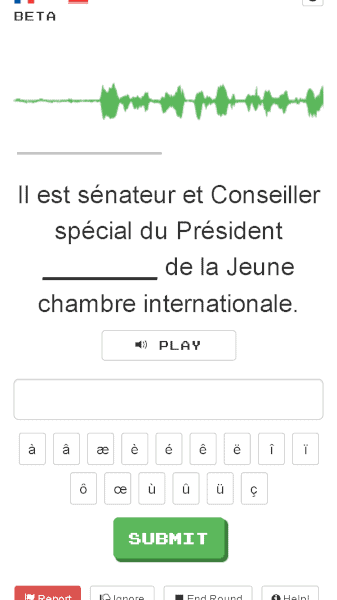 You can listen to sentences with no translation and try to use your current comprehension of the vocabulary to determine the meaning of words. But you can also see the Word List for every topic. Additionally, Clozemaster lets you add phrases to your favorites for further study later.
Repetitiveness
Clozemaster is an engaging language-learning app because of the language immersion used. Of course, there is some repetitiveness with how you study, but learning a new language can't be done without it. With Clozemaster you get just the right amount of repetition. 
Studying doesn't get boring quickly because we found ourselves enjoying many different topics Clozemaster offers.
Clozemaster Review: User Friendliness
Overall, Clozemaster has a simplistic, somewhat retro design that isn't fancy or distracting. The app is easy to navigate, though you may sometimes press the 'back' button too much and end up in the language selection menu by accident.
Finding the content you want is easy enough, though, and keeping track of progress is simple. You can even choos multiple language combinations and learn two languages at the same time.
The use of color is ordinary and won't distract, while it's easy to provide feedback or reach out to the app admin for help. There aren't any visuals that will make you lose focus.
What Should Be Upgraded?
It can be a bit annoying to scroll all the way down for features such as Cloze-Reading. An improved menu with shortcuts to the different features would improve this experience.
As mentioned above, there are no visuals, and this can make the lessons a bit ineffective. Adding images from the country of the language could enhance the learning experience and bring some cultural relevancy.
Although the content available for reading is interesting, Wikipedia pages can only be entertaining up to a point. Some content from books and newspapers would reduce repetitiveness. 
It's clear from the very beginning that Clozemaster is only for intermediates. By adding more beginner-friendly lessons, this app can become more accessible for all learners no matter their knowledge of the target language.
Clozemaster Costs
You have two payment plans to choose from with Clozemaster. The yearly Pro subscription costs $60 and the monthly cost is $8, while there is also a one-off lifetime subscription available at $140. There is also a free version but it lacks the content and lessons you get from any of the Pro options.
| | | |
| --- | --- | --- |
| Subscription | Price | Payment |
| Monthly | $8 | Charged monthly |
| 12 Months | $60 | One charge of  $60 |
| Lifetime | $140 | One charge of  $140 |
Free Trial
The free version doesn't have a specific time limit but lacks a lot of the features that make Clozemaster such a good learning app.
You can still get some basic learning done and get a feel for the app though. You'll just have to put up with ads while using the app on your free account.
Clozemaster Coupons and Discounts
There are special Black Friday promotions that will give monthly subscribers 30% off when they upgrade. There may be specials at other times as well, such as Christmas.
Refund Policy
You won't be able to ask for a refund if you've used the app for longer than 30 days. Should you decide to deactivate your account, your Closemaster Pro subscription will also be canceled.
Clozemaster Pricing Compared to Competition
Clozemaster's pricing is fairly affordable and it's cheaper than many other learning language apps. The pricing structure is lower than what you'd pay for Babble, for example.
You get to choose from a monthly, yearly, or lifetime subscription. Busuu, another popular learning app, is a bit more expensive than Clozemaster and doesn't have nearly as many language options to choose from.
The Clozemaster free version is available for as long as you want to use it, so you don't have to spend money if you don't want to. Other common altertives includes: Glossika, Lingvist, and Memrise apps.
Clozemaster Evaluations from Other Customers
Google Play Store – 4.8 (1.88K+ downloads)
Apple App store –  4.8 (548 ratings)
Trustpilot – 3.7
Clozemaster Review: Client Support
The client support doesn't stand out as stellar, but it's not bad enough to be problematic either. You can contact Clozemaster's customer support team by sending an email. You can also fill out an online form with your question or feedback.
You can also reach out on social media or search for a resolution to your problem in the forum. Unfortunately, the forum is rather inactive. The FAQ section and the Clozemaster blog make up for it quite well.
Clozemaster Review: What Separates it from Others?
Clozemaster offers a unique way to immerse yourself in your target language. The fill-in-the-blank exercises are easy to use and effective for improving reading and listening comprehension. The free version is good enough for getting started, while the Pro subscriptions can take your language studies to the next level.