Language learning apps are becoming the go-to option for language study because of their convenience. However, most of them excel in one area of instruction and do poorly in others. So is there an app that can conveniently cover everything?
LinguaLift makes beginner and intermediate learners as fluent as possible in a language. LinguaLift offers a clear study plan, gives simple vocabulary and grammar explanations, tutor assistance, and homework, and teaches speaking and listening skills.  
In this LinguaLift review, we'll tell you about the app's features and whether its methodology is effective for learning a target language of your choice.
A Structured Language Course With a Customized Curriculum
LinguaLift structures its coursework in an individualized way for every learner while providing authentic, culturally influenced lessons. Native-speaking tutors guide learners in their language-learning journey. Beginner learners benefit from the short and easy-to-learn vocabulary in the lessons. It also has an innovative lesson review tool that helps learners improve their language learning.
Lingualift Review Summary
⭐ Rating:
8.0

★★★★★

🥇 Available languages:
5
📈 Suits best for:
Novices and Intermediates
🛒 Payment options:
1 Month / 6 Months / 12 Months
💵 Price:
$12.99 – $155.88
⌚ Hours of lesson time:
500+
🔄 Refund policy:
30-day money back guarantee
🎁 Free Trial:
✔️
Disclaimer: Lingomee is an independent review site that may benefit from affiliate programs. Buying through our links makes our efforts possible without additional costs to you. Learn more here.
About The LinguaLift
LinguaLift is a language-learning app founded by Ollie Capehorn and Philip Seyfi.  It has been in operation for 11 years now under the stewardship of Sheldon Bixby, who started his career as an English teacher in South Korea.
The app's teaching methodology incorporates inclusive research into what it takes to learn a language. The app has a system that it refers to as Hybrid Innovative Language Learning (HILL). It comprises research from more than 100 language courses and apps and insights from students, teachers, polyglots, and industry experts.
The app utilizes all this information to create relevant coursework content. It varies from vocabulary exercises, insights into a language's culture, interactive games, and assessments to keep learners sharp. 
Learners also get a free complimentary ebook titled Langauge Learning Secrets, which is their guide to achieving fluency in a language. The book is quite comprehensive and offers value to learners embarking on a language-learning journey. With all these tools, you'll notice that the app tends to concentrate more on reading. It almost feels like a digital textbook with audio for listening comprehension.
The app's interface is user-friendly for all levels of language learners. After signing up, the app lets you choose one of the five languages provided. Afterward, beginner learners can go to the lessons to start a free lesson or do a level placement test. Intermediate learners benefit from this test because the app matches them with the appropriate level of skills.
LinguaLift Review: Key Features
The features in the app bring out LinguaLift's innovative learning system. They serve various functions, like planning coursework, chatting with  native-speaker language tutors, exploring different words and phrases, and revision.
Developers of the app know that learning a language requires time and effort. So they structure the LinguaLift courses in a way that ensures learners become fluent in the target language. For this LinguaLift review, we used the Spanish course to see how the app utilizes these features.
Primer
The Primer is the first part of any lesson that a language learner interacts with. It serves as the introduction, highlighting what it entails. The Primer feature's main language is English which helps to understand different concepts in the lesson.
For example, sections such as "Tutor says" and "Heads up" give short explanations when the text or audio mentions a word or a phrase. Another is the "Over to you" section, which makes learners self-reflect on instances of using basic grammar.
Tutor Support
Learners using the app have access to native-speaking teachers of the five languages available in the app. Learners can interact with teachers, ensuring they get specialized attention to improve their fluency. To access a teacher, learners direct message the instructor and wait for feedback.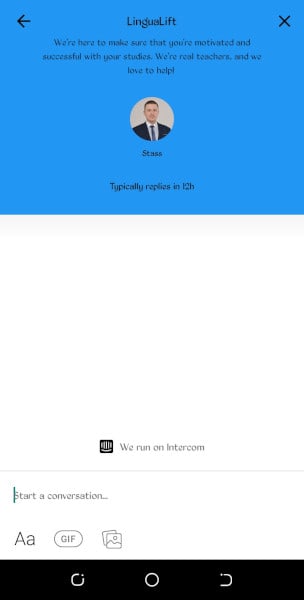 The Tutor assistance feature is great for writing skills, as learners can engage with their teachers through chat. The teachers then provide feedback on chat and correct their students on the usage of new vocabulary.
Vocabulary
The vocabulary feature included with every lesson contains several word phrases with their corresponding audio. Learners first listen to the audio voiced by a native speaker and then associate it with phrases. Afterward, learners do a short multiple-choice quiz to choose the English translation of the audio or fill in the blank with the correct vocabulary.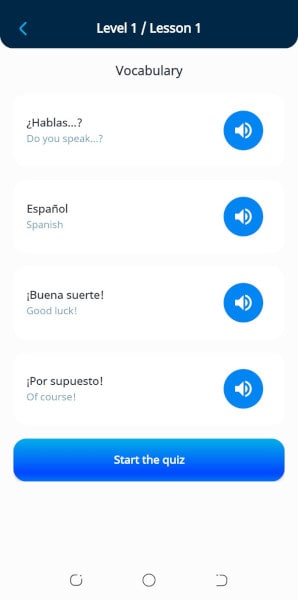 With this feature, learners can practice speaking different vocabulary. They also get enough practice through the quizzes to reinforce their fluency. The vocabulary feature is particularly helpful to beginners because of its short and easy-to-learn nature.
Review Skills
The app uses a spaced repetition algorithm that tracks a learner's LinguaLift courses. The system utilizes several factors, like your customized study plan, lesson progress in the different levels, and your assessment score. The system then determines the best time to review each lesson or item.
Learners benefit from this by having a tool that polishes up their learning style. It tells them where to concentrate more to improve their language fluency. It means that learners spend less time on concepts they grasp and more time on concepts that seem challenging.
Quality of The Learning Material
In our review of LinguaLift, we found that the app ranks average in providing content covering a language's major components. For example, it scores very well in giving learners reading and listening skills but lowly in fostering speaking exercises and writing skills.
Generally, the lessons are extensive, including the ebook and lesson resources in text and audio. Depending on the level of the learner, lessons can take between 10 and 15 minutes to complete. More advanced lessons can take up to 60 minutes. Completing coursework from beginner to intermediate or advanced learners' levels can take over 500 hours.
Grammar Instruction
The app's HILL system ensures learners acquire grammar lessons in the language they're learning. Features such as vocabulary provide the basis for introducing learners to words and phrases.
Subsections like "Tutor says" and "Heads up" are key in explaining a language's grammar rules. It's helpful to intermediate and advanced learners. Tutors can also help with grammar instruction, especially where learners need clarification.
Verbal Practice
Lack of a speech recognition tool disadvantages the app when compared to competitors. Speech practice is subject to a language learner's subjective training when they repeat words and phrases voiced by native speakers.
Learners can better use the app regarding speaking practice alongside traditional language learning methods, such as classroom instruction.
Reading and Writing
In our review of LinguaLift, we found that there's plenty of content to read. For example, the app provides a free ebook that students can use to guide their language learning journey. The lessons also have a lot of reading content, though phrased in English, for easier understanding of concepts.
Unfortunately, writing practice isn't sufficient in the app. Learners have minimal ways in which they can practice to be fluent in writing a language. One such way is through the Tutor feature, where students can write messages through the chat tool.
Vocabulary
To promote fluency in your target language, the app provides a large vocabulary to learners. Whether it is a Spanish, French, Hebrew, Russian, or Japanese course, all language lessons have a vocabulary section you can revisit after completing it. It also helps that it provides the words on the topic in discussion and the cultural context of the lesson.
LinguaLifts vocabulary is impressive for the languages it provides at all levels of learning, but other apps, such as Drops, have way more extensive vocabulary lists.
Repetitiveness
The app uses several methods to eliminate repetition and has interesting coursework. First, LinguaLift offers  various topics and lessons like greetings, counting, fitness, and many more. As learners progress through the lessons, they don't repeat topics, which broadens their language learning scope.
Secondly, cultural insights heavily influence the coursework. For example, every lesson has a "like a local" section that discusses different aspects of the target language's culture. Every lesson also ends with a "cake" section that adds cultural lessons in the form of interesting videos.
LinguaLift Review: Simplicity of Operation
LinguaLift app adopts a minimalist and simple interface which we find advantageous in language learning apps. The simplicity allows beginner learners and first-time users to navigate the app easily.
LinguaLift focuses the app's theme color on different shades of blue that incorporate other colors in icons and tabs. The readable parts of the app are white or yellow with black text. Generally, the visuals are appealing, especially with images, although used sparingly in the lesson structure. The language learning app also provides a cool ambiance that distracts learners less during the study.
However, the font of the text is small, and some users may struggle to read LinguaLift course materials. We found that the Android and iOS apps have low ratings, probably due to this inconvenience. Learners can overcome this deficiency by using the web version, which provides a more user-friendly interface.
Lingualift Competitors and Alternatives
Lingualift vs FluentU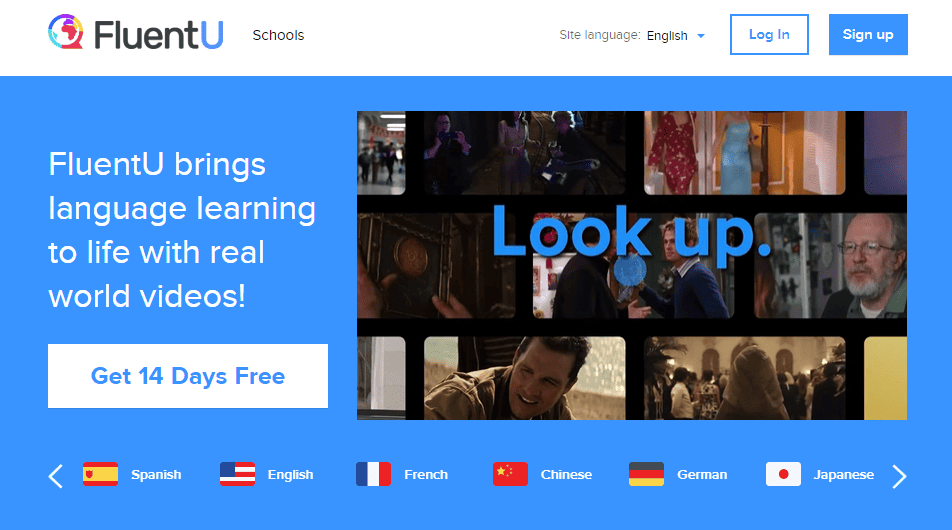 FluentU focuses on an immersive approach that incorporates authentic video content from real-world sources. It provides interactive subtitles, vocabulary flashcards, and quizzes. Both apps can improve your listening, speaking, and comprehension skills. We found FluentU a bit more engaging and better at grammar. Learn more about it in this FluentU review.
Lingualift vs Ling app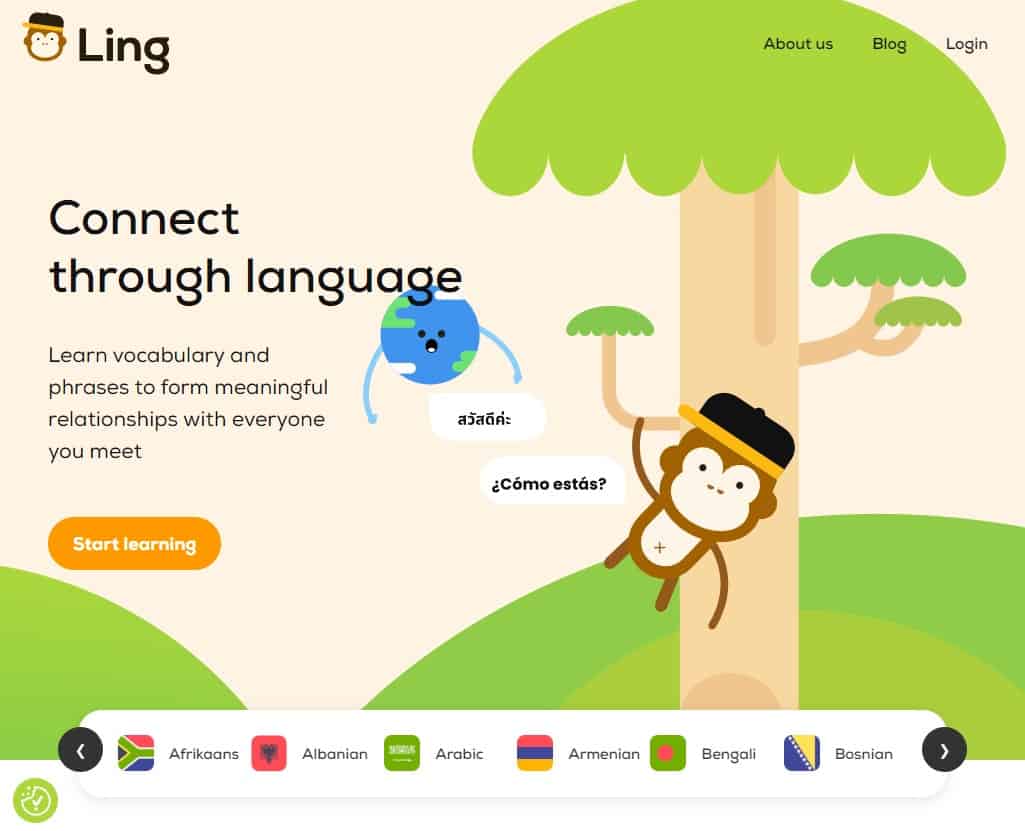 Ling app is an affordable and engaging alternative to Lingualift. It houses many less common languages, has a chatbot and various games. The quality of both apps is near-equal, but since LIng App is cheaper, we recommend checking it out. Find more information in our Ling app review.
Lingualift vs Glossika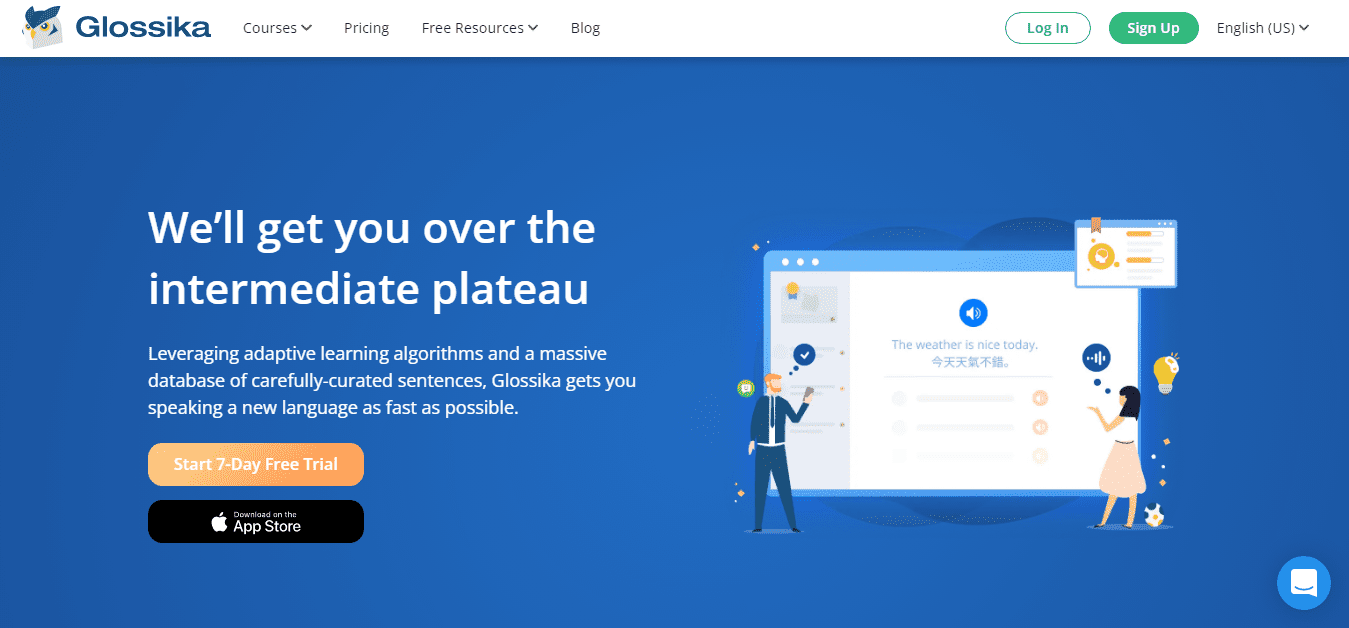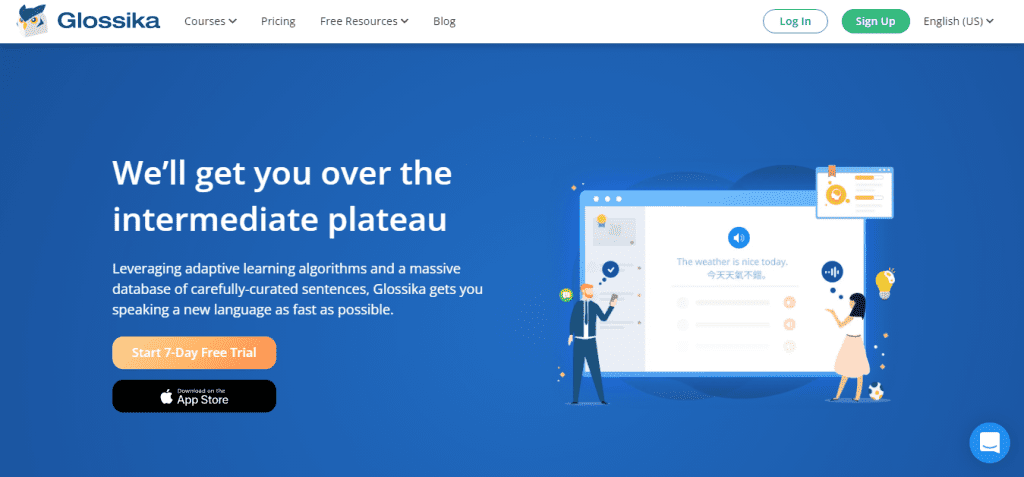 Glossika specializes in helping learners overcome the intermediary gap by helping to memorize new words and sentence structures. In comparison, Lingualift is better suited for novices, but once you'll need to ensure effortless memorization, Glossika should be considered as an option. Learn more about it in our Glossika review.
Lingualift vs MosaLingua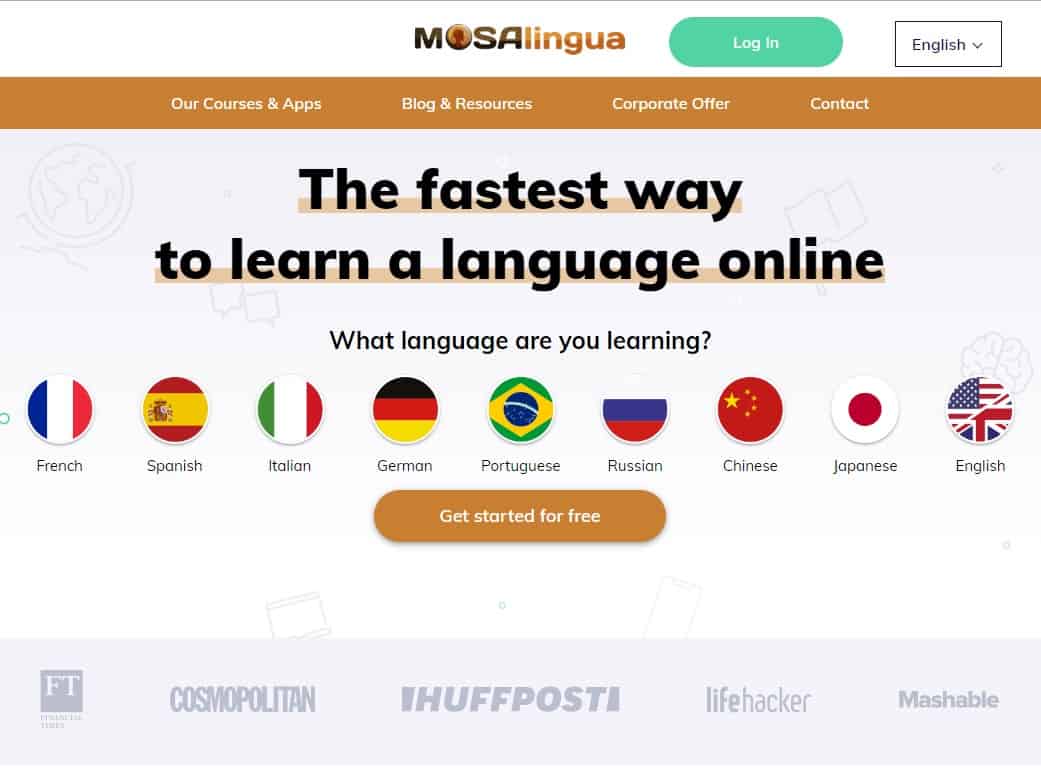 Mosalingua focuses on spaced repetition and uses a 20/80 approach when teaching vocabulary and grammar. Compared to Lingualift, its strong point is the use of flashcards and spaced repetition. We recommend it to learners that are struggling with memorization. Learn more about it in our MosaLingua review.
What Areas Could Be Improved?
LinguaLift has some deficiencies that may make learners consider using other language online courses. For example, the lack of speech practice tools makes learners miss out on speaking practice. A speech recognition tool could be useful for enhancing speech pronunciation practice.
Another downside is that the value for money for the app is low. The price of $19.99 per month without adequate writing and speaking practice tools is a bit too expensive. However, LinguaLift compensates for this downside by providing cheaper packages with extended payment periods.
For example, a 3-month subscription at $16.99 monthly, a 6-month subscription at $14.99 monthly, and a 12-month subscription at $12.99 monthly.
LinguaLift Prices
LinguaLift has four packages applicable across all its languages. Learners can access all lessons and LinguaLift languages if they make a one-time payment. It has its basis on a 1,3,6, and 12-month duration. So how much does linguaLift cost?
| | | |
| --- | --- | --- |
| Subscription | Price | Payment |
| 1 Month | $19.99 | Charged monthly |
| 3 Months | $16.99 | One charge of $50.97 |
| 6 Months | $14.99 | One charge of $89.94 |
| 12 Months | $12.99 | One charge of $155.88 |
A learner ends up paying $239.88 in a year if they opt for the monthly feature instead of $155.88 for the 12-month premium LinguaLift subscription. As a result, the 12-month subscription is the app's most popular subscription.
Free Trial
LinguaLift offers a free trial of its app, but it's not time-limited like in most language apps. Instead, a learner gets the first three lessons free at every level. With the free trial, users also get a free ebook.
LinguaLift Coupons and Discounts
At the time of writing this review, LinguLift has no discount on its packages. There's no record of discounts in the past, meaning that the language learning program doesn't offer any special offers for students.
Refund Policy
LinguaLift offers a 30-day money-back guarantee. Learners are entitled to a full refund if they aren't satisfied with the language courses. To request a refund, you must email support within one month of making a subscription. They promise to do the refund, no questions asked.
LinguaLift Pricing Compared to Competition
Lingualift doesn't compare well with the competition. Spending $19.99 per month without getting some basic language skills like speech and writing makes it unfavorable. Other apps like Rosetta Stone, Babbel, and Mondly extensively use speech recognition software and ample writing practice tools, which justifies their high price point.
However, LinguaLift tries to compensate for these shortcomings with cheaper longer-duration packages. It also has an advantage over these apps with features like dedicated tutors in the Tutor support feature that provides personalized help to language learners. Other benefits include cultural lessons, a customized study plan, and the free ebook it provides for its learners.
LinguaLift Ratings from Other Users
Google Play Store – 3.1 (10K+ downloads)

Apple App Store – 2.0 (4 Ratings)

Trustpilot – 2.6 (4 Reviews)
LinguaLift Review: Assistance to Clients
The team at LinguaLift strives to give learners a complete language learning program. Efficient customer service is also part of the package. It's possible to reach customer support through email.
Like real teachers' responses in the LinguaLift courses, responses from customer care are also from real humans, not bots. They respond within one business day. As you wait, you can try to read the FAQ section on their webpage to see if it covers your issue.
LinguaLift Review: What Sets it Apart?
LinguaLift takes you step by step with a customized study plan allowing you to achieve your language learning goals.
It's also a culture-oriented way to learn a language with lots of content, great vocabulary, and assessment tools. We find that the app does indeed offer a complete language experience with these features. For areas that it lacks it compensates with other useful tools like dedicated tutors.