Whether you are planning a trip to South America or just want to learn a second language for the fun of it, Spanish is a great option. The language is widely used around the globe and is quite familiar to most English speakers. With the right tools, learning Spanish isn't that hard. 
Baselang is one such tool. It's an online language learning platform providing unlimited one-on-one Spanish tutoring. With its innovative approach to language learning, Baselang has gained a reputation as one of the most effective and affordable options for those looking to learn Spanish online. Our team recommends this program as the best app to learn Spanish.
Baselang's lessons will make you speak Spanish confidently even without previous classes or travel to a Spanish-speaking country.
An Extensive and Well-Structured Spanish Curriculum
Baselang's curriculum is suitable for learners of all levels. The focus on pronunciation, especially in the beginning, lays a strong foundation for beginners, while further lessons with native speakers help advanced Spanish learners. No matter the proficiency level, you are guaranteed to improve your understanding of the Spanish language with Baselang.
⭐ Rating:
8.9

★★★★★

🥇 Available languages:
1 (see below)
📈 Suits best for:
Novices and Intermediates
🛒 Payment options:
Monthly and one-time
💵 Price:
$149 – $1200
⌚ Hours of lesson time:
Not specified
🔄 Refund policy:
35-day money-back guarantee
🎁 Free Trial:
❌
Disclaimer: Lingomee is an independent review site that may benefit from affiliate programs. Buying through our links makes our efforts possible without additional costs to you. Learn more here.
Quick Overview of Baselang
Baselang is a multifaceted program created in 2016 that has done a superb job of giving students an exceptional Spanish learning experience. The website is easy to navigate, with most of the information on the programs being available without even signing up.
Most language learning platforms have unstructured tutoring sessions, where teachers come up with their own teaching methods, but Baselang is different. Teachers follow a structured curriculum consisting of core lessons and electives. 
The Baselang curriculum is centered on grammar, which teaches vocabulary and speaking Spanish on specific topics like politics, art, and travel. This helps ensure consistency in your Spanish learning journey as they follow the same fundamental practices.
However, you can skip the curriculum if you don't want to follow it. All the teachers will adjust to your needs in such cases and focus on the areas you need help with. They can use relevant material from the curriculum to teach Spanish but not necessarily follow it in its entirety.
Baselang has two main programs – Real World and Grammarless. The Real World program is suitable for all learners, from beginners to advanced students. The Spanish classes are flexible, and you can fit them into your schedule.
The Grammarless program has a timeline, so it's best to enroll when you're confident you can attend the classes as instructed. If you're visiting a Spanish-speaking country, this program is the best for you since it will give you the training you need to be able to hold a conversation.
When you first sign up, Baselang recommends a one-hour lesson for your first class. This helps with placing you after determining your Spanish proficiency. The placement is between level zero, which signifies you're a beginner, and level nine, which means you're advanced in Spanish.
Once the Baselang teacher places you, you can proceed to schedule classes. It's common to find that you may already know what's being taught in the first class, especially if you know some Spanish. However, most students find placement lessons useful as they help to refresh anything they may have forgotten.
Baselang Review: Main Features
Baselang has various features helping you to study Spanish with the help of professional teachers who are well-versed in the language. Baselang focuses on teaching Latin-American Spanish. All resources are directed towards this specific purpose. This works as an advantage because they focus on ensuring their program offers the best value to students without splitting their resources to cater to other languages.
Real World Program
The Real World curriculum is one of the stand-out features of this platform. Once you've paid your monthly fee of $149, you can schedule as many classes as you want. The first week costs only $1. Real World lessons focus on equipping students with Spanish skills that help them in everyday situations.
There is a lot of emphasis on Spanish grammar in the Real World classes, and teachers focus on listening and speaking more than reading and writing. Listening and speaking skills are essential, especially if you're visiting or moving to a Spanish-speaking country.
This program is suitable for complete beginners who progress tremendously after attending consecutive classes and through practice exercises.
Baselang DELE Program
The DELE program is meant for students preparing for the DELE exam. If you want a more academic and rigid program as you learn Spanish, it's perfect for you. The DELE program focuses on four types of classes.
The first is test prep which heavily focuses on listening and reading for DELE-specific test preparation. The second is grammar which focuses on explaining specific details of Spanish grammar.
The third is skills improvement which is not necessarily meant for DELE but is well-structured and will help you prepare for it. It focuses on reading, writing, listening, and speaking. The fourth one is coaching which involves having classes with the teacher to help you work on your weak areas.
Baselang's Scheduling System
The scheduling system is one of the best features of Baselang's language-learning program.  It's really straightforward compared to other tutoring programs. 
Most students schedule classes depending on their availability and choose one of the available teachers for their first class. However, after some time, you might identify specific teachers that suit your learning style and book your classes depending on their availability.
Another advantage of this platform is that you can schedule lessons a few minutes before it starts. This is a major advantage that Baselang has over its competitors. Lessons are available from 6 am to midnight regardless of your timezone, giving you ample time to choose a time slot that works for you.
The Grammarless Program
It is a program that targets serious learners who want to learn Spanish within a short period. The Grammarless Program is best described as a crash course. While the Real World program allows you to study Spanish at your own pace, the Grammarless program allocates 80 hours to the whole program. 
You have one-on-one classes with a dedicated teacher who helps you learn everything you need to know in one to two months. This program skips the details of grammar but guarantees that you'll be able to have a 30-minute conversation confidently once you complete the course.
You must be willing to put in the extra work to see quick progress, though. The Grammarless program may not be suitable for those who aren't motivated.
Baselang's Progression System
The Baselang curriculum has ten levels. The lowest level is zero, which indicates you're an absolute beginner, and nine is the highest level, indicating you're proficient in Spanish. Baselang's progression system helps you monitor your progress through the entire program, helping you know how well you're doing and your current proficiency level.
The practice entails completing core lessons and electives with your teacher and marking them as complete on the platform. Your progress score will change to signify your progress.
However, to move to a new level, you'll need to complete an assessment given by your Baselang teacher. This helps accurately score how well you speak Spanish. 
You don't have to follow the progression system as it's completely optional, although it's a great feature if you want to track your Spanish learning journey.
Teacher Selection 
Baselang teachers are easily one of the platform's strongest aspects, and the selection process is equally impressive. Students can select teachers based on a number of factors, including name, gender, interests, and level of English they speak. 
Moreover, you can select a teacher with either of two teaching styles – conversational practice or detail and grammar focused. You can take it a step further and work with Spanish teachers who are strongest with either beginners, advanced students, or pronunciation.
Once you select your filters and perform a search, you'll get a list of Baselang teachers to choose from. You'll see their names and interests, and they'll have a short introduction video in Spanish and English to help you decide if they're a good fit for you. 
The detailed search function helps you narrow down to a few teachers you're likely to get along with. Once you've decided on a dedicated teacher, you can click the 'set as favorite teacher' option to add them to your favorite teachers' list for easy scheduling.
Moreover, you can privately rate the same teacher once you've had a class and leave feedback on any suggestions for improvement you might have, which is also kept private.
Lessons Quality
The Baselang curriculum is extensive, and the lessons are well thought-out. All teachers are required to follow the curriculum giving more structure to the program. Although, it is also flexible. Following the curriculum is optional for students, and if there are specific areas you want the teacher to cover, you can let them know. 
If there are some Spanish lessons you prefer to skip, you can also do so. While teachers are required to follow the curriculum, they can also work with you to fulfill your specific needs. 
The Baselang curriculum has core lessons and electives. The core lessons range from level 0 to level 9, with 6-30 lessons at each level. The number of hours depends on how fast you learn, but Baselang recommends an hour every day. The core lessons are categorized further, as shown below.
Level 0 – A few phrases and words to get by.
Level 1-3 – Basic
Level 4-6 – Intermediate
Level 7-9 – Advanced
Electives refer to the specific topics you're interested in. These vary for different people, but it's important to learn the vocabulary in the topics of your choice. The number of lessons will also vary depending on the topic you choose, but some include upwards of 50-70 classes.
Real World curriculum lessons are 30 minutes long, although you can also schedule hour-long classes with your teacher if you prefer. DELE lessons are 60 minutes long, and it's recommended to take them once you've completed the Real World program. 
Baselang estimates it will take almost twelve months to go from an absolute beginner to highly fluent in Spanish, with daily 60-minute lessons in the Real World curriculum. Although, you can shorten the time to three months if you take 4-hour lessons daily. 
There is no specified period for completing Baselang's program. It solely depends on how fast or how slow you learn Spanish. 
Teachers at Baselang are required to have a degree in teaching both Spanish and English, and they should understand both languages deeply. They should also have substantial experience in teaching. There is no specified age though most teachers are in their 20s and 30s.
Grammar Instruction
Baselang has two main programs – Real World and Grammarless. The Real World program heavily focuses on grammar, but, as the name implies, the Grammarless one does not. 
The Spanish lessons in the Real World curriculum do a great job of covering grammar instructions. You start with the basics of Spanish if you're a beginner, learning verbs, nouns, and adjectives. Each grammar lesson is thorough and covers one topic after another with a lot of practice.
More advanced students work on building their vocabulary and learning more complicated grammar concepts such as direct and indirect objects and active and passive voice.
Verbal Practice
Baselang teachers understand that one of the problems English native speakers face is pronunciation. Level 0 starts with the Sounds of Spanish, which will help you overcome that hurdle. 
Sounds of Spanish is a free tool that covers all the sounds you should know for proper Spanish pronunciation. The best part is that you have free access to it without a subscription.
This material is essential for everyone trying to learn Spanish, and even if you're not a complete beginner, it doesn't hurt to refresh your skills. The Grammarless program, which solely focuses on speaking, is also perfect for students who want to learn to speak Spanish quickly. 
Reading
The Real World program provides extensive material to help you improve your Spanish reading skills. You'll start with basic words to complex vocabulary words in the past, present and future tense. Whether you're a beginner or an intermediate, the reading material ensures that you progress from one level to the next. 
The core lessons start with the basics, and once you've perfected your reading skills in these lessons, you move to the electives. This is where you choose specific topics that you're interested in, like pop culture, food, business, and technology and learn how to read words in these topics. 
As you take more classes, you move from reading a few words to completing paragraphs on the topics of your choice.
Writing
The Real World and DELE programs have quality content that elevates your Spanish writing skills. These resources include interactive writing exercises, writing prompts, and feedback from teachers. You can start with the Real World program, learn the basics of writing Spanish, and progress through the different levels.
While this Baselang program focuses on preparing you for real-world situations, it also gives you material to help improve your writing skills. Personalized writing sessions with teachers also ensure that you can write the words you're speaking as you move from one level to the next.
The DELE program is all-rounded, emphasizing reading, writing, speaking, and listening skills.
Vocabulary
If you want to improve your vocabulary in Spanish, Baselang programs are exactly what you need. You start learning vocabulary words right from the first level in the Real World curriculum and continue to improve on them in the advanced levels. The goal is to help you improve your vocabulary at each level, and it shows. 
Besides learning with your teacher, Baselang has created flashcards on Memrise, a language platform that uses an SRS (spaced repetition system) flashcard system to help students practice vocabulary more efficiently. Students are encouraged to use the Memrise platform for vocabulary training after classes with their teacher. 
While in class, teachers also take their time to ensure you're not stuck but are making progress. Once you reach level 9, you can move to electives and continue expanding your vocabulary in various topics.
Teachers are native speakers
You get access to many different teachers who are native speakers and are passionate and well-versed in speaking Spanish. When you start, you may not be able to determine which Baselang teachers you prefer in the beginning. However, after a couple of classes, you can decide to choose the same teacher as long as they're available. 
Teachers take their time with students to ensure that even newbies make progress in their language-learning journey. Students can also review teachers, which helps them improve on the areas they're not doing well in.
Baselang Review: Ease of Use
Baselang's website is easy to navigate, and the interface is straightforward. When you first log in, you'll see the Real World program and what it offers. The core lessons or electives icons are also easy to find. 
The colors on the website are simple, with most of it being gray and white and a small section of navy blue. We found Baselang open to feedback, which can be easily submitted from the main dashboard. 
The loading time on the website is quite fast, so you can access what you need in a few seconds. The mobile version is equally fast and easy to navigate once you log in to the website. 
The DELE program is also accessible on the same drop-down menu as the Real World program. Once you click on the menu, you'll be able to access the classes, test prep, and electives.
Baselang Alternatives & Competitors
Baselang vs Lingoda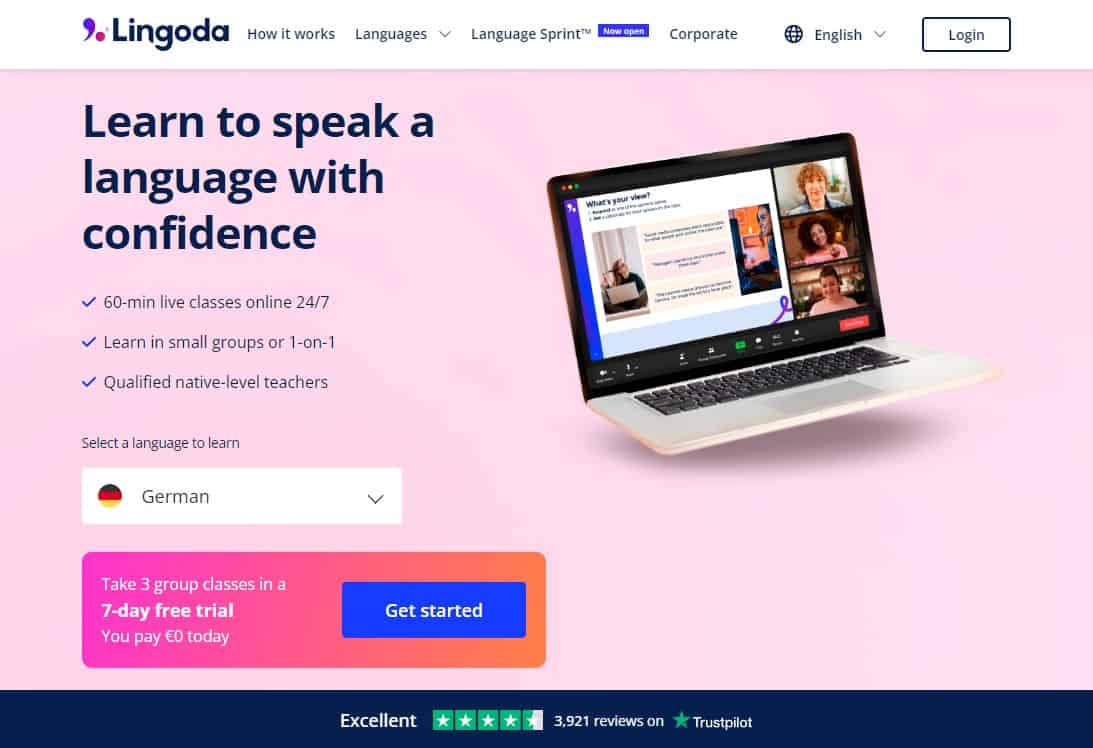 Lingoda provides classes with a small group of other students. Such an approach lowers the price and offers the possibility to converse with other learners. Baselang is a bit more expensive, but you get a structured curriculum with exclusive one-on-one tutoring. If group sessions are what you are after, then find more information in this Lingoda review.
Baselang vs Preply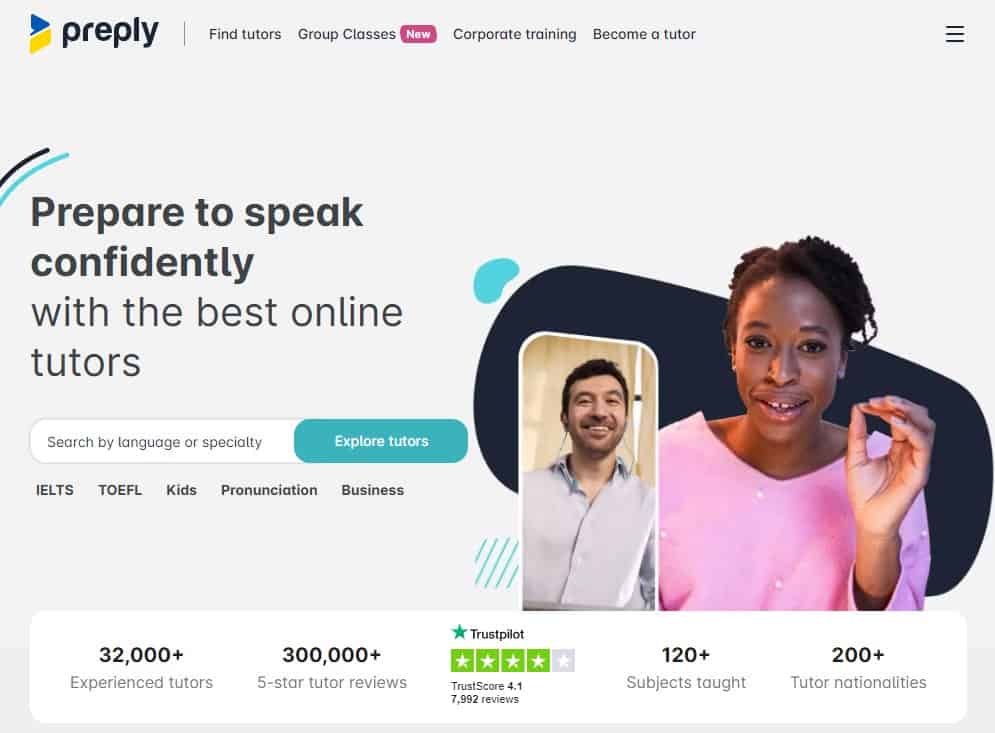 Preply also provides one-on-one lessons with tutors but gives more room for tutors to set their prices and has more languages than Baselang. If you know you won't be studying only Spanish and fancy testing different tutors, be sure to check Preply after reading some more information in this Preply review.
Baselang vs Italki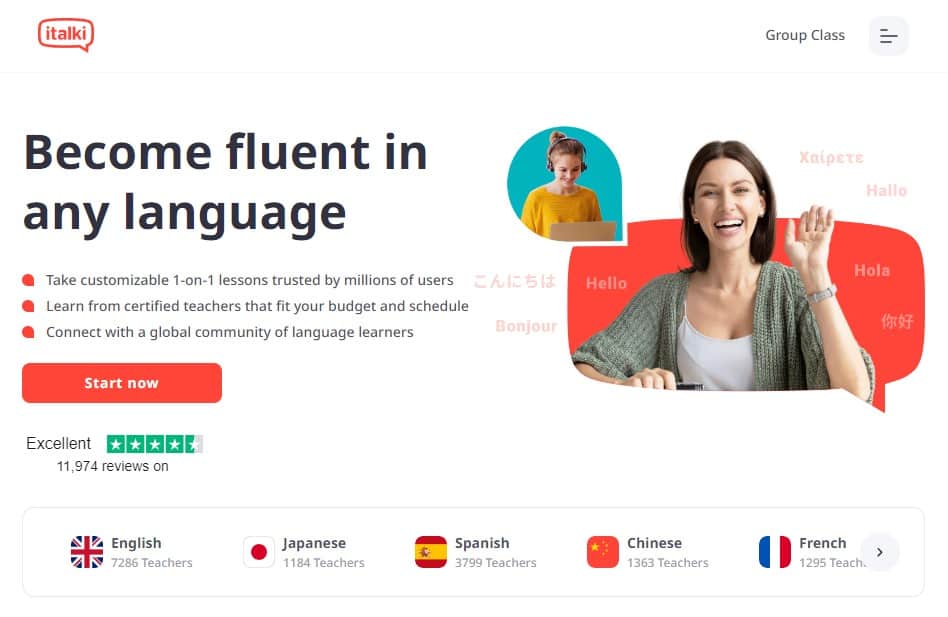 Italki is one of the most popular platforms for finding a tutor yourself, while Baselang focuses on Spanish and provides a tutor with a curriculum. italki hosts many tutors and professional teachers. Read our Italki review to find out if this app is suitable for you.
Baselang vs HelloTalk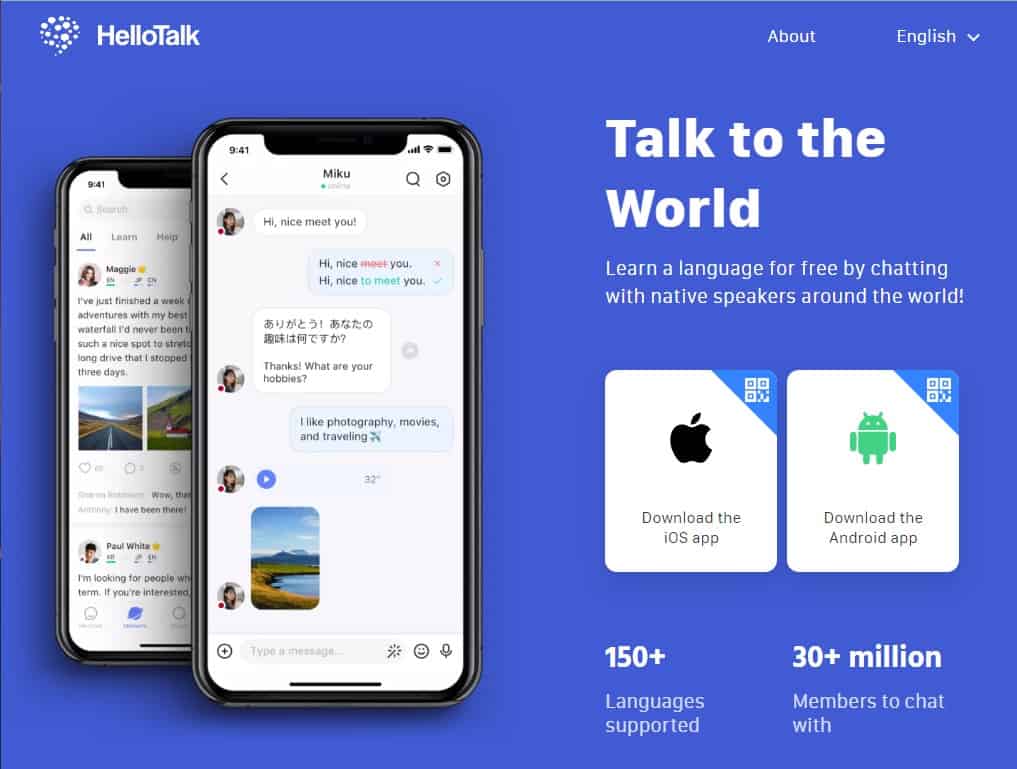 HelloTalk is more of a language exchange platform where you can learn with other students and also find online tutors. Baselang is better if you have a larger budget and want to experiment with different approaches. It might help to improve your proficiency if you're stuck. Read our HelloTalk review for more information.
Baselang vs Spanish Uncovered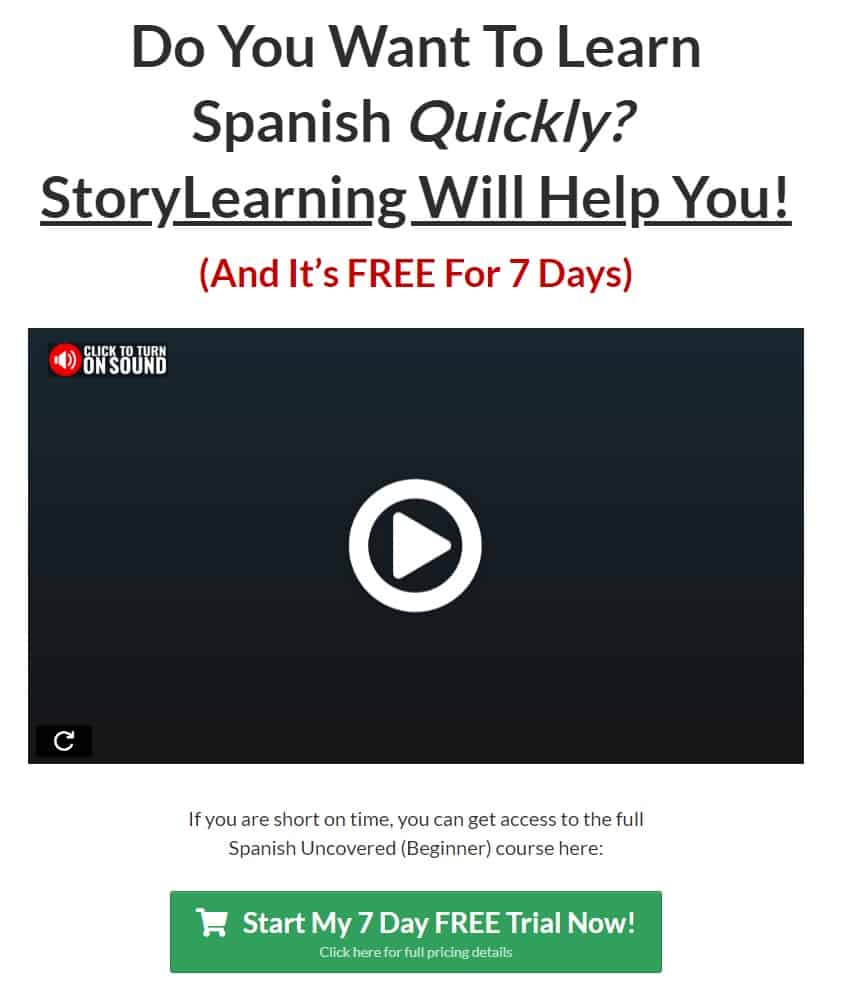 While both courses focus on the Spanish language, there isn't much in common between them. Spanish Uncovered is a unique program best for those who want video lessons and learn with stories. Baselang teaches through one-on-one lessons instead. Read the full Spanish Uncovered review to learn more.
What Could Be Improved?
We noted that Baselang is a web-based platform without a dedicated app that's easy to access on a smartphone. Instead, they direct students to a different language learning app (Memrise), where Baselang has created flashcards to help with vocabulary training. 
It would be better to have a Baselang app dedicated to the platform for convenience and to allow students to easily access all of Baselangs features. 
The website can also be slow at times and will occasionally crash when traffic from teachers and students is too high. An app would also be able to solve this issue.
In addition, Baselang should consider an inbuilt video software for their classes instead of using Google Meet. While Google Meet works fine, Baselang would have a better chance of customizing its own inbuilt video software to suit their needs. 
Students from Spain and other parts of the world who want to learn European Spanish may also get discouraged from joining Baselang. It should consider teaching European Spanish to cater to students who want to learn this type of Spanish.
Finally, Baselang offers one-on-one classes and no group Spanish classes. They should consider this as an option for students who would like to interact and learn from their fellow students.
Baselang Pricing
Baselang's Real World program costs $149 per month, but you pay $1 for the first week. The Grammarless program is $1200 for a one-time fee or four monthly payments of $325.
This is expensive for most students, although the Baselang Grammarless program is designed for those who want to go from absolute beginner to conversational Spanish within a month. Overall, most students would be fine just taking the Real World program if they're not in a rush. 
Once you pay for the Real World program, you can also access the DELE program. It's great value for money because you get access to two programs for the price of one.
You're guaranteed to get value for your money regardless of the program you choose. The curriculum is fresh and thorough, which helps students improve and progress as they move from one level to another.
Real World / Dele Program
| | | |
| --- | --- | --- |
| Subscription | Price | Payment |
| 1 Month | $149 | Charged monthly |
| 3 Months | $447 | One charge of  $447 |
| 6 Months | $894 | One charge of  $894 |
| 12 Months | $1788 | One charge of  $1788 |
| | | |
| --- | --- | --- |
| Subscription | Price | Payment |
| 1 Month | $325 | Charged monthly for 4 months |
| Lifetime | $1200 | One charge of  $1200 |
Free Trial
Baselang does not offer a free trial for its programs. When you sign up for the Real World program, you pay $1 for the first week and the full amount of $149 monthly after that.
Baselang Coupons and Discounts
Baselang offers discounts, and you can get one in two ways.
The first is referring someone to sign up for any of the programs. They will use a link that Baselang gives you to enroll, and you'll get a free month of unlimited lessons.
The second is by making a video review of your experience using Baselang. This also gets you a free month of Baselang classes.
Refund Policy
If a Baselang customer is dissatisfied with the service within the first 35 days, they can get a 100% refund and an additional $20.
The 35 days start when you pay $1 for the first week. It's important to note that Baselang doesn't allow duplicate accounts, and their refund policy only applies to the first trial.
Before you get a refund, you will need to explain what elements of Baselang you were dissatisfied with, and then your refund will be processed. If 35 days have passed after the initial sign-up date, you'll not be eligible for a refund.
Baselang Pricing Compared to Competition
Baselang is way ahead of its competitors in many aspects. However, that's not to say that there are no worthy contenders. Multiple platforms, such as iTalki, Lingoda, and Preply, offer one-on-one Spanish lessons though none have unlimited classes.
This gives Baselang an edge over its competitors, especially for serious students who want to follow a structured curriculum. Most platforms charge per hour, so their monthly fees vary. Baselang tends to be a bit more pricey because of the fixed monthly amount you have to pay.
If you don't want to take unlimited classes, any of the other platforms might be cheaper because you pay for the class you want to take.
Baselang Ratings from Around the Web
Baselang Review: Customer Support
The overall customer service is excellent. There is a chatbot that responds to any questions you have and guides you on what you need to know, especially as a beginner.
You can submit general feedback on potential new features, teachers, and lessons. If you want to know more about the teachers or need help with your class, you can also send a quick message to the chatbot and get help.
If you prefer to send an email, a support email is also provided, and you get a response in less than 24 hours.
Baselang Review: Conclusion
Baselang is a great platform for anyone serious about learning Spanish. The platform's unlimited Spanish lessons with native speakers provide a highly personalized learning experience. While there are some minor drawbacks to consider, such as the lack of group classes and a dedicated app, overall, Baselang offers great value for its monthly fee.