Language learning is much like interpreting something old and long forgotten. That's the inspiration behind Rosetta Stone – an established name in the language learning industry. But make no mistake, the actual method behind it is nothing like translating ancient stone tablets.
Rosetta Stone relies on dynamic immersion, stimulating a real-life language learning experience from day one. But while some love its language immersion, others question whether that's enough to learn a new language. We'll discuss all the features and answer this question in our Rosetta Stone review.
Language Immersion Made Simple
Rosetta Stone immerses you in the target language by associating pictures, audio, and the written word. You will pick up the grammar naturally without falling back into English. Live tutoring sessions and various bonus features aim to complement and speed up your learning process.
⭐ Rating:
8.2

★★★★★

🥇 Available languages:
25 (see below)
📈 Suits best for:
Novices and Intermediates
🛒 Payment options:
3 Months/12 Months/Lifetime
💵 Price:
$11.99 – $179
⌚ Hours of lesson time:
200+
🔄 Refund policy:
30-day money-back guarantee
🎁 Free Trial:
✔️
Arabic, Chinese (Mandarin), Dutch, English (American), English (British), Filipino (Tagalog), French, German, Greek, Hebrew, Hindi, Latin, Irish, Italian, Japanese, Korean, Persian (Farsi), Polish, Portuguese (Brazil), Russian, Spanish (Latin America), Spanish (Spain), Swedish, Turkish, Vietnamese.
You can find language specific guides here:
Disclaimer: Lingomee is an independent review site that may benefit from affiliate programs. Buying through our links makes our efforts possible without additional costs to you. Learn more here.
Quick Overview of Rosetta Stone
After thirty years in the language-learning world, Rosetta stone remains innovative. The first versions covered only a handful of languages and shipped with CDs. Nowadays, Rosetta Stone Language Learning 5 promotes an online subscription model with various plans for individuals, schools, and organizations.
The underlying learning method of Rosetta Stone teaches by exposing you to the target language without any grammar rules in English. As with many other language learning apps, the idea is to mimic how children become native speakers.
Rosetta Stone's language course consists of multiple-choice quizzes with images, native speaker recordings, and vocabulary. The exercises progress through different levels, while things you struggle with will reappear as adjusted by a spaced repetition algorithm.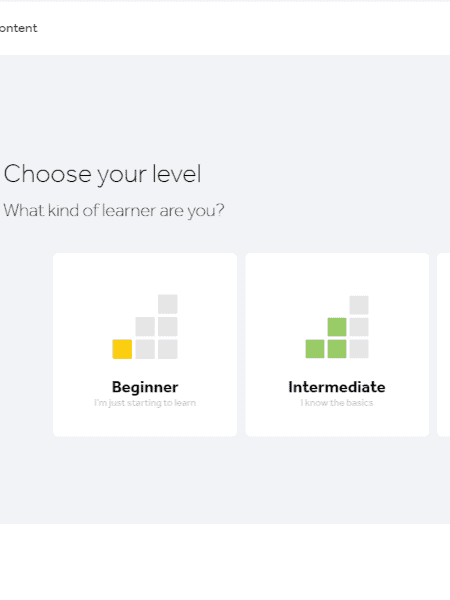 Unfortunately, language learners will not find a placement test after signing up for Rosetta Stone. Instead, the language learning app requires you to choose whether you are a beginner, intermediate, or proficient. More explanations on what these levels entail are lacking. 
Your study plan is personalized with a selection of your goal. Travel, Family, Work, or Basics and Beyond are among the options. The choice impacts the vocabulary, so you might want to complete the same course later with a different goal.
Main Features
The number of features in Rosetta Stone stands out from any other language learning program, and the entire course can fit different types of learners. The pace can also be adjusted, as there are no penalties for missing days or jumping ahead.
Still, Rosetta Stone software aims to teach gradually. We recommend choosing an extended course without skipping anything to get the most out of your Rosetta Stone online subscription.
No matter your approach, Rosetta Stone's language programs will consist of a similar combination of quizzes with study plan exercises at the forefront. The main lessons can get repetitive, but it's outweighed by other features.
Core Lessons
All the languages in Rosetta Stone contain core lessons introducing essential vocabulary and basic phrases. They present a few images, usually four, which must be associated with the native speaker recording. You'll encounter useful phrases from the very beginning.
For example, in the core lesson below, the sentence "girl is eating" in Spanish ("La niña come") is spoken by a native speaker. The language learner must choose the correct picture. Previous core lessons have shown similar words and phrases written on the screen.
By such association, every lesson teaches you new basic phrases without English translations. Finishing them unlocks more vocabulary, grammar, and pronunciation exercises. Frustratingly, some core lessons are locked even if you are already proficient.
However, the multiple-choice approach Rosetta Stone takes is easy to cheat. Instead of learning the words and phrases, you can figure out the answer patterns. It can be done almost unconsciously if you are already at an intermediate level.
The Phrasebook
While the core lessons of Rosetta Stone introduce you to foreign language phrases, the phrasebook categorizes them into eight themes. It allows easy access to isolated audio clips from native speakers and uses voice recognition software to assist you with pronunciation.
It's a shame the phrasebook is only available in a handful of western languages. We found it has the most value while learning Japanese, Mandarin Chinese, or other culturally distant languages. In addition, the Rosetta Stone app doesn't try much to motivate language learners to practice the phrases separately.
Stories
Rosetta Stone improves your reading and listening skills in the stories section. It is a collection of native speaker-narrated stories to follow and pronounce yourself. Rosetta Stone offers multiple topics, although their numbers vary, and the western languages have the most content.
Rosetta Stone software also assists readers by illustrating some more complex words and phrases with pictures. However, we still needed a dictionary for some of them.
You can skim through the reading material rather quickly, but if you use voice recognition software, the narration won't continue until you have nailed the pronunciation. Such an approach prolongs the reading time.
Audio Companion
This feature allows users to access language lessons offline and use them on the go. It is handy when you cannot record your own voice or perform writing tasks. Most exercises in Rosetta Stone's audio companion mirror the ones in daily tasks.
A common criticism of this Rosetta Stone feature is that a more diverse set of recordings, such as podcasts or music clips, would be more engaging and useful for language learning. However, the main idea of this companion is to complement, not replace, the main language course in Rosetta Stone.
Live tutoring
Live tutoring is a possibility to practice the foreign language with other learners in twenty-five minutes long live lessons.
Experienced tutors lead these classes, and one group consists of no more than five language learners. Live lessons are available after completing the first unit of core lesson two to ensure all students are of the same level.
However, we still found that the quality of Rosetta Stone's live lessons depends on the group classes you find yourself in. You can schedule private lessons, but both types of live tutoring cost additionally and mostly cover the same words and phrases.
Still, live tutoring is easily the best feature of Rosetta Stone and a rare opportunity in the online language learning market. Gathering so many native language users and connecting them with the language-learning community deserves praise.
Speech Recognition Software
Rosetta Stone has patented their own voice recognition technology called TruAccent. It can analyze your pronunciation and compare the sound waves with a recording of a native. If it is a close match, it treats your pronunciation as correct.
Some users have reported it working poorly in noisy surroundings and accepting random sounds, such as clapping. We tested it ourselves and found the quality of your microphone to make an impact.
Additionally, Rosetta Stone's voice recognition technology expects formal pronunciation without accents. It does not create realistic circumstances for practice, but it's better than comparing the recordings of native language speakers yourself.
On-Demand Videos
On-demand videos are an optional part of the Rosetta Stone program. It is a catalog of recordings by native speakers on cultural traditions, basic conversational topics, and even grammar explanations.
Most language programs in Rosetta Stone do not have this feature, while French, Italian, German, and Japanese languages cover quite a few topics. An exceptional case is Latin American Spanish, which houses an impressive amount of material.
We found it the most useful for languages that are culturally distant from the US, such as Japanese. Hopefully, Rosetta Stone Korean, Arabic, and others will also receive it in the near future.
Seek & Speak
Seek & Speak is the most innovative feature we found at the time. Combining object-recognition technology with language learning, Seek & Speak allows users to learn by pointing their cameras at everyday items. The software automatically recognizes the vocabulary words and plays native speaker pronunciation.
This Rosetta Stone feature looks promising but still feels like a beta version in need of some polishing. It is only available for the Rosetta Stone iOS app and the most popular languages English, French, Italian, German, and Latin American Spanish.
Translations
After receiving some negative feedback, Rosetta Stone added English translations into their French, Italian, German, Spanish, and Portuguese language programs. By design, the translations are only accessible in core lessons and unavailable in grammar or review tasks.
In addition, they are somewhat hidden on purpose and require users to touch and hold on to the images to translate. It might be a drawback for some, but it's in line with the dynamic immersion method of Rosetta Stone. In this method, language learners must have only a few explanations.
The Alphabet Table
The alphabet feature supplements the other Rosetta Stone lessons. It provides a table with common letters and their pronunciation by native speakers. It is a useful feature at the very beginning of your language course when you are still struggling with the alphabet.
Unfortunately, Rosetta Stone offers only a few words per letter. The feature would be more useful with a larger list of words and the possibility to translate them.
Reviews
After finishing some units in Rosetta Stone, you will reach a milestone and will be able to review what you learned. The only difference is that your answers will be evaluated at the end. If you make mistakes, the Rosetta Stone app will suggest reviewing some units.
Lessons Quality
The entire course of Rosetta Stone is organized into three daily sessions. With a few exceptions, most take around ten to fifteen minutes to complete. In total, Rosetta Stone takes thirty minutes a day, and one language course is finished in about a year.
The main language learning program of Rosetta stone is based on just images and recordings of native language users. It makes for an immersive and easy-to-follow experience, not requiring many instructions when starting. There are little to no inaccuracies in the lessons, and the level progression is even.
Safe to say, the overall quality of Rosetta Stone is on par with all the competitors. However, more advanced learners may find the lessons too easy, and complete novices will want more grammar rules and cultural context. Therefore, we must look at all the lesson types separately to get the complete picture.
Grammar Instruction
Rosetta Stone teaches a new language without any grammar explanations. You won't need to grind through textbook-style tables or rules. Instead, the grammar lessons demonstrate a concept and then move on to practice so you would memorize it. For example, asking you to fill in the blanks in a sentence.
Grammar lessons cover topics of tenses, mood, and other simple notions. It's debatable whether the language immersion of Rosetta Stone work for more complex concepts. While some grammar rules can be grasped with exposition alone, we still looked for explanations elsewhere.
Verbal Practice
There's a ton of verbal practice on the Rosetta Stone app for every target language. It is the strongest side of the lessons in Rosetta Stone. There are even a few different options outside the main course located in the phrasebook and stories sections. 
Although voice recognition software can slow you down, we must agree that Rosetta Stone saves you time with this feature. You just need to use formal pronunciation, which is reasonable, as switching accents is usually considered an advanced skill.
Reading
There isn't much reading practice in the Rosetta Stone as you mostly learn basic words and phrases. The stories section fills this gap for languages using the Latin alphabet. Unfortunately, western characters are used for all other languages as well.  
The Rosetta Stone's reading material to learn Korean, Japanese, and other languages, should be in their native characters. Hardly anyone uses the Latin alphabet in these countries, which makes the reading exercises impractical.
Overall, those who just started and struggle to find reading material for a new language will find it in Rosetta Stone. More advanced language learners will need to look for reading material elsewhere.
Writing
Writing exercises in Rosetta Stone allow you to practice writing words in the new language you are learning. Language learners can use their own keyboard or set up an on-screen one with special characters. 
While writing lessons are promising, Rosetta Stone only teaches common words, and the number of writing exercises is sparse. In addition, some writing tasks are hard to understand without explanations about the different writing systems in your target language. 
Vocabulary
Vocabulary lessons in Rosetta Stone focus on teaching vocabulary words with multiple-choice quizzes that either show the words or hide them. Later, you can use the alphabet, audio companion, and phrasebook to rehearse.
Additionally, the vocabulary index of your target language is accessible as a PDF. But the lack of easy access to translations in Rosetta Stone might not suit all learning styles. Vocabulary learning through immersion is best for those seeking to avoid manual word memorization at all costs.
Repetitiveness
Much of the content in Rosetta Stone overlap as the same images appear across multiple languages. The aim is to focus on syntax with image and sentence association, but in practice, it creates repetitiveness.
Learners must go through the same images and sentences multiple times without much context. But this much repetition is inevitable for memorization, and you can divide the practice into ten-minute sessions.
While Rosetta Stone isn't the most repetitive way to learn a new language, more motivational tools would ease the language-learning journey. To be fair, there is an achievement section with collectible stamps, but it hardly outweighs repetition.
Rosetta Stone Languages
Arabic, Chinese (Mandarin), Dutch, English (American), English (British), Filipino (Tagalog), French, German, Greek, Hebrew, Hindi, Latin, Irish, Italian, Japanese, Korean, Persian (Farsi), Polish, Portuguese (Brazil), Russian, Spanish (Latin America), Spanish (Spain), Swedish, Turkish, Vietnamese.
All Rosetta Stone languages follow the same language immersion principles, but the number of units in programs varies. Most popular languages, such as Mandarin Chinese, English, French, German, Italian, Russian, and Spanish, have twenty units each.
Every other Rosetta Stone language covers only twelve units. However, languages like Rosetta Stone Japanese are harder to learn, and the main lessons will still take a similar time to complete. The biggest difference is in the scope of bonus features, many of which are lacking in these languages.
Rosetta Stone Spanish Review
Rosetta Stone Spanish course is a flagman for the whole program. It includes all the features and has the most variety of images with translations, phrases, and fully working Seek & Speak. It feels like even voice recognition functions better while learning Spanish than with some other languages.
There are two regional variations for taking the Rosetta Stone Spanish program. One teaches Latin American Spanish and the other European Spanish. We tried switching between them, and the programs are different enough to set them apart. On-demand videos even cover some cultural aspects. We consider this app as one of the best apps to learn Spanish.
Rosetta Stone French Review
Rosetta Stone French is a well-polished product with fully developed lessons that progressively introduce you to more complex vocabulary and grammar. The language you'll learn is quite formal and is criticized by some, but we think it is the best way to start learning French.
The quality of Stories, On-demand videos, and the phrasebook gives some everyday skills. Completing at least half of the Rosetta Stone French course will allow you to hold a simple conversation in Paris. Rosetta Stone is definitely one of the best choices for French language learning apps.
Rosetta Stone Japanese Review
Rosetta Stone Japanese can give learners a basic understanding and feel of the language but not much more. This language requires more explicit grammar instruction, especially with different writing scripts. Not learning Kanji will close a lot of doors for you in Japan. We consider this app as one of the best apps to learn Japanese for beginners.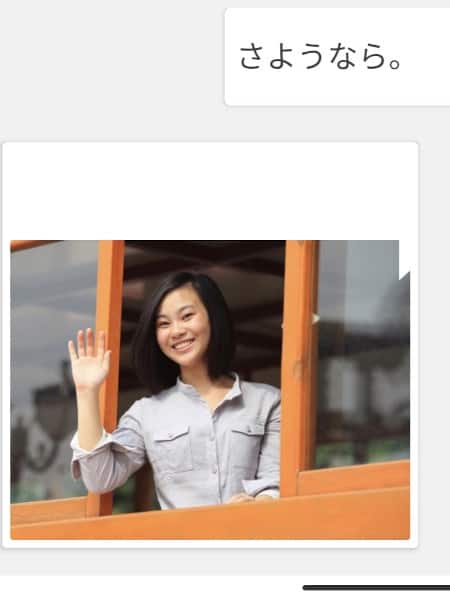 Reading exercises in Rosetta Stone Japanese use the Latin alphabet, which is good when starting, but you'll hardly use it in a realistic setting. Another impractical aspect is the lack of honorific vocabulary words and their explanations. If you want more Japanese vocabulary and grammar, we suggest trying out Drops.
Rosetta Stone Review: Ease of Use
Even the least tech-savvy learners will find Rosetta Stone easy to use. The website and app house the same features. However, with the release of Rosetta Stone TOTALe in 2010, the app received a lot of improvements. Most language learners will find it more convenient to use.
The overall interface of Rosetta Stone is quite simple and doesn't stand out with its design or color choice. There are no unnecessary features, and the dashboard directs users straight into lessons.
First-time users won't be bothered with nonessential customization settings. Still, most learners will find adjusting speech and pronunciation settings useful once they progress.
There's no need to install any plugins or additional software. The only technical step is to test your microphone, which is well-integrated into the app and the website. We didn't have any problems setting up the microphone even while using more outdated browsers.
What Could Be Improved?
The website experience is worse than the app. It has more loading screens, and many functions, such as switching between languages, are easier in the app. Additionally, you cannot run both concurrently and must log in again.
Non-western writing systems for courses like Rosetta Stone Japanese, Arabic, and others lack explanations for their writing systems. The Latin alphabet shouldn't be used all the time as a substitute for reading exercises.
Marking sentences as too easy or favoriting the ones you struggle with would bring some much-needed personalization into the algorithm. Currently, there is only the possibility of flagging inappropriate sentences.
The visual material repeats throughout different languages. Rosetta Stone claims the images are selected to reflect the sentences, but it doesn't always feel so. You would expect to see places and people relevant to languages. More cultural context with the use of body language would also benefit language learners.
Alternatives and Competitors
Rosetta Stone vs Duolingo
Duolingo is a gamification-heavy language learning app aiming to make language learning more engaging. Its casual approach covers most of the same material as Rosetta Stone. If your biggest concern is finding motivation, Duolingo may be a good fit.
However, the language learning material of Rosetta Stone is more methodologically sound compared to Duolingo. If you care less about gamification and can afford a few bucks to avoid ads, go with Rosetta Stone. If you need more information to decide, you can read our Duolingo review.
Rosetta Stone vs Glossika
With the use of spaced repetition, Glossika exposes you to native speaker recordings. Compared to Rosetta Stone, it lacks features and user experience for Novices, but it's more flexible for Intermediate learners. Choose Glossika if you are looking for the last step in getting fluent.
Rosetta Stone is better suited for Novices than Glossika. There's a bigger variety of tasks, the pronunciation is analyzed automatically, and Rosetta Stone costs a little less. Although both have similar approaches to language immersion, Rosetta Stone is a more polished product, but you can still read our full Glossika review.
Rosetta Stone vs Babbel
Babbel is another household name in the language-learning community. Your final decision is likely to boil down to these two options. Shorter lessons, explicit grammar rules, and a smaller price tag are the main reasons for choosing Babbel over Rosetta Stone.
Compared to Babbel, Rosetta Stone is better suited for visual learners. Especially those who want to avoid grinding grammar rules as much as possible. The language immersion aspect is better developed, which makes learning more natural. For more information check out our Babbel review.
Pricing
Rosetta Stone offers different pricing options for individuals, schools, and enterprise customers. The latter two can get custom pricing plans depending on the number of users and features. Most notably, Rosetta stone fluency builder and Advanced Languages apps.
For personal users, the pricing comes in three plans:
| | | |
| --- | --- | --- |
| Subscription | Price | Payment |
| 3 Months | $11.99 | One charge of $35.97 |
| 12 Months | $7.99 | One charge of $95.88 |
| Lifetime | $179 | One charge of  $179 |
We have provided The Rosetta Stone cost from their website. The app shows a bit higher price, probably due to charges from the app stores. Therefore, we suggest purchasing Rosetta Stone directly from their website. It sits on more expensive side apps like Babbel, Mondly, Pismleur, FluentU. You can find these reviews here:
Free trial
Rosetta Stone only provides a three-day trial (72 hours), with access to one language on the web. Although, you can access other languages on the app.
The language program packs quite a few features, and it is hard to test them all only with this short trial. Especially the ones locked until you progress a bit further.
Rosetta Stone coupons and discounts
Rosetta Stone offer multiple discounts for occasions like Christmas, New Year, Cyber Monday, and Black Friday. These promos can cut the costs in half, so it is worth the wait.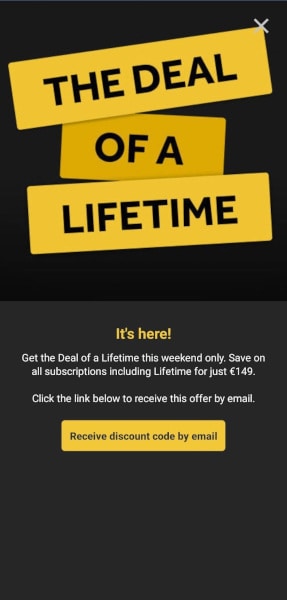 A separate language learning program for students and US military personnel is no longer available. However, there is still a ten percent discount for US military personnel.
Refund Policy
Rosetta Stone offers a standard 30-day money-back guarantee. However, it isn't an alternative to the free trial, as you will still need to cover the Rosetta Stone cost with your card and then go through the refund process.
Rosetta Stone can take up to six weeks to send the money back, and you will be subject to their exchange policy. Most likely, resulting in a smaller amount reaching you in the end.
If you have purchased Rosetta Stone through the Google Play or Apple app stores, a different cancelation process and refund policy will apply. The 30-day money-back guarantee will not be available.
Rosetta Stone Pricing Compared to Competition
Some courses, such as the Rosetta Stone Spanish, are undoubtedly a great value for the money. Some Rosetta Stone alternatives are worth considering only if you can't spend anything. For example, Duolingo has a free version with many ads.
Rosetta Stone Lifetime subscription brings the best value overall. But if you need more flexibility while choosing the course material, look into Pimsleur, which allows purchasing language learning levels separately.
Keep in mind the lesson quality is hardly beaten by any other online learning platform, so the price is well justified. It is especially true for schools and businesses with their custom pricing plans.
Accreditation
Rosetta Stone is awarded certifications from some US schools for their popular language programs. High school students can even earn credits by learning a new language that Rosetta Stone covers.
Organizations like the United Nations and the US military have used Rosetta Stone in their training materials. So it's worth inquiring about internal accreditation in your organization.
Rosetta Stone Ratings from Around the Web
Google Play Store – 4.6 (10M+ downloads)
Apple App store – 4.8 (188.7K ratings)
G2 – 4.2 
Trustpilot – 3.9
Rosetta Stone Review: Customer Support
Rosetta Stone's customer support can be hard to reach. The contacts and chat are placed inconveniently, and you must use the search bar to find them. It took around a week for Rosetta Stone to answer our email, and no agents were available for a chat during the same period.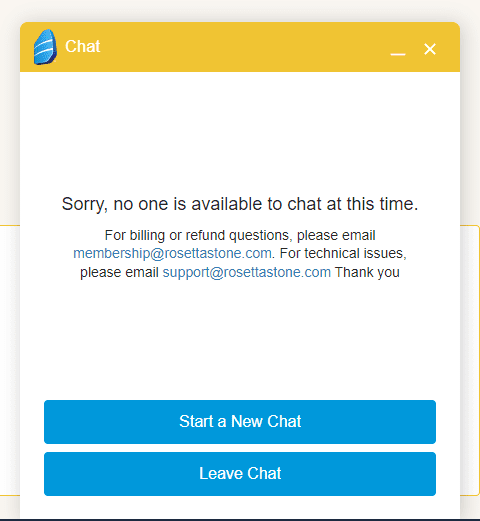 However, there aren't many issues to bother the support with, and they have a more responsive channel for billing or refund questions. Rosetta Stone's customer support communicates in most languages they teach. The blog and supporting materials are also available in multiple languages.
Rosetta Stone Review: Conclusion
Is Rosetta Stone worth the hype? Definitely. With plenty of features and quick language immersion, it is one of the best tools out there. Although you might need additional resources, Rosetta Stone will be the primary tool for immersion into your new language.