Learning a new language can seem intimidating, but it doesn't have to be. You can break down the language-learning process into manageable chunks to make the whole experience more enjoyable and rewarding.
That's exactly what language learning apps help you achieve, and LingoDeer is one of the best. This app promises to be perfect for anyone looking for an effective and fun way of learning a new language. This LingoDeer review will explain why there's no excuse not to try it.
An overlooked app for language Learners of all levels
LingoDeer features comprehensive lessons explicitly tailored for different levels, from beginner to advanced. It also offers a user-friendly interface with plenty of interactive games and activities making it enjoyable to learn a new language. The LingoDeer app gives detailed feedback and keeps track of your progress, which helps you to stay motivated.
⭐ Rating:
8.4

★★★★★

🥇 Available languages:
12+ (see bellow)
📈 Suits best for:
Novices and Intermediates
🛒 Payment options:
1 Month/ 3 Months/ 12 Months/ Lifetime
💵 Price:
$14.99 – $159.99
⌚ Hours of lesson time:
100+
🔄 Refund policy:
7-day money-back guarantee
🎁 Free Trial:
✔️
Korean, Japanese, Chinese (Mandarin), English, Vietnamese, French, German, Portuguese, Russian, Italian, Spanish, and Arabic.
Disclaimer: Lingomee is an independent review site that may benefit from affiliate programs. Buying through our links makes our efforts possible without additional costs to you. Learn more here.
Quick Overview of LingoDeer
LingoDeer is an app that has taken the language-learning market by storm since its launch in 2017. It offers a unique, self-paced approach to developing foreign language skills. All the lessons are coupled with an interactive interface full of real-world exposure and practice.
The intuitive teaching method of LingoDeer helps people learn languages using lessons and games created by experienced educators. Unlike Duolingo, LingoDeer course material is developed individually.
LingoDeer provides users with guidance based on their level of understanding and how well they are progressing. Learning is easier than ever with tons of words and phrases for each language. Built-in reminders also help keep users on track to mastery in no time. Placement tests are available, and you will need to pass them to unlock the next lessons.
From the first look, LingoDeer is like other language apps that help you understand grammar. You do exercises to understand and memorize different grammatical concepts. But what sets LingoDeer apart from its counterparts is its intense focus on grammar lessons. It is intensified with the focus tests at regular intervals for each level.
LingoDeer Review: Main Features
LingoDeer is an easy-to-use language-learning tool that has many helpful features. With its Travel Phrasebook, Story Speaking Game, and Toggle features, learners can quickly reach fluency. And with the LingoDeer Plus app, learners can have even more fun while learning.
Having a separate app with even more games and exercises is not something you usually find in other apps. If you use LingoDeer plus regularly, you can easily pick up a few words every day. If you combine it with the main LingoDeer app, you will be able to learn even grammar explanations quite quickly.
Let's go into more detail about some of the main features of LingoDeer:
Travel Phrasebook
The LingoDeer app has a feature called the Travel Phrasebook. It includes hundreds of common words and phrases in different languages that people can use when they travel. This feature is available for all languages. 
Travel Phrasebook has phrases for greetings, shopping, travel basics, transportation, food, dating, and more. So it will be easy to find the right phrase for whatever situation you encounter.  Whether you're checking into a hotel or looking for the nearest restaurant, Travel Phrasebook has you covered.
Story Speaking 
LingoDeer has storytelling games that help you learn new languages. You can record yourself speaking along with a story in your target language. This feature is available for all languages, and the best part is that it is exhaustive. 
It is available for each and every section to help you practice. The stories are very basic at the start which is understandable but start improving as you progress further.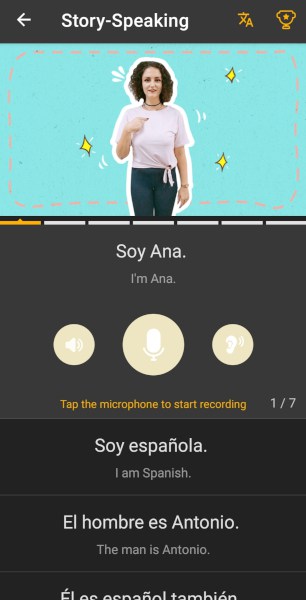 The story-speaking section also has a leaderboard to rank your pronunciation so that you can make sure you're getting better every time. You can listen to the top-ranked people and compare your own recordings. Doing so helps to improve your pronunciation quickly. 
The voices are ranked based on how correct the pronunciation is. This is done by the number of likes received on the recording. Of course, this is a bit subjective, but the voices ranked at the top do sound like they deserve to be there. Identity is not revealed so you don't have to worry about privacy here.
Character Drills
With its character drills, LingoDeer helps users to master the basics of any language quickly and easily. The character drills feature on LingoDeer allows users to practice their writing skills in the target language by providing various exercises. Users can learn how to write characters accurately and efficiently through these exercises.
The character drills are designed to help users build up their vocabulary and gain an understanding of the structure of the language they are learning. By completing these drills, users can become more confident in reading and writing in the target language. Furthermore, they will be able to understand more complex texts as they progress through the course. Drops app has similar feature.
Overall, LingoDeer's character drills provide an effective way for users to learn how to read and write in any language quickly and easily.
LingoDeerPlus App
LingoDeer Plus is a separate app with exciting games available in all languages. These games will help you learn faster with quizzes and master tasks. 
Games in this language-learning app are divided into four main sections: 
Grammar
Vocabulary
Phrases
Integrated
In each section, you will find different games in the form of quizzes where you have to guess the right answer.
It also comes with an audio feature to help you learn the pronunciation of words and phrases. Native speakers record the audio so that you could hear the correct articulation. The only downside here is that you need a separate subscription. But if you're super serious about learning a new language quickly, LingoDeer Plus is worth the price.
Lessons Quality
With over a hundred hours of content from the very beginning to suitable for more advanced learners, LingoDeer lessons are of the highest quality. All the language lessons are designed by experts with accurate phonetics and expressions. Plus, each lesson varies in length based on the level for maximum efficiency.
Perhaps the only thing that needs improvement is the clarity of video tutorials. They can get confusing, and improving them would add visual strength to the lessons. It would make LingoDeer's product even more effective in helping language learners worldwide.
However, the concisely written instructions make up for the lack of clarity in video tutorials. Let's look into each part of the learning material separately. 
Grammar Instruction
LingoDeer is one of the most effective language apps to learn grammar rules. It uses spaced repetition methods, meaning lessons are followed by tests so grammar explanations can be retained more easily.
The foundation of the app itself is built on detailed grammar explanations. Other apps are not that into grammar like LingoDeer. Here grammar notes are available for each module to help you clear your concepts before moving ahead. With lessons, the grammar too will become more advanced as you progress further. 
Having clarity with your grammar also helps you to understand the sentence structure better. All in all, the focus of the app is to ensure the student is well-versed in grammar rules, which then helps them understand the different facets better.
Verbal Practice
LingoDeer offers exercises that can help users learn how to pronounce words and say them with the right tone. However, these speaking exercises aren't enough.
LingoDeer should offer more verbal practice, like live classes and audio recordings. It would give users more options for speaking practice and listening in their target language. With a bit more immersion-based approach and audio tools that Pimsleur or Italki have, LingoDeer would become even more effective for learning a language.
Reading
LingoDeer teaches you the basics of reading when playing with new words and asking to recognize the meaning of what you're reading. With fun activities and mini-games, kids can practice their reading skills with LingoDeer too.
Working through LingoDeer's tasks in the story-reading mode allows you to better understand what you're reading and even pick up new vocabulary. Through this mode, the app allows you to gradually build up your reading skills, section by section. 
As you reach the final section your overall reading skills will be at a very decent level bringing you one step closer to achieving fluency.
Writing
LingoDeer is a great tool to practice writing. It has various helpful features even for advanced learners. Such as character drills for frequently used Japanese and Chinese characters. We found it helpful for understanding written forms within these languages.
Language courses are full of writing exercises in the fill-in-the-blanks format. LingoDeer also provides translations for certain words and characters that users may not be familiar with.
Despite the limitation of the writing feature only being available for Japanese learning app and Chinese course, it is a fun and effective way to practice writing. Hopefully, LingoDeer will add other languages too.
LingoDeer's other writing materials include daily words, articles, lists, phrases, and set expressions. These are all necessary materials to support learners' rigid writing journeys.
Vocabulary
LingoDeer is a great platform for users looking to build or extend their everyday vocabulary. With extensive exercises and activities, users can go from knowing the basics of a language to using words at a native speaker level.
Unfortunately, when it comes to non-east Asian languages, LingoDeer's current vocabulary offering is limited to the intermediate level. All the European languages have their bar set at the intermediate level, so there's no surprise that the vocabulary you'll get is a bit limited too. However, even this intermediate level offers much more than any beginner language app.
Repetitiveness
The LingoDeer app offers one of the most enjoyable and entertaining language learning experiences a user can have. The interface is well-designed and makes learning fun, while the game-like elements can make it even addictive at times. 
Some degree of repetitiveness is, of course, inevitable as you complete your sessions. This is normal learning languages requires repeating words and phrases over time to fully memorize them.
If you need more challenges, LingoDeer plus offers an array of language games that will extend your language-learning journey. Overall, we think that some repetitiveness is there but that's true for almost all the language-learning apps out there. But, this app does have a variety that will keep you hooked and wanting to learn more.
LingoDeer Review: Ease of Use
The LingoDeer App offers a convenient interface for anyone wanting to learn a new language. The yellow and white color scheme immediately draws the visitor's attention. So does the Black and Yellow if you're using dark mode. This color combination gives a modern and professional look to an app.
Labels are easily understood and straightforwardly direct users through the app. Visuals break up long information sections, making them easier to digest visually.
Loading times are brief so each page feels fresh while remaining functional. Illustrations are helped by graphics that better understand the words or phrases being used.
One interesting feature we loved from this language learning app is the easy toggling. This enables you to learn multiple languages at a time. So, for example, you're learning Spanish; between lessons, you can shift to a completely different language and continue your journey there.
The LingoDeer app makes it easy to toggle between different levels of learning, from complete beginner (A1) to more advanced (A1-B1). At times, learners do feel the need to go back and revisit the beginner lessons. LingoDeer makes it easier for them to do just that.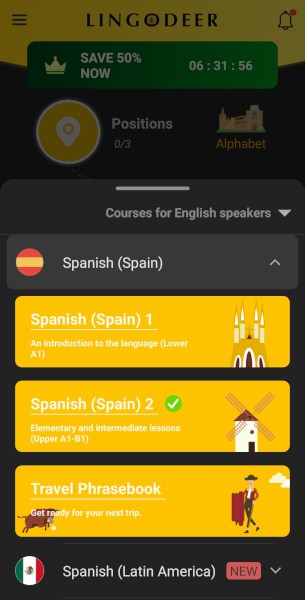 This means that users can transition smoothly and at their own pace. Thus, they take the time to review content and progress as quickly or slowly as they'd like.
The only thing missing is detailed video tutorials, which would help with improving the pronunciation and intonation aspects without the help of a language teacher.
Overall, LingoDeer is an intuitive app that makes learning fun and simple. Its visuals create a pleasant experience, while its sections help users stay on task and engaged with their language learning journey. 
What Could Be Improved?
Adding detailed video tutorials to the app would significantly improve users speaking skills. It could be done by having videos or audio recordings that allow users to follow along with native speakers.
Another drawback is the lack of context within each section of the language app. It could help users better understand what they are learning. For example, additional information about grammar points or regional dialects would give learners more insight into how the language is used in real-world scenarios.
Finally, we lacked access to an online community where users could converse with other learners and share their experiences. This would let them practice their listening and speaking skills within the app.
LingoDeer Pricing
The pricing range of LingoDeer is from 14.99 USD to 299.99 USD All plans come with a subscription model, meaning you will be charged monthly, quarterly, or annually, depending on the plan. The Lifetime plan is a one-time fee and is the most cost-effective option for those who want to learn multiple languages over an extended period.
Buying any subscription plan allows you to learn all the languages available in LingoDeer. It means you can learn as many of them as you want and access the entire library of complete language courses for one price. 
Subscription Price Payment
1 Month 14.99 USD Charged Monthly
3 Months 39.99 USD Charged Every Quarter
12 Months 159.99 USD Charged Every Year
Lifetime 299.99 USD Charged One Time
Free Trial
The free trial is the best way to get started. It grants you access to LingoDeer's courses and lets you learn forever without paying anything. But this unlimited free trial comes with selected courses like Alphabet & Pronunciation and Travel Phrasebook. 
When you switch to the paid version you will get access to all fluency lessons that are otherwise not available. You will also unlock cross-device access and offline learning. Thus, the paid subscription plans are the best option if you want to learn more.
LingoDeer Coupons and Discounts
LingoDeer often offers discounts and promotional codes for its subscribers. Keep an eye out on their website and social media pages to get the latest coupon deals. A 50% off on their yearly and one-time payment plans is available on Christmas, Black Friday, and similar occasions.
Refund Policy
If you are unhappy with LingoDeer, they offer a full refund within 7 days of the purchase date. After that, you will not be eligible for a refund. Refunds, however, are not available for renewals.
LingoDeer Pricing Compared to Competition
LingoDeer's pricing is fairly competitive compared to other language learning resources, such as Duolingo, Memrise, LinguaLift or MosaLingua. Its subscription models offer great value for money and access to a wide range of courses.
LingoDeer's free trial allows you to test the service without commitment, and its discounts make it even more affordable. However, they could beat their competition by quite a margin if they included the features of LingoDeer Plus in this app.
LingoDeer's Ratings from Around the Web
Google Play Store – 4.5 (10M+ downloads)
Apple App store – 4.8 (21.2K ratings)
G2 – 4.0
LingoDeer Review: Customer Support
The customer support of LingoDeer is excellent. The response time is fast, usually within a few hours. Their staff is friendly and supportive when it comes to helping with any queries or issues you may have. They also have customer support agents on their website and social media pages to help with questions or issues.
Its website also has an extensive FAQ section updated with new articles and learning tips. They also have a helpful blog covering topics such as language learning tips, different features, and much more. 
A drawback is that there is no Live chat service. Another downside is that the team is not available on weekends. But overall, it provides excellent 24 hours a day customer support that makes language learning easier and more enjoyable.
LingoDeer Review: Conclusion
Overall, LingoDeer is an excellent language-learning platform offering many courses and tools to help you become fluent in your target language. The user interface is intuitive, which makes learning more enjoyable. If you aim to learn Asian languages, then this app wins hands down compared to its competitors.
Frequently Asked Questions