It's no secret that being an auditory learner helps to memorize a new language faster. But even if you aren't one, you should practice your listening skills for better language acquisition. That's why all language learning platforms include audio lessons, but in many cases, it's better to go all in with auditory measures.
Rocket Languages is a highly acclaimed auditory language learning app effective for visual learners too. It covers everything from grammar instructions to cultural lessons and has a plethora of positive reviews from users. In our Rocket Languages review, we'll explore its features, value, and effectiveness to provide an honest evaluation.
The most comprehensive audio-based language learning platform
Due to its vast range of resources, Rocket Languages is the most comprehensive tool out of all auditory language apps. The platform offers many audio materials, culture lessons, and interactive exercises for an immersive environment with a focus on practical language skills. It is a winner in the price-to-value category.
Rocket Languages Review Summary
⭐ Rating:
9.4

★★★★★

🥇 Available languages:
14 (see below)
📈 Suits best for:
Novices and Intermediates
🛒 Payment options:
6 Months / Lifetime
💵 Price:
$15 – $260
⌚ Hours of lesson time:
350+
🔄 Refund policy:
60-day money-back guarantee
🎁 Free Trial:
✔️
American Sign Language, Arabic (Egyptian), Chinese (Mandarin), English (American), French, German, Hindi, Italian, Japanese, Korean, Portuguese (Brazil), Russian, Spanish (Latin America)
Disclaimer: Lingomee is an independent review site that may benefit from affiliate programs. Buying through our links makes our efforts possible without additional costs to you. Learn more here.
A Quick Look at Rocket Languages
Rocket Languages is one of the most popular online language learning platforms, with over 2 million users. Rocket Spanish was the first language covered back in 2004. Now it offers 14 different languages, including American Sign Language.
The Rocket Languages method is based on language learning through interactive audio lessons. Its comprehensive courses cover vocabulary, grammar, pronunciation, and cultural insights. The interactive audio lessons are engaging and self-paced, with a focus on practical communication skills.
They allow learners to practice their listening and speaking skills in a natural and immersive way. But there's also a range of other learning resources, including language and culture lessons, flashcards, quizzes, and progress-tracking tools.
Rocket Languages features a user-friendly interface that is simple and easy to navigate, making it fast to learn a new language online without much hassle. The platform's design is intuitive, incorporating gamification elements of daily goals that keep learners motivated and focused.
Unlike some other language learning programs, Rocket Languages does not offer a placement test. Instead, the app assumes you are a beginner. It can be somewhat troubling if you are already proficient in the target language, but any avid language learner will use this opportunity to review.
Rocket Languages Review: Key Functions
Rocket Languages uses an arsenal of tools ranging from actual lessons to exercises and handy kits to help you achieve conversational fluency. Despite being mainly auditory, these resources aim to immerse you into your target language and build your skills across all areas.
The interactiveness and gamification of Rocket languages make it engaging and keeps all types of language learners motivated. Our Rocket languages review covers the most important features that fulfill these promises.
Interactive Audio Lessons
The language learning program of Rocket Languages utilizes audio lessons as the primary learning method, aiming to help learners achieve conversational proficiency. Each lesson lasts between 15 and 40 minutes and introduces a new conversation.
The audio plays at a conversational pace, which varies according to the learner's level.  A transcript of the conversation scrolls down the screen, enabling learners to read and listen simultaneously.
The instructor then takes learners through each conversation gradually, explaining grammar rules, vocabulary usage, pronunciation, and intonation. During the lesson, learners are encouraged to speak out loud and answer questions.
Rocket Languages lessons stand out from other language courses due to their informal and engaging style. The conversations feel like informal chats with friends, making the learning experience relatable.
Moreover, Rocket Languages teaches learners practical conversational language, including slang, used in everyday life by native speakers. This approach enables students to achieve fluency quickly while also understanding nuanced native speakers' expressions.
Language and Culture Lessons
Rocket Languages language and culture lessons are another essential component of their program. The language lessons focus on the fundamentals of grammar and vocabulary. They also provide audio of thousands of common words and phrases, which helps learners understand how to communicate effectively in real-life situations.
In addition to language topics, the culture lessons cover various aspects of social norms, customs, and traditions. One of the key benefits of these Rocket languages courses is that they show learners how the language works in context with a "survival kit" and the "travelogue."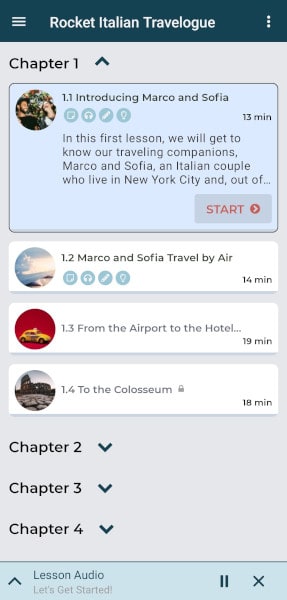 It is because language and culture are deeply interconnected, and understanding the cultural context is crucial for effective communication. Rocket Languages help learners communicate with greater nuance by providing an understanding of the culture.
Play It!
Play It! is an interactive feature of Rocket Languages that helps you to practice speaking and pronunciation skills. It gives you a role of a speaker in basic conversations presented in each of the audio lessons.
After listening to a conversation between two native speakers, choose the role of one and then say their lines. We found this feature valuable in mimicking real-life conversations. It is an essential skill for becoming proficient in a new language.
Learners can record themselves on Rocket Language's voice recognition feature powered by Google's Web Speech API as they attempt to say each sentence. They can then compare their pronunciation with that of the native speaker and receive a score based on their accuracy.
Play It! is also adjustable, allowing learners to select their preferred difficulty level and display settings. You can start with more basic conversations and work up to more natural speech patterns.
Reinforcement Activities
Rocket Reinforcement Activities help learners practice and rehearse what they encountered in the audio lessons. These language learning resources include flashcards, listening and speaking practice, writing activities, and quizzes that test the learner's knowledge of vocabulary and usage.
The flashcards improve vocabulary and understanding of the target language as learners translate English words and phrases into their target language.  
The Hear It! Say It! and Write It! activities focus on listening and writing skills. They allow learners to record audio and practice writing in their target language.
The Know It! activity requires learners to record themselves translating phrases from English to their target language. The voice recognition software then grades your pronunciation, after which you press "Reveal" to see whether you gave the right answer. This activity provides a deeper understanding of the language's grammar and structure. 
The quiz is for testing the learner's knowledge and understanding of vocabulary usage. The multiple-choice format allows for quick and easy assessment, and the ability to review and retake the quiz helps learners identify areas that need further practice.
One of the key benefits of these Rocket Languages review activities is their emphasis on repetition. The more learners practice, the more comfortable they become with the language, which ultimately helps them improve their fluency and confidence when speaking.
Progress-Tracking and Gamification
Rocket Languages gamification systems motivate learners and keep them engaged throughout their language-learning journey.
One of the main features is the progress tracker, which shows what you have done, how well you have done it, and what you need to do next. It starts working after you take the first few lessons and ensures that learners can make steady progress.
The program also rewards learners with rocket points and badges for their achievements, which adds motivation to the language learning process. This feature is for learners who enjoy gamification and competition, as points and badges allow you to compare your progress with others on a leaderboard.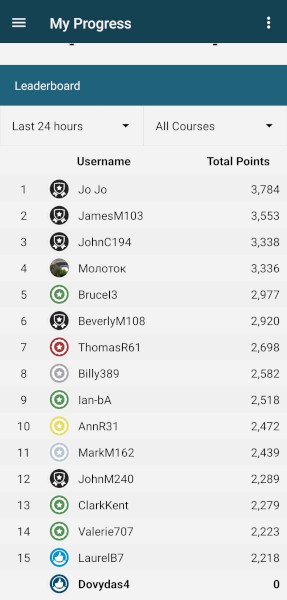 Another gamification feature of Rocket Languages is the streak system. It tracks the number of days learners have used the program and encourages them to maintain a consistent learning schedule. It really helped us to keep good study habits and stay motivated while using Rocket Languages.
Finally, any Rocket course offers unofficial certification tests to help you estimate your skill level. While these Rocket Language certificates cannot be used for official purposes, earning a certificate of achievement can be a significant milestone and a big boost to one's confidence.
Rocket Languages Reviews for Most Popular Languages
We are proud to share that we did individual reviews for the most popular languages that Rocket app can offer.
The Distinction In The Quality of Lessons
Rocket Languages' courses are well-structured, engaging, and easy to follow. Rocket Languages ensures that each lesson is more impactful than the last. So you will achieve at least basic conversational fluency after finishing a course.
The audio is of high quality, and the conversations use native speakers. We also enjoyed the culture lessons, as they also prepare you for the various nuances of language usage.
However, one of the downsides of Rocket Language courses is that most of the lesson descriptions are in English, even in the more advanced modules. It isn't an issue for most, but very advanced learners may prefer a more immersive environment.
The majority of Rocket Languages courses have three levels. However, Rocket Arabic, Korean, or Hindi only cover one level. These languages are significantly more complicated for Western learners, especially in pronunciation practice.
Despite that these language courses do not offer three levels, we found that it takes a similar amount of time to complete. Of course, the three-level languages, such as the Spanish program, have more content as Rocket languages expect the learner to be more familiar with it.
As such, this language learning platform is better suited for commonly-studied languages such as Rocket French, Spanish, German, Italian, Mandarin, and Japanese due to the extensive courses offered, which help learners acquire a strong foundation. 
Grammar Instruction
Rocket Languages provides comprehensive grammar instruction through its interactive lessons. The grammar lessons are structured to improve the learner's understanding gradually. We found you can move from basic to advanced grammar concepts quite smoothly.
The explanations are clear, and the exercises are helpful in reinforcing the grammar rules. However, some users complain that the grammar instruction is too detailed and quick for difficult languages. So be prepared for some intensive studying if you start something as a German course.
Verbal Practice
Rocket Languages excels in providing excellent verbal practice opportunities for users. The program includes a wide range of interactive exercises, audio recordings, and speech recognition technology to help users develop their listening and speaking skills. 
Every audio lesson is based on an extensive catalog of material ensuring that you can listen to content for hours, helping you build familiarity with the language. The complete lessons help users learn new words and phrases while building their confidence and fluency in speaking. If you want to achieve native level, than you should also consider tutor apps. You can read Italki and Preply review here.
Reading
The program offers different types of reading tasks, especially during reinforcement exercises, which provide a good balance of challenge and support. That said, we found some reading tasks too easy and lacking the complexity required for advanced learners. However, novices and intermediaries should have plenty of reading materials.
Writing
Rocket Languages provides writing prompts and exercises that allow users to apply the grammar rules and vocabulary they have learned. The writing tasks are challenging yet supportive, and users receive plenty of feedback. 
We found that the writing lessons get quite challenging if you are learning a non-Roman script language. For example, you will need some prior experience with modern standard Arabic to complete the writing tasks for this language. Displaying both native and transliterated text helps a bit for these languages.
Vocabulary
Rocket Languages provide a variety of vocabulary-building tools, such as flashcards. The program also introduces new vocabulary through interactive lessons and reading tasks. The vocabulary is relevant and useful, covering a wide range of topics. Rocket Languages also allows users to track their progress and review new words they have learned.
Repetitiveness
Rocket Languages offers a good balance between repetition and variety, which makes the program less monotonous to use. The lessons allow students to build on what they have learned while also introducing new concepts and exercises.
Still, some users may find the program repetitive after a while. We found that listening to Rocket languages courses on the go helps a lot to combat this. Unlike other language learning apps, this is easily achievable with Rocket languages since the courses are audio based.
Rocket Languages Review: User Friendliness
Rocket Languages is easy to use for even the least tech-savvy of learners. There aren't many options you need to tinker with, and it's simple to access all the resources. The labels are clear and concise, with well-defined categories directing learners to find what they are looking for.
The platform uses a high-contrast design with a white background and dark text, making it easy to read and navigate. Unlike some more gamified language apps, Rocket languages use color minimally, with the main focus being on the content. It gives it a professional feel.
The first-time user experience is smooth, with a clear onboarding process that guides new users from the first few lessons and shows all the available resources. The loading times are fast, and the platform is quite responsive.
What Should Be Upgraded?
Including more visuals can improve the user experience on the Rocket Languages platform. More pictures would help visual learners better understand the lessons and concepts, making the learning experience a bit more engaging.
We found that other platforms, like Rosetta Stone, are better for visual learning. However, the extensive culture lessons compensate for what Rocket languages lack in engagement. It is a drawback only if you can't learn with audio at all.
Rocket Languages could make its Arabic, Korean, and Hindi courses as extensive as the rest. However, considering these languages are more difficult, the time it takes to finish their courses should be similar.
The platform should also consider using less English in the descriptions for advanced learners. It would help to develop language skills more effectively for those looking for a final push to fluency in their target language.
However, this language learning platform is made with beginner and intermediate language learners in mind. English instructions help them to build the correct foundation rather than trying to comprehend and produce language in the target language.
Rocket Languages Cost
Rocket Languages pricing plans range from $99.95 to $259.90 and all provide lifetime access to all course content. Nonetheless, the general format for languages with three levels, such as the Rocket Spanish course, is as follows: $99.95 for one level, $249.90 for two levels, and $449.85 for lifetime access to all three levels.
| | | |
| --- | --- | --- |
| Level | Price | Payment |
| 1 | $99.95 | One-time charge |
| 1 & 2 | $249.90 | One-time charge |
| 1, 2 & 3 | $449.85 | One-time charge |
It's worth noting that Rocket Languages only allows installment payments to those looking to buy Levels 1, 2 & 3 of a language. You cannot pay for a single level in installments unless it's for a course that only has one level, such as Rocket Korean.
Meanwhile, the Rocket English and Rocket Sign Language (ASL) courses are priced at $99.95 for the entire course, or you can choose to pay $20.00 per month for six months.
Free Trial
Rocket Language offers a free trial period for all of its courses. During the trial, users can access a limited amount of content to test out the platform and see if it fits their needs. The trial period is unlimited, meaning you have lifetime access to it.
With such a generous free trial, there's no reason not to try out this language-learning tool and experiment with different languages.
Rocket Languages Coupons and Discounts
Rocket Languages offer discounts and promotions on its courses. These can include holiday sales, limited-time offers, and discounts for new users. Users can often find discount codes and coupons on Rocket Languages' website or through promotional emails. Discounts can range from 10% to 60% off the regular price of the courses.
Refund Policy
Rocket Languages offers a 60-day money-back guarantee for all of its courses. If a user is not satisfied with the course content or experience, they can request a refund within 60 days of purchase.
Rocket Languages Pricing Compared to Competition
Rocket Languages' pricing model is unique in the language learning market, as it offers lifetime access rather than a monthly or yearly subscription. While this means a higher upfront cost, users can access the courses for as long as they want without paying perpetually.
Due to this reason, the pricing of Rocket languages can seem expensive at first. However, compared to other language learning apps, you will save money by choosing Rocket languages. It is especially true when you stumble upon one of the many discounts they offer.
Besides saving money in the long term, Rocket languages provide more audio exercises, quizzes, and culture lessons than most competitors, including well-known names such as Rosetta Stone.
Overall, students committed to language learning may find Rocket Languages' pricing and features one of the best investments the current market can offer.
Rocket Languages Evaluations from Other Customers
Google Play Store – 3+ (100K+ downloads)
Apple App store – 4.3 (637 ratings)
G2 – 4.0
Trustpilot – 3.5
Rocket Languages Review: Client Support
Rocket Languages provides comprehensive customer support through various channels, including email, live chat, a detailed FAQ section, and a blog with helpful tips and information on language learning. The response time for email support is relatively quick, usually within 48 hours.
The live chat support is available during business hours and the support team is quick to respond to any queries. The quality of support is excellent, with customers praising the friendly and knowledgeable support team in every Rocket Languages review we found.
Rocket Languages Review: What Separates it from Others?
With its focus on practical communication skills and everyday conversations, Rocket Languages ensures that learners are well-equipped to communicate effectively in real-life situations. The platform's wide range of resources and immersive approach to language learning is highly effective in helping you achieve your language learning goals.