Traditional language learning apps focus on grammar, reading, and writing. But what if you're preparing for a trip and want to feel more confident at speaking? Pimsleur might just be the language-learning app you've been looking for all along.
Pimsleur pulls you into the language you're learning with audio lessons. A big part of Pimsleur's learning method is consistency and spaced repetition for maximum retention. It solely focuses on speaking skills and listening comprehension with its audio courses.
This detailed review of Pimsleur will answer whether it is the right app for your language learning goals. Read on to discover everything about Pimsleur, from pricing to its approach to teaching a new language.
Pimsleur: A compelling learning experience with audio lessons
Pimsleur goes beyond the typical learning approach by making you listen and speak out loud. In each audio lesson, the instructor walks you through different phrases, broken down word by word and syllable by syllable. It is an excellent tool for learning a foreign language through conversational skills.
⭐ Rating:
9.0

★★★★★

🥇 Available languages:
51 (see below)
📈 Suits best for:
Intermediates
🛒 Payment options:
Monthly and lifetime
💵 Price:
$14.95 – $575
⌚ Hours of lesson time:
300+
🔄 Refund policy:
30-day money-back guarantee for complete courses
🎁 Free Trial:
✔️
Pimsleur includes more than fifty languages, here are some of them: Albanian, Arabic (Eastern, Egyptian, and Modern Standard), Armenian (Eastern and Western), Chinese (Cantonese and Mandarin), Croatian, Czech, Danish, Dutch, Finnish, French, German (German and Swiss), Greek, Haitian Creole, Hebrew, Hindi, Hungarian, Icelandic, Indonesian, Irish, Italian, Japanese, Korean, Lithuanian, Norwegian, Ojibwe, Pashto, Persian (Dari and Farsi), Polish, Portuguese (Brazilian and European), Punjabi, Romanian, Russian, Spanish (European and Latin American), Swahili, Swedish, Tagalog, Thai, Turkish, Twi, Ukrainian (currently free to learn until March 31), Urdu, Vietnamese.
Our Pimsleur Program Evaluation
Disclaimer: Lingomee is an independent review site that may benefit from affiliate programs. Buying through our links makes our efforts possible without additional costs to you. Learn more here.
Pimsleur Brief Overview
Pimsleur gets its name from the learning method developed by the linguist Paul Pimsleur. The basic idea behind what Paul Pimsleur developed is repeating what you learn after a predetermined time.
For example, you learn a new phrase and repeat it minutes after. Then, you touch on it again after hours, days, and weeks. The goal is to recall what you've learned repeatedly at different intervals to memorize it.
Pimsleur program pressures you to recall everything you learned throughout the courses. Such an approach has been working flawlessly for language learners since 1980.
Initially, Pimsleur programs started as cassettes and CDs that moved to smartphones in 2018. Since then, the Pimsleur app has changed and improved a lot, but audio-based learning remains the same at its core. 
Pimsleur lessons still follow the decades-tested learning method. It helps reach an intermediate level of fluency by speaking and listening. Since Pimsleur language courses are primarily audio, think of it as an interactive podcast. You can take the courses pretty much anywhere. 
Interactive and based on real-life scenarios, Pimsleur is ideal for visual-spatial learners too. It creates a mental image of each scene as if you're conversing with native speakers.
Pimsleur Review: Primary Features
The Pimsleur approach is equipped with features that stand out from other apps. But what's unique about Pimsleur is its audio lessons. You interact with the narrator by repeating every word or phrase he says. It is the same across all the languages offered, whether you learn Latin American Spanish, or Swiss German.
Although a big part of Pimsleur is audio lessons, it offers a variety of other features to enhance your learning. Here is a quick rundown of the main features you will find in the Pimsleur app.
Simple Audio Lessons
The core lessons are relatively short, around 30 minutes, and follow simple audio instructions. But they aren't only for audio learners. Every course presents different scenarios based on real-life conversations that help you visualize.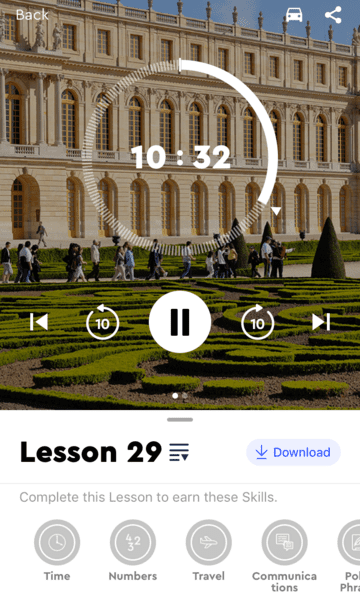 Preparing you for real-life conversations is a big part of how courses are structured. The audio-based approach comes in handy, especially when learning multiple languages. As you only focus on speaking, you won't confuse yourself with different grammar concepts. 
The audio lessons only concentrate on listening and speaking. It helps the learning process by immersing you in the target language. You hear new words and phrases, then repeat them several times. The audio classes work as if you're speaking with native speakers, making it an effective way to learn a language
There are 30 lessons at each level that cover different subjects. One goes through greetings, while others teach how to order food at a restaurant and other everyday scenarios. The lessons introduce more complex topics as you progress.
Driving and Offline Mode
All the audio lessons are downloadable for offline use. So you can download them within the Pimsleur app and start learning on the go.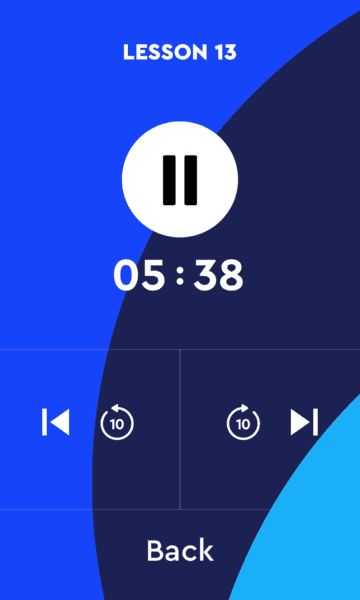 The Pimsleur app also has a driving mode. The screen only shows pause, forward, and back buttons. It's perfect for learners who commute long hours during the day.
The driving and offline modes make learning a language through Pimsleur accessible at all times. Most of the following features also work offline.
Speak Easy Challenge
Throughout the Pimsleur lessons, you memorize many words and phrases. To start practicing what you've learned, start a Speak Easy Challenge. This feature in the practice section rehearses everything you've learned from the previous lessons while building real-life conversation skills.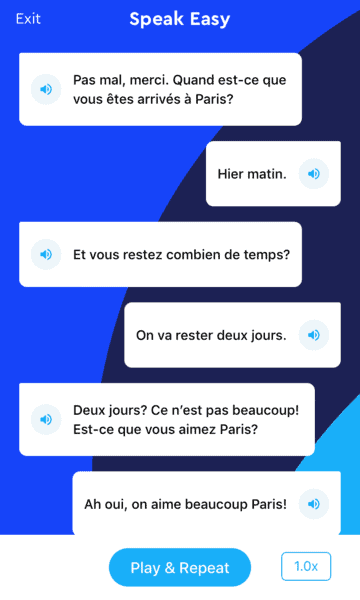 Conveniently, you can adjust the speed if the conversations in Speak Easy are too fast for your level. This Pimsleur app feature is a straightforward way to build conversational skills. If you struggle to put words together, Speak Easy will help you improve by expanding your basic vocabulary.
Voice Coach
Pimsleur's Voice Coach feature uses speech recognition technology to help users overcome fears of mispronouncing words and phrases. In pronunciation practice, you repeat what the instructor says while the software detects various elements in your speech to see if you have proper pronunciation.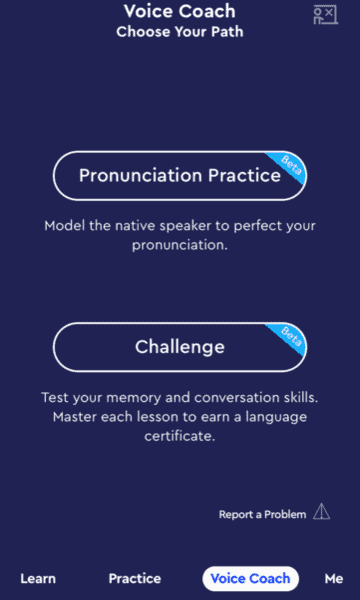 The Voice Coach builds up a natural tongue for the target language you're learning and also helps to test your conversation skills and memory. Various phrases appear from past lessons that you need to recall.
Pimsleur Compatibility with Alexa
You can use Pimsleur with Alexa-enabled smart speakers such as Amazon Echo devices. The compatibility with Alexa gives users hands-free access to learning a language.
Navigating through Pimsleur courses with Alexa is seamless. The Pimsleur skills are the same as any other Alexa skill. You will say louder to turn the volume up, go forward to start the next lesson, and so on.
Using Pimsleur with Alexa opens up lots of learning opportunities to learn while you do chores or other things around the house.
Speed Run Game
You can do 'speed runs' with Pimsleur's interactive game of the same name. In this interactive game-like feature, the words and phrases fall from the top of the screen. You need to select the correct translations before they reach the bottom. The Speed Run feature makes remembering words easier in an entertaining way.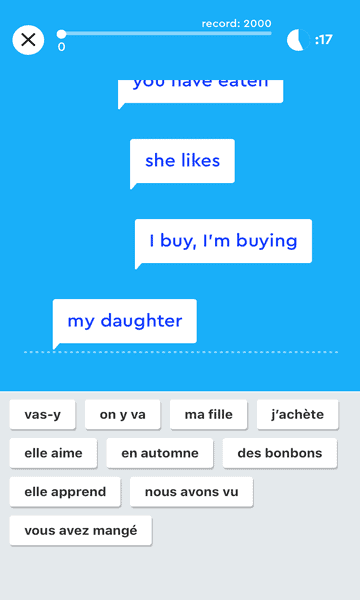 Users can utilize Speed Runs many times throughout the day to remember words quickly. The words and phrases included in every Speed Run also follow the same method as audio exercises. It is a mix of everything you learned from previous lessons.
Unfortunately, this and other interactive exercises mentioned are only available for select languages. Brazilian Portuguese, French, German, Italian, Japanese, Mandarin, Latin American Spanish, European Spanish, and Russian have the largest selection of exercises.
Pimsleur Review: The Excellence of The Learning Material
The levels of Pimsleur programs vary by language. For example, Pimsleur French has five levels, while others, such as Egyptian Arabic, have only one.
There are 30 lessons, each taking around half an hour to complete. Every level features 15 hours of audio lessons. The more in-demand languages, like French and Japanese, have more content than less popular languages. Any popular Pimsleur course features 75 hours of audio lessons, while others only 15 in total.
Regardless of the target language, all Pimsleur levels are audio-based and conversational. Unfortunately, you don't get a lot of material to improve your reading, writing, and grammar skills. Pimsleur expects you to pick these up naturally as you progress. 
None of the Pimsleur languages focus on written materials. It is all spoken. The focus on conversational skills makes this approach its strongest and the weakest aspect of Pimsleur at the same time.
If you also want to improve your reading, writing, and grammar skills, it is best to pair Pimsleur with another tool. The apps with a grammar focus, such as Babbel, can work wonders when used with Pimsleur.
At times, we felt that Pimsleur focuses more on your conversational skills than reading and writing. Using other tools rehearsed on grammar will help to keep you learning a language more comprehensively. However, we must look into all the parts of the learning material in Pimsleur to get the full picture.
Grammar Instruction
Pimsleur isn't the best for learning grammar. It focuses on conversational skills by improving speaking and listening in the target language. So you won't get a lecture on grammatical concepts. Instead, the language learning app expects you to pick up grammar naturally from audio material as you progress.
The Pimsleur method falls behind in teaching grammar, as audio immersion is better for some languages than others. For example, learning conversational Spanish is beneficial before getting into complex grammar. But you won't progress with languages such as Mandarin Chinese without starting with grammar first.
Although such an approach is perfect for your next trip abroad, advanced learners might find grammar lessons lacking in Pimsleur. A solution is to supplement what you learned from Pimsleur with additional resources for grammar.
Verbal Practice
Speaking practice is the strongest of Pimsleur. Many other language learning apps provide it as a separate course. Pimsleur, on the other hand, keeps verbal practice at its core.
Pimsleur is all about speaking practice from the first lesson to the advanced ones. It encourages you to repeat words and phrases continuously throughout the whole program. 
The Voice Coach feature helps perfect pronunciation to a native speaker level. The prominence of verbal skills is most attractive to travelers. You can pick up life-saving phrases in the local language in only a week of study.
Language courses on Pimsleur are by far the best for learning through speaking and listening.
Reading and Writing
Similarly to grammar, there aren't reading and writing lessons in the Pimsleur language programs. After all, it's a language-learning resource that focuses on speaking and listening.
However, this doesn't mean Pimsleur entirely neglects reading and writing as they are essential to learning a language. 
You see how the words are written as you progress by each level and pronounce them. Even though there aren't any writing or reading lessons, you can pick up these skills through interactive exercises like Speed Run. These exercises help level the difference between conversational skills and reading and writing. 
Vocabulary
Since the focal point of Pimsleur is to develop conversational abilities, everyday scenarios with native speakers are at the forefront of Pimsleur's classes.
Teaching such words and phrases has a structural approach through the Pimsleur method. The audio course constantly presents new vocabulary and reminds you what you've learned from past lessons.
Of course, such an approach isn't unique to Pimsleur. Rosetta Stone, Rocket Languages, Duolingo, and many other language-learning programs have a similar algorithm of spaced repetition. 
Pimsleur differs in that a virtual tutor introduces the vocabulary and guides you through the learning process. It's best for audio learners and doesn't require much hassle from the learners, bringing them to fluency naturally.
Repetitiveness
Repeating previously learned words and phrases is at the core of the Pimsleur language learning program. It might seem repetitive, as you need some patience to stick to the first courses. But once you finish a few lessons, you will get to a more entertaining side of how Pimsleur teaches you a new language.
Once you get the basics, Pimsleur makes learning a language fun with interactive games. They make Pimsleur more entertaining and fun. It reduces the repetition that comes with audio lessons and provides a different outlook.
Pimsleur allows you to learn your target language through various methods. All of them make it an engaging app with an entertaining learning environment.
Pimsleur Review: Accessibility
Pimsleur is available on desktops, mobile, and tablets. It offers a clean and straightforward user interface that doesn't distract the user. Although you can use Pimsleur only on audio and not miss a thing. 
Every lesson comes with a cover image about the language you're learning. Some display cultural photographs and others show prominent places, like cathedrals. You also see what skills you will acquire after finishing every lesson. For example, meet and greet, survival skills, and many others.
The automobile icon at the top right corner gives easy access to the driving mode. It enlarges the buttons and removes other distractions from the screen. 
You can dive into interactive games by tapping the Practice button. You also have the option to use an interactive exercise compiled with what you learned from a specific lesson. It can be done by using the bottom drag menu in each lesson and selecting an exercise.
The Pimsleur app is designed with accessibility in mind. All the features are available for up to three different users. It has an easy-to-navigate user interface and even allows users to learn multiple languages.
Pimsleur Areas That Require Enhancement
While Pimsleur can benefit language learners in many ways, some areas could be better. 
First of all, there isn't a customized path. All courses follow a structured path, where you must select the level from one to five. Some users might find it frustrating as you need to swipe continuously to go from one lesson to another.
The difficulty and subjects covered in these levels might not be what you want to learn. Pimsleur doesn't ask why you're learning the target language. Instead, it immediately starts introducing new words and phrases.
Another drawback is the limited support for languages with non-Roman alphabets. Languages like Mandarin Chinese or Hebrew still use Latin letters for reading and writing exercises.
We found ourselves turning to additional resources quite often. It isn't as big an issue for languages using Roman alphabets. For languages like German, you get to read what you've learned.
It's disappointing that the interactive features are not available across all the supported languages. Currently, some exercises are only available in nine languages.
Lastly, the number of levels isn't the same across all the languages supported. Some languages have five levels; some feature three, while others just one. It depends on the demand for the language. So if your target language isn't popular, it might not have many levels.
Pimsleur Price
For a long time, Pimsleur was only available on CDs and MP3s. These would cost upwards of $100 for one level of an in-demand language. For example, each Pimsleur Spanish level costs $150.
Luckily, Pimsleur added a subscription option that's quite affordable. The subscription gives users access to all languages and levels. You can sign up for an audio version only for $14.95. But if you also want the interactive exercises, you must pay $6 extra.
We recommend the premium Pimsleur account for most language learners. You will have access to all the languages and levels available. If you've found Pimsleur useful, you also have the option to purchase individual levels for $150 or entire courses at a discounted price.
Subscription
Price
Payment
1 Month (1 language)
$14.95 for audio-only
$19.95 for premium
Monthly payment of $14.95 or $19.95
1 Month (All Access)
$20.95
Monthly payment of $20.95
Individual Courses
$150 per level
One-time payment
Pimsleur Free Trial
Pimsleur subscription has a seven-day free trial. By signing up for the free trial, you get to try all the language programs. You can learn French, Brazilian Portuguese, Farsi Persian, or any other language you wish to test. The free trial also allows you to create users. So you can test Pimsleur with family members and friends.
Pimsleur Coupons and Discounts
Pimsleur occasionally offers deals but not for the subscription service. The most recent discount was on President's Day and lasted for a short period. You can get notified of upcoming discounts by signing up for Pimsleur emails.
Other than discounts, there aren't many Pimsleur coupons around. Assuming purchasing complete courses won't interest you, the only advantage you can take is the free trial. 
However, Pimsleur offers discounts for select complete courses. For example, the French course with levels one through five costs $575. If you were to purchase them individually, it would cost $750. 
Additionally, Pimsleur offers custom pricing for businesses and schools. They can save a lot on bulk purchases.
Pimsleur Refund Policy
Pimsleur doesn't provide refunds for its online subscriptions, as it offers a trial period. 
There is a 30-day money-back guarantee for entire courses. However, purchases made from Pimsleur's website or its call centers are eligible for a refund. Any purchase made outside of these channels doesn't qualify for the 30-day money-back guarantee.
If you want to request a refund, call or email Pimsleur within 30 days of your purchase. After requesting a refund, the funds might take four to six weeks to be deposited into your account.
Is Pimsleur a Good Investment?
Pimsleur subscription is an excellent investment for audio-oriented learners. Sure, the monthly subscription cost is higher than Duolingo ($6.99) and Rosetta Stone ($11.99). But it stands above many alternatives if you seek to learn a language conversationally.
If forgoing advanced grammatical concepts in exchange for conversational skills sounds good, Pimsleur will work beyond traditional language learning tools.
On the other hand, there are complete courses you can purchase if you wish. But it doesn't make much sense when you can go with the subscription option.
The subscription cost is small compared to the hundreds of dollars for an entire course. Besides, you will still need to use other tools once you advance. So having unlimited access to Pimsleur isn't for everyone. 
Overall, the Pimsleur is a well-priced product, but it's better to go with the subscription model than to buy courses separately.
Pimsleur Recognitions
Many government organizations recognize Pimsleur for its ability to teach a language. In 2010, Pimsleur received a grant from the US military to teach Pashto. It helped soldiers communicate effectively in Eastern Afghanistan and Northern Pakistan during deployments.
Pimsleur holds regular seminars and is the company behind Operation Speak Easy. The project enables military service members to communicate with civilian populations.
Federal institutions use Pimsleur to teach new languages to their employees. When working abroad, federal workers have an easier time communicating with native speakers. Overall, Pimsleur is a trustable language learning program that has proven its effectiveness.
Pimsleur Ratings From Customers
Google Play Store – 4.6 (1M+ downloads)
Apple App store – 4.7 (10K+ ratings)
G2 – 4.3
Trustpilot – 2.7
Pimsleur Review: Customer Service
Pimsleur provides customer support mainly through its call center. There is also a live chat, but no live person answers questions. It's a chatbot giving set answers based on selecting your issues and requests. 
Other than calling and the AI chat feature, you can contact Pimsleur via email. The response times are fairly quick. If you email Pimsleur for a refund or issues with your purchase/subscription, you will get an answer within 48 hours.
Many of the problems Pimsleur customers face have answers listed on their frequently asked questions page. We recommend checking it out if you're having problems with getting support from Pimsleur.
Pimsleur Review: What Makes it Unique?
Taking a Pimsleur lesson daily will get you closer to speaking like a native speaker. With an audio-based learning method, interactive games in its app, and countless languages to learn, Pimsleur is an excellent resource for picking up a new language. Sign up for a free trial to test Pimsleur premium for a week.
Pimsleur App Awards for Less Popular Languages
We awarded Pimsleur app as the best audio style learning app in less popular languages: