Picking up a new language is always easier with a community and relatable course material. With short videos from native speakers and a lot of user-created content, Memrise is the language-learning app for this purpose. It creates an excellent environment for language learners to pick up vocabulary and mimic the pronunciation of native speakers.
If you've struggled with lifeless apps, Memrise will keep you engaged while bringing you closer to becoming fluent in a new language. These are just a few things to mention about Memrise. This detailed Memrise review will walk you through its features, the quality of the lessons, pricing, and more.
A community-run language learning app with a lot of free content
Memrise has a free version with big community and user-created courses in addition to the official lessons. Learning is powered by flashcards, spaced repetition, and AI while covering hobbies to make your language learning relatable. Memrise has countless topical courses to teach languages, from Lord of the Rings to basketball.
⭐ Rating:
8.5

★★★★★

🥇 Available languages:
20+ (see below)
📈 Suits best for:
Novices
🛒 Payment options:
Monthly/Annual/Lifetime
💵 Price:
$8.49 – $119.99
⌚ Hours of lesson time:
70+ per language
🔄 Refund policy:
30-day money-back guarantee on annual plans
🎁 Free Trial:
✔️
Brazilian Portuguese, Chinese (Simplified), Danish, Dutch, French, German, Icelandic, Italian, Japanese, Korean, Mongolian, Norwegian, Polish, Portuguese, Russian, Slovenian, Spanish (Castilian and Mexican), Swedish, Turkish, and Yoruba.
Disclaimer: Lingomee is an independent review site that may benefit from affiliate programs. Buying through our links makes our efforts possible without additional costs to you. Learn more here.
A Quick Look at Memrise
Memrise launched on browsers in 2010, with iOS and Android apps following in 2013. There weren't many language-learning apps then, but Memrise had already built a solid user base. Memrise offers various exercises making learning fun and intuitive. Through these online classes, you can learn different vocabulary by selecting a category, such as travel or shopping.
Memrise doesn't limit the user by locking courses. You don't need to progress and go through the basics to take more advanced lessons. It works well as a placement test. If you already have a foundation in the target language, you can skip the lessons for novice learners.
There is also the option to select the words and phrases you already know. By doing so, you won't see what you already understand, and lessons will be shorter. Overall, Memrise keeps learning a language fun and engaging with native speaker videos and different exercises. Memrise offers all these in a pleasantly designed app. 
Memrise Review: Key Functions
Memrise places language learning in a game-like environment. Most exercises provide new words with their translations. Then you rehearse what you learned by matching the right words and phrases with their correct translation.
Other exercises help to refine your learning experience. You can chat with MemBot or challenge yourself to order coffee on a mission. Learning vocabulary with these exercises is how Memrise teaches you a new language. Here is a more comprehensive breakdown of key Memrise features.
Categorized lessons
Memrise lessons fall into various categories. You can take basics that cover months, numbers, greetings, and more or enroll in lessons under specific cultural topics. Before taking a lesson, you can glimpse into what you will learn. If it isn't aligned with your language learning goals, you can simply skip it. 
There are no requirements to finish previous lessons. So you won't have to bore yourself with what you don't want to learn.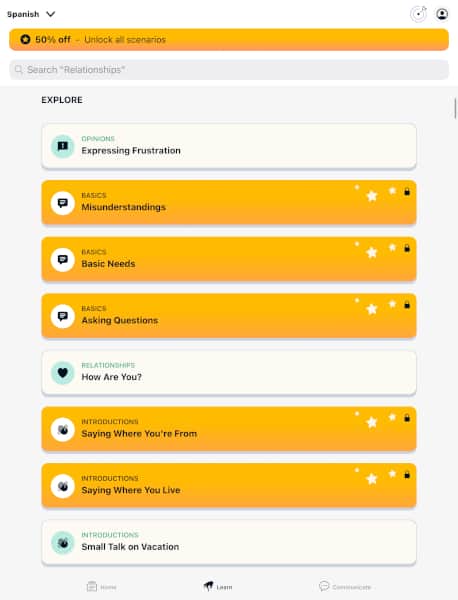 Memrise categorization isn't broad, but the lessons go in-depth. For example, the relationship category covers falling in love, marriage, meeting the family, breaking up, and more. The in-depth coverage is what makes Memrise categories exceptional.
MemBot Chats and Missions
Chatting with native speakers can be intimidating before you get a grip on the language. You can find a fellow language learner, but what you know might not align.
Memrise solves this problem by allowing you to practice with MemBot – a built-in chatbot powered by GPT-3. It sets clear conversations like why dogs or cats are better pets.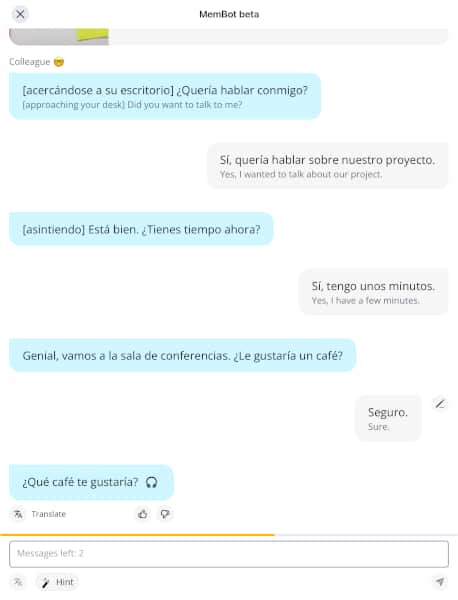 The chatflows at your pace and stays on your level, but conversing with MemBot may feel repetitive or childlike at times. The conversations are quite simple and don't involve complex vocabulary. But this is the perfect conversation partner for novice and lower intermediate learners.
There are also the Memrise missions. These are set in various scenarios that follow distinct conversations. The missions aim to prepare you for real-life situations. Some challenge you to buy a motive ticket, and some ask for book recommendations. The missions keep what you've learned in your long-term memory by employing spaced repetition. 
Review to Retain
After using Memrise for some time, users can review what they've learned throughout all the courses. The review feature is categorized into two: Classic and Speed. It also shows difficult words based on the number of mistakes you make.
Classic Review goes over the material you learned similarly to the lessons. You will see the videos again, type translations, flip flashcards, and so on. 
Speed Review gives you a limited time, and you must select the correct translations for the previously learned words. If you make three incorrect choices, you will need to restart again.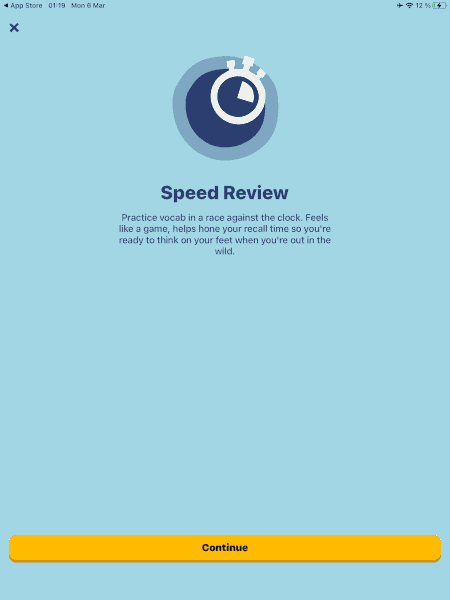 To get the best out of the Classic Review feature, users need to invest time into Memrise. Speed Review, on the other hand, can be taken about ten minutes into a course. Once you learn at least three words in a course, you can use them to improve your memory retention.
User-created Content
The courses users create make Memrise stand out above other language learning programs. There are hundreds of user courses focusing on various subjects. For example, the official Memrise courses walk you through numbers from 1 to 15. If you want to expand on numbers, there are user-created courses that teach you more.
Before trying user-created content, you will see how many people are enrolled in the course and how long it takes to complete it. The user-created courses are engaging, but there's a chance a fellow user may have made a mistake creating the course. Unfortunately, Memrise doesn't uphold the responsibility to review the user-generated courses. 
Native Speaker Videos
For all new words and phrases in Memrise, there is a video of a native speaker pronouncing them. These videos are available in both the free and paid version. These second-long videos make learning vocabulary easy compared to when only audio is used. The videos are also an excellent way to do the listening practice.
Native speaker videos make learning more natural compared to when you only hear someone speak or, even worse, learn from a text-to-speech engine. You actually hear someone pronounce words in real-life scenarios and see the speaker's reactions and facial expressions.
Additionally, Memrise uses the spaced repetition system to help you remember better. New words and phrases appear more frequently, and only audio recordings appear in the exercises. We found it helpful for learning vocabulary, especially for visual learners.
Immerse
The Immerse tab unlocks fun videos based on your progress. These videos measure how well you understand what you learned in the previous lessons. If you are still struggling, there is an option to turn on subtitles in the native and the target language.
The videos unlock once you learn the relevant words. You can also select learn words and finish the practice to unlock the videos. You then watch and test yourself to see if you understood everything. If you didn't, you get to practice the words in the videos on the spot.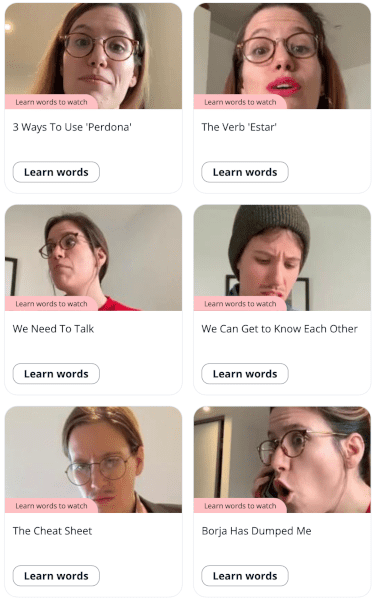 The videos also teach various ways to say something or different ways to use a word or phrase. For example, you can learn different ways to say excuse me in real-life situations.
The Distinction in the Quality of Lessons
Memrise offers a wide variety of teaching materials. It has videos of native speakers, various exercises, user courses, and more. With these features, learning a foreign language becomes fun and versatile. Memrise hosts courses in a user-friendly interface where everything is at your fingers. The instructions are clear, and the videos enhance the learning experience.
Official Memrise courses focus on learning new vocabulary. There are no strict grammar instructions – you pick up grammar as you go. The best thing about the Memrise courses is you can progress at your own pace. All the lessons are unlocked, whether you have a free account or use the premium version.
The app shows grammar explanations throughout the lessons to help beginners. You don't get to practice much, but you will understand the context. For example, the app repeatedly points out that 'el' is masculine and 'la' is feminine in Spanish lessons and gives plenty of examples.
Memrise lessons take about five to ten minutes. Each level takes at least nine hours to finish. Of course, this will be different for advanced learners. Finishing the entire Danish program from Level 1 to 7 took about 70 hours for us. Other popular languages should be of similar length.
Grammar Instruction
The official Memrise courses don't go over a lot of grammar explanations. The main focus is basic vocabulary. You learn grammar as you progress and pick it up naturally, which is great for advanced learners but not so for beginners.
This way of teaching grammar can get you only so far. The grammar lessons offered fall short compared to other language apps. But you can take user generated-courses that touch more on grammar.
Verbal Practice
Memrise has pronunciation practice sessions, but they aren't very advanced. It often detects spoken words incorrectly. It's inadequate for full immersion. So you're left to practice out loud what the instructors say. 
Nevertheless, the exercises for practicing listening skills can also help with improving pronunciation. It limits the user but still covers the scarce verbal practice in the learning process. You watch videos and mark when the actors repeat certain words, for example.
Exercises like this and the audio lessons that improve listening are great for correct pronunciation. The dedicated tool for pronunciation needs improvement, but there are plenty of other ways to help with speaking indirectly.
Reading and Writing
Memrise has various ways to improve reading and writing skills. You get to see how new words are written while you learn them. Over time, you write all that learn using Memrise's keyboard. It only displays the letters from the words and phrases you are learning, which makes it easier for beginners.
The MemBot Chats and Missions also contribute to improving reading and writing skills in your target language. If you make spelling mistakes, the app will inform you by highlighting the correct way to spell in green. The MemBot also gives suggestions and makes corrections for errors.
Memrise provides a comprehensive way to memorize vocabulary with spaced repetition. So you repeatedly read and write the words and phrases you struggle with.
Vocabulary
Teaching new vocabulary is where Memrise shines. It always presents the user with new words and phrases. While doing so, the app keeps track of what you learned in the background. Memrise prompts previous materials with spaced repetition to ensure everything stays in your long-term memory, from individual words to complex sentences.
Spaced repetition isn't unique to this language-learning app. Many other apps also utilize spaced repetition systems to teach new vocabulary. Memrise stands out by incorporating videos that enrich the language learning content. You see how actors pronounce different words in their native language. 
These features make Memrise one of the best language-learning programs to expand your vocabulary.
Repetitiveness
As with similar language learning applications, you will repeat words and phrases with Memrise. Once you get through the first few official Memrise lessons, you will be challenged constantly. It will take an hour or two, but once you progress, the words will start to stick.
You also have a selection of different exercises in many languages to break the monotony with Memrise. If one lesson is boring, you can jump to another, complete missions, or chat with the MemBot. 
Memrise focuses on providing an entertaining learning experience. You aren't bound to repeat or take the same online classes over and over. Multiple exercises go beyond the typical lessons. 
Memrise App Awards in Less Popular Languages
By doing our language learning apps research, we find out that Memrise is perfect option to learn less popular languages on a low budget. These languages include:
Memrise Review: User Friendliness
The Memrise app is pleasing to look at with light colors and buttons relevant to what you're learning. There are no distractions. Only what you're learning and the choices you are presented with to finish lessons.
The user interface is clean and easy to navigate. It only takes a few minutes to get accustomed to using the app. The lessons are in one section, the exercises in another.
The loading times are quick despite the countless videos in every language. The learning experience doesn't slow down with the app. The Memrise app is smooth and fast, even when the lessons change from audio to video or from writing to reading long sentences.
What Should Be Upgraded?
Memrise offers various ways to improve vocabulary. It's perfect if you want to get the basics. But not so much for learners looking for a comprehensive tool as it lacks exercises for practicing pronunciation and speaking skills.
The grammar explanations aren't extensive and only touch on the fundamentals. When learning a language with simple grammar rules, this doesn't pose challenges but some other languages, like Japanese, need more grammar explanations. You might notice your other skills improving more than grammar understanding.
Memrise courses could have utilized more grammar explanations to teach how to form complex sentences. Still, user-generated content is handy and covers much of what official Memrise lessons lack.
The materials dedicated to speech aren't on par with the competition. You will have to turn to a language-learning community or other apps for verbal practice. 
Additionally, the user-generated courses aren't visible on mobile. You must select them on the browser first to take these courses. The app could do better if it had a way to browse user courses on mobile.
Memrise Alternatives & Competitors
Memrise vs Mosalingua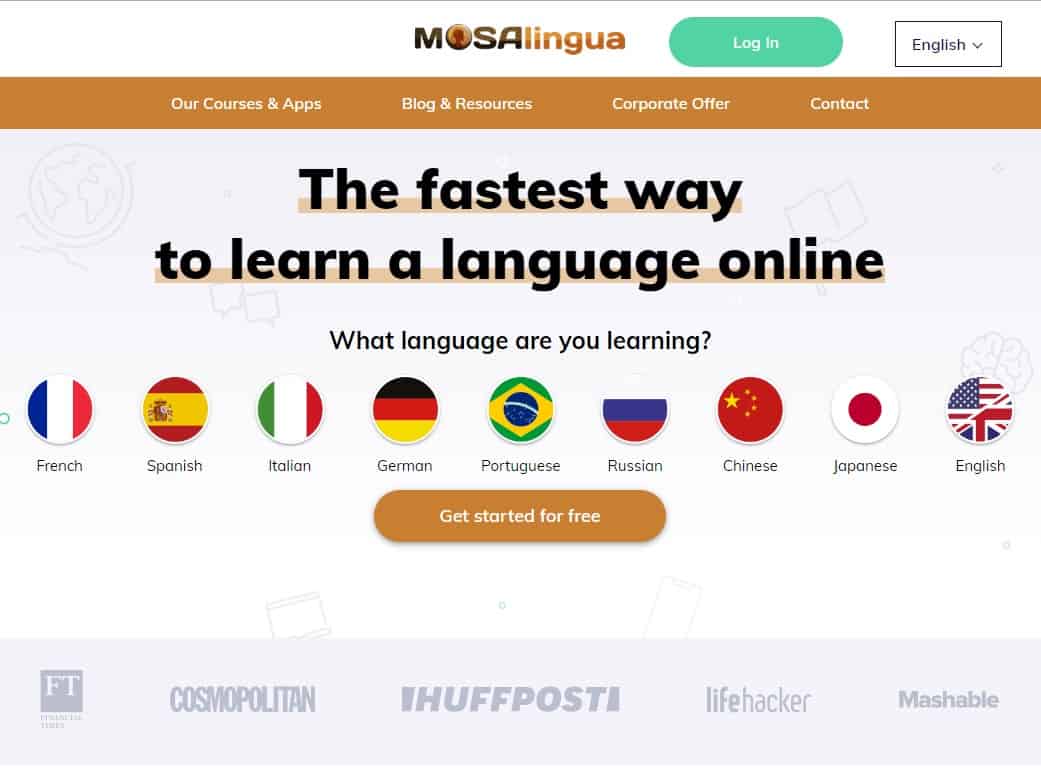 MosaLingua focuses on spaced repetition and uses a 20/80 approach when teaching vocabulary and grammar. It includes flashcard decks, a large vocabulary, review tools, and more. We found it quite similar to Memrise but a bit better at teaching cultural aspects. You can read my MosaLingua review for more information.
Memrise vs Drops App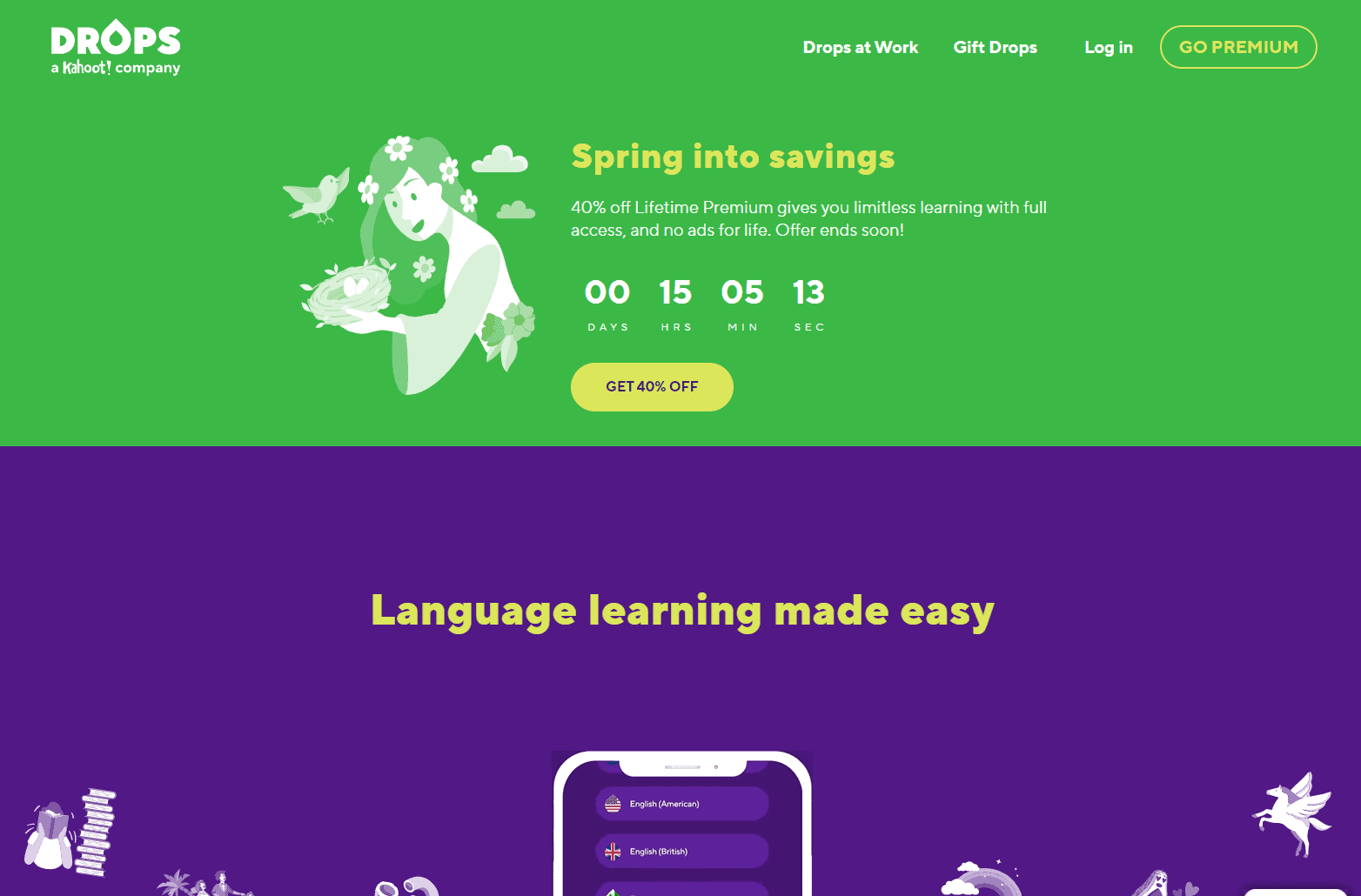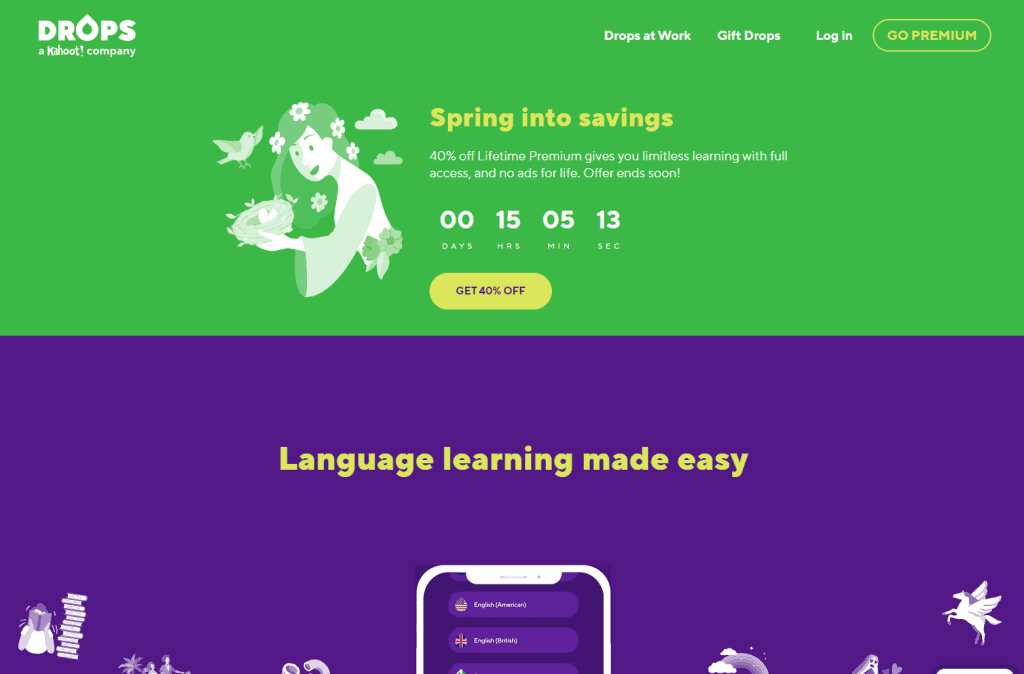 Drops is one of the best apps to expand your vocabulary. It has great tools powered by AI and spaced repetition. Memrise is quite similar in many aspects, but we found the Drops app vocabulary lists to be larger. However, Memrise adopts slightly better memorization techniques. Check my Drops app review here.
Memrise vs FluentU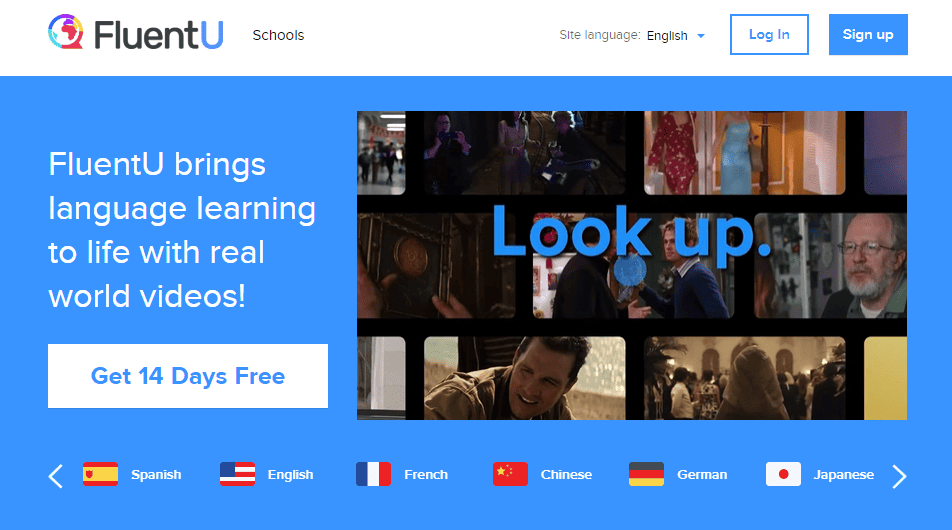 FluentU also relies on flashcards to help students memorize new words and phrases. However, its main benefit is the large video library exposing you to a new language. If you need a more engaging way to get word context than in Memrise, find more information in our FluentU review.
Memrise Costs
Memrise offers different payment options for the paid version. You can sign up for Memrise Pro by paying $8.49 monthly or choose the annual plan at $59.99. There is also a lifetime membership for $119.99. 
Once you get the paid subscription, you will have access to everything on Memrise, including the content created by the community. Memrise Pro unlocks all the premium online classes for all the language pairs. 
| | | |
| --- | --- | --- |
| Subscription | Price | Payment |
| 1 Month | $8.49 | Monthly payment of $8.49 |
| Annual | $49.99 | Yearly payment of $49.99 (currently off 50%) |
| Lifetime | $99.99 | One-time payment |
The premium subscription is the same regardless of how you pay. There won't be ads to distract you from learning a new language. You unlock the premium Memrise courses that aren't available in the free version and have access to all the languages.
Free Trial
When you sign up to Memrise, you get a free account with some free resources available. However, we found that after a week of use, these resources feel limited as some scenarios are limited. Still, it is a great free trial to test the app.
Memrise Coupons and Discounts
Memrise constantly offers discounts for the annual and monthly premium subscription. The annual membership is currently 50% off for 10,000 learners. Memrise also offers discounts on special occasions. It's a good idea to use the free version and watch for Christmas, Halloween, and other deals year-round.
Refund Policy
Memrise has a 30-day money-back guarantee on annual plans. You can request a refund within 14 days of your purchase for the monthly subscription. As long as you request a refund on time, you can get it if you don't find Memrise useful for your language learning goals.
To request a refund, go to the premium version page and select refunds. If you subscribed for Memrise pro via App Store, you must request a refund through Apple or Google, not Memrise.
Memrise Pricing Compared to Competition
The annual plan for Memrise Pro is well below the competition at $59.99 (currently 50% off). It has plenty of exercises, native speaker videos, and a fun learning environment. 
Memrise is less costly when compared to Duolingo ($83.99) and Rosetta Stone ($95.88), for example. Even the full price of Memrise is less expensive than similar language learning apps. All of them should be paired with additional resources to achieve fluency. So, going with Memrise app is a cheaper investment with similar results. 
Memrise Evaluations from Other Customers
Google Play Store – 4.6 (10M+ downloads)
Apple App store – 4.8 (200K ratings)
G2 – 4.6
Trustpilot – 3.0
Memrise Review: Client Support
On the contact page, Memrise directs users to the FAQ section or the community forum. The FAQ section covers many of the common issues Memrise users experience. The forum is a great place to see help if you need more details about your target language. 
Unfortunately, Memrise doesn't have a live chat or a phone number to call. If you're having unanswered problems, reach out to Memrise via email. The response times are fairly quick, but in some cases, it can take several days to get a reply.
Memrise Review: What Separates it from Others?
Many language-learning apps work the same as Memrise. They use flashcards to teach vocabulary and make you repeat everything learned. The videos from native speakers and engaging learning content separate Memrise from others. It's enjoyable to learn a new language with Memrise, and it never gets boring.