We don't usually consider binge-watching TV something productive. There's a feeling of guilt involved as if spending time elsewhere is better. But you can learn languages through shows and movies without sacrificing your binge-watching habits. Lingopie is an on-demand video platform that does just that.
Immersing yourself in real-life native content is great for language learning. It fits different learning methods as you hear, read, and pronounce words concurrently. The concept is promising and fun, but is it enough to learn a language? Lingopie has the answer.
A binge-worthy language immersion method but mostly for advanced learners
Lingopie is a full-fledged TV learning experience. Their extensive library of original content comes in a neat user interface with quality subtitles. Memorization is ensured with a couple of review options, while a great community and private tutoring service will keep you engaged.
⭐ Rating:
8.3

★★★★★

🥇 Available languages:
9 (see below)
📈 Suits best for:
Intermediate and advanced learners
🛒 Payment options:
3 Months/12 Months/Lifetime
💵 Price:
$12 – $199
⌚ Hours of lesson time:
1000+
🔄 Refund policy:
7-day money-back guarantee
🎁 Free Trial:
✔️
Spanish, French, German, Italian, Russian, Portuguese, Japanese, Korean, English
Disclaimer: Lingomee is an independent review site that may benefit from affiliate programs. Buying through our links makes our efforts possible without additional costs to you. Learn more here.
Quick Overview of Lingopie
Lingopie wasn't the first to adapt TV for language learning in 2019. People acquired new vocabulary from cable TV years before any popular language-learning apps. But it was ineffective, as you needed subtitles, a dictionary, a pause button, and some flashcards for review.
Lingopie personalizes all of it so you could learn while watching videos faster. It accounts for your native language, fluency level, goal, and time you plan to spend. Language learning with Lingopie is contextual, so these adjustments are essential. Although, a placement test would be better.
The whole feel of Lingopie resembles Netflix more than a language learning app. It doesn't have a course structure, and the practice tab isn't at the forefront of its design. Instead, you find an extensive library of TV shows and movies on the main screen.
Unlike other language learning programs, you don't feel like learning, and this is intentional. The aim is to immerse you into the target language by providing binge-worthy content native speakers would watch too. Better understanding and memorization of words come naturally.
Popular languages on Lingopie:
Lingopie Main Features
The features of Lingopie stand out from other language apps and can be categorized into two parts. The main features relate to the Lingopie library and how you can personalize this foreign language content. Advanced features include methods for practicing new words to memorize them.
The language learning program doesn't limit access to any features. Instead, you must filter everything by different dialects, genres, and language skills. Beginner language learners might get overwhelmed, but experience in your target language and other streaming services helps.
TV Shows And Movies
Language-learning journey with Lingopie is filled with a variety of authentic international content. You can choose different categories – from travel, documentaries, and instructional videos to action, thrillers, and telenovelas. A whole separate tab is dedicated to content for kids with its own subcategories.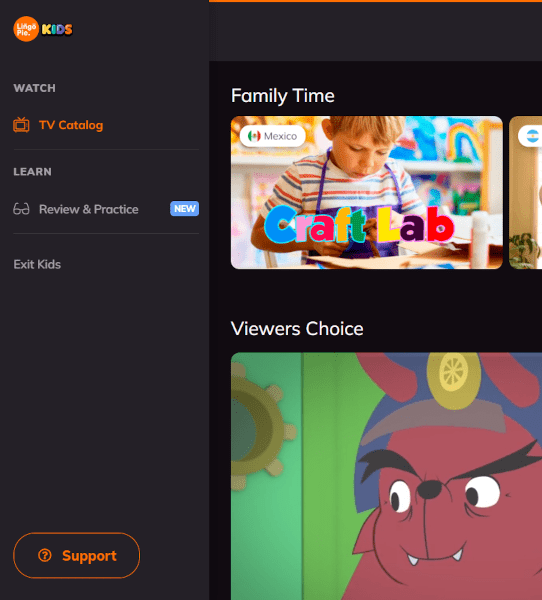 You can watch TV shows and movies for hundreds of hours with Lingopie. However, don't expect to find any Hollywood blockbusters in the Lingopie library. Most of the content is original to this video platform or made by indie studios.
That's not to say it isn't entertaining. When it comes to learning languages, the content of Lingopie is as entertaining as it gets. In addition, the suggestions algorithm works quite well after watching just a few episodes.
Unfortunately, there's a noticeable difference in the number of shows and movies between various languages. There is plenty of content if you want to learn Spanish or use Lingopie German. Other languages do not have that many options, especially Korean and Japanese.
Audio Content
Podcasts, audiobooks, and music categories deserve a separate mention. If you use the language app, you can listen to them on the go. It is quite useful for rehearsing material and sharpening your language skills. However, the same language learning technique is used, and you must read subtitles for explanations.
The range of choices is quite diverse, but as with videos, the options vary between languages. Most audio content is for European languages, and the music tab is available only for French, Spanish, German, and Italian. Hopefully, more languages will be added in the future.
Subtitles And Transcripts
The subtitle system is the cornerstone of language learning in Lingopie. Dual subtitles with both target and native language dialogue will be best for most language learners. But Lingopie can also display only target language or English subtitles. A third option, called the mashup, shows only one target language word per line.
Transcripts are a similar feature showing the whole dialogue on the right side of the screen while you watch videos. Conveniently, it allows fast-forwarding and rewinding the video according to the lines spoken.
Every term in subtitles and transcripts is clickable, which allows you to save words in the review and practice tab. From there, you can access exercises and find the pronunciation and translation of the words.
Playback Settings
Watching videos on Lingopie can be easily personalized with the playback features. You can control playback speed to 0.5, 0.75, 0.8, 0.9, and full speed. Each level corresponds to your proficiency in the foreign language, which is effective for tracking progress.
A few more advanced playback speed features include: 
"Play on a loop" helps language learners practice comprehension.
"Say it" to record your voice and compare it with the exact pronunciation generated by a text-to-speech engine.
"Words to learn" shows a list of words selected by the Lingopie team before an episode starts.
Review and Practice
Flashcards are the main feature for reviewing every new and unfamiliar word while watching videos on Lingopie. After you click on them in the subtitles, they appear in your flashcard deck. It can be accessed at any time, and once you learn a new language word, it will disappear. 
However, a more advanced algorithm with spaced repetition principles is needed. Other language learning apps, such as Yabla, Busuu, or Drops app have such features. It is somewhat compensated by the other two features.
Word master asks language learners to match new language words with English words. The pop quiz is a multiple-choice exercise where you need to choose the correct translation. You can set it to appear every five words automatically.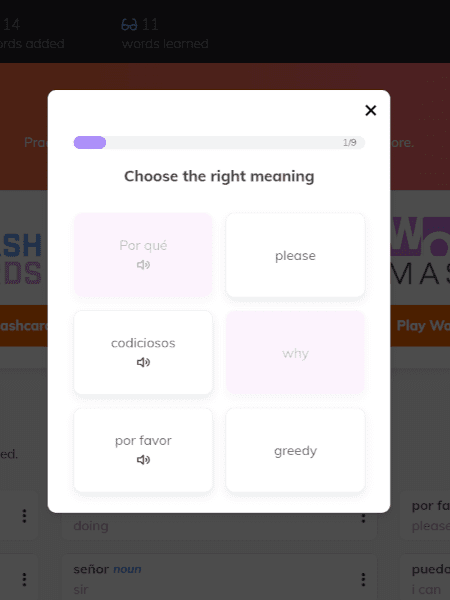 1-on-1 Private Tutoring
Lingopie has gathered a large community of tutors that can help you improve in foreign languages. Every teacher is manually verified and approved by the Lingopie team. The prices are affordable as the platform doesn't charge instructors any additional fees.
It's a promising feature but compared to what other apps offer, the choice of lectures is still quite poor. If private tutoring is what you need, consider italki, Rosetta Stone, or Babbel.
TV Lexicon
The video dictionary is a unique feature that makes Lingopie stand out. It is a searchable collection of short videos with phrases used in multiple languages. When you type a word in your target language, you get videos of its usage. It's great for learning the context of new or unknown words.
Lessons Quality
It's hard to say that binging on TV series can be considered a lesson in a traditional sense. Nevertheless, Lingopie does a great job introducing new words through language immersion and review exercises.
There's a staggering amount of content in Lingopie. You can watch videos for hundreds of hours and then get into fifteen-minute-long practice sessions. The progress depends on what level you start using Lingopie, but generally, advanced learners will start watching simple TV series without native subtitles in about half a year.
Lingopie isn't suitable for beginners as they can get stuck watching tv series without progressing. There are no grammar explanations or writing practice as this language learning app is focused on reading, listening, speaking, and acquiring new vocabulary.
Translations
We haven't found any major inaccuracies in the translations provided by Lingopie. English subtitles are carefully selected, with only a few literal translations here and there. Beginner language learners might still get confused by them, but if you are already advanced, there is nothing to worry about.
Verbal Practice
Improving listening comprehension is a strong point of Lingopie as it constantly exposes you to native speakers, and some languages allow choosing different dialects. However, we can't say the same about speaking practice. 
There is no review for speaking tasks and no speech recognition engine to give feedback on your pronunciation. The text-to-speech pronunciations can be confusing if you never tried speaking the target language before.
Reading
Lingopie improves reading comprehension together with listening skills. When you hear native speakers and read subtitles, the words are memorized faster. Transcriptions help you to dive further into reading, which is exceptionally good with audiobooks.
Reading known books in a foreign language is a proven language-learning method. Lingopie takes it a step further with pronunciations by native language speakers and translating every unfamiliar word. Overall, Lingopie is great for reading practice.
Vocabulary
Lingopie is so good at improving your language comprehension skills because of the large vocabulary you can acquire. We haven't found a word on any TV shows in Lingopie that can't be added to flashcards for practice. However, the translations and explanations of new vocabulary fall a bit short.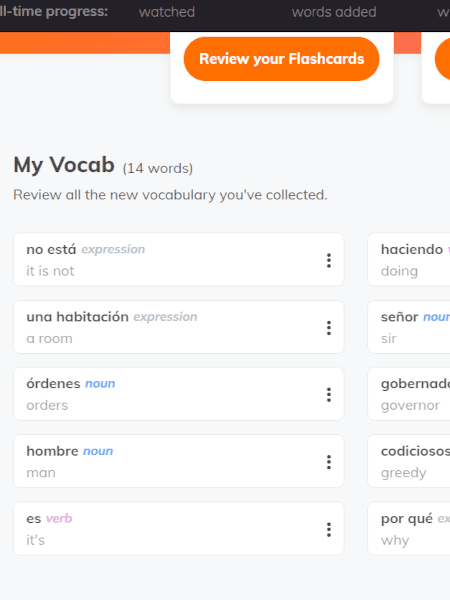 The method of Lingopie is to teach new words from the context. Beginners might struggle with such an approach and need other resources. But if you already know the basics of the foreign language, most words will be clear from the context alone.
Repetitiveness
Lingopie is an exceptionally engaging and fun platform to learn languages. It isn't repetitive, even if you re-watch the same TV shows to understand them better. Additionally, there are thousands of hours of different TV shows to watch.
Of course, using flashcards for review can get boring, but the language learning program doesn't force it. You can choose how much practice you want to do on your own. Lingopie community forums and the leaderboard will motivate you to study more.
Lingopie Review: Ease of Use
It's clear the designers of Lingopie looked more into Netflix than other language-learning apps. The main dashboard has a selection of TV shows with learning features placed in the menu. The color choice is dark, and other interface decisions promise entertainment more than education.
All TV series and movies have descriptions and other information you need to start watching. Somewhat inconveniently, you must click on each video before you can see its length, episode count, and for what level it is. The filtering function helps to solve most of these problems. 
There are some loading screens before videos play, but nothing to ruin the binge-watching. Lingopie's website is a bit faster and more enjoyable due to a larger screen on a desktop. However, apps also work with Chromecast and Apple Airplay for streaming to your TV.
What Could Be Improved?
More content between different languages is the most noticeable drawback of Lingopie. Those who learn Spanish will have an abundance of content to binge-watch. Other languages, such as Japanese, are limited to mostly instructional videos.
More native language choices would allow learning two languages at once. For example, you could switch the interface to Spanish and watch German content. Now, Spanish selections are limited to learn Italian, English, and French. Most other languages are not available at all.
Speaking review and speech recognition software is really missing from Lingopie. It would add a lot of value for language learners as there isn't any feedback for verbal practice, and you must rely on other resources.
A native app for TVs would be a huge plus. While Chromecast and Apple Airplay are available, many popular TVs do not support them.
Alternatives and Competitors
Lingopie vs Yabla
Similar to Lingopie, Yabla is a language app teaching with native language videos. Which one is more engaging is debatable, but Yabla has more videos and exercises. However, Lingopie is a bit cheaper and includes more languages in the subscription. Yabla asks to pay for each language separately. Read more in this Yabla review.
Lingopie vs Babbel
Lingopie aims to immerse you into the target language, while Babbel can help beginners to take the first steps. If you are not yet ready for language immersion, consider starting with Babbel. It is a full language learning program, after which you can safely jump into the native content of Lingopie. You can read more in this Babbel review.
Lingopie vs FluentU
FluentU is one of the closest Lingopie alternatives. The only differences are shorter videos, the Chinese language, and a bit more exercises. However, Lingopie is much cheaper and better for those who expect a Netflix-like experience. We recommend trying out Lingopie first and moving to FluentU once you run out of what to watch. You find more information in this FluentU review.
Lingopie Pricing
Schools can get customer pricing by contacting Lingopie via email. How much can Lingopie cost for individual users is shown below.
| | | |
| --- | --- | --- |
| Subscription | Price | Payment |
| 3 Months | $12 | One charge of $36 |
| 12 Months | $5.99 | One charge of  $71.88 |
| Family plan (4 accounts) | $8.25 | One charge of  $99 |
| Lifetime | $199 | One charge of  $199 |
Free Trial
The Lingopie website promotes a trial of seven days. However, you first must register and authorize your payment card. Lingopie alternatives, including Yabla and FluentU, have a more user-friendly approach. Still, the Lingopie free trial is worth trying, as the money returns once you cancel the subscription.
Lingopie Coupons and Discounts
Lingopie offers deals on standard dates such as New Year's and Black Friday. Some discounts can significantly lower the price of this language-learning app, including the lifetime subscription cost. Additionally, Lingopie has a refer-a-friend program where you can get one month for free by inviting new language learners to the platform.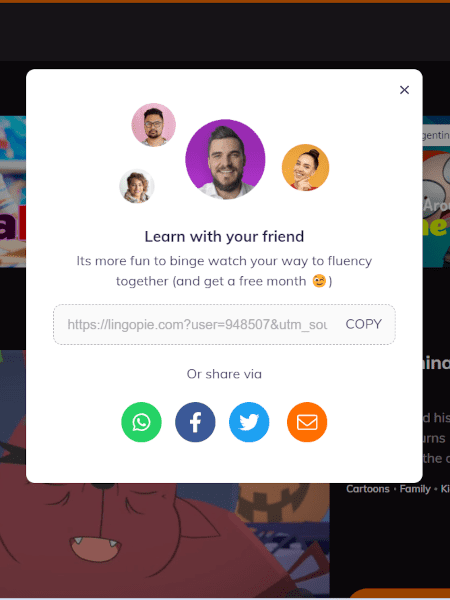 Refund Policy
You can get a full refund only if you cancel your Lingopie subscription during the free trial. After that, you won't be eligible for refunds according to the terms of service. If your card is already charged, the cancelation will only stop the following payments.
Lingopie Pricing Compared to Competition
Lingopie is a great value for the money when you consider all its features. Compared to other apps, Lingopie is priced in the middle. For cheaper options you can try MosaLingua, but the lifetime subscription on Lingopie is an exceptional bargain if you plan on learning languages for a longer and a few at a time. There will be enough content for at least a year if you are learning Spanish, German, or French.
Unfortunately, other languages lack the same amount of content. So if you aim to learn Japanese or Chinese, FluentU or Yabla might be better options. However, Lingopie is significantly cheaper than these alternatives. So it's a good idea to start learning languages with Lingopie at first.
Lingopie Ratings from Around the Web
Google Play Store – 4.6 (100k+ downloads)
Apple App store – 4.2 (558 ratings)
Trustpilot – 4.7
Lingopie Review: Customer Support 
Lingopie supports its customers with a well-designed pop-up window answering the most frequently asked questions. Their support page and blog also have many articles covering relevant topics. 
Unfortunately, there is no chat option, and you cannot speak to a representative instantaneously. Instead, there is an email form suggesting that you should expect an answer in a couple of hours. While it took a bit longer in our case, Lingopie's response time is still quite fast.
Conclusion
In summary, Lingopie is a great tool to immerse yourself in a foreign language. The Netflix-like user interface and a variety of video content will keep most advanced learners engaged for a long time. Unfortunately, it is unfit for beginners and has a confusing refund policy, which keeps it unappreciated in the language-learning world.