Immersing yourself in a foreign language is an effective method to learn it. While many language-learning apps accomplish this in different ways, FluentU does it in a fun way without skipping rigorous explanations.
FluentU is a language-learning app with a few minutes long authentic videos, transforming the language courses into sessions into a bite-size experience. While the videos provide an immersive learning experience, the quizzes cover detailed information. In each quiz, you learn more about the words and phrases covered – how to use grammar and pronounce them.
With all these, FluentU provides an immersive and practical language learning process. It works wonders for learners looking for engaging yet exhaustive language learning sessions, especially for visual learners.
In this FluentU review, we'll cover the app's ins and outs to determine if it's the right language-learning tool for your goals.
An immersive learning experience through authentic videos
The FluentU app has thousands of videos in its extensive library. The video lessons are based on different types of content, ranging from music videos to movie scenes. The interactive captions, detailed quizzes, and exposure to different accents immerse users into the target language, providing a practical learning experience.
⭐ Rating:
8.3

★★★★★

🥇 Available languages:
10
📈 Suits best for:
Novice, Intermediates and Advanced learners
🛒 Payment options:
Monthly/Yearly
💵 Price:
$29.99 – $143.99
⌚ Hours of lesson time:
1000+
🔄 Refund policy:
20-day money-back guarantee
🎁 Free Trial:
✔️
Chinese, French, German, Italian, Japanese, Korean, Portuguese, Russian, Spanish, and English for Spanish, Japanese, and Korean.
Disclaimer: Lingomee is an independent review site that may benefit from affiliate programs. Buying through our links makes our efforts possible without additional costs to you. Learn more here.
A Brief Overview of FluentU
FluentU's main selling point is real-world videos that teach a new language from context. The videos have interactive and bilingual subtitles introducing you to new words and phrases. You can pause the video and click on the caption to see the full definition of the word, along with example sentences, images, and audio clips.
Before diving into what the video lessons cover, you can take a quick placement. It's essentially a quiz that detects the words you know. The placement test makes it easier to find video lessons for your level as it eliminates the ones containing what you don't need to study.
Despite your current level, you can access all of the video content on FluentU. The videos are categorized based on level and topic. You can use the search function and browse through them to learn a particular subject, such as everyday life or culture. Language learners also have the option to look for videos that mention specific grammar explanations.
FluentU videos are followed by quizzes that work as practice exercises. They usually cover the previously learned content from video clips. There is also a spaced repetition system in place to help with memorization.
As you learn through these videos, FluentU prepares a personalized list of new words. Users also have the option to create their custom vocabulary lists. These lists work similarly to flashcard decks but also feature speaking practice, second-long videos, and fill-in-the-blank exercises.
FluentU also has a structured beginner course that features audio lessons. It can be a good starter for learners looking for direction in the early stages of learning a language.
Recommended languages:
FluentU Primary Features
FleuntU uses an extensive video library but has more than that to help you learn a new language. The app works in the background constantly to fine-tune your learning experience. 
There is a spaced repetition system in place to help remember. FluentU calls it the spaced recognition learning system, which aims to help users review new words as productively as possible. 
With custom lists to learn vocabulary, various quizzes, and many other features, FluentU is a versatile language-learning tool. But our FluentU review would be incomplete without a deeper look into how these features help in the language learning journey.
Extensive Video Library
With over a thousand videos for most FluentU languages, users can dive deep into their target language. The videos range from movie scenes to music videos to news coverage. The variety in the video library keeps learners entertained and showcases different pronunciations and expressions.
The videos are divided by level and cover just about every topic. You can search for specific words or categories, such as real-life conversations or business. The videos aren't locked based on progression. You can learn from any video, allowing advanced learners to skip ahead while providing beginner and intermediate learners a chance to review content.
All the videos come with interactive captions that provide definitions, example sentences, audio clips, and images. If you don't understand a word from watching videos, click on it to learn more. You can also change playback speed, loop videos, or add words directly to your custom vocabulary list.
Gamified Learning
FluentU focuses heavily on engagement by providing a gamified learning experience. The app incorporates different game-like elements to keep the language learning process motivating.
It has daily streaks, coins, and progress tracking. You can spend earned coins to take quizzes immediately instead of finishing the video lessons first. The user profile shows the words and captions learned throughout the lessons and daily streak.
FluentU exercises are also quite gamified. Some words and phrases come with short video clips or images, and you give answers by selecting from a word or letter bank. These add to the engagement of the video lessons, making learning even more lighthearted.
Tracking System
FluentU keeps track of your progress from the very first audio and video lessons. The app does this in several ways.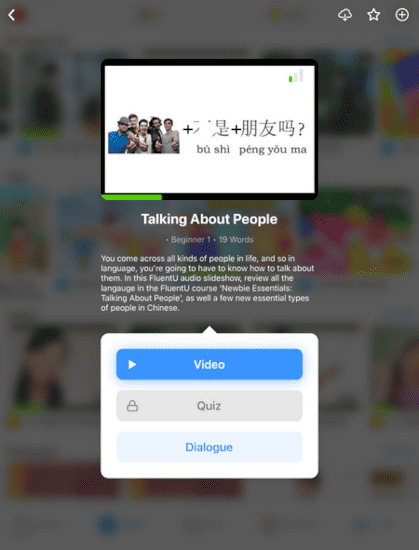 FluentU counts the number of words and captions learned in your language journey. It also remembers your mistakes and prompts them in various ways. For example, the FluentU app asks you to spell words later when you mistake them from a word bank.
Under every video, you see a green bar indicating how much of the video content covered you already know. This feature works well when you want to focus on a specific topic and look for videos that will teach you more about the new language. 
Personalized Learning
FluentU offers ways to personalize the content you interact with. You can create custom playlists of videos and custom flashcard decks. The FluentU app compiles a custom exercise of the words you're ready to review, currently learning, and marked as already known.
Since the app tracks your progress, custom exercises complement how you can personalize your learning experience. You can create custom exercises that feature words and phrases handy on your next trip or to impress friends.
With these features and searchable videos, you can create entirely personalized practices that put your focus on the language skills you want to improve.
Beginner course
Some may find the FluentU video library disorganized, but it's compensated for by the beginner course. It provides a more structured approach to any one language. The beginner course is available for Chinese, French, German, Japanese, and Spanish learners.
FluentU's beginner course is similar to all other courses, but it doesn't rely on video lessons so much. You mostly learn through audio clips, example sentences, and grammar explanations. The beginner course falls into units covering just about every topic, such as introducing yourself, grammar, and ordering food.
All the content in the beginner course is unlocked. You aren't forced to finish some language courses before learning a new topic. Like learning from the videos, you can jump into future lessons. The difference is this structured learning is tailored specifically for beginners.
Custom Flashcard Decks
FluentU compiles the words you should review and has learned into flashcard decks, but you can also create your own custom flashcard decks.
Whether you're learning from the video content, audio lessons, or taking a beginner course, you can add any word to a custom deck. There isn't a limit on how many custom flashcard decks you can create. You can compile words to learn for your language learning goals, like how to order foods, ask native speakers how they are, etc.
The ability to customize flashcard decks helps with vocabulary acquisition, where it becomes easier to target specific words. It's a helpful tool for beginner and intermediate learners targeting specific phrases.
Excellence of The Learning Material
FluentU focuses on teaching its users by immersion in the target language with authentic videos. You watch real-world videos that show how native speakers use their language. This teaching approach exposes learners to the language in a contextualized way.
While immersion through real-world videos certainly helps, FluentU breaks each video into short language lessons. For every word and phrase in the video, there's an interactive caption that provides in-depth detail. You see the definition of words, example sentences, pronunciation, and grammar usage. After the videos, you practice what you learned with quizzes.
Each quiz takes about ten to fifteen minutes. The instructions are straightforward. You select words from a word bank to complete phrases and translate them into your native language, spell, and pronounce them. 
With all these, users get over a hundred hours of study time. Going from the first level of beginner to the last of advanced can take months with so much video content and quizzes. 
Overall, teaching material relies on video lessons and quizzes. However, during app testing we found that the reading, writing, speaking, and grammar skills acquired from these vary as the exercises don't cover everything equally.
Grammar Instruction
FluentU offers grammar explanations throughout the videos contextually. While this helps pick up grammar as you go, it won't be enough for most learners. The creators know this and provide some more comprehensive courses. When you click on an adjective, verb, noun, or any other language part, the FluentU app shows the definition and detailed explanations.
These grammar explanations come with example sentences to help users understand grammatical concepts. The grammar exercises are a part of the quizzes, which appear occasionally. Users should take notes from detailed explanations to build a solid grammar foundation.
This way of learning grammar works in favor of language learners that want to learn languages with simple grammar from context. We found it works really well with Mandarin Chinese. For languages with challenging grammar structures, it's best to pair FluentU with another tool.
Verbal Practice
FluentU doesn't have comprehensive exercises to practice pronunciation and intonation. Still, the app asks the users to pronounce words and phrases throughout the quizzes. While this helps with some speaking, the app isn't very accurate. This is because FluentU doesn't use speech recognition technology. Therefore, you don't get much feedback on your pronunciation.
Although there isn't a feature to practice conversation skills, you watch native speakers constantly. By listening to native speakers, you can copy their mimics and expressions as you learn. 
Whether you learn with videos or by taking the beginner course, you're constantly hearing how the words and phrases are pronounced, which helps with speaking and listening comprehension to a degree. Nevertheless, this is often not enough to build conversational skills. Like advancing grammar, it's best to pair FluentU with another tool to improve speaking skills. 
Reading
FluentU puts a big emphasis on reading. It features detailed captions and bilingual subtitles you can interact with to learn more about new words or see their grammar explanations. The app makes you follow the subtitles to understand the context better. It improves reading comprehension while exposing language learners to different sentence structures.
While this helps understand short passages, FluentU exercises don't cover large reading materials. The reading-focused practices benefit beginner and intermediate learners, but those advancing in the target language may need larger reading materials.
Writing
FluentU doesn't offer much writing practice. The only exercise closest to it is selecting individual letters to form words and phrases. These usually occur when you make multiple mistakes while forming phrases or sentences from a word bank. The spaced repetition system focuses on these phrases, asking you to structure phrases letter by letter.
You can improve your speaking or writing skills a bit through grammar practices, vocabulary building, and reading comprehension, but FluentU doesn't offer much writing practice. FluentU users who want to focus on writing should use additional language-learning apps, such as Drops or lingQ.
Vocabulary
FluentU shows how many words the user knows before watching a video or starting a unit in the beginner course. With this feature, you can branch out from what you already know to learn vocabulary. This makes learning new words much more effective than plunging yourself into entirely unfamiliar words – something that not many language-learning apps offer.
The custom flashcard decks and searching videos to learn a category take this further and allow users to focus on what they want. These tools to build vocabulary help users learn a language for a specific goal. 
Repetitiveness
FluentU has thousands of native speaker videos with different topics and variety. You can watch news stories, interviews, movie scenes, music videos, and more. The diversity in the videos maintains an entertaining learning environment.
Although the language learning programs that use spaced repetition feel repetitive initially, FluentU doesn't. You can mix what you're learning by watching videos that cover different topics. You can then bring everything together using the review feature.
FluentU Competitors and Alternatives
FluentU vs Lingopie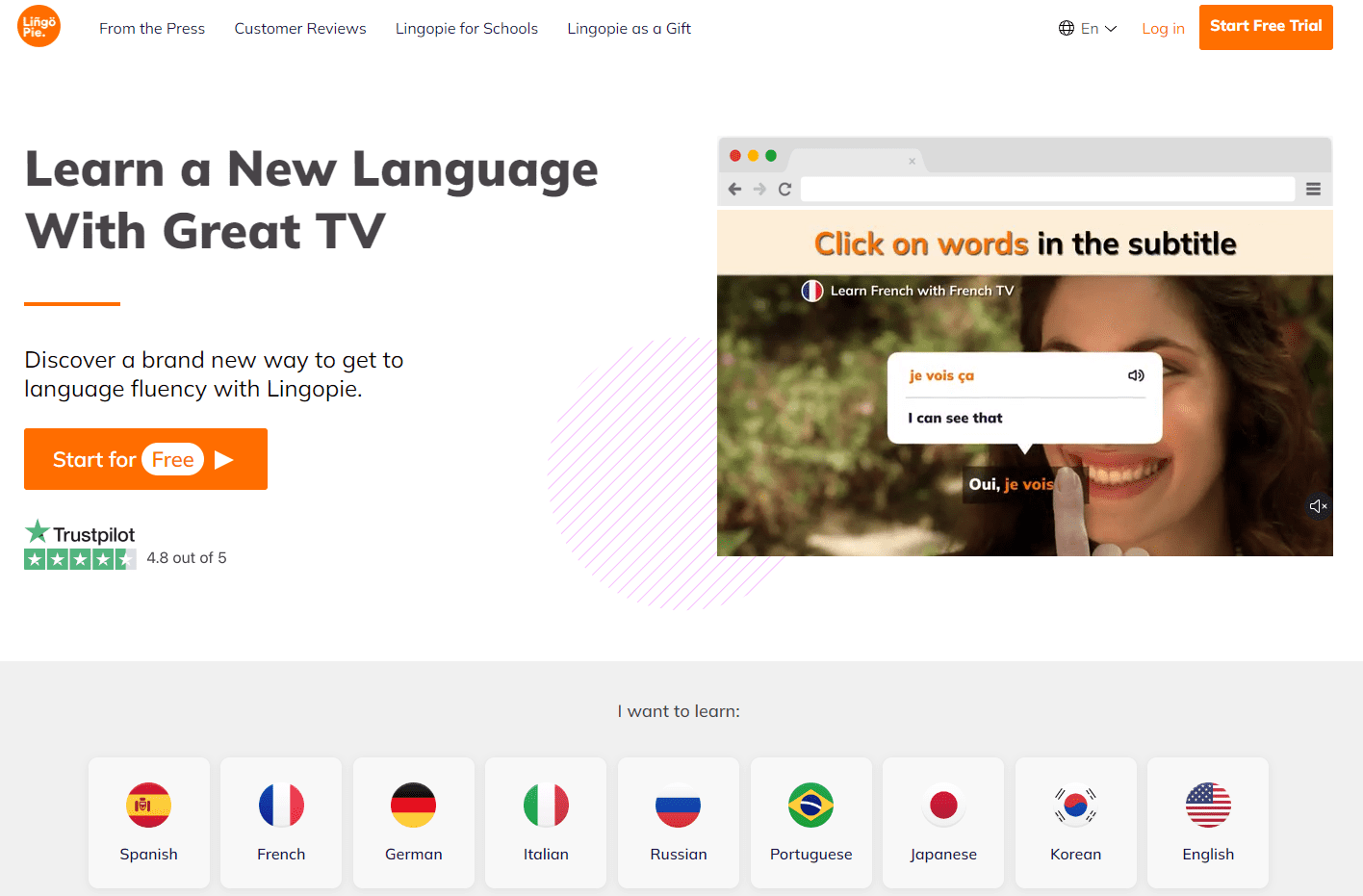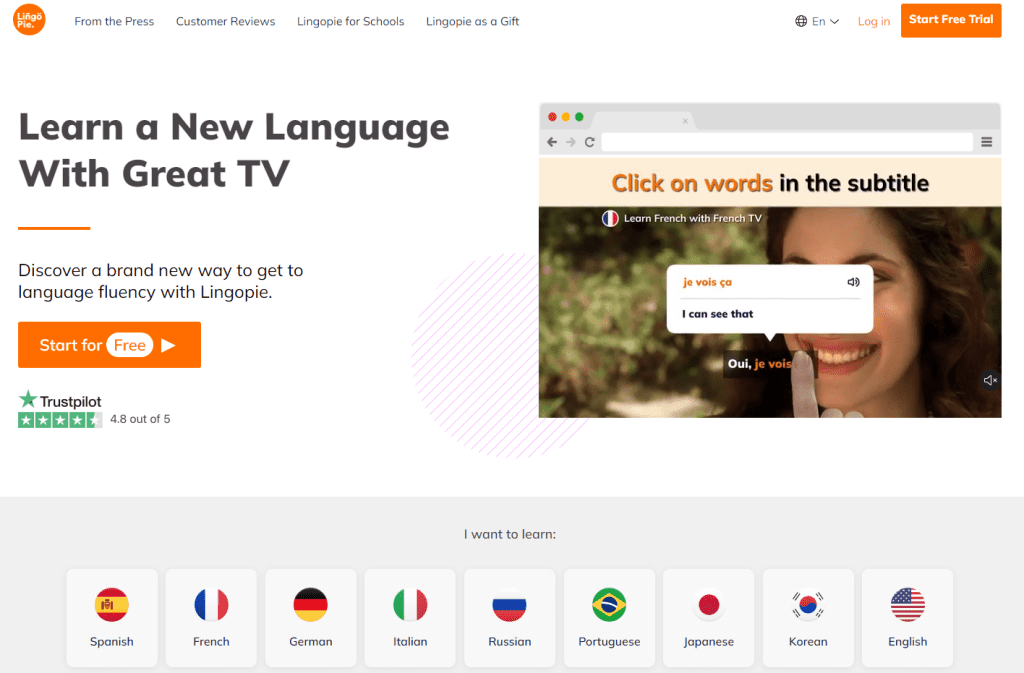 Lingopie gives you a chance to effortlessly learn a language by binge-watching TV. It's a similar alternative to FluentU, but its videos are longer, and the whole feel resembles Netflix more. Overall, both options are of similar quality, but Lingopie is a bit cheaper. Find more information in this full Lingopie review.
FluentU vs Drops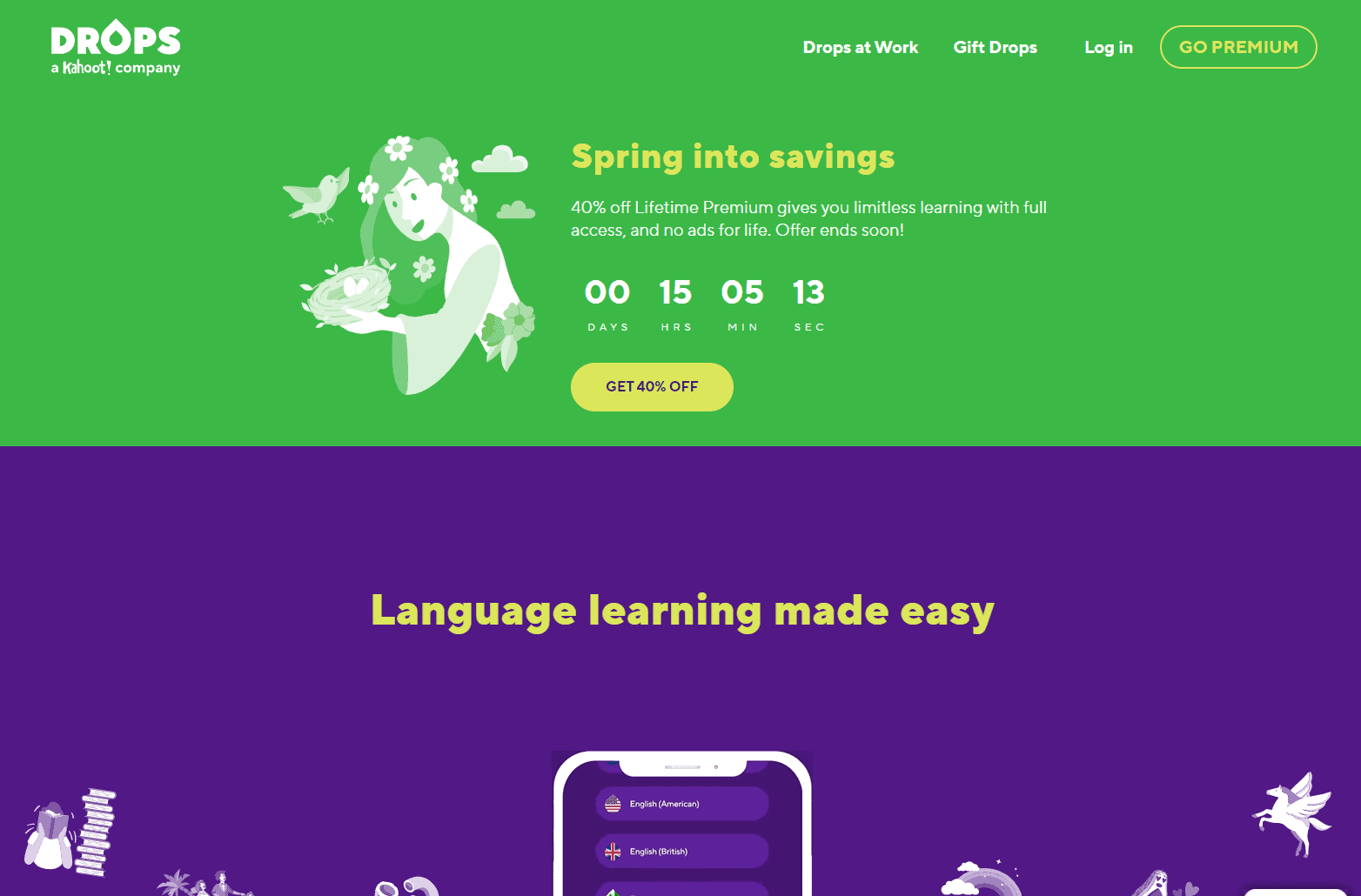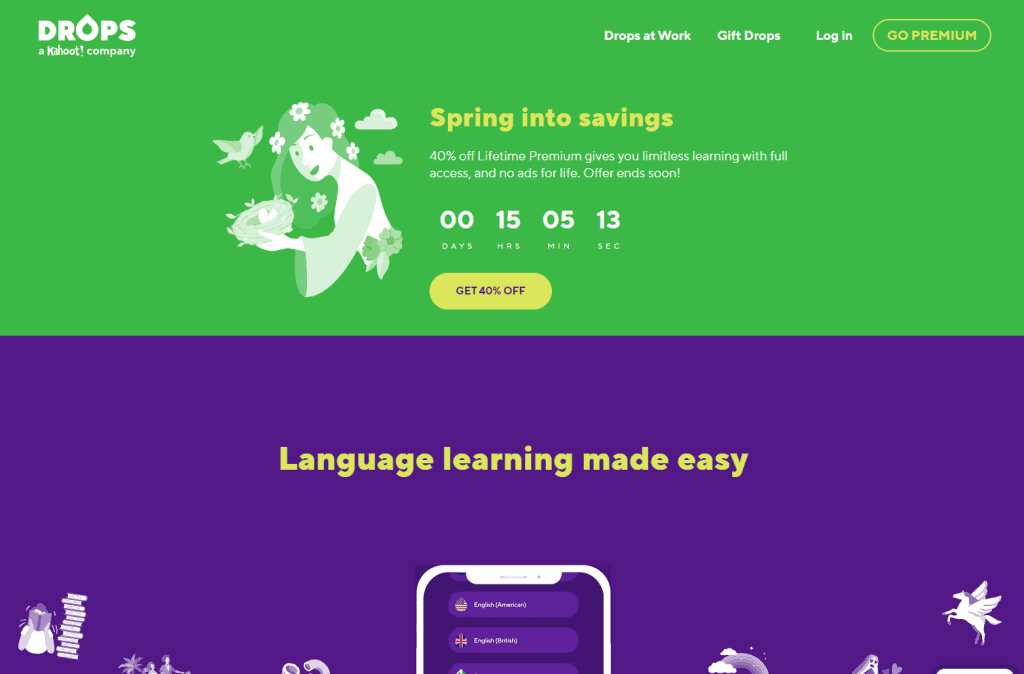 Drops app has great vocabulary tools powered by AI and spaced repetition. FluentU can teach you many conversational words too, but it's more focused on language structure and grammar. If your main aim is to expand your vocabulary, the Drops app might be for you. Find more information in our in-depth Drops review.
FluentU vs MosaLingua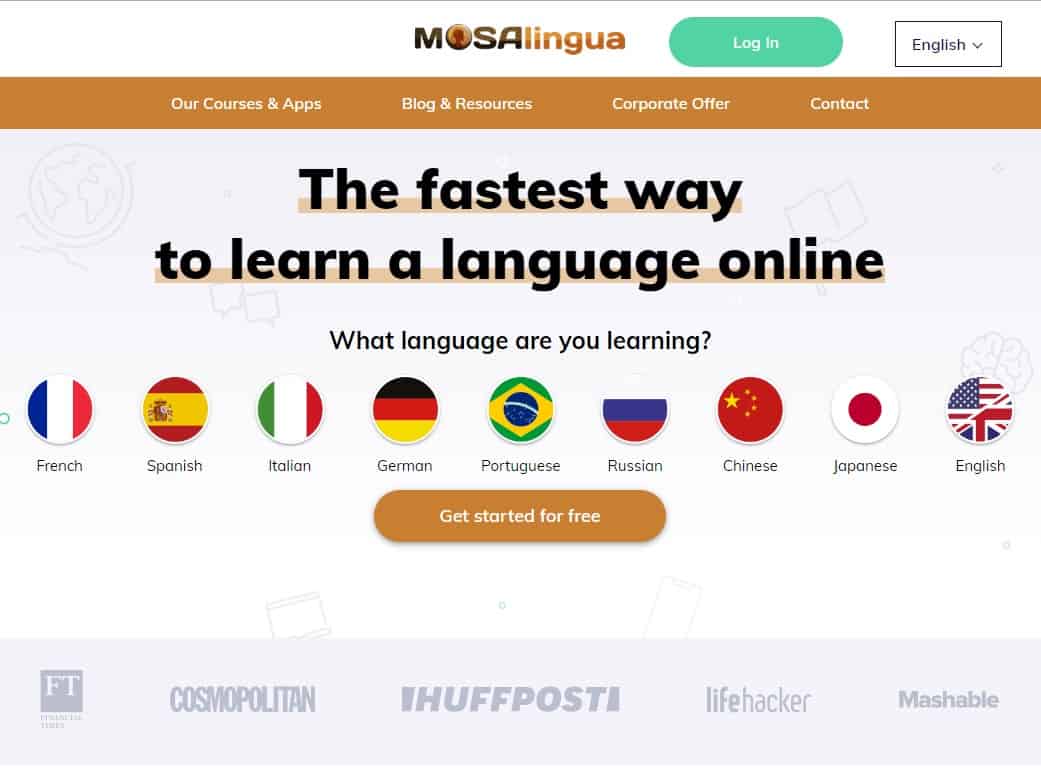 MosaLingua focuses on spaced repetition and uses a 20/80 approach when teaching vocabulary and grammar. It includes flashcard decks, a large vocabulary, review tools, and more. Compared to FluentU, it takes a more self-paced approach without relying so much on video content. Learn more in this MosaLingua review.
FluentU vs Babbel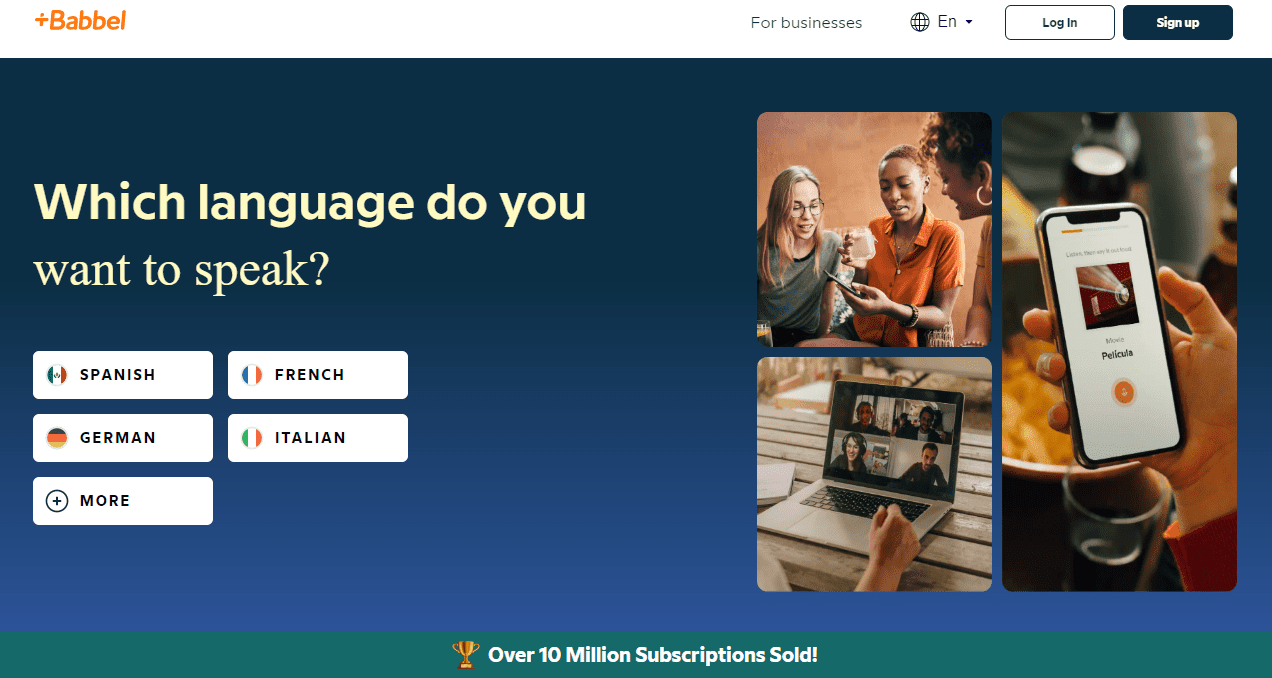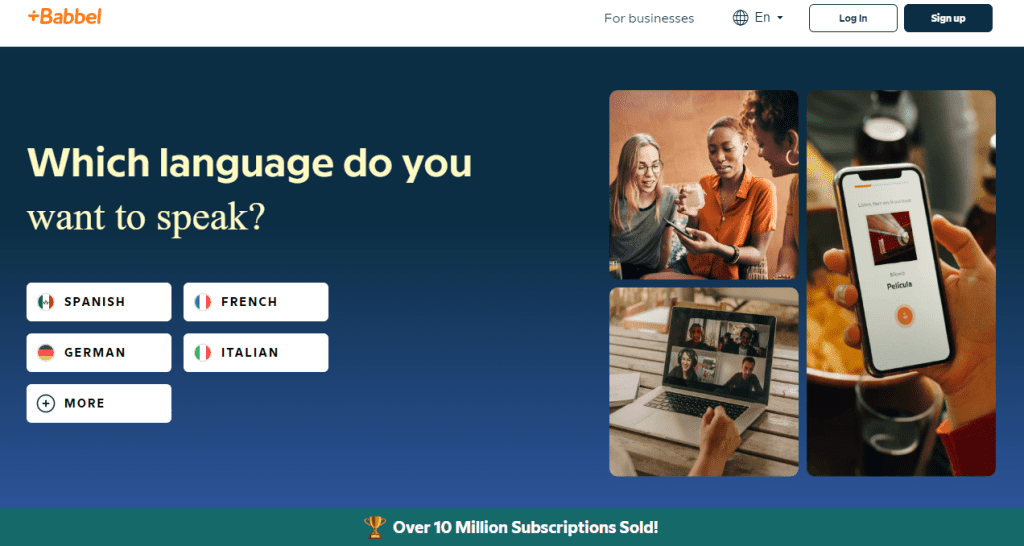 Babbel is a premium-feel language app popular for more than fifteen years. Its courses include interactive exercises, podcasts, voice recognition, games, and more. Babbel might not be as engaging as FluentU, but many students find it more effective. Learn more in this in-depth Babbel review.
FluentU vs Memrise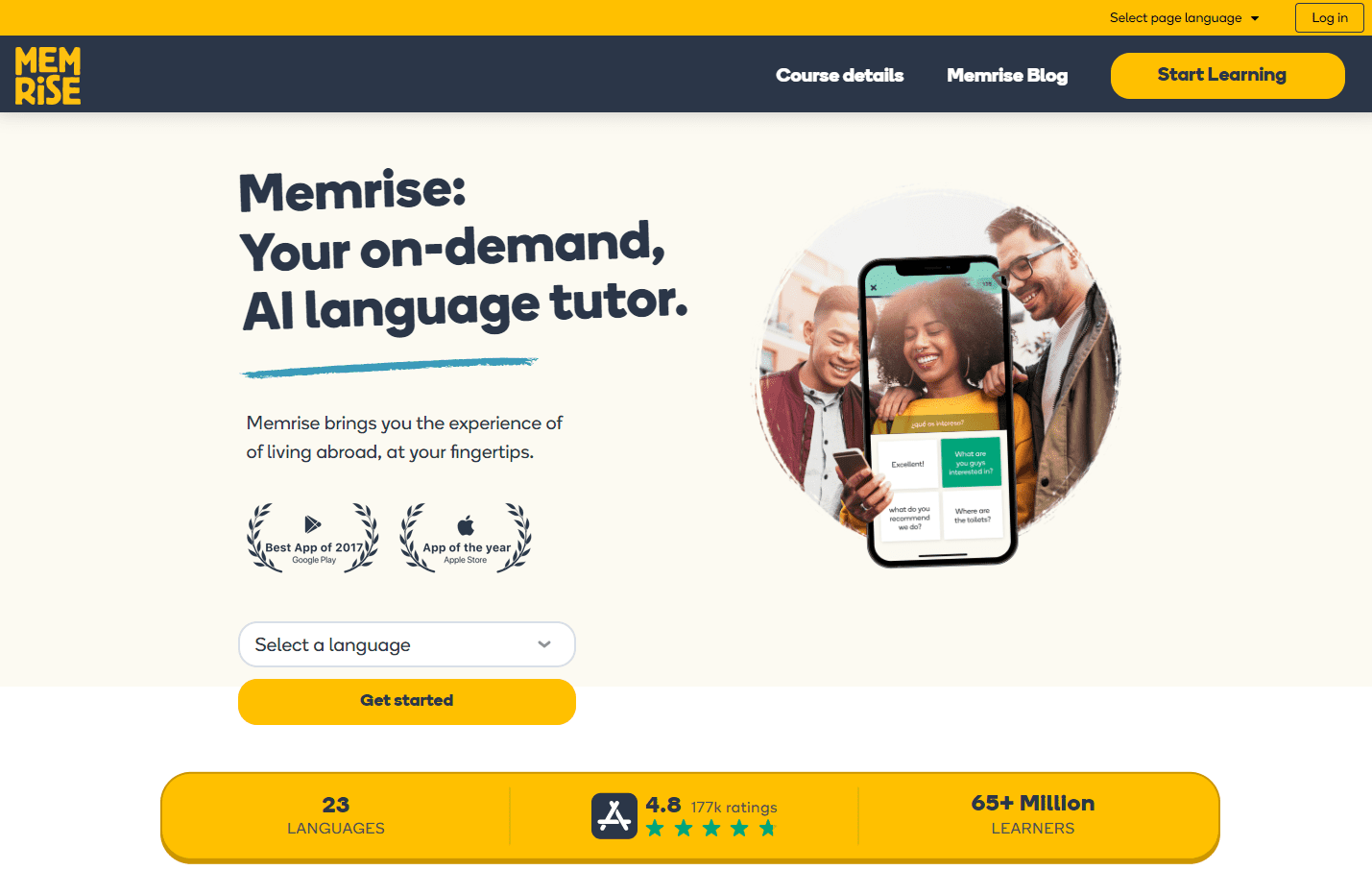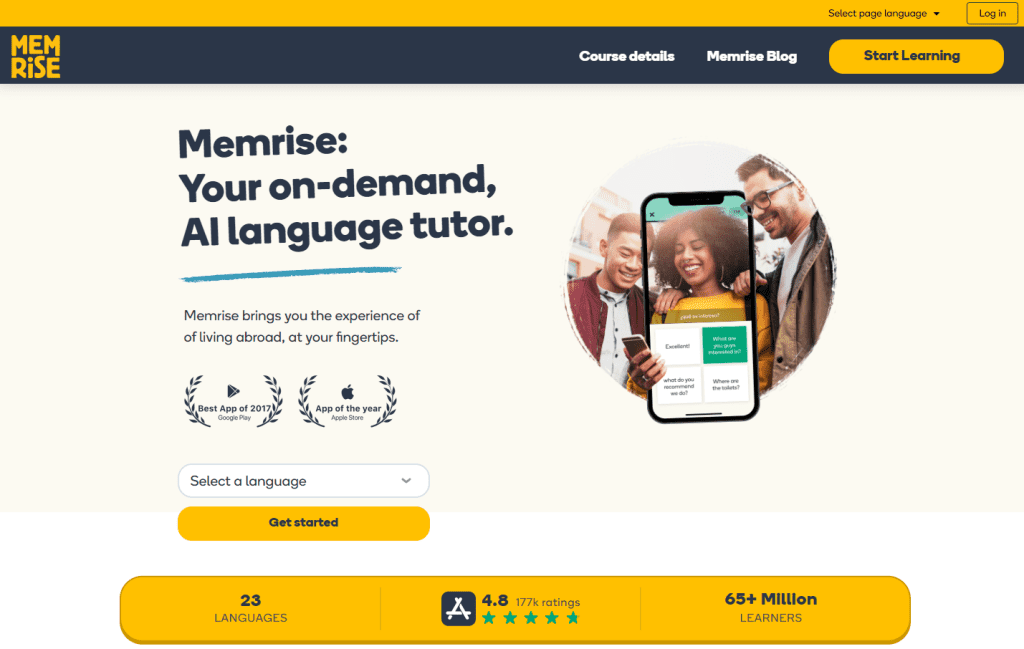 Memrise is a flashcard-based app that is best for memorizing foreign language words and concepts. It includes a large vocabulary list with various categories you can prioritize. FluentU also includes flashcards, but it's only supplementary to the video content. If flashcards are what you're after, Learn more in this Memrise review.
FluentU vs LingQ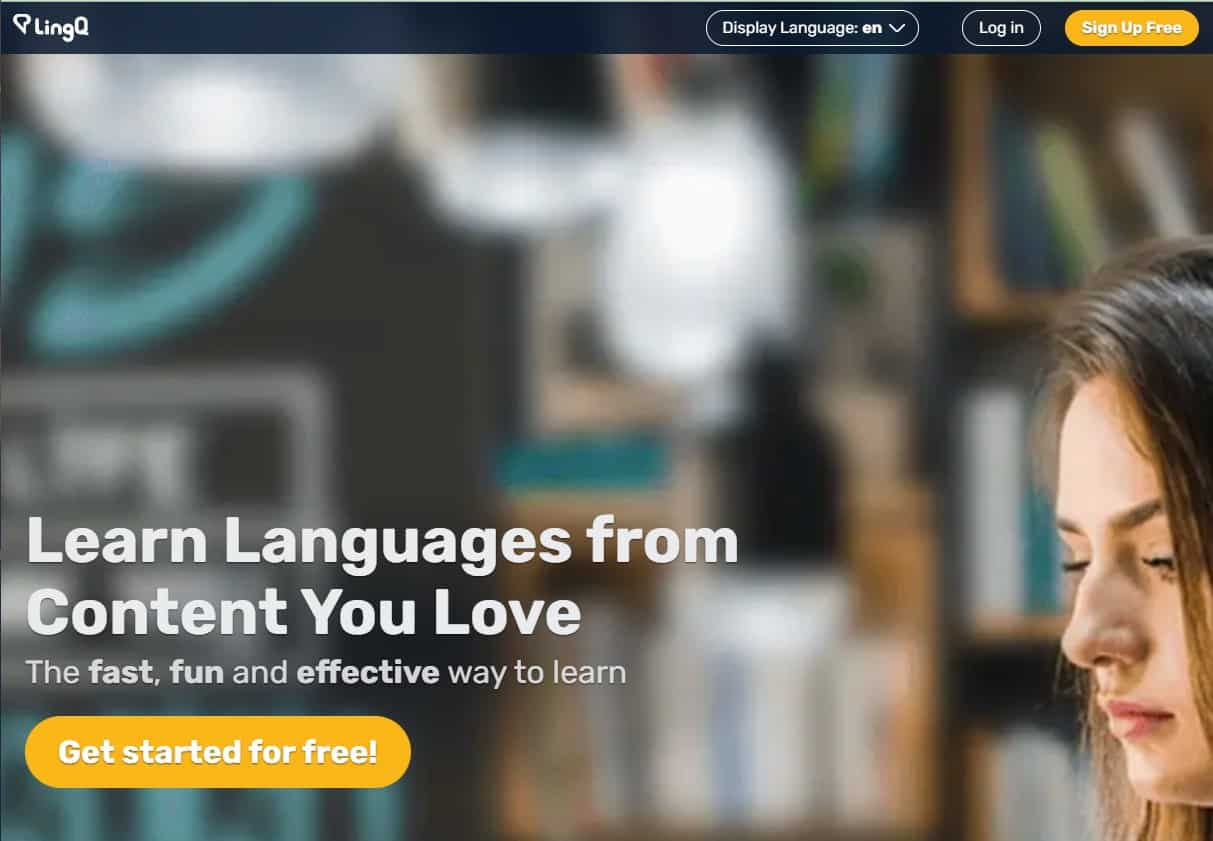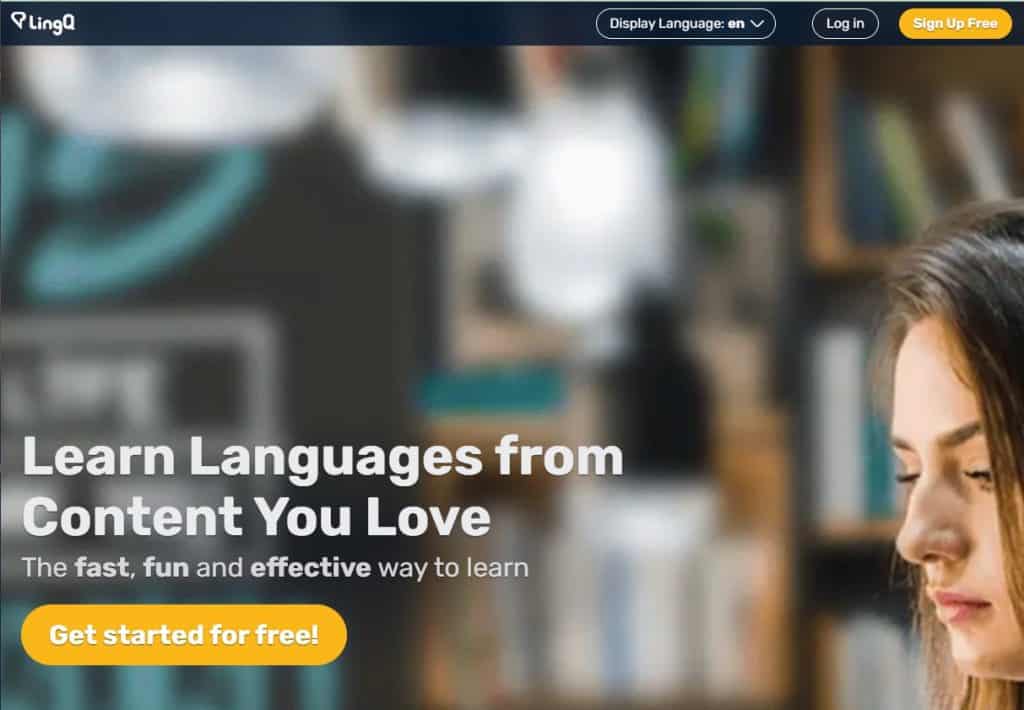 LingQ is based on full customization of your learning with plenty of video, audio, and textual materials. FluentU differs in that the video library is prepared in a way resembling a curriculum. If you fancy having more freedom in your language learning journey, find more information in this LingQ review.
What Areas Require Enhancement?
Every FluentU review must mention the platform's downsides. The most evident of which is that there are no dedicated exercises for speaking practice. There are some pronunciation exercises, but they are often inaccurate as the app doesn't use speech recognition technology. 
The same goes for reading and writing exercises. The app covers them broadly throughout the lessons, but there isn't a standalone way to practice them. 
The FluentU website and app feel outdated. Everything is easy to navigate and find, but it doesn't have a modern look. FluentU would have a better visual appeal if it had a redesign more similar to other language apps.
The app also relies heavily on images that often feel generic and irrelevant. Sure, it gets the job done in helping learners visualize, but they don't look as pretty.
The video loading times could also be improved. Whether you use the app or the website version, the app doesn't host the videos and relies on YouTube videos. Since the videos aren't within the app, it takes longer to load. 
How many videos each language has also varies. Popular languages disproportionately have more content than other languages. For example, the French course features over 1,500 videos, while the Italian has less than 300. Although, this is a problem for most popular language-learning apps today.
Skipping or repeating words in the interactive captions also takes time to fully load. Even though it usually takes a short duration, every second counts when you're practicing your target language for a limited time during the day. Waiting for the app to load can also increase boredom and take the user's attention elsewhere.
FluentU Price
FluentU offers two pricing options: monthly and yearly. You can subscribe to the platform by paying $29.99 a month or $143.99 for a year. The yearly subscription has the best value, which comes out to around $12 per month.
| | | |
| --- | --- | --- |
| Subscription | Price | Payment |
| Monthly | $29.99 | Charged monthly |
| Yearly | $143.99 | One charge of  $143.99 |
We haven't found any difference between the content and features you get during our FluentU testing. Once you subscribe to either plan, you get unlimited access to all the languages, videos, and features. If you want cheaper alternatives, than take a look at similar programs like: Rosetta Stone, Duolingo, or Yabla.
FluentU: Is it a Good Investment?
FluentU costs more than most other language-learning apps. For example, Memrise, a similar language learning platform that uses native speaker videos, costs $8.49 a month. However, the video content in FluentU is more detailed, with a larger variety of content and interactive captions.
Lingopie also teaches a language through video content, but it solely focuses on clips from TV shows and movies. It's more affordable than FluentU at $10 per month and offers a binge-learning experience, but the content isn't as extensive.
Another alternative for those looking for video-based learning is Yabla. It also features a wide range of content, but the exercises and vocabulary-building features aren't as extensive. It costs $12.95 per month. It's a good option for those finding FluentU cost too high.
Although the prices are expensive and there are only two subscription models, FluentU is a good investment. The extensive video library that covers a wide variety of content for different levels, various exercises, and personalized learning elements provides just as much value as multiple language learning apps combined.
FluentU Ratings From Customers
Google Play Store – 4.5 (500K+ downloads over 3.7K reviews)
Apple App Store – 4.2 (1.6K reviews)
FluentU Review: Customer Service
FluentU responds to customer inquiries via email. It doesn't have a live chat or phone number to call. Whether you're reaching out to FluentU to get help or provide feedback, email is the only way. 
Fortunately, their response times are quick. We emailed them regarding refunds when preparing this FluentU review, and they responded in less than 24 hours.
Before sending FluentU an email, consider checking its knowledge base. It's basically an FAQ section that goes over common user inquiries. The resolution you're looking for might have already been answered on this page. The FluentU knowledge base is also separated by language and platform, giving users an easier time finding answers.
FluentU Review: What Makes it Unique?
Teaching through videos of native speakers isn't unique to FluentU, but how it is teaching languages through these means is. Every video features interactive captions that turn into a language lesson, followed by quizzes that bring everything together. These make FluentU an effective tool for learning languages in an engaging way.