The benefits of language learning go beyond just communicating with people from different backgrounds. It enhances cognitive abilities, boosts career opportunities, and broadens horizons. 
With Lingoda lessons, you can go onboard a language-learning journey that is fun, engaging, and effective. This language learning app offers a range of courses and teaching methods that cater to all levels of proficiency, from beginner to advanced. 
Whether you want to improve your professional prospects or simply explore new cultures, the Lingoda platform can help you achieve your language learning goals. This Lingoda review will cover it's main features and everything else you need to start a Lingoda class.
Online language learning with native-speaking teachers
If you desire a traditional language school experience then Lingoda's small group classes or private lessons are your optimal choice. With 60 classes starting every hour, you can schedule your desired language lessons easily. With personalized lessons, qualified native-speaking teachers, and an active community, Lingoda makes language learning fun and effective.
⭐ Rating:
9.2

★★★★★

🥇 Available languages:
4 (see below)
📈 Suits best for:
Novices and Intermediates
🛒 Payment options:
Monthly
💵 Price:
$15-850
⌚ Hours of lesson time:
N/A
🔄 Refund policy:
7-day money-back guarantee
🎁 Free Trial:
✔️
Spanish, French, German, English, and Business English
Disclaimer: Lingomee is an independent review site that may benefit from affiliate programs. Buying through our links makes our efforts possible without additional costs to you. Learn more here.
Quick Overview of Lingoda Classes
Lingoda came to life in 2013 as an innovative language-learning platform. It has emerged as the go-to online language school for language learning at all levels because it has no time-zone barriers. Lingoda offers classes 24/7, so language learners can schedule Lingoda classes at any time of day or night.
Once you have registered, you are entitled to take a free Lingoda placement test. This test allows students to determine their language level in any new language. The results of the placement test will assist you in choosing the most-suited course for your language skills.
Unlike other online language schools, Lingoda runs on an immersive teaching methodology where a native-speaking teacher communicates with students in the target language. Other apps like Rosetta Stone or FluentU are also excellent choices for immersive learning style.
Lingoda offers private and group classes. However, if a student is unable to find a suitable class, they can find classes with a topic of their choice. All your classes will display details of the topic, information on Lingoda teachers, access to language resources, and a cancellation option.
All this is available before the private or group classes start, so you can decide whether it's good for you. The language courses in Lingoda also contain flashcards that help in improving vocabulary.
Lingoda Review: Main Features
The Lingoda platform offers unique features, including flexible class schedules, personalized learning plans, and access to qualified teachers who are native speakers. Lingoda's vision is to make language learning accessible and convenient.
Lingoda's Small Group Classes
Group classes have always been the traditional way of teaching languages. Every group class in Lingoda has a maximum of 5 students. Group class quick-view shows the instructor's information, chapter title, and class materials. Not all teachers are equally qualified, so it helps to choose the group lesson.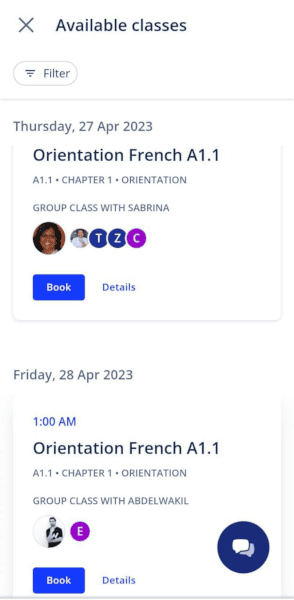 Learning material is present under the "warm up" tab for all Lingoda's group classes. Students can download the resources in PDF form and go through them before booking the class. After the class is over, students can take practice tests to evaluate the skills they have learned in the group class.
Since Lingoda follows the immersive teaching methodology, a group class is more communicative as compared to a private class. The teacher and the students are all expressing themselves in the target language in real time.
Lingoda Private Classes
Lingoda's private class feature is the best option for a personalized and tailored language learning experience. Students can select desired times and weekdays from the filter and get a list of all available Lingoda's classes.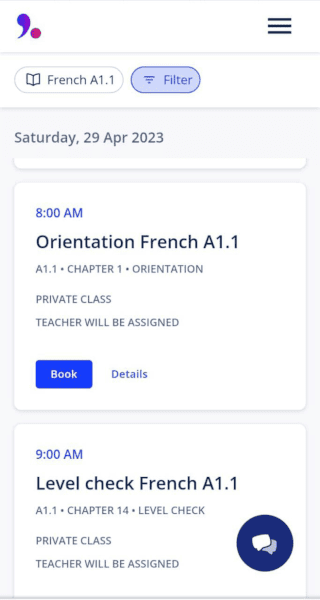 However, Lingoda does not allow students to select specific teachers for a private class. Lingoda claims that all their teachers are equally qualified for private lessons. If you need more customized lessons, you can book a language class for focusing on specific areas, such as grammar, vocabulary, or speaking practice.
Students can describe the topic for the customized private lessons in an informal manner. For example, for some German classes, I wrote – 'I would like to practice speaking and discuss a newspaper article in my next class.'
All the teachers provide comprehensive feedback under the Review Tab. They mention the areas you were good at, for example, comprehension, vocabulary usage, etc, and highlight the areas you can improve, such as grammatical accuracy, etc.
Flexible Schedule
The flexible schedule feature is one of Lingoda's key strengths because it allows learners to find time for language learning without much hassle. Lingoda offers over 550,000 classes per year, so over 60 private and group classes are conducted every hour.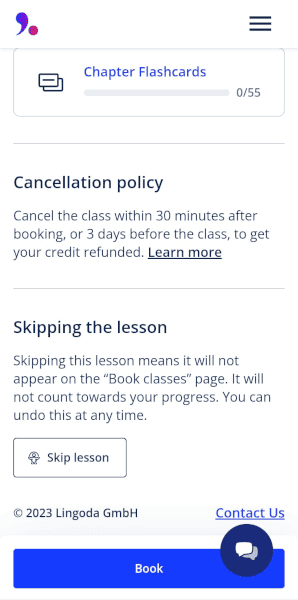 With Lingoda, you can book classes at night and cancel them at your convenience. A booked class can be canceled within 30 minutes of booking or 3 days before the class to get your credit refunded.
Even better is that language lessons on Lingoda can be taken in any order. They may also skip a class if they think the topic is irrelevant or too easy. Thus, students may choose to take classes intensively for a short time (Lingoda Sprint) or span them over a longer period (Lingoda Marathon).
Lesson Materials and The Placement Test
All Lingoda lessons have a specific goal, such as, 'How do you spell that?' or 'I can survive a French classroom?.' For the benefit of language learners, Lingoda has given its students access to download the lesson material before the class is booked.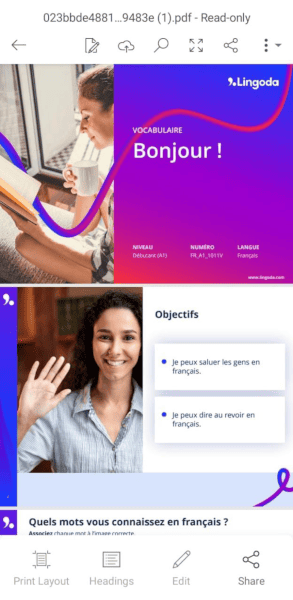 Students can take their time and get familiar with the topic and look up the vocabulary flashcards beforehand. All private and group classes are rated and categorized into levels according to their difficulty.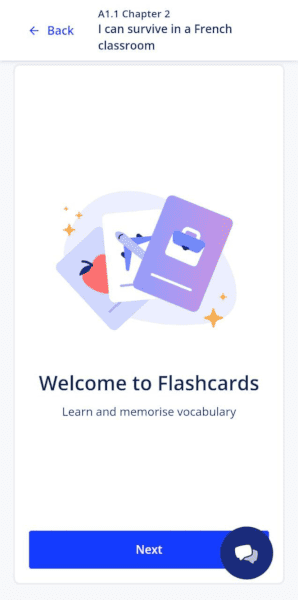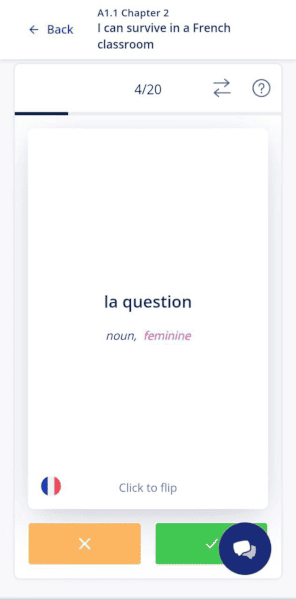 Lingoda uses the Common European Framework of Reference for Languages (CEFR) – A1, A2, B1, B2, and C1. It is an advantage as it provides learners with clearly defined goals to aim for, and the levels are recognized by businesses, universities, and institutions worldwide.
There is also a Lingoda placement test to determine your own level before tackling the lesson materials. The test consists of 12 questions, mostly multiple-choice, that will help you determine your French, German, English, or Spanish skills. Here is a list of alternatives for these languages.
Lingoda Sprint and Marathon Courses
The Lingoda Language sprint feature is a time-limited program where students can commit to taking either 15 Lingoda sprint or 30 language lessons a month. If you've attended all your classes at the end of two months, you will receive either 50% or 100% of Lingoda sprint class fees back.
There are also the Lingoda language marathon packages that work similarly to the language sprint. The only difference is that Lingoda Marathon has a duration of three, six, or twelve months and up to 200 language classes. The purpose of the Lingoda sprint and marathon classes is to motivate students to continue with language learning without any unnecessary breaks.
Lessons Quality
Lingoda has its own in-house digital education team whose job is to create high-quality and up-to-date lesson material. Priority is to provide qualified teachers for all language learners. The teachers are native speakers, experienced, and possess the necessary teaching qualifications. The teacher's quality is maintained through the rating students leave after each class.
After all private or group classes, you may do so by clicking the notification bell at the upper-right corner and clicking on "Rate Class". At the end of each month, every teacher will receive an email with anonymous feedback to help them improve their shortcomings. 
The rating system includes an intuitive emoji scale to make the feedback easy for students (Awesome, Good, Ok, Bad, Horrible). Most Lingoda teachers have a 4.7 out of 5-star rating. The online language platform monitors these ratings.
After selecting the emoji, students can further specify the reasons such as, 'not engaging enough', 'unhelpful feedback', 'teacher was late' etc. Unlike some other language learning apps, students can also write down their own customized reasons as well.
Grammar Instruction
Students at Lingoda are expected to gain a solid foundation in grammar because the teachers follow a structured curriculum. The language learning app offers detailed grammar explanations and examples, which are helpful for students who struggle with understanding grammar concepts.
After booking a class, students can see the Practise tab and find detailed learning material. Students can also read the annotated lessons with notes and highlights from the teacher, which were marked during the class. It is especially beneficial for Lingoda group classes when you can't follow along with everyone.
For example, if the lesson is 'expressing cause and effect in a sentence,' the sample exercises discussed during the lesson will be marked with the solutions. A lesson summary is also provided to review what you have learned. It's a great way to learn grammar for those with a solitary learning style.
Verbal Practice
Lingoda lessons contain no direct translations of your target language. Instead, all speaking and listening is done in that language, and all the teachers are native speakers.
For example, a student taking Spanish classes will be communicating with the instructor in Spanish throughout the class. This communicative approach will help students to get verbal practice in real-time with the teacher and other students if it's a group class.
Lingoda's group class feature solely focuses on conversational skills and pronunciation practice. The group lessons provide speaking practice as part of their lesson materials. Therefore, Lingoda is well-equipped to help learners improve their speaking skills through verbal activities.
Reading and Writing
Lingoda's reading tasks are designed to improve vocabulary, comprehension, and overall reading proficiency. Reading materials, as prepared by the in-house digital educational team, are diverse and engaging, including articles, news stories, and literary texts, all of which are selected according to the learner's language level. 
Lingoda offers engaging activities such as reading comprehension questions, vocabulary exercises, and writing tasks. Additionally, learners can receive comprehensive feedback under the Review Tab, which helps them improve their reading skills more effectively.
Vocabulary
Lingoda's learning materials help language learners build and extend their vocabulary. Each lesson includes vocabulary exercises, and students are encouraged to use newly learned words in context throughout the lesson.
The Lingoda platform has pre-made vocabulary flashcards for every class, which can be viewed before and after the class. There are 20-30 flashcards for each class, and they help to understand difficult words beforehand.
For each word, the basic information is mentioned, such as, if the word is a noun, verb, etc. However, we think Lingoda's vocabulary exercises could be more challenging, and some content is sometimes lacking in business English and some other classes. Still, Lingoda provides a good foundation for building and extending vocabulary.
Lingoda Review: Ease of Use
Lingoda doesn't have an app and can only be accessed through a web browser. Still, the website's interface works well on mobile, and the website is convenient for taking private or group classes. Website's white background and blue color theme project a clean and organized appearance.
The use of feedback is effective, with timely notifications and reminders for upcoming Lingoda's classes or assignments. Loading times are quick and reliable, making the platform easy and fast. We see Lingoda's design as a great asset to the platform, ensuring pleasant and user-friendly language learning.
Recently, Lingoda has introduced orientation lessons for new users to ensure you can make the most of the language learning experience. The objectives of the orientation are to understand the Lingoda method, the structure of the module, and how to book your next class.
Lingoda Competitors and Alternatives
Lingoda vs Baselang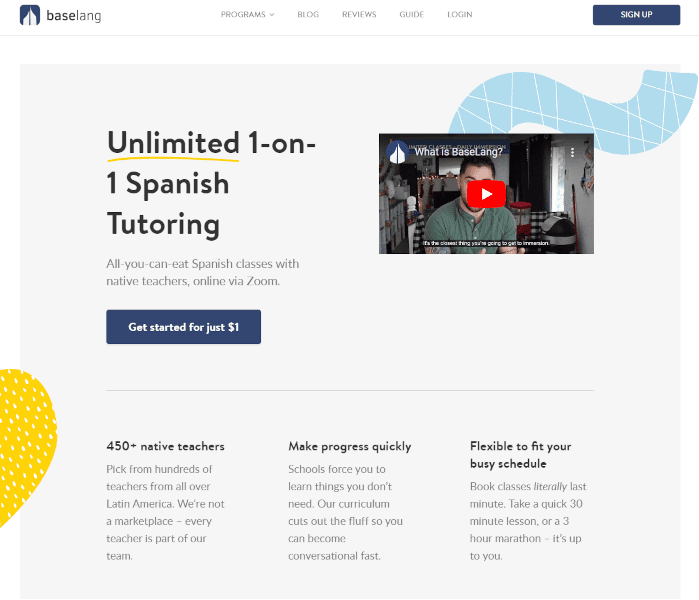 Baselang provides structured and affordable one-on-one tutoring with native speakers. It's a close competitor of Lingoda, but the latter offers tutoring for small groups. The benefit of this is a cheaper price tag and a possibility to converse with other learners. If that doesn't bother you, learn more about Baselang in our Baselang review.
Lingoda vs Babbel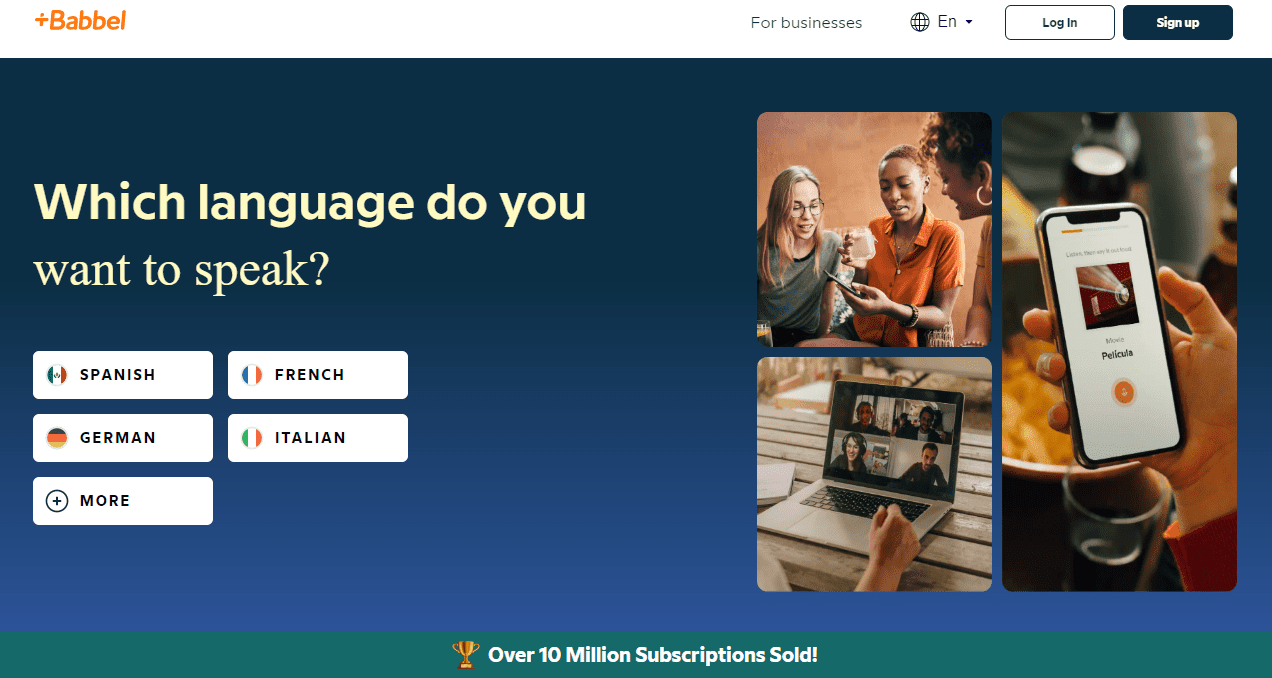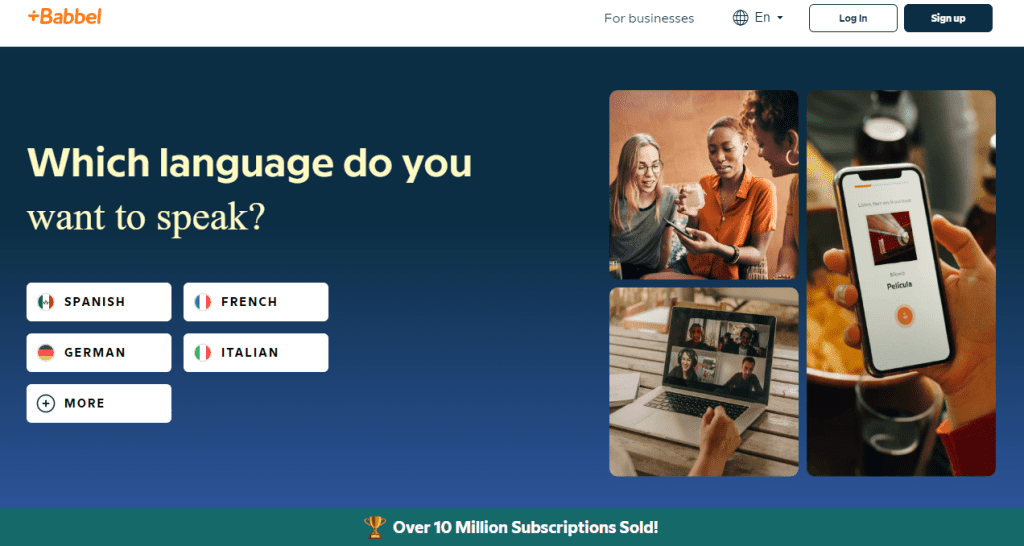 Babbel is a premium-feel language app with interactive exercises, podcasts, voice recognition, games, and more. Babbel Live gives a possibility to purchase live lessons, but it isn't a tutoring platform like Lingoda. We recommend Babbel as a starting point before diving into tutoring with Lingoda. Find more information in our in-depth Babbel review.
Lingoda vs Pimsleur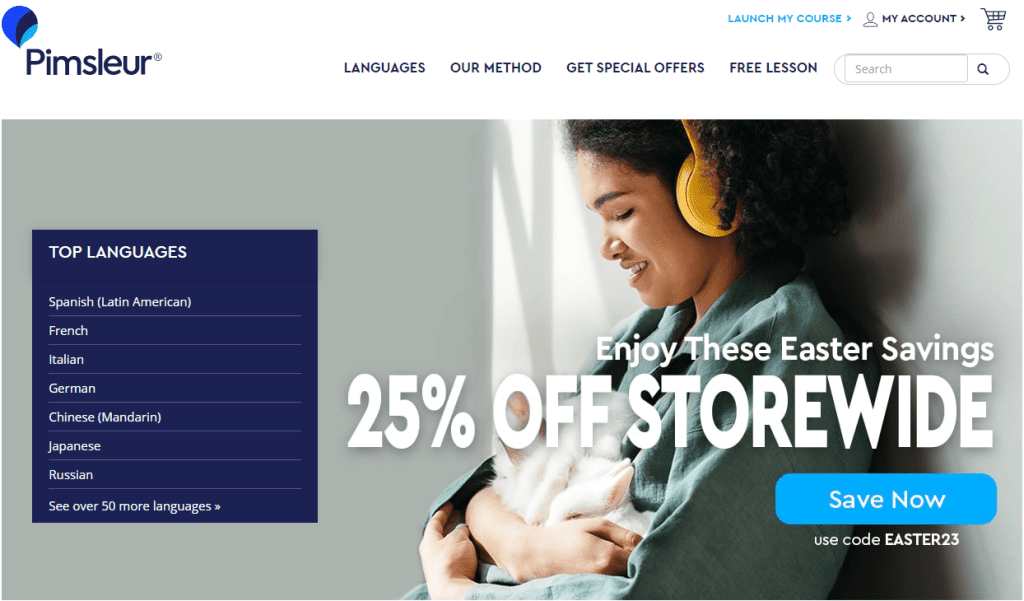 Pimsleur is an audio-based app tasking you with listening and repeating foreign language words and phrases. Compared to Lingoda, Pimsleur provides a self-paced learning environment without aiming for a traditional classroom experience. We recommend learning more about this auditory learning method in our Pimsleur review.
What Could Be Improved?
The major drawback of the Lingoda platform is the limited language availability. Currently, Lingoda offers German, English, Business English, and Spanish classes only. Adding other languages, such as Mandarin or Arabic, could be beneficial. 
Lingoda's classes do not allow students to choose their instructors. Instead, they are selected randomly. Moreover, you can not request the same teacher next time. It might confuse an absolute beginner learning a new language for the first time.
Another area of improvement is the booking of classes. While Lingoda offers flexible scheduling, there have been issues with cancellations and rescheduling. Some students have been complaining about the high penalty fees for changing times. Alghtou, this might just be a rumor, as we haven't stumbled upon such issues.
Lingoda Pricing
There is no cost-per-language but a flat fee for all languages. The subscription ranges from $75 to $850 per month. The plans come with different numbers of private or group classes, ranging from 30 to 150 classes per month. You could also take a look at cheaper alternatives like Mondly or Busuu.
Lingoda also offers corporate packages for companies. Moreover, students with monthly subscriptions can also pause their subscriptions for a predefined time interval. During this break, they cannot book classes, and their payment date extends till the end of the pause.
| | | |
| --- | --- | --- |
| Subscription | Price | Payment |
| 5 Classes | $15 | One charge of $62 |
| 12 Classes | $12.5 | One charge of $126.86 |
| 20 Classes | $10.5 | One charge of $190.29 |
| 40 Classes | $10 | One charge of $359.45 |
The private classes subscription is more expensive than the group one. Below is the payment plan for one-on-one classes: 
| | | |
| --- | --- | --- |
| Subscription | Price | Payment |
| 5 Classes | $35 | One charge of $175.99 |
| 12 Classes | $27.5 | One charge of $329.99 |
| 20 Classes | $23 | One charge of $459.99 |
| 40 Classes | $20 | One charge of $799.99 |
Free Trial
The Lingoda free trial includes one private lesson and three group lessons. For group lessons, one for each level can be taken within a week. This gives a chance for new users to test the platform and experience the classes before deciding to commit to a plan.
Lingoda Coupons and Discounts
Lingoda offers various discounts on their language learning courses throughout the year. They occasionally have seasonal promotions, such as discounts during the Christmas or Halloween period.
Furthermore, they have referral discounts where existing customers can receive a discount on their subscriptions by referring friends and family to Lingoda.
Refund Policy
According to Lingoda's refund policy, they do offer refunds under certain conditions. For example, if a student is not satisfied with their language learning experience, they can request a refund within the first 7 days of their course. The refund will be processed within 30 days of the request. 
However, if a language learner has completed more than 10% of their language lessons, they will not be eligible for a refund.
Lingoda Pricing Compared to Competition
Lingoda's pricing is competitive because of its flexibility with monthly subscription packages for group and private classes. In comparison, italki and Preply offer a pay-as-you-go model where students pay per lesson, while Tandem is a language exchange platform.
Lingoda's monthly subscription model provides a predictable and cost-effective way to learn a language. The quality of Lingoda's lessons is consistently high, with qualified native-speaking teachers and tailored lesson plans. Italki and Preply also offer one-on-one lessons with qualified teachers, but the quality may vary depending on the teacher's experience and credentials.
Accreditation
Lingoda is accredited by the Berlin Senate for Education, Youth, and Family, and its certificates are recognized by employers and educational institutions worldwide. This accreditation highlights Lingoda's reputation as a reputable language learning platform.
Lingoda Ratings from Around the Web
Lingoda Review: Customer Support
Lingoda has a comprehensive FAQ section covering common queries and student concerns. But if you don't find your answer there, customer service is available 24/7, and the response time is generally fast. Students can contact Lingoda customer support via email or live chat for more specific issues.
Lingoda Review: Conclusion
We recommend Lingoda to anyone looking to improve their language skills. The online language learning platform offers live online classes, flexible scheduling, and customized lesson plans. Despite some areas for improvement, the quality of lessons, instructors, and the overall user experience make Lingoda a valuable investment.