Lingomee is an independent review site that may benefit from affiliate programs. Buying through our links makes our efforts possible without additional costs to you.
Romanian is a lesser-known romance language compared to French and Spanish, but it's as beautiful and expressive. Because of this, Romanian lessons are full of word lists and phrases for new vocabulary. Above all, Romanian grammar is no piece of cake. Even simple things like definite articles can seem tricky to newbies.
This elegant romance language has a rich ancestry and many dialects, so finding effective lesson materials is difficult. However, online apps will help you master the language without much effort. All you have to do is play mini-games, be consistent, and practice. These apps motivate learners by providing progress feedback. They also help you speak the language properly by working on your pronunciation.
These apps walk you through reading, writing, speaking, and listening. Each language course contains engaging and immersive lessons. Some Romanian apps even offer sessions with tutors for improving speaking skills and vocabulary knowledge. Let's look at some of the best apps to help you learn Romanian.
My Selected Favorite Apps
Best Overall App to Learn Romanian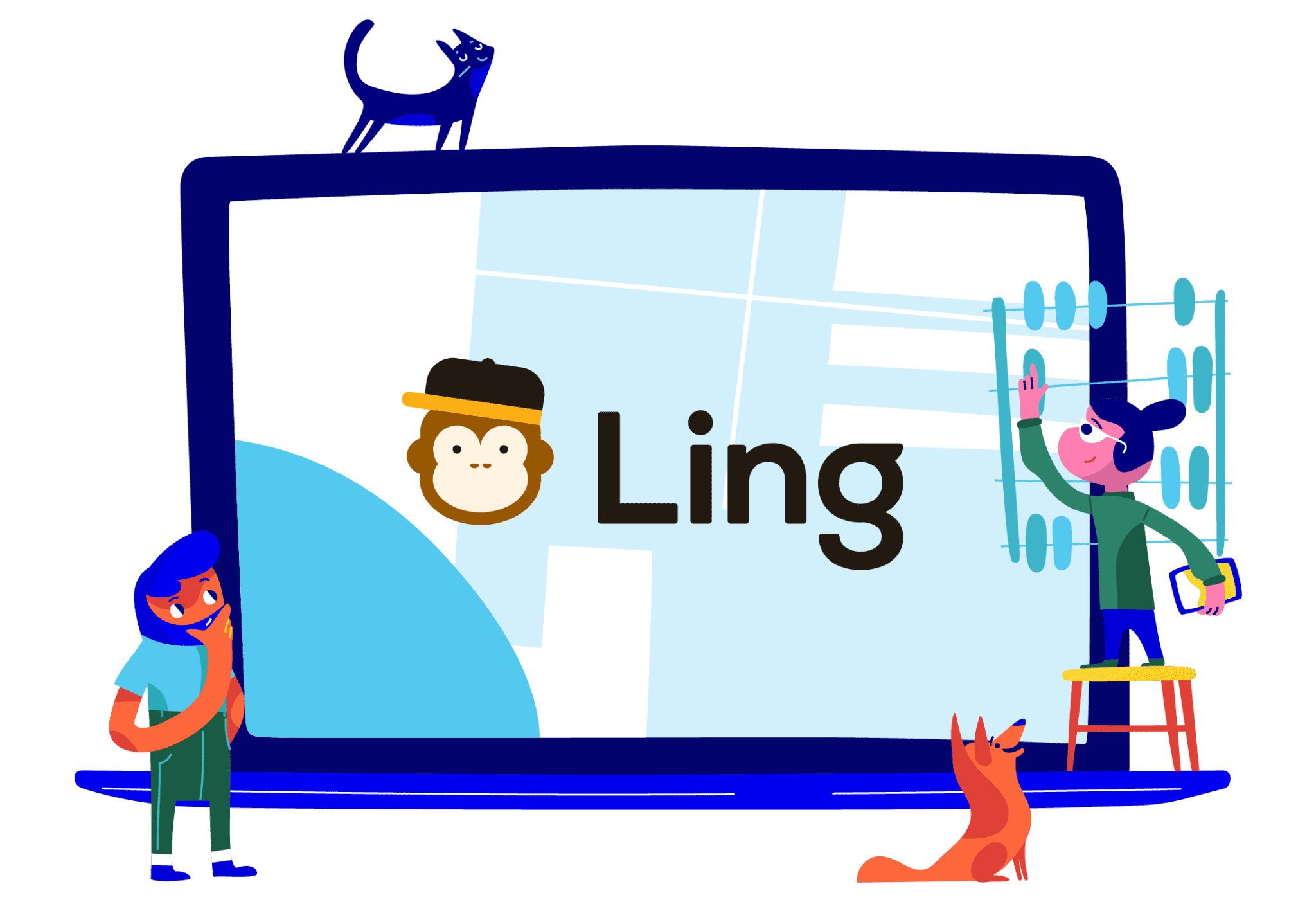 Learn Romanian with short and well-gamified lessons
Best Romanian App for Novices
An effortless Romanian learning with cutting-edge technology
Best Romanian App with Lifetime Access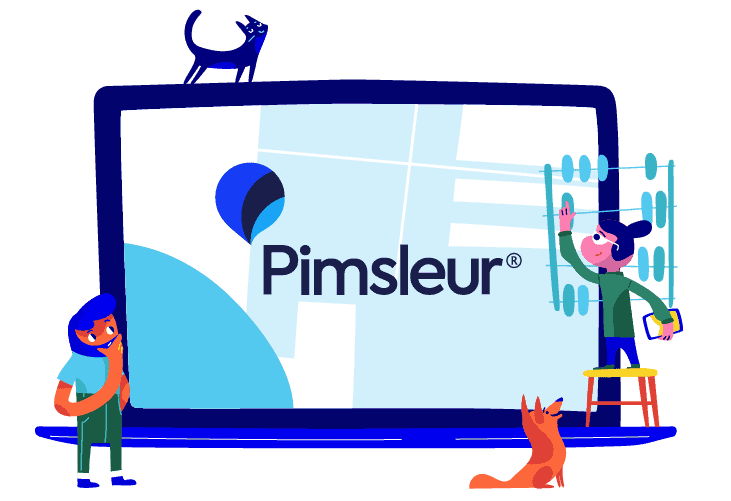 A compelling app with audio lessons to learn Romanian 
How to Choose the Best App to Learn Romanian?
The language learning market is saturated, so finding the best apps to learn Romanian is time-consuming. It takes throughout research and testing to see what's actually effective. Here at Lingomee, we're all about making it easier for you. We benchmark all products through the same measures.
| | |
| --- | --- |
| ⭐ Rating | A sum of user experience, content quality, features, customer support, and value for money. |
| 🥇 Available languages | Most relevant for studying multiple languages but tells a lot about the best apps to learn Romanian. |
| 📈 Suits best for | Evaluations are based on ACTFL guidelines, but we also measure how fast you will move up a level. |
| 🛒 Payment options | Shows how flexible the pricing plans are and, in most cases, how much you can save. |
| 💵 Price range | A measure of much you should expect to spend on a language-learning app. |
| 📚 Hours of study time | An approximate measure of how much language learning material there is for one language. |
| 🕒 Time commitment | Optimal daily dedication for the best results, as spending more time isn't always the best strategy. |
| 💻 Platforms | Where you can use the best apps to learn Romanian.  |
| 🔄 Refund policy | A money-back guarantee is a safeguard for your money. |
| 🎁 Free Trial | Most of our best apps to learn Romanian do not require a credit card to signup. |
Ling App – Best Overall App to Learn Romanian 
Mondly – Best Romanian App for Novices
Pimsleur – Best Romanian App with Lifetime Access
RomanianPod101 – Best App to Learn Romanian with Audio
HelloTalk – Best Romanian App to Converse with Native Speakers
LingQ – Best Romanian App for Reading Practice
Duolingo – Best App to Learn Romanian for Free
7 Best Apps to Learn Romanian Language
Best Overall App to Learn Romanian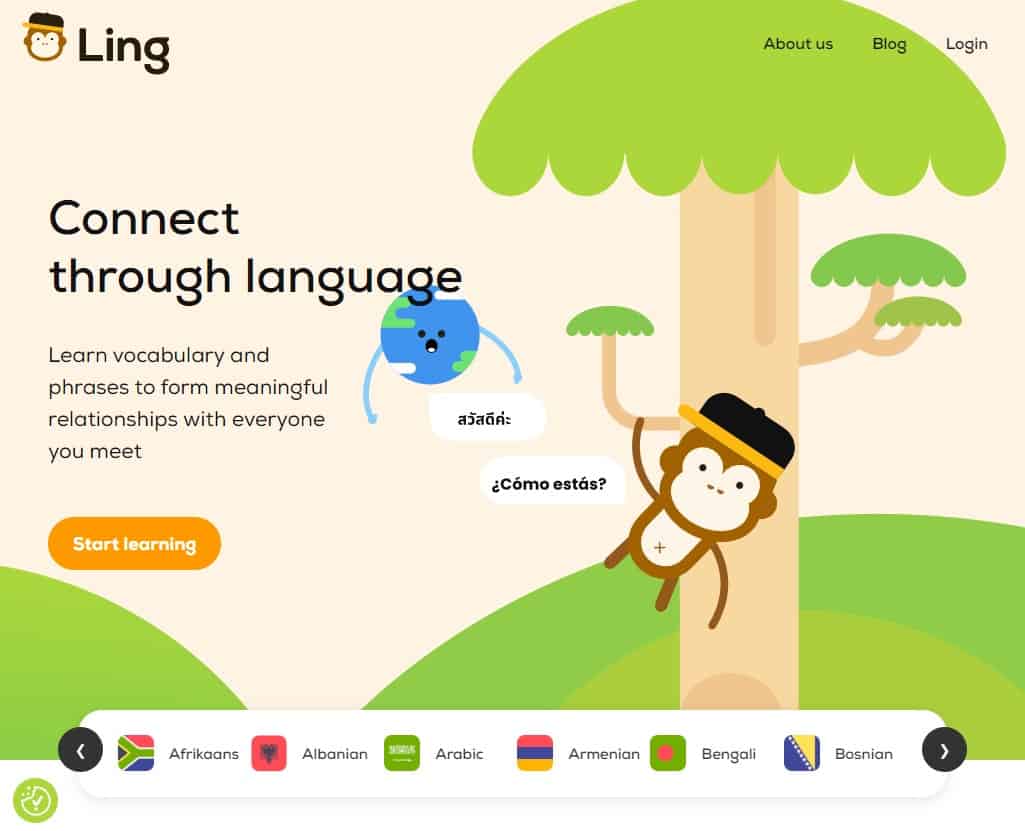 With many hard-to-find languages, the Ling app is an effective option for many language learners. Short and gamified lessons will provide the necessary background to make the first steps in understanding the Romanian language.
| | |
| --- | --- |
| ⭐ Platforms: | Web, iOS, Android |
| ⌚ Time commitment: | 10-20 minutes per day |
| 💵 Price: | $8.99 – $149.99 |
| 🔄 Refund policy: | 30-day money-back guarantee |
| 🎁 Free Trial: | ✔️ |
Ling lessons – spell, write, match, and choose the correct words from a list.
Chatbot – start a dialogue in your target language with a helpful AI.
Review – rehearse the learned vocabulary by answering questions from completed courses.
Exam – test your knowledge in a timed exercise format.
Why Ling App is The Best Overall App to Learn Romanian
You can easily learn Romanian through the Ling app. Just like French and Spanish, the app has a well-defined Romanian course. You get to master this new language through Ling's gamified approach. The mini-games introduce new words and phrases through daily lessons. In addition, there are daily challenges to collect points and level up while you learn. We think is the best app to learn Romanian.
Native speakers work on courses to ensure they teach essential grammar, words, and pronunciation well. It helps learners become accustomed to active participation while they learn Romanian. You efficiently receive active feedback to track your progress. There are native-speaker audio lessons for newbies to listen to when they're on the go! These recordings cover different topics to enhance your knowledge while learning Romanian.
Pricing
The Ling app provides monthly ($8.99) or annual ($79.99) payment plans. But those committed to long-term study of less popular languages will find the lifetime ($149.99) subscription of the best value. The Ling app also provides a seven-day free trial to test all of its features and languages.
Best Romanian App for Novices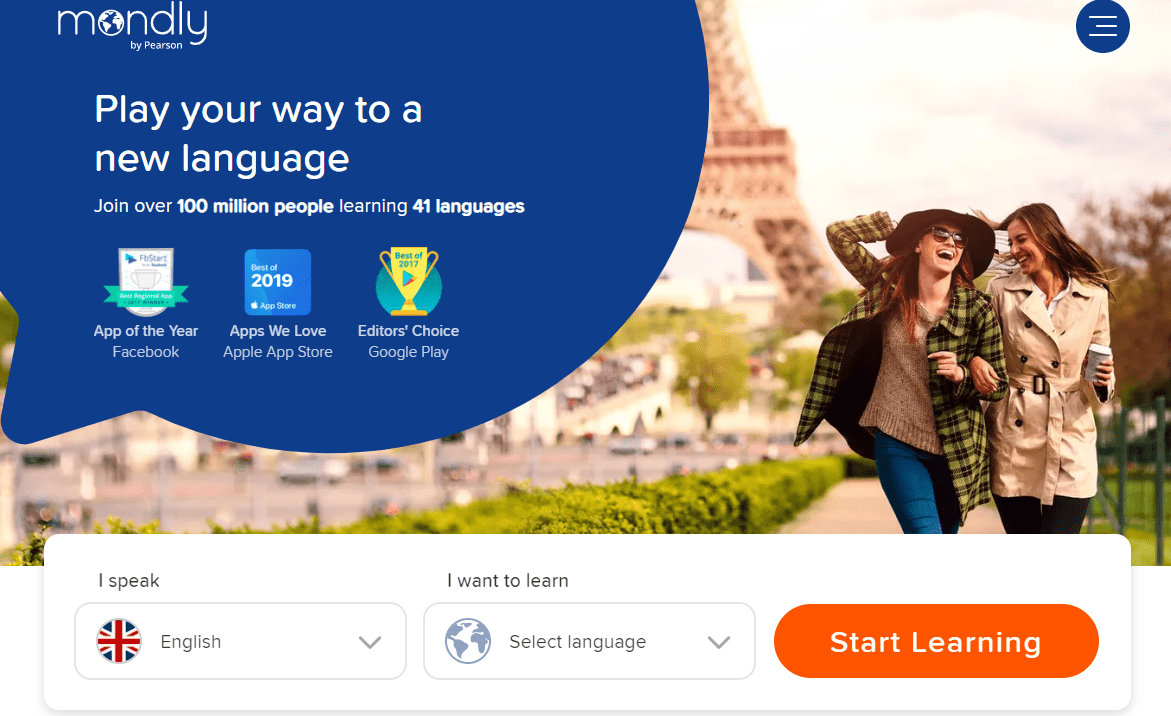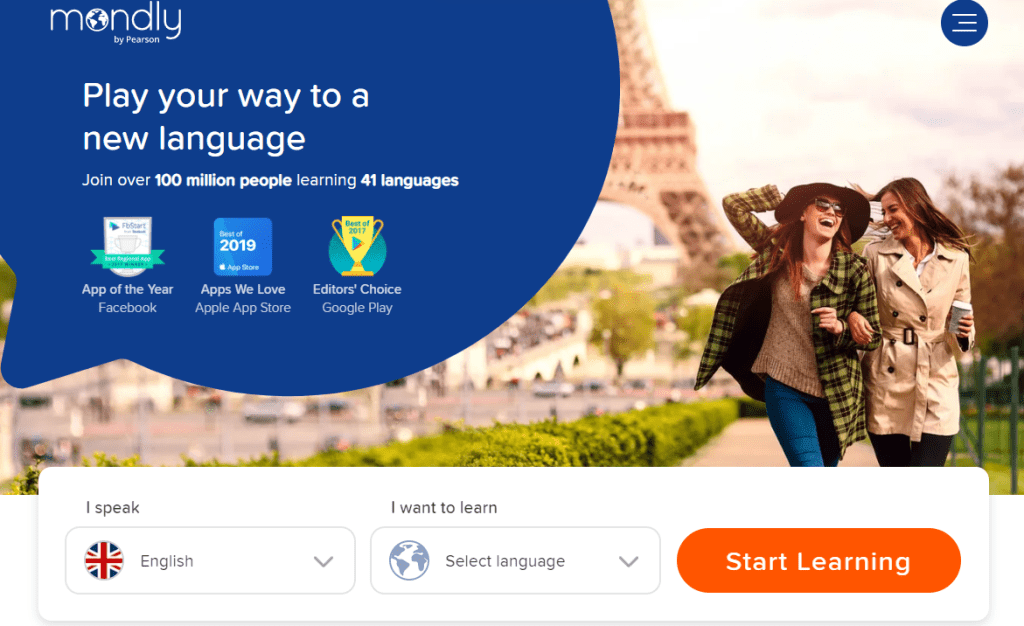 Mondly might be the most innovative Romanian language-learning app on the market. It appeals to language learners of various levels with gamified and even virtual reality lessons. Language learning is guaranteed to be fun with Mondly.
| | |
| --- | --- |
| ⭐ Platforms: | Web, iOS, Android |
| ⌚ Time commitment: | 30 minutes per day |
| 💵 Price: | $9.90 – $89.99 |
| 🔄 Refund policy: | Individual  |
| 🎁 Free Trial: | ✔️ |
Speech Recognition Technology – gain confidence in speaking with advanced voice recognition.
Interactive Chatbot – receive instant feedback on your conversational skills.
AR and VR Modules – engage with digital characters and objects while learning a language.
Mondly Kids – immerse your kids into a foreign language through interactive games.
Why Mondly is The Best Romanian App for Novices
If enjoyment while learning Romanian is what you look for, then Mondly is perfect for you. Learn Romanian through a fun course posing as activities. These are immersive and fun, so you learn to speak Romanian easily. The best part is they focus on reading and writing the new language. Understanding Romanian is easy, thanks to the transcriptions available. The AR technique is great for practicing conversational skills. They show you random characters you can speak to for better speaking skills. We think this is the best app to learn Romanian if you are a complete beginner.
Mondly tries to introduce new words to build your basics first through flashcards. Then, it introduces easy phrases and gradually enhances the difficulty level. Finally, the app gives you personalized lessons based on areas you need to improve. When you learn Romanian fast through Mondly, you will learn vocabulary to use in daily life and current affairs of the world. It all makes the learning process interesting for newbies with this app.
Pricing
The payment options of Mondly are flexible – you can pay every month ($9.99), every three months ($29.97), or annually ($47.99). The lifetime subscription ($89.99) has great value for money, providing access to all languages and features. You can also try out Mondly with the seven-day free trial.
Best Romanian App with Lifetime Access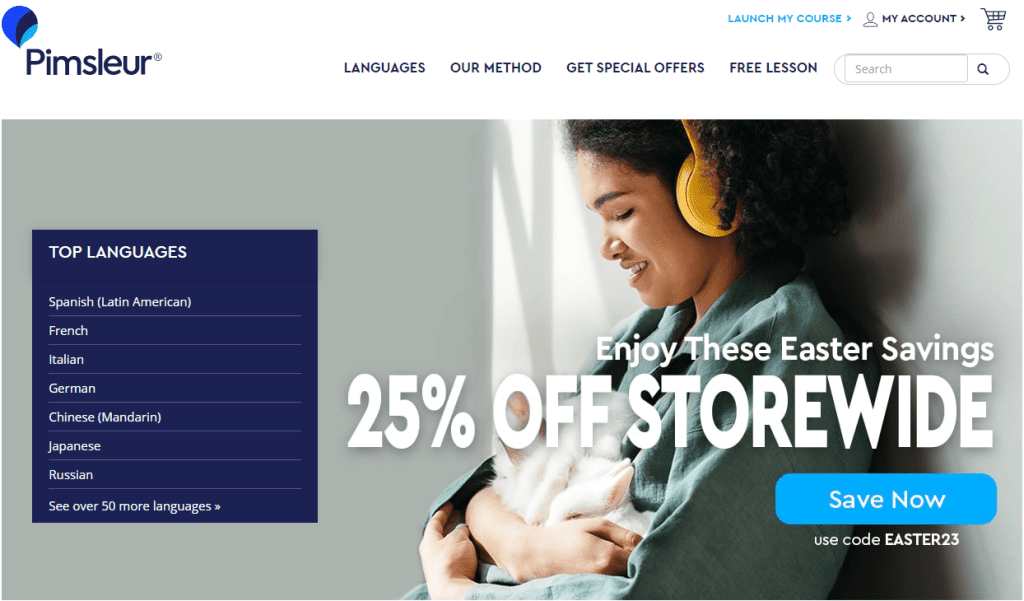 Pimsleur gets you conversational in a new language with interactive audio lessons and games. A Romanian native-speaker instructor will walk you through basic vocabulary and the most important concepts for reading, grammar, and writing.
| | |
| --- | --- |
| ⭐ Platforms: | Web, iOS, Android |
| ⌚ Time commitment: | 30 minutes per day  |
| 💵 Price: | $14 – $575 |
| 🔄 Refund policy: | 30-day money-back guarantee |
| 🎁 Free Trial: | ✔️ |
Driving and Offline Mode – download audio lessons for offline use and easily control the app while driving.
Speak Easy challenge – build conversational skills, expand vocabulary, and get conversational in real-life settings.
Voice coach – advanced speech recognition technology for pronunciation practice.
Speed Run Game – memorize and translate words quickly with an interactive game.
Why Pimsleur is The Best Romanian App with Lifetime Access
Many people want to learn Romanian without any stress of renewing subscriptions. Such daily lessons are available at Pimsleur. You only have to pay once and can access all Romanian lessons for a lifetime. Master new vocabulary and phrases through flashcards without stress. Daily lessons introduce you to the cultural context to familiarize you with it. In addition, there are fun reading, writing, and listening activities to learn Romanian.
You can practice pronunciation through the dialogue exchange feature to prepare for conversations with native speakers. You will encounter new words after every few questions. It helps recall and makes the lessons interactive. It is a great approach to improving memory and practicing new words daily as you progress on your journey to learn Romanian.
Pricing
Pimsleur offers affordable subscription options ranging from $14.95 monthly audio-only course to $150 for all-inclusive individual courses. Premium Pimsleur account provides access to all available languages and levels. The seven-day free trial is a great way to test Pimsleur before purchasing.
Best App to Learn Romanian with Audio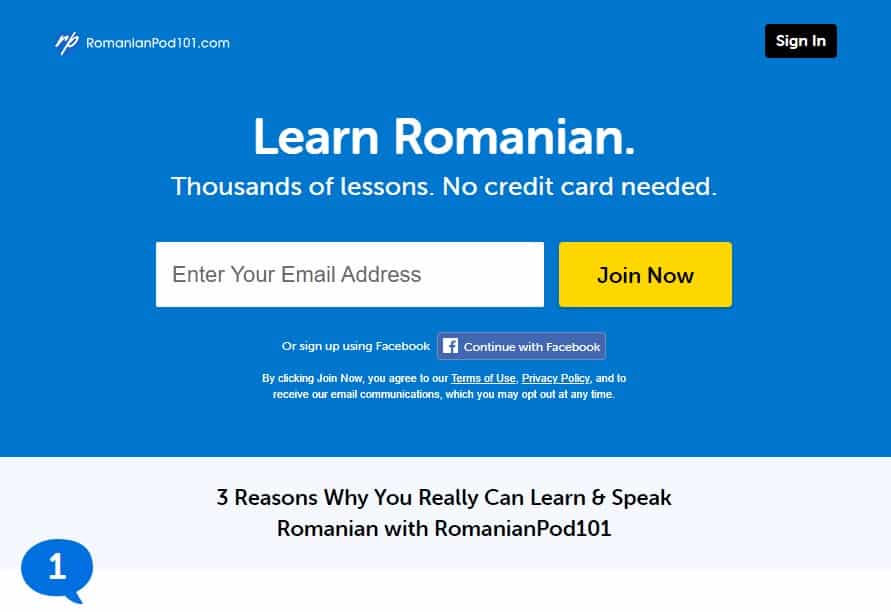 Why we like RomanianPod101 
Romanian Pod 101 provides an extensive collection of podcast-like language courses with the same high-quality standard in each. Listen to native speaker dialogues adjusted for your level and accessible at your own pace.
| | |
| --- | --- |
| ⭐ Platforms: | Web, iOS, Android |
| ⌚ Time commitment: | 40 minutes per day |
| 💵 Price: | $4 – $552 |
| 🔄 Refund policy: | 60-day money-back guarantee |
| 🎁 Free Trial: | ✔️ |
Pathways – learn with personalized lesson plans suiting your interests.
Dialogues – follow native speaker conversations while making notes and recording yourself.
Vocabulary – study each word separately with its pronunciation and translation.
Lesson Notes – read comprehensive yet concise notes on the most crucial concepts of your target language.
RomanianPod101 Overview
Audio lessons are always interesting. So, Romanian POD101 uses this technique to engage learners while learning Romanian. You will find over 1000+ podcasts on this platform to get a grip on this new language. Romance language has many complex phrases, and you can access many of them with translations and subtitles in videos. Just click on the new words, and Romanian POD101 shows the meaning.
There are many topics about the romance language in Romanian POD101. Be it culture, history, or current affairs. You can learn Romanian through recordings by tutors around the world. Try to imitate their speech and use the words they introduce. The best part is you can access the platform anytime and listen to these fun podcasts in the romance language. What an exciting way to learn Romanian fast and enrich your skills. This is the best app to learn Romanian if you prefer podcast style learning.
Best Romanian App to Converse with Native Speakers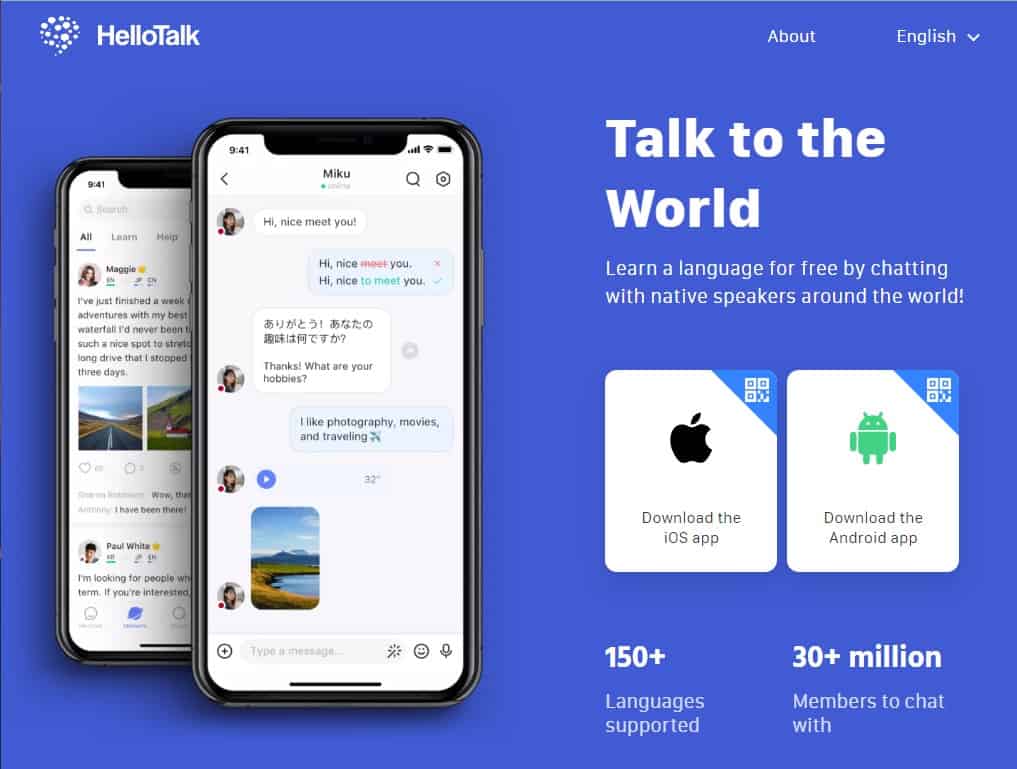 HelloTalk is a language exchange app with additional Romanian language-specific features. You'll find live lessons, AI-assisted grammar, and chatting with native speakers. It's great for all advanced and intermediate language learners.
| | |
| --- | --- |
| ⭐ Platforms: | Web, iOS, Android |
| ⌚ Time commitment: | 20 minutes per day |
| 💵 Price: | $12.99 – $149.99 |
| 🔄 Refund policy: | 7-day refund policy  |
| 🎁 Free Trial: | ✔️ |
Language Exchange – find native speakers to talk to with the help of a proprietary algorithm
Translation Function – communicate in your target language with machine translation technology
Moments – share the new phrases and vocabulary with other language learners
Partner Correction – send messages, paragraphs, or essays to native language speakers and receive feedback. 
HelloTalk Overview
Lessons with HelloTalk are unique because they connect you with native speakers. Your learning process depends on them entirely. They help with verbal exchange and offer instant corrections. Most tutors help build confidence, improve, and speak Romanian. HelloTalk also brings unique elements like translation tools. You can translate any words that you don't understand while you learn Romanian.
HelloTalk lessons are based on real-life communication to help you learn Romanian. You can converse about different topics during the Romanian course. Daily lessons are super fun and engaging with most tutors. You can choose any time during the day to practice new vocabulary to learn Romanian fast. 
Best Romanian App for Reading Practice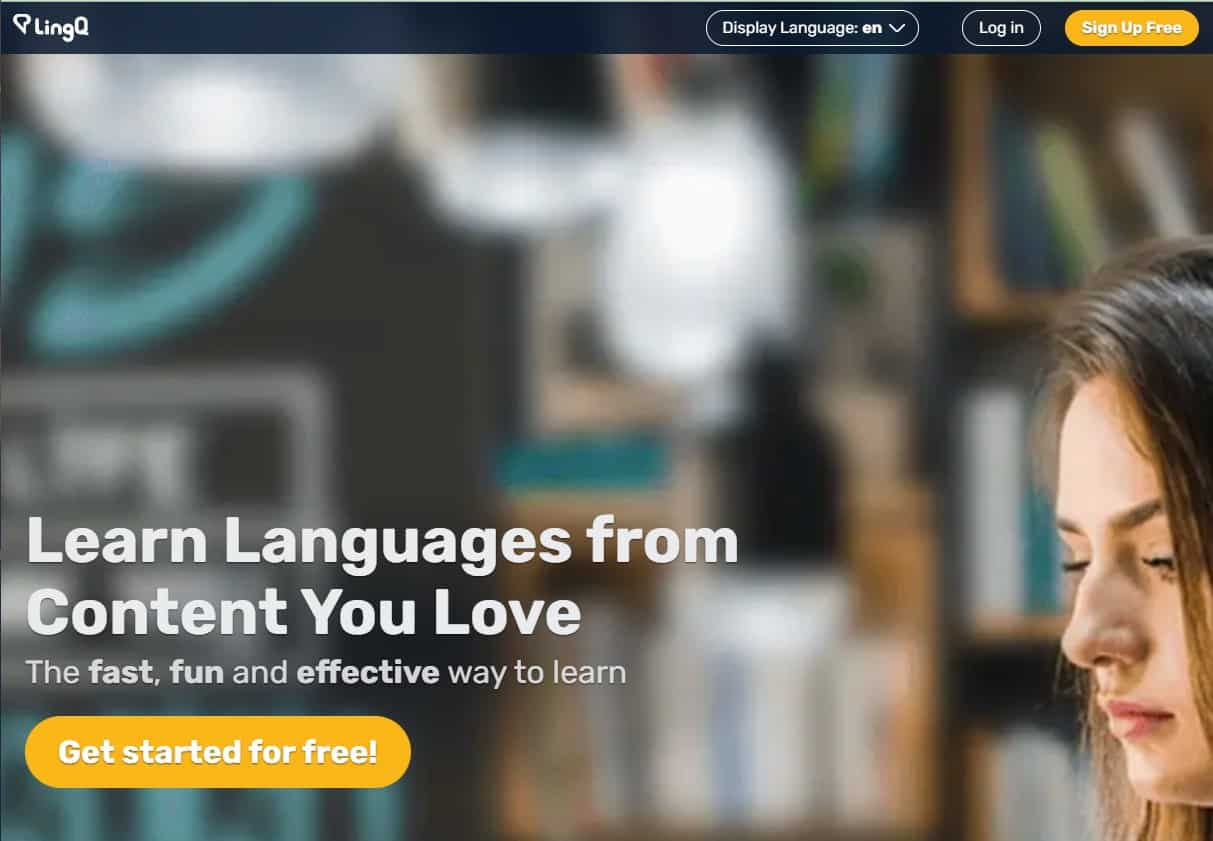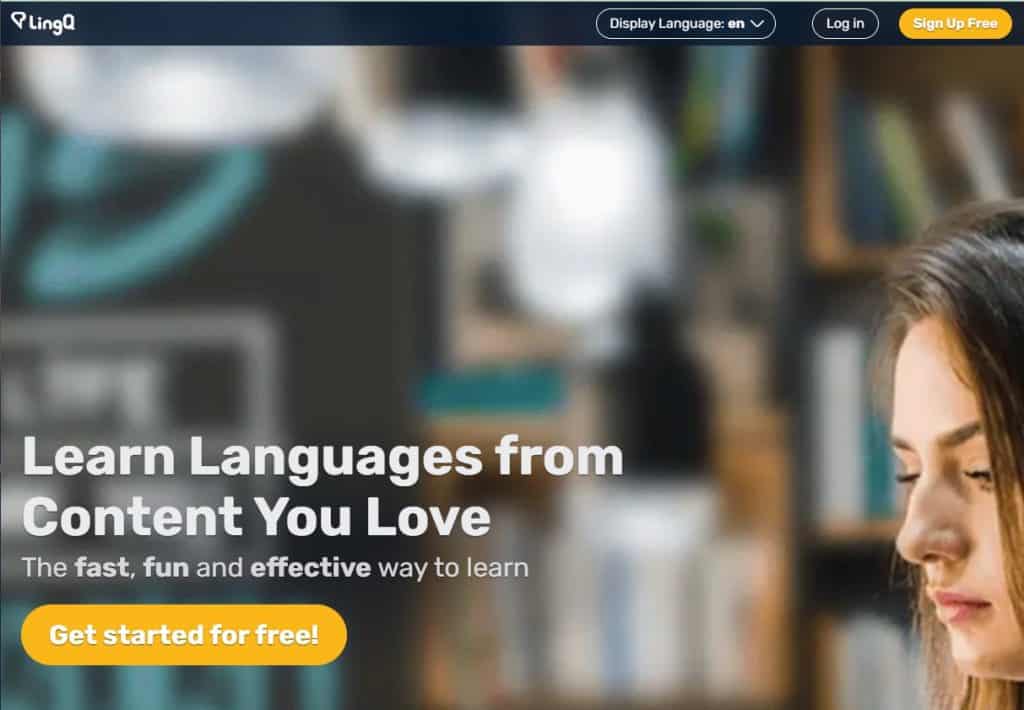 LingQ houses a wide selection of custom language learning content unique to the Romanian language. Its simple and interactive design organizes various podcasts, books, news articles, and songs for a culturally rich language experience.
| | |
| --- | --- |
| ⭐ Platforms: | Web, iOS, Android |
| ⌚ Time commitment: | 30 minutes per day |
| 💵 Price: | $7.99 – $34.99 |
| 🔄 Refund policy: | 90-day money-back guarantee |
| 🎁 Free Trial: | ✔️ |
LingQ Reader – listen, read, and compile learning materials adjusted to your pace.
Flashcards – rehearse words you learned with color-coded, spaced repetition-powered card decks. 
Upload – import videos, reading materials, songs, and more to learn foreign languages faster.
LingQ Community – discuss pain points and participate in friendly competitions with other language learners.
LingQ Overview
Learning Romance languages like French, Spanish, and Romanian isn't easy. LingQ follows the audio playback approach to help beginners in speaking and listening to Romanian easily. Native experts work on lessons to teach things like a noun, basic grammar, or sentence formation through flashcard techniques. The course is rich in quality. You read short stories, news, and articles to learn Romanian.
You become familiar with the dialect as you learn Romanian in a cultural context. Experts from all over the world select each podcast carefully to offer value. In addition, you have the benefit of personalized Romanian learning here. Unlike other language learning apps, you can easily import news, flashcards, blogs, spelling lists, and much more to LingQ.
Best App to Learn Romanian for Free​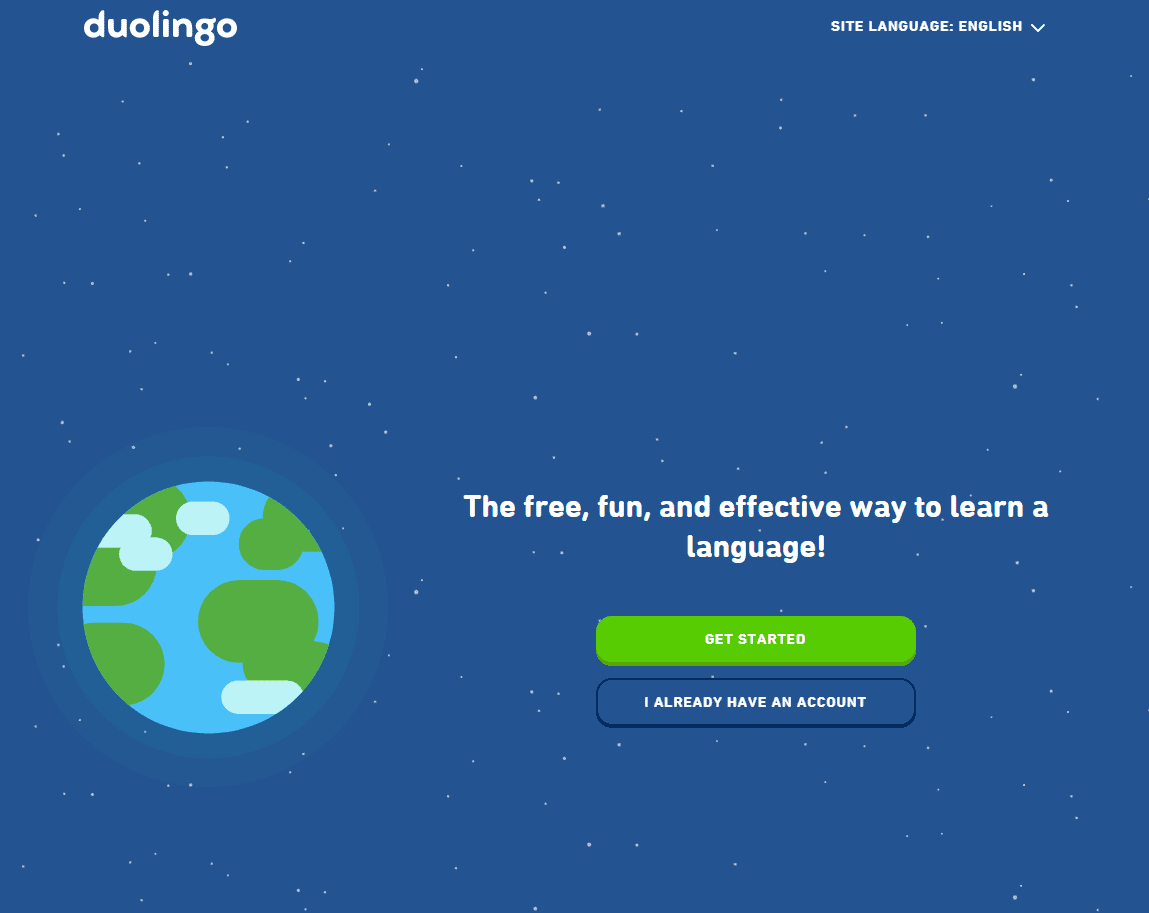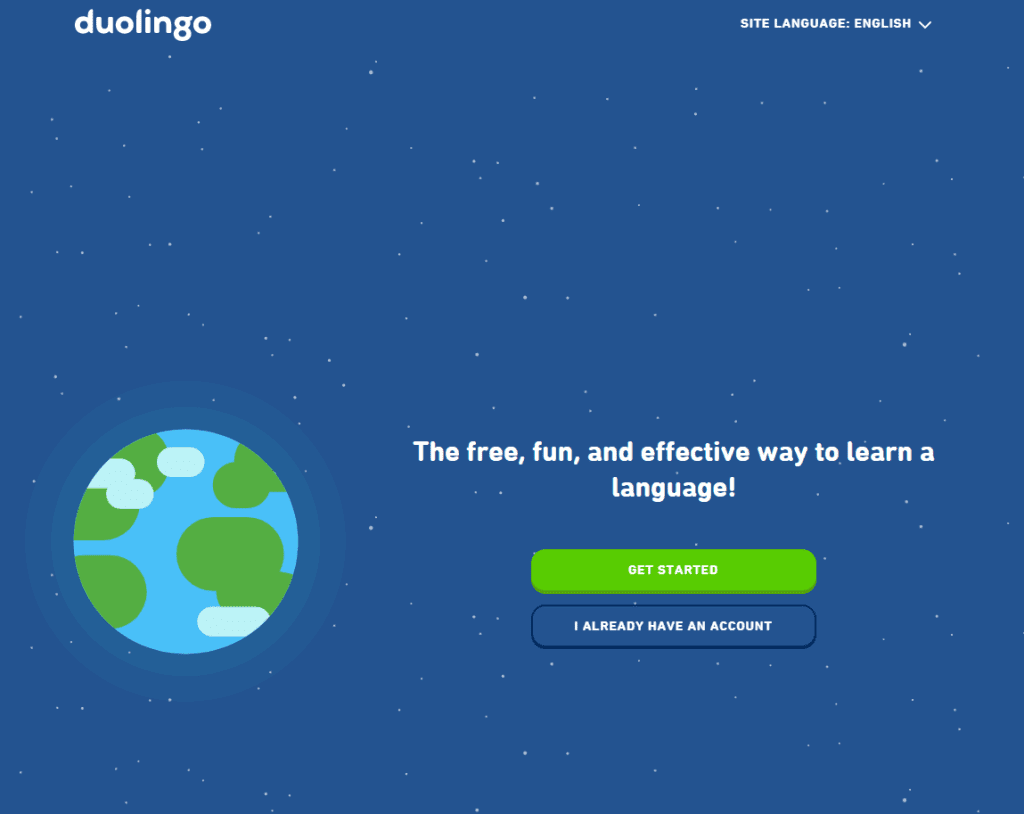 Duolingo is the most gamified language learning experience you can get for the Romanian language. Just like in a video game, you must collect gems and earn XP while learning basic concepts of a new language.
| | |
| --- | --- |
| ⭐ Platforms: | Web, iOS, Android |
| ⌚ Time commitment: | 15 – 30 minutes per day |
| 💵 Price: | $9.99 – $79.99 |
| 🔄 Refund policy: | 48-hour refunds |
| 🎁 Free Trial: | ✔️ |
Gems, XP points, badges… – motivate yourself to learn with an abundance of elements from mobile games. 
Stories – read and listen to interactive stories bringing you closer to a real-life experience.
Roleplay – converse with a chatbot that can adjust to your proficiency level.
Personalized lessons – delve into short lessons teaching the basics of the target language while focusing on your weak spots.
Duolingo Overview
Beginners who want to become fluent in Romanian without spending much should install Duolingo. Whether Spanish, French, or Romanian, the free app uses flashcards, mini-games, and stories to help you learn Romanian. The free app is fun, thanks to the dialogue exchange activities in free daily lessons. In addition, the lessons have fun graphics to engage readers.
You can even track your progress on Duolingo. It is easy to navigate, and repetition helps you master Romanian quickly. It offers some grammar explanations. It helps complete beginners, but you'll still need a premium version that provides a full Romanian course.
Frequently Asked Questions When Learning Romanian
You can easily learn Romanian by yourself through online apps. Apps like Romanian Pod101 or LingQ offer free daily lessons which help with basic grammar, vocabulary, and sentence formation. The key is to practice every day on at least the free version of such apps.
You have to allot at least 15 hours every week to practice lessons. If a topic seems tedious or boring, you can skip it for the time being but practice other topics. Keep your habit of learning Romanian daily. Check your weekly progress religiously if you want to speak fluent Romanian.
If you want to learn Romanian reading and speak fluently, you must know there are more than 150,000 words in the language with Slavic influence and Latin phrases. It also takes a couple of features from French, Turkish, and Italian. But Romanian is still evolving, and new words make it to the dictionary daily.
So, there is only an approximation of the number of Romanian words today. Try listening to podcasts and watching Romanian news to learn Romanian, which is relevant to the modern world.
You will notice the "ea" sound when you speak Romanian. The letter "ë" reflects this sound. It is from the Albanian alphabet. It is not a part of the 31 Romanian alphabet letters. Romanian alphabet comes from the Latin script except for K, W, and Q. Many Romanian writers only use "ë" as a personal preference. In short, you do not need to know this letter in order to learn Romanian.
You can learn Romanian and many other languages using the best apps on our list. We highly recommend "Ling App." It offers a well-defined course with gamified lessons, provides daily challenges, native speaker involvement, and active feedback. Ling App stands out as the best overall app, combining essential grammar, vocabulary, and pronunciation in an engaging format.