With over 75 million speakers worldwide, Korean is among the top 20 most powerful languages. Whether South Korea is your vacation destination or you are looking for job opportunities, learning Korean will open a lot of possibilities. The Korean culture is quite closed, so you won't connect with native speakers without knowing at least some of their native languages.
Rocket Korean is your gateway to learning the Korean language like native speakers with the help of comprehensive culture lessons. The impressive number of positive reviews by its users speaks of how effective Rocket Korean is for language learning.
Rocket Korean comes with audio lessons and voice recognition software to make your next visit to Korea more fun and productive. Let's get into what value, features, and effectiveness Rocket Italian can bring to the table with our detailed Rocket Korean review.
Immerse in Korean culture with Beginner-friendly audio lessons
Rocket Korean gives beginners a good head-start to learn Korean in a self-paced, fun, and engaging way. The platform uses audio lessons and written materials that are easy to follow. Audio lessons encompass vocabulary and essential phrases, while written lessons focus on grammar and culture. Overall, a win-win app for beginners.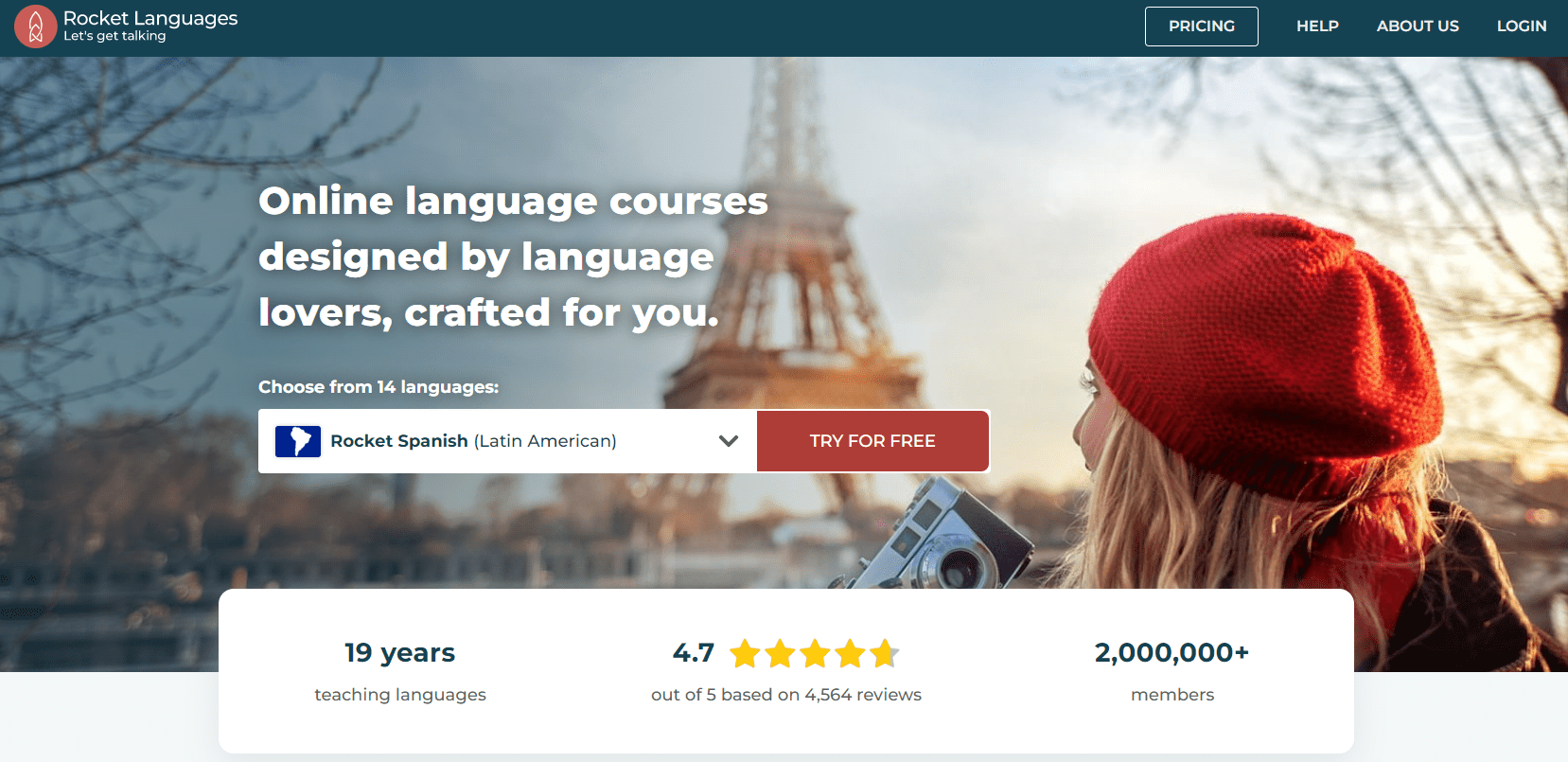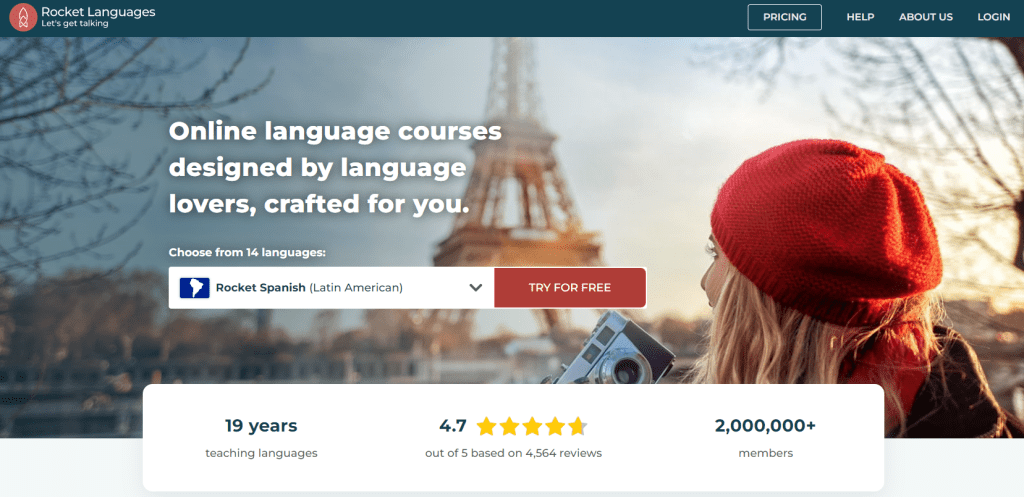 Rocket Korean Review Summary
⭐ Rating:
9.6

★★★★★

🥇 Available languages:
14 (see below)
📈 Suits best for:
Suits best for beginner and Intermediate learners
🛒 Payment options:
6 Months / Lifetime
💵 Price:
$27 – $149
⌚ Hours of lesson time:
120+
🔄 Refund policy:
60-day money back guarantee
🎁 Free Trial:
✔️
With Rocket Languages, users can also opt to learn other languages including American Sign Language, Arabic (Egyptian), Chinese (Mandarin), English (American), French, German, Hindi, Italian, Japanese, Korean, Portuguese (Brazil), Russian, and Spanish (Latin America).
Disclaimer: Lingomee is an independent review site that may benefit from affiliate programs. Buying through our links makes our efforts possible without additional costs to you. Learn more here.
A Brief Overview of Rocket Korean
Rocket Korean was launched in 2004 as an online language learning platform serving Korean learners for over 19 years. Rocket Korean comes with additional features to help Korean students to do basic conversations with Korean words.
Rocket Korean is a comprehensive online learning course with 500+ Rocket Korean lessons covered within 120+ hours. It comprises of beginner-level course which allows the user to speak Korean language basics just after completing 20 hours of audio lessons.
Rocket Korean is divided into 3 levels: Beginner, Intermediate, and Advanced.
Each level of Rocket Korean has 30 Korean language lessons. Detailed language and culture lessons are taught by experienced Korean teachers using a variety of audio lessons, writing lessons with interactive exercises, and bonus survival kit lessons. If you want to learn Korean language fast, this is the best app to learn Korean from our testing experience.
Rocket Languages lessons also offer extra learning features for Korean language learners including a progress tracker, interactive user forums, and a mobile app.
Rocket Korean has no level placement test because there is only one level. While you can choose your level, we recommend starting from the beginner levels to cover the basics.
After a detailed Rocket Korean review, we can say that it has a comprehensive curriculum, with especially outstanding Rocket reinforcement exercises. Rocket Korean program covers all aspects of the language, from basic grammar to vocabulary to advanced lessons for the Korean writing system i.e. how to write Hangeul.
Rocket Korean lessons are primarily designed to teach the learner to read Korean words using the Korean alphabet, practice writing Hangeul and speak like a native speaker.
In addition, the platform includes Korean language and culture lessons, multiple interactive audio lessons, video lessons, and rocket reinforcement exercises with engaging grammar worksheets included.
Rocket Korean Review: Primary Features
Rocket Korean comes with many user-friendly features, including a free trial account, short videos, grammar explanations, comprehensive courses, lots of interactive audio lessons, and other Rocket Korean tools.
Rocket Korean is your on-the-go learning app if you are seeking to start by covering all the basic aspects of the Korean language pronunciation, listening skills, and the Korean writing system. Let's discuss each unique feature of Rocket Korean in depth.
Rocket Reinforcement and Survival Kit Lessons
The Rocket Reinforcement and Survival Kit are a great way to learn the basics of Korean before a trip to the country. We can categorize the activities there into three parts: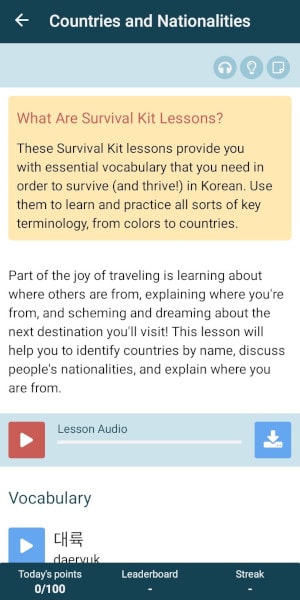 Memorization Exercises: Fun exercises, such as Flashcards, Matching games, and Fill-in-the-blank tasks.
Practice Tests: Take tests for Korean Vocabulary, grammar, listening to audio lessons, and reading comprehension with the correct pronunciation.
Survival Vocabulary: Rocket Korean teaches common Korean words you'll need on your trip.
Rocket Korean Tools
My Vocab section comes with flashcards, Vocabulary lists, WordBank, Word of the day, 2000 most common words, and key phrases.
My Progress tool makes the entire course of learning a new language fun and engaging. The users can track progress through the Rocket Korean course.
Korean Alphabet & Hangeul Writing Lessons
Rocket Korean allows you to learn Korean writing systematically with a lot of practice exercises and feedback. The interactive lessons include various explanations and helpful illustrations to help you study the Korean alphabet.
Practice exercises help learners practice writing Korean words and phrases while receiving feedback and tracking their progress.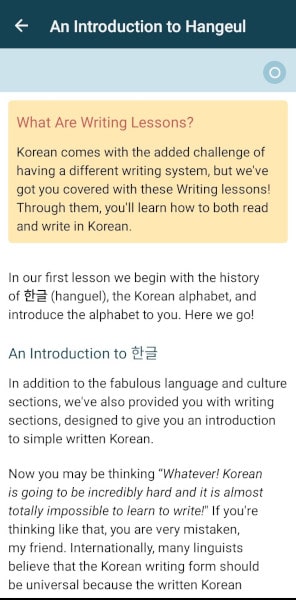 Learn Korean on the go with Mobile Version
The Rocket Korean mobile app is a distraction-free and sleek way to start learning Korean. The lesson material is identical to the web version, but we found that the app runs better on mobile and is easier to use.
The voice recognition works flawlessly on the app, making it a great option for anyone who commutes regularly and wants to learn on the go. We highly recommend downloading the app.
The Excellence of The Learning Material
Rocket Korean is a well-structured and graded learning course. To work your way up, start from the beginner level with lessons on the Korean Alphabet to basic vocab, conversation practice, and active learning. The section "Rocket Reinforcement" is where you will evaluate your Korean learning progress.
The Entire course of Rocket Korean is based on 7 modules and bonus survival kit lessons divided into 3 levels containing a total of 120 learning hours.
32 Interactive audio lessons

28 Language and culture lessons

27 Writing lessons
However, the two main features of Rocket Korean, which are Hangeul writing lessons and the voice recognition system, could be improved for better interactive learning. Advanced learners will still need additional resources for speaking Korean like a native speaker and becoming better at writing every Korean word.
Still, Rocket Korean is one of the few Korean language learning apps we tested that gets Korean honorifics, levels of respect, and banmal right, which is essential for communicating effectively in Korean culture. It is the core feature where other apps, such as Rosetta Stone, failed.
Grammar Instruction
Rocket Korean provides Korean language learners with resources such as interactive exercises, grammar worksheets, and example sentences. The Grammar Lessons are not as comprehensive as some other grammar resources but are good for beginners.
Verbal Practice
Rocket Korean provides the learners with a variety of interactive exercises, such as role-playing, conversation practice, and listening comprehension exercises. The verbal practice lessons are also accompanied by a Korean audio lesson with native speakers, which helps learners to improve their pronunciation.
Reading
Rocket Korean is a good resource for learning Korean reading skills. The course includes lessons on Hangul, Korean grammar, and vocabulary, as well as practice exercises that help learners to read Korean text.
Writing
Rocket Korean's writing lessons cover grammar, vocabulary, and sentence structure, as well as practice exercises that help learners to write Korean sentences. However, the course does not cover all of the different types of Korean writing, such as formal letters, informal emails, and creative writing.
Vocabulary
With flashcards, example sentences, and quizzes, Rocket Korean proves to be a good resource for building and extending Korean vocabulary. It includes vocabulary lessons, as well as practice exercises that help learners to learn new words and phrases. The vocabulary lessons in Rocket Korean are clear and easy to follow.
Repetitiveness
Rocket Korean effectively teaches Korean language courses, including audio lessons, interactive activities, and cultural lessons. The app is designed to make the target language learning a fun and engaging process. It includes multiple features to keep users curious about learning, such as progress tracking, rewards, and challenges.
Rocket Korean course is a good option for beginners looking to learn in a fun and engaging way. However, Some users find the app to be repetitive once they reach advanced levels.
Rocket Korean Review: Accessibility
Rocket Korean is a great way of learning a new language on the go. The app includes all of the same content as the web version, and it's easy to use with features like adjustable text size. Rocket Korean UI is easy to use and navigate, with clear text and original images. Video lessons may take a while to load, but written lessons load instantly.
The app is available for iOS and Android devices. To download the app, search for "Rocket Languages" in the app store.
Rocket Korean Competitors and Alternatives
Rocket Korean vs KoreanClass101
KoreanClass101 provides an extensive collection of podcast-like Korean lessons. It has a low price tag while still packing some considerable features. Rocket Korean is also based on learning with audio recordings but, unlike KoreanClass101, packs voice recognition and interactive games. Find more information in this KoreanClass101 review.
Rocket Korean vs Rosetta Stone Korean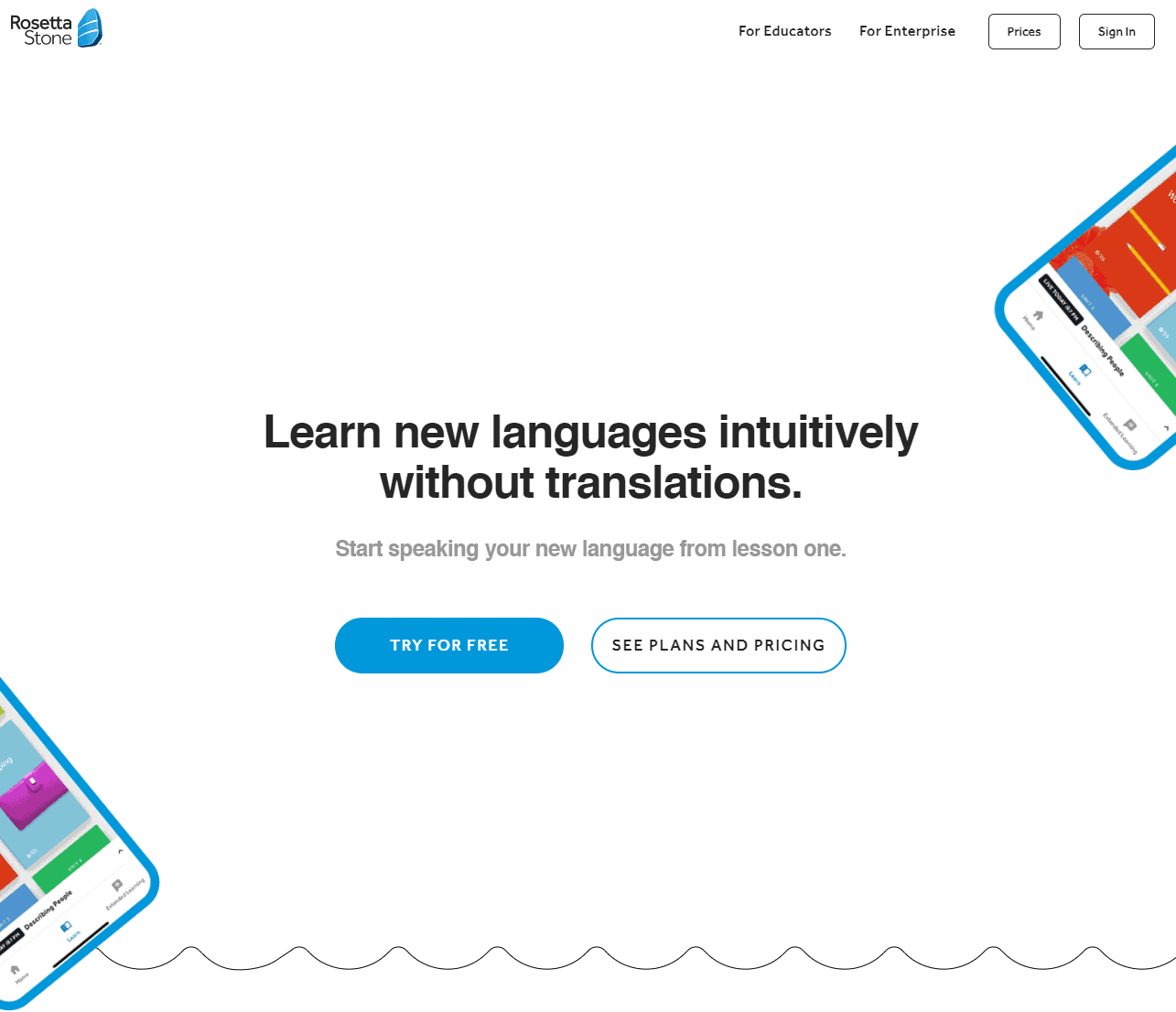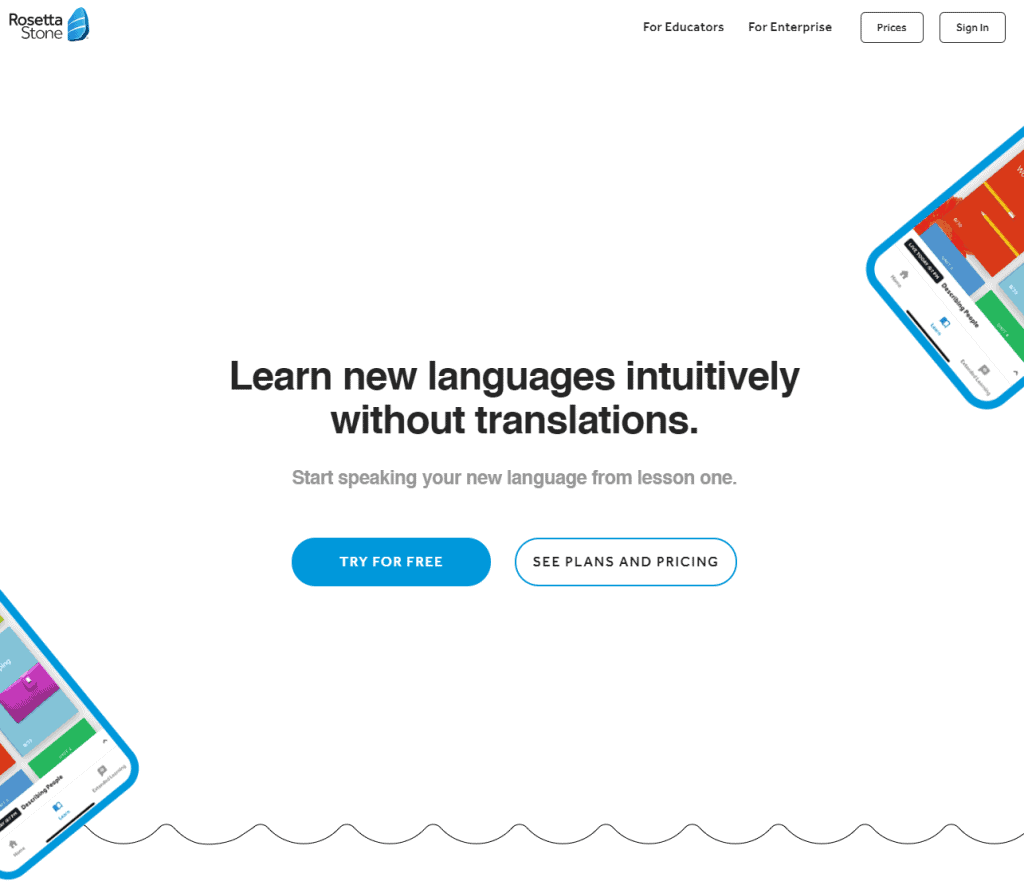 Rosetta Stone Korean emphasizes language immersion through visual cues with little formal guidance. As with Rocket Korean, it uses native speaker audio, has speech recognition, and an extensive vocabulary. The choice depends on which type of language immersion you want. Learn more about it in this Rosetta Stone Korean review.
Rocket Korean vs italki
italki is one of the most popular platforms for finding community tutors or professional Korean teachers. Unlike Rocket Korean, it doesn't provide a set curriculum, and every teacher is different. We found it most effective for advanced learners after using platforms like Rocket languages. You can find more information in our in-depth review of italki.
What Areas Require Enhancement?
Rocket Korean will give you a great headstart to learning the basics of the Korean language, but like all online language learning programs, there are some areas for improvement.
For example, the app's voice recognition software could be better with Korean pronunciation. Although many other apps are struggling with the Korean language too.
Another downside is that the app only offers instruction only in English. It can be inconvenient for learners preferring to learn Korean using their native language. Additionally, using the Korean language more would help with immersion and expand learners' Korean vocabulary faster.
Overall, Rocket Korean is one of the most recommended Rocket Languages courses, but it could be even better with some improvements. I hope that the developers will consider adding these features in the future. Either way, none of these drawbacks are major, and the Rocket Languages app is still one of the best to learn to write and speak Korean.
Rocket Korean Price
Rocket Korean offers a free account with limited resources. You can purchase a premium subscription for $19 a month for 6 months plan or a $99.95 one-time payment depending on the level of access you need.
One-time purchase: $149. This gives you lifetime access to the entire Rocket Korean course.

6 Months subscription Plan: $27/month – total $162 for 6 months. This is a recurring subscription that gives you access to the Rocket Korean course for as long as you keep paying.
Free Trial
Rocket Korean offers a 7-day free trial. During the free trial, you can access all the premium subscription features and content, including new lessons every week, more than 80+ lessons. You will get access to the first three lessons in every pathway, and more than 2000+ lists of common Korean grammar and vocabulary words.
Coupons and Discounts
Rocket Korean language program offers multiple discounts, including a 17% – 42% discount for first-time buyers by using coupon code "ROCKETDEAL" which was active during our Rocket Korean review.
Also, there is a discount of 25% for students and military personnel and a 20% discount for groups of 10 or more people. Coupon codes are also occasionally available.
Refund Policy
Rocket Korean offers a 60-day money-back guarantee. If you are not satisfied with the course, you can request a full refund within 60 days of purchase. The refund policy does not apply to purchases made through third-party retailers, after 60 days, or for the monthly subscription plan.
Rocket Korean: Is it a Good Investment?
Rocket Korean is a good tool for beginners to learn Korean, but it has some limitations. It focuses on teaching new words and helping with listening skills, but it lacks the fun and exciting vibe of gamified Korean courses like in Babbel. It also has limited free content and the practice activities can be repetitive.
Overall, Rocket Korean is a good option for beginners who are looking for a comprehensive and easy-to-use course. However, if you're looking for more content or additional features, you may want to consider other options.
Rocket Korean Ratings From Customers
Google Play Store – 4.0+ (100K+ downloads)

Apple App Store – 4.3 (769 ratings)

G2 – 3.3/5

Trust pilot – 4/5
Rocket Korean Review: Customer Service
Customer Service at Rocket Korean can be contacted via all possible channels – Email, phone, live chat, and social media. The response time varies, but you can expect them to contact you in 24 hours via emails and chats.
Overall, the representatives are knowledgeable about the language learning courses and features. Rocket Korean will not leave you in trouble. Besides, a lengthy FAQ section and a blog can answer most of your queries.
Rocket Korean Review: What Makes it Unique?
Rocket Korean offers excellent value for money and includes numerous comprehensive resources for Korean language learners. It focuses on the basics of reading and writing Korean with practical communication skills necessary for everyday Korean conversations.
The course has a wide range of valuable resources, including a survival kit, reinforcement exercises, 2000+ basic vocabulary words, and an efficient mobile app.