Time and again Russian language has faced a reputation hurdle by being amongst the most challenging languages to learn. Its intricate grammar, enigmatic alphabet, and distinctive accent are the main factors. But don't let these barriers discourage you because the Rocket Russian App can help you overcome them and unlock the beauty and richness of the Russian language.
If you want to master your Russian speaking skills, then you will find the auditory-focused learning style of the Rocket Russian app the most effective. This language learning methodology makes the Russian language become an achievable and rewarding endeavor.
In this review, we'll delve into Rocket Russian effectiveness, affordability, and overall worth, helping you decide if it's the right choice for mastering the Russian language.
All aspects of the Russian language and culture lessons
Unlike traditional methods for learning Russian, Rocket Russian's innovative platform harnesses the power of native speaker recordings. Through its interactive audio lessons, language learners can be trained to recognize authentic pronunciations of words and phrases. It's like having a personal language tutor guiding you toward fluency through culturally-relevant conversations.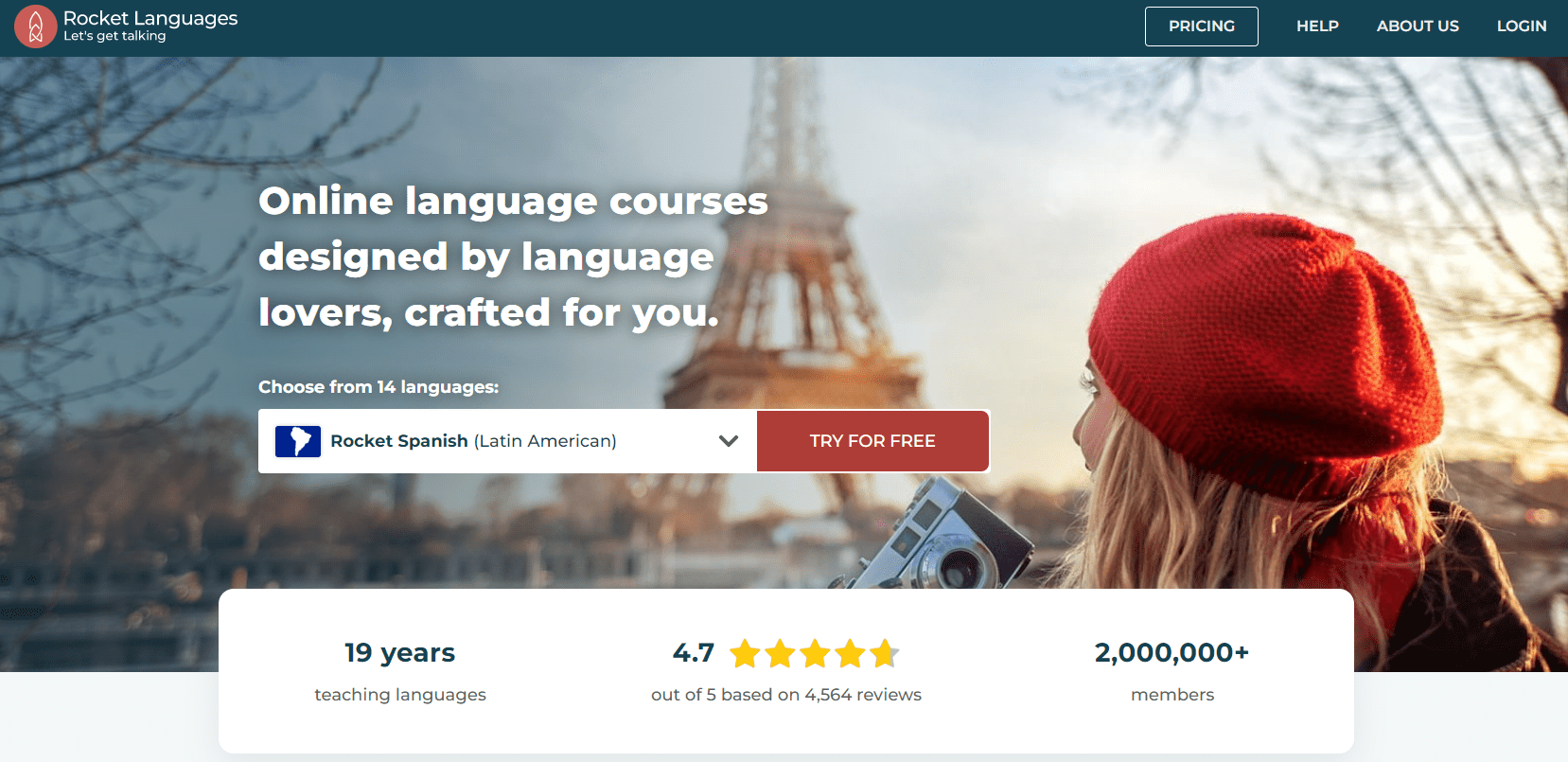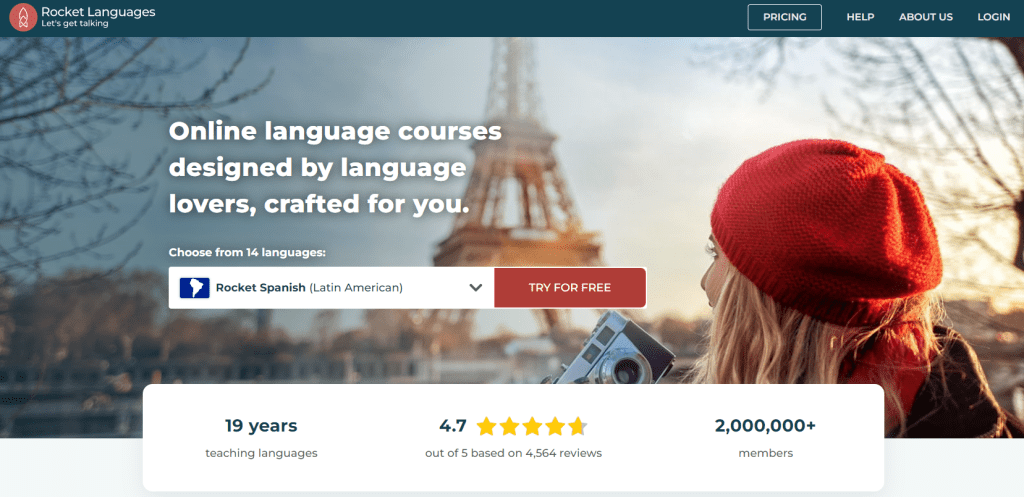 Rocket Russian Review Summary
⭐ Rating:
8.2

★★★★★

🥇 Available languages:
14 (see below)
📈 Suits best for:
Novices and Intermediates
🛒 Payment options:
6 Months / Lifetime
💵 Price:
$15 – $260
⌚ Hours of lesson time:
350+
🔄 Refund policy:
60-day money back guarantee
🎁 Free Trial:
✔️
American Sign Language, Arabic (Egyptian), Chinese (Mandarin), English (American), French, German, Hindi, Italian, Japanese, Korean, Portuguese (Brazil), Russian, Spanish (Latin America)
Disclaimer: Lingomee is an independent review site that may benefit from affiliate programs. Buying through our links makes our efforts possible without additional costs to you. Learn more here.
Quick Overview of Rocket Russian
Rocket Russian is an online access course that has been guiding language enthusiasts on their Russian learning journey since 2005. It's designed to help learners of all levels to improve and learn Russian language skills.
As with all Rocket Languages courses, it includes interactive audio lessons, authentic Russian conversations, grammar explanations, basic vocabulary, practice quizzes, and progress tracking.
This Rocket Languages app can be accessed on desktops and iOS or Android devices. It has a sleek design and is easy to navigate. The user experience of Rocket Russian is very engaging and interactive.
The lessons are broken down into small, manageable chunks, and the explanations are clear and concise. The app also has a community forum where you can ask questions and get help from other learners.
The audio quality is excellent, and the native speakers speak clearly and slowly, making it easy to understand and repeat after them. The exercises are engaging and challenging, and they are a great way to practice your listening, reading, writing, and speaking skills.
Rocket Russian does not offer any placement test for its users. However, it is exclusively mentioned in the app that Level 1 is for beginner to intermediate learners whereas levels 2 &3 are for advances learners. We think this is the best app to learn Russian language for the money.
Rocket Russian Review: Main Features
Rocket Russian is an online language learning course that offers a total of 144 hours of lesson time at your disposal, including 32 interactive audio Lessons, 40 language and culture Lessons, and 32 writing lessons to master. The focus is on using the language to communicate rather than just memorizing grammar rules and vocabulary.
Interactive audio lessons
Interactive audio lessons are a core feature of Rocket Russian. These lessons feature audio tracks of 15-45 min of native Russian speakers having real-world conversations. The lessons can be streamed or downloaded and you can also replay them as many times as you need to.
After listening to the conversation, learners can take part in two practice activities. First one is called "Play it" where you can take place of one of the native speakers. Now you can indulge in the conversation, speaking correctly at your turn.
Second exercise is called "Lesson vocabulary" where the recordings of words and phrases used in the lesson are available. Language learners can listen and thus perfect their pronunciations.
Rocket reinforcement activities
Rocket Reinforcement Activities are a combination of four practice exercises that help you reinforce what you have learned. In the "Hear it! Say it!" exercise you listen to a word or a phrase in Russian and try to pronounce it while the app tells the percentage of matched pronunciation.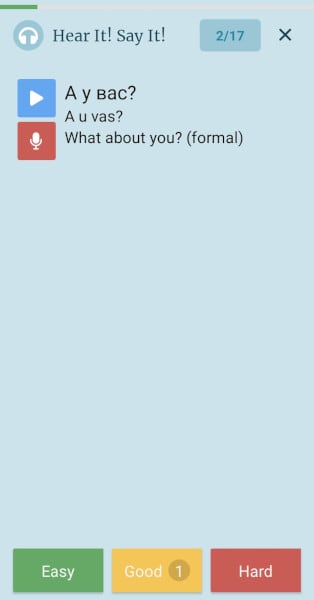 In the "Know it!" exercise, English words and phrases will be displayed and you have to recall and say their Russian equivalent. Rocket Languages app will guide you by rating your pronunciation. You can also grade your effort as 'easy', 'good' or 'hard'.
After familiarizing with words and phrases you can take a quick multiple choice quiz to further solidify your learning. Lastly, you can refresh your memory with a pack of 15-40 flashcards.
Extra testing exercises
Some lessons have an Extra Testing section with an activity called "Sort It!". These exercises are a great way to challenge yourself and improve your reading, writing, and conversational skills.
But mostly, this activity is for understanding the Russian script and the Cyrillic alphabet. It is a multiple-choice exercise. You are presented with the audio of an English phrase and some assorted Russian words. After listening to the phrase, you must arrange the Russian words in the correct order corresponding to the English phrase.
Survival kit
The first parts of the Survival Kit have free access and come with the Rocket Russian app. It is a comprehensive resource that can help you learn Russian on the go. The Survival Kit includes a glossary of essential vocabulary and common phrases for everyday situations with their recordings.
These lists are categorized into their respective topics, such as Numbers, Decimals and Dollars, Colors of the Rainbow, Days and Dates, Clothing, and more. Language learners can record and get ratings for their accents.
This collection of listening exercises is designed to help you learn the basic language skills you need to get around and communicate with locals in Russia or other Russian-speaking countries.
Lessons Quality
Rocket Russian is a comprehensive Russian course providing over 200 hours of interactive audio lessons, language and culture lessons, and flashcards. The lessons are well-structured and engaging, and they use a variety of teaching methods that help improve conversational skills.
The Rocket Russian course is divided into 3 levels: beginner, intermediate and advanced. Every level contains 7 modules, each of which covers audio lessons, cultural lessons, and writing lessons. Rocket language courses also offer bonus features such as the Survival Kit and the Travelogue series, which are very useful.
The instructions in Rocket Russian are mostly in English. We feel that more time should have been dedicated to learning Russian words and phrases, i.e., immersing in the native language itself.
The average lesson duration in Rocket Russian is about 30 minutes, and the native speaker instructs in English. It is a good length for a lesson, as it allows learners to focus on the material without getting bored. However, the actual dialogues in Russian take only about ten seconds.
Grammar Instruction
Rocket Russian app contains detailed explanations of grammar concepts, which are quite beneficial if you are a complete beginner. The app covers all basic Russian grammar topics, such as soft and hard consonants, verbs, nouns and pronouns, genders, addressing words, etc. Rocket Russian makes complex grammar concepts easily understandable by breaking them down into simple lessons.
Verbal Practice
Rocket Russian offers several verbal tasks, such as interactive audio lessons, role-playing exercises, and conversation practice. The interactive lessons in Rocket Russian allow you to listen to native Russian speakers and repeat their phrases.
The role-playing exercises in Rocket Russian allow you to practice speaking the target language in different situations. The app also rates your pronunciation instantly and helps improve your accent.
Reading
Rocket Russian app offers reading activity through quizzes that test reading comprehension, helping users practice understanding Russian texts while providing an engaging and effective learning experience.
The short quiz contains multiple choice questions where user has to choose the correct Russian word or phrase. Flashcards are also a handy resource for intermediate learners to memorize basic Russian vocabulary.      
Writing
The writing exercises in Rocket Russian allow you to practice writing Russian letters, words, and phrases. Every module focuses on a few alphabets of the Russian language and includes video representations of how to write the script. Comparisons are given with the English alphabet for a better understanding of sounds. If you want to become fluent in Russian writing, you will need to write Russian as often as possible.
Vocabulary
Rocket Russian is highly effective in helping users build and expand their vocabulary. The app offers flashcards with comprehensive vocabulary lists organized by topic, making it easy to focus on specific areas of interest. The themes are related to everyday conversations, greetings, buying at the market, making a phone call, and even booking a hotel. 
Repetitiveness
Rocket Russian app does a great job incorporating interactive lessons such as role-playing, getting your pronunciations rated, and watching video representations of writing Russian script.
Users can also track their streak status and progress points on the leaderboard position. All these elements make learning Russian fun and less tedious. However, the detailed culture lessons can be lengthy and dull for some.
Rocket Russian Review: Ease of Use
The Rocket Russian app offers a user-friendly interface that enhances the overall learning experience. The interface provides a clean and organized layout, allowing users to navigate through the content with ease. The contrast and use of colors are well-balanced, ensuring readability and visual appeal.
The first-time user experience is welcoming and informative, guiding how to navigate the app effectively. The Rocket Languages app provides immediate and helpful feedback, especially during listening and speaking activities. Loading times are generally reasonable, minimizing any potential frustration.
The Rocket Russian app does not use stock images. All visuals are created by the Rocket Languages team. However, the placement of these images in some places is irrelevant with respect to the context.
Rocket Russian Competitors and Alternatives
Rocket Russian vs MosaLingua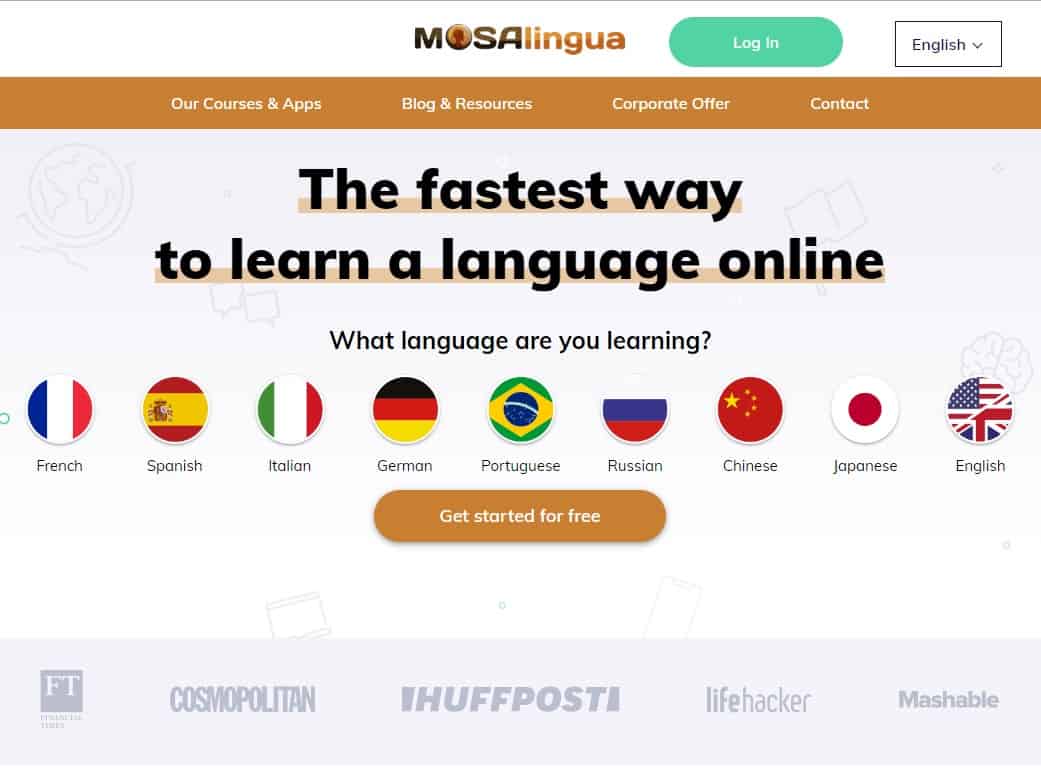 MosaLingua focuses on spaced repetition and uses a 20/80 approach when teaching vocabulary and grammar. It also includes a flashcard deck, a large vocabulary, grammar instruction, review tools, and more. The main difference from Rocket Russian is the use of audio lessons and the price. Learn more about it in this MosaLingua review.
Rocket Russian vs RussianPod101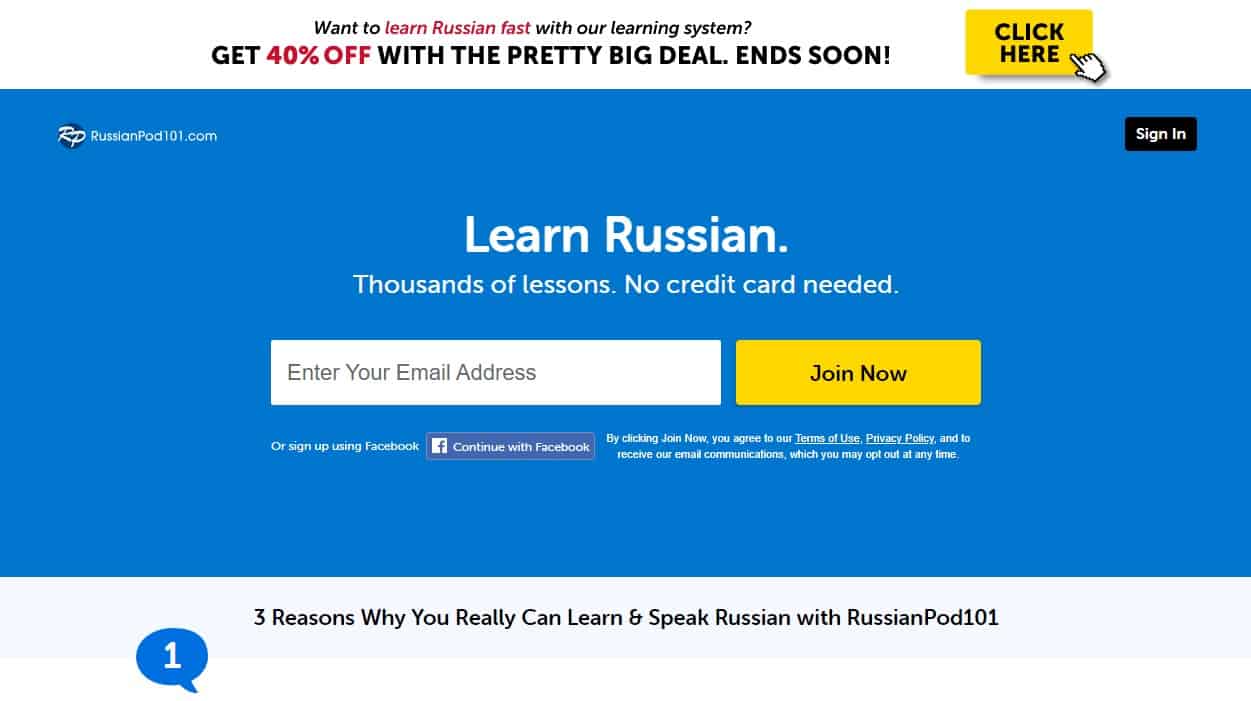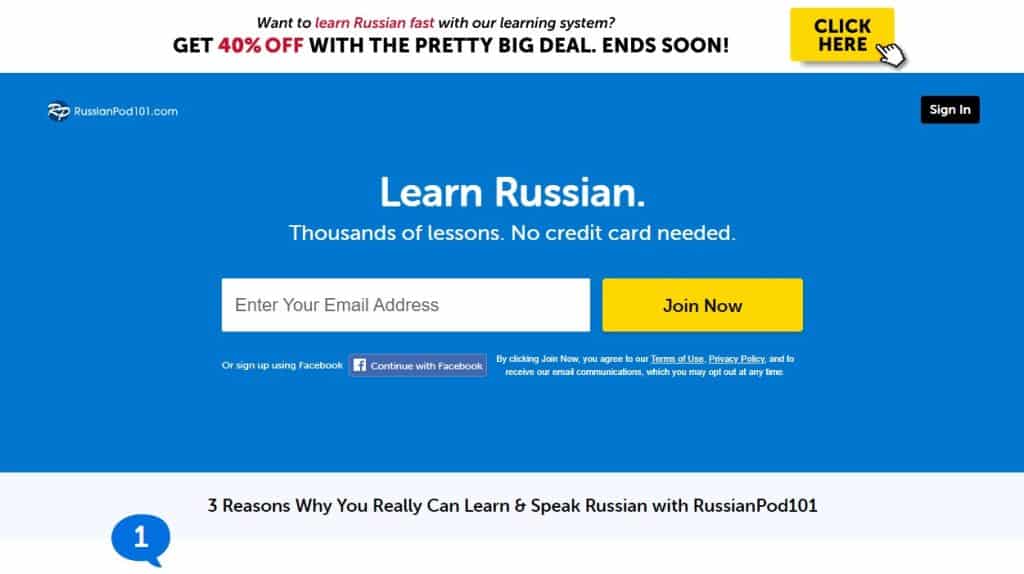 RussianPod101 provides an extensive collection of podcast-like Russian lessons. It has a low price tag while still packing some considerable features. Rocket Russian is also based on learning with audio recordings but, unlike RussianPod101, packs voice recognition and interactive games. Find more information in our in-depth RussianPod101 review.
What Could Be Improved?
Rocket Russian courses offer a variety of features and resources but there are also a few areas where the app could be improved.
One aspect that stands out is the cost, as some users may find the program relatively expensive compared to other language learning resources. The Rocket Russian cost currently stands at $149.95 for a single level, which is more expensive than some other language learning apps on the market.
Another area that could be improved is the lack of live tutoring. While the app offers engaging audio lessons and authentic conversations, it lacks direct interaction with native speakers, which is essential for advanced learners.
Incorporating opportunities for live conversation sessions would greatly enhance the listening skills of students and provide personalized feedback. Other apps, such as Rosetta Stone, have such an option.
 Rocket Russian Pricing
Rocket Languages, the company that owns Rocket Russian app, has a cost-per language policy.  However, there is no subscription option for Rocket Russian. You can purchase a level for a one-time fee and have lifetime access to that level. The price of each level is the same, regardless of the language.
| | | |
| --- | --- | --- |
| Subscription | Price | Payment |
| Level 1 | $149.95 | One charge of  "$149.95" |
| Levels 1 & 2 | $299.90 | One charge of  "$299.90" |
| Levels 1, 2 & 3 | $449.85 | One charge of  "$449.85" |
Free Trial
The free trial is a great way to try out Rocket Russian and see if it is a good fit for you. The trial period is of 7 days, and users can get access to 9 lessons in level 1, 2 lessons in levels 2 & 3, and 2 lessons in the Travelogue series.
Rocket Russian Coupons and Discounts
The Rocket languages team offers discounts on its Russian courses throughout the year. These discounts can range from 10% to 50% off the regular price of the courses. Rocket Russian often offers discounts during holiday sales, such as Black Friday and Cyber Monday, as well as limited-time offers and special discounts for students and family.
Refund Policy
Rocket Russian offers a 60-day money-back guarantee on all purchases. To request a refund, you can contact Rocket Russian customer support through the website or by email. The refund process usually takes 1-2 weeks to process. However, refunds are not available for purchases made through the Apple App Store or Google Play Store.
Rocket Russian Pricing Compared to Competition
In terms of pricing, Rocket Russian is comparable to Babbel or Rosetta Stone. Babbel also offers interactive exercises and games, but it does not offer as much cultural content. Rosetta Stone also includes the possibility to have one-on-one lessons with native speakers.
The price of Rocket Russian might seem higher than these language-learning apps at first. However, it offers a comprehensive curriculum, and the price always includes lifetime access. The app includes 144 hours of audio lessons, 3823 phrases with voice recognition, 25 language and culture lessons, and 31 writing lessons for a single level.
Overall, Rocket Russian is a good value for money because it provides lifetime access to the app. If you are looking for a comprehensive Russian language learning program where you can learn at your own pace, then Rocket Russian will suit you.
Rocket Russian Ratings from Other Users
Google Play Store – 3+ (100K+ downloads)

Apple App Store – 4.3 (637 ratings)

G2 – 4.0

Trustpilot – 3.5
Rocket Russian Review: Customer Support
Rocket Russian has a live chat feature where users can interact with a human representative, ensuring personalized assistance. The quality of answers provided by the customer support team is helpful and informative.
Additionally, Rocket Russian offers an extensive FAQ section and a blog that provides valuable resources and language-learning tips. This comprehensive support system ensures that users can find answers to common questions and access additional learning materials to enhance their language learning journey.
Rocket Russian Review: Conclusion
We can recommend Rocket Russian even for a complete beginner because it stands out with its interactive audio lessons, large vocabulary, and valuable cultural insights. But we must conclude this Rocket Languages review by also mentioning that the learning style is better for auditory learners as the lessons are a combination of speaking and listening activities.