The Portuguese language has over 200 million speakers in Europe, Africa, and South America. Learning Portuguese and connecting with native speakers is easier with a trustworthy Portuguese program that covers all your needs. Rocket Languages provides just that on just one level.
Portuguese learners can benefit from this language learning with a unique learning style based on interactive audio lessons with an audio recognition feature. Rocket Portuguese really does make learning Portuguese look easy.
From the very first lesson, this on-the-go learning style helps with pronunciation practice and all other aspects of the Portuguese language. Most Rocket Languages courses have three levels, but the entire course of Rocket Portuguese fits only in one level.
The language lessons are made from native speaker recordings. They give Portuguese learners conversation practice exercises, a lot of new vocabulary, and a lot of reading and writing practice activities. Read this honest Rocket Portuguese review to learn more about the app and its language course.
A learning app to study Portuguese on your own pace
Rocket Portuguese is a product of Rocket Languages that helps you learn Portuguese. For a one-time price, the language learning app provides native speaker audio lessons, survival kit vocabulary, voice recognition tools, interactive exercises, and much more. The Portuguese program is made to adapt to your needs and help study on the go.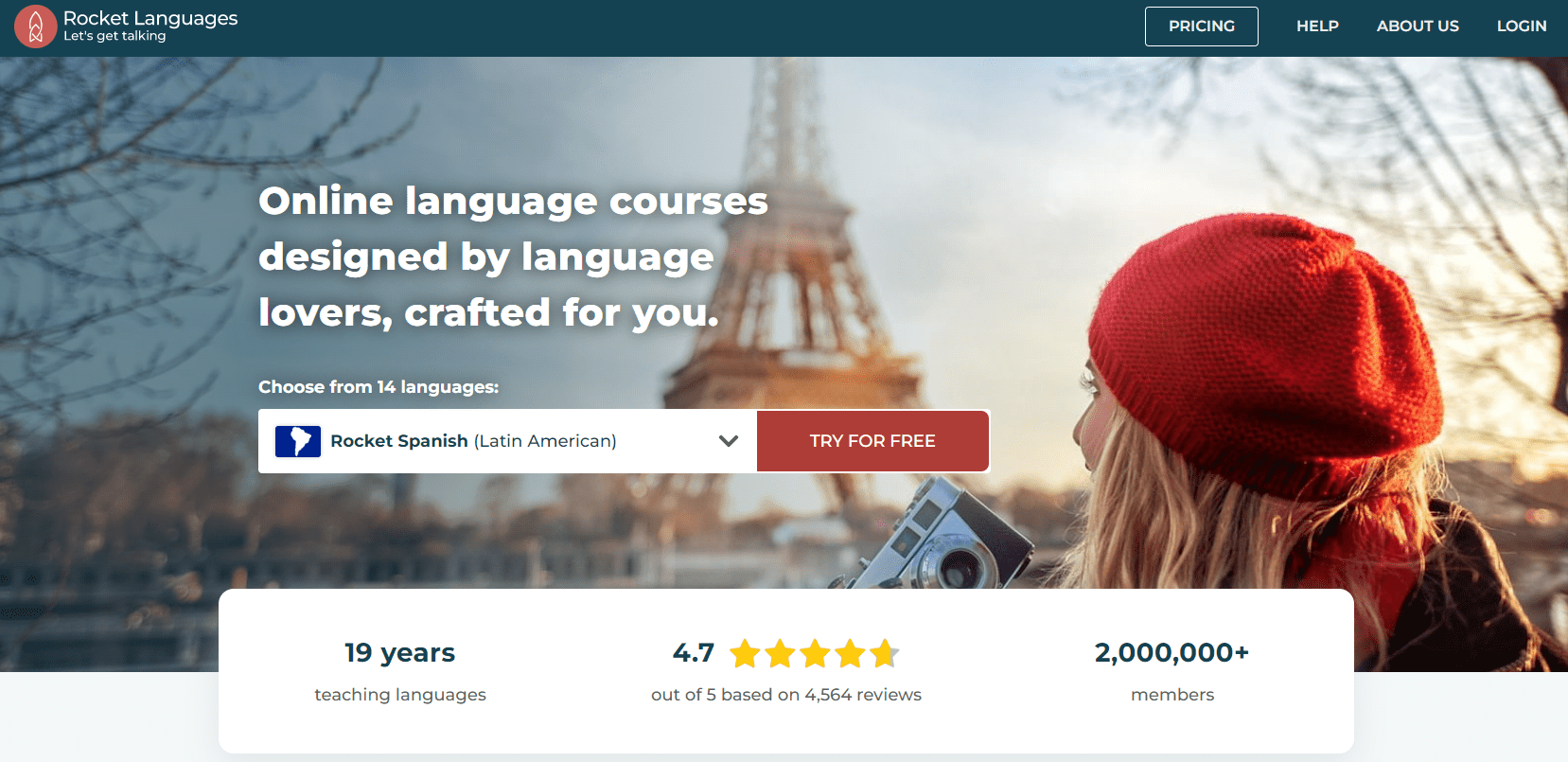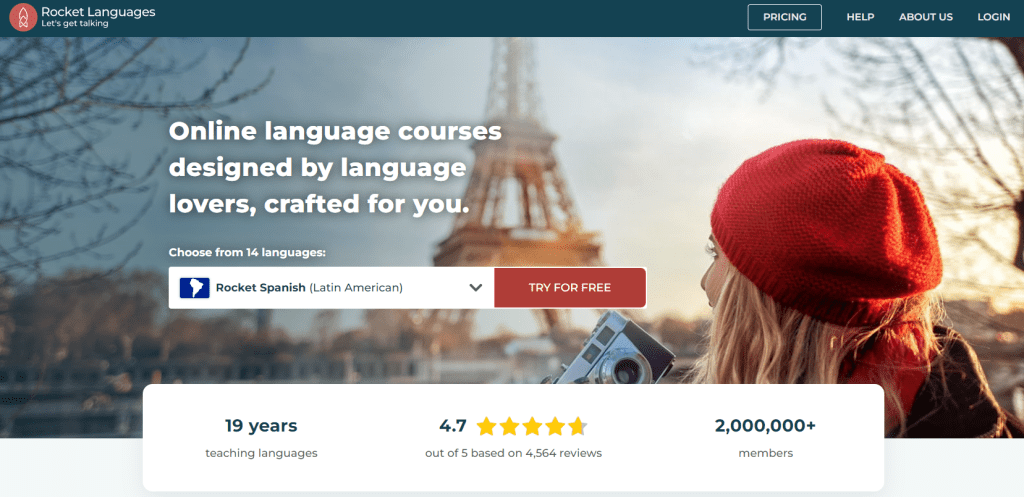 Rocket Portuguese Review Summary
⭐ Rating:
8.7

★★★★★

🥇 Available languages:
14 (see below)
📈 Suits best for:
Novices and Intermediates
🛒 Payment options:
6 Months / Lifetime
💵 Price:
$15 – $260
⌚ Hours of lesson time:
350+
🔄 Refund policy:
60-day money back guarantee
🎁 Free Trial:
✔️
American Sign Language, Arabic (Egyptian), Chinese (Mandarin), English (American), French, German, Hindi, Italian, Japanese, Korean, Portuguese (Brazil), Russian, Spanish (Latin America)
Disclaimer: Lingomee is an independent review site that may benefit from affiliate programs. Buying through our links makes our efforts possible without additional costs to you. Learn more here.
A Brief Overview of Rocket Portuguese
You can learn new languages using the Rocket Languages Program. Rocket Portuguese is a Portuguese learning program that teaches Brazilian Portuguese. You are introduced to new words and other basic vocabulary as you move through the levels.
Rocket Portuguese only has 1 level, unlike other languages in the Rocket app (for example, the French language), which includes three levels. It does not have a beginner level, intermediate level, and advanced level. Instead, you are provided with all the starting knowledge in a quick one-level course.
Rocket Portuguese has been around for 15 years, making it one of the oldest language-learning apps. Writing lessons, language and culture lessons, and interactive audio lessons are all available on the learning application.
The app relies on native-speaker audio lessons with dialogues. There are breaks after each section to give you time to repeat what you have heard. It helps you with pronunciation by giving you more practice.
To improve pronunciation, Rocket Portuguese encourages learners to speak aloud during the lessons. You can record yourself practicing pronunciation while using the voice recognition feature. The app also gives you multiple-choice questions to test your understanding of the Portuguese language. We should also mention that this is the best app to learn Portuguese for the money.
Rocket Portuguese Review: Primary Features
Rocket Portuguese gives language learners a unique learning experience. It uses interactive audio lessons to help you with pronunciation making it easier to understand the language. The learning app also has plenty of features that help you improve your Portuguese writing and reading. They test your understanding of the language and help you remember.
Play It!
The Play It! feature is there to give learners speaking practice. The audio lessons are made of dialogue between two Portuguese native speakers. You can use the voice recognition feature to create a recording of yourself repeating after them. There are long pauses between the phrases to give you enough time to pronounce words.
There is an option to play back the audio after recording it. The app ranks your pronunciation and gives you points based on how good you are. The conversation in each audio lesson usually follows a particular script.
Audio Lessons
The audio lesson is presented by the host, who is an English speaker. The English speakers give explanations and an English translation of each Portuguese phrase said by the native speakers. Each audio lesson takes around 25 minutes and gives you explanations of the commonly used Portuguese words.
The Interactive audio lessons have pauses in between for you to repeat after the speaker. The lessons can be directly downloaded on the app to be listened to at a later time. The lesson time is divided to give learners enough conversational practice opportunities on particular subjects.
Language and Culture lessons
The language and culture lessons give more information on the grammar structure of the language. It does a lot more compared to the interactive audio lessons, which are mainly dialogue. The lessons take more time to explain Brazilian culture.
The Portuguese alphabet and pronunciation are covered in the first few lessons. You will cover irregular verbs and conditional statements as you progress with the lessons.
The Portuguese course has only one level of difficulty, so the lessons never get too difficult. The best way to improve your study motivation and strengthen your bond with Portuguese is to know more about Brazilian culture. That's exactly what this Portuguese course does.
Lesson Vocabulary
There is a section of extra vocabulary that learners can go through after finishing their audio lessons. This section contains vocabulary that is related to the audio lessons or has some words that were mentioned by the native speaker dialogues. It's very simple.
Each word comes with an English translation. There is also a voice recognition feature that allows you to record yourself pronouncing the words.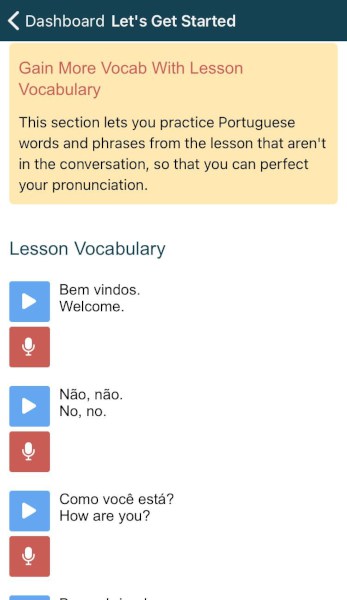 Rocket Reinforcement Activities
Rocket Reinforcement activities are a feature that helps you remember what you have learned. You get these activities at the end of each lesson. They include Flashcards, testing tools, and also – Hear It!, Say It!, Write It! and Know It! They test specific knowledge on the language course.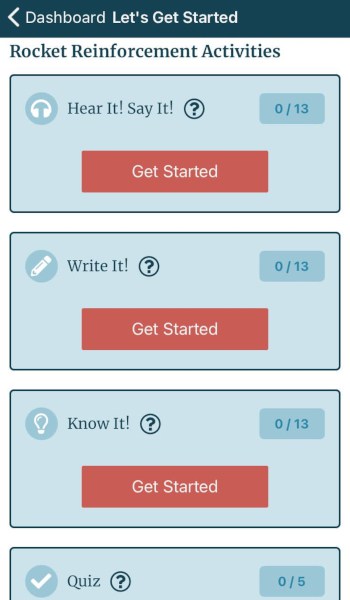 The Excellence of The Learning Material
Rocket Portuguese is a great app for learning Portuguese, although limited to only one level. The learning features in Rocket Language courses make it easy to understand and remember words and grammar. You learn the basics at the beginning of the lessons.
Most lessons are audio lessons, so the app mainly focuses on improving your pronunciation and making you speak much better. The app has practice exercises to help you remember what you've learned. The repetitive nature of the practice activities may make them boring for some. However, you can easily skip some of these activities on the Rocket Portuguese app.
The audio lesson is made from a dialogue between two speakers. You can listen to what they say and try saying it after them. There is a pause between each phrase so that you can try speaking. The method is effective in improving your understanding of the Portuguese Language.
Grammar Instruction
Rocket Portuguese uses audio lessons for teaching. the grammar lessons are written and not recorded. This makes it very helpful, especially if you're a visual learner. You can see the rules written down and look at the examples. You also have Rocket Reinforcement activities that give you practice activities that test what you have learned.
Verbal Practice
Rocket Portuguese gives you enough speaking practice with the different verbal practice activities. Listening to native speakers and repeating after them helps improve your pronunciation of Portuguese words. You can use the voice recognition feature to compare what you have said with the audio lesson dialogue.
Reading
Rocket Portuguese rakes you through different practice activities that improve your reading. You can use the Reinforcement activities to do even more practice. Unfortunately, the app lacks reading materials as it only has one level.
Writing
The Write It! feature takes you through writing sessions in the language app. Learners listen to a phrase in Portuguese and then try to write it down. Overall, rocket languages courses are meant to improve your conversational and listening skills. So the fact that it also works on your writing skills makes it one of the best apps for learning Portuguese.
Vocabulary
Rocket Portuguese has the My Vocab tool and survival kit dictionary that helps you with the vocabulary. It's like a dictionary that allows you to search for words within the entire course. It gives you the meaning of the words and examples of them being used in sentences. It includes audio for you to listen to and confirm the pronunciation of the words.
Repetitiveness
The language lessons begin with an audio recording between native speakers. There are long pauses between the words you hear. You get to repeat what you have heard to work on your pronunciation.
After understanding all the phrases, you will go through the same recordings. The lessons can become boring at advanced levels, but that's what it takes to learn the vocabulary of a new language. Portuguese is no exception.
Rocket Portuguese Review: Accessibility
The language learning app has a simple layout with an easy-to-use interface that beginners can quickly grasp. The app is straightforward to use. It loads quickly once you launch the app. You can quickly switch between interfaces, and it has fast search engines to easily find words.
The first lessons teach the basics of the language. You get audio recordings of basic greetings and how to respond. Advanced learners can skip the audio recordings of what they already know.
Rocket Portuguese Competitors and Alternatives
Rocket Portuguese vs PortuguesePod101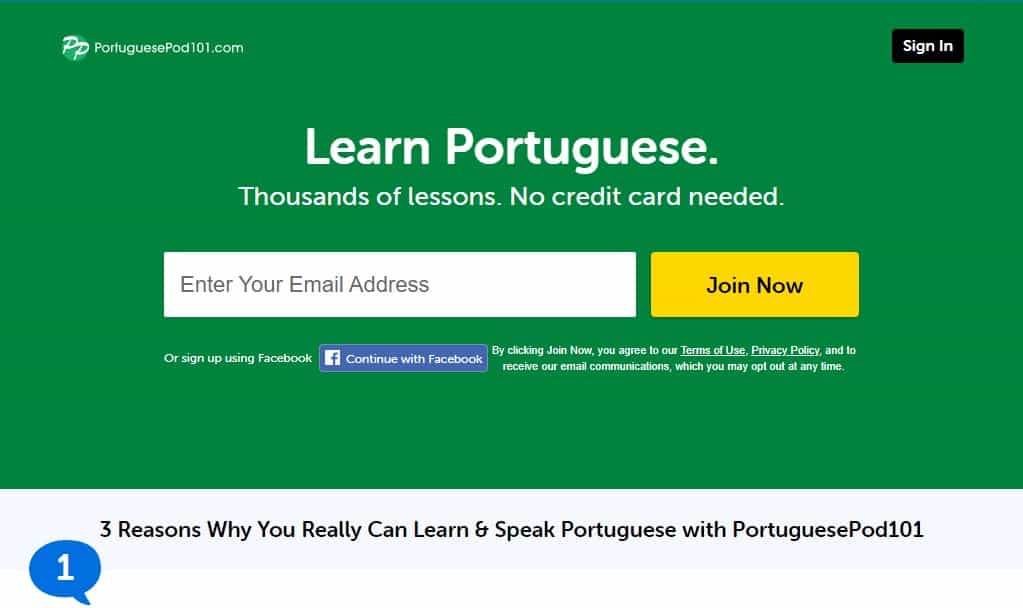 PortuguesePod101 provides an extensive collection of podcast-like Portuguese lessons. It has a low price tag while still packing some considerable features. Rocket Portuguese is also based on learning with audio recordings but, unlike PortuguesePod101, packs voice recognition and interactive games. Learn more about it in this PortuguesePod101 review.
Rocket Portuguese vs MosaLingua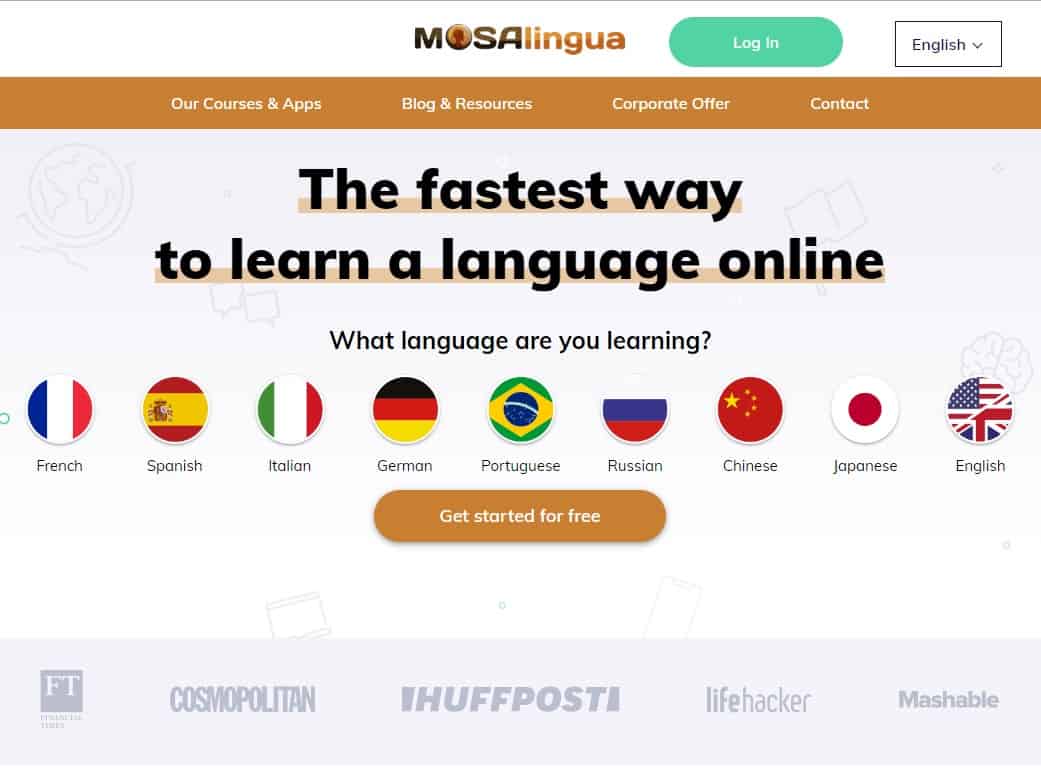 Mosalingua focuses on spaced repetition and uses a 20/80 approach when teaching vocabulary and grammar. Its strong point is the customizable flashcard deck, but it lacks such high-quality audio recordings as in Rocket Portuguese. Find more information in our MosaLingua review.
Rocket Portuguese vs FluentU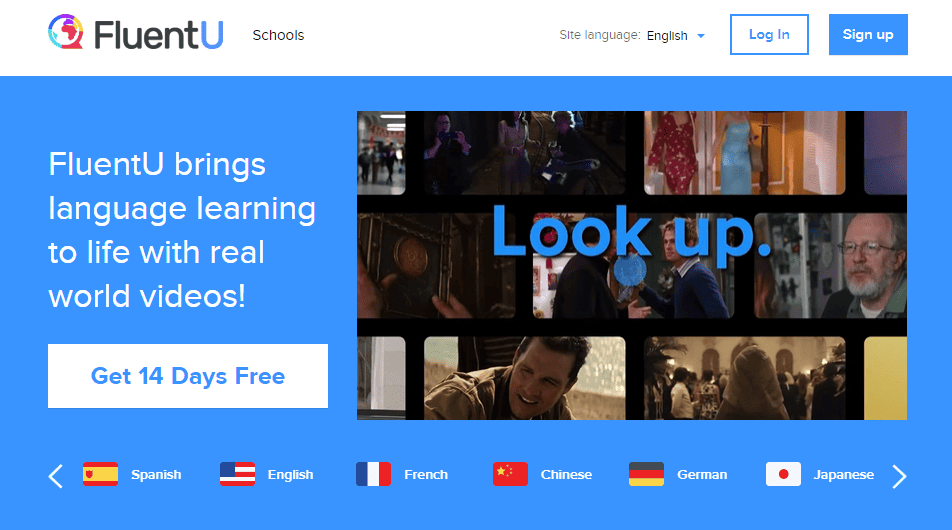 FluentU focuses on an immersive approach that incorporates authentic video content from real-world sources. Compared to Rocket Portuguese, it's better for visual learners but doesn't have speech recognition software and interactive games. Learn more about it in this FluentU review.
What Areas Require Enhancement?
With Rocket Portuguese, you pay only once and get lifetime access. It is great in many cases as you can revisit the learning materials as long as you want. However, Rocket Portuguese only has one level. Users who are at the intermediate level or at an advanced level will require other apps to learn Portuguese. Apps like Rosetta Stone or Babbel have better pricing and more content.
The lessons take a long time to finish, so Rocket Portuguese is still a worthy purchase. But since there is only one level, you will want to rehearse most of the material, especially new words, which makes the app repetitive, and a long lesson time (120 hours approximately) doesn't help.
Rocket Portuguese Price
Rocket Portuguese does not have a monthly subscription plan. Learners pay once and get lifetime access to all the features. The free version only gives you access to the first few lessons. Rocket Portuguese pricing model is beneficial to learners who do not want to pay the monthly subscription fees. The one time payment option gives you lifetime access.
| | | |
| --- | --- | --- |
| Subscription | Price | Payment |
| Beginner to intermediate | $99.95 | One-time charge |
A 6-month payment plan is available for the lifetime access package. You can cancel at any time, saving you $8.00 every month.
Free Trial
Rocket Portuguese free trial gives you lifetime access to the first lessons. You will need to pay for the subscription to access more lessons.
Rocket Portuguese Coupons and Discounts
Rocket Portuguese gives its customers offers and discounts. During our Rocket Portuguese review, we were able to purchase it for just $19.00 over 6 months using the promo code ROCKETDEAL. You also get a discount on the six month payment plan by making monthly payments of $19.00. You save $8 dollars each month.
Refund Policy
Rocket Portuguese gives you a refund within the refund period. You have 60 days to test their course and you can ask for a refund if you don't like it.
Rocket Portuguese: Is it a Good Investment?
Although Rocket Portuguese is a good app for learning Portuguese, it costs a little more than apps like Rosetta Stone ($11.99 monthly). Rocket Portuguese charges users on a one-time payment plan and not on a monthly basis.
The audio lesson and voice recognition software gives learners a unique learning experience with Rocket Portuguese. Unlike many other language learning apps, Rocket Portuguese is entirely based on audio lessons by native speakers. It makes a very good turning point for beginners just entering the language.
Rosetta Stone, Babbel, and other similar learning apps give you a cheaper option at the start with a monthly payment plan. But since Rocket Portuguese is so great for beginners, we recommend starting with it and jumping to other options once you advance.
Rocket Portuguese Ratings From Customers
Google Play Store – 3+ (100K+ downloads)

Apple App Store – 4.3 (637 ratings)

G2 – 4.0

Trustpilot – 3.5
Rocket Portuguese Review: Customer Service
The FAQ section of the Rocket Portuguese website has common questions that language learners might have. You can also send emails with your questions. The customer care team will respond to your questions within 24 hours. You will get direct answers to your questions and fix any problems you might encounter using the learning app.
Rocket Portuguese Review: What Makes it Unique?
Rocket Portuguese is a good app for those learning the language for the first time up until the upper intermediate level. Becoming better at speaking and understanding Portuguese words is the main aim of the app.
The app has audio lessons that are very helpful and cultural lessons to help you know more about Brazilian Portuguese. The voice recognition feature and the many practice activities help you easily remember what you have learned.