Picture yourself strolling through the streets of Japan, effortlessly engaging in conversations with locals in their Japanese language. With Rocket Japanese, you can make this a reality by fully immersing yourself in this rich language before your trip.
Rocket Japanese is the ultimate language course, especially for beginners. Their audio lessons allow you to navigate the Japanese language, expand your vocabulary, and refine your conversational skills.
Explore the immersive world of Rocket Japanese with our Rocket Japanese review. It covers the pros and cons of the course, goes through the interactive audio lessons, and discusses how it can help you master the Japanese language just like a native speaker.
We are sure that our Rocket Japanese review is the best start on your language-learning journey with Rocket languages.
A Japanese language course for an audio lessons-based experience
Rocket Japanese is great for learning natural Japanese. This online course is an excellent option for learning Japanese at your own pace, with an emphasis on speaking Japanese like native speakers. It explains Japanese grammar, language culture lessons, and real-life Japanese words while reading and writing lessons are well integrated into Japanese courses.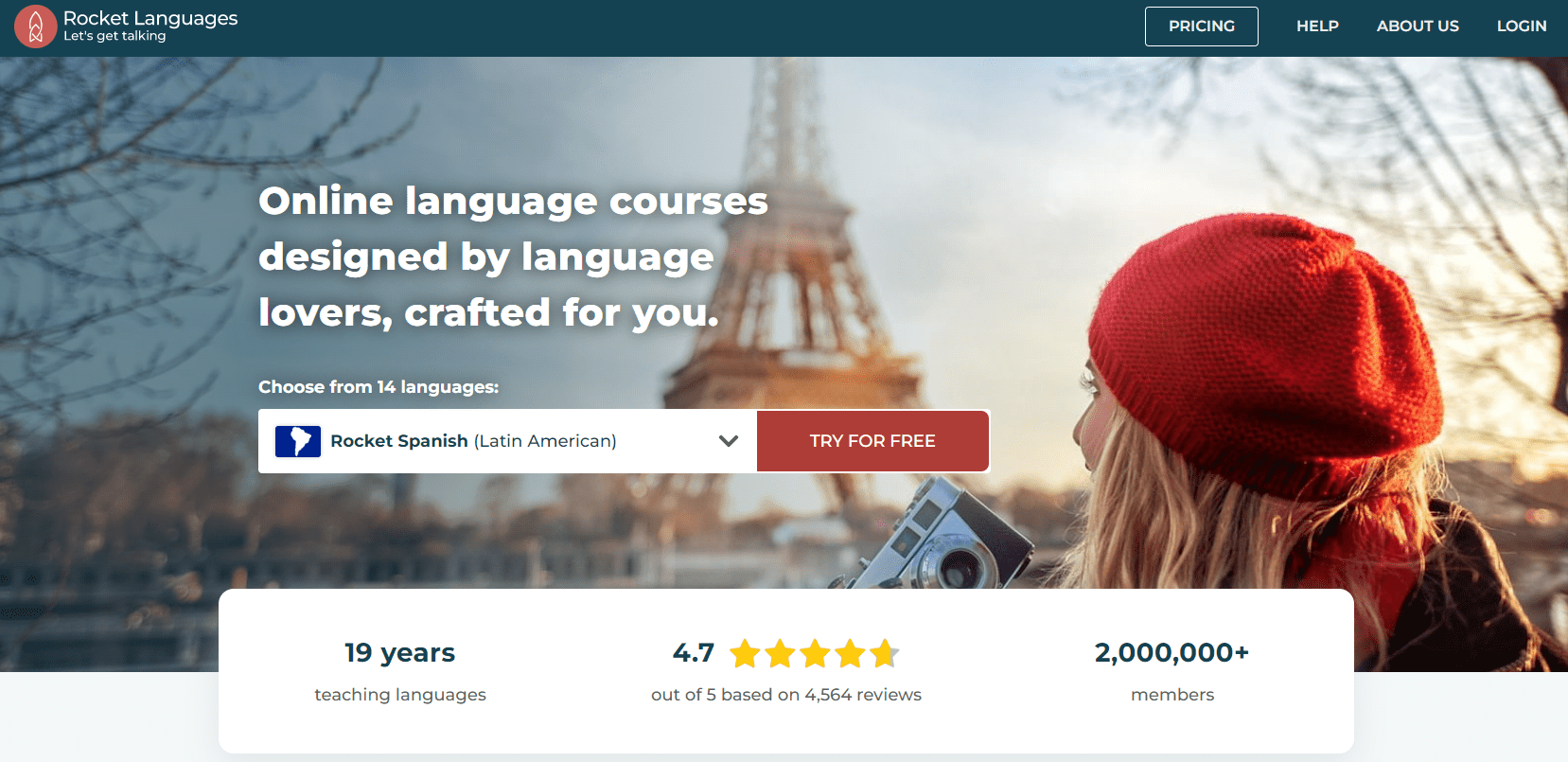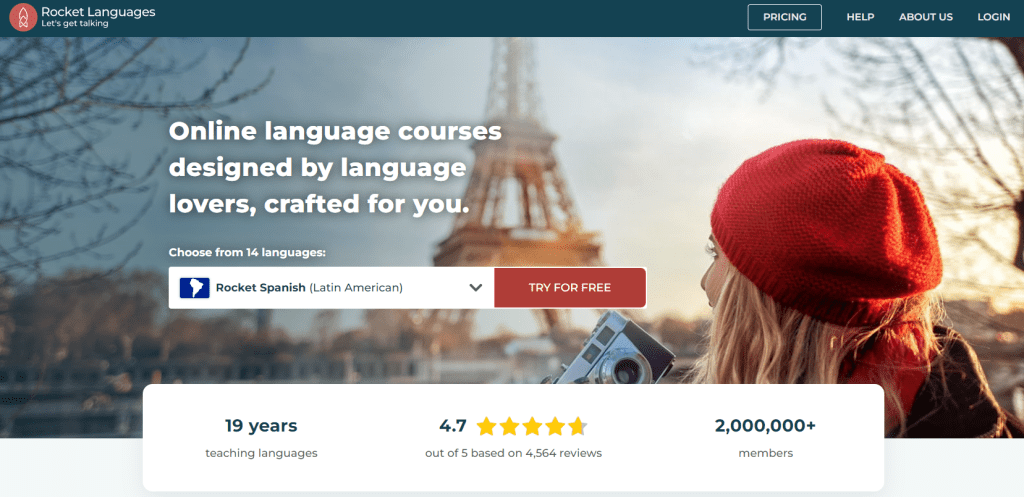 Rocket Japanese Review Summary
⭐ Rating:
8.4

★★★★★

🥇 Available languages:
14 (see below)
📈 Suits best for:
Novices and Intermediates
🛒 Payment options:
6 Months / Lifetime
💵 Price:
$15 – $260
⌚ Hours of lesson time:
350+
🔄 Refund policy:
60-day money back guarantee
🎁 Free Trial:
✔️
American Sign Language, Arabic (Egyptian), Chinese (Mandarin), English (American), French, German, Hindi, Italian, Japanese, Korean, Portuguese (Brazil), Russian, Spanish (Latin America)
Disclaimer: Lingomee is an independent review site that may benefit from affiliate programs. Buying through our links makes our efforts possible without additional costs to you. Learn more here.
About The Rocket Japanese 
Rocket Japanese lessons are comprehensive, well-structured, and thorough. It covers all practical lessons required by language learners. Rocket Languages is one of the biggest names for learning new languages. It is one of their best seller courses offering a conventional classroom environment. 
One can learn Japanese online or offline on Rocket Languages mobile app. It's an interactive, audio-based course teaching everything from speaking exercises to writing lessons. With a strong emphasis on speaking Japanese, each rocket lesson offers a natural and immersive experience.
If you want a conventional classroom learning experience, this Japanese online course is great for learning Japanese. Language learners can engage in language culture lessons helping them make their language learning journey positive. Using Rocket Japanese is one of the best ways to become more confident in speaking Japanese.
The entire Rocket Japanese builds on three difficulty levels. Catering to all the needs of Japanese learners at different proficiency levels, each level has 120+ hours of lesson time. A 15 to 40-minute interactive audio lesson facilitates improving spoken Japanese along with Rocket reinforcement activities. We think that this is the best app to learn Japanese for the money!
Among other Rocket Languages courses, learning Japanese like native speakers becomes easy through automatically generated PDF files. You can use both the desktop version and the mobile app to learn Japanese online.
Extensive Rocket Japanese writing lessons help users learn the different Japanese writing systems. Rocket Japanese learning style emphasizes everyday conversational language through voice recognition software.
Rocket Japanese Review: Key Features
The Rocket Japanese program focuses on teaching Japanese in an easy and immersive way. Unlike other online Japanese courses, Rocket Japanese utilizes interactive audio lessons. Each audio lesson imitates real-world conversations of native Japanese speakers. 
With the help of advanced speech recognition software, Rocket Japanese helps users pronounce words and phrases accurately. It also digs deeper into Japanese traditions and culture to understand the language better.
The Japanese language program offered by Rocket Languages covers all the Japanese writing styles, including Hiragana, Katakana, and Kanji.
Flexible Interactive Audio Lessons
Rocket Japanese is your thing if you want to customize your learning experience. It allows you to download PDF files to study them later. Comprehensive writing and reading lessons allow users to hear native speakers pronouncing words.
Interactive audio lessons are by far the best feature of Rocket Japanese. They provide a solid foundation for the Japanese-learning process. Each lesson comprises 15 to 40 minutes, keeping the students engaged.
The relaxed and exciting tone of conversational Japanese script fosters a realistic learning environment. A scrolling transcript, included with the audio files, improves reading skills efficiently.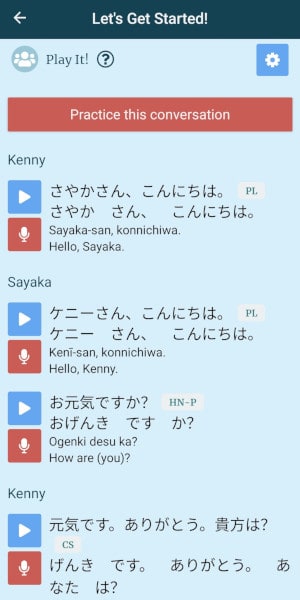 Japanese Language and Culture Lessons
Multiple modules comprehensively cover the basics of grammar and vocabulary. Each language lesson includes thousands of frequent words and phrases. It facilitates students to master Japanese communication in everyday life.
Rocket Japanese goes beyond language education, including insights into Japanese culture. Rocket Languages believes in the power of a cultural lesson in assisting the language learning process. Each culture lesson helps students speak with more complexity and compassion.
Japanese Language Survival Kit Lessons
The survival kit lessons are a module for memorizing vocabulary. This module includes all the everyday words and phrases related to food, travel, and health. This kit is excellent for people who are looking to brush up on more than one language.
It is important to note that these survival kits are sold separately on the Rocket Languages website. But it foes not rais the Rocket Japanese cost that much.
Covers Three Japanese Language Writing Styles
Unlike other language courses, all the Japanese writing styles are covered in Rocket Japanese – Hiragana, Katakana, and Kanji. Kanji is written in Japanese by using traditional Chinese characters.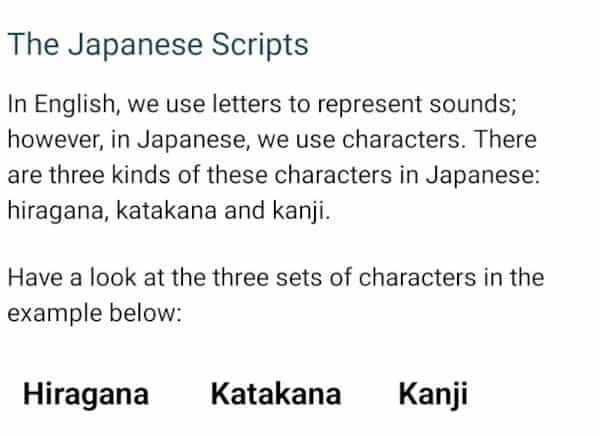 As the course advances, it introduces the students to one writing system at a time. Writing lessons are thoughtfully designed to help tie everything together. And Rocket reinforcement helps you remember what you learn easily.
Quality of The Learning Material
Rocket Languages offer exceptional learning material, and Rocket Japanese is no exception. The course consists of immersive and well-structured lessons. Each lesson assists students in developing conversational fluency in Japanese. Apart from interactive audio lessons, the language course includes lectures on culture to offer more nuance in language usage. 
Japanese is not an easy language to learn, so each lesson provides instruction in English. Unlike Rosetta Stone Japanese course, Rocket Languages focus on audio lessons instead of short, flashcard-style lessons. Listening to each audio lesson more than once makes learning Japanese online easy.
However, the English instructions in the advanced modules make it hard for experienced learners to immerse themselves fully. It leaves room for improvement in this otherwise thorough language course.
Grammar Instruction
Rocket Japanese work by emphasizing rigorous explanations of grammar. Remarkably, the language and culture lessons are in-depth grammar lessons but don't use the word 'grammar' to avoid scaring students off.
Unlike other lessons, Rocket Japanese teaches grammar in text-based lessons. Users are encouraged to practice Rocket reinforcement exercises to master Japanese grammar. 
Verbal Practice
If you want to speak Japanese, Rocket Japanese verbal practice can help. It provides extensive verbal methods through interactive exercises. The app uses audio recordings and voice recognition software to help students develop better speaking skills.
Reading
We have found Rocket Japanese a fair mix of difficulty and assistance in reading exercises. It has voice recognition technology and plenty of Rocket reinforcement activities to enhance Japanese reading.
These reading resources help beginners and intermediate readers improve their language skills, making Rocket Japanese worth your time.
Writing
Each module of Rocket Japanese ends with writing lessons. The app teaches major Japanese writing systems one at a time.
Hiragana, katakana, kanji characters
To make it less overwhelming, writing lessons introduce just a few new Japanese characters at a time. Animations and videos are included to demonstrate the correct writing technique of each character, along with audio guides for pronunciation. 
Vocabulary
With a wide variety of vocabulary-building lesson material, Rocket Japanese is one of the best language-learning apps. It encourages students to master Japanese fluency through engaging culture lessons and cram vocabulary using a survival kit.
Repetitiveness
All the lessons of Rocket Japanese strike a decent balance between repetition and diversity. You will not find learning Japanese dull and monotonous with Rocket Japanese. It keeps you entertained and excited using interactive audio lessons, Japanese culture insights, and reinforcement exercises.
Students can download automatically generated PDF files to listen and learn on the go. You can also interact with other students and professional tutors in multiple forums.
Rocket Japanese Review: Simplicity of Operation
During our review of Rocket Japanese, we found that the user experience stands out as a straightforward language-learning app for beginners.
Clear Labeling: Audio lessons have clear labeling and well-defined categories. It is simple for users to find the resources within the program.
Contrasting Style: The lighter backdrop and dark text improve readability. Rocket Japanese prefers a basic color design, emphasizing the content while upholding a professional appearance.
Easy Onboarding Procedure: It offers a self-explanatory onboarding process. The route to the initial classes is simply accessible. 
Quick Loading Audio Lessons: The app's responsiveness and quick loading times increase customer satisfaction.
Friendly Feedback System: Rocket Japanese makes giving feedback pleasant. Excellent customer support excels at assisting students.
Rocket Japanese Competitors and Alternatives
Rocket Japanese vs Rosetta Stone Japanese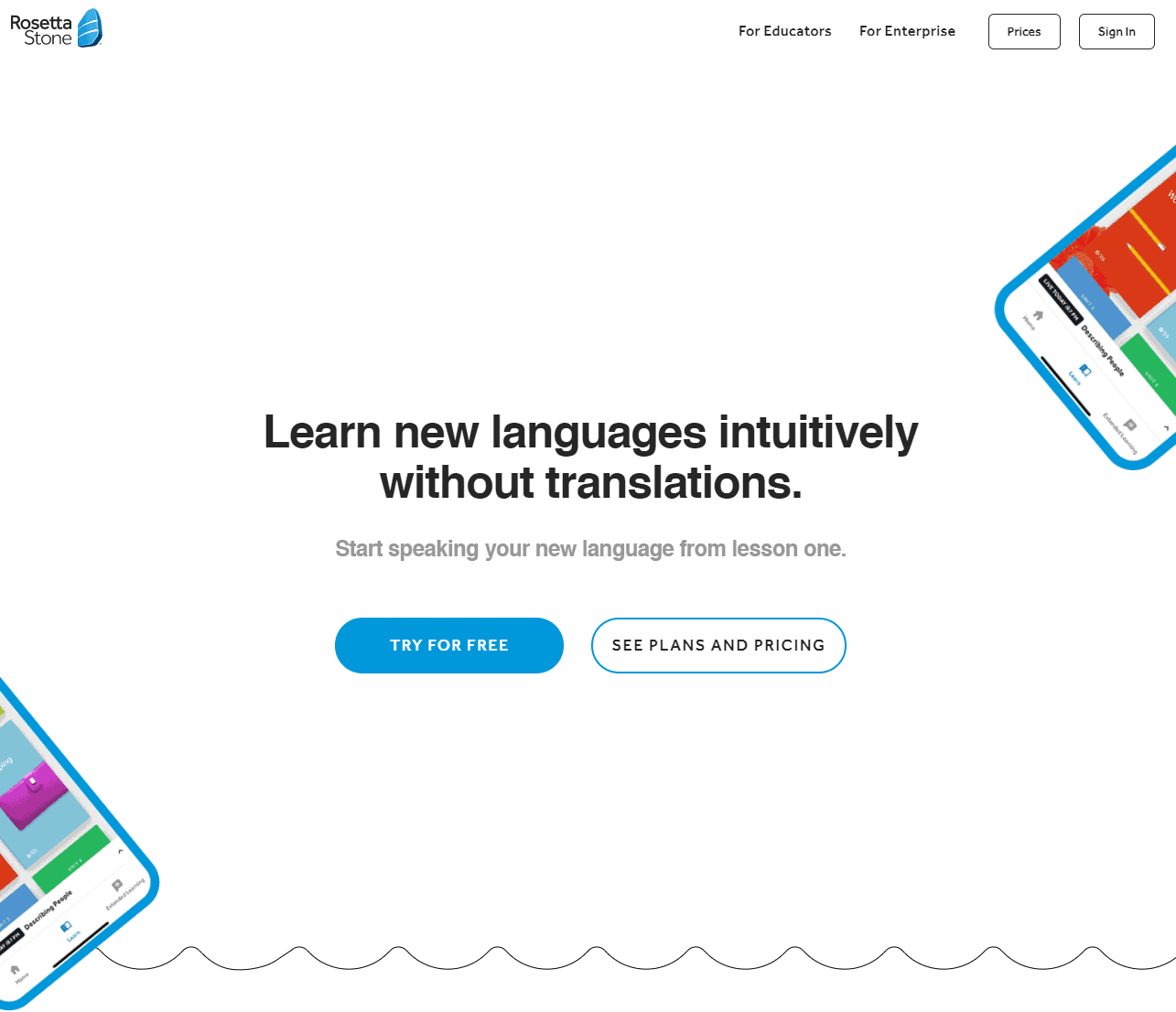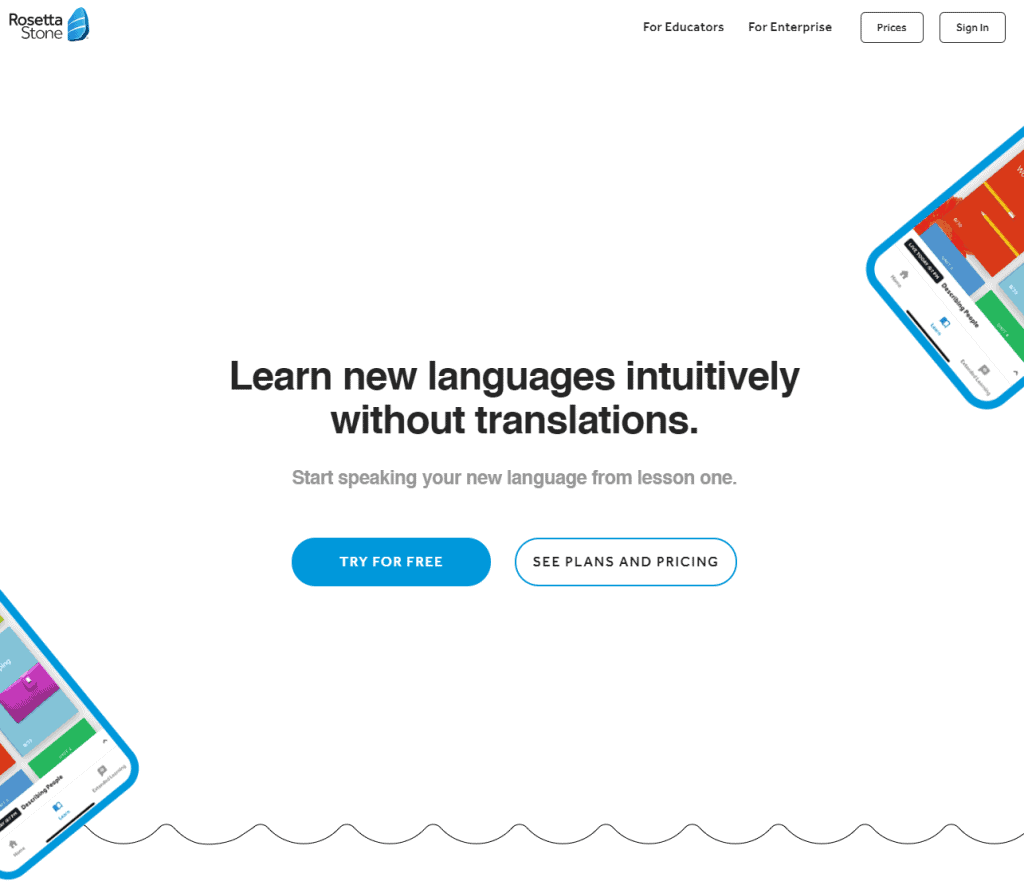 Rosetta Stone Japanese emphasizes language immersion through visual cues with little formal guidance. As with Rocket Japanese, it uses native speaker audio, has speech recognition, and an extensive vocabulary. The choice depends on which type of language immersion you want. Learn more about it in our Rosetta Stone Japanese review.
Rocket Japanese vs Pimsleur Japanese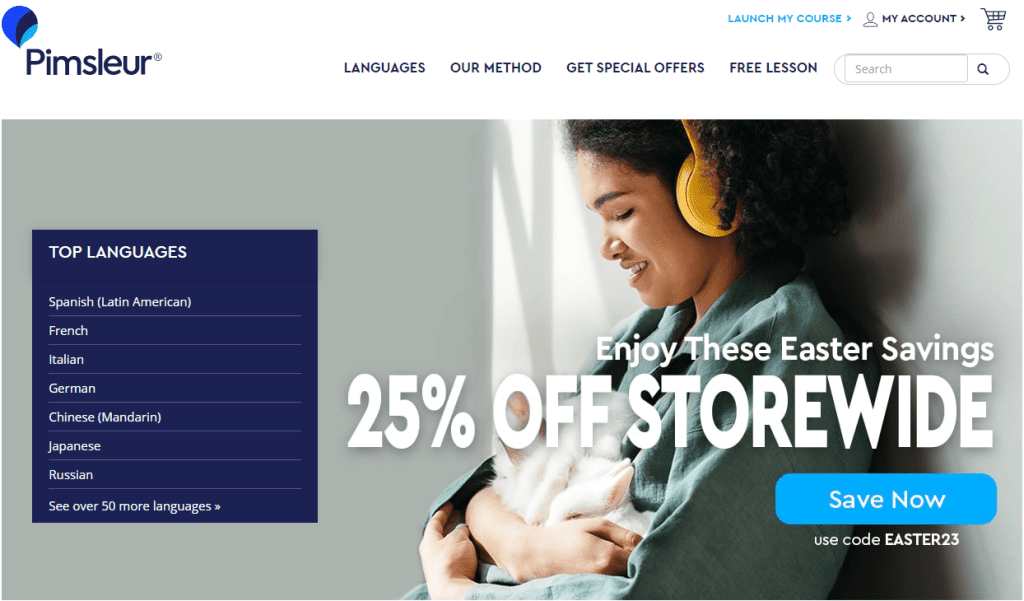 Pimsleur is an audio-based app tasking you with listening and repeating Japanese words and phrases. Rocket Japanese also focuses on helping learners with audio lessons. The differences lie in the selection of features and vocabulary coverage. You really should read our in-depth Pimsleur Japanese review before deciding on which one to choose.
Rocket Japanese vs JapanesePod101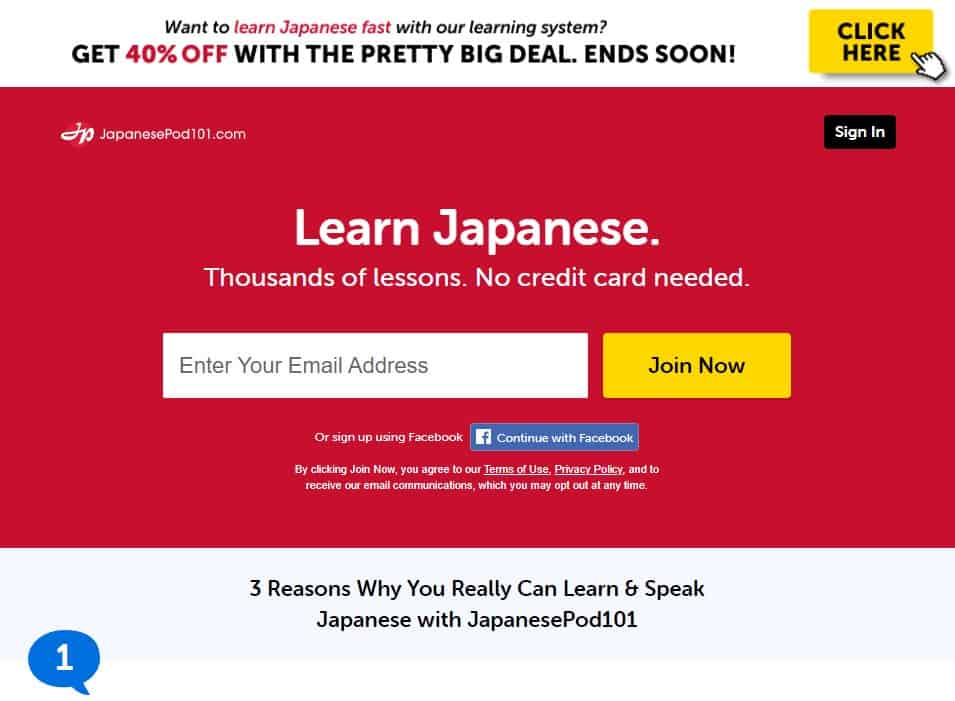 JapanesePod101 provides an extensive collection of podcast-like Japanese lessons. It has a low price tag while still packing some considerable features. Rocket Japanese is also based on learning with audio recordings but, unlike JapanesePod101, packs voice recognition and interactive games. Learn more about it in our JapanesePod101 review.
What Areas Could Be Improved?
Rocket Japanese uses a promising learning method, but some areas require improvement. The most crucial one for Japanese learners is that they will not achieve an advanced level.
Rocket admits that by the end of the third level, one will only have an N4 level (level 1 is the most advanced, and level 5 is the lowest). You will need additional resources to continue improving your Japanese. Here are two main ways we think that the Rocket Japanese program must improve:
Insufficient Grammar Practice: Unlike vocabulary practice, there are almost no practice exercises in grammar lessons. There is a short quiz with each lesson, but it's not enough to remember the grammar rules.
Too Much Use of English: The interactive audio lessons are heavy in English, explaining all the content. While this is useful for beginners, advanced learners need to be immersed in more content in spoken Japanese.
Rocket Japanese Prices
Rocket Japanese consists of 3 difficulty levels. Users can buy each level separately or for a fixed upfront payment. Level 1 costs $149.95. If you buy levels 1 & 2 together, it costs $299.90. The price of all three levels cost $449.85.
| | | |
| --- | --- | --- |
| Level | Price | Payment |
| 1 | $149.95 | One-time charge |
| 1 & 2 | $299.90 | One-time charge |
| 1, 2 & 3 | $449.85 | One-time charge |
Rocket Japanese cost per level remains the same. However, the app offers an early bird discount of up to 44%, significantly reducing costs.  
Free Trial
Rocket Japanese lets you learn Japanese first few lessons with the free Trial. The best part is I signed up for a 7-day free trial without entering my credit card information.
Although some language-learning apps give you access to all content available during the Trial, Rocket is limited. 
Rocket Japanese Coupons and Discounts
Rocket Japanese is constantly offering discounts and special coupons. You will receive a discount code as soon as you sign up. I availed of the 40% early bird discount on Level 1.
Refund Policy
Rocket Languages offers a 60-day refund policy. If you don't like the Rocket Japanese course material or teaching style, you can easily claim a refund within 60 days. You can also try their 6-month payment plan to purchase all 3 levels.
Rocket Japanese Pricing Compared to the Competition
It may seem that Rocket Japanese is expensive compared to its competitors. Other apps like Busuu, Mondly, or FluentU offer monthly payment plans. Buying the entire course of Rocket Japanese or completing a level upfront can be hard on your finances.
Apps like JapanesePod101 even offer some free content, but no such option is available in Rocket Japanese. Still, the quality of the content you get from all Rocket languages products, including Japanese courses, is outstanding and worth paying for if you are a serious learner.
Rocket Japanese Ratings from Other Users
Google Play Store – 3+ (100K+ downloads)

Apple App Store – 4.3 (637 ratings)

G2 – 4.0

Trustpilot – 3.5
Rocket Japanese Review: Assistance to Clients
Once you commit to a lifetime membership of Rocket Japanese, you can be confident that the program will improve and grow continually. New content is always being added, and the latest updates keep coming out. The client support team is available through chat to answer any questions. 
Rocket Japanese client support is generally very responsive and helpful. Email assistance is readily available with a response time of around 48 hours. In the meantime, you can search for answers in the thorough FAQ section. The informational blogs furnish information on language acquisition. 
Rocket Japanese Review: What Sets it Apart?
Rocket Japanese course teaches you essential words and phrases for daily use. The interactive audio lessons, language and culture lessons, and reinforcement activities are the key features of this online course. It also helps you write Japanese characters in 3 different writing systems. It's a really comprehensive course to build a solid foundation.