Imagine confidently ordering tapas in a bustling Madrid restaurant or engaging in a lively conversation with locals in the heart of Barcelona. With Rocket Spanish, you can turn these dreams into reality. Whether you're a language enthusiast or a busy professional, Rocket Spanish offers a seamless and engaging Spanish learning experience.
Unlock the secrets of Spanish through interactive audio lessons and captivating cultural insights. From beginner to advanced levels, this app caters to your learning style. Rocket Spanish is your ultimate companion if you're ready to embark on an exciting journey to Spanish fluency.
This Rocket Spanish review covers its most important features, learning materials, and pricing to help you decide before spending any money.
Lifetime access to a Spanish course with language and culture lessons
Rocket Spanish is an exceptional Spanish learning program. It offers interactive audio lessons, comprehensive grammar instruction, and engaging reinforcement activities. With a focus on conversational Spanish, cultural insights, and lifetime access, it's the perfect platform to embark on your journey toward developing Spanish language skills.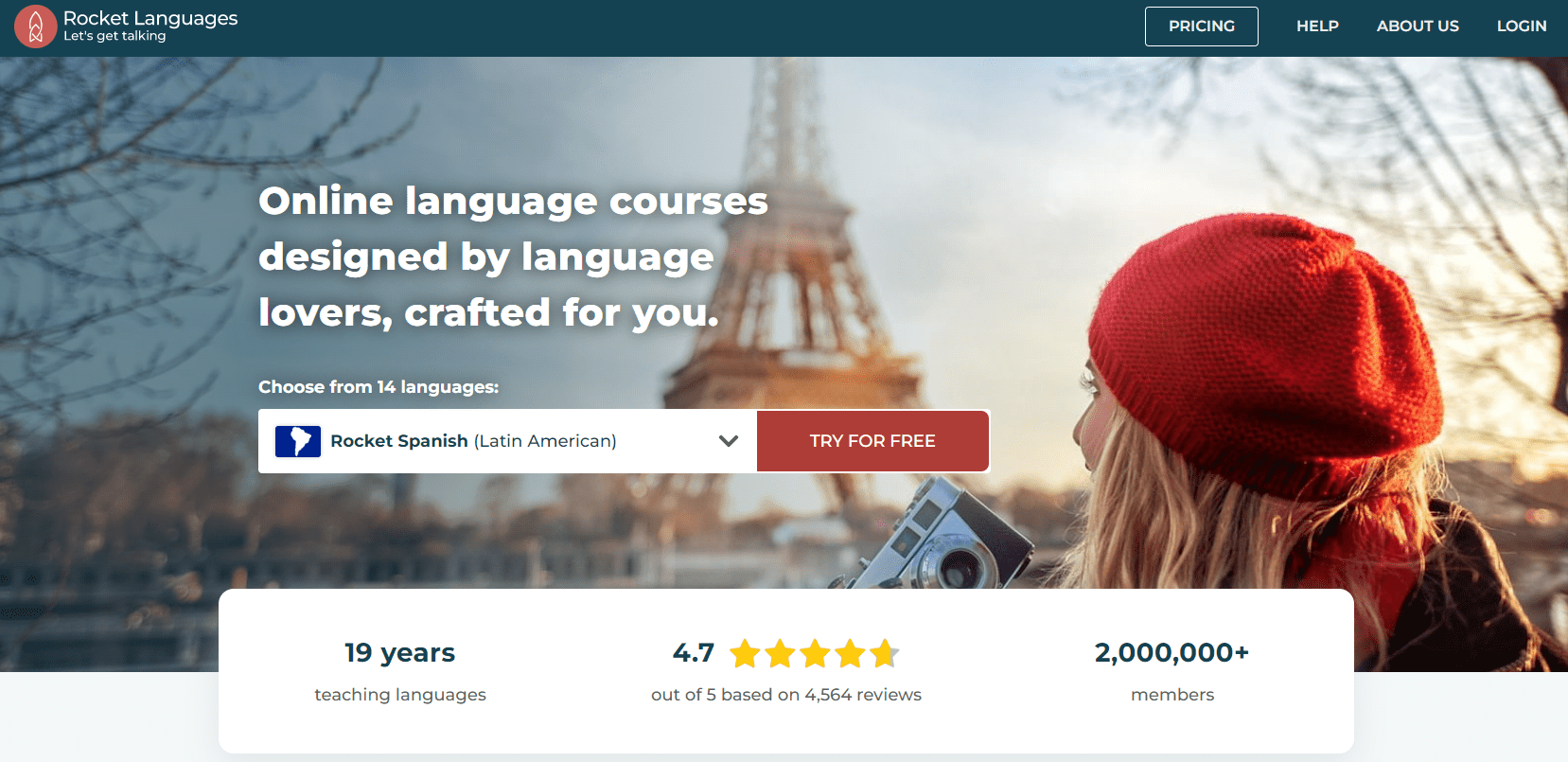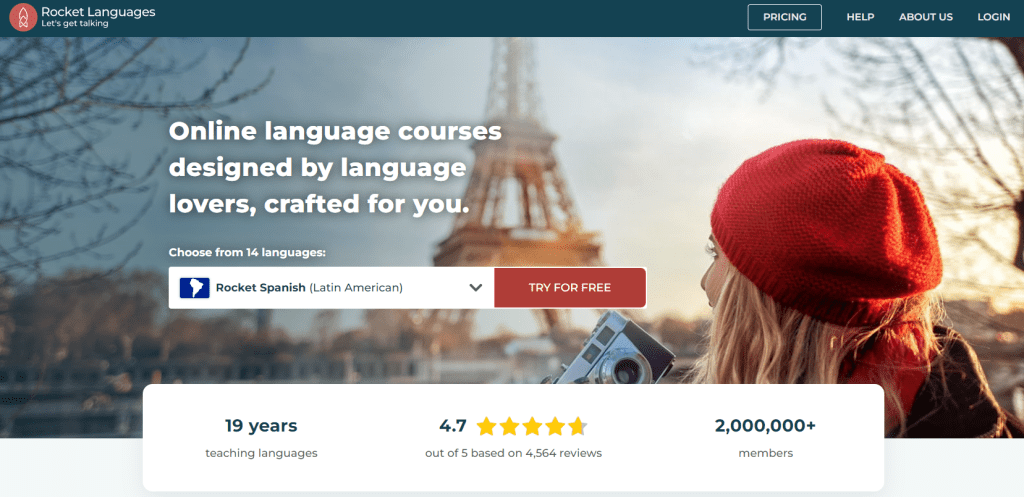 Rocket Spanish Review Summary
⭐ Rating:
8.4

★★★★★

🥇 Available languages:
14 (see below)
📈 Suits best for:
Novices and Intermediates
🛒 Payment options:
6 Months / Lifetime
💵 Price:
$15 – $260
⌚ Hours of lesson time:
350+
🔄 Refund policy:
60-day money back guarantee
🎁 Free Trial:
✔️
American Sign Language, Arabic (Egyptian), Chinese (Mandarin), English (American), French, German, Hindi, Italian, Japanese, Korean, Portuguese (Brazil), Russian, Spanish (Latin America)
Disclaimer: Lingomee is an independent review site that may benefit from affiliate programs. Buying through our links makes our efforts possible without additional costs to you. Learn more here.
A Quick Look at Rocket Spanish
Rocket Spanish, offered by Rocket Languages, is a very advanced language course for new language learners. It is created to completely immerse students in the Spanish language. It delivers a productive and fun learning experience through language and culture lessons.
The course focuses on teaching in a natural and immersive way to help you communicate like native Spanish speakers do.
The structure of Rocket's lessons is similar to that of a conventional classroom. A virtual "teacher" delivers interactive audio lessons. Users engage in practice exercises to reinforce their learning and develop their speaking and listening abilities. Users taking this course become more confident in speaking Spanish fluently. You should also see our list of the best apps to learn Spanish.
One of the standout features of the Rocket Languages Spanish course is its focus on practical communication skills. The course covers a wide range of vocabulary, grammar, pronunciation, and cultural insights. It ensures that learners gain a well-rounded understanding of the language.
The entire Rocket Spanish course provides 3 options for Spanish learners at different proficiency levels. The Premium package includes 67 lessons, the Combo package offers 122 lessons, and the entire Rocket Spanish provides 185 lessons. Such variety ensures that learners can choose the level of depth they desire in their Spanish language journey.
With its user-friendly interface, engaging content, and comprehensive approach, Rocket Spanish is an excellent choice for individuals interested in learning Spanish. It provides the tools and resources to effectively help you achieve your language learning goals.
Rocket Spanish Review: Key Functions
The Rocket Spanish program works differently than other language-learning applications. The Rocket Spanish utilizes interactive audio lessons imitating real-world conversations of a native Spanish speaker.
While speech recognition technology helps you pronounce the words and phrases yourself, other Rocket Spanish lessons dig deep into cultural insights. Overall, it aims at practice-based learning and honoring the accomplishments of students for better progress.
Interactive Audio Lessons
The best feature of Rocket Spanish is the interactive audio course. They provide the foundation of the Spanish-learning process. These 15 to 40-minute classes expose students to discussions and enhance conversational skills. The audio information is provided at a natural speed. Learners investigate grammar, vocabulary, and pronunciation with the help of voice recognition software.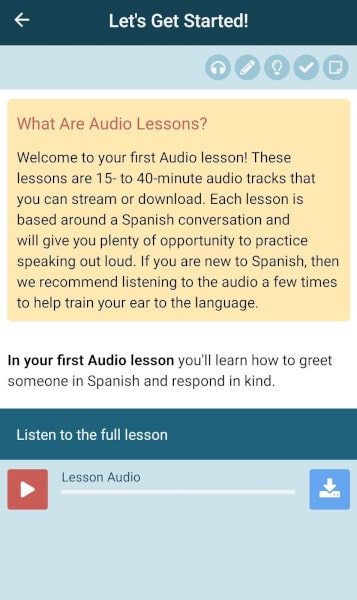 A scrolling transcript is included with the audio files to allow for simultaneous reading and listening of conversational Spanish. The dialogues have a relaxed and exciting tone to foster a realistic learning environment.
Rocket Spanish emphasizes everyday conversational language. These interactive audio courses may improve Spanish speaking and listening abilities compellingly and efficiently.

Language and Culture Lessons
Language and cultural classes in Rocket Spanish greatly aid the Spanish learning process. The basics of grammar and vocabulary are comprehensively covered in the modules. Thousands of frequent phrases are also recorded in these language lessons.  It allows students to understand communication situations in everyday life better.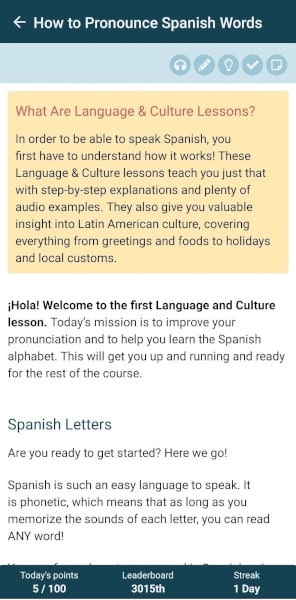 Rocket Spanish goes beyond language education by including insights into Spanish culture. It recognizes the innate relationship between a language and culture lesson.
Learners can speak with more complexity and compassion when they know their cultural background. With the help of Rocket Spanish's language and cultural lessons, students can learn latin american effectively.
Reinforcement Activities
Rocket reinforcement tools are included in Rocket Spanish to augment Spanish learning. They offer excellent practice opportunities. Some activities include Flashcards, speaking and listening exercises, writing prompts, and quizzes. These exercises improve Spanish communication fluency and confidence through consistent practice.
By converting English words and phrases into Spanish, flashcards hear you speak and improve vocabulary retention. Hear It! Say It! and Write It! exercises enhance writing, speaking, and listening abilities. The Know It! activity increases comprehension of syntax and structure. The quiz assesses vocabulary usage from each audio lesson.
Progress-Tracking
The Progress Tracker is an excellent feature of Rocket Spanish. It helps you keep track of your Spanish learning progress. It maintains track of the classes you've finished, monitors your progress, and advises on what to work on next.
To ensure consistent development, progress-tracking aids in maintaining a systematic and organized approach to learning.
Rocket Spanish also uses gamification components. It awards learners with rocket points and medals for their accomplishments. Rocket Spanish encourages students to rack up more points and move up the scoreboard by adding a fun and competitive element to the learning process. 
Distinction in the Quality of Lessons
The course materials from Rocket Spanish consist of engaging and well-structured lessons. Each lesson is designed to assist students in developing conversational fluency in Latin American Spanish. The interactive audio courses with native speakers improve the learning process. Rocket Spanish includes lectures on culture, giving language usage more nuance.
Most lesson descriptions are written in English, even in the advanced modules. It makes it difficult for highly experienced learners to immerse themselves fully. This one thing needs improvement. 
Rocket Spanish is a three-level course that offers a wealth of information.  It caters to students with varying degrees of ability. The typical length of a class is between 15 and 40 minutes. It keeps the attention of the learner for better results.
Grammar Instruction
Rocket Spanish gives grammar explanations.  It builds on fundamental ideas to cover more complex ideas. The activities serve to reinforce the grammar. However, learners may find the Spanish grammar instructions in-depth and rigorous and are on the same level as Baselang Spanish learning program.
Verbal Practice
Rocket Spanish provides extensive verbal practice through interactive exercises. The app includes audio recordings and voice recognition technology to help users develop better speaking skills. The audio lessons help users build language familiarity.
Speaking exercises help improve Spanish pronunciation to speak Spanish like a native speaker. You could also check apps where you can talk to native speakers like Lingoda.
Reading
Rocket Spanish offers a fair mix of difficulty and assistance in reading exercises. In the reinforcement activities section, plenty of learning resources are available for beginners and intermediate readers. Survival kit lessons are also worth your time in learning Latin American Spanish.
Rocket Spanish has extensive writing activities and prompts. The exercise lets users put their grammatical and vocabulary skills to work. Most of the writing assignments are challenging yet encouraging. Rocket Spanish gives students of all competence levels good practice in writing.
Vocabulary
Rocket Spanish provides a wide variety of vocabulary-building lesson material. It helps you learn Spanish through engaging culture lessons. Audio lessons and reading assignments using voice recognition teach new vocabulary.
This Spanish course ensures that students come across pertinent terms across various themes. Each Rocket Spanish audio lesson gives students the vocabulary and expressions they need for Spanish fluency.
Repetitiveness
The entire course is intended to be entertaining and exciting. To avoid becoming monotonous, the app strikes a decent balance between repetition and diversity. The learning process is kept engaging through interactive audio lectures, cultural insights, and reinforcement exercises.
Users are encouraged to listen and learn on the go through this audio-based course. It makes Rocket Spanish a flexible and convenient choice for language enthusiasts.
Rocket Spanish Review: User Friendliness
Rocket Spanish program stands out as an incredibly user-friendly language-learning app. Rocket Spanish is as friendly as Spanish-Uncovered by Olly Richards.
Audio lessons are designed to be simple to use and open to all levels of learners. Clear labeling and well-defined categories make it simple for users to find the resources within the program.
The contrasting style of the app has a lighter backdrop and dark text. This improves reading and guarantees easy navigation. Rocket Spanish chooses a basic color design in contrast to other language learning applications, emphasizing the content and upholding a professional appearance.
An easy onboarding procedure offers a direct route to the initial classes. It highlights the abundance of materials accessible. The responsiveness and quick loading times of the app increase customer satisfaction.
Rocket Spanish makes giving feedback user-friendly. It excels at giving students the assistance they need as they progress through their language-learning process. Rocket Spanish fosters an engaging atmosphere with carefully selected visuals and unique images.
Rocket Spanish Competitors and Alternatives
Rocket Spanish vs Babbel Spanish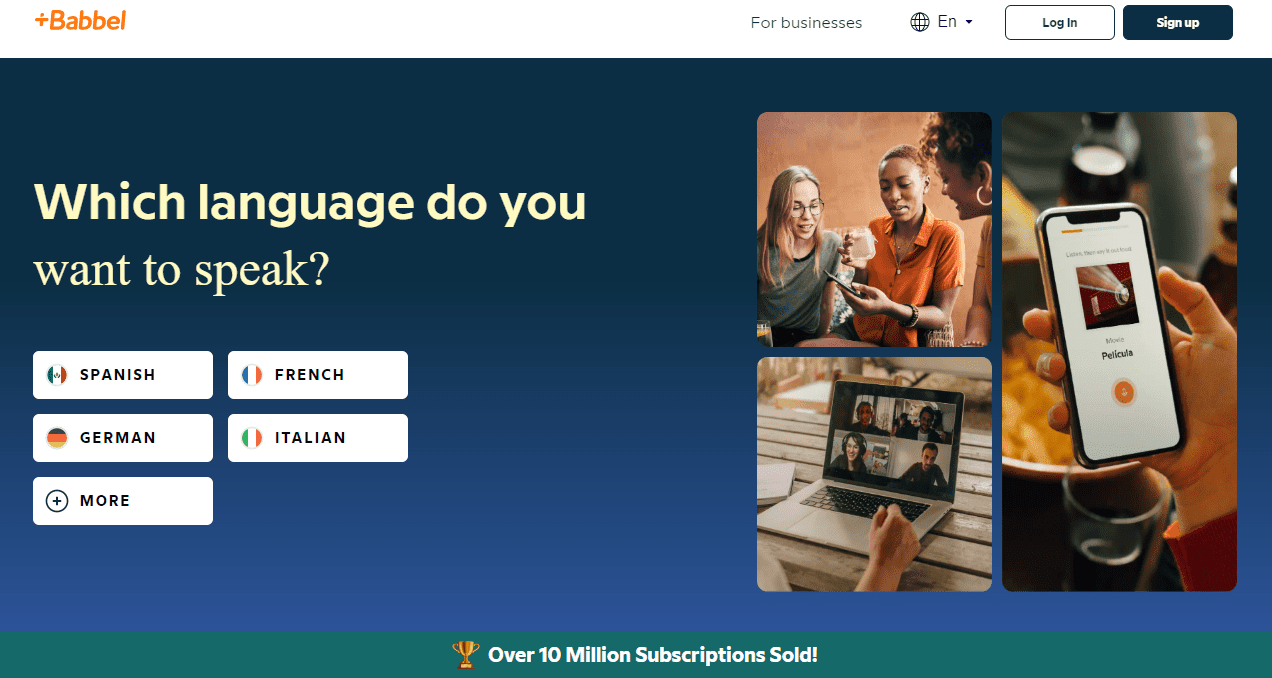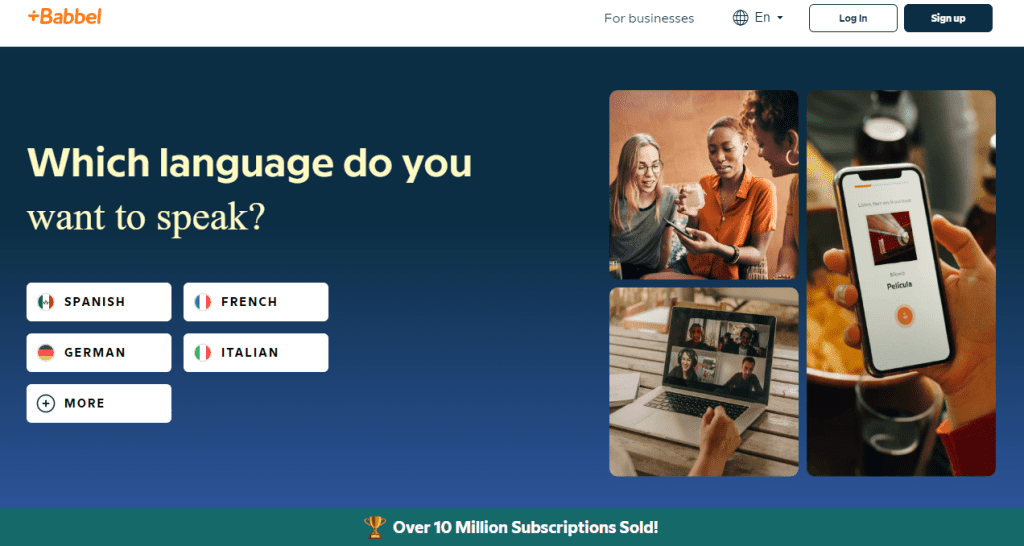 Babbel Spanish has slightly better grammar coverage and a textbook-like feel with podcasts and games. Rocket Spanish focuses on interactive audio lessons with cultural insights and vocabulary resources. If you want a less auditory approach to language learning, Babbel might be for you. Learn more about it in this Babbel Spanish review.
Rocket Spanish vs Pimsleur Spanish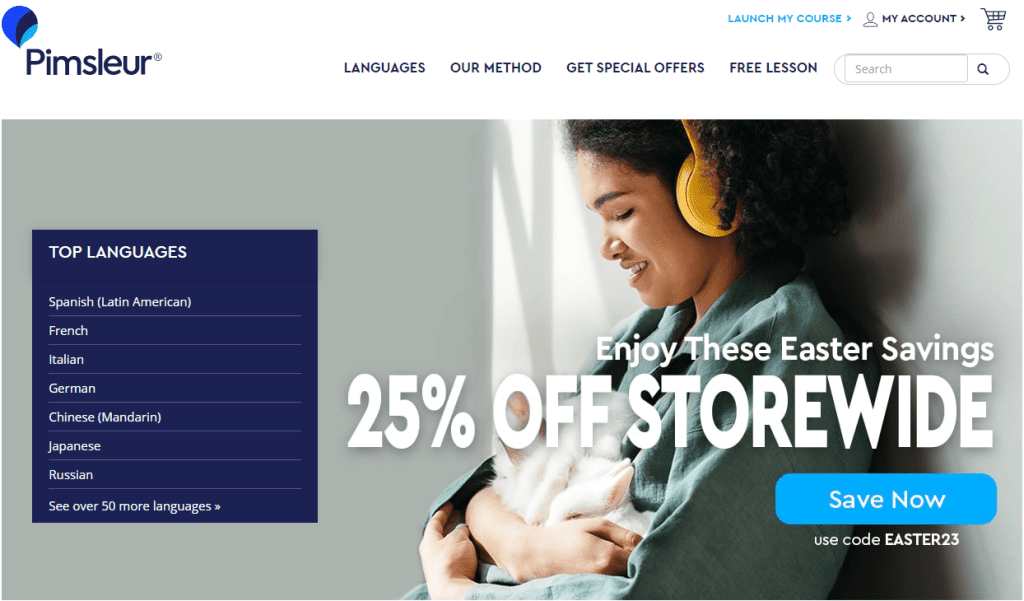 Pimsleur is an audio-based app tasking you with listening and repeating Spanish words and phrases. Rocket Spanish also focuses on helping learners with audio lessons. The differences lie in the selection of features and vocabulary coverage. You really should read our in-depth Pimsleur Spanish review before deciding on which one to choose.
Rocket Spanish vs SpanishPod101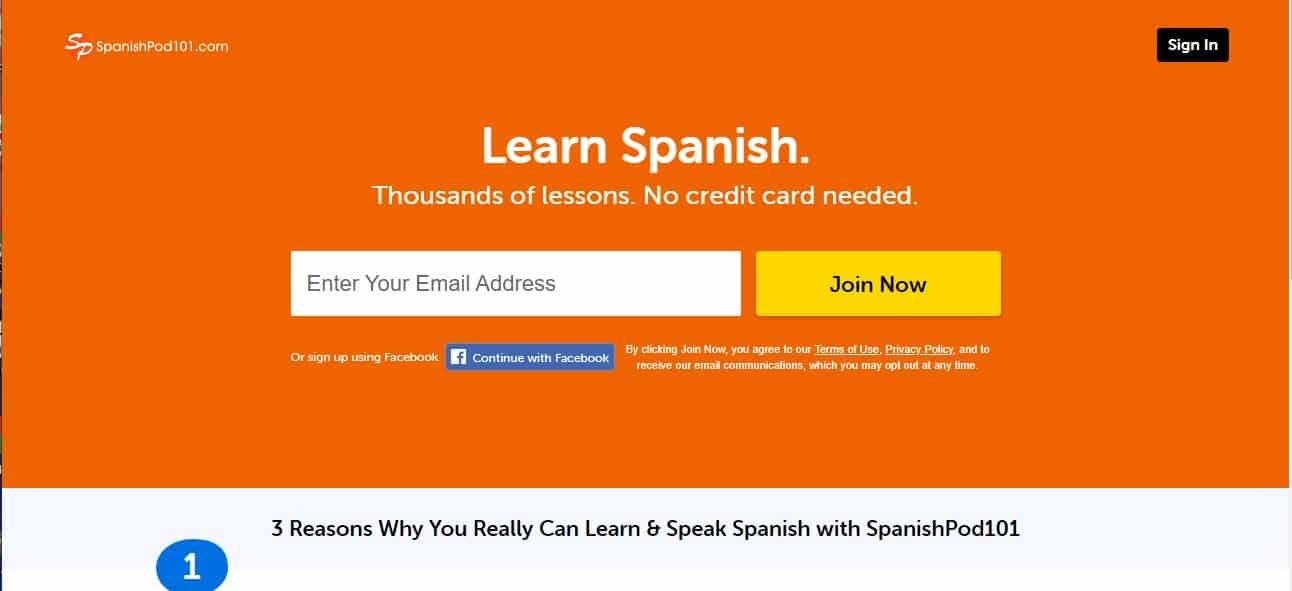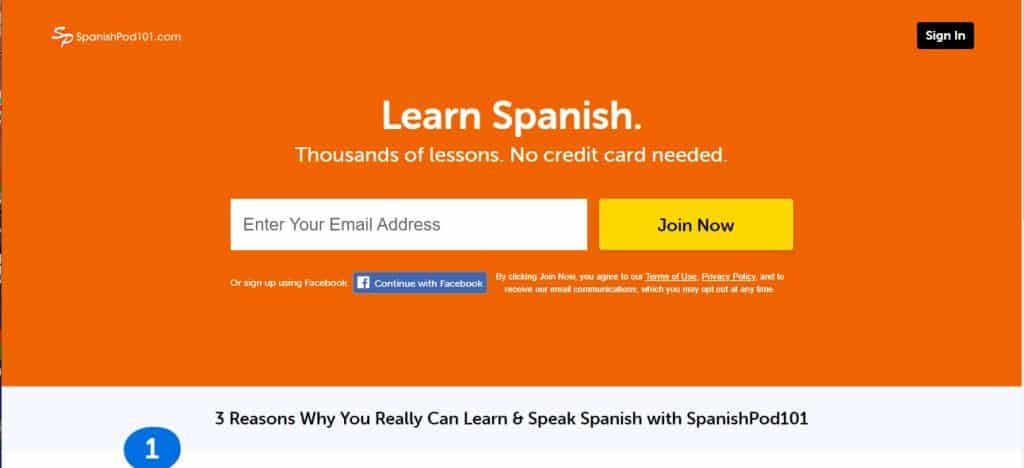 SpanishPod101 provides an extensive collection of podcast-like Spanish lessons. It has a low price tag while still packing some considerable features. Rocket Spanish is also based on learning with audio recordings but, unlike SpanishPod101, packs voice recognition and interactive games. Learn more about it in our SpanishPod101 review.
Rocket Spanish vs Spanish Uncovered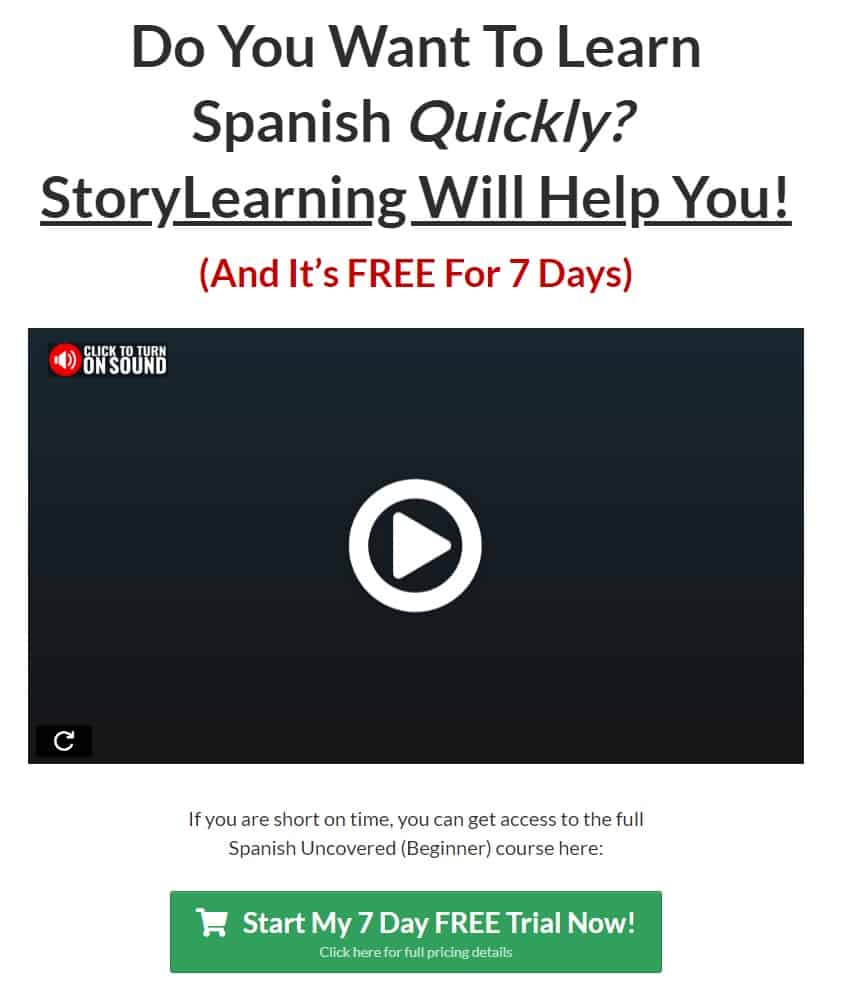 Spanish Uncovered is a unique program best for those who want video lessons and learn through stories. Rocket Spanish is better for auditory learners and those who want to prioritize listening and speaking instead of vocabulary and grammar. The choice depends on your priorities. Find more information in our Spanish Uncovered review.
What Should Be Upgraded?
Despite being user-friendly, Rocket Spanish may use some work in a few crucial areas. More illustrations and images would help students comprehend the courses and ideas readily. It will make the learning experience more exciting and dynamic for visual learners.
In advanced lessons of Rocket Spanish, the app should consider reducing the reliance on English. There should be more emphasis on using Spanish for descriptions and instructions in the app. Rocket Spanish seems to act as an English-speaking host. Adding instructions in Spanish will help visual learners to develop their fluency at the advanced levels.  
The adjustment would enable learners to immerse themselves more fully in Spanish and become Spanish-speaking hosts in Latin America.
Rocket Spanish Costs
Rocket Spanish is a level-based language learning app suitable for intermediate or advanced users. For each of the Rocket Spanish levels, there is a fixed rate.
Beginner Spanish learners can start at level 1 and improve their language skills. Unlike other language learning applications that provide a monthly subscription, the course offers lifetime access.
Rocket Spanish may have a higher upfront cost than Pimsleur and Fluenz, which also charge based on levels. To help make the initial expense more affordable, the platform provides a 6-month payment plan. Several video review suggest that Rocket Spanish worth the investment.
| | | |
| --- | --- | --- |
| Subscription | Price | Payment |
| Level 1 | $149.95 | Upfront for Lifetime access |
| Level 1 + Level 2 | $299.90 | Upfront for Lifetime access |
| Level 1 + Level 2 + Level 3 | $449.85 | Upfront for Lifetime access |
Free Trial
A Free 7-day trial of Rocket Spanish is available. The free version doesn't require your credit card details. The free mobile app access allows users to learn the first few lessons at each level.  It helps learners understand Rocket Spanish as a learning tool before purchasing and accessing the complete lessons.
Rocket Spanish Coupons and Discounts
Rocket Spanish often provides discounts and promotions throughout the year. It includes holiday sales and limited-time offers. Learners can find coupons and discount codes on the official website of Rocket Languages. Discounts from 10% to 60% off the usual course cost make enrollment easier for students.
Refund Policy 
For all of its courses, including Rocket Spanish, Rocket Languages offers a generous 60-day refund policy. If the user is unsatisfied with the course material or audio lessons, they can furnish a refund. With this assurance, users may thoroughly evaluate interactive audio lessons. They get time to assess if the app is good to learn Spanish.
Users may expect to receive their money back after requesting a refund within the specified processing period. The refund processing period differs based on the payment method used.
Rocket Spanish Pricing Compared to Competition
Unlike other language learning applications that need monthly or annual subscriptions, Rocket Spanish has a 6-month payment plan for lifelong access. Its distinctive price structure may seem expensive upfront, but users save money.
Compared to many competitors, including well-known companies like Rosetta Stone, Rocket Spanish delivers more audio workouts, quizzes, and cultural courses. 
Although Rocket Spanish could be more expensive initially than level-based applications like Pimsleur or Fluenz, it is a cost-effective choice in the long run. Compared to subscription-based apps like Rosetta Stone Spanish and Babbel, Rocket Spanish is a wise choice for serious Spanish learners due to its value for money and extensive features.
If you want to learn Spanish with cultural lessons, Rocket Spanish is your app. If you intend to study multiple languages, apps like MosaLingua or Busuu might be a more cost-effective option. Unlike Rocket Spanish,  these apps offer access to multiple languages with a single subscription.
Rocket Spanish Evaluations from Other Customers
Google Play Store – 3+ (100K+ downloads)

Apple App Store – 4.3 (637 ratings)

G2 – 4.0

Trustpilot – 3.5
Rocket Spanish Review: Client Support
Through a variety of channels, Rocket Spanish offers thorough customer service. They provide email assistance, with a response time of around 48 hours. You can also contact customer support through live chat during business hours.
Rocket Spanish has a human support staff demonstrating a high excellence standard in responding to client questions and issues. The official website of Rocket Languages has a thorough FAQ section and a blog that provides valuable advice and information on language acquisition. Rocket Spanish client support ensures its users have a great learning experience. 
Rocket Spanish Review: What Separates it from Others?
Rocket Spanish is a comprehensive online course offered by Rocket Languages for learning Spanish. It gives users essential communication skills for everyday circumstances. Users may efficiently attain their Spanish learning objectives because of its immersive methodology and extensive resources. You may start to learn Spanish immediately with Rocket Spanish and reach your full linguistic potential.