If you are interested in learning Mandarin Chinese, then Rocket Chinese is an easily accessible solution. It is a language-learning app that uses an auditory learning style to help new learners achieve their language-learning goals. In this case, learning Mandarin Chinese.
The language learning app uses interactive audio lessons from native speakers to help you speak Chinese and videos for visual learners to guide them through the Chinese characters. It has 3 learning levels starting from the basics to the intermediate level. Read this honest Rocket Chinese review to find out more.
A great app to learn Chinese for Absolute Beginners and intermediates
Rocket Chinese, a product of Rocket Languages, takes you through the Chinese course in a unique way. You get a native Chinese speaker who helps you practice speaking Chinese. The Rocket Languages app also features voice recognition software that captures your voice recording while attempting the correct pronunciation.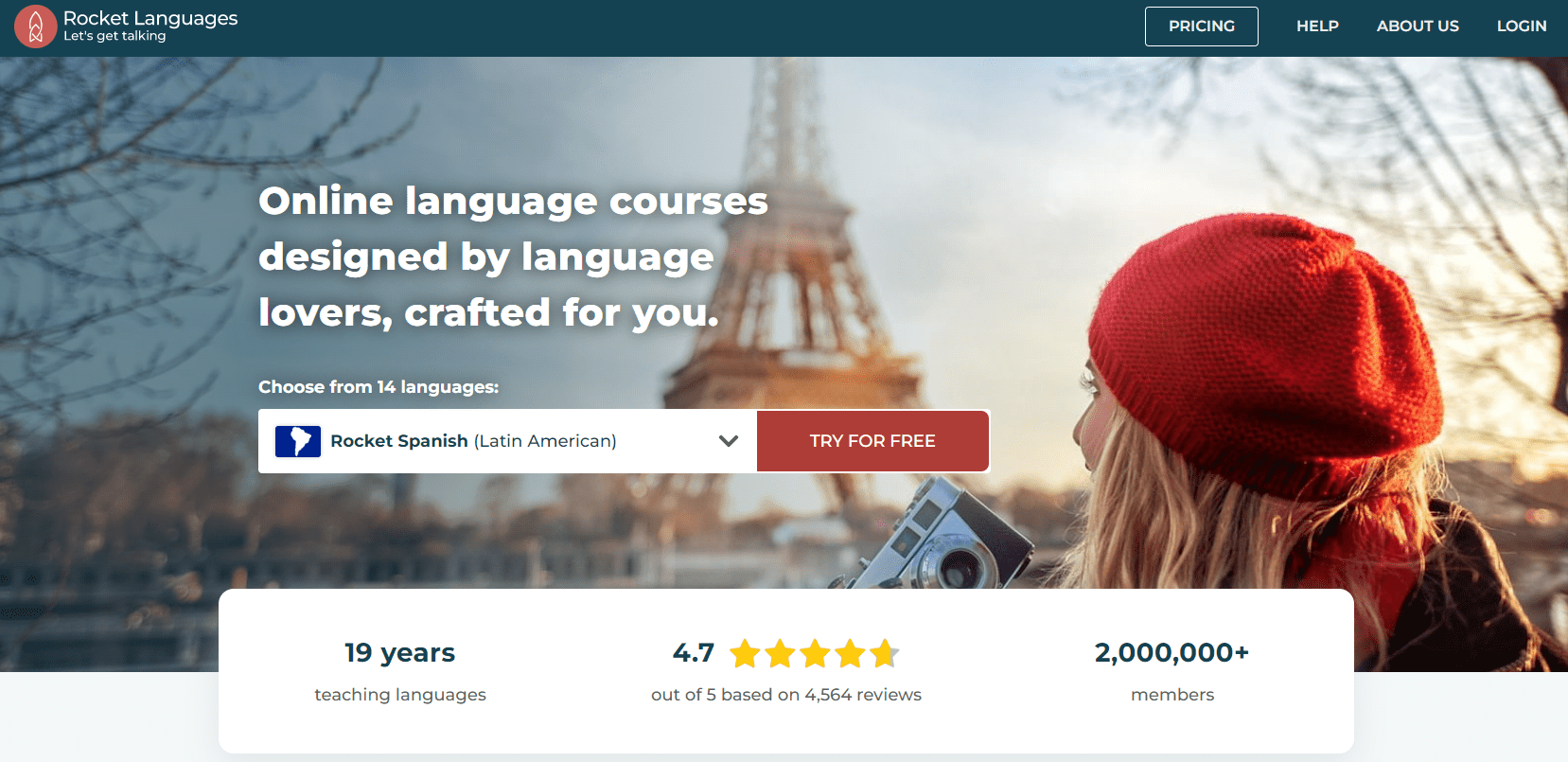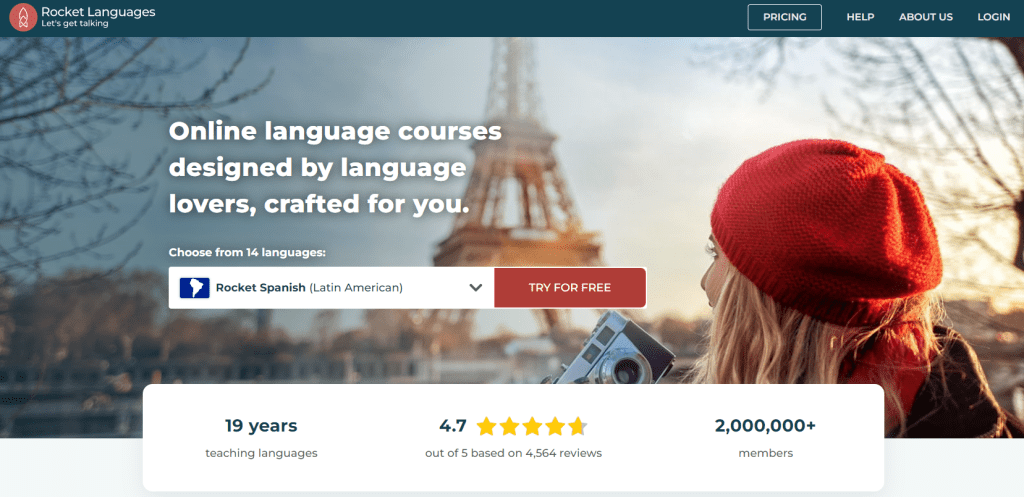 Rocket Chinese Review Summary
⭐ Rating:
8.7

★★★★★

🥇 Available languages:
14 (see below)
📈 Suits best for:
Novices and Intermediates
🛒 Payment options:
6 Months / Lifetime
💵 Price:
$15 – $260
⌚ Hours of lesson time:
350+
🔄 Refund policy:
60-day money back guarantee
🎁 Free Trial:
✔️
American Sign Language, Arabic (Egyptian), Chinese (Mandarin), English (American), French, German, Hindi, Italian, Japanese, Korean, Portuguese (Brazil), Russian, Spanish (Latin America)
Disclaimer: Lingomee is an independent review site that may benefit from affiliate programs. Buying through our links makes our efforts possible without additional costs to you. Learn more here.
A Quick Look at Rocket Chinese
Rocket Languages offer language learning programs that teach you new languages. Rocket Languages supports 13 languages, but Rocket Chinese is specialized Chinese learning from the same language experts. Language learners can use the app or web version to learn the Chinese language, and they are both equally good.
The app has 3 learning levels starting from beginners to the upper-intermediate level. You are introduced to basic Chinese words and phrases from the very beginning as you progress through the levels.
The learning app offers you writing Lessons, Language and culture lessons, and Interactive audio lessons. You get native-speaker dialogues with long pauses in between so that you can try to repeat what you have heard. At the same time, the writing lesson focuses on writing Chinese characters.
Rocket Chinese also focuses on the importance of speaking during the lessons to improve your pronunciation. The app has tips to help you remember words, and the speech recognition feature allows you to make an audio recording of your pronunciation practice. We should also mention that this is one of the best apps to learn Mandarin Chinese.
Rocket Chinese Review: Key Functions
Rocket Languages app has unique features for each of its comprehensive courses. Rocket languages Chinese give you an interactive way of learning, making it easier for you to practice the language. Let's take a look at some of the features you will find when using Rocket Chinese.
Audio Lessons
The interactive audio lessons start with a podcast-style lesson. The teacher of the lesson is an English speaker, and the Chinese speaker is a native speaker. Every lesson begins with a brief introduction. A line-by-line breakdown of the new words and sentences is given in the introduction. 
There are a lot of pauses for you to repeat after the speaker. They are mainly based on pronunciation and repetition. You can access the audio lessons directly through the app or download them for offline listening. Lessons usually involve practicing conversation skills on a particular subject.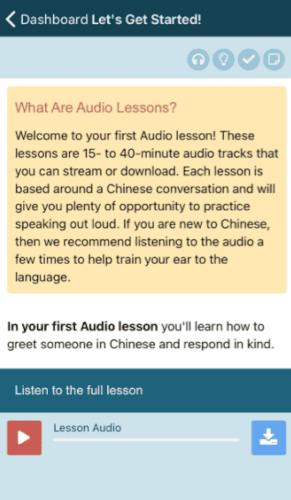 Play It!
This feature allows you to practice speaking Chinese. The audio lessons usually involve a dialogue between two native speakers. You listen to the dialogue and then play the role of one of the speakers using Play It. You can create a voice recording of yourself repeating the dialogue.
You can playback the audio after you finish recording to hear how you did. The app gives you rankings based on your pronunciation. The feature is helpful and can improve your pronunciation. However, the conversation in the audio lesson is repetitive as you follow a specific audio script. Also, there's no option for you to add your own Chinese vocabulary.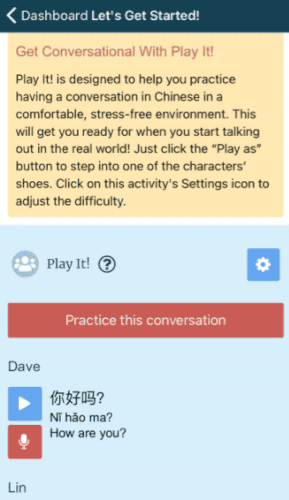 Language and Culture Lessons
Rocket Chinese takes you through culture lessons and writing. The culture lesson teaches you more about Chinese culture and lets you understand the native speakers. Culture affects the way we communicate, making it a good way for you to practice speaking.
The lessons include the audio for each word and phrase. Learners have the option to record their pronunciation. They also teach you more about the use of tone in words and how you can show distance or friendliness when communicating. The language culture lessons introduce you to extra vocabulary.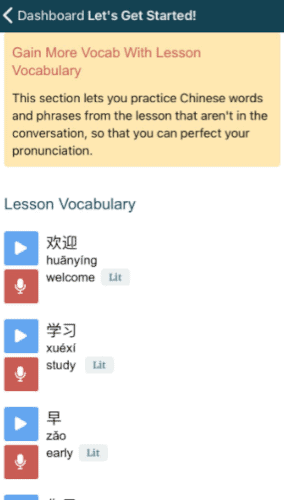 Writing Lessons
These lessons teach you how to write characters and read in Hanzi. The lesson starts by showing you a character. It then teaches you the stroke order. You must trace the character yourself to learn it. There is a quiz at the end of the lesson to see if you have understood writing the Chinese characters.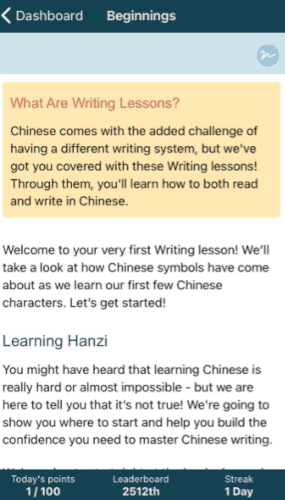 Rocket Reinforcement
This feature includes activities that improve your learning experience. They include flashcards, lesson quizzes, pronunciation, and writing practice. They help you remember and test your understanding of the language.
The activities might become boring since they are repetitive. But you have the option of skipping most lessons and moving on to something else in another lesson.
The Distinction in the Quality of Lessons
Overall, Rocket Chinese is an excellent app for learning the Chinese language. Rocket language courses have tools that make it easier to understand and remember this difficult language.
The first lesson takes you through the basics of the language. Most lessons are audio lessons as they focus on helping learners speak fluently.
The lesson types build on your previous knowledge by following a progressive order. The app has activities that help you remember what you have learned. However, the activities might be a bit repetitive, so the Rocket Chinese app is flexible and allows you to skip some of the activities.
Each interactive audio lesson includes dialogue between two speakers talking at normal speed. You get to listen to what they are saying and try repeating after them. There is a pause between phrases to allow you to repeat after them. The approach is good to help you understand the pronunciation and vocabulary.
Grammar Instruction
Rocket Chinese uses audio lessons that explain more about Chinese vocabulary and puts less emphasis on grammar. However, the culture lessons are beneficial and help you with tone and grammar.
They give explanations of different phrases and how to apply them in real-life conversations. They also add some extra words and phrases for you to learn. Still, the grammar part of Rocket Chinese isn't sufficient for fully understanding the grammar, and you will need some additional resources.
Verbal Practice
Speaking fluently is crucial for Chinese language proficiency, and the best way to achieve it is through constant practice. That's exactly what Rocket Chinese brings.
The audio lessons give you a chance to practice correct pronunciation. Rocket Chinese has native Chinese speakers who record dialogues for the audio lessons. You can play the role of one of the speakers and try saying what you hear. The speech recognition software helps detect mistakes in your pronunciation.
Reading
The lessons in Rocket Chinese will help you understand the Chinese alphabet, preparing you to read. You will understand the phrases much better while reading Hanzi after only a few weeks of practice.
Rocket Chinese is an especially good language learning app for beginners as it improves your reading and listening skills at the same time. Later, you can use the reinforcement activities to practice and improve further.
Writing
The writing lessons help you practice how to write Hanzi, while the culture lessons teach you more about Chinese characters. Rocket Chinese will show you a character and then teach you how to trace it stroke by stroke.
Overall, Rocket Languages courses are meant to improve your conversational skills while not leaving your writing skills behind. Such an approach makes it one of the best apps for learning Chinese.
Vocabulary
The audio lessons focus on the vocabulary used in everyday conversations. The lessons occasionally add new words for you, plus some useful tips on memorizing them. Learning Chinese vocabulary will take a lot of time, and it is a task you'll have to go back time and time again. Still clearing all the levels of Rocket Chinese will make land you on a similar level as advanced speakers, provided have a good memory.
Repetitiveness
All the lessons start with phrases and characters and later move on to grammar and other parts of the Chinese language. Once you clear some levels, it does get repetitive, as phrases aren't updated frequently.
But that's what it takes to memorize the extra vocabulary of Mandarin Chinese. After all, proficiency in this language is measured by how many characters you know. So some repetitiveness is expected.
Rocket Chinese Review: User Friendliness
The language learning app has a simple design. It has a friendly user interface that learners can quickly understand. Navigating through the app is simple. The app has visible icons which are easily accessible. Rocket Chinese blends the blue and brown colors in its interface.
On the dashboard, you get the different learning levels. Here you choose the level you have reached and continue learning from there. The first lessons focus on the basics. They become more advanced as you progress through the levels.
The language learning app takes little time to load. It has fast search engines to navigate through, and you can easily switch from one interface to another. The app allows you to skip lessons with one tap. This helps you avoid going through lessons you have already covered.
Rocket Chinese Competitors and Alternatives
Rocket Chinese vs ChineseClass101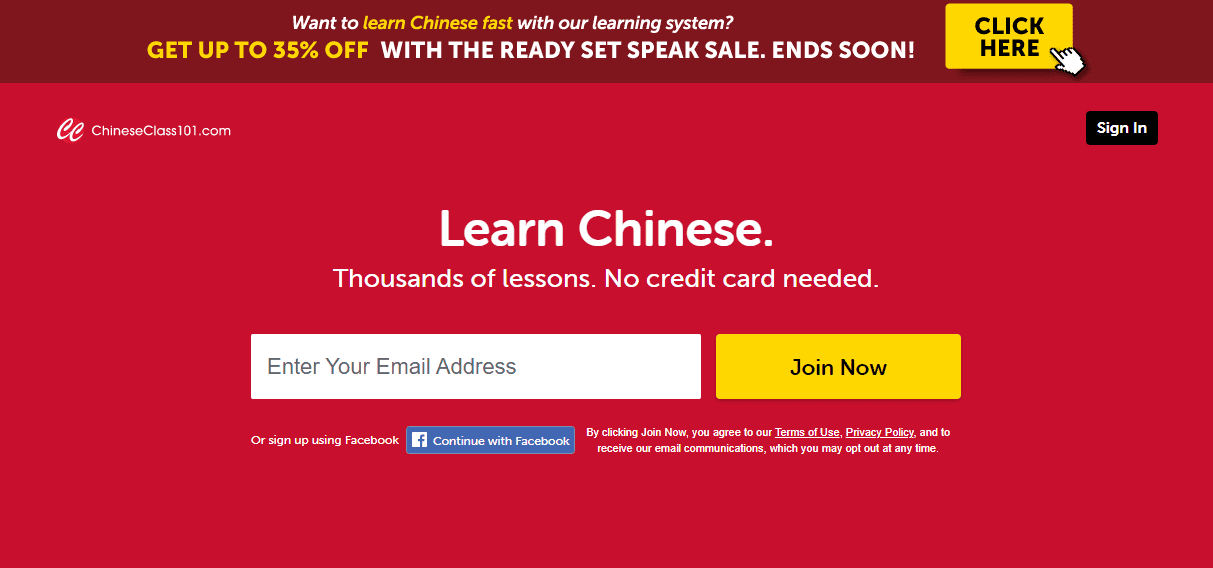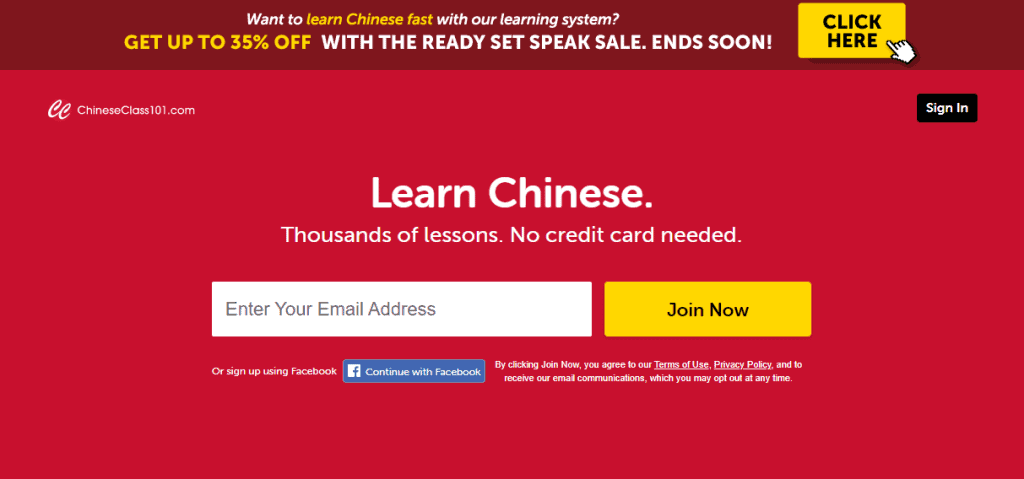 ChineseClass101 provides an extensive collection of podcast-like Chinese lessons. It has a low price tag while still packing some considerable features. Rocket Chinese is also based on learning with audio recordings but, unlike ChineseClass101, packs voice recognition and interactive games. Find more information in our ChineseClass101 review.
Rocket Chinese vs Chineasy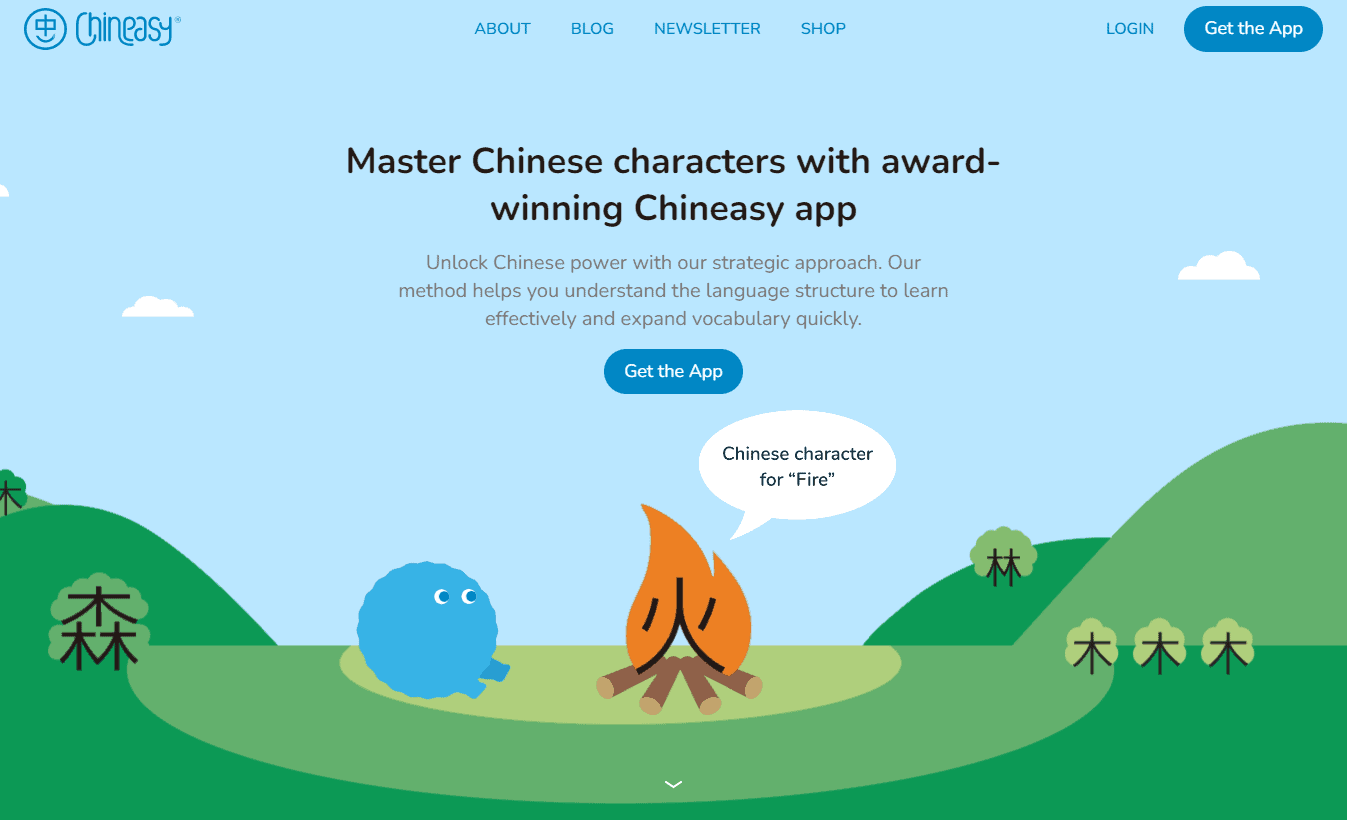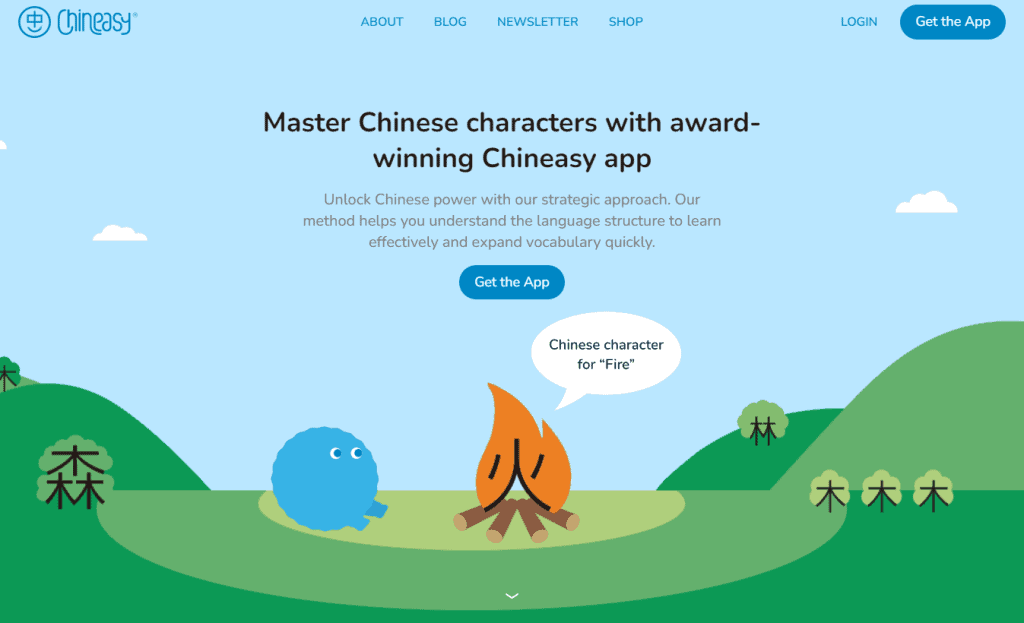 Chineasy is perhaps the best app to learn Chinese characters. Its unique visual approach combines engaging images to help you memorize the pictographic writing system. Comparatively, Rocket Chinese lacks in this respect but is much stronger in speaking and listening tasks. Learn more about it in this Chineasy review.
Rocket Chinese vs Rosetta Stone Mandarin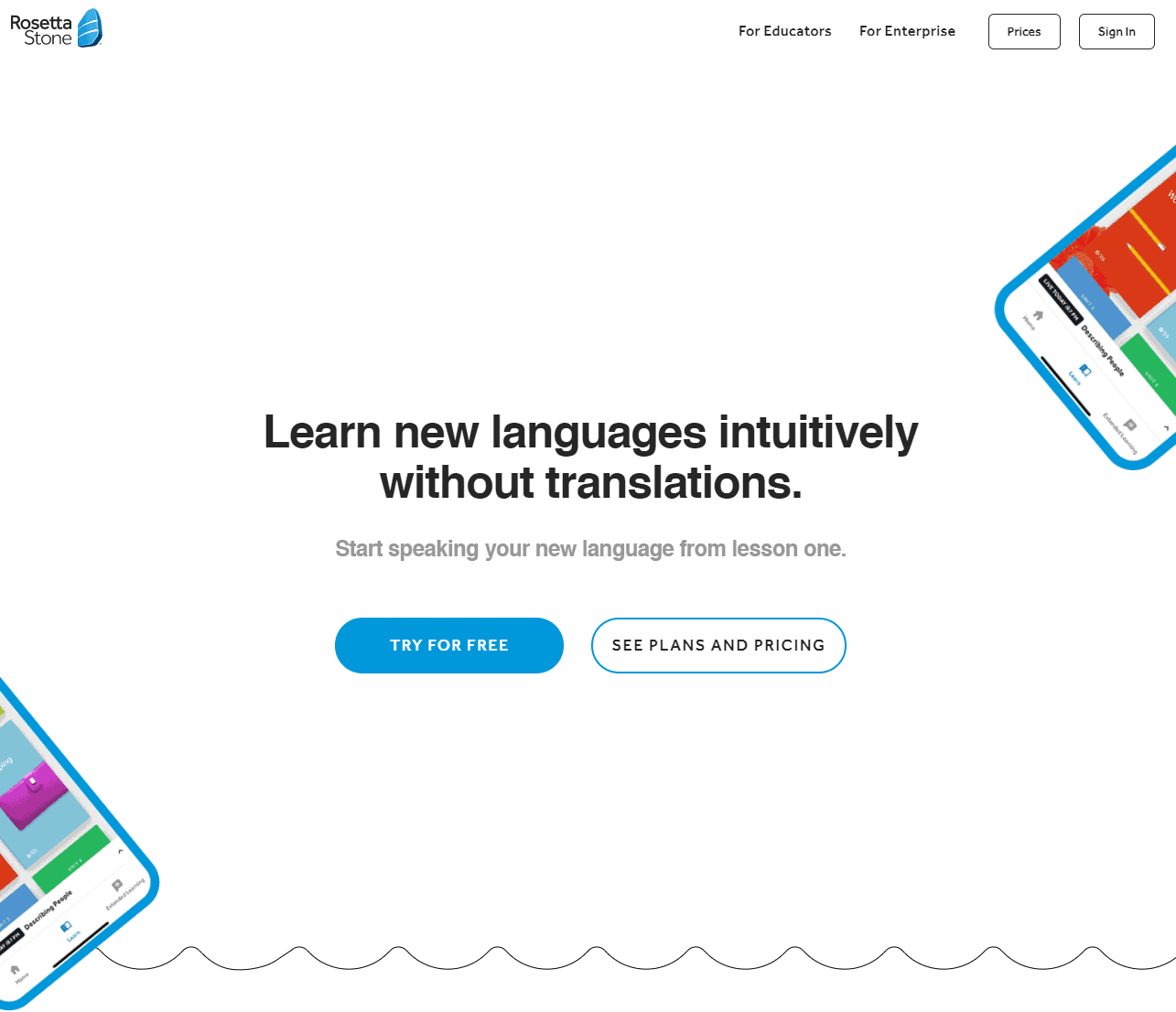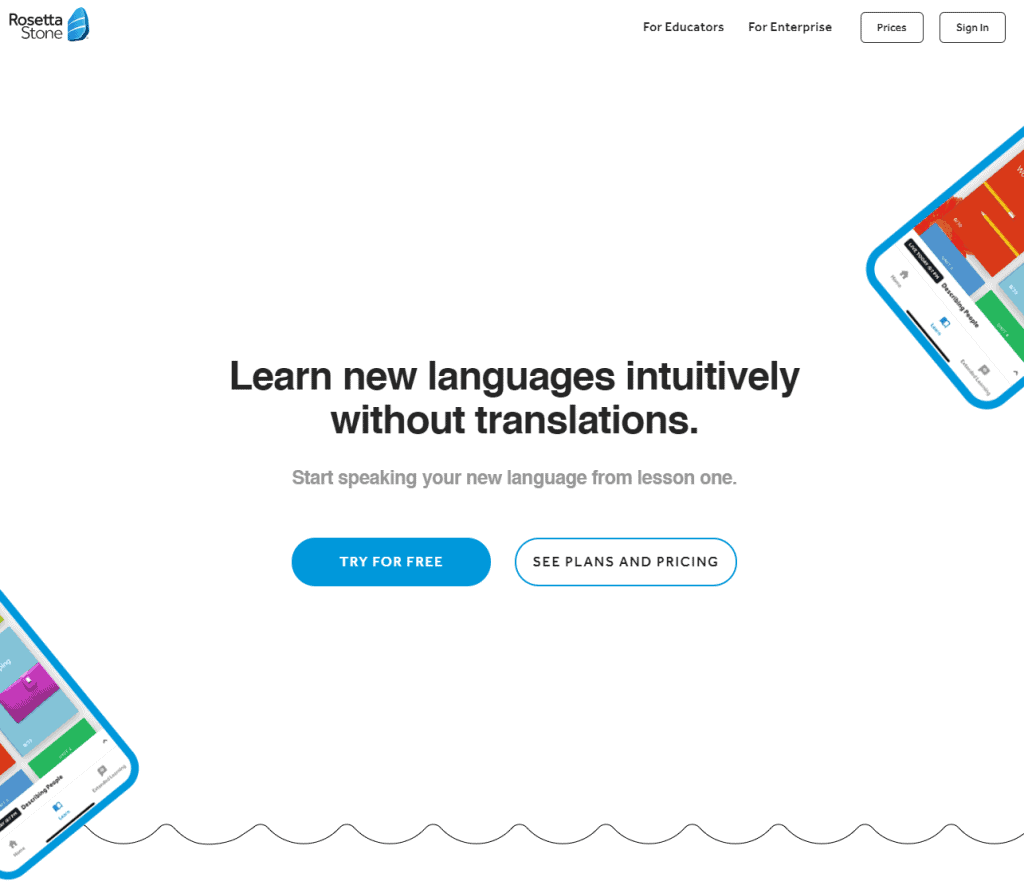 Rosetta Stone Mandarin emphasizes language immersion through visual cues with little formal guidance. As with Rocket Chinese, it uses native speaker audio, has speech recognition, and an extensive vocabulary. The choice depends on which type of language immersion you want. Learn more about it in our Rosetta Stone Mandarin review.
What Should Be Upgraded?
Rocket Chinese is an excellent app for learning Mandarin Chinese, but it could still be improved.
The lessons are a bit too long. They could be made shorter for maximum concentration.
Most instructions are given in English. The app would be better if it gave instructions in Mandarin Chinese. It might be harder to understand, but it would be a more natural conversation.
Most of the practice activities revolve around extra vocabulary. There are very few ways of practicing Grammar. The interactive flashcards are helpful, but they don't cover much. They are mainly based on memorizing words rather than understanding Grammar.
The language learning app's free trial gives you lifetime access. However, you are restricted to only specific features. This could be improved by giving users full access for a shorter time. They should also offer a monthly pricing plan to make the app more affordable.
Rocket Chinese Costs
Rocket Chinese gives users a free trial that lasts a lifetime. The free trial only includes some features. So you must pay the subscription fee to unlock advanced levels. Rocket Chinese Pricing is not based on a monthly subscription. Instead, you can unlock all levels and features by paying the one-time price, which is charged for unlimited lifetime access.
You will be charged at discounted prices when you sign up for different levels. Rocket Chinese cost ranges from $99.95 – $259.90.
| | | |
| --- | --- | --- |
| Subscription | Price | Payment |
| Level 1 | $99.95 | Upfront for Lifetime access |
| Level 1 + Level 2 | $249.90 | Upfront for Lifetime access |
| Level 1 + Level 2 + Level 3 | $259.90 | Upfront for Lifetime access |
A 6-month payment plan is available for the 3-level bundle package. You can also purchase it for just $47.00 over 6 months using the promo code ROCKETDEAL. You can cancel at any time, saving you $28.00 every month.
Free Trial
Rocket Chinese free trial gives learners access to various learning levels. The free content does not have a time limit and you can use it as long as you want.
Rocket Chinese Coupons and Discounts
Rocket Chinese work hard on giving customers useful discounts. You might score a coupon good for discounts of up to 60%. They are added to your purchase at a rate that starts at 10% and can exceed 60%.
Refund Policy
You have 60 days to test out your Chinese course after placing your order on a monthly subscription. Simply contact the Rocket Chinese Customer Support Team to request a full refund if you decide it's not for you anymore. No queries, no hassles. Simple as that.
Rocket Chinese Pricing Compared to Competition
Although Rocket Chinese is a good app for learning Mandarin Chinese, it costs a little more than other language-learning programs. Rocket Chinese charges users by level rather than monthly. The audio lesson approach and excellent voice recognition software give it a unique learning style. However, this raises the costs and makes it more expensive.
Rosetta Stone, Mondly, Pimsleur, and other learning apps are cheaper alternatives in the short term. For example, Rosetta Stone gives you the option to pay $11.99 and use the app for three months. However, Rocket Chinese allows you to its audio lessons for an unlimited time for one price. If you are a committed learner, this will be cheaper in the long term.
Rocket Chinese Evaluations from Other Customers
Google Play Store – 3+ (100K+ downloads)

Apple App Store – 4.3 (637 ratings)

G2 – 4.0

Trustpilot – 3.5
Rocket Chinese Review: Client Support
The FAQ section of the Rocket Chinese website includes common queries that learners might have. They will respond to emails sent to them within a day. Even though it takes some time for a response, the customer service staff will address all your inquiries.
Rocket Chinese Review: What Separates it from Others?
Rocket Chinese is a good app for those learning the language for the first time up until the upper intermediate level. Speaking and pronouncing Mandarin Chinese words is its main focus. The app offers engaging audio, cultural lessons, and ample verbal practice with flashcards. The voice recognition feature and many others make learning Chinese with Rocket Languages very interesting.