Hindi is one of the most popular languages in the world. It's the third most spoken language after English and Mandarin. Learning Hindi connects you to around 600 million speakers, most of whom are in India. But Hindi isn't a challenging language to learn. Unlike English letters or Chinese characters, each Hindi sound has a straightforward pronunciation.
For many Hindi students, Rocket Hindi is the most trusted language-learning app. It provides a solid foundation of all elements of learning a language – audio, writing, grammar, and culture lessons. All these lessons are highly interactive.
In this Rocket review, we'll go further into these features to provide an honest look at why most Hindi students prefer the app.
Comprehensive and affordable Hindi courses from native speakers
Rocket Hindi offers structured lessons with plenty of grammar, Indian culture, writing, and audio content to practice learning Hindi. The app also has state-of-the-art voice recognition technology to practice speaking. Combined with an affordable price, these learning resources make Rocket Language a comprehensive language-learning app.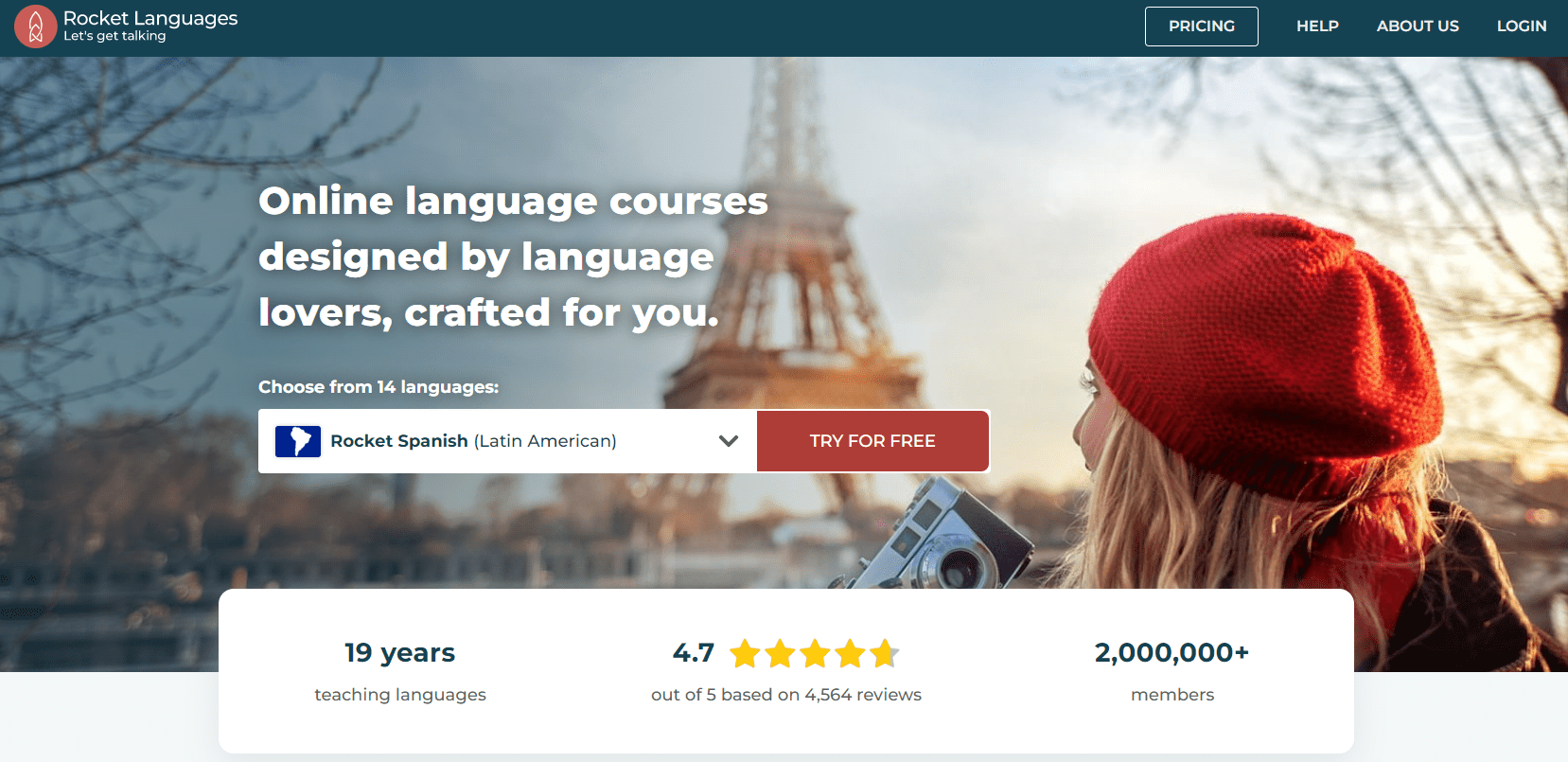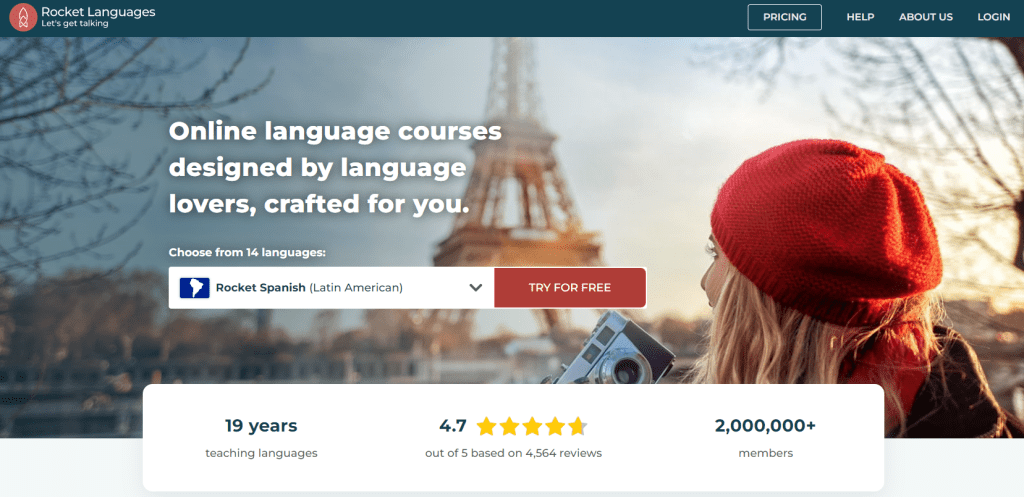 Rocket Hindi Review Summary
⭐ Rating:
9.0

★★★★★

🥇 Available languages:
14 (see below)
📈 Suits best for:
Novices and Intermediates
🛒 Payment options:
6 Months / Lifetime
💵 Price:
$15 – $260
⌚ Hours of lesson time:
350+
🔄 Refund policy:
60-day money back guarantee
🎁 Free Trial:
✔️
American Sign Language, Arabic (Egyptian), Chinese (Mandarin), English (American), French, German, Hindi, Italian, Japanese, Korean, Portuguese (Brazil), Russian, Spanish (Latin America)
Disclaimer: Lingomee is an independent review site that may benefit from affiliate programs. Buying through our links makes our efforts possible without additional costs to you. Learn more here.
A Quick Look at Rocket Hindi
Rocket Hindi is part of the renowned series of Rocket Languages. The founders, Jason and Mark, started the company in 2004 to connect the world through learning a language. The first languages on the platform were Spanish and French, but 19 years later, there are 12 languages, including the Hindi language.
Rocket Hindi's main aim is to teach the language more straightforwardly than a conventional textbook and classroom can. Judging from the high number of positive reviews, they are doing a great job.
One reason for the good reviews is its user interface, which makes it one of the most effective language software today. Every feature and tool is easily accessible, even for first-time users. It's also highly interactive, so users can track their progress and see a leaderboard.
In line with its agenda to simplify Hindi learning, it offers its language courses from the beginner level. It's good for novice learners, but upper-intermediate learners may feel disadvantaged. The reason is that the audio lessons, although recorded by native speakers, are aimed at building a solid foundation first. After the extended testing period, we think that this is the best Hindi learning app for the money.
The app also lacks a placement test, which also signals that it's aimed at beginner and intermediary students. Still, the resources that Rocket Hindi covers, it covers with a high-quality standard. It will definitely help you start speaking Hindi words or rehearse the fundamentals.
Rocket Hindi Review: Key Functions
The entire course of Rocket Hindi is comprehensive, providing learners with tools to practice Hindi through audio lessons and practice exercises. The lessons cover grammar, Devanagari script writing, revision tools, and help to speak Hindi. Let's see how the app achieves its functions of making learners read, write and speak like Hindi natives.
Writing Exercises
The Hindi language has a unique writing system – the Devanagari. The Hindi script does not have a concept of a letter case and uses 14 vowels and 33 consonants. Rocket Hindi covers all of these aspects.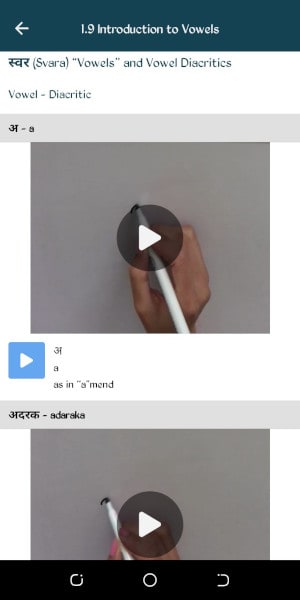 The writing lessons consist of short 5-10 second videos of a human hand writing down various words and phrases on a white background.
Learners learn to write the 47 primary characters in Devanagari. It also helps that the hand moves slowly so that you can follow along with the writing exercises. Learners acquire plenty of writing practice by repeating the writing.
Play It!
Play It! is a participatory way for learners to engage in conversations set in the Hindi language. Learners select a native speaker from a conversation and read their responses. The feature also has a recording tool where learners can compare their pronunciation with selected native speakers.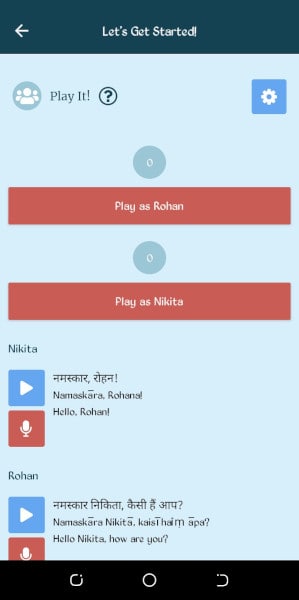 The Play It! feature is a useful tool to learn to speak in readiness for real-life communication with a Hindi native. The feature can also teach learners the culturally correct way of using Hindi in conversations.
Language and Culture Lessons
Language and culture are intertwined because they influence each other. The developers at Rocket know this, so they provide language and culture lessons simultaneously in the course. 
The language and culture lessons feature two essential areas of learning a language. The first is language, where you learn Hindi grammar and vocabulary. The Rocket Languages app also provides plenty of vocabulary for practice based on lesson topics.
The second is culture, where learners get cultural insights into the use of language and other interesting facts. The entire course also covers how Indian culture influence on the different dialects of Hindi. Understanding Hindi culture is a great bonus for learners looking for future interactions with Indian people, not only Hindi teachers. 
Rocket Reinforcement Activities
So that you don't forget the content you learn, Rocket Hindi provides Rocket Reinforcement Activities. They consist of four main tools:
Hear It! Say It! – Learners listen to audio and then record themselves saying a word or phrase. Afterward, you can rate how well you pronounce the words – easy, good, or hard
Know It! – Tests learners on their ability to translate English letters, words, and phrases into Hindi
Quiz – Includes multiple choice questions that relate to translations and grammar
Flashcards – An interactive way to learn Hindi. Users guess the translation of a Hindi phrase and grade themselves
Extra Testing – Helps learners improve their understanding of Hindi sentence structure
All the tools help you to improve your comprehension of spoken Hindi. They also assist with pronunciation and increasing the words you know.
Distinction in the Quality of Lessons
Our review of Rocket Hindi found that the app ranks favorably in all aspects of learning a new language. For example, it has a comprehensive vocabulary list and a survival kit that impacts the most useful words you may need while exploring India.
Other functions include an excellent speech practice tool, lessons on writing, and reading, plenty of practice tools, and a possibility for offline use.
The Rocket Languages app delivers the audio lessons in 10 to 40 minutes. We estimate spending 40 minutes daily guarantees success in step-by-step learning until you learn Hindi at an intermediate level. All Rocket courses in the app will take more than 350 hours.
Grammar Instruction
The Hindi app does an excellent job of providing a variety of grammar explanations. A good number of them are in the language and culture lessons section, while the rest are in other sections. In some lessons, you also get explanations of different vocabulary surrounding the grammar rules of Hindi.
Another tool that offers grammar practice is the Survival Kit lessons. It includes essential vocabulary explanations you need to learn for easier interaction with Hindi speakers.
Verbal Practice
The app provides tools to enable pronunciation and speaking practice. It utilizes an innovative speech recognition technology by Google's Speech API. The tool is available in all sections, so you can get more practice opportunities. After all, getting you to start speaking Hindi is the main aim of the Rocket Languages app.
Learners interact with the tool by recording themselves repeating Hindi words and phrases. After recording, they compare their voice to that of a native speaker and get a rating on how well they do. If you prefer practicing with real native speaker, than you could test your skills in platforms like Tandem or italki.
Reading
The Rocket Languages app offers several ways you can practice reading Hindi. Most practice comes from repeating words and phrases in the lessons. We noted that the app had beginner-friendly words and phrases with the lower modules but increased with complexity with more advanced modules.
While reading practice is of good quality, we found that there was still a big portion of content in English. For example, the culture lessons are mostly in English, which is a missed opportunity to provide Hindi reading practice.
Writing
Compared to most language apps that teach a non-romanticized writing system, Rocket Hindi does a good job teaching Devanagari. The short instructive videos provide a practical way to learn how to write Hindi text.
You can copy the text at your own pace until you master the strokes. Concepts like the writing system have no alphabet, and there's a horizontal line drawn on all the letters.
Vocabulary
The Rocket Languages app has plenty of vocabulary practice owing to its extensive database of commonly used words. Vocabulary in the regular Hindi lessons ensures you become conversational. The survival kit lessons are a great place to start if you're looking for commonly used words and phrases.
Since it's not always easy to remember all the vocabulary you learn, more vocabulary practice is in the form of tests in the Rocket reinforcement activities. They are great in promoting you to write your own sentences.
Repetitiveness
Monotony is a big enemy when learning to speak a foreign language. The Rocket Languages app avoids this by introducing new topics with each module so that there are various things to learn in the course.
Other ways to remove repetitiveness include the use of flashcards, interactive audio lessons, and a large selection of new Hindi words. But the most effective tool against repetition is the culture lessons that provide interesting facts about Hindi. It's a welcome distraction from normal language learning.
Rocket Hindi Review: User Friendliness
The Rocket Languages app has an appealing yet simple interface, so learners don't struggle to find appropriate labels for different features and lessons. The use of color is also moderate, which gives a feeling of professionalism.
The background color of the app's main interface is blue, which contrasts well with white labels and text. Inside the lessons is a white or yellow background contrasting with dark text. This color configuration makes it easy to read content without struggling.
We also found that the loading times of the app are quite impressive, as it takes one or two seconds upon clicking the different labels in the Rocket Languages app. In case you want to download content to learn Hindi offline, it takes a short time.
Rocket Hindi Competitors and Alternatives
Rocket Hindi vs HindiPod101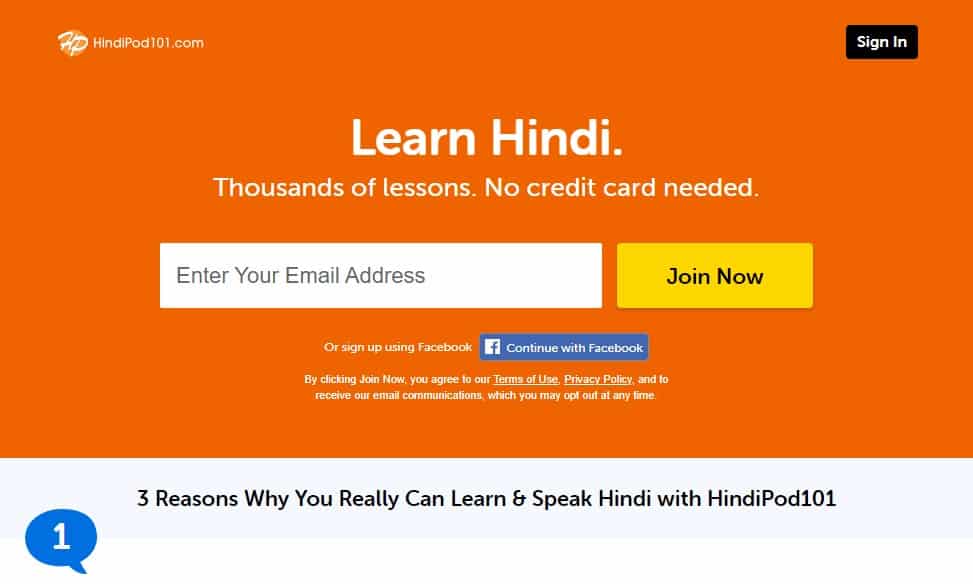 HindiPod101 provides an extensive collection of podcast-like Hindi lessons. It has a low price tag while still packing some considerable features. Rocket Hindi is also based on learning with audio recordings but, unlike HindiPod101, packs voice recognition and interactive games. Learn more about it in our HindiPod101 review.
Rocket Hindi vs Mondly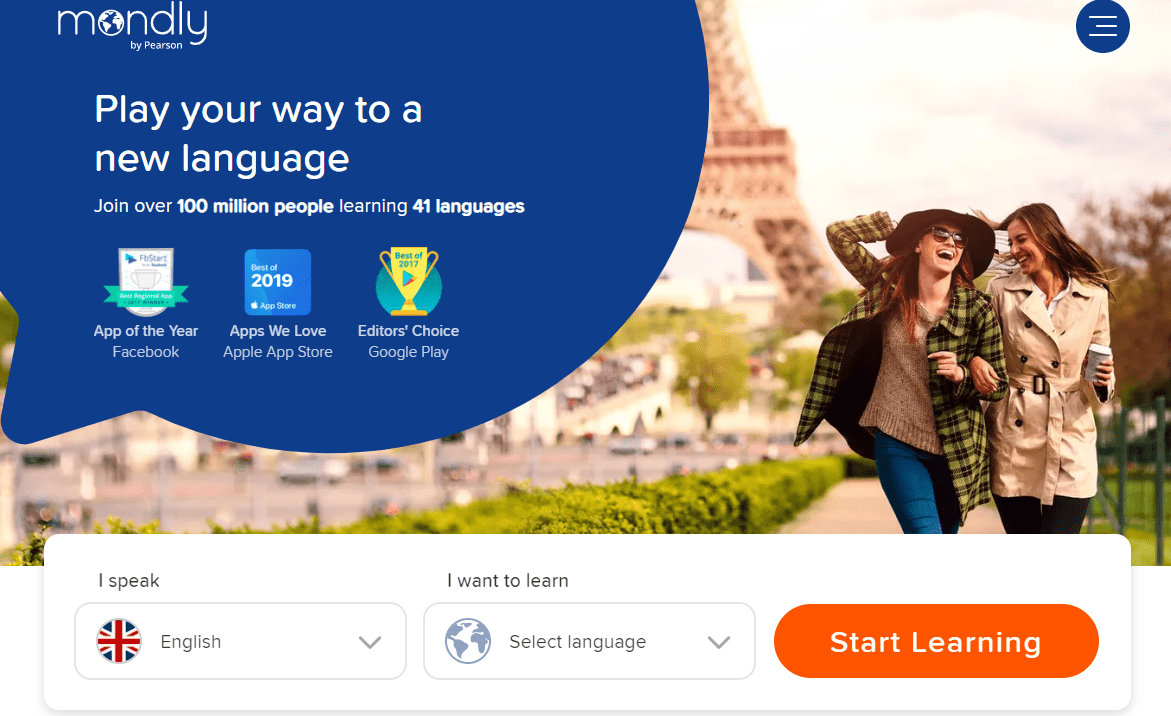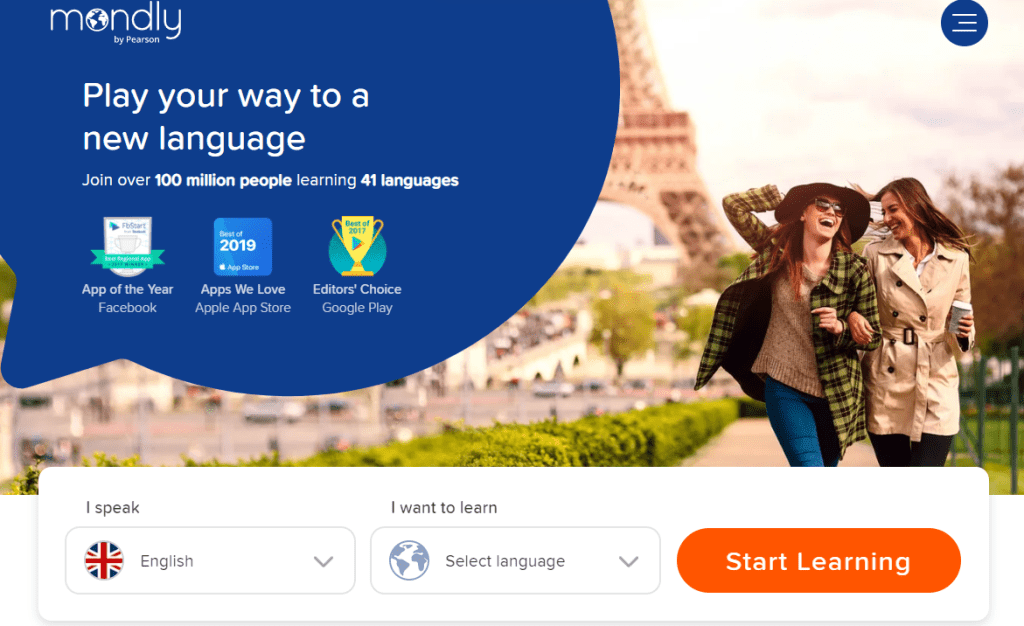 Mondly is perhaps the most innovative language app out there. It even includes virtual and augmented reality games. In comparison, Rocket Hindi takes an approach better suited for auditory learners. If you want to experience the newest innovations, then Mondly is worth considering. Learn more about it in our review of Mondly program.
What Should Be Upgraded?
While the Rocket Languages app is great for most learners, visual learners may struggle to concentrate while learning Hindi. The app's primary method of instruction is audio lessons. More videos would improve the overall experience. Using pictures could go a long way in improving the experience of visual learners.
Another area where the app could improve is the over-reliance on English as the main method of instruction. It's good for beginners as it helps with comprehension, but it's a disadvantage for advanced learners requiring more Hindi practice. Non-English-speaking learners may also find it difficult to use the Rocket Languages app.
Rocket Hindi Costs
Rocket Hindi has two forms of payment. The first is a one-time payment of $149.95 or a six-month payment of $152. The cost is for the Hindi language only and opens up all the lessons, allowing you to scale from beginner to intermediate skill level.
| | | |
| --- | --- | --- |
| Subscription | Price | Payment |
| 6 Month | $27 | Charged monthly |
| One-Time Payment  | $149.95 | One charge of  $149.95  |
There's not much difference in Rocket Hindi's plans because they all offer access to all the app's features. For example, learners get 151 hours of Hindi lessons, 2407 voice recognition phrases, 29 practice conversations, and 1 free survival kit.
Free Trial
Rocket Hindi provides a free trial with lifetime access for learners to try out the app's features. However, like many popular languages, free trials are limited to only a few lessons in the Get Started module, but even access to a few lessons gives more value than Duolingo program.
Rocket Hindi Coupons and Discounts
Rocket Hindi occasionally offers discounts for its two plans. The offers can include limited-time offers and holiday sales.
For example, when doing this Rocket Hindi review, the 6-month plan is $114 instead of $152, and the one-time payment is $99.95 instead of $149.95. The discounts usually range from 10%-60% of the standard price.
Refund Policy
Rocket Hindi has a 60-day refund policy. If you don't want to use the app anymore after buying either of the two subscriptions, you get your money back in this period.
All you have to do is contact the customer support team at Rocket Hindi. Make sure to include your receipt as you make the request. The support team processes the refunds within two working days though it can take up to five days.
Rocket Hindi Pricing Compared to Competition
Rocket Hindi is one of a few language apps that offer lifetime access with either of its packages as opposed to subscription payments.
As a result, the Rocket languages app may seem to have a higher price than competitors, especially if you look at the monthly cost. For example, HindiPod101 costs $4 and Rosetta Stone $11.99 per month, while Rocket Hindi may go up to $27 per month. However, the cost seems reasonable considering you get lifetime access and several discounts.
The app also offers many features, including a voice recognition tool. Even in the class of similar apps with the same category, for example, Rosetta Stone lifetime subscription at $299 and Pimsleur at $575, Rocket's price of $149.95 is low. It, therefore, makes it a great value for money.
Rocket Hindi Evaluations from Other Customers
Google Play Store – 3+ (100K+ downloads)

Apple App Store – 4.3 (637 ratings)

G2 – 4.0

Trustpilot – 3.5
Rocket Hindi Review: Client Support
Rocket Languages offers vibrant customer support dedicated to helping you resolve issues with your Rocket Hindi account. There are many ways to reach the customer care team, for example, through email and live chat.
We found that email response time rarely extends beyond 48 hours. For live chat, you can contact an agent during business hours. Contact outside business hours gets you automated robot answers.
Rocket Languages also provides comprehensive customer support through an FAQ and blog section on their website.
Rocket Hindi Review: What Separates it from Others?
Rocket Hindi's comprehensive language learning makes it stand out among the rest. It employs an audio lesson strategy while still scoring high in writing, reading, and speech practice. Rocket languages cost, and inclusion of cultural-based lessons is also an advantage. That's why it has many good reviews and is an attractive option for most Hindi learners.