Rocket French is one of the most popular French learning apps. It has great dialogue material and covers language and speaking skills in an understandable way. The app gives you an easy way to learn French from home. Rocket Languages app has many praises and is considered one of the best language-learning programs for French.
Despite having a teaching methodology, more established competitors like Rosetta Stone and Rocket French have proven to be more effective. We'll take a detailed look into this language-learning app in our Rocket French review. We'll cover its advantages and disadvantages, for what students it's best and the value for money.
Rocket French - One of the Best Rocket Languages Apps on the Market
Rocket French has a good-looking user interface with lessons that have been fine-tuned over a long time. Although it's built as an audio course to teach French, it improves all the parts of the language. The Rocket French course learning style uses interactive audio lessons that train your speaking, listening, and writing skills.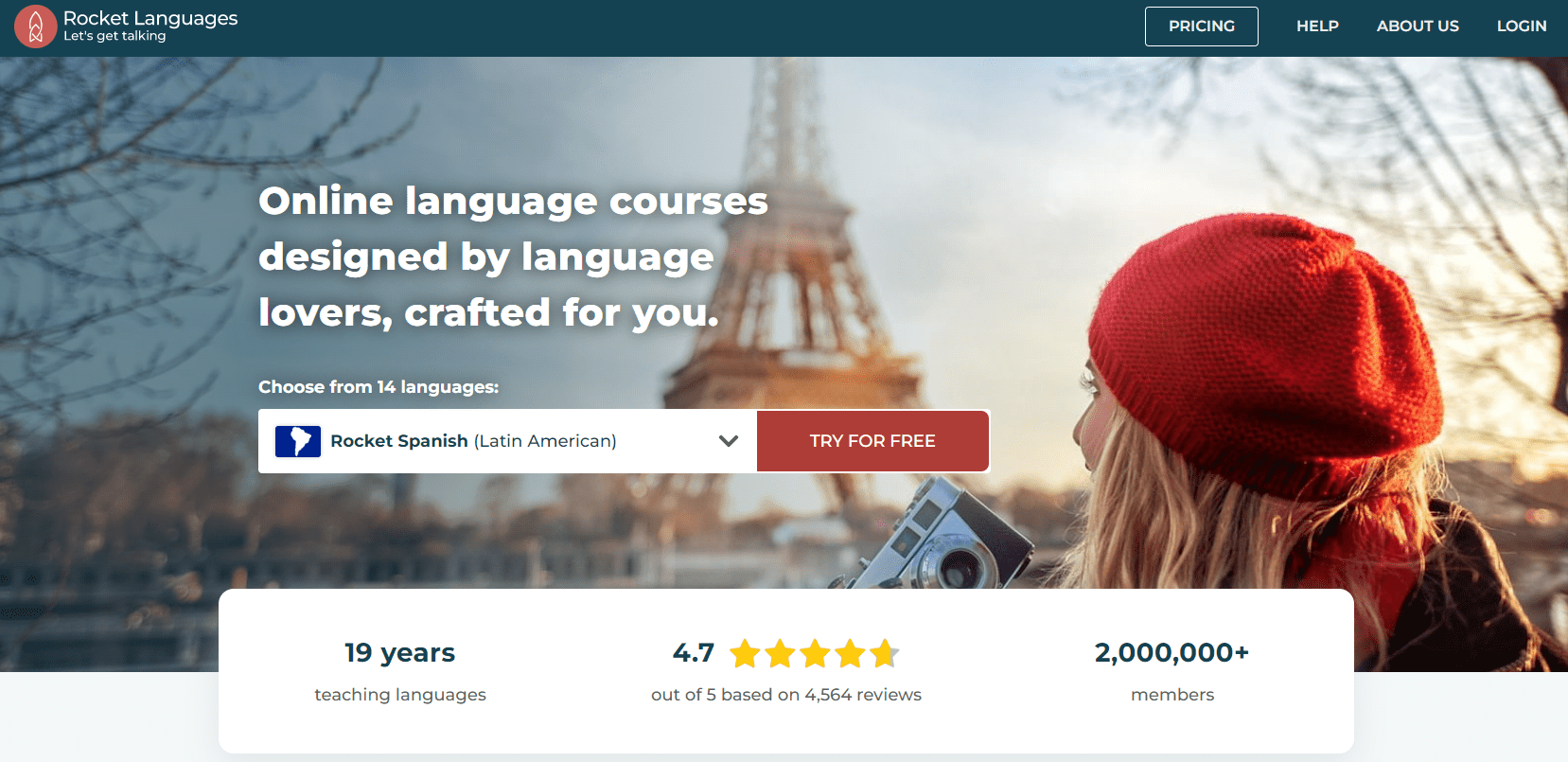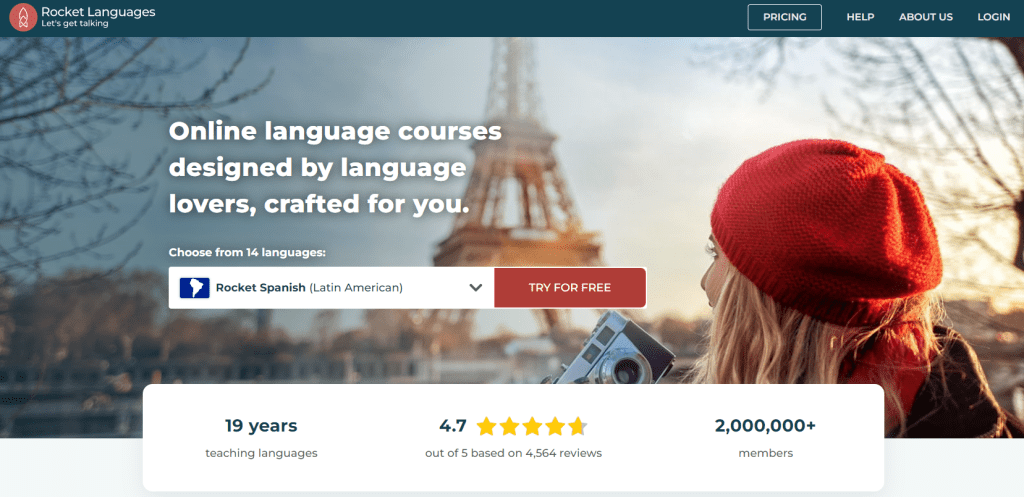 Rocket French Review Summary
⭐ Rating:
8.7

★★★★★

🥇 Available languages:
14 (see below)
📈 Suits best for:
Novices and Intermediates
🛒 Payment options:
6 Months / Lifetime
💵 Price:
$15 – $260
⌚ Hours of lesson time:
350+
🔄 Refund policy:
60-day money back guarantee
🎁 Free Trial:
✔️
American Sign Language, Arabic (Egyptian), Chinese (Mandarin), English (American), French, German, Hindi, Italian, Japanese, Korean, Portuguese (Brazil), Russian, Spanish (Latin America)
Disclaimer: Lingomee is an independent review site that may benefit from affiliate programs. Buying through our links makes our efforts possible without additional costs to you. Learn more here.
About the Rocket French App
Rocket French is one of the programs offered by Rocket Languages. It teaches you language and culture through an online platform and a mobile app. The lessons have a successful approach. You listen to a conversation between two native French speakers. 
Then the native speakers cover different vocabulary and grammar explanations. Many conversation practice exercises also help you remember what you have learned.
Grammar is demonstrated rather than explained, focusing on helping you speak and listen to French more effectively. Rocket French uses what is known as a "chunking approach." They divide everything into smaller parts to be quickly taken in and remembered.
Rocket French is the best option for beginners and upper intermediate-level language learners. The foreign language learning platform ensures you stay aware of your first few lessons by providing more English translation when you start learning French. We should also mention that this is the best app to learn French for the money.
The app lacks placement tests. These tests are important to evaluate your understanding of the language and track your learning progress. Improving in this area would help more learners know if the lessons are working or not.
Rocket French Review: Key Features 
Rocket Languages French version has developed some great features since 2004. They improve your learning experience and help you become more fluent in the language. 
But the quality of courses is different for every language. Rocket French has unique features that make it easier for you to learn French. Let's look at some features you will find when using Rocket French.
Audio Lessons
The main aim of Rocket French is to help you improve your conversational skills. Because of this, the lessons take an audio course approach. Audio lessons help you learn grammar and vocabulary much more quickly. Rocket's lessons help you speak French and usually last 15 – 40 minutes. The lessons are kept short so that learners don't get bored.
You can stream the audio lessons directly on the map or download them to listen offline. The lessons usually involve a specific topic for conversation practice. As learners improve and become more fluent French speakers, the app asks them to speak more often and answer in the French language.
Play It!
Audio Lessons involve conversations between two French speakers. You can listen to the conversation and then use Play It! to take the role of one of the characters. For instance, if the audio conversation is between John and Jane, you can choose to play the role of one of them. This provides some natural dialogue material.
This feature is beneficial when learning French, but it has some disadvantages. You are following an audio script, which doesn't provide much freedom to improvise. It is still helpful as you try to copy real conversations as you learn French. It makes it easier for you to come up with your sentences.
Rocket Reinforcement
Rocket French also has other ways to help you practice what you have learned. This includes features like flashcards, writing words and phrases, and speaking skills (if you prefer learning with flashcards, than Memrise is another great app for this learning style). All these are found in the Rocket Reinforcement section. They help you remember and test your knowledge of the language.
The activities can be repetitive at times, but they will guide you and help you remember each French translation better. You also have the option of skipping these lesson types.
Bench Marks
This feature has tests and quizzes you can take after audio and video lessons at any time. You can use them to track your learning progress and see whether you're improving. It uses interactive flashcards to help you remember.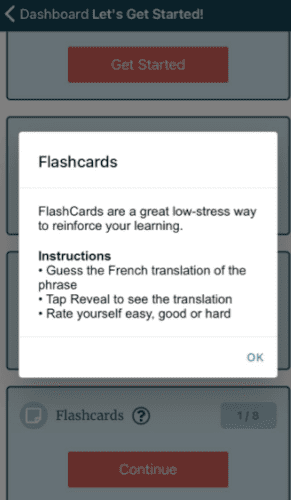 Language and Culture Lessons
It is a unique feature offered by Rocket French. Many language learning apps only teach you the language and forget about the culture. But Rocket French has lessons that help you learn French language and its culture.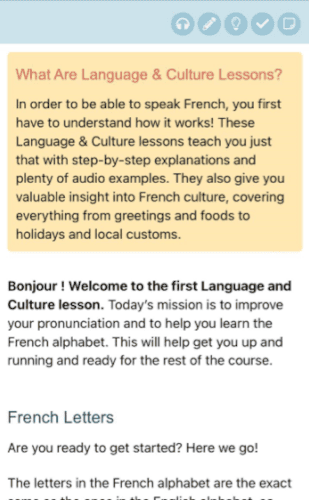 The lessons are important as they let you understand the native French speakers as you will also practice speaking. You will not be speaking to a computer but a person. Their culture might affect how they communicate, and understanding it is part of learning the language. 
Saved Notes and Lesson Vocabulary 
This feature allows you to click on different parts of the lessons for later review. You can also save words and phrases on the audio lessons and use them for practice later on.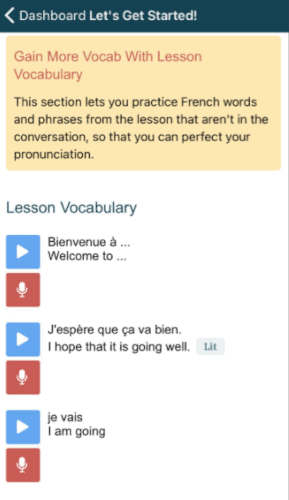 Quality of the Learning Material
Overall, Rocket French gives users a great learning experience. The lessons are simple and easy to understand, which usually engages the learners. The modules follow a progressive order that builds on what you have learned previously.
Rocket French has activities that help you practice what you've learned in lessons. However, these activities might become boring to the learners since they are quite similar. But the Rocket French course is flexible As you can skip these activities to fit your learning style better.
Each audio lesson includes a conversation between native speakers. They make it easier for learners to understand the language, especially the use of vocabulary and pronunciation. The words and phrases used are the actual words that people say when having a conversation. Each lesson takes between 15 – 40 minutes.
Grammar Instruction
The audio lessons explain more about vocabulary and less about French grammar. The culture lessons are there to deal with this problem. They are mostly grammar-based, and they give grammar explanations of different phrases. These grammar lessons are simple to understand and only focus on the main points.
Verbal Practice
You will learn more about phrases as you progress through the audio lessons. The lessons help you match the words you hear and practice speaking them, while the speech recognition technology will find your mistakes. You might need to understand what you're saying fully, but you'll be able to speak French and pass your message across.
Reading
Grammar Lessons take you through reading and writing the French alphabet. It is where you learn how to read and understand the phrases correctly. Rocket French teaches you everything you need to know about reading the alphabet. Meanwhile, the reinforcement activities make it easier for you to remember these rules.
Writing
Each language and culture lesson will teach you more about the French alphabet and writing. This feature is unique compared to other language apps. You will learn the French alphabet and will be able to write in French with enough practice. Overall, the French course focuses on both conversation and literacy.
Vocabulary
The audio lessons focus on the vocabulary used in real-world conversations. You get to learn more phrases as you advance through the different levels. Most language learning apps introduce you to phrases that won't be helpful. Rocket French has taken a different approach by teaching you the vocabulary through real conversations.
Repetitiveness
The audio lessons start with basic conversations. You get to listen to them, and then repeat after the native speakers. As you advance through the levels, you might get bored. You will be listening through the same interactive audio lessons, which are repetitive. However, you have the option of skipping through the lessons. You could also test yourself with real native speakers in apps like italki or Tandem.
Rocket French Review: Simplicity of Operation
The app design is simple. It has a user-friendly interface that new learners can easily understand. You can navigate through various sections of the app with the sidebar navigation. Everything blends with the brown and sky blue colors. The icons are visible and easily accessible.
Right on the dashboard, you can see the different learning levels. Here you get to choose the level you are at and the learning module. The first audio lesson teaches you the basics, like greeting someone and responding to a greeting.
Rocket French Competitors and Alternatives
Rocket French vs Rosetta Stone French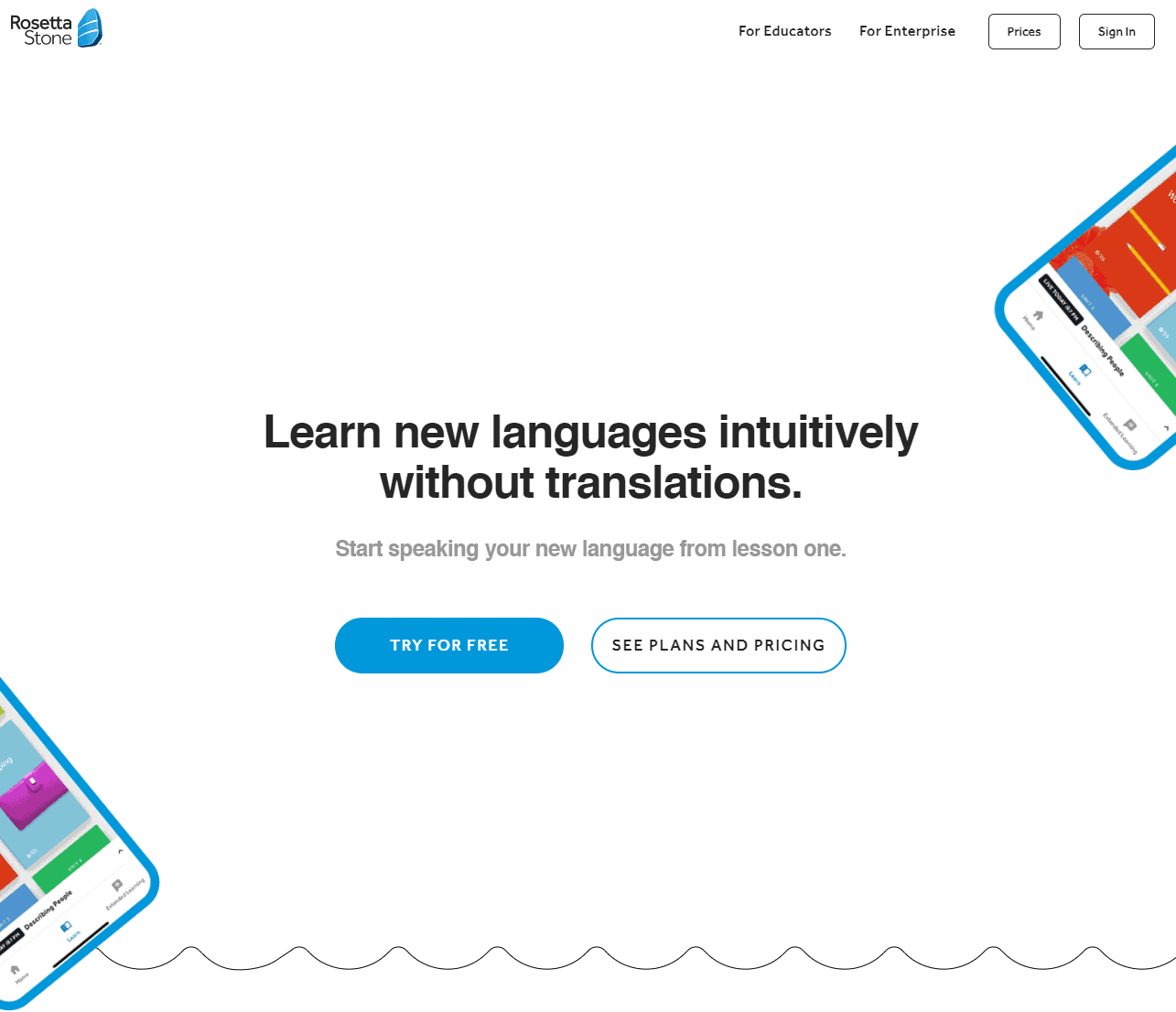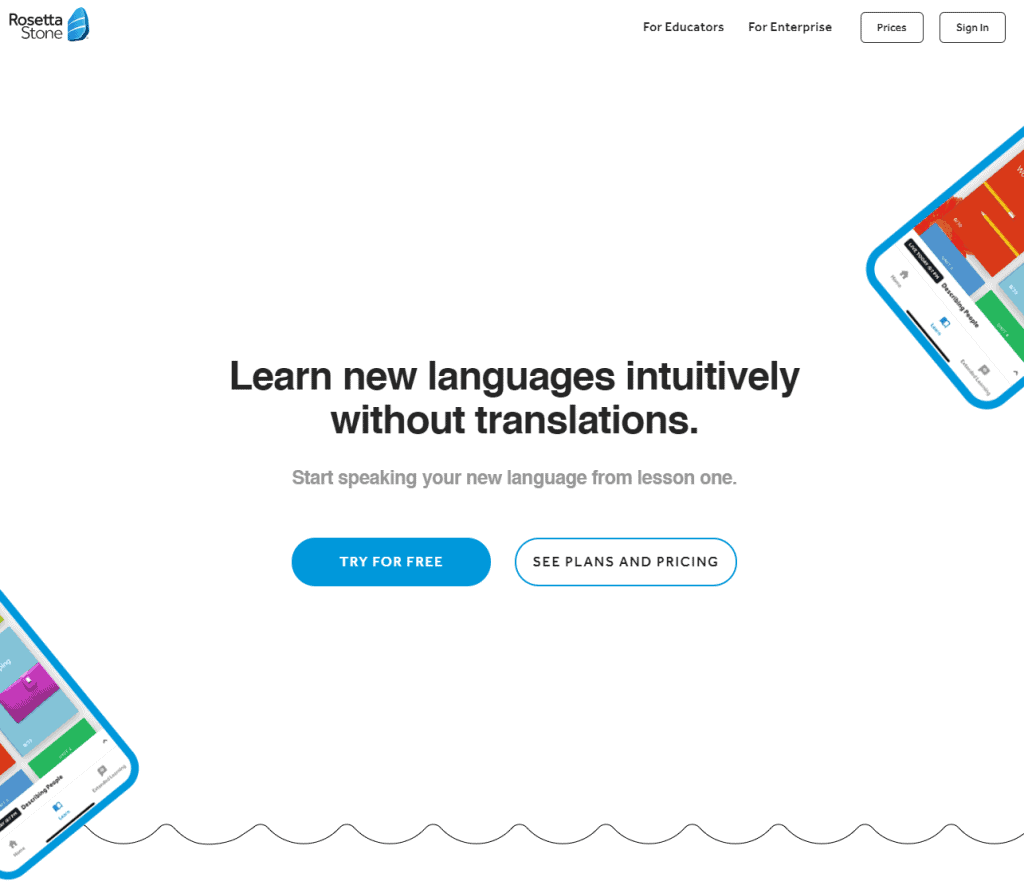 Rosetta Stone French emphasizes language immersion through visual cues with little formal guidance. As with Rocket French, it uses native speaker audio, has speech recognition, and an extensive vocabulary. The choice depends on which type of language immersion you want. Learn more about it in our Rosetta Stone French review.
Rocket French vs Pimsleur French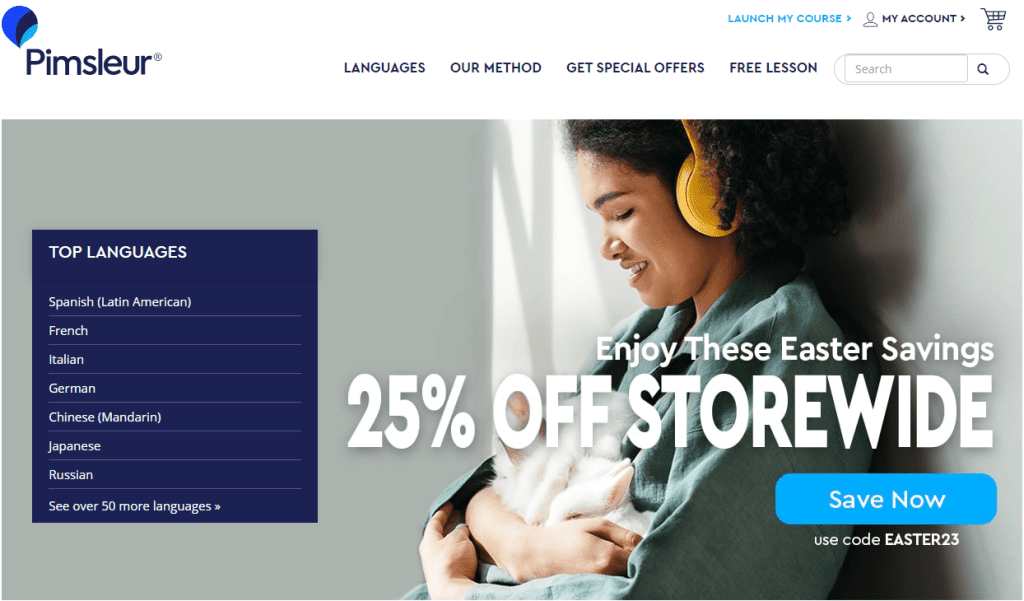 Pimsleur is an audio-based app tasking you with listening and repeating French words and phrases. Rocket French also focuses on helping learners with audio lessons. The differences lie in the selection of features and vocabulary coverage. You really should read our in-depth Pimsleur French review before deciding on which one to choose.
Rocket French vs FrenchPod101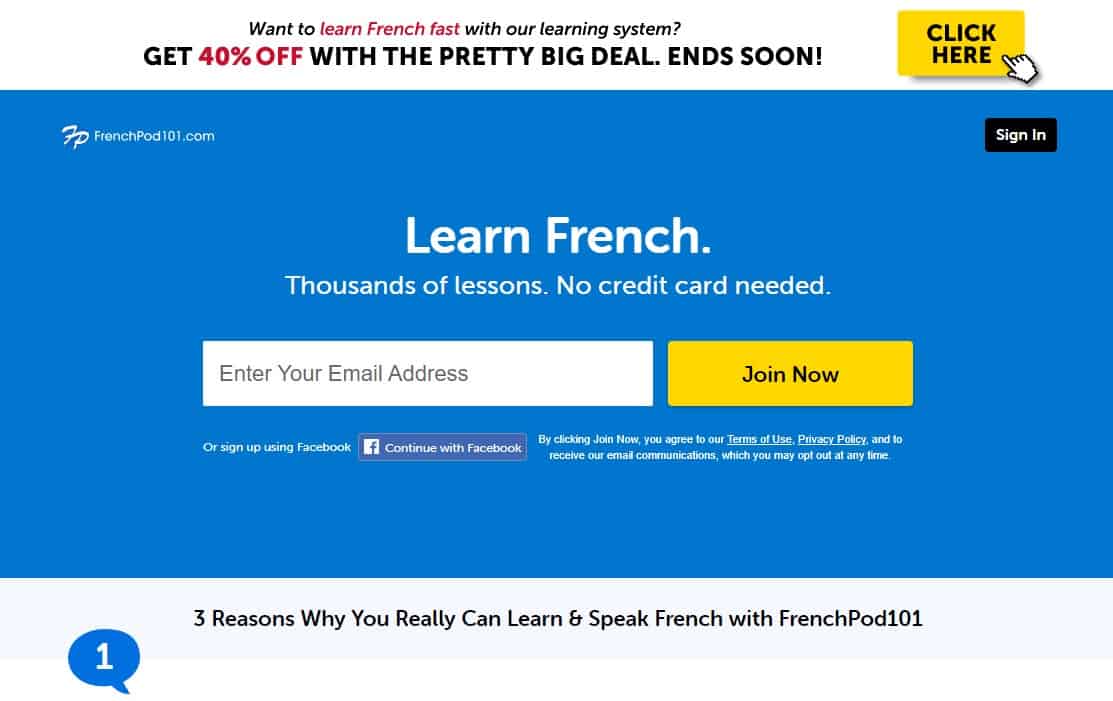 FrenchPod101 provides an extensive collection of podcast-like French lessons. It has a low price tag while still packing some considerable features. Rocket French is also based on learning with audio recordings but, unlike FrenchPod101, packs voice recognition and interactive games. Find more information in our in-depth FrenchPod101 review.
What Areas Could Be Improved?
The interactive audio lessons can be improved by updating the recordings of the French native speakers. Learners get bored after completing the levels because they listen to repetitive audio. Learners practice using the same audio lessons, which can be boring. It should be updated so they can listen to something else and learn more.
When using Rocket French, you might expect that the cultural lessons primarily deal with culture. These lessons could be improved to teach more about French history and French culture in addition to grammar explanations.
The free Trial offers you lifetime access. However, you can only access select lessons at different levels. Once you have sampled Rocket French you must pay the subscription to unlock other features.
It could be improved by reducing the free trial period and giving you full access to the language learning program features. The prices should be lowered even for users who only need access to one level. It could be reduced to encourage more learners to sign up.
Rocket French Prices
Rocket French offers users an indefinite free trial. It only includes some features, but advanced levels are locked until you pay the subscription fee. You can unlock all levels and features by paying the one-time price, which is charged for unlimited lifetime access.
You get discounted prices when you sign up for different Rocket French levels. The costs are not multiplied. Rocket French cost ranges from $99.95 – $259.90. 
| | | |
| --- | --- | --- |
| Level | Price | Payment |
| 1 | $99.95 | One-time charge |
| 1-2 | $249.90 | One-time charge |
| 1, 2& 3 | $259.90 | One-time charge |
Rocket French allows you to make monthly payments if you choose all three levels at once. 
Free Trial
You can take free lessons at Rocket French to learn what it's all about. You have access to several lesson types for an absolute beginner. The free Trial does not have a time limit, so you can use it as long as you want.
Rocket French Coupons and Discounts
Rocket French usually offers coupons to its customers. If you're lucky, you can get a coupon of up to 60% off. They are charged on your purchase and range from 10% and could go above 60%. The best time to get coupons is during the holidays or the festive season.
Refund Policy
Users get a 60-day money-back guarantee period. Users can ask for a refund if they are unsatisfied with the service.
Rocket French Pricing Compared to Competition
Rocket French is a good app for learning French, but the price is slightly higher compared to the competition. Rocket French charges its customers per level instead of a monthly payment. It raises the costs and makes it more expensive, but the audio lesson approach and great voice recognition software give it a unique learning style.
Learning apps like Mondly and Rosetta Stone are much cheaper alternatives. These apps offer flexible payment plans making them much better. Rocket French, on the other hand, features native speakers and interactive audio lessons, which makes it unique from most language apps. It makes Rocket French a good choice, especially for auditory learners.
Rocket French Ratings from Other Users
Google Play Store – 3+ (100K+ downloads)

Apple App Store – 4.3 (637 ratings)

G2 – 4.0

Trustpilot – 3.5
Rocket French Review: Assistance to Clients
A Rocket French website has an FAQ section containing common questions learners might ask. You can also email them, and you will get a response within 24 hours. Although the response takes some time, the support team will make sure to answer all of your questions.
Rocket French Review: What Sets it Apart?
Rocket French is a good learning app for beginners up until the upper intermediate level. Its main focus is the speaking and pronunciation of French words. The app provides interactive audio, culture lessons, and enough verbal practice through flashcards. The voice recognition and many more features make it very interesting to learn French.