Opening the doors to the Arab world is difficult for Westerners. The culture is exotic, and the language seems incomprehensible. But starting to learn the native language is the fastest way to learn Arabic culture.
Enter Rocket Arabic, a cutting-edge program that will revolutionize how you learn to speak Arabic. Knowing conversational Arabic with this tool is easy. You can say goodbye to dull teaching methods and hello to a dynamic, engaging strategy that always produces results.
Read on for our Rocket Arabic review to unveil the hype around this language-learning tool and whether it lives up to the expectations for learning to speak Arabic.
Great Speaking and writing lessons for learning Arabic
We like Rocket Arabic because of its practical approach to learning the language. It combines interactive lessons, cultural insights, and personalized feedback for an immersive experience. This Rocket Program covers all aspects of the language. Be it the Arabic vocabulary and grammar rules or pronunciation and conversational skills.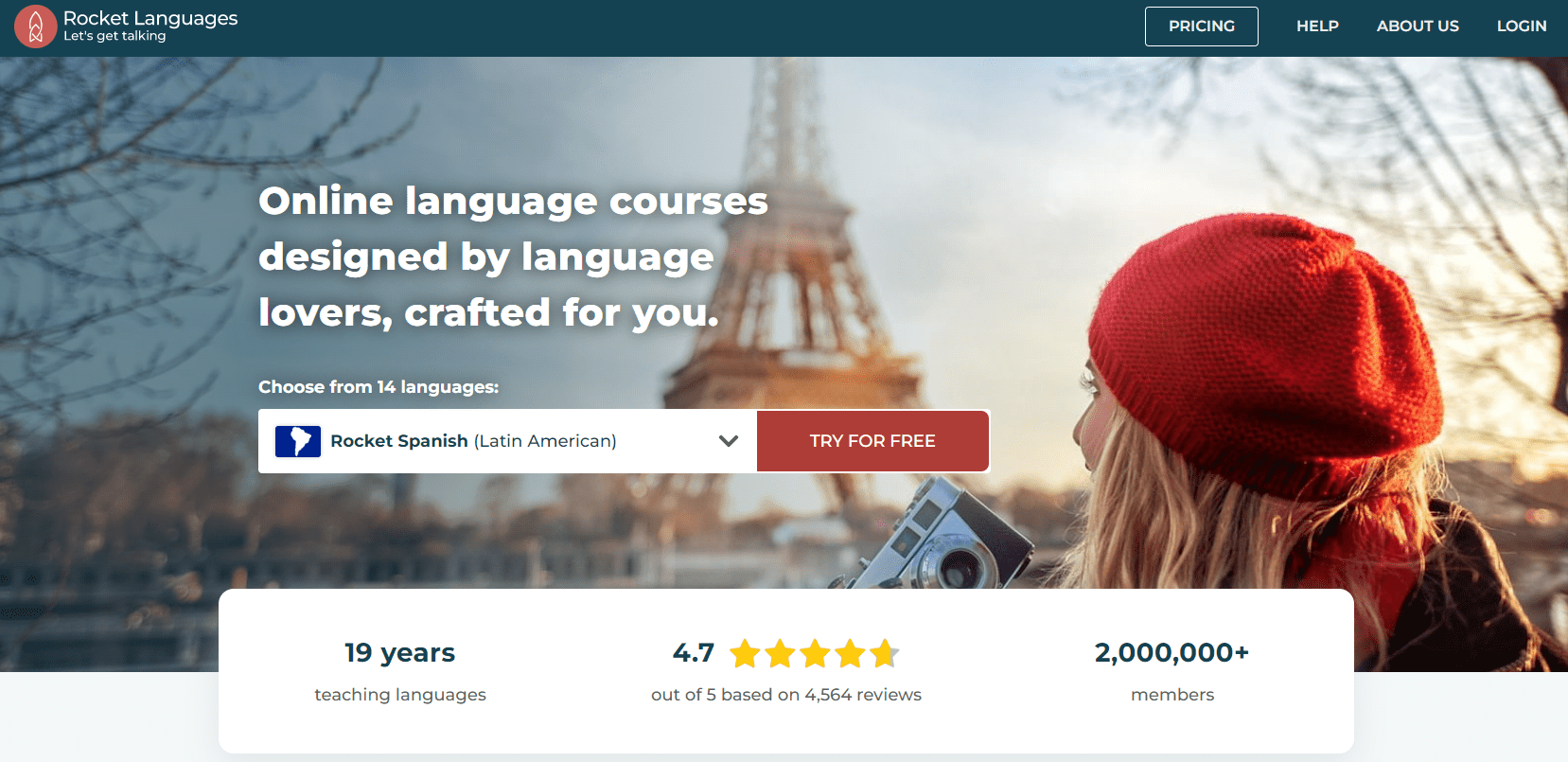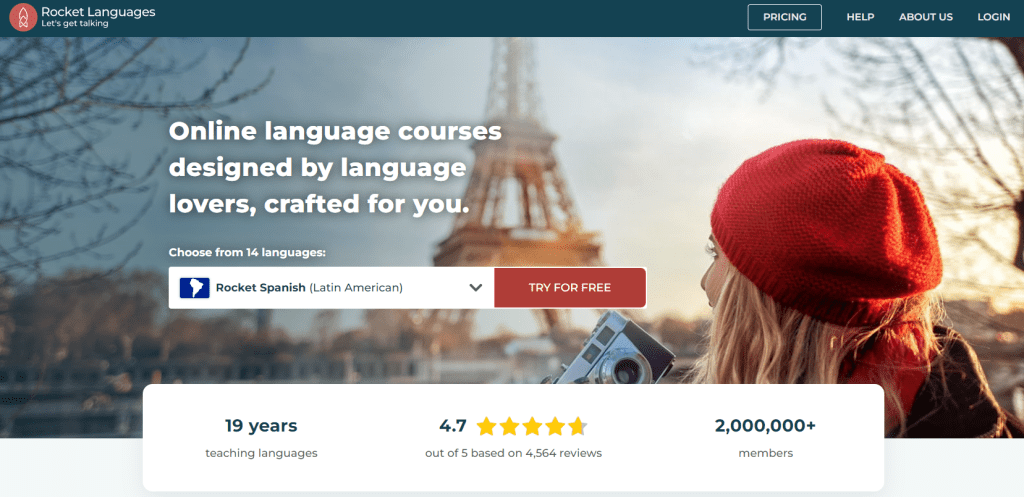 Rocket Arabic Review Summary
⭐ Rating:
8.9

★★★★★

🥇 Available languages:
14 (see below)
📈 Suits best for:
Novices and Intermediates
🛒 Payment options:
6 Months / Lifetime
💵 Price:
$15 – $260
⌚ Hours of lesson time:
350+
🔄 Refund policy:
60-day money back guarantee
🎁 Free Trial:
✔️
American Sign Language, Arabic (Egyptian), Chinese (Mandarin), English (American), French, German, Hindi, Italian, Japanese, Korean, Portuguese (Brazil), Russian, Spanish (Latin America)
Disclaimer: Lingomee is an independent review site that may benefit from affiliate programs. Buying through our links makes our efforts possible without additional costs to you. Learn more here.
About Rocket Arabic
Since 2004, Rocket Arabic has proven a reliable and trusted resource for beginners wanting to learn Arabic. Its strategies and teaching methodologies separate the app from the rest.
It relies on the Egyptian dialect and Modern Standard Arabic curriculum. These are common in Egypt and the Middle East. However, note that this Rocket Arabic course does not cover some other popular Arabic dialects, such as Moroccan Arabic.
Furthermore, Moroccan Arabic slightly differs from Egyptian Arabic. But with the MSA course knowledge, you can converse in any Arabic context.
Rocket Arabic caters to your unique goals and learning speed for beginners and advanced learners. Its interface and creative teaching methods provide a dynamic and fascinating learning experience. This approach equips learners with engaging material to traverse the Arabic language and culture.
This language program offers a variety of resources for learning Arabic. It utilizes interactive audio lessons, vocabulary tests, cultural insights, and dialogues. It also has progress-tracking features, personalized study plans, and cultural immersion. From our extended testing experience, we think that this is the best app to learn Arabic for the money.
Rocket Arabic Review: Key Features
Rocket Arabic ensures learners the best, most enjoyable, and most effective language learning experience. Its key features unlock learners' language learning potential and skills in speaking Arabic with confidence.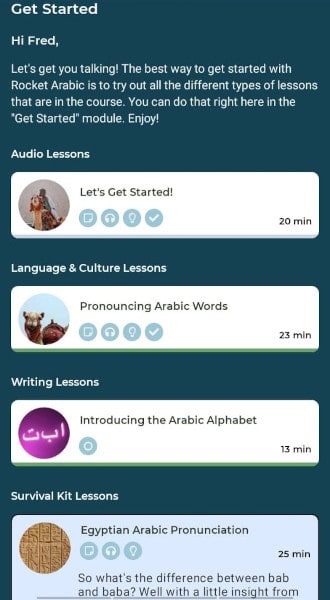 It combines interactive audio lessons, vocabulary words, speech practice, personalized vocabulary building, and cultural immersion. Below are more detailed explanations of these features:
Interactive Voice Recognition
To ensure instant personalized feedback, Rocket Arabic comes with voice recognition software. Learners can speak to a microphone and practice their Arabic pronunciation. This feature is essential, especially for learners struggling to pronounce Arabic vocabulary.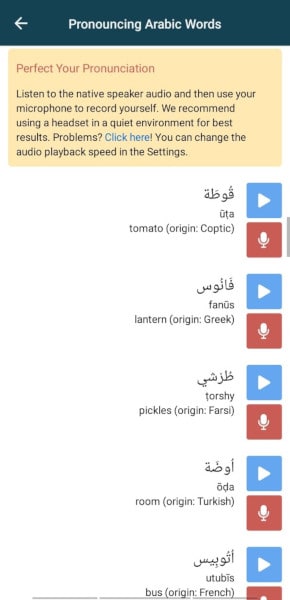 Rocket Arabic analyzes speech patterns, comparing them to native speakers' pronunciations of words and phrases. It then provides detailed assessments and feedback. It considers all aspects, such as vowels and consonant sounds, stress patterns, intonation, and rhythm.
Culture Lessons
Rocket Arabic teaches learners about the Egyptian Arabic language and culture. These culture lessons provide various insights to give learners a deeper understanding of Arab customs, traditions, and societal norms.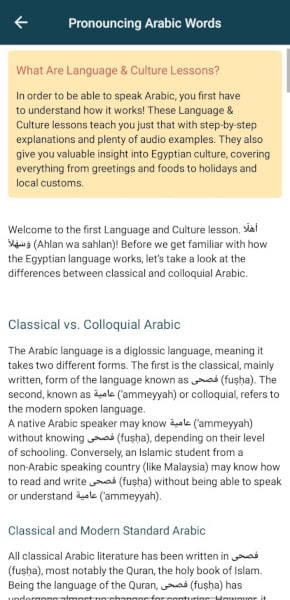 Rocket Arabic links the Arabic language and cultural knowledge to ensure the learner has all it takes to converse with Arabic speakers. It may be in areas such as:
How to greet various people of different ages

Foods and cuisine

Historical events

Contemporary cultural practices

Traditional celebrations and honors
The Rocket Arabic course ensures the learner can communicate, use appropriate language expressions, and show respect and appreciation for the Arabic culture.
Rocket Reinforcement Activities
Rocket Arabic offers interactive memorization tools through interactive audio lessons. All the lessons incorporate:
Vocabulary practices

Audio recordings

Speech practice

Interactive activities

Live coaching dialogues
The interactive audio lesson approach exposes the learner to the different language aspects. In return, this helps them with reading, listening, and speaking practice.
To ensure this, the Rocket Arabic audio lessons involve flashcards and quizzes. These resources help reinforce vocabulary, grammar, and conversation skills.
My Vocab
Rocket Arabic has a personalized vocabulary builder feature that is customizable to the learner's progress. This feature allows users to create personal word lists that they feel are common in daily conversations. Using this feature, they can also add custom translations and track their mastery of Arabic vocabulary.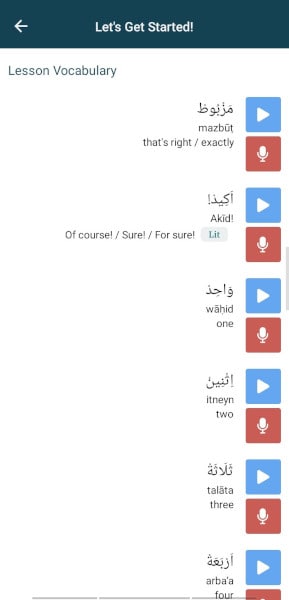 My Vocab also optimizes vocabulary retention through spaced repetition algorithms and contextual examples. In return, continuous practice allows learners to expand their language skills. This way, the learner can focus on the words they need and important vocabulary.
Quality of The Learning Material
Our research found that Rocket Arabic is far ahead of other apps because of its high-quality learning material. The Arabic Language lessons encompass colloquial Arabic, used in formal and standard settings. They are well structured and organized, with clear instructions. It enables the learner to understand the course with ease.
However, the Rocket Arabic course needs improvement. For instance, it should include more interactive and immersive offline activities. It would increase the ease of access and the learners' understanding of the Arabic language.
The course covers over 120 hours of audio lessons. However, Rocket Language courses last for around 15-40 minutes per audio lesson. So lessons are non-tiring and exciting. Besides, long lessons are boring and may shift the learner's focus.
Grammar Instruction
Rocket Arabic offers clear grammar instructions that all level learners easily understand. Rocket Arabic lessons use clear explanations, examples, and interactive exercises to cover essential grammar topics. It also guides learners in understanding Arabic sentences, structure, verb conjugation, and other grammatical elements.
Verbal Practice
Rocket Arabic aims to ensure the learner can converse like a native speaker. Consequently, the learner improves in spoken Arabic, word pronunciation, fluency, and conversational skills.
The program comes with voice recognition software, a very resourceful verbal practice tool. It also helps the learner build their confidence in colloquial Arabic. This makes it easier when conversing with Arabic speakers.
Reading
When it comes to reading, Rocket Arabic is up-to-date with modern vocabulary. This comes in the form of dialogues, articles, and stories that boost the learners reading and comprehension skills. In addition, it comes with follow-up questions. They are designed to develop the learner's understanding and interpretation of Arabic words.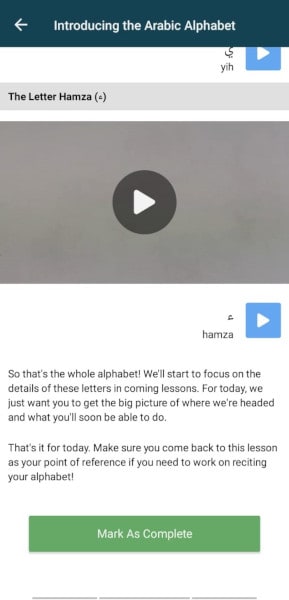 Writing
The Rocket Arabic course involves writing lessons and tasks. Learners can practice writing Arabic through targeted writing prompts, exercises, and constructive feedback. With continuous writing lessons, learners can improve their writing skills, grammar, vocabulary, and the formulation of words and phrases.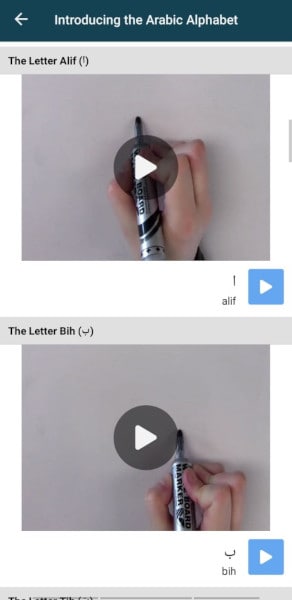 Vocabulary
Rocket Arabic's ability to help learners build on their Egyptian dialect and related vocabulary is, perhaps, the main reason to use the language app. It offers a variety of vocabulary-building exercises, contextual examples, and personalized word lists.
Moreover, the user can expand their Arabic vocabulary, especially using the My Vocab feature. This feature allows them to keep important words they feel might be necessary for their language learning.
Repetitiveness
Rocket Languages courses are fun, educational, and effective. It is done through interactive lessons, cultural insights, and gamified elements. Also, Rocket Languages keeps Rocket Arabic updated with new vocabulary to maintain freshness.
However, where repetitiveness is necessary for a learner's growth, the course will apply it. In addition to the progress tracking feature, users can check what they have covered or are yet to cover. You can also see where you rank compared to others.
Rocket Arabic Review: Simplicity of Operation
Rocket Arabic has a user interface that maximizes ease of use through its layout and design. The arrangement of content, icons, and overall presentation is very clear, even for first-time users.
The app also has simple-to-use guidelines for its features and setup. The loading times are fast, so you do not need to wait long. However, the app can introduce stock images for authenticity and cultural immersion. The pictures should expose learners to Arabic phrases and their way of life.
Rocket Arabic Competitors and Alternatives
Rocket Arabic vs ArabicPod101
ArabicPod101 provides an extensive collection of podcast-like Arabic lessons. It has a low price tag while still packing some considerable features. Rocket Arabic is also based on learning with audio recordings but, unlike ArabicPod101, packs voice recognition and interactive games. Find more information in this ArabicPod101 review.
Rocket Arabic vs Preply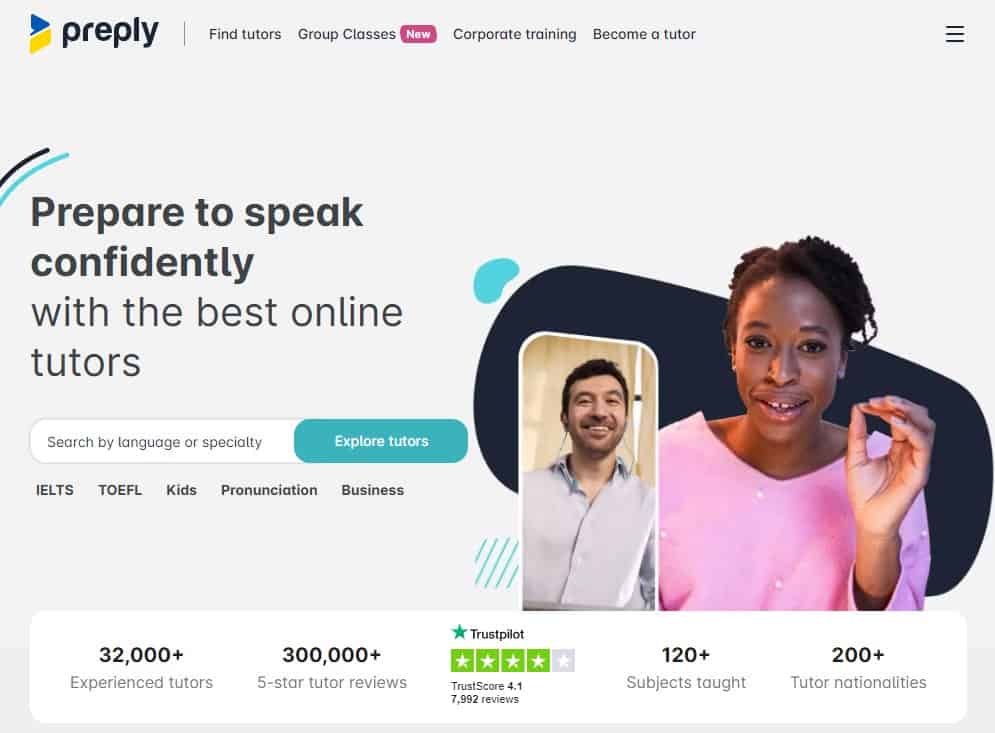 These two language-learning apps are hardly comparable. Preply is a platform for finding an online tutor, while Rocket Arabic provides a tested curriculum and exercises. We recommend starting with Rocket Arabic and then finding a tutor on Preply once you are stuck. Learn more about it in our review of Preply app.
What Areas Could Be Improved?
Rocket Arabic still has room for improvement in various areas. For instance:
Introduce an intermediate-level course, thus expanding Egyptian Arabic.

Include the Moroccan dialect in the program at various levels.

Provide more relevant images/visuals, especially for culture lessons.
Rocket Arabic Prices
Rocket Languages utilizes the cost-per-language policy since it is a one-level course. Here's a breakdown of the policy:
| | | |
| --- | --- | --- |
| Subscription | Price | Payment |
| 1 Month | $19.95 | Charged monthly  |
| 12 Months | $149.95 | Charged yearly |
The Rocket Arabic course costs $149.95, which is payable once. However, the user can also use the 6-month plan, which costs $27 p/m for $162, paying $12.05 more. Again, unlike other apps like Rosetta Stone, the course offers only beginner level.
However, Rocket Languages provides its subscribers with extra survival kits. These kits contain more resources for learning the new language.
Free Trial
To check out the course, Rocket Arabic offers a 7-day free trial. You do not have to provide any banking information at the sign-up level. However, the free trial will only give you access to three audio lessons, three language and culture lessons, and three writing lessons.
Rocket Arabic Coupons and Discounts
Rocket Languages has discounts and special offers for all its courses as part of product promotion. For instance, you can get discounts of up to 33% and 40% off the original price.
Refund Policy
Rocket Languages programs come with a 60-day money-back guarantee on all courses. So, if you are not satisfied with the course, you can request a refund within the first 60 days of the sale.
Rocket Arabic Pricing Compared to Competition
Rocket Languages' pricing is not as flexible as other Rocket Arabic alternatives, like Rosetta Stone or Pimsleur. It is because other apps have monthly subscription options that are initially cheaper than what Rocket Arabic costs.
For example, the basic plan of Rosetta Stone can cost will cost just $11.99 monthly, which makes it more approachable for casual learners. Meanwhile, with Rocket Arabic, you pay once and get lifetime access.
In many cases, this is preferable as you can use the content as long as you want. However, the initial investment seems offputting for those who don't want to commit. A great compromise is the possibility to pay in 6-month installments. We chose this option for this review and are happy about it.
Rocket Arabic Ratings from Other Users
Google Play Store – 3+ (100K+ downloads)

Apple App Store – 4.3 (637 ratings)

G2 – 4.0

Trustpilot – 3.5
Rocket Arabic Review: Assistance to Clients
Rocket Languages client support is great. You can file a complaint, suggest changes to lessons, or inquire about the organization's policies and services by email, phone, or live chat.
You can expect feedback within 48 hours via email. But for quicker responses, you can use the live chat during business hours. For more queries, you can also check the detailed FAQ section or the Rocket Languages blog.
Rocket Arabic Review: What Sets It Apart?
Rocket Languages sets a new standard for Arab language learning apps. Its user-centric design, features, comprehensive curriculum, and exceptional client support make it the best platform for learning Arabic and starting to converse with native speakers.