If you find traditional language courses tedious and unengaging, Yabla might be the solution for you. It is an online language learning platform promising to make language learning more engaging through interesting videos.
Many Yabla users claim that it is extremely effective at it too. Sounds too good to be true? Our Yabla review will cover its features, pricing, and effectiveness to answer whether it's enough to watch videos to reach fluency.
Video-based language learning for Intermediates
Yabla is best for intermediate and advanced learners looking to improve their comprehension and listening skills. The videos, made by native speakers, cover topics from culture to humor. Although challenging for beginners, they help learners progress quickly. Those struggling can also find pronunciation and grammar breakdowns in Yabla.
⭐ Rating:
8.5

★★★★★

🥇 Available languages:
6 (see bellow)
📈 Suits best for:
Intermediate and advanced learners
🛒 Payment options:
Monthly/6 Months/Annually
💵 Price:
$12.95 – $99.95
⌚ Hours of lesson time:
300+
🔄 Refund policy:
7-day money-back guarantee
🎁 Free Trial:
✔️
Yabla Spanish, Yabla French, Yabla Italian, Yabla German, Yabla Chinese, Yabla English
Disclaimer: Lingomee is an independent review site that may benefit from affiliate programs. Buying through our links makes our efforts possible without additional costs to you. Learn more here.
Quick Overview of Yabla 
Yabla has been in the language-learning market since 2001. Since then, it has compiled a large video library with over 1000 short videos for each language they offer. Some popular languages, such as Spanish or German, have even more video content. Most
Yabla's videos are primarily original, with some sourced from YouTube channels. It covers diverse topics, including news, interviews, documentaries, and music videos for language learners of various levels. We think that Yabla does great job for visual learners, but you can also check our guides for other apps that features the same languages:
Each language's content is unique and covers relevant topics, including cultural ones that teach students about the nations where the language is spoken. You can access the main home page and see all the videos without subscribing. However, you cannot watch any main videos without paying or starting a free trial.
The main feature of Yabla is interactive subtitles in your target language. You can pause, rewind, or loop sections to better understand the authentic video content. Additionally, Yabla provides review exercises, such as flashcards, quizzes, and games, to help users memorize.
We don't recommend Yabla as a learning program for absolute beginners. It is better suited for those who like jumping into full language immersion after learning some basics. If you're just starting, better combine Yabla with other language programs, such as Babbel, for speaking and grammar, or Mondly and Duolingo for complete basics.
Yabla Review: Main Features
Yabla offers various features to help learners improve their language skills. Among the features available on Yabla are flashcards, games, clickable subtitles, and lessons. The flashcards allow users to memorize new vocabulary and review it.
The games make language learning fun and engaging, while interactive subtitles enable users to click on a word or phrase to see its translation. Yabla also offers lessons to improve users' grammar and comprehension skills. Let's examine these features to see how they benefit language learners.
Yabla lessons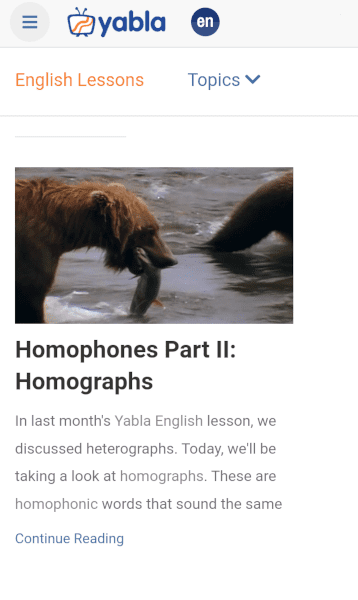 Except for Chinese, all languages have a "Lessons" tab that provides access to short articles on various aspects of the language. These articles cover many language topics, including grammar, specific vocabulary words, and complex terms that many students find difficult to understand. 
In contrast to lengthy and tedious textual materials, these lessons are concise, informative, and tailored to address relevant subjects that learners frequently encounter. 
The lessons include related videos that allow students to see and hear examples of the topic discussed. These video illustrations make the lessons more engaging compared to Yabla alternatives.
Since Chinese Yabla does not provide any lessons, but includes language learning resources like a Mandarin Pinyin Chart and a table of tone pairs. The Mandarin Tone Chart is an interactive feature that allows you to listen to a native speaker say a word and identify the correct tone combination.
Interactive subtitles and playback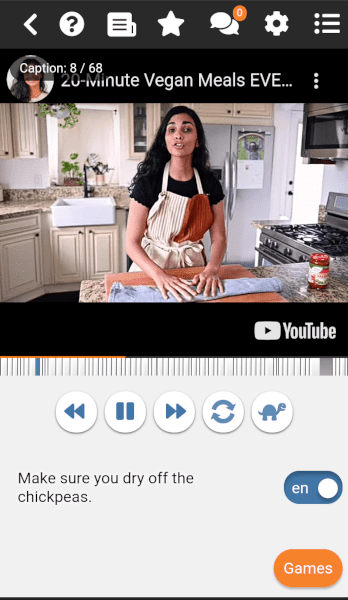 Subtitles are a core feature of Yabla. You can have them in your native language, target language, or both. Some languages have even more options for subtitles. For instance, in Yabla Chinese, you can choose between subtitles in English letters or Chinese characters.
It is also possible to see both sets of subtitles simultaneously, but if you are already familiar with the target language, it's best to use only the foreign language ones. We found that watching videos with only Spanish subtitles allowed better focus on learning Spanish since there was no English subtitles to fall back to. 
Once you come across a new word, you can simply click on it to see its meaning and translation. The Yabla dictionary with this information is on the right side of the screen. This feature makes learning new vocabulary easier and improves your ability to learn Spanish or other popular languages.
Yabla video player includes intuitive navigation buttons to adjust the volume, skip clips, repeat tricky passages, and slow the playback speed. You can also switch to a theater or fullscreen mode, which is helpful for larger devices.
Difficult parts of videos are easier to understand with the ability to play them on a loop. If you are still struggling, save words to make a list for later review and easy access to the video's full transcript. Unfortunately, Yabla doesn't suggest the parts you should be studying more, so you must be proactive yourself which is similar to LingQ.
Flashcards
Yabla's flashcard feature supplements the main lessons and help language learners memorize words. However, flashcards aren't automatically scheduled for reviews, so you must decide for yourself when to use them.
Each flashcard has a progress bar and a particular video clip with the word's context. The progress bar tracks your mastery level, similar to platforms like Memrise. As you review your vocabulary, Yabla will show which words you answer correctly, translating this into a mastery level for each word.
Another interactive feature of Yabla's flashcards is the ability to create custom decks while watching videos. As subtitles appear underneath the video, you can click on a word, and Yabla will show you the translation. The translations are generally accurate and provide an overall understanding of the target language.
Language Practice Games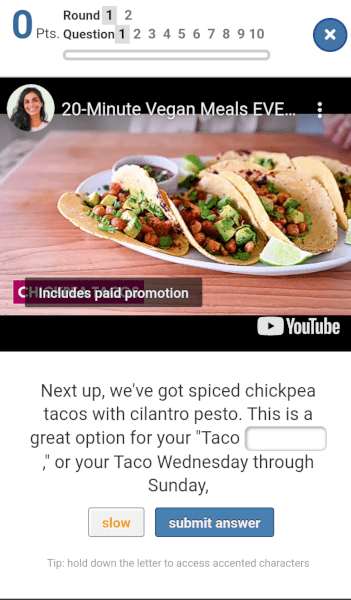 The Language Games feature on Yabla is a fun and interactive way to improve your skills after watching a video.
Multiple Choice 
As you play this game, a video clip will appear on your screen accompanied by subtitles with a missing word. Your task is to select the correct word missing from the multiple-choice answers provided.
The game has around twenty questions per video clip, which help deconstruct the video content and focus on specific phrases. We found this game to be a valuable tool for language learners seeking to improve their comprehension skills.
Fill In The Blank 
This game shows you a sentence from the video with a missing word, and you get to write it in the blank space. Hearing the sentence out loud helps with listening skills, but you still have to spell the word correctly. The game will show where you made mistakes while you fill in the blank space.
Scribe
Scribe is a dictation game best to practice listening and writing. The game breaks the video content into sections. You must transcribe each sentence and use diacritical marks for pronunciation, such as the acute accent (é), the grave accent (è), the circumflex accent (ê), and the umlaut (ö). 
Therefore, pay attention when writing them because they can change the meaning or pronunciation of a word. For example, in spoken French, the word "café" with an acute accent on the "e" means "coffee," while "cafe" without the accent means "cafeteria". Drops app is another app that provides similar game.
Vocabulary Review 
This game helps you revisit new vocabulary from videos. You get to play a timed review game where you translate words back and forth between your native language and the one you are learning. The game keeps track of the words you answer correctly so you can practice with new words more.
The Comprehension Game 
It is a new game unavailable for all videos yet. It asks you multiple-choice questions about the video you just watched, testing your comprehension and fluency level in the new language.
The videos tailor the questions presented to match the language level of the viewer. Thus, for beginner videos, they phrase the questions to align with their low comprehension level.
Lessons Quality
Each lesson in Yabla contains a video featuring a native speaker accompanied by interactive captions and exercises. Yabla covers a wide range of topics, from everyday conversations to more advanced grammar and vocabulary. 
One potential downside is that Yabla does not provide a structured course syllabus, which could disadvantage some learners. Yet, this is offset by the platform's flexibility, allowing users to choose their own pace and focus on the areas they need the most.
The average lesson is around 3-5 minutes long, making it easy to fit into a busy schedule. The platform offers hundreds of hours of lessons in total.
Grammar Instruction
Yabla offers grammar instruction through video content which is an engaging approach. Yabla also provides various tools and resources to help learners practice and master grammar concepts. These include interactive exercises, quizzes, and flashcards.
However, it's worth noting that Yabla is designed as a listening and comprehension tool. While its grammar instruction is helpful, it may not be as comprehensive or in-depth as other language-learning apps. 
Verbal Practice
Yabla focuses on providing learners with a variety of listening and reading activities. While it does not offer any speaking practice, it has some resources to help learners improve their verbal skills. 
Yabla offers lessons that present dialogues for speaking practice. Learners can practice repeating and role-playing these dialogues. The platform also provides interactive quizzes and vocabulary games, helping learners improve their pronunciation and comprehension.
Reading
Yabla offers an effective approach to improving reading skills through its interactive features. Yabla's comprehension game is excellent for practicing reading, writing, and listening skills. It features questions and multiple-choice answers in the target language. This game is best suited for intermediate and advanced students due to its comprehensive nature. 
The written lessons on Yabla can also be valuable for improving reading skills. The lessons focus on specific aspects of the language, such as grammar, vocabulary, and pronunciation. 
Writing
Yabla is a great platform for improving writing skills, especially through the Scribe feature. It is the most challenging exercise on Yabla, as it requires users to listen to short clips and type out the whole sentence. The game is effective for developing writing skills and improving vocabulary.
Vocabulary
The vocabulary review game allows users to revisit tricky vocabulary and test their knowledge through flashcard-style exercises. The game prompts users to pick the correct translations of words shown in either their target or native language. It is a simple yet effective way to perfect your vocabulary.
The progress bar on the left of the screen tracks how well users know certain words. Yabla removes a word from the exercise once it is mastered and tests users on these words to reinforce learning.  
Repetitiveness
Yabla offers engaging and interesting video content to its users. However, as with any learning tool, there is a risk of repetitiveness. While Yabla offers a wide range of authentic videos, users may encounter similar topics or vocabulary words in different videos.
Yabla's approach to language learning through immersion and authentic content makes the experience more engaging than traditional methods. Nonetheless, this approach stands out for its effectiveness and appeal. Additionally, the platform offers a variety of features, such as subtitles, flashcards, and games that keep the learning experience fresh and dynamic.
Evaluating Yabla App Ease of Use
From the user's perspective, Yabla's interface may feel outdated, but it is easy to navigate. The use of color and contrast in the app is simple but effective. The first-time experience provides straightforward instructions that guide users through the app's main features.
The labels are also clear, making it easy for users to understand the different features and functions of the app. In addition, feedback is provided, helping users understand the actions they are taking and the results of those actions. All of these factors contribute to an intuitive and user-friendly experience. 
The loading times are relatively fast, which is crucial for user engagement. However, a lack of exciting graphics makes the app feel behind the competition in terms of design quality.
What Could Be Improved?
Yabla only offers six languages, limiting the options for users who want to learn a new language not currently available on the platform. Expanding the language selection would provide more variety for learners and attract more users to the platform.
Another area where Yabla could improve is speaking practice. The platform focuses primarily on listening and reading comprehension, with few opportunities for learners to practice speaking. There is a voice recognition technology, but it needs a lot of polishing and does not provide any feedback.
Yabla's language courses could benefit from a more organized and structured approach. You already need to know what you want to learn before starting and some beginner videos or guides would be helpful.
Furthermore, the Yabla mobile app lacks some of the features found in the web version, such as flashcards. All features available on both the web and mobile versions would provide a more consistent user experience and encourage more frequent service use. If you want more complete experience, than you can check our analysis of other apps:
For more traditional language learning techniques, you can check these alternatives:
Yabla Pricing
Yabla offers various subscription plans for language learners at affordable prices. For instance, the one-month subscription costs $12.95, while the six-month subscription costs $54.95, which translates to $9.16 monthly. Users can opt for the one-year subscription at $99.95, only $8.33 per month, for more extended access to the platform. If you are on a budget, than you can try MosaLingua. Here is full review of MosaLingua program.
It is important to note that each subscription provides access to just one language. 
| | | |
| --- | --- | --- |
| Subscription | Price | Payment |
| 1 Month | $12.95 | Charged monthly |
| 6 Months | $54.95 | Charged yearly |
| 12 Months | $99.95 | Charged once |
Free Trial
Yabla offers a 15-day free trial to start learning a new language. To access the free trial, you must enter your credit card information, which will be charged if you don't cancel before the trial period ends.
To avoid being charged, you can access 11 free videos in each course, which gives you access to all the features and games available on Yabla. During the free trial, you can explore Yabla's video library, which features authentic content from native speakers.
Yabla Coupons and Discounts
If you are a teacher looking for a language learning tool for your students, Yabla is a great option. While Yabla does not offer discounts to individuals, they offer deals to teachers purchasing the tool for their students.
In addition to teacher discounts, Yabla occasionally releases coupons and promo codes that customers can use to save money on purchases. If you frequently visit Yabla's Spanish language learning site, you can take advantage of these discounts when they become available.
Refund Policy
You can cancel your Yabla subscription anytime without being required to provide any specific reason. If you cancel within the first seven days of subscribing, you will receive a full refund of any fees paid. 
If you cancel within these seven days, they will not charge you again, and you will still have access to the product for the remainder of your subscription. Additionally, all future recurring billing will stop, and your subscription will end at its scheduled date.
Yabla Pricing Compared to Competition
Yabla's price is competitive with other language programs like Babbel and Rosetta Stone. However, they offer access to only one language per subscription. FluentU or Lingopie might be better options if you want to learn multiple languages. However, with Yabla, you can access tools like difficulty-level search, region-specific content, quizzes, and more.
Yabla Ratings from Around the Web
Google Play Store – (10K+ downloads)
Apple App store – 4.7 (60.5K ratings)
G2 – 3.8
Trustpilot – 4.5
Yabla Review: Customer Support
Email is the primary customer support channel of Yabla. To test their response time, we contacted their support team via email and received a response within 24 hours. It was a human response, and the support representative was courteous and helpful.
According to other customer reviews, Yabla's support is generally responsive and helpful. Yet, some customers have expressed frustration with the lack of a live chat option.
Yabla has an extensive FAQ section on its website, divided into sections for individuals and school accounts. They also have video tutorials to assist users in getting started with their platform. Their blog covers language learning tips, updates to their platform, and other related topics.
My Verdict
Yabla is an excellent language-learning platform with engaging video content for intermediate and advanced-level learners. It has a user-friendly interface and interactive features offering beyond video content. However, if you are just starting with a foreign language or looking only for speaking practice, consider other options before purchasing Yabla.