The market for online language learning platforms has exploded in the last decade. But most of them teach only the most popular languages. That's not the case with the Ling App.
It stands out with its rich content for not-so-popular languages. Many other language-learning apps don't even mention languages, such as Burmese, Kannada, and Marathi. These make Ling an exceptional, all-inclusive resource for learning a niche language.
Ling app is a language-learning app that uses gamification to teach a new language with mini-games and speaking practices. Each language course in Ling introduces a huge range of vocabulary while improving essential skills.
If you're learning less common languages, the Ling app might be it. Continue reading our Ling app review to discover its features, teaching materials, and more.
An affordable and gamified language learning experience
The Ling App covers languages in a fun, comprehensive way. It houses less common languages, particularly Asian languages like Burmese and numerous languages of India. While this makes Ling attractive for those learning a niche language, it doesn't skip common languages. These make Ling an exceptional app, especially considering its inexpensive pricing.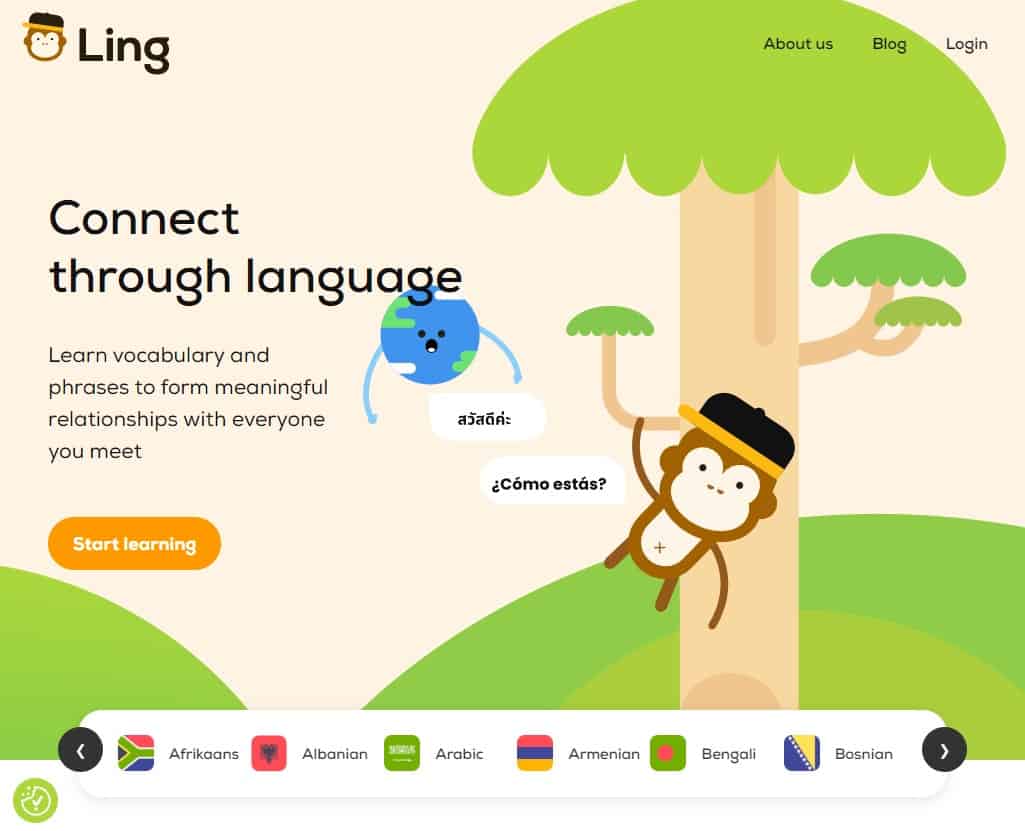 ⭐ Rating:
8.8

★★★★★

🥇 Available languages:
60+
📈 Suits best for:
Intermediates
🛒 Payment options:
Monthly/Yearly/Lifetime
💵 Price:
$8.99 – $149.99
⌚ Hours of lesson time:
1000+
🔄 Refund policy:
30-day
🎁 Free Trial:
✔️
Afrikaans, Albanian, Arabic, Armenian, Bengali, Bosnian, Bulgarian, Burmese, Cantonese, Catalan, Chinese, Croatian, Czech, Danish, Dutch, Estonian, Finnish, French, Georgian, German, Greek, Hebrew, Hindi, Hungarian, Indonesian, Irish, Italian, Japanese, Kannada, Khmer, Korean, Lao, Latvian, Lithuanian, Malayalam, Malaysian, Marathi, Mongolian, Nepali, Norwegian, Persian, Polish, Portuguese, Romanian, Russian, Serbian, Slovak, Slovenian, Sorbian, Spanish, Swahili, Swedish, Tagalog, Tamil, Telugu, Thai, Turkish, Urdu, and Vietnamese
Disclaimer: Lingomee is an independent review site that may benefit from affiliate programs. Buying through our links makes our efforts possible without additional costs to you. Learn more here.
Quick Overview of The Ling App
Ling is developed by Simya Solutions since 2018 with a focus on helping foreigners in Asia learn the local language. Soon after, it quickly expanded to different languages in Europe, the Middle East, and Africa.
Since its release, the Ling app has been teaching numerous languages with its mini-games in a fun way. Users study new materials in the Learn tab and utilize the review feature to bring everything together. The app also provides detailed feedback and shows user progress, adding to its positive lesson experience.
Ling has themed lessons that teach anything from numbers and family to shopping and business vocabulary. None of the content on the Ling app is locked, so beginner-level learners are free to explore what awaits them ahead. It works well as a substitute for a placement test, as upper intermediate and advanced users can skip easy lessons.
Ling app Review: Main Features
The Ling app has various features to help users throughout their language-learning journey. These features improve essential reading, writing, speaking, and grammar skills.
The lessons constantly bring new words with example sentences and phrases to improve vocabulary. The chatbot feature creates dialogues for extra practice and memorization. The reviews and exams provide the crucial routine necessary to learn a language. With all these, the Ling app might as well be the best app to learn niche languages.
Ling Lessons
Ling has gamified and structured lessons that shine at teaching new words and incorporating them with its other features. Each lesson feature multiple-choice quizzes, fill-in-the-blank exercises, matching pairs, flashcards, rammar and speaking tests. These lessons take about five minutes to finish.
Ling lessons have native speaker audio. It helps users gauge the tone and intonation. The lessons end with a dialouge where you fill in the blanks. It simulates real-life conversations and teaches what words to use.
Chatbot
The chatbot feature is a quick way to get language practice. The dialogues are based on real-life situations where you must select from multiple answers and change the direction of the conversation accordingly. The chatbot feature also functions as a speaking exercise. It displays what to say, and you record it to test your pronunciation.
The Ling app uses voice recognition to detect errors. The chatbot also includes written chats for some of the dialogues. But users can't text in these dialogues. Although the chatbot doesn't provide writing practice, it helps users review vocabulary and example phrases.
Review
The Ling app offers two options for reviewing. You can revisit the content in one of the modules or rehearse everything you've learned. In each review, you go over learned vocabulary, grammar rules, and test pronunciation.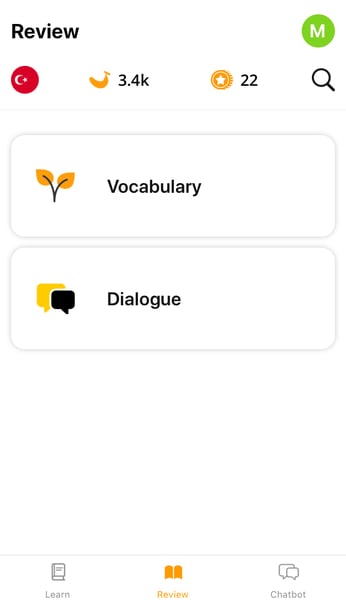 You can begin reviewing once you have finished at least two lesson modules. There isn't a limit on how many times you can use the review fucntion. Each session has ten exercises, so after finishing one, you can start another to challenge yourself with new language quizzes.
Exam
At the end of every module, there is an exam to see if you need further language practice. The exams have speaking tests, questionnaires, and matching pair cards. It is useful to test if you're ready to move up a level. For example, you can finish the exams in the upper intermediate before moving to advanced lessons.
Every exam features ten questions, similar to the ones you'll find in the reviews. The difference is you get four lives. If you choose the wrong word, you lose one life. Fail four times, and you'll start from the beginner level.
The limited number of mistakes forces learners to focus, but we found grammar explanations too sparse in the exams for beginners.
Lesson Quality
Ling language lessons are straightforward and take minimal time to complete. These bite-sized, entertaining lessons make Ling a convenient language-learning app.
Whether it is the Lithuanian or Korean course, the content in each language is similar. There are five levels, each covering ten modules with four lessons. Each module has a vocabulary section, a speaking section, and a dialogue section. However, this varies for the languages offered. For example, the Thai course features it all and a writing section, while less common languages don't.
Once a beginner-level learner starts learning, the entire course can take weeks. With its rich lesson content, the Ling app is enough to prepare you to speak with native speakers.
Grammar Instruction
Ling app features very few grammar explanations in the lessons. It expects the user to pick it up along the way contextually. Ling shows an example sentence following a grammatical concept when learning words. The app then gives similar examples but skips strict explanations.
However, Ling offers ways to study and practice grammar. There is a grammar section with detailed instructions for select languages like Thai. Several languages, like Turkish and Dutch, miss this grammar book-like feature. You also get grammar questions in reviews. So it incorporates grammar in its course, but it depends on the target language.
Verbal Practice
The Ling app is rich in speaking practice. The app has a speaking section for every language module. Users can also practice pronunciation using the review and chatbot features. These don't replace practice with native speakers but can take students far.
The app also uses speech recognition technology to detect language pronunciation mistakes. If there are any errors, the app corrects the user. With all these, Ling provides enough speaking practice to boost the confidence of learners to converse with native speakers.
Reading
The Ling app doesn't offer a lot of reading materials. What you read in the language lessons, review section, and dialogues is all you get. The app focuses more on vocabulary acquisition and teaching the user common language phrases.
Writing
Ling uses an intuitive way to teach languages with a different writing system. For example, when learning the Thai language, you write by tracing the letters. The writing section first shows the animation, then traces each letter, and asks the user to write without lifting their finger.
The writing practice varies for other languages. For example, there isn't enough writing practice for Swedish and Slovenian. So the features depend on the language you're learning.
Vocabulary
Ling is a language learning app that doesn't disappoint in teaching new words and phrases. You can target vocabulary using specific language modules and learn what you want in each lesson.
Aside from the dedicated vocabulary section with example sentences and animations, the app teaches new words throughout the language lessons. Every lesson introduces new terms and combines them with similar words. These make Ling app a highly effective tool for acquiring new vocabulary.
Repetitiveness
The Ling app is engaging and doesn't feel repetitive. The short language lessons and other features don't bore the user, even when learning different languages with the same app. The gamification aspects also add to the entertainment. The banana points place you higher on the leaderboard, and you unlock achievements as your progress continues.
Ling app Review: Ease of Use
During our Ling app review, we tested various aspects of the app. We can say that the Ling app has a clean design with a minimalistic look. The web version follows the same look and syncs up with all your devices.
The app gives good feedback and is responsive. Simya Solutions nailed the app design. It provides one of the best language-learning experiences overall, making it stand out among other language-learning apps.
Ling app Competitors and Alternatives
Ling app vs Rocket Languages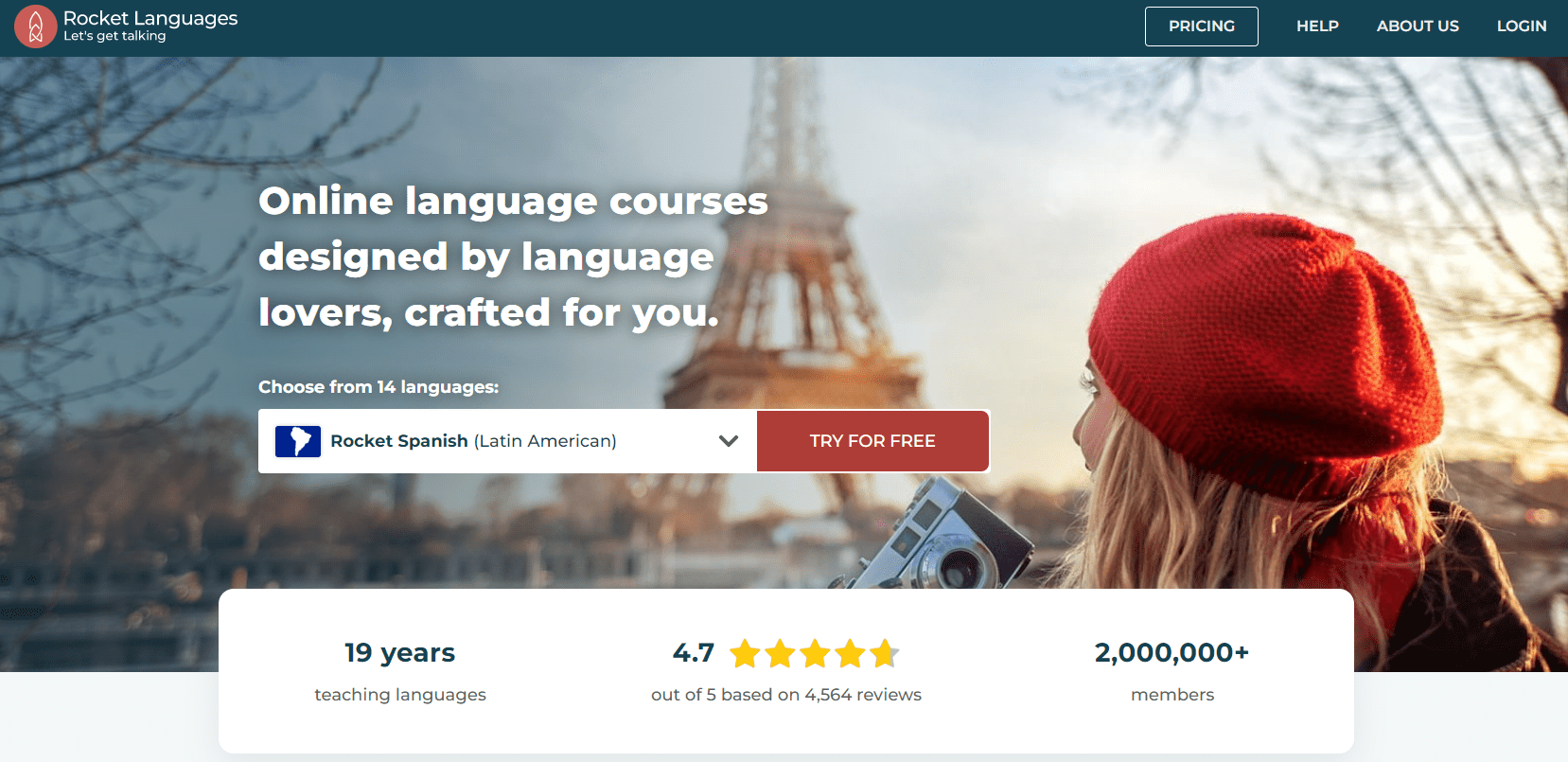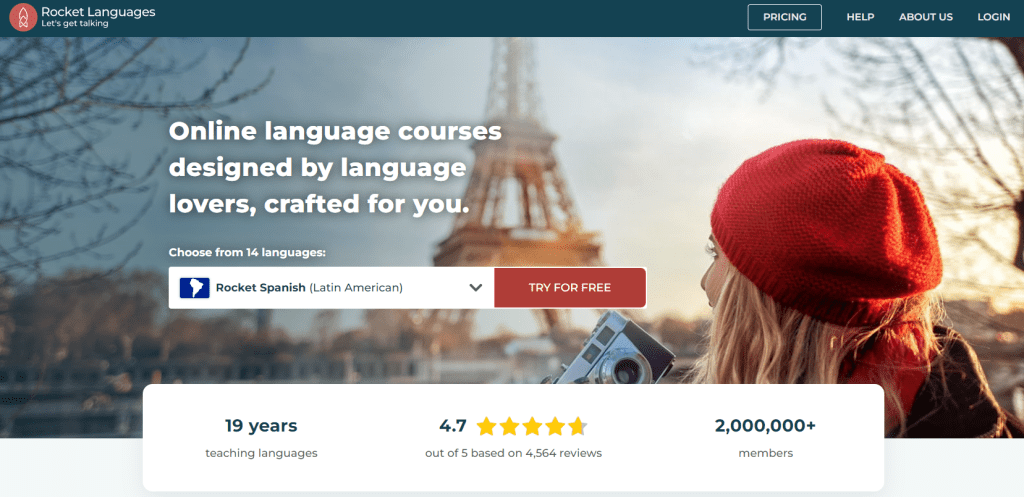 Rocket Languages focuses on interactive audio lessons with cultural insights and grammar resources. Ling App is cheaper with many less common languages. But if you are an auditory learner, you should try Rocket Languages too. Learn more about it in this Rocket Languages review.
Ling app vs Pimsleur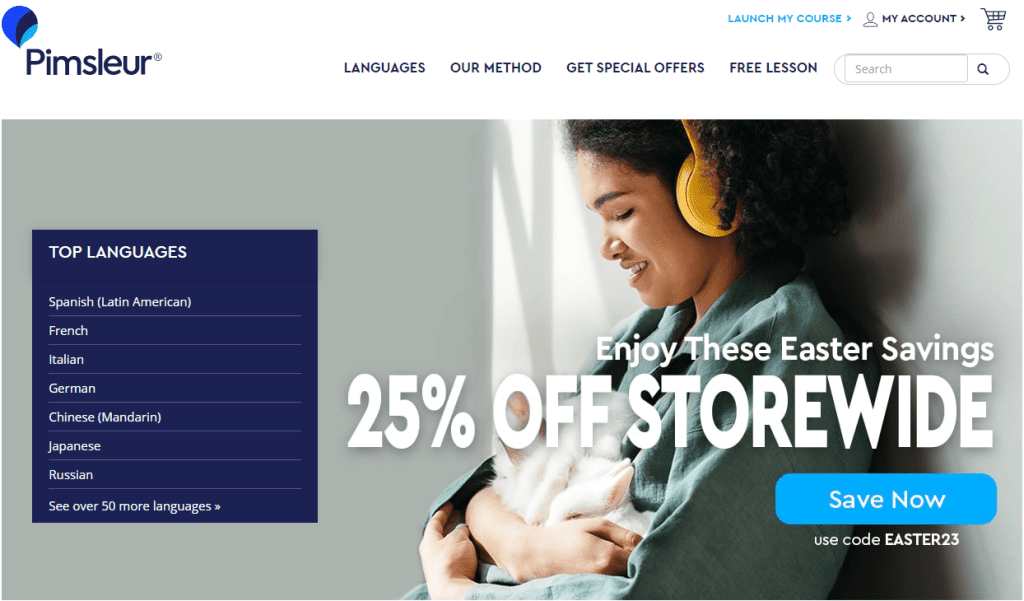 Pimsleur is an audio-based app tasking you with listening and repeating foreign language words and phrases. While the Ling App has many similar features, it is not so reliant on auditory learning. If that's what you're after, look for more information in our  Pimsleur review.
Ling app vs Babbel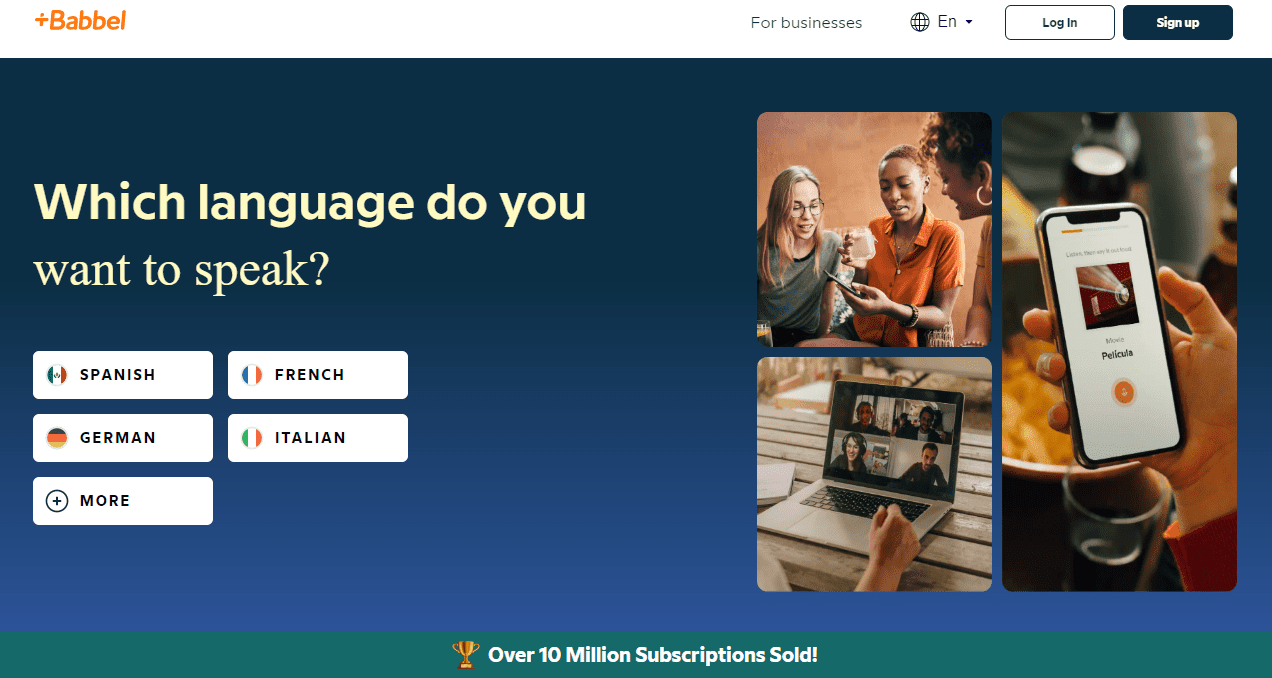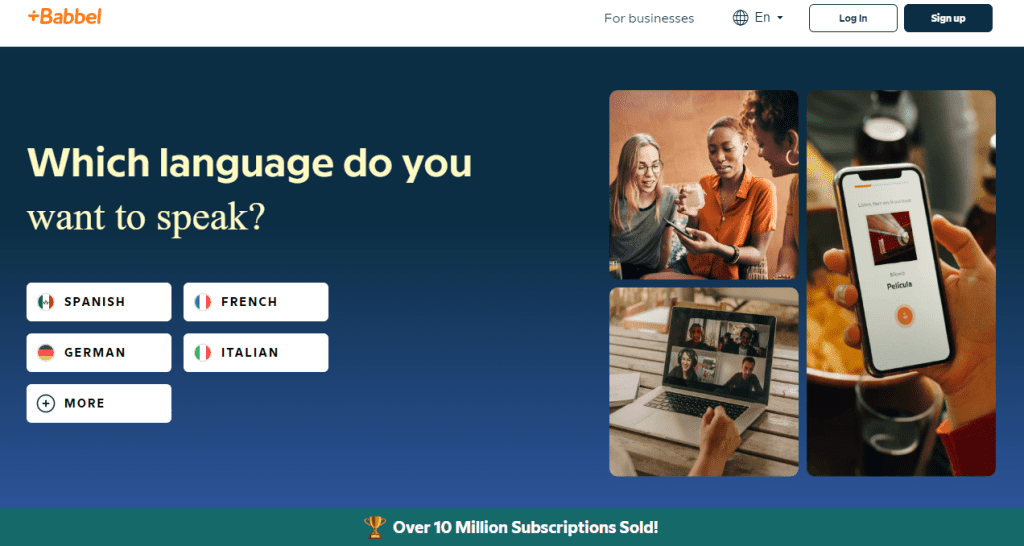 Babbel is a premium language app that includes interactive exercises, podcasts, voice recognition, games, and more. It has slightly better grammar coverage and a textbook feel, but the Ling app includes many hard-to-find languages. Learn more about it in this Babbel review.
What Could Be Improved?
Like all language learning apps, the Ling app needs a few improvements. The speaking exercise that appears throughout the learning journey works well for most popular languages, but for other languages, word recognition needs improvement. 
We've intentionally missed a few syllables in an example sentence, and it prompted %50 accuracy. And when we butchered a whole sentence, it passed us with 100% accuracy. The voice recognition system needs more work to give precise feedback.
Other than this, the content for beginner-level learners is often too difficult. Beginner language must get some grammar explanations to get them started.
Another drawback is that the app teaches a formal version of the language. It makes sense with less common languages, but with others, such as Turkish, it would make sense to start with some informal phrases first.
Ling Pricing
The Ling app has two subscription models: monthly and yearly. The monthly plan is $8.99. The yearly subscription is a payment of $79.99. It offers the best value at $6.67 a month. The Ling app also offers a lifetime subscription for a one-time payment of $149.99. However, you get access to only one language this way. Still, it's a worthwhile purchase, especially if you're studying many languages simultaneously.
| | | |
| --- | --- | --- |
| Subscription | Price | Payment |
| Monthly | $8.99 | Charged monthly |
| Yearly | $79.99 | Charged annually |
| Lifetime | $149.99 | One charge of $149.99 |
All the subscription models offer the same content and features. No matter how many languages you learn through the app, the price and features are the same.
Free Trial
Ling offers a 7-day free trial for the yearly plan. The free trial allows users to test all the features and languages offered. Also, the Ling app lets users try the first two lessons.
Ling Coupons and Discounts
Ling is an affordable language-learning app. It's rare to get the premium version at a discounted price. Still, watch out for special occasions like Christmas and other holidays on social media.
Refund Policy
The Ling app has a 30-day refund policy. Simya Solutions issues full refunds to users who aren't satisfied with the app. For purchases made on iOS devices, contact Apple to request a refund. Email Ling if you signed up for the premium version on the Ling website or Play Store.
Ling App Pricing Compared to Competition
As an affordable language learning app, Ling's cost is below many other apps. Although it doesn't have a freemium model, $8.99 a month or $6.67 with the yearly plan is a bargain for learning a new language.
Duolingo is the closest language app with its gamification features. But it costs way more than the Ling app – $12.99 a month. While Duolingo has more content for popular languages, Ling teaches less common languages much more in-depth. If you're studying more than one language, the Ling app offers better value.
The Ling app is also more affordable than alternatives like Busuu and Mondly, which both start from around $10. The only cheaper alternative is Memrise (starts from $8.49), but it covers a few times fewer languages.
Accreditation
Google Play Store and Apple App Store featured Ling as one of the most effective language learning apps. The Ling app also partnered with The Citizens Foundation to make education more accessible.
Ling Ratings from Around the Web
Google Play Store – 4.5 (100K+ downloads)

Apple App Store – 4.7 (2K ratings)
Ling Review: Customer Support
You can contact the Ling app support by email. The response times are quite swift. There isn't a live chat, but Ling has an exhaustive FAQ section and blog that answers commonly asked questions.
Ling Review: Conclusion
Ling is an effective app to learn a new language, especially Asian languages, with a different writing system. Using Ling, you can advance in your target language, practice speaking, and get comfortable around native speakers. It's a beneficial language-learning app with an abundance of content worth trying.