Language learners that twist it up to suit their character can make learning new languages seem fun. You can do this by listening to podcasts, music, and movies about the language you're learning. But not all language learning apps provide you with enough options. 
Fortunately, the uTalk app makes the experience of learning a language very interesting. It does this by creating a relation between a word and a picture. The result is a wholesome language learning experience that promises to keep you engaged from start to finish.
This uTalk review will look into its features and quality to determine whether it is fun and effective. 
An Inexpensive Way to Kick-Start Your Language Learning Journey
If you're looking for an affordable way to learn a new language, then uTalk is the application you need. The language learning app has a simple-to-use interface, covers basic grammar, and includes engaging phrase practice, such as speaking and recall games. It is a great choice for beginners.
⭐ Rating:
9.0

★★★★★

🥇 Available languages:
150+ (see bellow)
📈 Suits best for:
Novices
🛒 Payment options:
1 Month/6 Months/12 Months
💵 Price:
$4.99 – $9.99
⌚ Hours of lesson time:
180+
🔄 Refund policy:
28-day money-back guarantee 
🎁 Free Trial:
✔️
Afrikaans, Albanian, Amharic, Arabic (Egyptian, Gulf, Lebanese, Moroccan, and standard), Armenian, Assamese, Azerbaijani, Basque, Belarusian, Bemba, Bengali, Bosnian, Breton, Bulgarian, Burmese, Cantonese, Catalan, Cebuano, Chichewa, Chinese (Hakka and Mandarin), Cornish, Croatian, Czech, Danish, Dari, Dutch, Dzongkha, English (American, Australian, British, Canadian, Cockney, Indian, and Scottish), Esperanto, Estonian, Fijian, Filipino (Tagalog), Finnish, Flemish, French (Standard and Canadian), Galician, Georgian, German (Standard and Swiss), Greek (Standard and Ancient), Greenlandic, Gujarati, Haitian Creole, Hausa, Hawaiian, Hebrew, Hindi, Hungarian, Icelandic, Igbo, Ilocano, Indonesian, Irish, Italian, Japanese, Javanese, Jèrriais, Kannada, Kazakh, Khmer, Kinyarwanda, Kirundi, Korean, Kurdish (Kurmanji and Sorani), Kutchi, Kyrgyz, Ladino, Lao, Latin, Latvian, Lingala, Lithuanian, Luganda, Luxembourgish, Macedonia, Malagasy, Malay, Malayalam, Maltese, Manx, Maori, Marathi, Mongolian, Neapolitan, Nepali, Norwegian, Odia, Oromo, Papiamentu, Pashto, Persian, Pidgin, Polish, Portuguese (Standard and Brazilian), Punjabi (Indian and Pakistani), Romanian, Russian, Southern Saami, Samoan, Sanskrit, Sardinian, Scots, Scottish Gaelic, Serbian, Shona, Sicilian, Sindhi, Sinhala, Slovak, Slovenian, Somali, Spanish (Standard, Argentinian, and Latin America), Swahili, Swedish, Tajiki, Tamil, Telugu, Thai, Tibetan, Tigrinya, Tok Pisin, Tswana, Tumbuka, Turkish, Turkmen, Ukrainian, Urdu, Uzbek, Vietnamese, Welsh, Wolof, Wu Chinese (Shanghainese), Xhosa, Yoruba, Yucatec Maya (Mayan) and Zulu.
Disclaimer: Lingomee is an independent review site that may benefit from affiliate programs. Buying through our links makes our efforts possible without additional costs to you. Learn more here.
About The uTalk
uTalk is a language learning software available as a mobile application or web version on desktops. Its mode of instruction uses commonly used words and phrases in the form of gameplay. It also includes many language combinations, including obscure languages.
The founders developed uTalk after having language difficulties at a business meeting in France. They had issues despite studying French in school. They saw the need to develop a language app that was friendly to beginners while, at the same time, meeting the inadequacies of intermediate and advanced speakers too. 
uTalk has been in use for 32 years and has grown to include many foreign languages. It stands out t because it was among the first language apps to utilize practice games in its mode of instruction. uTalk includes games based on matching words with pictures, such as a memory game, a recall game, a hard game, and many others. 
The coursework is well structured, and users don't need to do any pre-test to gauge their level of knowledge in the language they choose. All they have to do is download the app and start learning. There're free starter phrases to kickstart their experience. 
However, to access even more features, like unlocking all topics in a single language, they must sign up or log in to buy uCoins subscriptions. uCoins are uTalk's digital coins that enable you to unlock languages and topics. Apart from subscriptions, you can get them by scoring points or earning achievements as you learn a language.
uTalk Review: Key Features
Upon downloading the app, it's clear why uTalk is among the best language apps. Its language learning resources distinguish it from similar apps, especially in terms of utilizing games in its instruction method.
The Practice Game feature is an excellent way to learn a language because the games engage users in-depth and make the learning process fun. They include easy, hard, speaking, memory, and recall games.
However, compared to other language learning apps, uTalk lacks a writing exercise feature where learners can type out words that they learn. It also lacks voice recognition, meaning users must manually record and compare their pronunciations with native speakers.
Generally, all the features in uTalk are fun and easy to use, including the non-game ones like Free Starter Words, Language topics, and Phrase Practice. Also, you can easily find them because of the simple-to-use user interface.
Free Starter Words
The Free Starter Words feature is a good place to start using uTalk.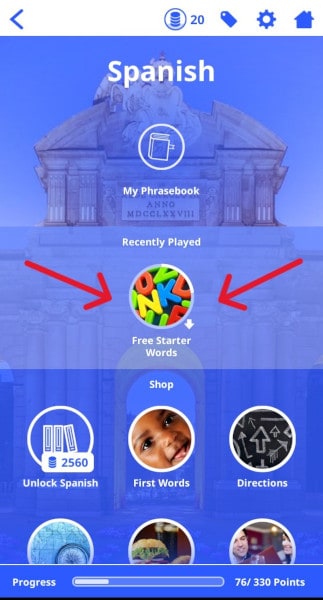 It offers subscription-free phrases and short words, ideal for beginners to learn a language. The words and phrases you get here are commonly used in greetings and basic interactions. These words effectively allow learners to interact with the platform to know how it works before getting a subscription.
The Free Starter Words feature is an ideal way to accumulate the much-needed uCoins that you can use to unlock other languages. The feature is also available for use with either of the 154 languages present in the platform. It means that you can download the app and start learning Malay, Kinyarwanda, Swedish, and other languages immediately.
The free starter words feature includes features like the Phrase Practice and Practice games.
Practice Games
There're five different kinds of Practice Games, and they all share the same principle of instruction from the easy game. A word is given to you, and you're required to match it with the correct picture.
uTalk, refer to this concept as the dual coding technique which creates a relation between a word and a picture. It's an effective way of language learning because it's fun and exciting which is better than the traditional classroom style of learning and many other learning apps.
Easy Game – Consists of images with matching spoken words and phrases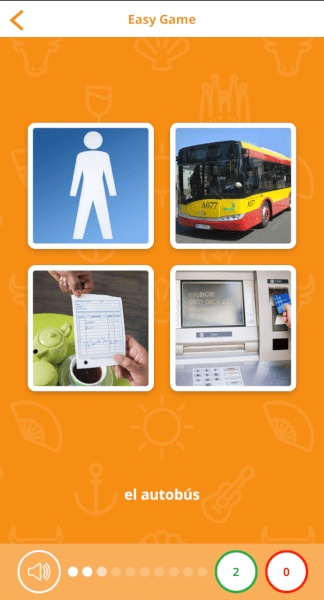 Hard Game – Consists of pictures but with no words and phrases to help you, making it a little bit more challenging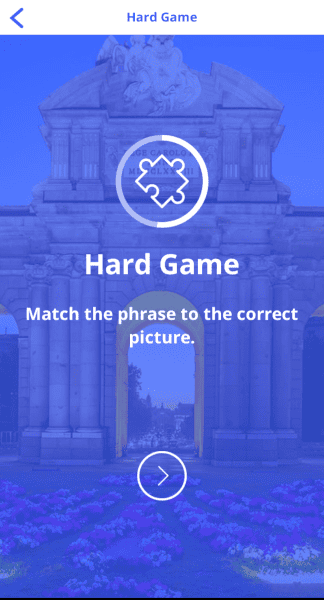 Speaking Game – Challenges your ability to correctly pronounce a phrase while matching it to the correct picture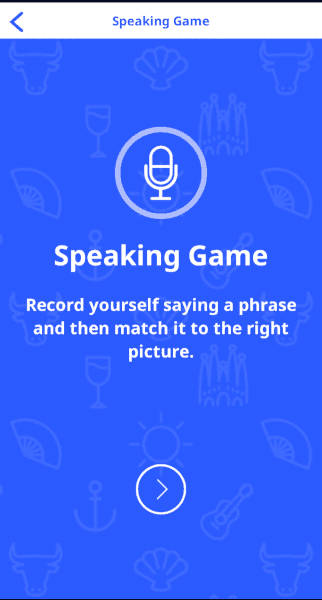 Memory Game – Tests your memory in trying to remember where the images are while correctly matching the spoken words with their appropriate pictures
Recall Game – Includes testing yourself on the phrases provided in a given topic or from previous games. You're given the phrase representing a picture, and you have to record yourself saying the correct translation.
Language Topics
Understanding the context in which words are used is a large part of understanding the language. uTalk developers know this, so they provide a range of topics like first words, family, kitchen, shopping phrases, social phrases, school, business, and sports. The topics consist of words that native speakers are likely to use in those settings.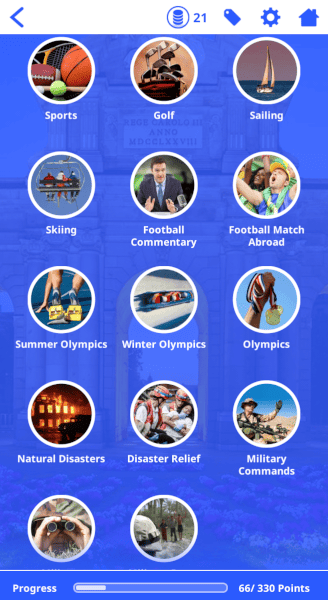 They're more than 60 scenarios or topics to choose from for any single language. You can view these materials by visiting the "Shop" menu in the language menu. However, access to these topics requires uCoins which you need to purchase.
Phrase Practice
Phrase Practice is a feature that allows users to revise and learn key words and phrases. Users are free to pick out words they wish and then record themselves repeating them as instructed by the native speakers.
Users have to record themselves speaking out the phrases manually. They also have to compare their recordings with that of the native speakers and judge whether they got it right or wrong.
While the feature helps you to brush up on your pronunciation, we found this as a deficiency. This is because some competitors already incorporate voice recognition capabilities and just hearing the correct answer is not enough.
It is important to note that this feature only applies to topics you have unlocked. You can use uCoins or either of the uTalk subscriptions to unlock any spoken phrase.
More words are added to the feature as you open up more topics. It's an effective way to learn as you get to learn the language systematically, which helps beginners when it's only their second language.
Quality of The Learning Material
uTalk is fit for beginners because it incorporates short key words in its teaching. We also think it wins by diving into different cultural aspects of a foreign language. The topics are comprehensive and used by familiar to any native speaker.
You can learn at your own pace since the app provides well-structured topics. The entire language topic can take about 2 hours and 45 minutes to complete the exercises. We estimate that you can spend 180 hours on the platform to go through all 65 topics in each one language.
Grammar Instruction
We found the grammar part oriented more toward novices during our uTalk review. It mostly teaches basic vocabulary, reflecting simple actions and common words.
Intermediate learners might brush up on these basic phrases, but it lacks the push to conversational fluency. It forces them to complement uTalk with a traditional classroom or other language learning apps.
uTalk can solve this issue by introducing live sessions with native language instructors to help advanced language learners understand deeper grammar explanations and rules.
Verbal Practice
Verbal practice is excellent with uTalk, especially with the recall and speaking game. Generally, they're important because they help you to start speaking and associate certain actions with the native speaker pronunciation of the word.
The speaking game sharpens a learner's ability to talk like a native. Users also get instant feedback whenever they pronounce a word encouraging them to go on or try again.
The recall game will even require that you get all the words and pronunciation correct before continuing with the levels of the game.
It also helps that a woman and man's voice is available for instruction. It gives a perspective on how the same phrase sometimes sounds when said by different genders.
Practice makes perfect, and the Phrase Practice feature becomes ideal for revising previously learned material. Through this repetitive training, conversational fluency becomes easier with time for learners.
Reading and Writing
uTalk provides learners with reading tasks and exercises in some features, like Phrase Practice and Practice Games. Learners read words and phrases to help them associate them with appropriate actions in pictures.
The reading tasks include only short-form content and not long-form. It is beneficial to beginners who need to start with understanding the sentence structure but intermediates who have a learning style which involves a lot of reading will lack practice.
There's also no dedicated writing feature to help learners practice how to write in their target language. The app provides words and phrases which either require speaking out aloud or associating them with appropriate pictures but without typing anything.
Generally, we find that the app provides factual translations for reading but it lacks in the writing area. It forces users to seek out this feature in other language-learning apps. 
Vocabulary
The uTalk app has a decent database of basic vocabulary that is used in practice games. However, after spending more hours on the platform, the specific vocabulary may seem minimal. For example, with the Phrasebook feature, there's the repetition of basic phrases used. The games may also have a similar vocabulary.
Consider getting a subscription to navigate around this and ensure you have a huge database of words to work with. It'll help you acquire new vocabulary, increasing your chances of speaking like a native speaker.
Repetitiveness
Generally, uTalk provides a visually and mentally stimulating way to learn words which is good for avoiding boredom. However, some users reported that the training mode and the memory game is repetitive. It is especially true if you're using the Free Starter Words.
We recommend switching to a paid subscription and having a variety of other new and interesting topics for your target language to keep the repetitiveness at bay.
uTalk Review: Simplicity of Operation
uTalk has a convenient user interface compared to other language-learning apps. It's easy to find tabs and menus because they aren't cluttered. For example, when you enter the app and give the necessary permissions, it directs you straight to a page with many language combinations to choose.
The page has engaging pictures to accompany your chosen language, representing popular landmarks of the country of origin. The background changes to the representative picture of the target language.
A first-time user will easily navigate the menu, which is strategically placed on the top of the screen. A wallet, subscription, settings, and home icon direct users to the respective pages or links. The desktop web version is similarly easy to navigate, with no visible differences.
What Areas Could Be Improved?
Key areas where we find that the app needs improvement are its lack of accommodation for intermediate learners and the repetitive nature of the exercises, such as the memory game.
Intermediate learners require more features such as an extensive vocabulary of the language they're learning. The app could improve by offering more grammar lessons to cover the rules of a language. Other language programs, such as FluentU, offer live and recorded grammar lessons for this reason.
Regarding the problem of repetitive exercises, the app could try adding more content to coursework. While the ofetn used speaking game is great, each part could have their own unique set of exercises.
Another area that we noted that needs improvement is the loading times on the uTalk app. It takes 3 to 4 seconds to open different features. It adds up after some time and takes time, especially if a user wants to shorten his daily language learning.
The developers could optimize the application for use on all iOS and Android phones for a smoother experience, although most popular devices are supported.
uTalk Prices
The plans offered in uTalk differ in payment rate such that the more months you subscribe, the more the price decreases. For example, during our uTalk review, a six-month subscription gives a 15% discount, and a 12-month subscription gives a 30% one.
There's a monthly fee if you're interested in learning only one language. Accessing more than two languages on the platform for a fixed price is also possible. However, uTalk doesn't have a lifetime subscription that gives you access to content without a time limit.
| | | |
| --- | --- | --- |
| Subscription | Price | Payment |
| 1 Month | $11.99 | Charged monthly |
| 6 Months | $59.99 | One charge of  $59.99 |
| 12 Months | $99.99 | One charge of  $99.99 |
There're also differences in pricing for language programs for individual languages. For instance, popular languages cost less per month than less common languages. For example, English, French, German, Italian, Spanish, and Chinese cost $3.99. Less popular languages like Chichewa, Cornish, Gujarati, Samoan, Telugu, and Malagasy cost $7.99 per month.
In the app, a user can make purchase topics using in-app currency (uCoins) with the following values.
| | | |
| --- | --- | --- |
| U Coins | Price | Number of Topics |
| 40 | $11.99 | 1 Topic |
| 200 | $59.99 | 5 Topics |
| 800 | $59.99 | 5 Topics |
| 2600 | $99.99 | 65 Topics |
While uCoins are useful, it's a slow method of opening topics since you require an accumulation of certain uCoins. If you wish to have full access to the topics while learning languages, consider buying a 1, 6, or 12 months subscription. 
Free Trial
You can take advantage of Utalk's free trial by using two methods. The first method involves running the web version online. The second requires downloading the application on your phone and using the Free Starter Words option. Both ways allow for unlimited use but with restricted functionality of access to all the topics in a language.
uTalk Coupons and Discounts
Occasionally, language learners get to enjoy discounted fees for subscriptions from Utalk and other partner sites. Keep checking uTalk's official website for updates on discounts that can save you a few dollars in your language learning journey.
Refund Policy
uTalk has a money-back guarantee policy of 28 days. The reimbursement covers the subscriptions made during the period, including any uCoins purchased during that period.
uTalk Pricing Compared to Competition
Compared to other language programs, uTalk offers fair pricing and flexible payment terms. For example, on average monthly pricing, uTalk is $11.99, while Duolingo can cost $13.99. Babbel is up to $14.95, and FluentU pricing reaches $29.99.
In addition to its quality and features, uTalk offers a selection of 150 plus languages. It makes uTalk a great value for money as a language-learning app for those who want to study multiple languages. Especially lesser-known languages, like Basque, Igbo, Kirundi, Kurdish, and many others.
Authorizations
uTalks credibility has led them to work with renowned organizations and institutions worldwide. For example, the company partners with Newcastle University, Morrisons, EasyJet, Emirates, Dubai Duty-Free, Costa Coffee, Dublin City Library, and Tui.
uTalk Ratings From Other Users
Google Play Store – 3.8 (500k+ downloads)
Apple App Store – 3.2 (199 Ratings)
Trustpilot – 3.2 (5 Reviews)
uTalk Review: Assistance to Clients
We tried contacting customer care during our uTalk review and were glad they replied to the issues we raised within a few hours.
If you don't feel like contacting the support team, a FAQs page serves as the first base of interaction to troubleshoot problems. For more complicated issues, you must create a ticket. 
The main methods of reaching customer care are through email or phone. The good thing is that you'll get native speaker at the other end of the line instead of an automated machine.
Generally, uTalk's customer care is great and will guide you through any difficulties you experience while using the application. They respond to every concern users raise and implement it in the uTalk app through continuous bug fixes and improvements.
uTalk Review: What Sets it Apart?
Even though some users may refer to it as fancy flashcard software, the uTalk app stands out with so many languages and an app that is fun to use.  From the easy game to the hard game, it will make you feel like you downloaded a gaming app for an affordable price. 
We should also mention that uTalk language learning program stand out when you want to learn less popular languages. Here is a list of those languages +alternative programs.