When you learn a new language, there's an intermediate-level gap to overcome. After understanding basic grammar rules and new vocabulary, you must expose yourself to native speakers. It is challenging without living abroad, and that's where tools like Glossika come in. The basis of Glossika is memorization of the target language until you can use it. In essence, it's a dataset of full sentences to repeat while recording or typing. In our Glossika review, we'll cover its methods, features, and quality while answering whether it is worth your money.
Efficient spaced repetition tool for advanced learners
Glossika can help achieve specific milestones but is not a self-sufficient language learning tool, especially for absolute beginners. The smoothness of the Glossika website and general user experience is disappointing. Still, the price is justified for those language learners who struggle with listening and speaking practice.
⭐ Rating:
8.7

★★★★★

🥇 Available languages:
60+ (see bellow)
📈 Suits best for:
Intermediate and advanced
🛒 Payment options:
One language / unlimited languages
💵 Price:
$13.33 – $30.99
⌚ Hours of lesson time:
260+
🔄 Refund policy:
60-day money-back guarantee
🎁 Free Trial:
✔️
Arabic (Egypt), Arabic (Morocco), Arabic (Standard), Armenian (Eastern), Azerbaijani, Belarusian, Bengali (India), Bulgarian, Cantonese (HK), Chinese (Beijing), Chinese (Taiwan), Croatian (Štokavian), Czech, Danish, Dutch, English (UK), Estonian, Finnish (SW dialect), French, Gaelic, Georgian, German, Greek (Modern), Hebrew, Hindi, Hungarian, Icelandic, Indonesian, Irish, Italian, Japanese, Kazakh, Korean, Latvian, Lithuanian, Mongolian, Norwegian (Nynorsk), Persian, Polish, Portuguese (Brazil), Portuguese (European), Russian, Serbian (Ekavian), Slovak, Slovene, Spanish (Mexican), Spanish (Spain), Swahili, Swedish, Tagalog, Thai, Turkish, Ukrainian, Uzbek, Vietnamese (Northern), Vietnamese (Southern), Wenzhounese (Wu)
Our Evaluation of Glossika Program
Disclaimer: Lingomee is an independent review site that may benefit from affiliate programs. Buying through our links makes our efforts possible without additional costs to you. Learn more here.
Getting Started With Glossika
What is Glossika?
Glossika is a language learning app exposing you to grammar patterns and vocabulary until you achieve fluency. It aims to
increase memory consolidation through repetition
as we tend to forget words and grammar structures we don't use. Most language courses do not take this into account, while
Glossika makes bridging the intermediary gap their primary focus
. It is possible due to a large dataset of sentences read by native speakers and two key principles. Keep in mind that Glossika is best for intermediate to advanced speakers just like
Speechling app
. It will be hard to identify new language patterns, but it's absolutely worth it if you want to be fluent.
"Listen and repeat"
is an essential concept of Glossika. Instead of diving into the grammar structures from a textbook, you will practice the language while repeating sentences pronounced by native speakers.
Spaced repetition
is a proven learning technique where new or complex information appears more frequently. Glossika claims that repetitions (or reps for short) are an objective benchmark. Reaching 25000 reps is the first milestone, while with 100000, you'll achieve fluency. No explicit grammar rules are provided in Glossika.
The method relies on you picking up sentence structure from native speakers just like a child would
. Therefore, fully learning a new language with Glossika is almost impossible, and other language-learning resources will be needed.
The placement test
Singing up to Glossika is easy. All you need is an email and a password to get the free trial of seven-days. The process is even more straightforward if you use an Apple ID, Facebook or Google account. First-time users are then guided through the rest of the process. The platform will ask you to choose a target language and complete a placement test. It is a series of audio recordings of native speakers, and you must select the correct translation in your source language.
The test evaluates your knowledge level, with A1 being the lowest and B2 the highest. Reaching the C1 level seems to be impossible in this assessment test. Even if you answer all the questions correctly, the test places you at B2.
There are ten questions to determine your language skills, but you may end it sooner. You can also skip the test entirely by selecting that you are a complete beginner. It is possible to retake it at any time to see whether you have improved.
Glossika seems to put a lot of importance on this test, but language skills aren't so easy to determine. Even if you qualify for the highest level, it doesn't mean there is nothing to learn at the lower ones.
That is why some language learners prefer to cheat or skip such assessments. Glossika is no exception, so you will get more content by starting at a lower level. We recommend starting out as a complete beginner when you first use Glossika.
Choosing topics
After completing the assessment, you must select your topics of interest. The topics menu allows you to change them later if you feel the sentences are irrelevant to your language learning needs.
More than two hundred topics are available for each language. Glossika claims that for a smoother difficulty curve, it is best to enable most of them. Although, not everything is relevant to cultural context while learning a new language.
For example, a subtopic of Kazakh culture bears little relevance for learning Spanish. Other topics, such as social and travel, include the most useful sentence structure and verbs. Regardless of the language, it is best to enable them.
Glossika Review: Main Features
Two study options are available from the main dashboard:
Glossika Items
Learn new items provides five reps for five new sentences, or, in total, twenty-five reps each day. Sentences are spaced out between one another. The intervals might change if you skip some items as too easy or mark them as favourites.
Review Feature
A review option will be available the next day after every new session. Glossika recommends finishing all the reviews before moving to new sentences. The algorithm selects what to review automatically, but you can choose a review mode manually.
They are the centrepieces of language learning with Glossika and can be practised in two ways. 
Glossika Listening Mode
When I reviewed this program, I find out that listening-only mode provides a truly hands-free experience when you are on the go. I found it useful for review mode while exercising or driving.
Full-Practice Feature
A full-practice mode is a mix of different tasks which will require your full attention:
Listening is the simplest one you will face. You only listen to the recording of the native speaker. Repeating what they say is encouraged.
The recording task will save the audio of your pronunciation for comparing it with native speakers later. Unfortunately, Glossika doesn't make any attempt to analyze your recordings.
Dictation takes one step further, asking you to record audio while spelling out the text in the target language. It is the most common language learning task in Glossika.
Recall practice is somewhat similar to dictation, but now you will record audio without seeing the foreign language sentence on the screen.
Typing will ask you to copy the text in the target language. Don't worry if you do not have a native keyboard layout – Glossika accepts base letters as correct.
Switching between these modes isn't always convenient, as it takes some playing around to find the relevant settings. A better guide on how to use Glossika would be beneficial, especially with features that are only available once you start practising. Here are some of them:
Adjusting audio speed
Selecting the source language 
Switching between typing and recording
Changing the interval between the source and target languages
Other useful features are found in the main dashboard:
Set daily goals feature motivates you to following the Glossika method, but you must set it up manually. It will remind you to study a set number of reps daily. If you want automatic progress tracking, you can try apps like Mondly or Duolingo.
The progress chart visualises the same information and shows the number of repetitions you make each day.
The weekly progress report is another way to motivate users to reach their goals. They can be turned on or off in the lower left corner.
My skills section lists fourteen new vocabulary types you can learn with Glossika. It aims to give a sense of achievement on your language learning journey.
The memory tab provides extensive information on the items you have already learned. It's where you can listen to past recordings while comparing them to native speakers. 
The story tab is still in beta and functional only for the German language. It allows users to follow a story with native-speaker recordings.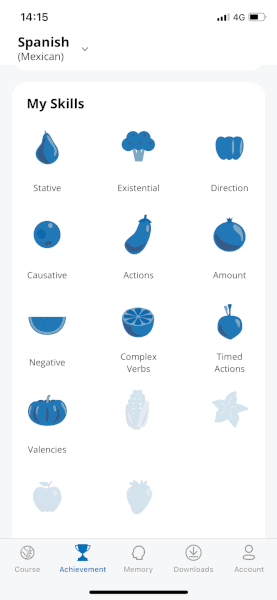 Glossika Review: Lesson Quality
Poor execution can ruin good ideas. Sadly, Glossika can feel that way when you go through the lessons. It's not to say that nothing is done right – Glossika is good for enhancing your listening comprehension and speaking skills. But the overall lesson quality needs improvements.
What helps language learners
Verbal practice with native speaker recordings and the international phonetic alphabet.
Typing tasks can improve your writing skills and listening comprehension over time.
Setting daily goals makes it easier to track progress and stay motivated.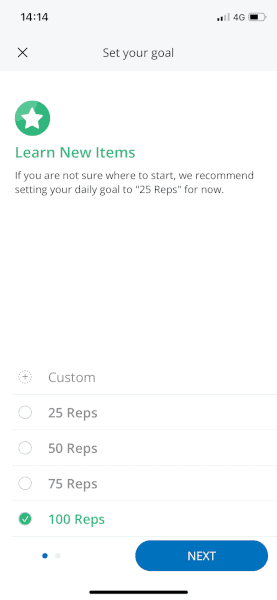 What gets in the way
Grammar explanations are badly needed as some sentences are inaccurate. Without more language resources, an average student can mislearn.  
The repetitiveness of "Listen and repeat" might be good in theory. In practice, only the most serious language learner will have the patience for the thousands of reps needed.
Reading comprehension tasks are almost ignored, although it is a big part of learning a new language.
Vocabulary improvement is minimal if you do not regularly check the dictionary of your target language.
Lack of cultural context might not be a dealbreaker, but adding more voices and accents would, at least, liven up the experience.
Glossika Language Coverage
Glossika has so many languages that other courses pale in comparison. It is the biggest advantage of this tool. Although absolute beginners will find little use for it. Covering over sixty languages, Glossika is great for advanced learners and polyglots.
It is worth noting that Glossika allows learning multiple languages concurrently if you change the source language. However, only the most popular languages can be selected, and the sentences will still get repetitive over time.
Endangered languages
Glossika allows anyone to practice endangered languages for free. There aren't many other learning resources to study these minority languages. So it is a welcome practice that greatly benefits language preservation. Here's a list of free languages on Glossika:
Catalan, Manx, Welsh, Kurdish (Sorani), Taiwanese, Wenzhounese, Gaelic (Scotland), and Hakka.
Glossika Review: User Experience
If we put aside all the methodology, Glossika feels just like a regular website. Most competitors have already moved to develop language learning apps with aspects of gamification. So there is a clear shift to making language learning more interactive and fun.
Glossika is lacking in these aspects. There is little to motivate users, and the Glossika app only helps adds the possibility to download sentence pairs for offline use. They only recently added an Android app (iOS is also available), but the interface mimics the website, including its flaws.
Pages take time to load, especially when you want to switch between different languages or start a new practice session. Such features should load seamlessly in a language learning tool like Glossika.
Navigation is unintuitive because features are scattered in various places. Some are in the main dashboard, while others can only be accessed after starting a lesson or entering the profile section.
A lack of guidance in the interface is obvious. Most supporting material is in different guides or blog articles instead of being blended into the platform itself. It feels like the Glossika method rests on users going through spaced repetition without looking for more study options.
In the end, the user experience isn't pleasant, and sometimes the layout feels more like an obstacle. However, if you find the Glossika method working for language learning, getting used to the interface will be worth the trouble.
Glossika Competitors & Alternatives
Glossika vs Rocket Languages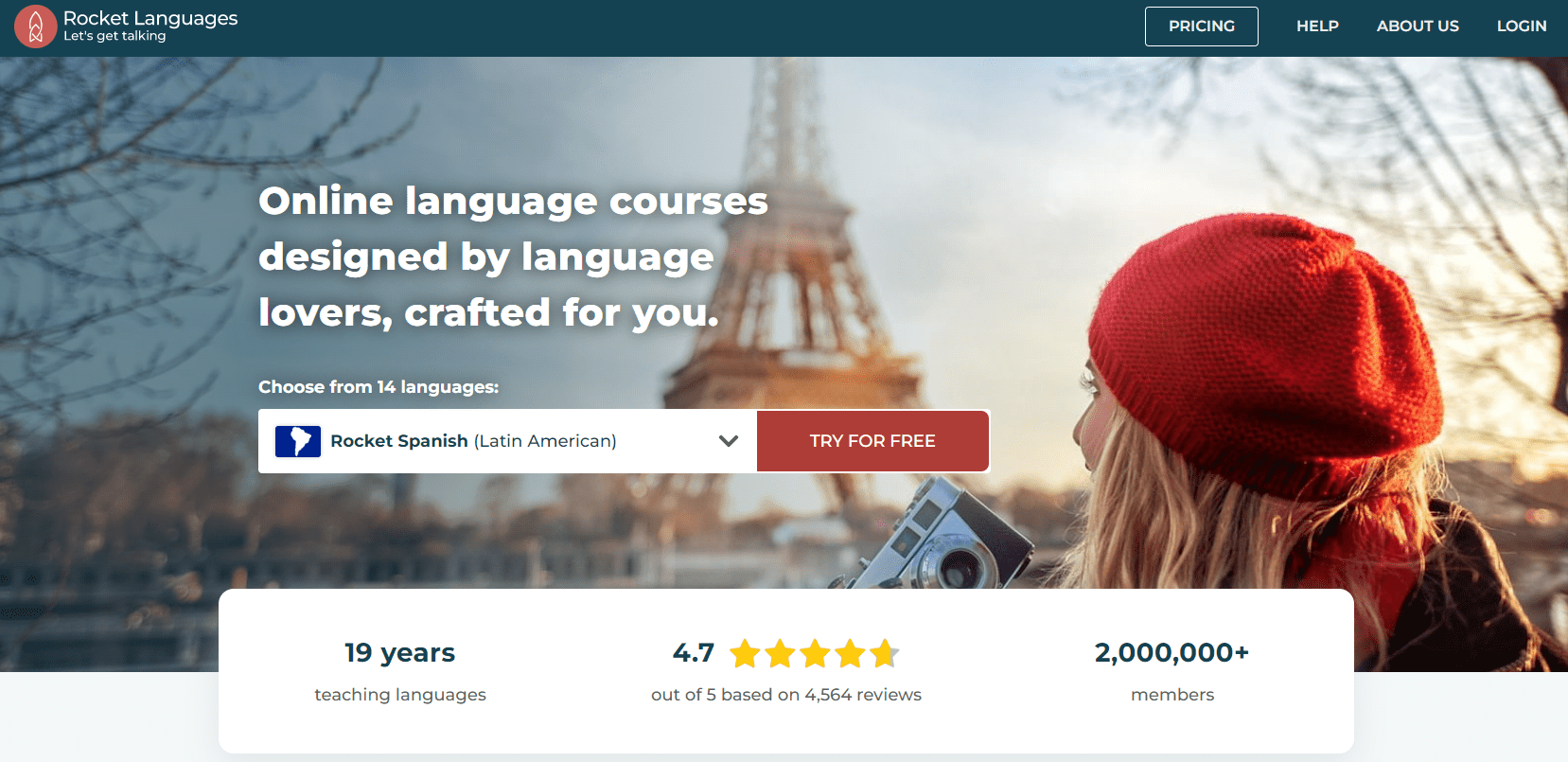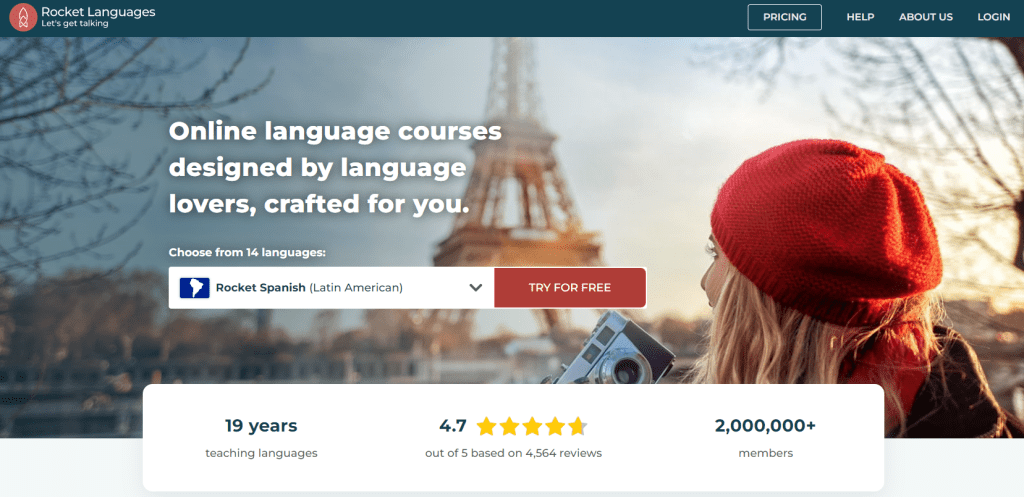 Rocket Languages is a popular online language learning platform that offers courses in 14 different languages. The method focuses on interactive audio lessons, covering vocabulary, grammar, pronunciation, and cultural insights. Learners can practice listening and speaking skills through engaging and self-paced lessons, while additional resources such as language lessons, flashcards, quizzes, and progress tracking tools are also available.
Glossika vs Rosetta Stone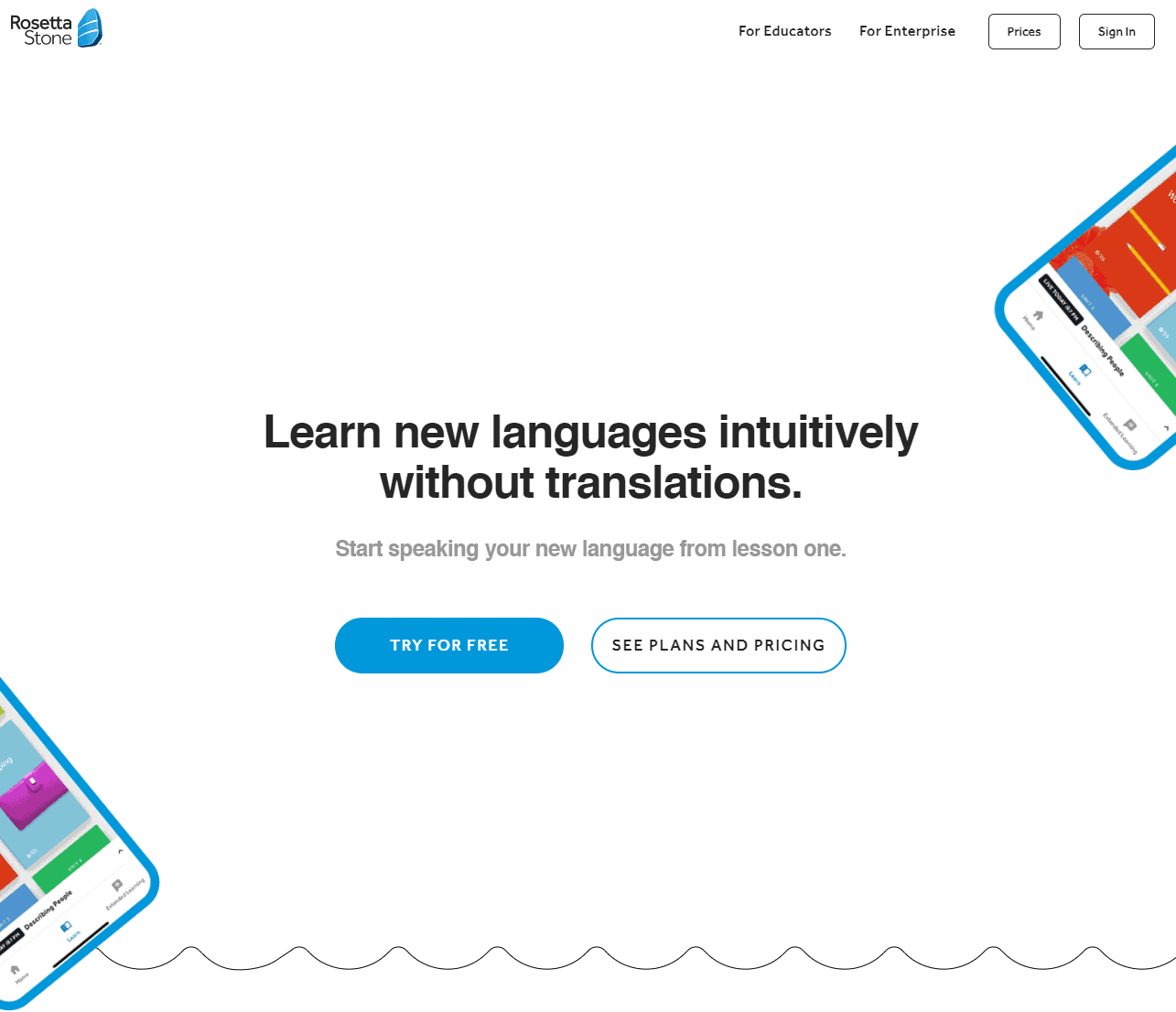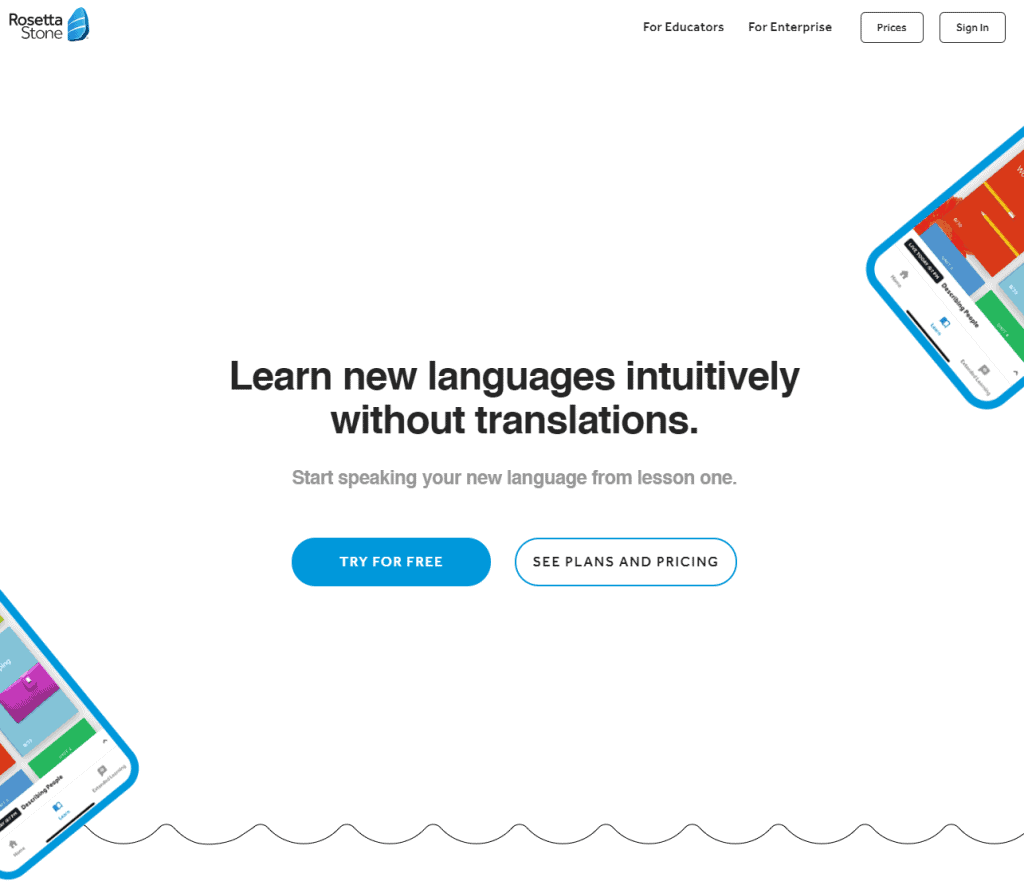 Rosetta Stone, with over thirty years of experience, offers innovative language learning through an online subscription model. The program immerses learners in the target language using images, native speaker recordings, and vocabulary, following a method that resembles how children acquire language. The course includes quizzes and utilizes spaced repetition to reinforce challenging areas.
Glossika vs Mondly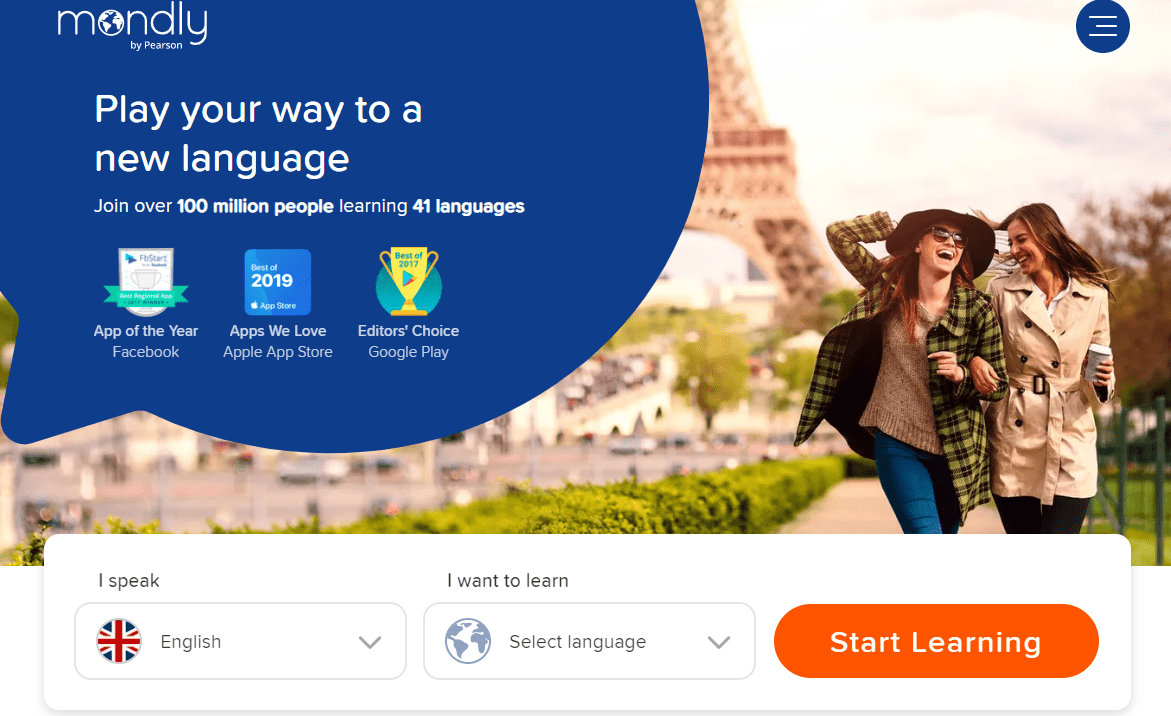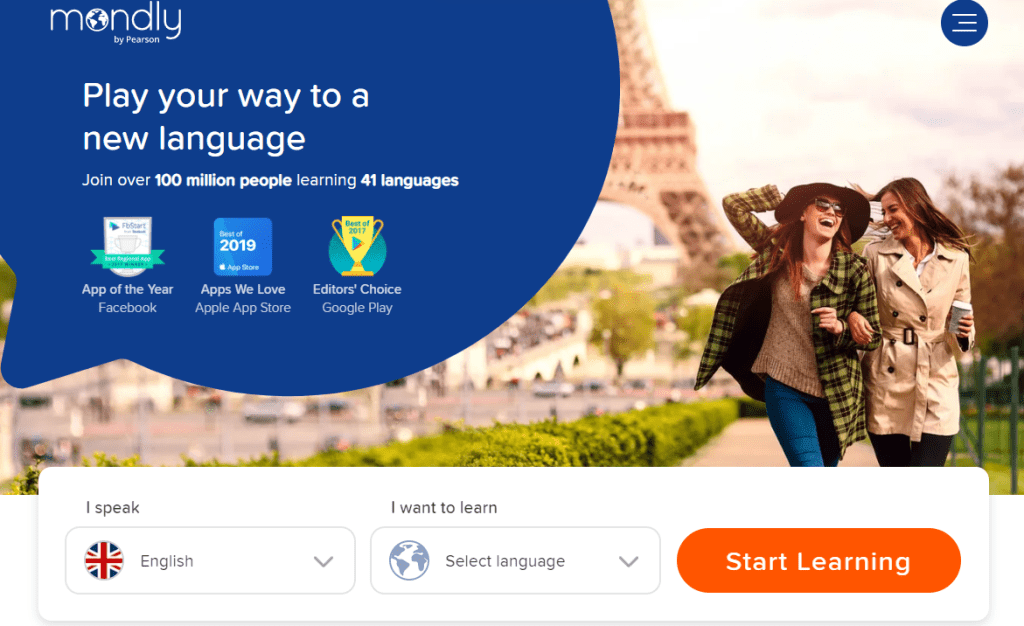 Mondly is a popular language learning platform with over 100 million users. The app provides a fun and engaging user experience through gamified lessons. With over 40 languages to choose from, users can enjoy a personalized learning journey that adapts to their skill level and pace, catering to beginners, intermediates, and advanced learners.
Glossika vs Babbel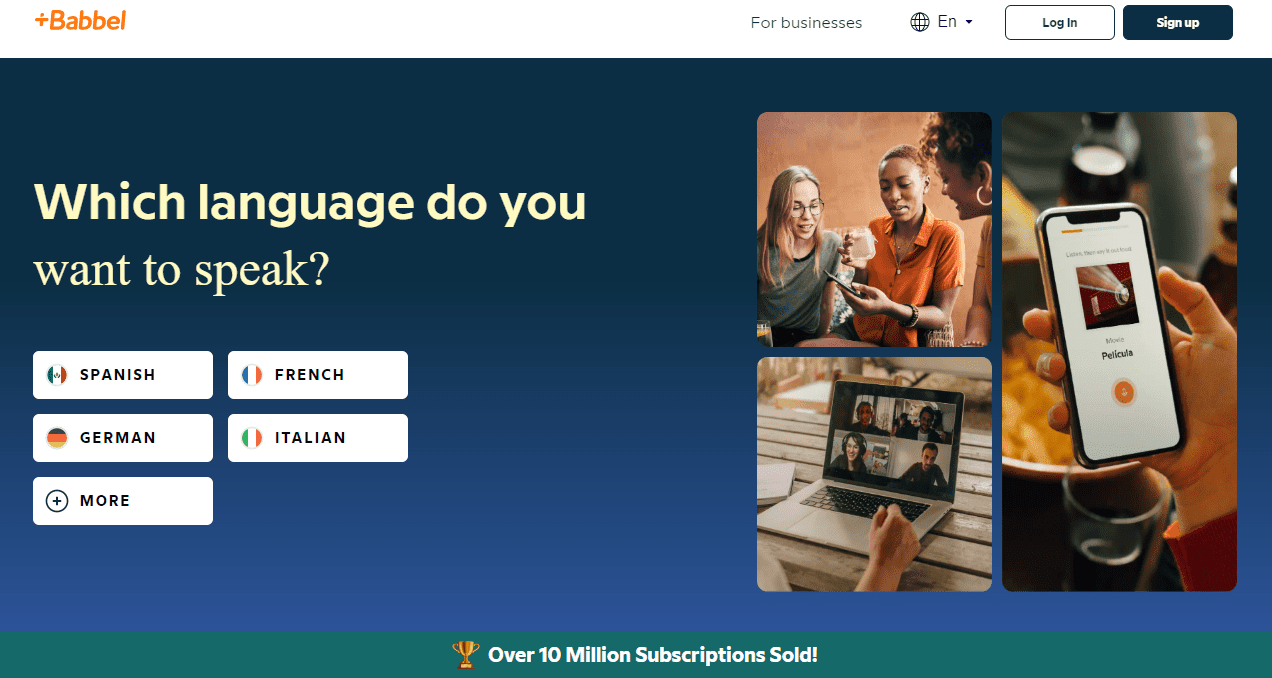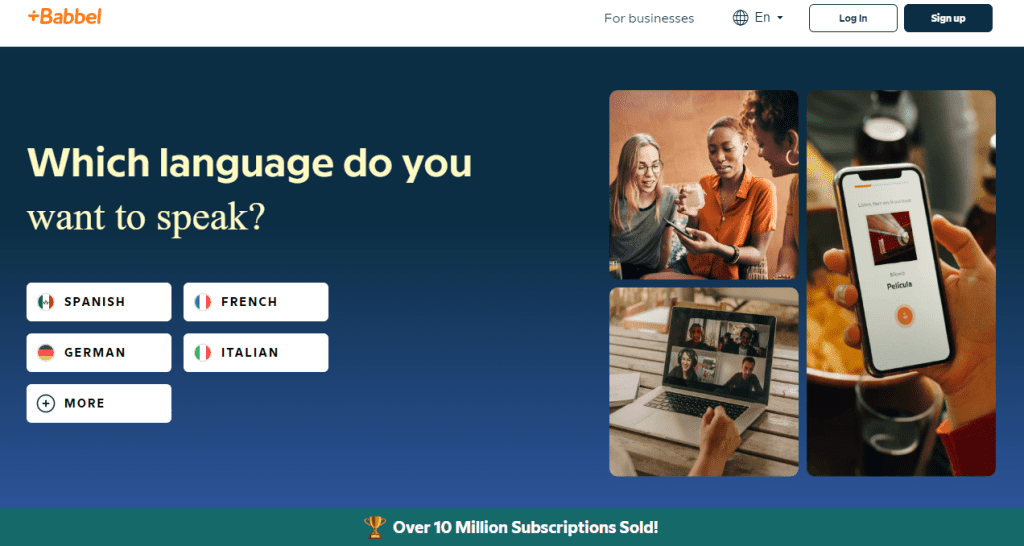 Babbel, a well-established language learning platform, offers a high-quality and user-friendly experience. With tailored courses in fourteen languages, Babbel uses a scientifically proven method that considers learners' native language and personalizes the learning journey. Users can provide additional information for a personalized experience, and the app estimates the time required to reach their language learning goals.
Glossika vs Ling App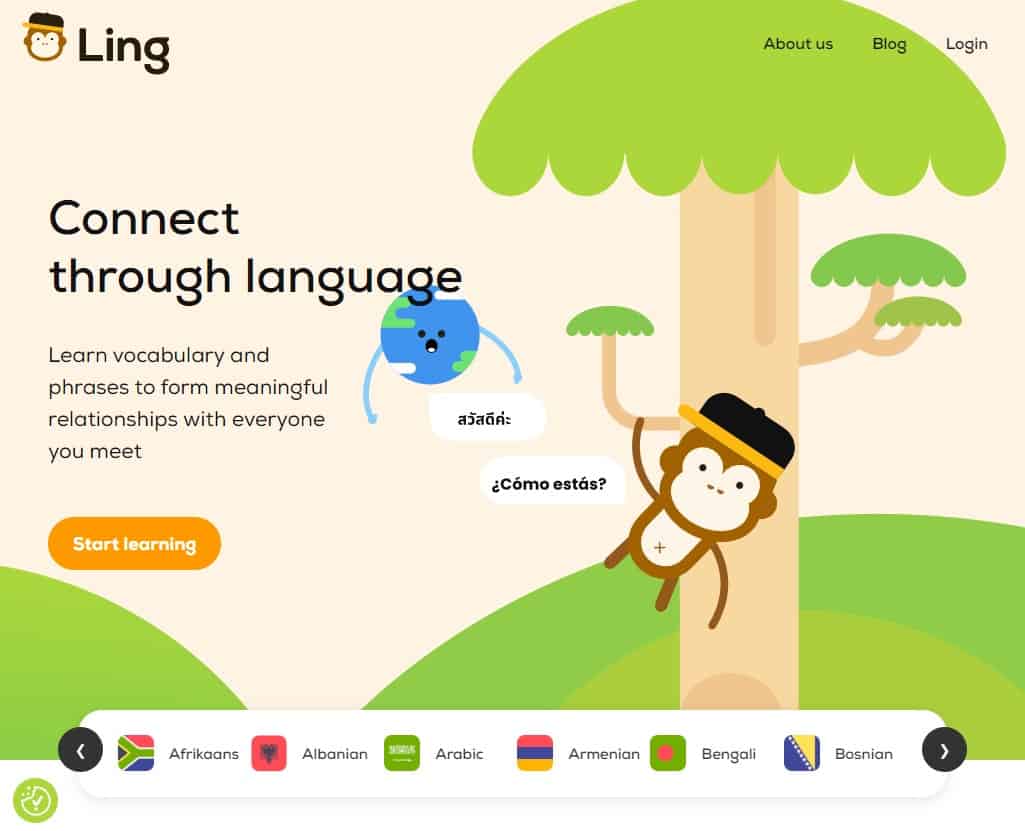 The Ling app, developed by Simya Solutions, offers a fun and interactive way to learn multiple languages. It provides themed lessons, mini-games, and a review feature to enhance the learning experience. Users can progress at their own pace and receive detailed feedback, making it suitable for learners of different levels. The app also allows beginners to explore all the available content and advanced users to skip easier lessons. Learn more about it in our Ling App review.
What Areas Could Be Improved?
An advanced learner could find his way around most user experience and lesson quality flaws in Glossika. Still, before spending money, you should know where this tool should improve.
More gamification. Weekly email reminders and goals are a good start. But an award system and a greater variety of practice tasks are still missing to make the spaced repetition more engaging.
Speech recognition. Reviewing your recordings and comparing them with native speakers is time-consuming. Any automation here would be welcome, but Glossika doesn't even try.
Integrated grammar tips. Although Glossika isn't for absolute beginners, some assistance with grammar is still needed. There are some grammar guides, but they are inconveniently placed in a separate category.
A guide on the international phonetic alphabet. Only advanced learners will know how to use it properly. Others might damage their pronunciation without a good understanding. Some guidance here is essential.
Adding cultural context. More voices, accents and cultural themes would help the users to learn more. It would also make language learning with Glossika less repetitive and more engaging.
Glossika Review: Pricing
Compared to other language learning apps and courses, Glossika is very expensive. The fact that it isn't a standalone tool raises the costs even higher. FluentU app is priced similarly, but provides a significantly higher amount of interactive content compared to Glossika. Fortunately, you can start their seven-day free trial and see whether Glossika is for you. 
They also have multiple promotions extending the free trial period, so check your email after the trial ends. Additionally, a freemium option also stands for minoritized languages if you are interested to learn them.
A basic plan covers one target language for 16.99$ per month. The price lowers to 13.33$ per month if you pay annually.
A pro plan provides unlimited access to all the languages and costs 30.99$ per month. Paying for the whole year lowers the price to 25$ per month.
An enterprise plan offers custom pricing for larger groups, such as companies and schools.
The best part of Glossika's pricing is
the student discount
. If you verify your email address, you can get a fifty-five percent discount to study foreign languages. But even with this offer,
Glossika is still a bit more pricey than the competition.
For example, a month of
Babbel
with a yearly plan will cost only 14.95$, while
Pimsleur
and
Rosetta Stone
offer lifetime subscriptions.
Glossika Review: Customer Support
You can reach Glossika's support team via email, social media, or a live chat
. Somewhat inconveniently, the latter option can only be accessed while browsing guides or the blog. I purposefully wrote to them on a late Friday evening to the working hours. A response reached me on Saturday, although they were only available for an active chat on the next working day. It is clear that
Glossika's support team is responsive
and doesn't leave any language learner in trouble. But even without chatting with agents, there are plenty of resources to find answers on your own. Most language learners will expect interactive guidance but what Glossika offers is still quite good. Free grammar textbooks and usage guides can help with what you need to know before starting to use Glossika, and their blog packs interesting articles about language learning.
Glossika Review: Conclusion
Improving your listening and speaking skills can be a tough challenge.
Glossika is effective for those advanced learners who need native speaker audio recordings
. But beginners should look for alternatives as poor user experience, repetitiveness, and price might not be worth it.
Frequently Asked Questions