Lingomee is an independent review site that may benefit from affiliate programs. Buying through our links makes our efforts possible without additional costs to you.
Learning the Irish language on a level of native speakers comes with its fair share of challenges. One common problem for an English speaker is the unfamiliarity with grammar rules, as the word order is completely different. Speaking practices is also challenging as the vocabulary phrases are full of idioms, and the pronunciation of native speakers is archaic.
You must stay persistent if you wish to sound like a native speaker. But the motivation to learn Irish vocabulary is hard to maintain as there aren't many tutors or viable resources outside Ireland. Thankfully, the solution to learning Irish is just a few taps away. There are plenty of apps to learn Irish online.
In recent years, mobile apps to learn Irish have become the best way to conquer this language for those who want to speak many foreign languages. The language learning apps in our list offer a dynamic learning experience in the form of personalized lessons, interactive exercises, reading and writing practice, lists of new words, and even lessons with private tutors.
TOP 3 Irish Learning Apps
Best Overall App to Learn Irish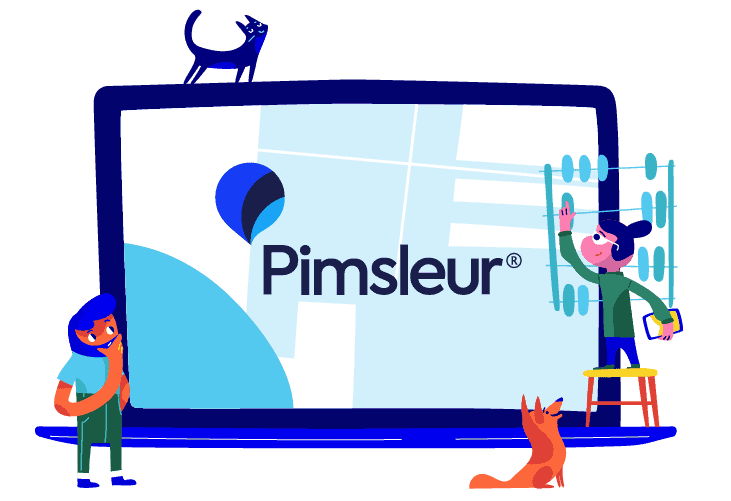 A compelling app with audio lessons to learn Irish
Best Irish App for Novices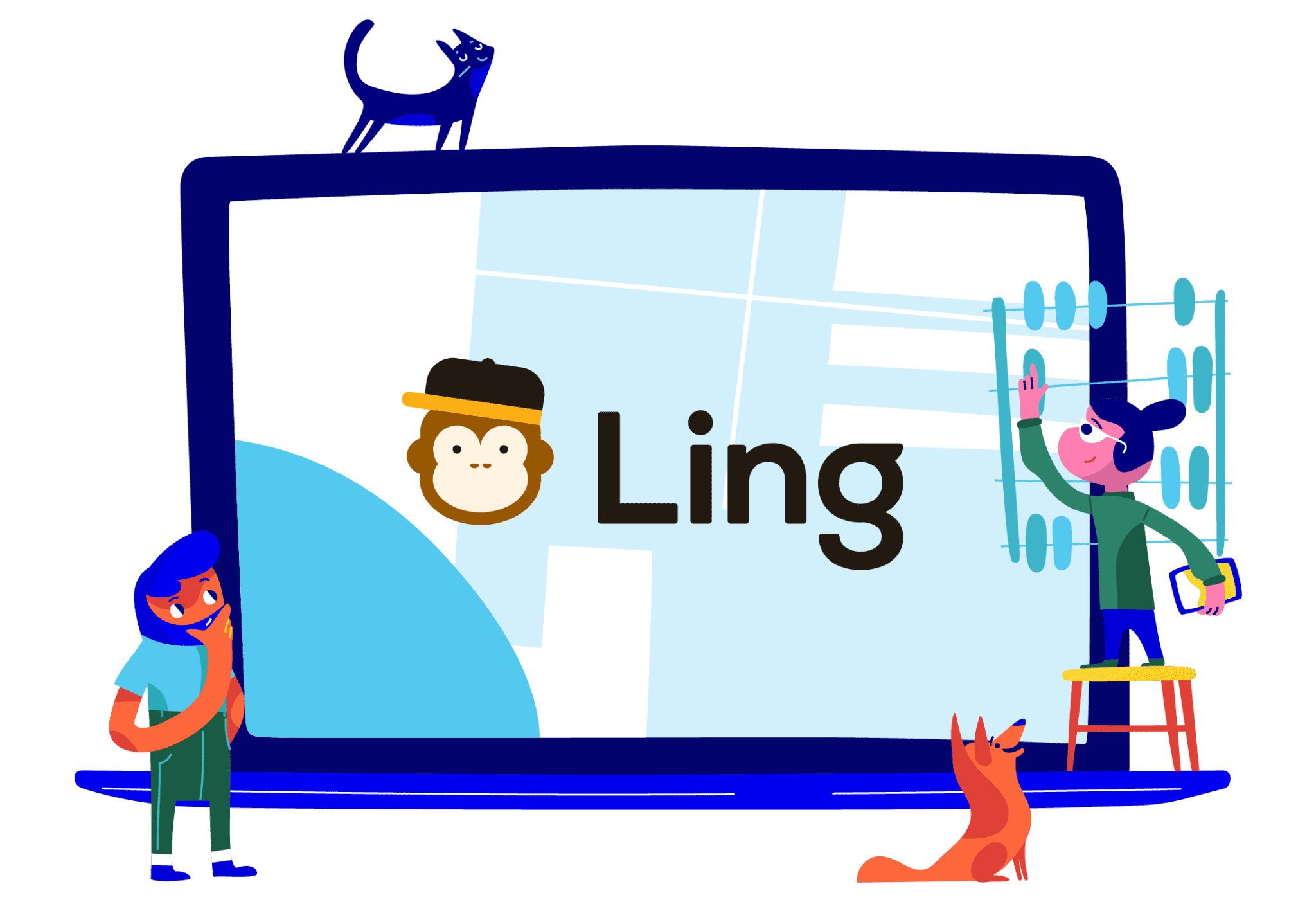 Study Irish with short and well-gamified lessons
Best Irish App with Lifetime Access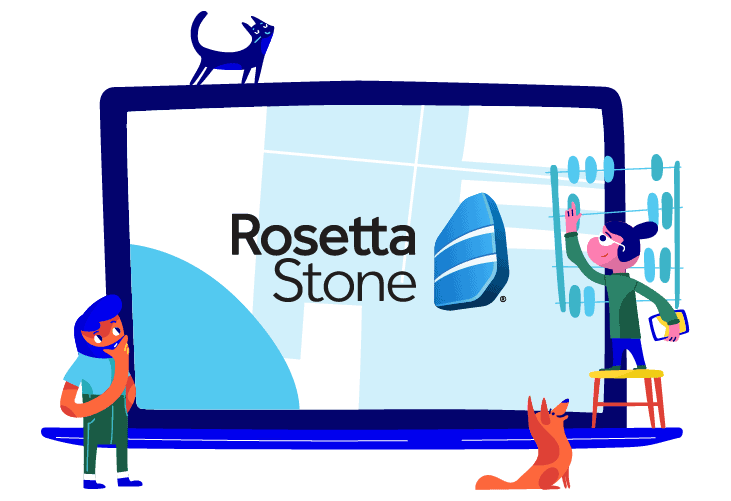 A fast method to learn Irish by immersing yourself in the language
The Best Irish Learning Apps of 2023
How to Choose the Best Irish Language Learning App
The language learning market is saturated, so finding the best apps to learn Irish fast is time-consuming. It takes throughout research and testing to see what's actually effective for a beginner. Here at Lingomee, we're all about making it easier for you. We benchmark all products through the same measures.
5 Best Apps to Learn Irish - Our Comprehensive List
Best Overall App to Learn Irish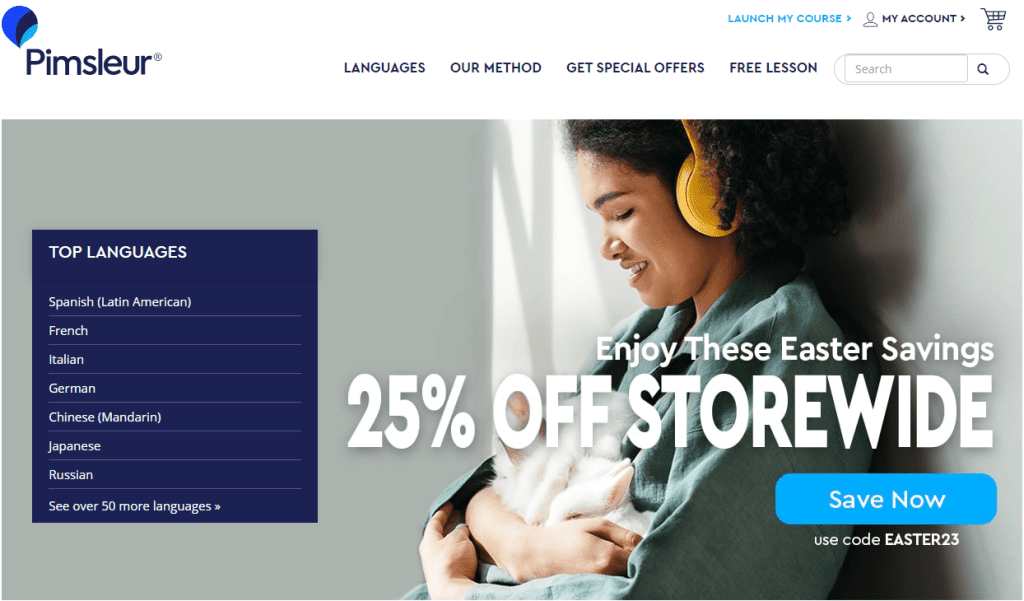 Pimsleur gets you conversational in a new language with interactive audio lessons and games. An Irish native-speaker instructor will walk you through basic vocabulary and the most important concepts for reading, grammar, and writing.
| | |
| --- | --- |
| ⭐ Platforms: | Web, iOS, Android |
| ⌚ Time commitment: | 30 minutes per day  |
| 💵 Price: | $14.95 – $575 |
| 🔄 Refund policy: | 30-day money-back guarantee |
| 🎁 Free Trial: | ✔️ |
Driving and Offline Mode – download audio lessons for offline use and easily control the app while driving.
Speak Easy challenge – build conversational skills, expand vocabulary, and get conversational in real-life settings.
Voice coach – advanced speech recognition technology for pronunciation practice.
Speed Run Game – memorize and translate words and phrases quickly with an interactive game.
Pimsleur Overview
Pimsleur has set the gold standard as one of the best apps for learning Irish. Its secret lies in making language learning feel like a genuine conversation. With Pimsleur, learners are not just memorizing common words and phrases, but they learn Irish with authentic dialogue that mimics real-life interactions.
The app emphasizes spoken language and speaking skills rather than overwhelming you with grammar rules and vocabulary lists. Its carefully crafted interactive lessons are combined with interactive games and a user-friendly interface which makes it easier for all kinds of students seeking an immersive and effective language learning experience.
Pricing
Pimsleur offers affordable subscription options ranging from $14.95 monthly audio-only course to $150 for all-inclusive individual courses. Premium Pimsleur account provides access to other languages and levels. The seven-day free trial is a great way to test Pimsleur before purchasing.
Best Irish App for Novices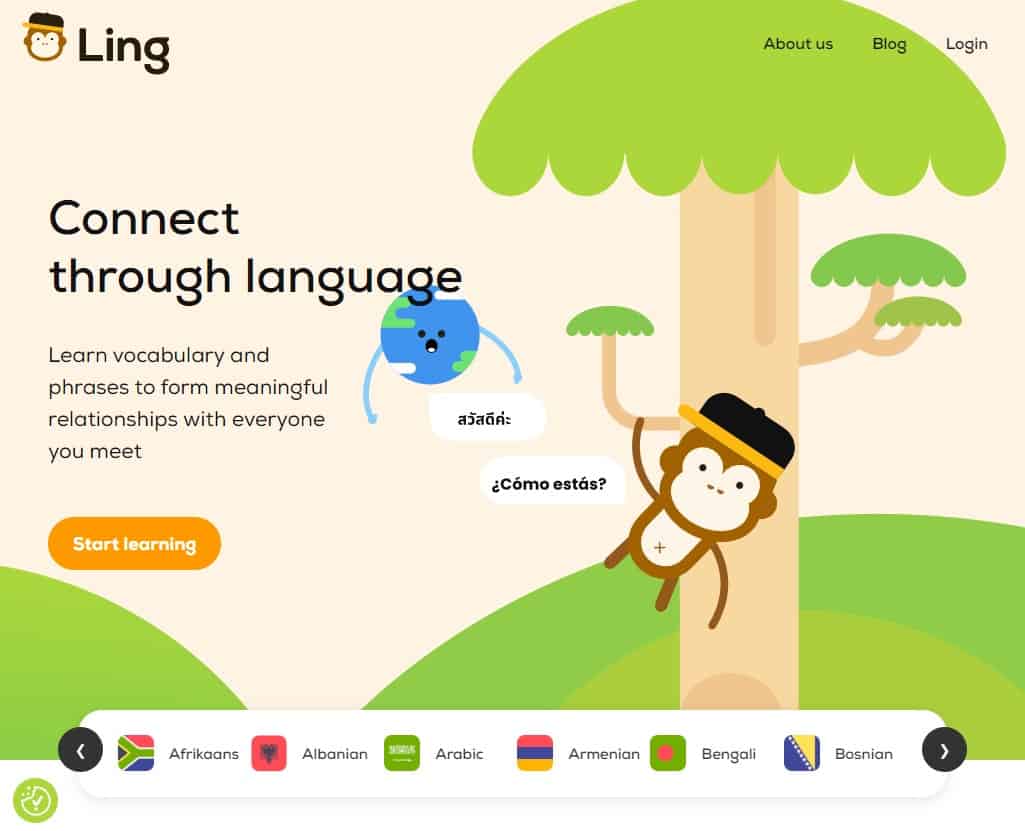 With many hard-to-find languages, the Ling app is an effective option for many language learners. Short and gamified lessons will provide the necessary background to make the first steps in understanding the Irish language.
| | |
| --- | --- |
| ⭐ Platforms: | Web, iOS, Android |
| ⌚ Time commitment: | 10-20 minutes per day |
| 💵 Price: | $8.99 – $149.99 |
| 🔄 Refund policy: | 30-Day money-back guarantee |
| 🎁 Free Trial: | ✔️ |
Ling lessons – spell, write, match, and choose the correct words from a list.
Chatbot – start a dialogue in your target language with a helpful AI.
Review – rehearse the learned vocabulary by answering questions from completed courses.
Exam – test your knowledge in a timed exercise format.
Ling App Overview
Ling app shines as the best beginner app for learning Irish Gaelic. The Ling app structures its lessons to cover all the basics of grammar, vocabulary, and pronunciation. The interactive lessons create a great learning experience when you are just starting. It will lay a strong foundation of Irish Gaelic that will help you to make the first steps to reaching the native speakers level.
The overall learning experience of the Ling app is engaging and immersive. It offers interactive lessons, including quizzes and speaking challenges, and provides hands-on practice to reinforce the learning of Irish vocabulary. The Ling app also integrates cultural aspects into its Gaelic lessons, offering insights into traditions, history, and customs.
Pricing
The Ling app provides monthly ($8.99) or annual ($79.99) payment plans. But those committed to long-term study of less popular languages will find the lifetime ($149.99) subscription of the best value. The Ling app also provides a seven-day free trial to test all of its features and languages.
Best Irish App with Lifetime Access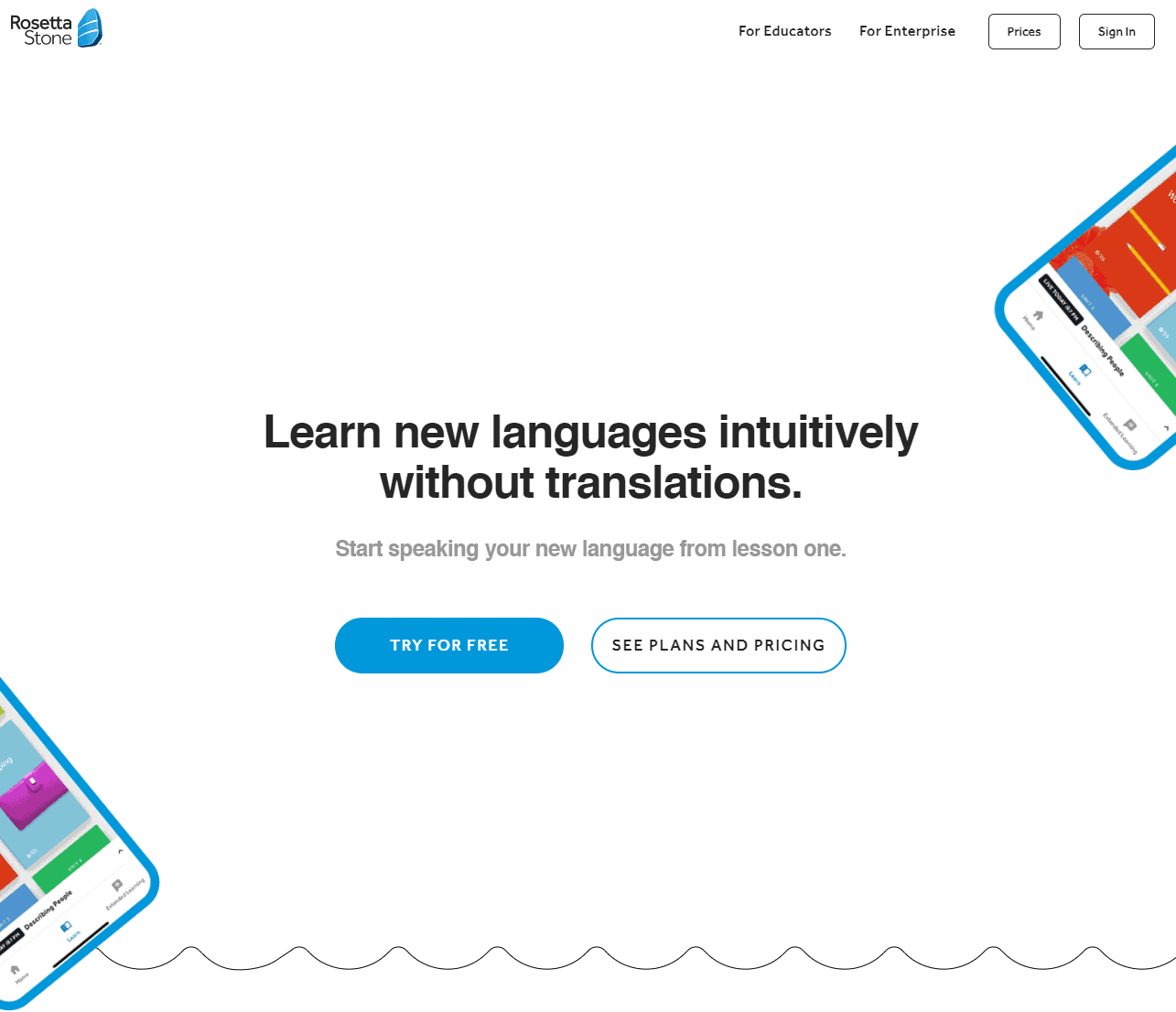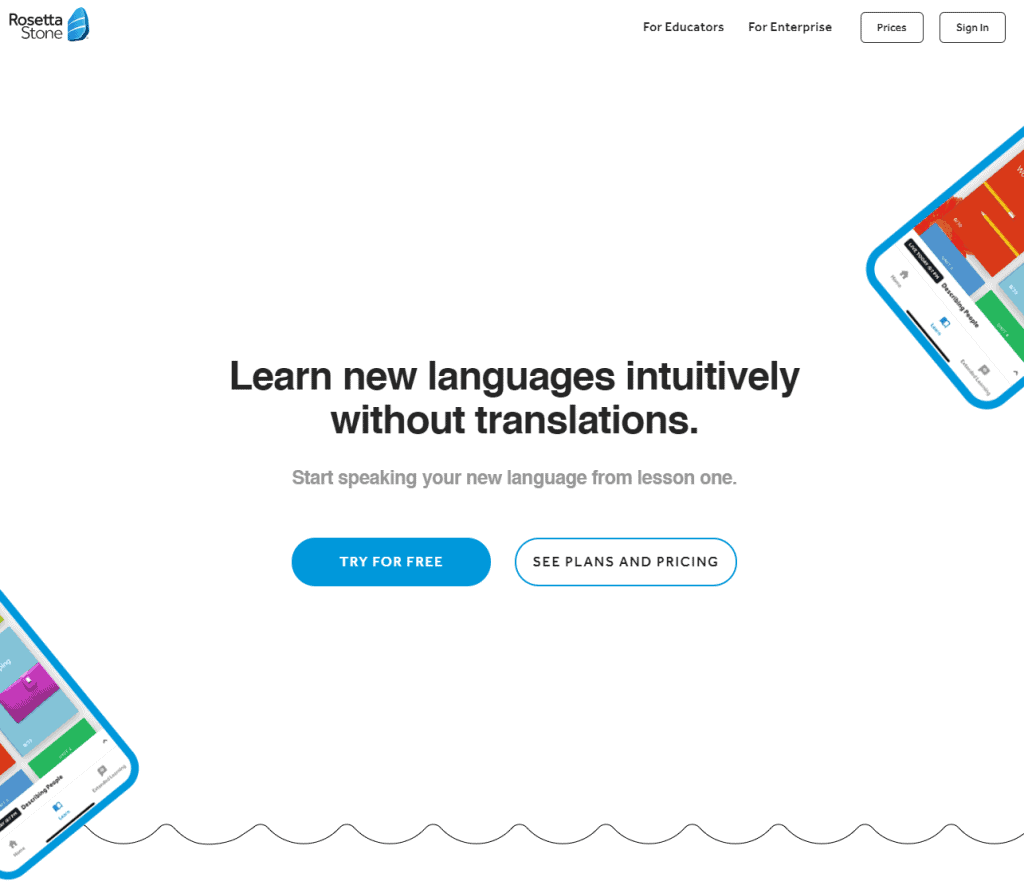 Why we like Rosetta Stone
Rosetta Stone immerses you in the target language by associating pictures, audio, and written essential words and phrases. You will start learning Irish grammar naturally while various bonus features complement and speed up your process by making learning fun.
| | |
| --- | --- |
| ⭐ Platforms: | Web, iOS, Android |
| ⌚ Time commitment: | 30 minutes per day |
| 💵 Price: | $11.99 – $179 |
| 🔄 Refund policy: | 30-day money-back guarantee |
| 🎁 Free Trial: | ✔️ |
Core Lessons – associate images with words and speaker audio recordings. 
The Phrasebook – practice real-life pronunciation with voice recognition software.
Stories – improve reading and listening skills with native speaker-narrated material.
Live tutoring – participate in twenty-five minutes long live interactive lessons with experienced tutors.
Rosetta Stone Overview
With the costs rising rapidly across the world, Rosetta Stone has proved to be a savior for those looking to learn Irish as a second language cheaply. This app brings the beauty of the Irish language to your fingertips. With lifetime access, there are unlimited opportunities to reinforce your language skills at your own pace.
When you learn Irish, the most important feature of Rosetta Stone is the speech recognition technology. When paired with personalized Irish lessons and other interactive games, it creates a truly immersive learning environment. It helps Rosetta Stone to leverage contextual understanding and earn the trust of millions of language learners around the world.
Pricing
Three months of Rosetta Stone start from $11.99 per month, while an annual subscription lowers the price to $7.99. However, the lifetime plan ($179) is the best deal with all languages and unlimited access. You can try all the features and foreign languages with a three-day trial before entering your credit card details.
Best App to Learn Irish by Verbal Practice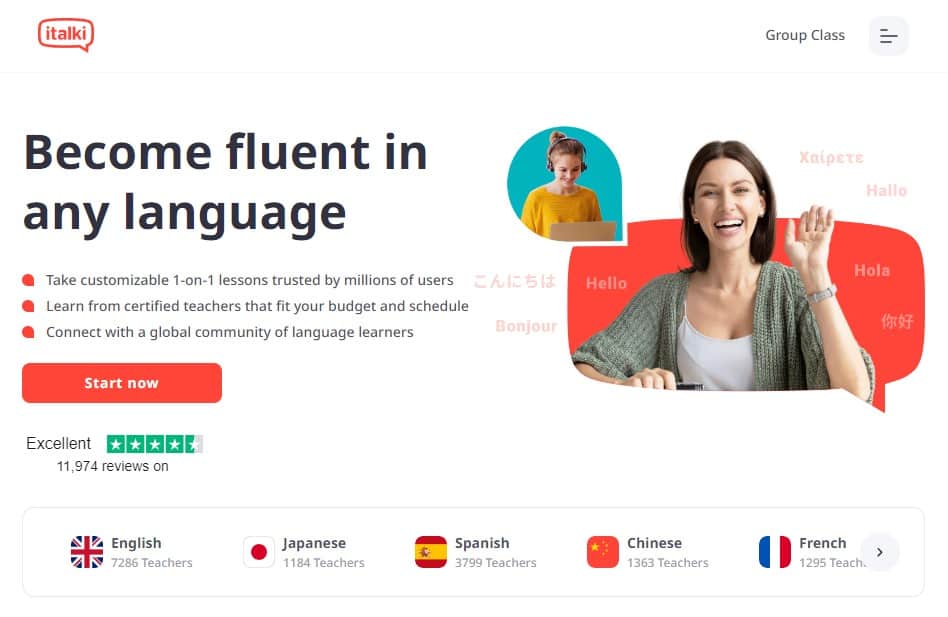 italki is the most popular online tutoring platform with a wide selection of teachers for the Irish language. The language exchange App provides all you need for tutoring and even some additional practice possibilities outside the classroom.
| | |
| --- | --- |
| ⭐ Platforms: | Web, iOS, Android |
| ⌚ Time commitment: | Few hours a week |
| 💵 Price: | $4 – $50 |
| 🔄 Refund policy: | 100% satisfaction guarantee |
| 🎁 Free Trial: | ✔️ |
Teacher Filtering – find the right tutor with the help of relevant filters.
italki Classroom – take classes with an in-built software without worrying about compatibility.
italki Credits – pay with a virtual currency and save money.
italki Discover – find various activities created by the italki community.
Best App to Learn Irish FAST for Free​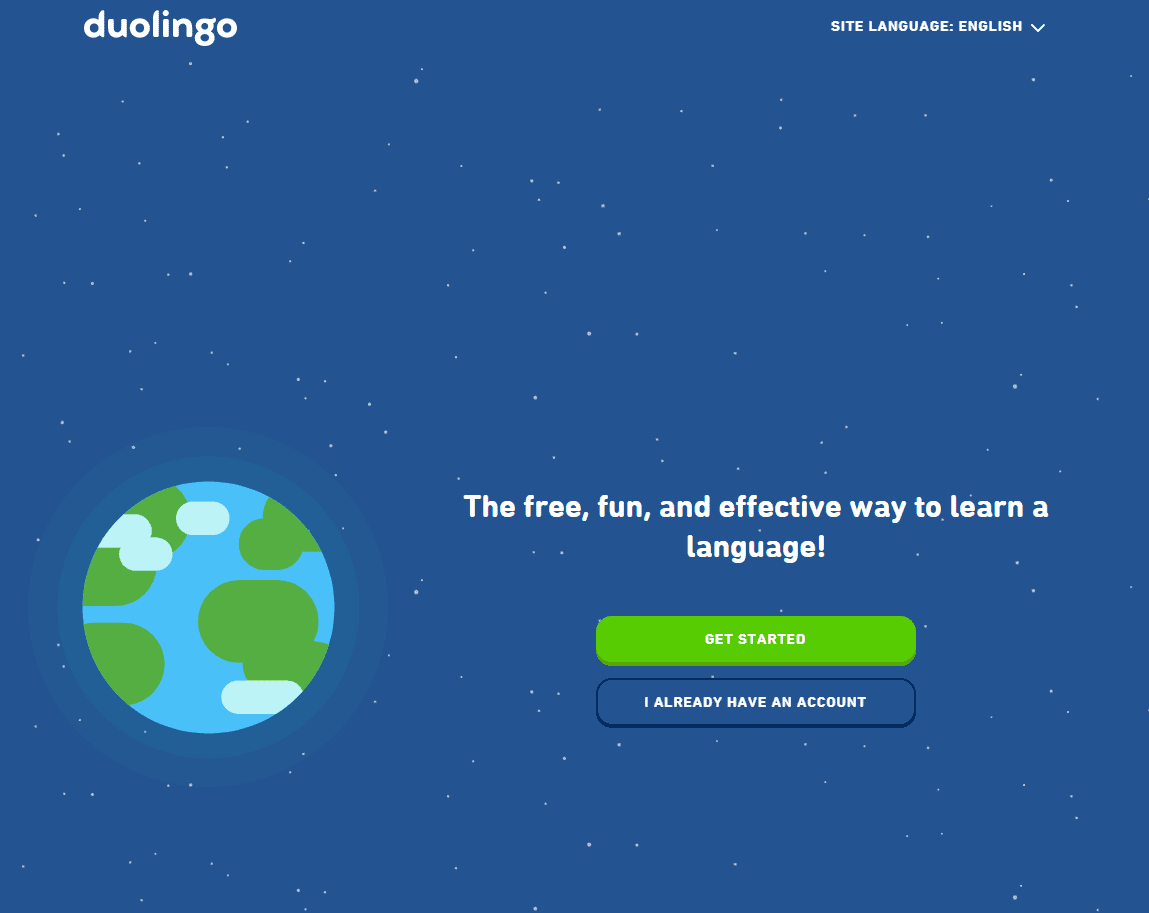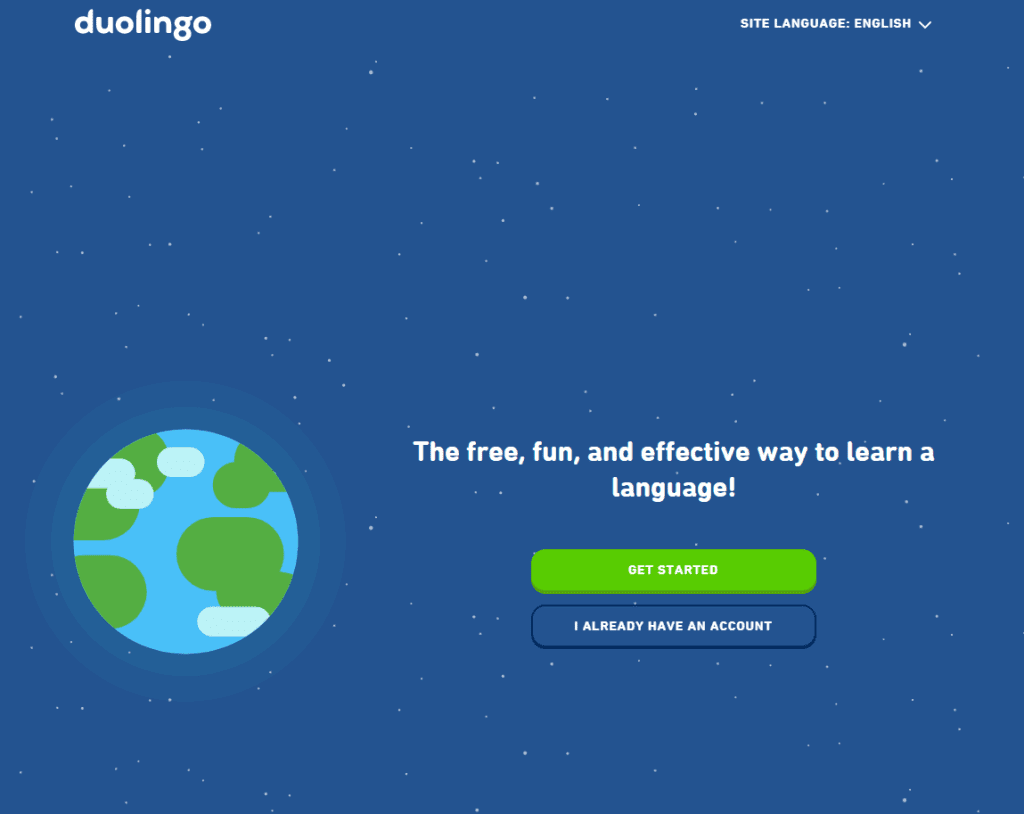 Duolingo app is the most gamified learning experience you can get for the Irish language. Just like in a video game, you must collect gems and earn XP while learning vocabulary and basic concepts of a new language.
| | |
| --- | --- |
| ⭐ Platforms: | Web, iOS, Android |
| ⌚ Time commitment: | 15 – 30 minutes per day |
| 💵 Price: | $9.99 – $79.99 |
| 🔄 Refund policy: | 48-hour refunds |
| 🎁 Free Trial: | ✔️ |
Gems, XP points, badges… – motivate yourself to learn with an abundance of elements from mobile games. 
Stories – read and listen to interactive stories bringing you closer to a real-life experience.
Roleplay – converse with a chatbot that can adjust to your proficiency level.
Personalized lessons – delve into short lessons teaching the basics of the target language while focusing on your weak spots.
Frequently Asked Questions When Learning Irish
It's quite easy to learn Irish as a second language yourself these days. There are numerous Irish Gaelic textbooks, videos, podcasts, and, most importantly, Irish language learning apps. They combine all the resources you need to start learning Irish on your own. If you struggle with motivation, most of the best apps to learn Irish include interactive games to keep you engaged.
You can attain basic proficiency in the Irish language within four to six months if you practice regularly. But if you are truly looking to master the Irish language, it will take one to one and a half years of daily practice for two hours.
There is something for every English speaker in our list of the best apps to learn Irish. Don't pass up the chance to begin a life-changing journey in foreign language study. Even if you are a complete beginner, learning Irish Gaelic is greatly rewarding. See the best apps listed below and boost your knowledge of the Irish language today.