Language skills are something that you either use or lose. It's not enough to learn the basics of grammar and vocabulary. You must constantly practice your target language to retain and improve your skills. The good thing is that you don't need to travel half the world to find new language exchange partners.
HelloTalk is one of the most popular language exchange apps that connects people interested in improving their foreign language skills. Our HelloTalk review will cover everything you need to know before finding a conversation partner in this language exchange app.
A global and free language exchange program
At its core, HelloTalk is a language exchange app. But with language learning-specific features like live lessons, AI-assisted grammar, and chatting with natives, HelloTalk aims to be something more. In the end, the features it covers are great for most advanced students, but beginners will still need other resources.
⭐ Rating:
8.5

★★★★★

🥇 Available languages:
150+ (see below)
📈 Suits best for:
Intermediates and Advanced students
🛒 Payment options:
1 Month/Yearly/Lifetime
💵 Price:
$12.99 – $149.99
⌚ Hours of lesson time:
20+ per language
🔄 Refund policy:
7-days
🎁 Free Trial:
✔️
English, French, German, Spanish, Japanese, Portuguese, Italian, Mandarin Chinese, Hindi, Arabic, Russian, Indonesian, Korean, Turkish, Thai, Vietnamese, and 150 more. 
Disclaimer: Lingomee is an independent review site that may benefit from affiliate programs. Buying through our links makes our efforts possible without additional costs to you. Learn more here.
A Brief Overview of HelloTalk
HelloTalk was founded as a language exchange website in 2012 to connect language learners who want to practice with a native speaker. Over time, the platform has evolved into a language-learning app, attracting 20 million active users from over 200 countries.
HelloTalk supports over 150 languages, which students learn through live classes with instructors on HelloTalk Live. The feature allows students to engage in real-time audio and video conversations with native speakers. There are various language practice formats, like language games, group discussions, and one-on-one conversations.
The platform uses AI-assisted tools to help with transcriptions, transliterations, and translation. It also relies on the proprietary algorithm to match language exchange partners. The ability to connect and match users with language partners with similar interests is what sets HelloTalk apart from other language learning apps.
For instance, Allison from Florida, learning French, would benefit immensely from conversing with Pierre in Paris and learning English. The two could form a mutually beneficial partnership where they'd learn from each other through the chatting platform.
HelloTalk Primary Features
HelloTalk has some useful features that students use to practice and improve their target language skills. Learners can use these features to connect with a suitable language partner, understand foreign language content, and better familiarize themselves with the grammar rules.
But HelloTalk provides more than just language exchange. For example, language exchange partner correction enables learners to receive feedback on how they write from native speakers. They send a message to the native language speaker, who analyses the errors and offers suggestions.
Language learners access the corrections easily since they're displayed side by side with original messages. The corrections are mostly accurate and good for learners to notice the errors they made. There's also the use of flashcards, vocabulary notebooks, and games that learners use to improve their language learning.
Flashcards are perfect for discovering and memorizing words in your new language, while vocabulary notebooks help students record what they learn. Language-related games like quizzes and translation challenges help users to practice the new vocabulary in an interactive way.
Language Exchange
The language exchange feature relies on the proprietary algorithm to match students so that they can learn from each other. The algorithm uses data points like the learner's location, interest, and language level to suggest potential language partners. 
The algorithm uses the information provided once a user signs up, such as their native language, the target language they wish to study, and proficiency levels in both languages. Additionally, users are asked to enter their hobbies, interests, and goals, which HelloTalk uses to match them with other users. 
The algorithm successfully matches people of similar skill levels using these metrics, making it similar to a dating app. 
Translation Function
The translation function helps students quickly understand and communicate in their target language. Learners use the tool to translate the message from a foreign language they're studying to their native language. They can also use the tool to read the message out loud, which helps improve their pronunciation skills. 
For example, if you are studying languages with a non-Latin alphabet, such as kanji in Japanese, you can familiarize yourself with it using the 'translate' feature to a language you understand. 
HelloTalk's machine translation technology comes built-in with the app and has proven to be very accurate in translating messages. However, you cannot rely on it 100% as a language learning tool as it experiences problems translating complex phrases.  Even then, it's much better than Google Translate on which it relies. 
Moments
Moments is a social feature of HelloTalk, enabling language learners to share the new phrases and vocabulary they learned. Additionally, they can post photos of their language learning materials.
The community responds to Moments' posts by liking or commenting. Moments offers a unique learning and interacting feature where students help each other grow. 
The feature works similarly to social networking platforms like Facebook or Instagram, where users share personal content with others who share common interests. With over 15 million users worldwide, the app has enough content, making it easy to find language partners.
A student studying German can share a photo of a traditional German meal they prepared with a caption describing the recipe in his target language. German students can then comment on the post correcting the grammar and vocabulary use. 
Partner Correction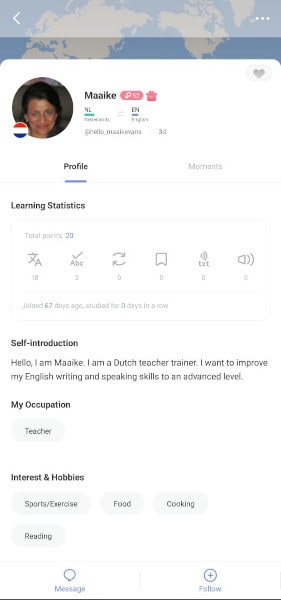 HelloTalk encourages language learners to help each other. The Partner Correction feature involves learners sending messages, paragraphs, or essays to native language speakers and receiving feedback. 
Additionally, a learner can send voice notes to their conversation partner, who provides feedback and corrections on grammar, pronunciation, and vocabulary. Doing so helps students understand language nuances and identify areas that require improvement. 
The partner correction feature allows real native speakers to grow their reputation by helping other users learn languages. They earn badges that mark trustworthiness, language ability, and fluency.
The Excellence of The Learning Material
HelloTalk has classified its teaching materials on topics like Travel, Greetings, Hobbies, and Food. Learners choose the topic and go through the lessons at their pace.
HelloTalk is exceptional in its course structure because of features like Helloword, which is a vocabulary list allowing users to improve their vocabulary skills. It uses functions like flashcards to help students memorize and discover new words. 
The AI grammar checker tool helps improve sentence structure, which comes in handy for students looking to improve their written language skills. 
The Serious Learners section helps provide a more structured language learning environment by connecting focused students interested in intensive language learning. In this section, learners can collaborate by setting learning objectives and participating in language challenges. There's also a progress tracking tool helping other users see how far they've come in their studies. 
Lessons range from 15 to 29 through the four main topics students must take and complete. The first lessons on each topic are free, with the rest only accessible through HelloTalk Vip membership. The free lessons incentivize students to see if the materials are good enough and whether they'd continue with the paid classes.
HelloTalk lessons are 10-20 minutes long. The short lessons allow language learners to finish them quickly without feeling overwhelmed. Native speaker experts and language enthusiasts create courses at HelloTalk.
The course length varies depending on the target language and proficiency, but you should expect a few hours for each lesson. In total, learners go through hundreds of minutes of lessons, which is enough to grasp and understand the target language. Unfortunately, we found that content varies with each language greatly.
Grammar Instructions
HelloTalk doesn't teach grammar lessons for tenses, clauses, and similar concepts. It focuses more on sentence structure and vocabulary. However, students can still learn basic grammar through native interaction using features like Partner Correction and Language Exchange.
They can also rely on the AI-assisted grammar tool to improve their sentence structure. However, the limited grammar instructions make it hard to learn languages like German and Japanese, as the conversational approach isn't enough.
Verbal Practice
HelloTalk has invested heavily in verbal practice by offering features like voice, chat, and video calls, where students interact with native speakers to improve their verbal skills. Verbal practices also help to improve listening skills by interacting with voice notes and video chats. 
Students can learn quickly through the Talk Function, which includes audio or video interactions, receiving instant feedback on their progress.
The in-app calling feature makes setting up video and voice calls straightforward, while the voice recognition feature helps convert your voice messages to text. In-app calling helps to practice speaking without embarrassing yourself to your language partner. It's fairly accurate and gets most phrases right, regardless of your accent. 
Vocabulary
Students can use the HelloTalk app to learn the vocabulary of their target language. The platform offers learning techniques like flashcards, vocabulary notebooks, and games learners can play with their conversation partners. These techniques help users learn vocabulary in a fun and interactive environment. 
Writing
Although HelloTalk doesn't offer writing lessons, students practice and grow their skills through regular chats with real native speakers. The students receive accurate and reliable feedback showing corrections and suggestions to improve their writing skills.
Such interactions help students learn sentence structure in their target languages. Most exchange partners on HelloTalk are not certified, but they provide valuable corrections and feedback, which improves your writing skills. However, since they lack formal training in teaching a language, you will still need to double-check the feedback using other resources.
Reading
HelloTalk doesn't have any particular reading lessons, but students learn from each other. Chat messages play a crucial role here. It shows the original and corrected messages side-by-side, allowing the language learners to notice the difference while improving their reading comprehension. 
Additionally, the auto-translate feature enables the students to make sense of messages sent in a new language, where students get familiar with foreign texts and their meanings. 
Repetitiveness
The app is entertaining to use, thanks to some gamification measures. Students receive points and badges during their progress, which they show off to their peers. Here are a few badges and their meaning: 
Language Ambassador: given to users who provide accurate feedback and corrections.
Language Expert: received when you demonstrate mastery of your native language.
Popular: awarded to users with a lot of likes and comments on their posts.
Contributor: earned when you contribute to the HelloTalk community by creating language learning materials.
The point system plays a social role by showing trustworthiness. If you have many points, it indicates your knowledge of the target language. This way, your suggestions, and advice are more trusted. 
Accessibility
HelloTalk has a user-friendly interface with clear and concise instructions to help students learn quickly. The homepage of HelloTalk is organized into tabs like Live, Connect, Moments, and Talk. 
The chat interface and display are clean, with a text box at the bottom of the screen. Conveniently, language learners can always access their chat history and interact with their study partners from one place.
The language exchange app has an incredible loading speed, ensuring your transition between tabs is quick and straightforward.
HelloTalk Alternatives and Competitors
HelloTalk vs Lingoda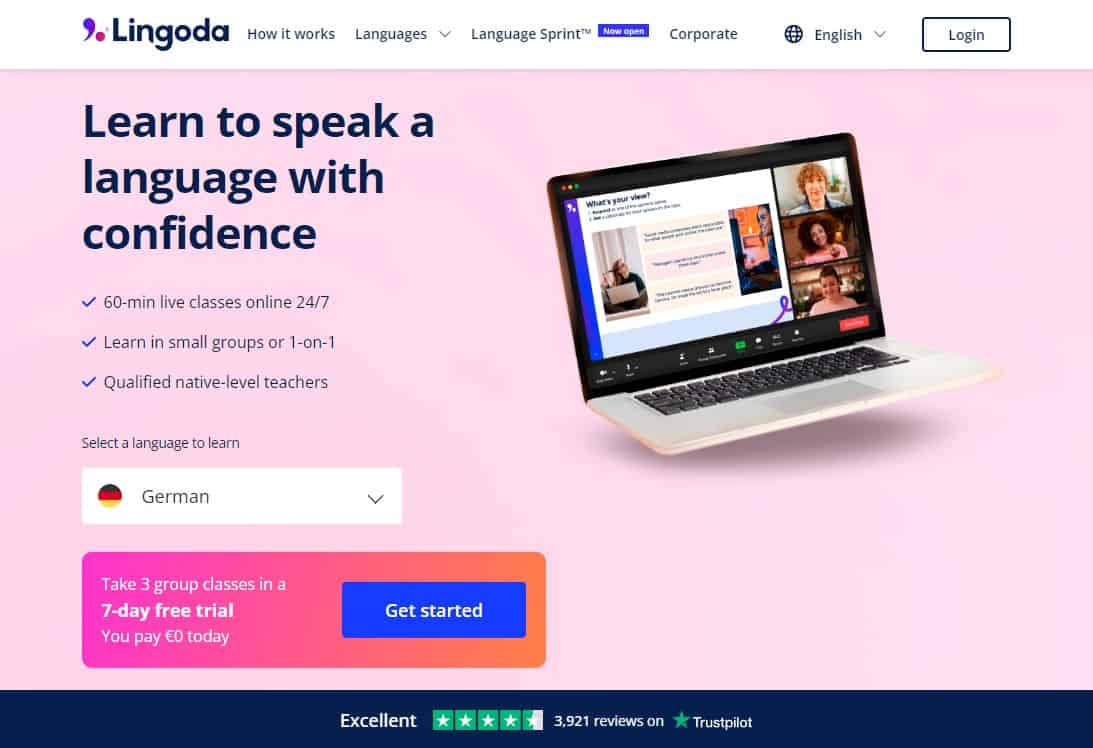 Lingoda provides classes with a small group of other students allowing you to learn and interact with other students. We think that both apps are good stepping stones for intermediary learners. HelloTalk is better for learning to write and read, while Lingoda is better for conversational practice. Find more information in this Lingoda review.
HelloTalk vs Busuu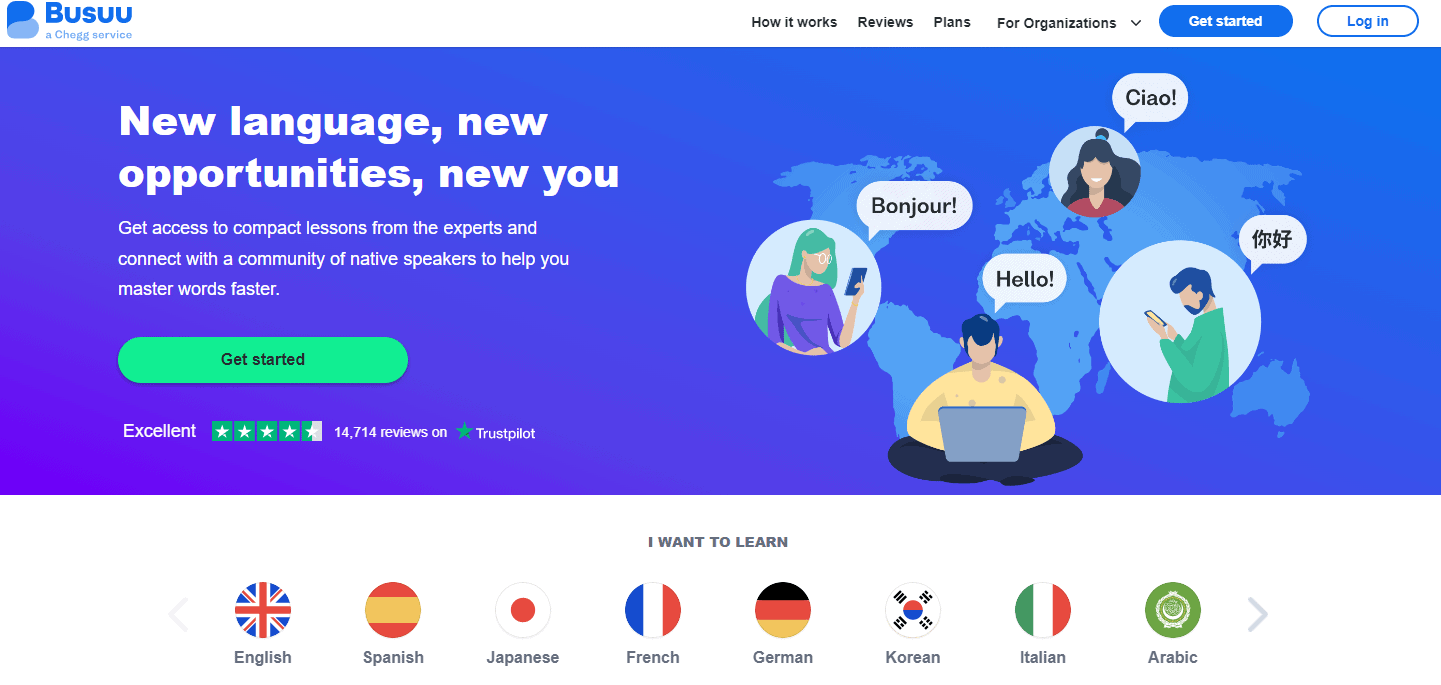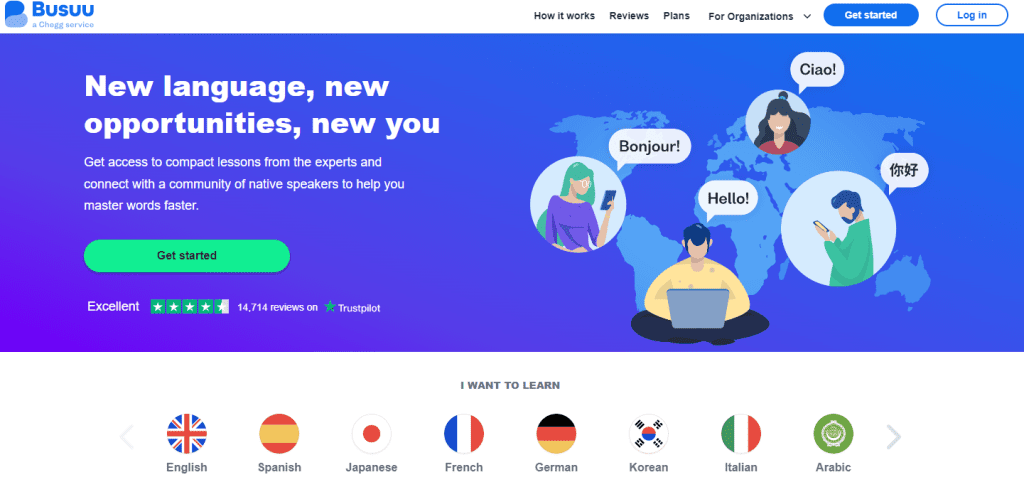 Busuu is a language learning app that combines personalized feedback from native tutors with self-learning exercises. It's a bit more expensive than HelloTalk, but instead of language exchange partners, you get to practice with native teachers. However, Busuu covers only twelve languages. You can read more about it in this Busuu review.
HelloTalk vs Tandem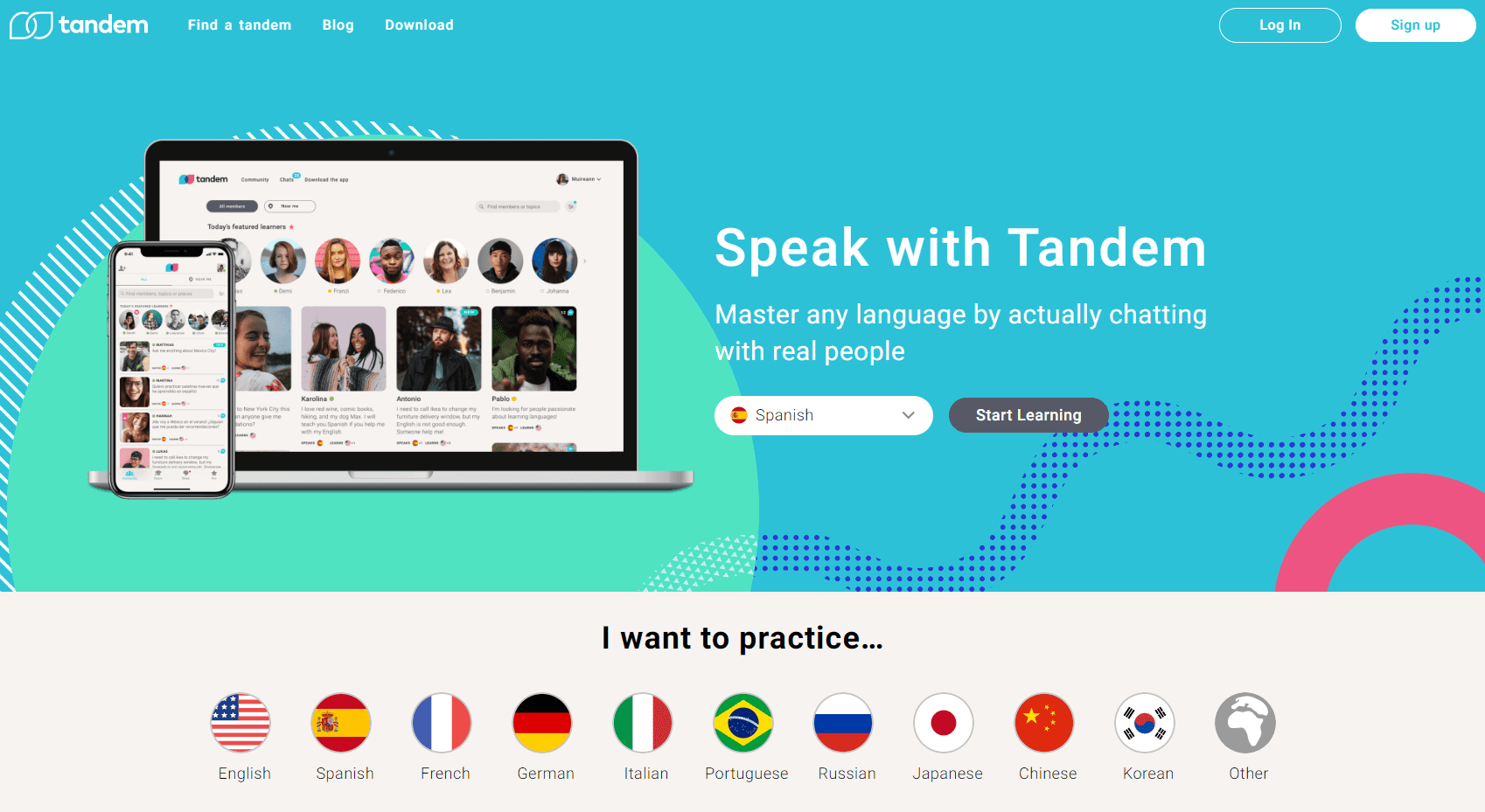 Tandem is a platform for finding language exchange partners to learn each other's languages. We found it to be a bit better at "matchmaking" than HelloTalk and its annual subscription costs pennies. Learn more about this app in this Tandem review.
HelloTalk vs Baselang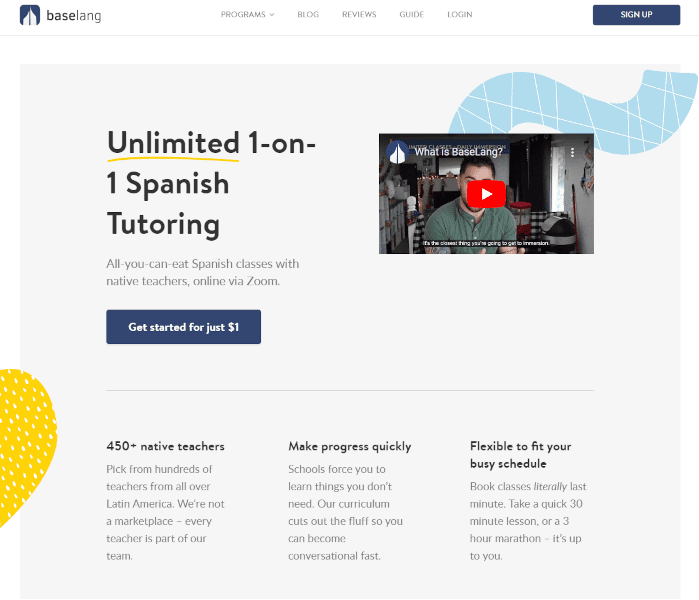 Baselang provides structured and affordable one-on-one tutoring with native-speaker teachers. It supports only Spanish and provides a pre-made curriculum. In comparison, HelloTalk provides more possibilities to interact with native speakers, but you must be a bit advanced to get the best out of it. Learn more in this Baselang review.
HelloTalk vs Verbling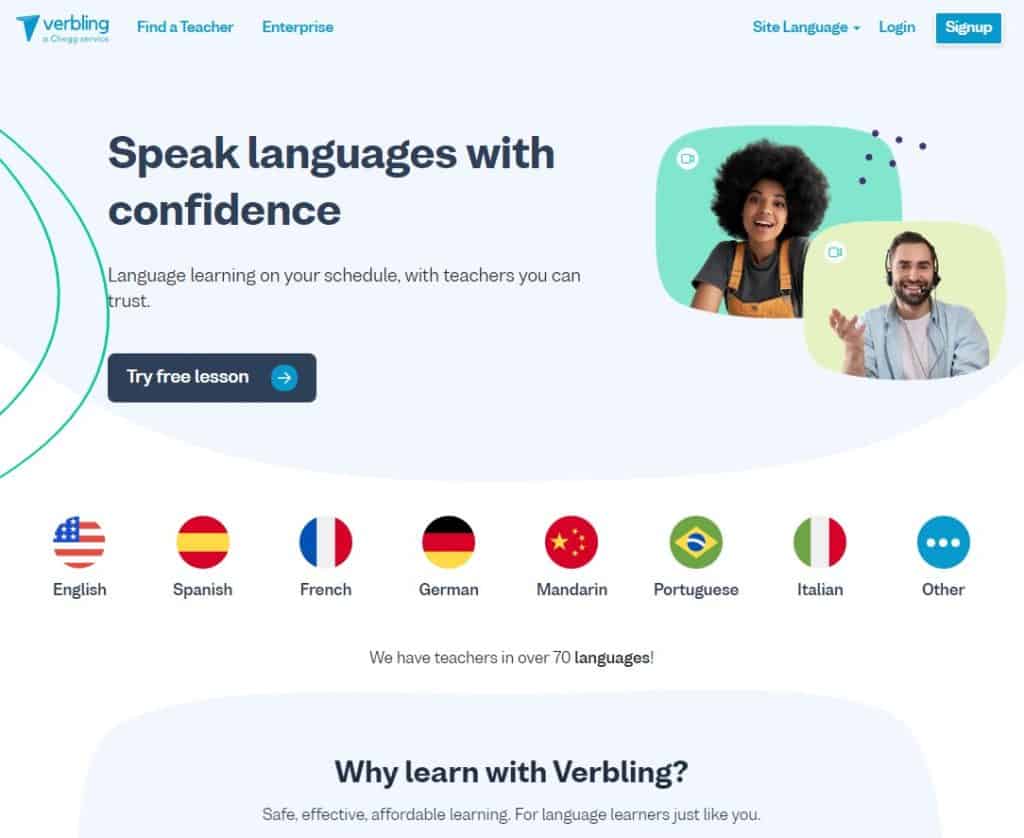 Verbling is a language marketplace for finding one-on-one online tutors. It's known for testing its teachers and personalizing curriculum to students' needs. HelloTalk is more of a language exchange app where you get to find other fellow students to interact with. Here is our full analysis of this app in this Verbling review.
What Areas Require Enhancement?
The Talk function could have fewer features. Removing or moving some of them would make the HelloTalk app easier to navigate. For instance, features like Translation, Search, and Language Exchange should be stand-alone.
The limited free access is another drawback, as it isn't enough for language learners to test the quality of the lessons thoroughly. Increasing the daily limit of use in the free version might convince many more users to upgrade.
Additionally, you cannot share your lessons with someone outside the app to review them. It makes double-checking the learning material unnecessarily complicated.
HelloTalk is mainly geared towards students who understand the basics of their target language, leaving out complete beginners. It would help to change this by including beginner-friendly lessons and reading materials for all languages. 
We found language learning resources like pronunciation guides, grammar lessons, and vocabulary exercises missing in this app. It would attract more beginners who have no previous language experience. You can also check more complete apps like Pimsleur, Rosetta Stone, Live Lingua, or Clozemaster.
HelloTalk Pricing
HelloTalk has a limited free version with daily restrictions besides Moments and Talk features. The only way to unlock all the features is by purchasing the HelloTalk VIP membership for every language you'll want to learn. This app falls in a similar price range as Memrise and Babbel apps.
| | | |
| --- | --- | --- |
| Subscription | Price | Payment |
| 1 Month | $12.99 | Charged monthly |
| 12 Months | $79.99 | Yearly |
| Lifetime | $149.9 | One-time |
Free Trial
Unfortunately, HelloTalk doesn't have a free trial but a freemium version where you access all the features at a limited capacity. However, you can access functions like Chat, Search, and Moments with a free version too.
The free version also grants you access to introductory lessons that give you an insight into what other lessons contain.
HelloTalk Coupons and Discounts
HelloTalk offers occasional discounts and promotions, such as Black Friday and New Year deals. They usually communicate these offers through their websites, social media accounts, or app notifications.
Refund Policy
HelloTalk has a 7-day refund policy in case you're unsatisfied with the premium services. However, the language learning app will not refund you if you have used or accessed any of their premium servises, or when the 7 days have lapsed. 
Unfortunately, HelloTalk won't offer a refund for a renewed billing if you fail to cancel your monthly or yearly subscription before the billing cycle. 
HelloTalk: Is it a Good Investment?
HelloTalk is a great investment for someone already familiar with a foreign language. The language app is designed to help you improve by connecting you with native speakers.
The app is affordable for those seeking to practice and improve their language speaking skills with native speakers, compared to HelloTalk alternatives like Preply, iTalki, Speakly, and Tandem. The social network-inspired features create an interactive and engaging learning environment.
Although HelloTalk doesn't offer formal learning resources and lessons, it's still a valuable supplement to other apps due to its focus on the social aspects of finding a language partner.
HelloTalk Ratings From Customers
Google Play Store – 4.7 (10+ Million Downloads)
Apple App Store – 4.7 (37K Ratings)
HelloTalk Customer Service
HelloTalk's customer support can be reached through email, and you should expect a response within 24-48 hours.
Their FAQ section has useful information, including common queries that people have. It's a good place to start if you have any issues with the language app. 
The in-app chatbot system answers basic questions you won't find in the FAQ sections. However, you won't get answers to specific questions, and you should reserve these for the email department.
Conclusion
HelloTalk is a learning tool with a social-media-like matching ability. At the same time, Learning tools like Partner correction and a built-in translation tool help you to communicate. Although complete beginners will need more assistance than the HelloTalk app provides, advanced learners will benefit from these language exchanges.