The convenience of studying a foreign language from your home has become the norm. But finding the best tutors is still a problem if you don't know where to look. Preply is a platform that can help. It connects learners with tutors for one-on-one language lessons. 
Preply has over 30,000 different tutors teaching numerous languages. It guarantees customer satisfaction with trial lessons and a money-back guarantee. These make Preply an attractive e-learning platform. In this Preply review, we'll explore its ins and outs to assess how effective it is for hiring a language tutor.
Guaranteed one-on-one online lessons with the best tutor
Preply hosts a diverse selection of native speaker tutors, flexible scheduling, and customized lessons under a single platform. If the tutor's teaching style doesn't fit your needs, you can try another one at no cost or receive a full refund. Such flexibility makes Preply one of the safest online tutoring platforms.
⭐ Rating:
8.8

★★★★★

🥇 Available languages:
45+
📈 Suits best for:
Intermediates and Advanced
🛒 Payment options:
Individual lessons/Monthly subscriptions
💵 Price:
$3 – $40
⌚ Hours of lesson time:
N/A
🔄 Refund policy:
14 or 90-day refunds
🎁 Free Trial:
✔️
Arabic, Armenian, Bengali, Belarusian, Bulgarian, Chinese, Croatian, Czech, Danish, Dutch, English, Estonian, Finnish, French, Georgian, German, Greek, Hebrew, Hindi, Hungarian, Icelandic, Indonesian, Italian, Japanese, Korean, Latvian, Lithuanian, Norwegian, Persian, Polish, Portuguese, Punjabi, Romanian, Russian, Serbian, Slovak, Slovenian, Spanish, Swedish, Tagalog, Thai, Tibetan, Turkish, Urdu, Ukrainian, Vietnamese
Disclaimer: Lingomee is an independent review site that may benefit from affiliate programs. Buying through our links makes our efforts possible without additional costs to you. Learn more here.
A Quick Look at Preply
Preply has helped language learners find private tutors since 2012. When you sign up, the platform asks several questions to match you with tutors. These questions include your target language, current level, tutor preferences, availability, and budget. You can then narrow down the results by price per lesson, country of origin, and more.
Tutor profiles display their reviews, introduction videos, active students, availability, and spoken languages. Each tutor has a calendar showing their available days and hours. It enables users to quickly tell their availability for preferred class times.
Upon finding your tutor, you pay for one lesson upfront. After that, you have three options. 
Continue with the tutor by choosing a 6, 12, or 20-hour package.
Try another tutor for free.
Preply also offers custom packages upon request, including one-hour language lessons. These require contacting Preply via email.
While finding a tutor is straightforward, Preply students should choose carefully. Each tutor has their teaching method and lesson plans. How and what the tutor teaches may not align with your goals.
The trial lesson is helpful, but you risk losing your time. Fortunately, most tutors provide enough information in their profiles. Coupled with Preply teacher reviews from past learners, you can make an informed decision. 
Preply also has a placement test to assess your language level before you start looking for a tutor. This fill-in-the-blank test focuses on grammar and takes about 15 to 20 minutes to complete.
Key Features 
Preply has crafted a well-rounded environment for learning a new language through online classes with expert tutors. The platform allows students to set their own schedule with a selection of language tutors that are native speakers. These help users get a personalized learning experience.
When you begin learning a language through Preply's online courses, you won't need to leave the Preply website or app. It has everything you and your tutor need, from video calls and screen sharing to a whiteboard. Here's more to Preply's primary features that support language learning. 
Flexible One-on-one Lessons
Preply's focus is connecting you with private tutors that are native speakers. It offers flexible one-on-one lessons that provide personalized attention. There are numerous benefits to learning a language with a private tutor. They aren't unique to Preply. But the platform enables learners to schedule lessons with thousands of experienced tutors with certified diplomas.
We should also mention that Preply learning program includes less popular that we feature in our roundups:
You can schedule Preply lessons at any time your wanted teachers are available. You can reserve your place in the tutor's calendar right away with instant booking. The flexibility in scheduling, even if you and your tutor are in different time zones, makes learning more convenient. Group lessons are also available, but only for English learners.
Extensive List of Tutors
Preply boasts an impressive amount of tutors, ensuring one for every learning style. While there are more teachers for widely-spoken languages, many tutors also teach less popular languages like Czech and Icelandic.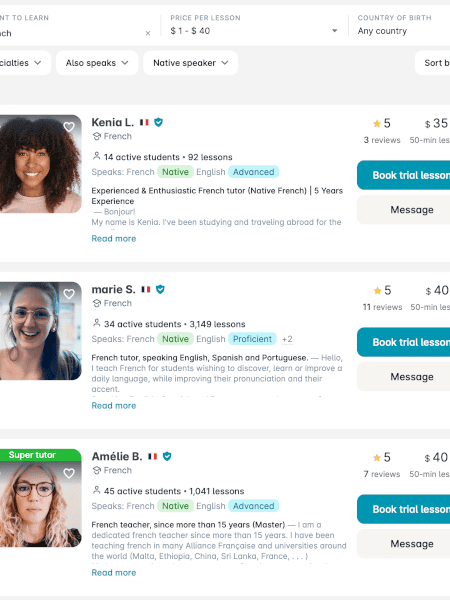 Preply reviews teacher profiles to verify identity and certifications. The blue check mark next to their name represents their verified status.
Preply makes finding the right tutor easy with various filters. Users can narrow the tutors by price per lesson, languages they speak, availability, and specialties such as lessons for children.
Tutor profiles are also detailed to help users make the right decision. It shows the tutor's reviews, number of lessons taught, work experience, educational background, and more. If you find a good match, you can message tutors before booking a lesson.
Preply Classrooms
Preply doesn't rely on third-party applications for online lessons. It hosts everything on its website and app. PreplyClassroom works like any other video conferencing software. The difference is it's tailored specifically to teach a new language. The platform has various interactive features, allowing tutors to engage with the students.
Preply Classroom allows teachers to present their own lessons and share their screens. Learners can take notes, draw on an interactive whiteboard, share documents, and record lessons. Preply also tracks lessons to protect students and tutors in case of disputes.
More than language learning
Preply offers more than language tutors. Users can also hire tutors for other topics. These include motion design, photography, copywriting, programming, international business, and more.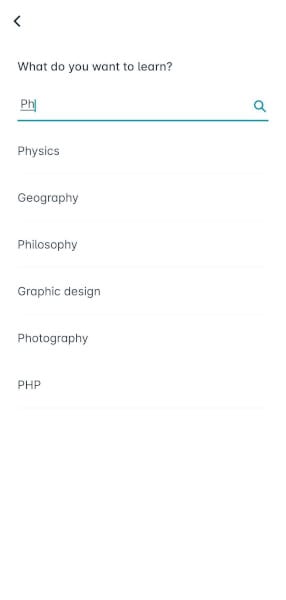 If you're learning a language for a specific goal, you can incorporate these classes to enhance your overall language skills. For example, if you're learning Mandarin for business, you can take relevant lessons from Preply tutors who speak both Mandarin and English.
The Distinction in the Quality of Lessons 
Preply does not offer a set curriculum or standardized classes, as every tutor creates their own. It means the teaching methods and materials tutors utilize may or may not align with your language learning goals. It's essential for language learners to pick a suitable tutor. Fortunately, trial lessons and detailed tutor profiles make this process easier.
Most Preply teachers have certifications and enough teaching experience. These increase the likelihood of a positive experience. You can view the learning materials tutors use on their profiles or message them for more information. Users also have the option to search for tutors with specific specialties, such as a Spanish teacher focusing on SIELE or Cuban Spanish.
Overall, these factors contribute to a positive learning experience with Preply. You'll have access to tutors who create unique classes designed to help you speak confidently, which makes Preply stand out from other ways to learn a language.
Preply Review: User Friendliness 
Preply offers a user-friendly website with neutral colors and a straightforward layout. Although finding the right tutor may take some time at first, the platform makes the process easier.
Hovering your mouse over a tutor's profile reveals their calendar and introduction video. From there, you can view teacher schedule, watch their introduction video and read student reviews. If a tutor isn't a good match, you can continue to browse tutors from where you left off.
Preply Classrooms is quick and responsive, requiring only a click to join online lessons with your tutor. All the necessary tools for learning and interacting with the tutor are a click away. 
Having a positive learning experience requires a stable internet connection. In case there's a problem with Preply Classroom, teachers can conduct classes on another video platform. On Preply Classrooms, learners can click the 'Need help?' button to see the tutor's Skype ID if they included it in their profile.
Even though most language students taking one-on-one lessons prefer using the website, the app is also convenient. Everything is well-placed, ensuring that users engaging in online lessons through the Preply app won't miss out on any features.
Preply Competitors and Alternatives
Preply vs Live Lingua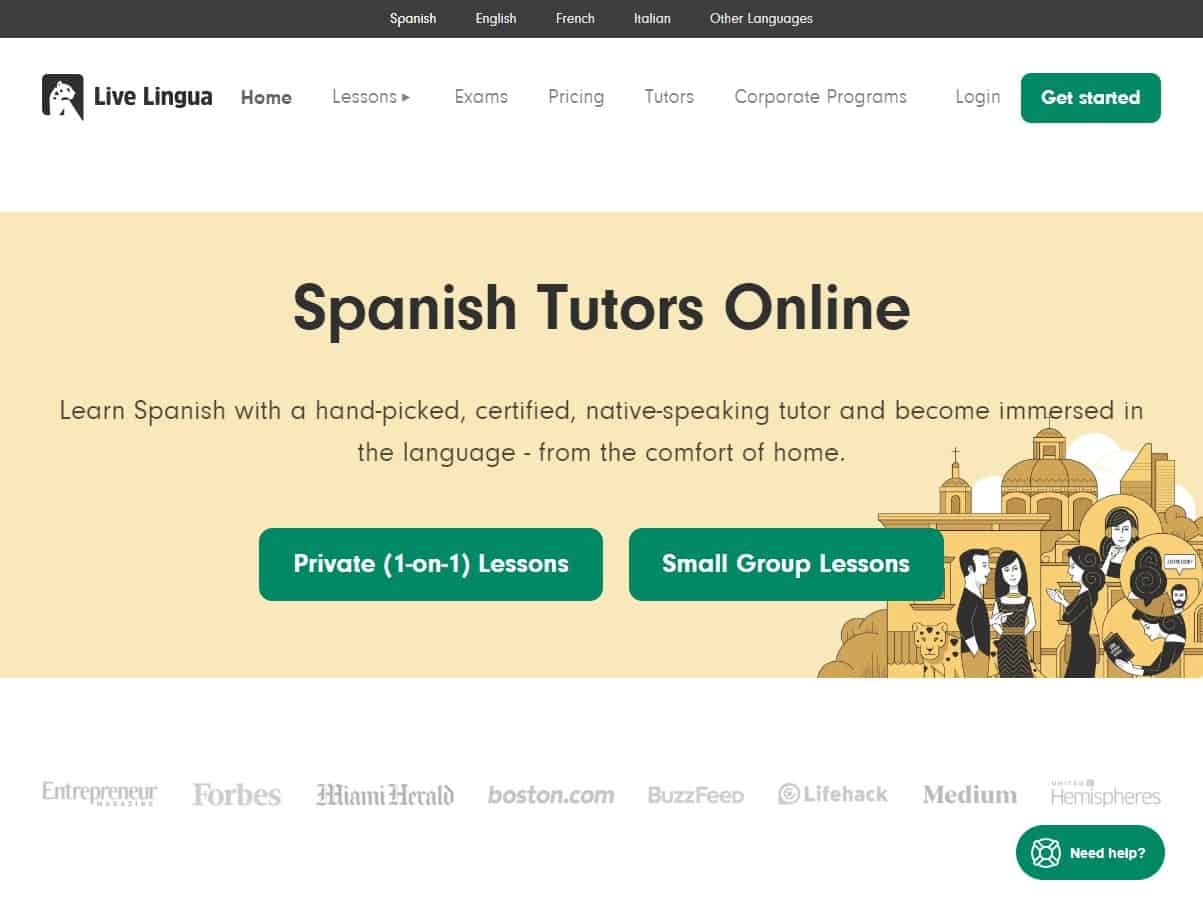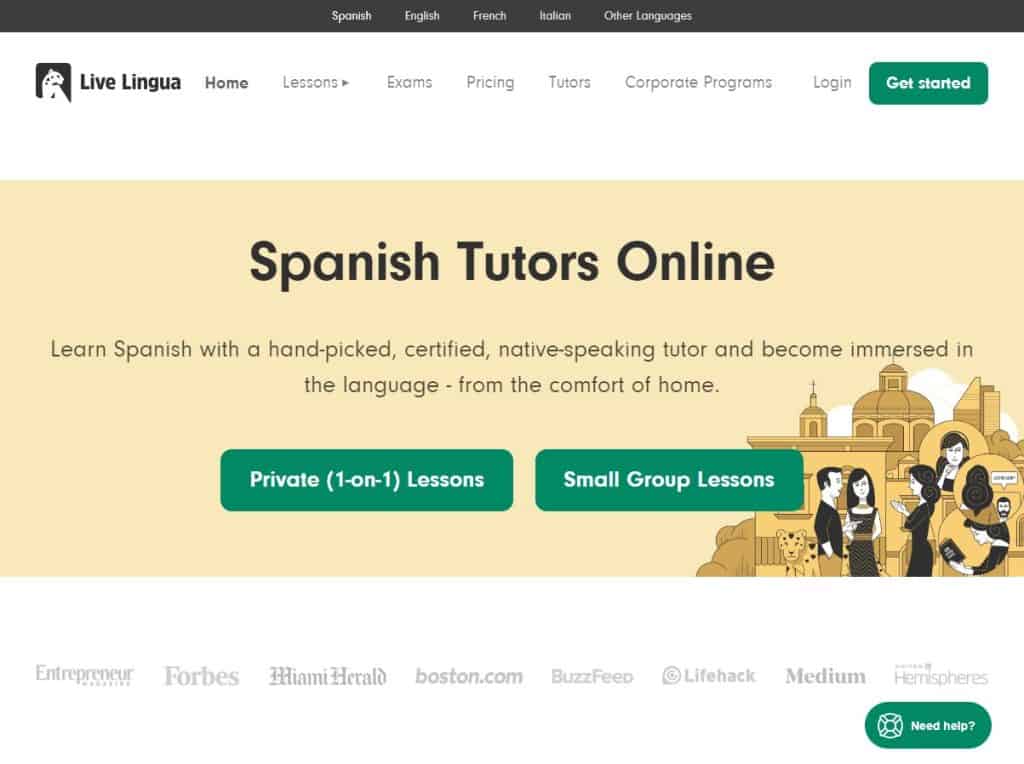 Live Lingua focuses only on a handful of languages, but the teachers are very experienced, and classes are customized. It's not to say that you can't find the same learning experience on Preply (and for cheaper), but you'll need to find a tutor there yourself. Read our Live Lingua review for more information.
Preply vs Baselang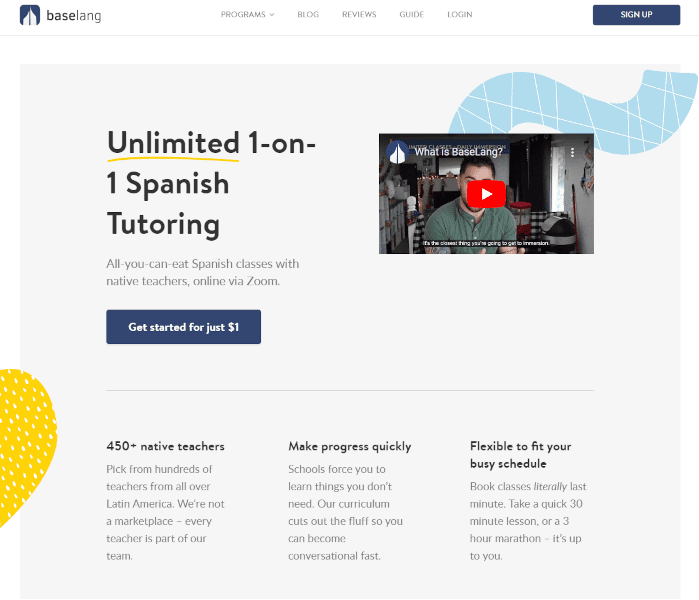 Baselang provides structured and affordable one-on-one tutoring with Spanish native speakers. Preply gives more room for tutors to set their prices and has more languages. But if you know you'll be learning only Spanish and want a structured plan, consider Baselang as an alternative. Read this Baselang review to learn more.
Preply vs Italki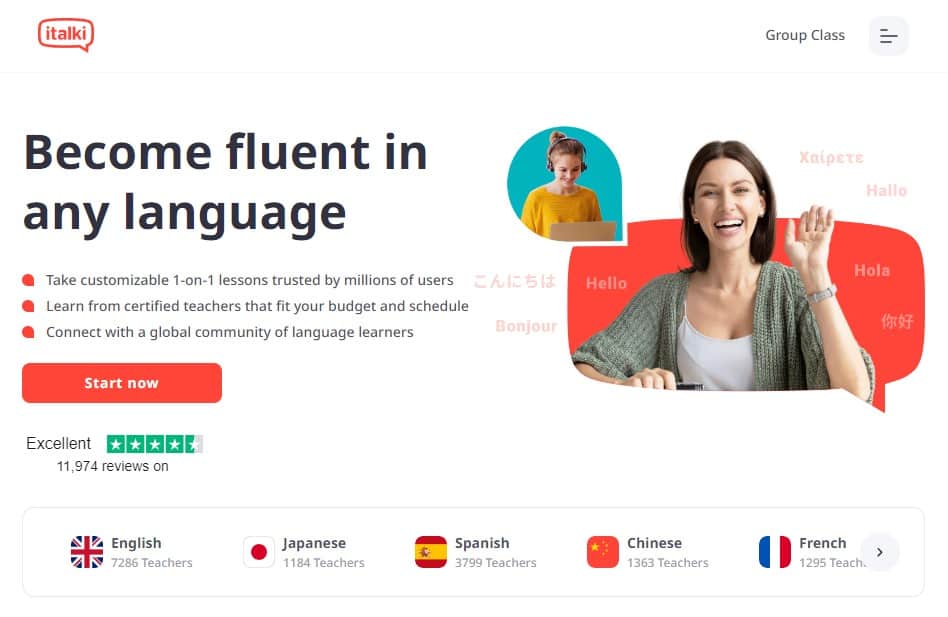 italki is the most common alternative for Preply. Its advantage is the classroom interface and more affordable community tutors. However, Preply creates more trust with their flexible refund process and has a bit better search functionality. The platforms are so similar that we recommend giving them both a try. Learn more in this italki review.
Preply vs Verbling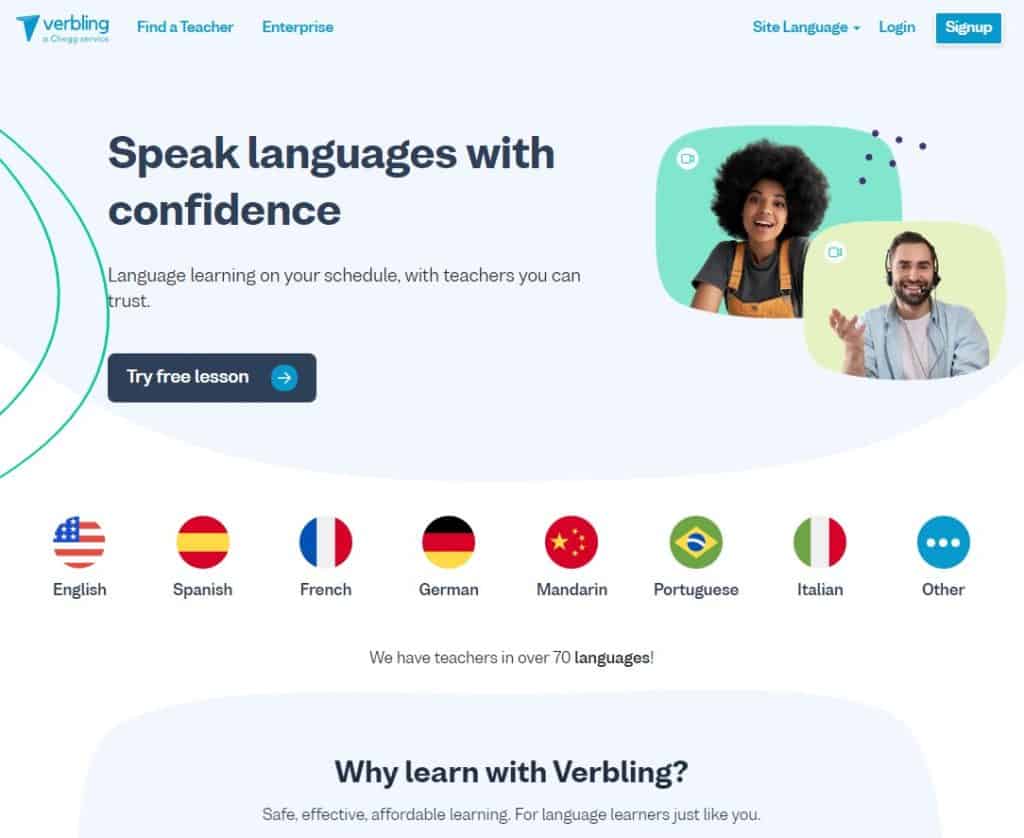 Verbling is another platform for finding online tutors. It tests its teachers well and allows personalized curriculum. The biggest difference from Perply is that Verbling doesn't support so many languages and has fewer cheap classes. Consider Verbling if you want a more guided experience. Read our Verbling review to find out for yourself.
Preply vs Lingoda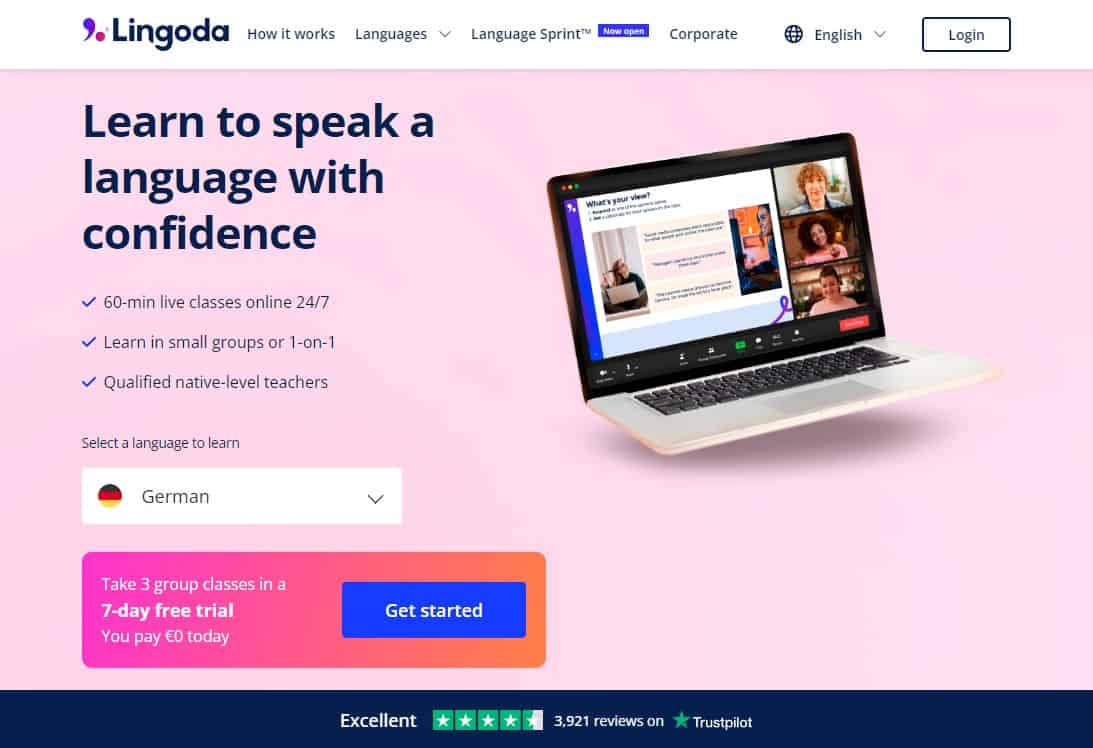 Lingoda provides affordable online group classes available 24/7. The aim is to kick-start your language-learning journey in a school-like environment. Recently, Preply started to offer group classes too, but one-on-one lessons are still our go-to option. If you are looking for group classes specifically, read this Lingoda review.
What Should Be Upgraded? 
After completing the first lesson with a tutor, Preply pushes users for a commitment to a package of 6, 12, or 20-hour. Not being able to pay for two lessons with the same tutor is a downside, as a single lesson may not be enough to decide. However, users can email Preply to buy a second lesson instead of a whole package.
Preply could benefit from implementing a better placement test to help users assess their current level and find a tutor accordingly. Although most tutoring apps don't even have a placement test, Preply's heavily emphasizes grammar. The accuracy is questionable, as the test only asks students to fill in the blanks and occasionally translate a sentence.
Tutors don't receive payment for the first lesson you cancel. The lack of compensation demotivates tutors from showing enthusiasm during the trial lesson and impacts the quality of the platform.
Lastly, there isn't a good system to check tutor qualifications. Unqualified teachers can charge the same or even more than qualified ones. The Preply application process could implement better ways to measure the qualifications of each tutor on Preply. The Preply tutor requirements could also be more strict, as many aren't actively teaching.
Preply Costs
Tutor rates on Preply vary significantly, as each tutor sets their own price. The hourly rate can range from $3 to $40 an hour. The rates largely depend on the tutor's experience, the language being taught, and the duration of the lessons.
After completing a trial lesson with a tutor, Preply offers 6, 12, or 20-hour lesson packages with that specific tutor. Additionally, students can subscribe to a tutor's lessons by selecting how many hours they want to study per week. 
Users can reserve up to 5 hours in the tutor's weekly schedule. Preply also gives discounts on longer weekly subscriptions. The subscription is on a weekly basis but is paid every 28 days.
| | | |
| --- | --- | --- |
| Subscription | Price | Payment |
| Individual lessons | $3 to $40 | One-time |
| 6-hour | $18 to $240 | One-time |
| 12-hour | $36 to $480 | One-time |
| 20-hour | $60 to $800 | One-time |
| Weekly  | $3 to $200 | Billed every 28 days |
Free Trial
Preply asks you to pay for the trial lessons based on the tutor's rate. However, if you don't match well with the tutor, you can take another free trial lesson with a different tutor or get a refund. Essentially, you get a free trial lesson if you find the tutor ineffective.
Coupons and Discounts
Preply offers a 15% discount for students on their first monthly subscription. They also have a refer-a-friend discount, where friends who book a lesson using your referral link get 70% off their trial lesson, and you receive a $15 credit.
Refund Policy
You can get a refund within 90 days of your purchase if you're not satisfied with tutors following Preply trial lessons. 
The refunds also apply to subscriptions, but they must be requested within 14 days of the purchase. Users that cancel their subscription after the trial period aren't eligible for a refund.
To request a refund, users must email Preply with the date and time of the lesson, the name of the tutor, and the reason for requesting a refund.
Pricing Compared to Competition
Since tutors set their own prices on Preply, there aren't many differences with other platforms. For example, hourly rates on italki could be cheaper or costlier, depending on the tutor. Also, Preply issues refunds, whereas italki refunds its credits.
Compared to Lingoda, which offers structured lessons, Preply provides more value. Lingoda's lessons cost between $17 and $35 per hour, whereas Preply allows you to find a tutor that fits your budget. This flexibility attracts students from other tutoring sites seeking personalized and affordable language lessons.
Preply Evaluations from Other Customers
Google Play Store – 4.4 (500K+ downloads)
Apple App store – 4.8 (13.5K ratings)
Client Support
The only way to contact the Preply support team is by email. There is a live chat, but it's a bot answering common questions. Luckily, the email response times aren't long, as Preply aims to respond to customer inquiries in two hours.
The Preply platform also has a useful help center. There you can find answers to many commonly asked questions and find articles on specific problems. Additionally, you can ask questions to tutors on the Preply Q&A platform or look for existing questions.
What Separates it from Others?
Preply makes finding native-speaker teachers for private lessons effortless. The platform has a wide selection of tutors teaching most languages at various prices. The flexible scheduling, number of teachers, and free trial lessons make Preply an effective platform for hiring private tutors.