Language learners have plenty of options to choose from when looking for online language classes. There are many platforms to choose from, but there's still room for improvement as most tutors use the same methods for all students. Live Lingua comes in to solve this problem.
Live Lingua's focus on customized learning programs sets it apart from other language learning platforms. The programs are tailored toward each learner's interests, needs, and preferred learning styles. This Live Lingua Review will cover its lessons so you could know whether it helps students improve their language skills better than competitors. 
A Personalized Language Learning Platform
Unlike other learning apps that offer group lessons or pre-recorded videos, Live Lingua focuses on personalized one-on-one lessons. They are tailored to meet the learners' goals and experience in the foreign language. All native teachers have more than two years of experience teaching the target language and are certified.
Live Lingua Review Summary
⭐ Rating:
8.7

★★★★★

🥇 Available languages:
7+ (see below)
📈 Suits best for:
Intermediates and Advanced
🛒 Payment options:
Hourly rates and lesson packages
💵 Price:
$20 – $29
⌚ Hours of lesson time:
N/A
🔄 Refund policy:
7-day money-back guarantee
🎁 Free Trial:
✔️
Spanish, English, French, Portuguese, German, Italian, and Japanese. 
Our Evaluation of Live Lingua
Disclaimer: Lingomee is an independent review site that may benefit from affiliate programs. Buying through our links makes our efforts possible without additional costs to you. Learn more here.
About The Live Lingua
Live Lingua was founded in 2008 as a Spanish language learning platform but has grown to include other seven languages in addition to Spanish classes. It connects language learners to certified native teachers, where lessons are conducted one on one via video chats.
The platform has a user-friendly interface, allowing students to access all the learning tools and resources they need to practice speaking. Besides accessing the free language materials, users can also track their progress, view messages, schedule lessons, and book other languages if they want to learn more than one language.
The free resources include vocabulary lists, grammar guides, pronunciation guides, language proficiency tests, and audio and video resources. 
Live Lingua's main strong point is real-time video conferencing that connects language learners with highly qualified teachers. In addition to video, Live Lingua's messaging feature allows learners to communicate with their teachers or ask questions outside their scheduled sessions.
There is a language placement test that new students have to take to determine their proficiency in the foreign language. The test includes multiple-choice questions to determine their vocabulary, grammar, and conversational skills. Users are also required to take the reading test by reading several passages. 
Students are also assigned a personal class coordinator to help plan lessons, choose a Live Lingua teacher, and create a personalized learning plan to achieve the most from a language class. The personal class coordinator onboards language learners by helping to choose learning tools.
Here is a list of Live Lingua's app languages (with alternatives)
Live Lingua Review: Key Features
Live Lingua is a unique language-learning platform that connects language learners with qualified teachers. The platform works only with professionals experienced in customizing and tailoring lessons to fit the needs of students.
This is especially beneficial for intermediate and advanced learners looking for an online language school to help with the last steps till fluency. Most features are aimed to improve speaking abilities, but native-speaker teachers can help a lot with all other parts of language learning.
Customized One-on-One Language Lessons
Live Lingua is based on personalized one-on-one learning plans. It means the student can choose the learning tools, pace, and learning areas they want to focus on themselves.
Students can freely choose their preferred Live Lingua tutor based on their merits and qualifications too. Teachers hold advanced degrees in linguistics or language education, with many having taught languages for more than four years.
The learning style quiz helps learners identify which learning style suits them better. The students receive learning materials and recommendations based on the results. Each student receives different recommendations, providing them with personalized learning.
Language learners can also change tutors if they don't fit their learning style. That's why flexibility in scheduling lessons is so important. Live Lingua accounts for different time zones to accommodate learners from across the world. There are enough tutors to choose from, and learners can choose from timeslots for the period that works for them.
Native-Speaking Tutors
The Live Lingua project has a team of professional native-speaking tutors with a minimum of two years of experience in teaching.
Students improve their conversational skills through video calls, and they can leave messages through the chat feature if they have any questions. Besides guiding the students through classes, instructors also assign homework and quizzes to students and provide feedback on how the student performed. It is similar to apps like italki, Preply, Verbling, HelloTalk, and Tandem.
Multiple Learning Options
Live Lingua has two learning options – group and one-on-one lessons. The one-on-one arrangement is suitable for individual learners where they're assigned a native-speaker tutor to take them through the language lessons.
Group lessons can accommodate 2-8 students and are not limited to acquaintances, as they can join groups with strangers worldwide. They work best for colleagues or family members who want to improve their conversational skills together. Group lessons present an excellent opportunity for learners to practice their language skills, such as speaking practice.
However, they have to be at the same proficiency level to qualify for group lessons. They're assigned a native-speaker tutor who customizes their classes based on their interest and goals.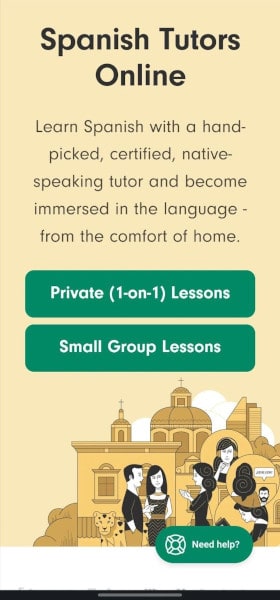 Free Trial Lessons
All new students qualify for a free trial lesson, where they meet a Live Lingua teacher, learn about the platform and get access to free resources, like textbooks and grammar tables. The free trial class is limited to 30 minutes, but it is detailed enough to provide a taste to the student regarding future lessons. 
Students don't have the flexibility of choosing a tutor when taking a free Live Lingua class. The free courses can focus on any lesson, including conversation skills, grammar builder, grammar explanation, and many more, depending on the student's performance in the assessment test.
Quality of The Learning Material
Although there is a suggested curriculum structure, Live Lingua teachers are not required to follow the strict structure. from the very first lesson, tutors are allowed the flexibility of tailoring everything to fit their students' needs. The personalization feature allows for an immersive and engaging learning experience, ensuring the students get the maximum out of every class. 
Live Lingua selects teachers based on their experience and accomplishments. A tutor is required to have a degree in language teaching and a minimum of two years of experience. Doing so ensures language learners receive top-quality guidance and instructions from qualified professionals. 
The platform has some free material that students can access to help them progress in their classes. They include: 
The textbooks – cover vocabulary and grammar explanations and exercises. 
Audio and video resources – help students improve their pronunciation and listening skills.
 The cultural content – Includes videos and reading materials introducing learners to their target language's culture. 
Live classes with instructors help students learn and interact with instructors instantly and receive accurate feedback on their progress. 
Interactive exercises contain online learning style quizzes and exercises to test their grammar and conversational skills.
The course's length and number of lessons depend on the type of language a student is learning. However, each lesson has a maximum of 60 minutes duration. You can adjust the lessons' length based on your needs but Live Lingua teachers must approve the adjustments. If you prefer more traditional way of learning languages, than apps like Rosetta Stone, Lingopie, Drops, Ling app, or MosaLingua are great choices.
Grammar Instruction
Grammar lessons at Live Lingua focus on key areas like parts of speech, sentence structure, verb conjugation practice, tenses, and many more.
Besides attending live classes, Live Lingua assigns grammar books to students for offline practice. The platform has some learning materials in digital form that students can supplement their language learning. However, teachers have the flexibility of choosing and recommending different books they believe would be helpful to students.
The books are of high quality as they're sorted and evaluated by highly qualified teachers. The grammar explanations also vary based on the target language.
Verbal Practice
The Live Lingua platform has an audio recording function, allowing you to record yourself speaking and compare your pronunciation to that of native speakers. The platform also has recorded videos and audio lessons that you can watch and listen to in your own time. It's a great way to improve your conversation skills.
Reading
Live Lingua has a 'Reading' section, where students are assigned reading tasks based on their fluency in that language. New and intermediate students receive simple reading tasks, like dialogues, while intermediate and advanced learners get complex reading tasks, like news articles and short stories.
Writing
Live Lingua assigns a lot of writing tasks to their students to help them improve their language writing skills. New students are expected to write a few sentences, while advanced learners write essays and emails or try out creative writing.
The writing tasks help to assess the student's grammar, vocabulary, and writing style. All the teachers provide comprehensive feedback on how the student has performed. The feedback is professional and informative to help the student improve their written language skills.
Vocabulary
The Live Lingua app is effective in helping students develop their vocabulary words in a new language. The instructors use several teaching techniques, like contextual learning. For instance, they can introduce a vocabulary through short stories. Other teaching techniques include word games, vocabulary quizzes, and vocabulary journals.
Additionally, the instructors use various memorization techniques with tools like flashcards and word association.
The flashcards contain two sides – one with a word in the target language and the other with a translation in the student's language. The student uses flashcards to read out the words and understand their meaning.
Word association is a great vocabulary builder exercise. It involves connecting two words with similar pronunciation and meaning but in different languages. For instance, English native speakers can associate the word Chapeau, which is French for a hat, with an English word, Chap. The two have similar pronunciations and meanings.
Live Lingua Review: Simplicity of Operation
Live Lingua's user interface is easy to navigate, even for new users. The Home screen provides access to features like lessons, progress tracking, and vocabulary. The app has a visually-appealing interface, thanks to the blue and white contrasting colors. 
The progress-tracking feature shows how language learners are progressing and the areas they require to improve. Doing so motivates them to keep up learning and improving. The app uses high-definition graphics and images to improve visualization.
Live Lingua app has a relatively-fast loading speed, allowing users to navigate through features and lessons easily. However, the platform may experience occasional buffering, especially when teachers are halfway across the globe. 
Live Lingua uses third-party video calling apps like Skype and Zoom to conduct online classes. 
Live Lingua Competitors and Alternatives
Live Lingua vs Rocket Languages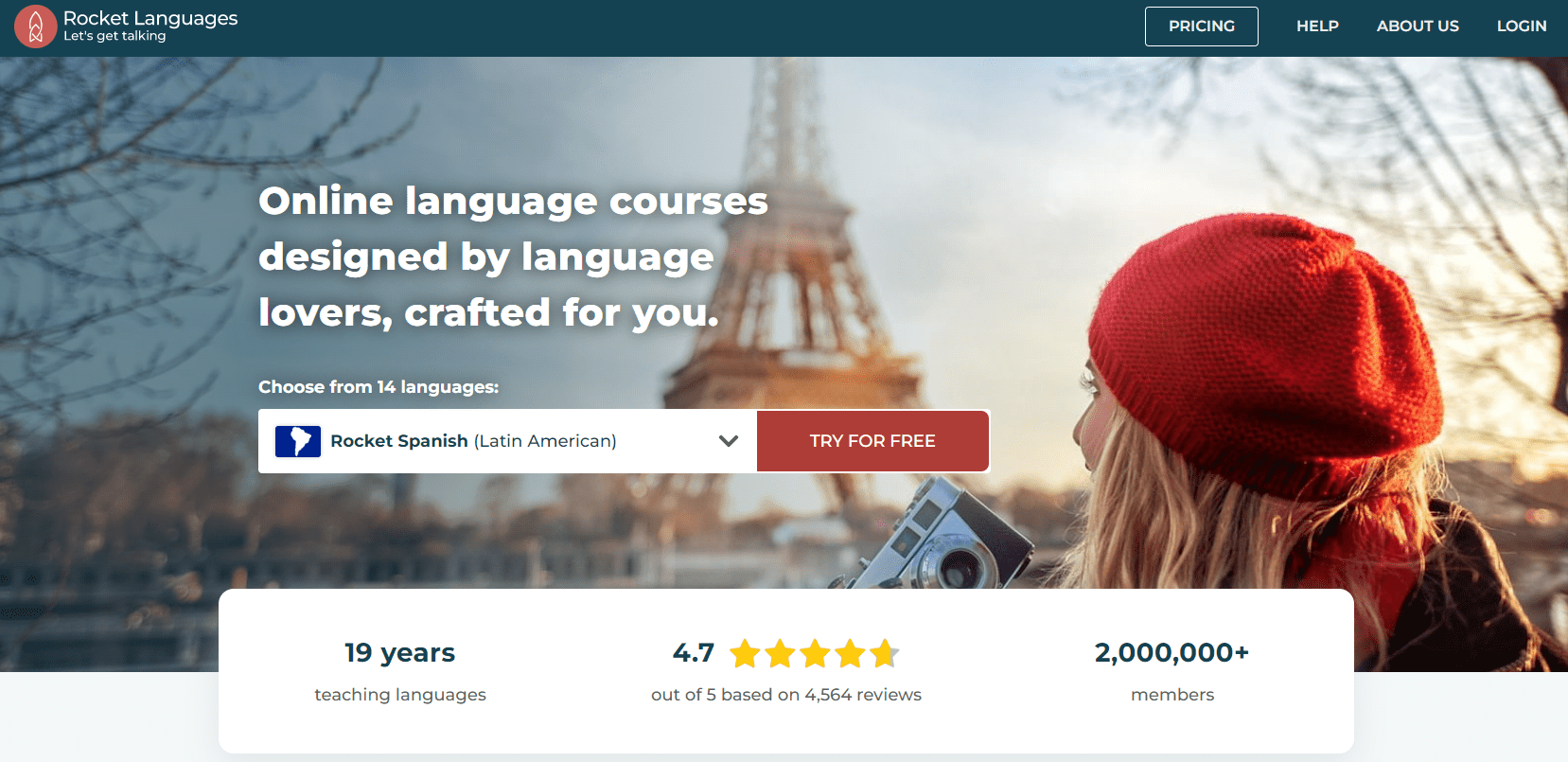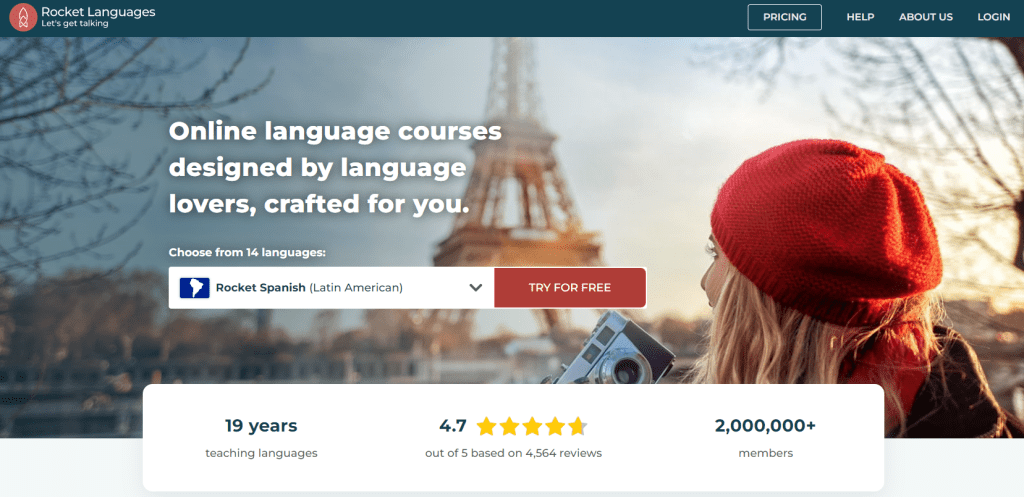 Rocket Languages focuses on interactive audio lessons with cultural insights and grammar resources. Live Lingua doesn't provide such a self-paced learning experience and instead provides you with a personal tutor. We found that Rocket Languages works great as a preparation for lessons on Live Lingua. Learn more in this Rocket Languages review.
Live Lingua vs Pimsleur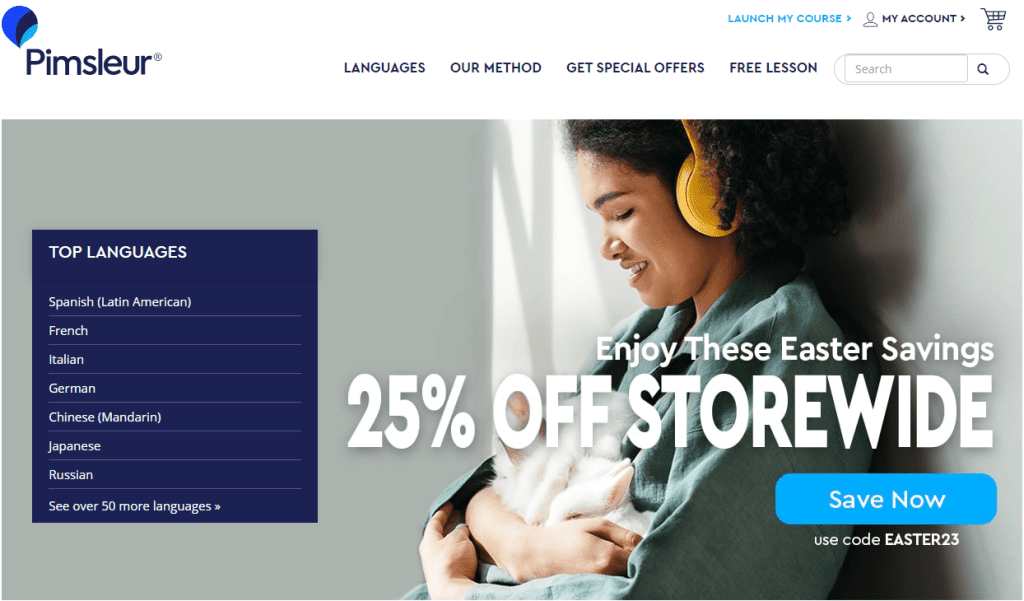 Pimsleur is an audio-based app tasking you with listening and repeating foreign language words and phrases. Live Lingua takes a completely different approach by providing personalized online lessons. We recommend checking out Pimsleur before taking Live Lingua lessons. Read more in this Pimsleur review.
Live Lingua vs Babbel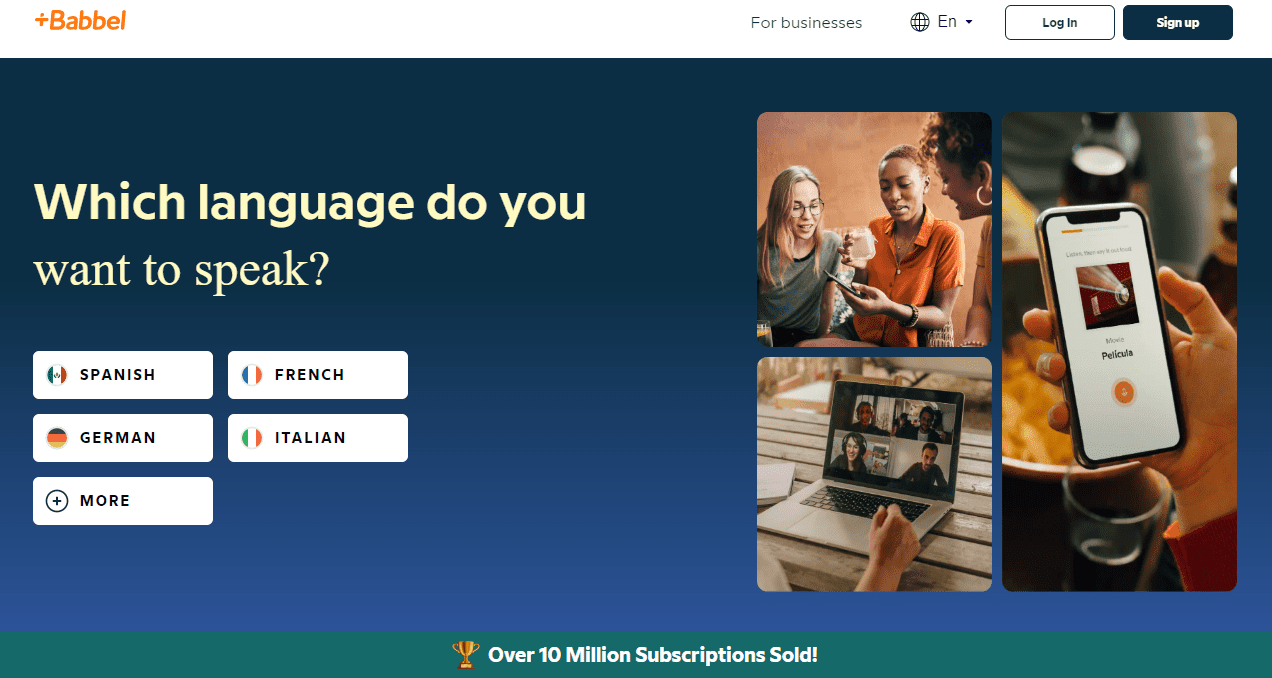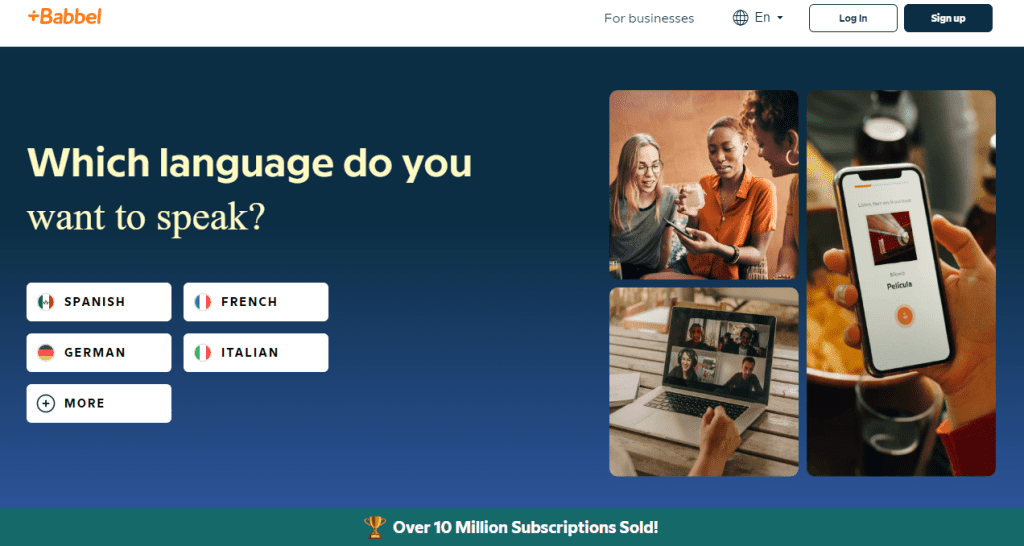 Babbel is a premium-feel language app with interactive exercises, podcasts, voice recognition, games, and more. It also has live tutoring possibilities, but we found it better (and cheaper) to go with services like Live Lingua. However, Babbel is a great self-paced preparation for online tutoring. Learn more in this Babbel review.
Live Lingua vs Mondly
Mondly is perhaps the most innovative language app out there with its virtual and augmented reality games. It's a great option for those who can't find motivation and need and engaging tool to learn languages. After you get a bit advanced, Live Lingua can supplement Mondly quite well. Read more about it in this Mondly review.
What Areas can be Improved?
Live Lingua should improve the number of tutors by recruiting more qualified language teachers. Some languages, like Japanese, have fewer teachers available, making it hard for students pursuing this language to get personalized attention. 
Seven foreign languages are limiting and Live Lingua should offer more languages. The app has focused more on Spanish tutoring but would benefit from adding other languages like Mandarin, Arabic, Dutch, Swedish, Korean, and Russian. 
The length of free trial classes also requires an improvement, as a 30-minute lesson is not enough for some people. They should opt for a one-hour free first lesson, where a teacher would cover much of the topic. 
Live Lingua should also create a custom video calling platform instead of relying on third-party applications. Doing so would help improve its credibility and loading speed. 
Live Lingua Prices
Live Lingua doesn't have any specific payment plan, and the cost you pay will depend on the hours you decide to learn.
Each Live Lingua class is billed per hour, with costs varying with every language. However, the price ranges from $20.00 to $29.00 per hour, with language learners required to commit a minimum of 10 hours of instruction.
Lessons take a maximum of one hour, but advanced learners can work with the tutor to customize lessons' length to their needs, making them longer. However, Live Lingua teachers must approve such changes.
Free Trial
Live Lingua has a one-lesson free trial class of 30 minutes. Students use this lesson to determine if the platform suits their needs. You don't even need to enter your credit card information to access the free courses. The lessons are video-based, where you're assigned a Live Lingua teacher who takes you through the introduction class.
Live Lingua Coupons and Discounts
Live Lingua offers a discount when you buy more hours of live classes upfront. Although the number of hours that qualify for a discount varies we were able to get a discount after purchasing more than 40 hours of learning for our Live Lingua reviews.
Refund Policy
There is a 7-day refund policy when you purchase lessons on Live Lingua. The language school will also assign you another tutor if you're not happy with the one you have. They'll even offer you a free lesson with the new tutor. 
Live Lingua Reviews of Pricing Compared to Competition
Compared to the competition, Live Lingua is pricy due to the one-on-one personalized lessons and free material provided.
More popular language-learning apps like iTalki and HelloTalk have teachers for a lower price, but finding them there might be a bigger struggle. Live Lingua reviews their teachers better and provides a personal class coordinator, which ensures higher qualified teachers.
Live Lingua Ratings from Other Users
Google Play Store – 4.4 (1 million downloads)
Apple App Store – 4.5 (3000 reviews)
Live Lingua Review: Assistance to Clients
Live Lingua has outstanding customer support helping users whenever they have questions or require clarification. Based on multiple Live Lingua reviews, they have a quick email response time, mostly within a few hours, and the support is very helpful in providing assistance and clarification. 
There is a live chat functionality, but it's mostly handled by a chatbot. However, a human will take over the conversation if you cannot get any answers or have a specific question that a bot cannot answer. 
There is a helpful FAQ section with common queries to help you understand what Live Lingua is all about. 
Live Lingua Review: What Sets it Apart?
The personalized approach and flexible scheduling are what make Live Lingua different from the competition. The ability to connect and interact with a certified native-speaking teacher makes it worth the investment. Take the personalized language lessons in Live Lingua and see for yourself!
Live Lingua Frequently Asked Questions
Live Lingua learning app only costs $20 – $29 per month.
Live Lingua is definitely worth trying for its personalized classes at a cheap price
In 2008 Live Lingua came to life.