Everything is better with a partner, and language learning is no exception. You need someone reliable to practice your target language with regularly. Tandem is a language exchange app that can give you just that.
Tandem connects language learners with native speakers for conversation practice. With features like text, voice, and video chat, Tandem promises an interactive way to practice your target language with real people. 
In this Tandem review, we'll take a deep dive into the app's features, user experience, and overall effectiveness as a language exchange tool. Keep reading to find out if Tandem is the right choice for you.
Language learning through authentic conversations
The Tandem app emphasizes conversation practice, making it an ideal complement to classroom instruction or self-study. It is a platform for language enthusiasts to connect and teach each other their native languages. Unlike other language tools, Tandem allows users to immerse in a real-world context to learn colloquial expressions, cultural nuances, and correct pronunciation.
⭐ Rating:
8.6

★★★★★

🥇 Available languages:
300+ (see below)
📈 Suits best for:
Intermediate and advanced learners
🛒 Payment options:
Monthly/Quarterly/Yearly
💵 Price:
$2.92 – $6.99
⌚ Hours of lesson time:
Not applicable
🔄 Refund policy:
30-day money-back guarantee
🎁 Free Trial:
✔️
Tandem offers over 300 languages, including the following popular options: English, Spanish, French, German, Italian, Chinese, Japanese, Korean, Portuguese, Arabic, Russian, and many more.
Disclaimer: Lingomee is an independent review site that may benefit from affiliate programs. Buying through our links makes our efforts possible without additional costs to you. Learn more here.
What is Tandem?
Tandem is a language exchange platform connecting language learners with native speakers since 2015. With over 18 million members from around the world, it is a vibrant community of language lovers.
As its name suggests, Tandem aims to get you and your partner working together to improve each other's target languages. The platform offers an interactive user experience where users can chat, make voice or video calls, and exchange text or audio messages. 
In a way, Tandem is like a dating app for language lovers. However, instead of finding a romantic partner, you look for other users who share similar interests and are curious about practicing each other's native languages.
As such, Tandem is a convenient way to connect with like-minded natives of the language you want to practice. In turn, you will also help your Tandem partner improve their proficiency in your native language, creating a mutually beneficial language exchange experience.
One of the strengths of Tandem is that it offers language exchange partners at all levels, from beginner and intermediate learners to advanced ones. When filling out your preferences, you get to choose the level of language partner you'd like to work with, making it easier to find a suitable match.
The Tandem app has a free version and a paid version called Tandem Pro. It offers additional language tools, resources, and unlimited in-app translations. The free version allows users to make voice or video calls and exchange text and audio messages. 
The app is available for both Android and iOS mobile devices and there is a fully working Tandem website. All versions of Tandem are safe to use as they follow the same trustworthy community guidelines all users must adhere to, or else they get kicked out of the platform.
Interesting languages to learn with Tandem app:
Tandem Review: Key Features
By doing this Tandem review we could distinct 4 most important features to help you practice languages. Tandem Community is where users can connect with other learners. Chats offer text, audio, and video call options with exchange partners. Language Parties provide an opportunity to join group chats with other learners of the same language.
Tandem Pro adds even more features, such as finding language partners near you or in a specific region. Moreover, Tandem pro has no ads, enhancing the in-app experience tremendously.
Tandem Profile
The Tandem app has social media-like features that allow users to customize their profiles and search for compatible partners.
Upon signing up for Tandem, users fill out an application that asks for information about their language goals, interests, and ideal language partner. This information is used to create an account with profile pictures and additional details such as social media contacts.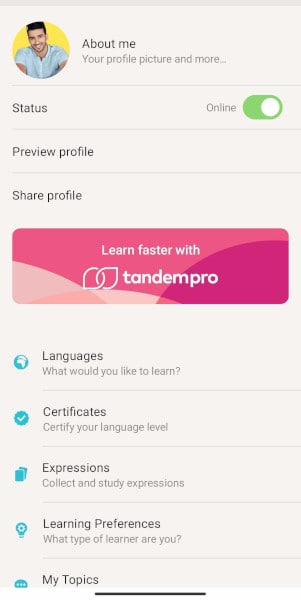 Tandem's approval process ensures all profiles are legitimate and discourages using the platform like a dating app. A user's profile also shows references from other learners, providing social proof and building trust between users.
In addition to customizing their profiles, users can also set their learning preferences, indicating their preferred communication method and schedule. This allows users to find Tandem partners with similar preferences and goals.
Tandem Community
Tandem's Community feature is where learners connect with each other. The community is divided into three sections: "All," "Near Me," and "Travel." It's worth noting that the Near Me and Travel sections are only available to the Tandem Pro version.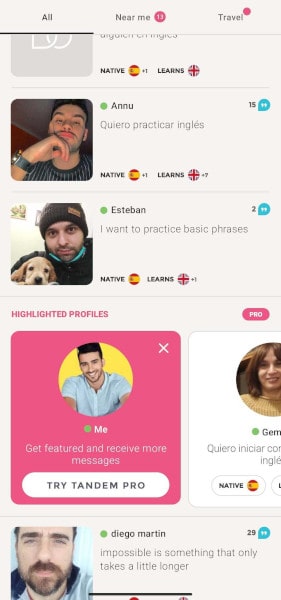 In the "All" section, learners can browse and search for other users based on their interests, languages they speak, and location. This section is for finding tandem partners who share similar interests or hobbies. 
The "Near Me" section is all about finding local tandem partners. Users can filter by location to find people who are in the same city and looking for in-person language exchange partners. This section is ideal for learners who prefer someone from their community. 
Lastly, the "Travel" section is perfect for users who are planning a trip and want to practice their language skills before or during their travels. In this section, learners can search for users who speak the language of their destination and connect with them.
Most of your conversations will likely be casual, not progressing much beyond small talk. But don't let that discourage you – keep at it and you're bound to find a few individuals with whom you click. 
Moreover, as an English speaker, it's not uncommon to receive an overwhelming amount of messages from learners eager to chat. Luckily, you can set your status to offline in Tandem, giving you the freedom to respond only to those users who interest you.
Chats
The Chats feature is undoubtedly the main attraction of the Tandem app. It has two sections: "Partners" for your existing tandems and "Groups" for chats, which can have up to 19 members.
The "Partners" tab contains your communication with other users via text messages, voice notes, and audio or video calls. You can also share images, although that's only available after you know each other a little better.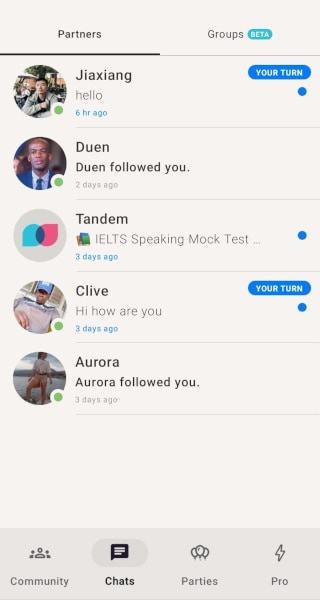 Tandem's Chat feature has built-in language tools that enable you to translate, speak, copy, comment, and correct messages. These features allow effective communication with people who speak different languages and help enhance the overall learning experience.
Speak allows users to record and send voice messages to their Tandem partners. 
Comment allows users to leave comments on specific parts of a text message. This allows for more detailed and specific feedback on language use and grammar. 
The Correct feature allows Tandem partners to fix each other's messages for grammar and language use. It is great for improving your writing and receiving feedback from natives.
After a voice or video call, Tandem will prompt you to leave feedback on your conversation partner, which will be shown on their profile. This feedback is a great way to let others know you are fun to talk to and find new Tandem partners.
Language Parties
Tandem's Language Parties feature offers a unique opportunity to practice your language skills in a social and interactive setting. These group conversations typically revolve around specific topics, such as culture or current events. They take place in real-time with participants from all over the world.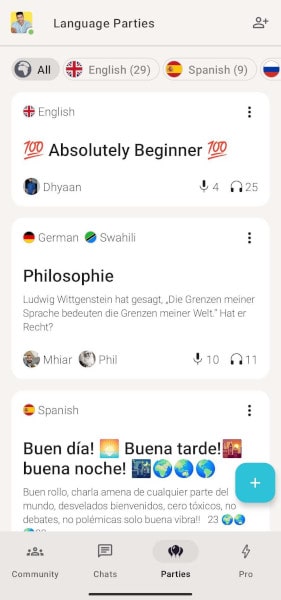 One of the great things about Language Parties is that there's no pressure to speak. When you join, you automatically start as a 'Listener.' Once you feel comfortable enough to contribute, you can raise your hand to become a 'speaker.' 
Language Parties not only provide a relaxed and friendly environment for language practice, but they also offer the opportunity to learn about different cultures and perspectives from people all over the world. It's a great way to make new friends and expand your network of language companions.
Quality of the Learning Material
Tandem is not a conventional language-learning app, so you shouldn't treat it as such. It's not meant for beginners because it's designed to help you improve on an existing foundation.
The Tandem app provides an opportunity to talk with natives, who can provide real-life context and cultural insights unobtainable from textbooks or any other conventional learning style. 
However, there are some potential shortcomings of the platform. For example, some people use the app as a dating platform rather than a language tool. While Tandem has implemented features such as community guidelines and reporting tools to address these issues, users should be aware of these potential challenges.
Despite these challenges, Tandem is still an effective and engaging way to improve your language skills. Through its various features, such as language parties, video and audio calls, and messaging, Tandem allows you to practice conversational skills in a relaxed and friendly environment.
Grammar Instruction
Tandem doesn't provide grammar instructions. However, users can help each other with grammar through features such as the "Correct" button, which allows a native to suggest corrections to their partner's written and spoken language. 
While this feature can help improve grammar, it may not be reliable as a native speaker might not necessarily be a grammar expert. Therefore, seek out partners who are knowledgeable in the foreign language and can provide more structured grammar instruction and feedback.
For users looking to learn grammar more in-depth, we recommend supplementing Tandem with additional language resources such as language tutors or other language apps. We found Rocket languages to be a great fit with Tandem.
Verbal Practice
Tandem excels in providing its users with ample opportunities to practice their conversation skills. It offers various features for practicing languages, such as audio and video calls, voice notes, and the Language Party feature.
Additionally, Tandem's focus on real-time conversations with natives makes it an excellent tool for those who want to improve their speaking skills quickly. Users can receive almost immediate feedback on their pronunciation and speaking skills, helping them to make progress.
However, it's worth noting that the quality of verbal practice largely depends on the user's language partner, and there may be instances where the conversation does not meet expectations.
Reading
While Tandem does not have a dedicated feature for reading practice, users can still improve their reading skills through the language exchange platform. Engaging in conversations with native speakers allows users to read messages, articles, and other written content in a foreign language.
However, Tandem focuses on real-time conversations, not on reading comprehension. As such, users looking for a more structured reading practice may need to supplement Tandem with additional resources.
Writing
Tandem's writing-focused features are also limited, but users can still use the platform to improve their writing skills.
For example, sending text messages to your language companions allows you to practice your writing skills more organically. Moreover, you can also share written content with your language exchange partner, such as essays or short stories, to receive feedback and improve their writing skills. 
Therefore, while Tandem's writing features may not be as comprehensive as those found in other language-learning apps, they still provide users with useful tools to practice their writing skills.
Vocabulary
Tandem can help build vocabulary in several ways. First, engaging in a conversation with a native speaker exposes you to a more authentic use of language. It can expand your vocabulary beyond what you might have learned from textbooks. 
Secondly, you can ask your language partner for explanations and clarification on new words you encounter during the conversation. It leads to a deeper understanding and better retention of the new language. To learn new words faster you can try other apps like Drops or Clozemaster who focuses on rapid vocabulary expansion.
Thirdly, your language partner can suggest fun reading materials, movies, TV shows, or podcasts in their language. These resources can introduce new language and reinforce existing vocabulary more enjoyably and engagingly. 
Finally, Tandem's built-in translation feature can help you quickly understand any new words you encounter during conversations.
Tandem Review: Simplicity of Operation
Tandem's user interface is elegant and easy to navigate. The home screen displays a list of potential partners, recent chats, and other features to make it easy for users to jump right into conversations.
The use of color and visuals is effective in creating a visually appealing and engaging experience. The app also provides clear and concise labels for each feature, making it easy to understand how to use them. The first-time user experience is seamless, with a helpful tutorial and prompts guiding through the app's features.
Loading times are generally quick, and the app rarely crashes or experiences technical difficulties. Overall, Tandem's interface is well-designed and user-friendly, making language exchanges effortless.
What Areas Could Be Improved?
While Tandem's interface is generally user-friendly, some users can become too friendly and cross boundaries. That's why Tandem is often compared to a dating app. Users may find matching difficult due to being approached by people uninterested in language exchange but rather in romantic relationships.
Fortunately, Tandem has been proactively countering this problem using an extensive profile verification process, creating community guidelines, and giving users the ability to report or block inappropriate behavior.
The Tandem free version has some limitations compared to the Pro version. For example, free users have a limited number of translations per day. In contrast, Tandem Pro users can have unlimited translations and additional features, such as the ability to search for specific users and to see who has viewed their profile. 
While the free version of Tandem is still a useful tool for language learners, the added benefits and features of Tandem Pro may make it worth the investment for those who are serious about language learning.
Tandem Alternatives and Competitors
HelloTalk and Tandem are language practice apps connecting you with people worldwide. Both require personal information to start. Tandem verifies accounts for user trust, is free, and has no message limits. HelloTalk's free version is limited. For more information, you can read this HelloTalk review.
If you prefer structured lessons with professional tutors, Preply might be a better fit. If you enjoy informal language exchange and cultural immersion, Tandem could be a good option. You can check the full Preply review here.
italki primarily focuses on connecting learners with professional language teachers. Lessons are structured for the learner's specific needs and goals. Tandem, on the other hand, emphasizes language exchange with native speakers of the language they want to learn. You can check our Italki review here for more information.
Verbling connects you with language teachers, while Tandem offers a more casual approach to finding language exchange partners. On Verbling, you can select teachers using filters and view their profiles, but it's also a pricier option. You can learn more by reading our Verbling review.
Tandem Prices
Tandem offers two types of memberships: Tandem Free and Tandem Pro. The Free membership provides users with access to basic language exchange features, while Tandem Pro unlocks more advanced features. 
Tandem Pro costs $6.99 per month, $11.99 for 3 months ($3.99 per month), and $34.99 for 12 months ($2.92 per month). 
| | | |
| --- | --- | --- |
| Subscription | Price | Payment |
| 1 Month | $6.99 | Charged monthly |
| 3 Months | $11.99 | One charge of  $11.99 |
| 12 Months | $34.99 | One charge of  $34.99 |
The main difference between the two memberships is that Tandem Pro has more features. For example, it has unlimited translations, an ad-free interface, and the ability to find users near you or by location. Tandem Pro also allows you to see who visited your profile, which can help you find similar-minded people.
Free Trial
Tandem does not offer a free trial, but users can sign up for a free version to access basic language exchange features. In fact, the free version has all the necessary features for a full Tandem experience.
Tandem Coupons and Discounts
Tandem occasionally offers promotional discounts for its Pro membership. Users can stay up-to-date on Tandem's latest promotions by subscribing to its newsletter.
Refund Policy
Tandem has a 14-day and 30-day refund policy for its Pro membership. Users can request a refund within 14 days of purchasing a monthly subscription to Tandem Pro and 30 days after buying the 3-month or 12-month subscriptions.
Tandem Pricing Compared to Competition
Tandem's pricing model aligns with other language learning platforms offering similar features. The pricing plans are reasonably priced, especially compared to traditional language learning methods like classes or private tutors. 
Tandem's free version allows users to explore the app's features and connect with language companions. The paid version provides additional features and benefits to enhance the learning experience. 
As such, the value of Tandem's pricing will depend on the user's perception of value for money and their budget. Some Tandem alternatives to consider are HelloTalk, italki, or Speakly. Although, Tandem stands out as having the biggest selection of free features.
Tandem Ratings from Other Users
Google Play Store – 4.5 (10M+ downloads)
Apple App store – 4.6 (22.7K ratings)
G2 – 4.6
Trustpilot – 2.1
Assistance to Clients
By doing this Tandem review we found out that this app only offers customer support through a ticketing system, which you can access via the app or website. Users can submit their queries or issues, and Tandem's support team will respond within 24 hours.
However, some users have reported slow response times. Additionally, Tandem does not have a live chat feature, but they do have a comprehensive FAQ section and blog that can help answer common questions and provide helpful tips for language learning. 
My Verdict
Tandem is an exceptional language exchange app. Its focus on one-to-one conversations with native speakers of the target language is what sets it apart. The ability to filter and search for language partners by interests, language proficiency, and location, coupled with its intuitive and user-friendly interface, makes Tandem a must-use tool for language learners. 
Frequently Asked Questions