One-on-one classes with a native tutor are the gold standard for effective and personalized language instruction. But finding the right native teacher online can be difficult. It is where online platforms like Verbling come in. It connects language learners with native tutors who provide personalized coaching.
In this Verbling review, we will take a closer look at the platform and its features. From the ease of scheduling lessons to the quality of teachers and the range of available languages, we will cover everything you need to start using Verbling.
Get the right teacher for your budget and learning style 
The Verbling platform is great for taking online lessons on a budget. You will find the right teacher from over 2000 online tutors teaching 60+ languages. There are some additional features, such as discussions and the vocabulary tool, to keep you busy after the lessons.
⭐ Rating:
8.8

★★★★★

🥇 Available languages:
63 (see below)
📈 Suits best for:
Intermediates and Advanced
🛒 Payment options:
1 Lesson/5 Lessons/ 10 Lessons Package
💵 Price:
$5 – $100
⌚ Hours of lesson time:
N/A
🔄 Refund policy:
In-app currency refunds
🎁 Free Trial:
✔️
French, English, Arabic, Turkish, Spanish, Russian, Mandarin Chinese, Italian, Portuguese, Hebrew, German, Greek, Romanian, Korean, Albanian, Igbo, Czech, Croatian, Bengali, Punjabi, Thai, Dutch, Swedish, Persian, Ukrainian, Norwegian, Polish, Latin, Cantonese, Hindi, Danish, Bulgarian, Urdu, Vietnamese, Japanese, Indonesian, Irish Gaelic, Serbian, Swahili, Armenian, Catalan, Slovak, Kurdish, Tamil, Basque, Hungarian, Pashto, Georgian, Slovene, Tagalog, American Sign Language, Burmese, Malayalam, Twi, Amharic, Yoruba, Quechua, Sanskrit, Sicilian, Luganda, Hausa, and Akkadian. 
Disclaimer: Lingomee is an independent review site that may benefit from affiliate programs. Buying through our links makes our efforts possible without additional costs to you. Learn more here.
Quick Overview of Verbling
Verbling is an established online platform providing personalized one-on-one language lessons with over 2,000 experienced native speakers teaching. It is available on the web and as an app for iOS and Android devices. Launched in 2011, it was initially designed as a language exchange app similar to Tandem.
However, the founders soon realized that transforming the app into a language marketplace for teachers and students to connect would bring Verbling to its full potential. Today, Verbling's teaching methodology rests on the belief that personalized one-on-one lessons with native-speaking teachers are the quickest path to fluency.
Learners can choose from a wide range of great teachers who provide tailored lesson plans to meet individual learning needs. Verbling allows you to view teacher stats, resumes, and specialties to ensure you make an informed decision when selecting a tutor.
Verbling does not offer a language placement test. Instead, learners choose tutors based on their proficiency level, with some tutors explicitly stating the type of learners they work with. Additionally, some tutors specialize in specific language skills or deficiencies, such as accent reduction.
Recommended languages:
Main Features
Verbling is committed to connecting learners with experienced teachers and providing a platform that fosters effective language learning. Most of Verbling's features are designed to facilitate this interaction.
Additional features of Verbling aim to place it as an all-in-one solution. They include an online classroom, a personal dashboard, and community features for interacting with other students.
Find a Teacher
It is the first place the app will take you upon signing up. As its name suggests, Find a Teacher allows you to look for your ideal language tutor. You are presented with an extensive list of teacher profiles to find one that suits your learning style best.
Find a Teacher streamlines the search for your ideal language tutor. You can filter your search by teacher's country of origin, languages they speak, hourly rate, availability, and area of specialization, among others. It allows you to find a tutor who aligns with your goals and preferences.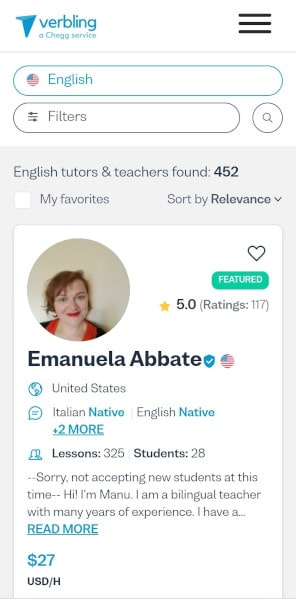 However, even though Verbling claims to have over 2,000 teachers available, you will still find it difficult to find tutors for less popular languages, such as Irish Gaelic. On the other hand, popular languages such as English, Spanish, French, and Portuguese have more than their fair share of tutors.
Teacher Profiles
The Teacher Profile, like any other online portfolio, helps tutors in finding students. One of the marketing tactics is highlighting whether or not they offer a free trial lesson. This information is visible from the "Book Free Trial" flair on the Find a Teacher page.
We recommend checking out teachers who offer free trials first. However, there's a lot more going on in the profile section to help you evaluate a teacher's potential.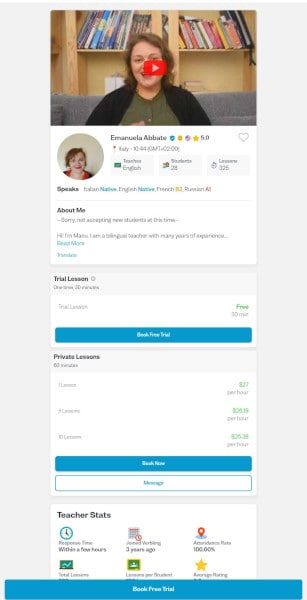 The first item on the teacher's profile is a short video introduction, briefly presenting the teaching style and explaining what to expect from their lessons. It is also a good indication of previous teaching experience before booking a lesson.
The teacher profile on Verbling also includes key metrics such as ratings and reviews from other learners, response times, attendance rates, the number of lessons taught, and the average number of classes their students take.
There's also a resume section where you can view a tutor's skills and qualifications. Verbling does not require a tutor to have an official teaching certificate. So this section is the best indication of a teacher's skills and how they are better than simply a native speaker of the language you're trying to learn.
Additionally, tutors specify their preferred level of learners, whether they use lesson plans or specialize in specific areas, such as accent reduction, grammar, or conversation skills.
Verbling's scheduling system is color-coded. It displays available time slots in green, making it simple to book a lesson at a time that works for you and your teacher. Verbling automatically adjusts time zones and sends reminders before the Verbling lesson starts.
Verbling Dashboard
Verbling's Dashboard is a central hub for all your language-learning needs. It offers a seamless experience by providing easy access to all your lessons, teachers, and assigned homework.
One of the standout features of the Verbling Dashboard is the online classroom, where students can interact with tutors. Every online class has a resources section, including a "canvas" for illustration purposes. This notepad-like tool allows you to take notes during lessons, and all the notes made by the teacher are automatically saved for future review.
Furthermore, Verbling's commitment to privacy is evident in its policy of not allowing teachers to use other video conferencing platforms, such as Skype or Zoom, even when the Verbling platform is down. It provides a sense of security for those who are hesitant to share their contact details.
The Verbling Dashboard also features a messaging tool that allows you to communicate with your teachers. The messaging tool includes unique features such as "translate," "copy," the ability to convert written words into computer-generated voice recordings, and a correction tool to help you improve your writing skills. 
Verbling Discussions
This is Verbling's community feature, where you can meet other teachers and students for language-related discussions. Students ask questions while teachers do their best to give quick lessons, tips, and insights.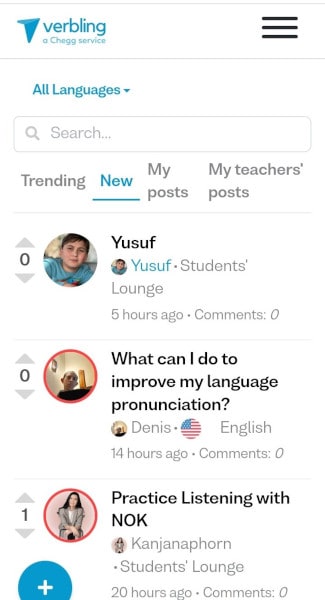 However, considering tutors only earn money when you book them for a one-on-one lesson, it is no surprise that more teachers use this section to market their classes instead of using it for genuine discussion. Still, compared to most Verbling alternatives, this section is well-moderated.
Verbling Vocabulary
This feature allows you to organize new vocabulary. For instance, if you take Spanish classes for a vacation trip, you can group the new words by foods, places, greetings, etiquette, and more.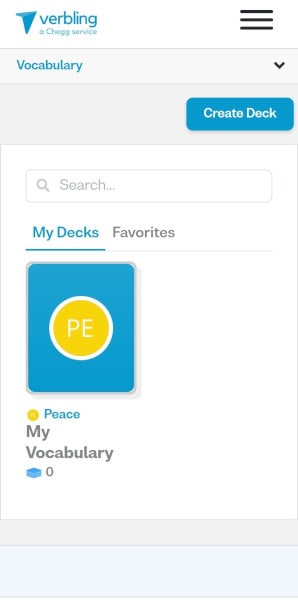 These groups are also known as decks. You can share them with your tutor, and they can create decks as homework for you. The Verbling vocabulary resembles traditional flashcards but has some additional functionalities. There is an option to add a photo for association or a voice recording to practice speaking.
Whenever you create a group of five words, they automatically appear in one lesson. At any time, you can click the 'Start Exercise' button on the top-right corner to review a deck.
Lessons Quality
As a whole, Verbling tutors offer top-notch lessons. However, since this platform is designed for one-on-one classes, the quality of your learning experience relies majorly on the tutor you choose.
Verbling aims to keep the quality standards of language learning high through a rigorous tutor review process. It includes a written application, a video interview, and a demo lesson. You can only apply for a teacher's position at Verbling if you have reached the C2 proficiency level (mastery) or are a native speaker.
While Verbling does not require teachers to hold a teaching certificate, they must be able to provide evidence of their expertise, such as previous tutoring experience, testimonials from previous students, or proof of language proficiency.
Verbling doesn't stop at the selection process – it regularly reviews feedback from students and takes action to ensure that its tutors continue to provide high-quality lessons.
We highly recommend booking a free trial first to get a feel of a teacher before committing to them. Unfortunately, Verbling allows you only one free trial. If you want to try other teachers' free trials, you'll have to pay around $6 for each.
All foreign language tutors we tried first analyzed the proficiency level and discussed teaching materials. It allows them to customize a learning plan that addresses your specific issues. Most student reviews on the platform make similar points about their teachers, so it might be a requirement from Verbling.
Most lessons are one hour long, as Verbling pays tutors hourly rates. There are no rules on how many lessons you should take on Verbling. However, booking lessons is most convenient in pairs of two, five, or ten. There is also an option to purchase a single lesson or opt for unlimited classes.
Ease of Use
Verbling's user interface is intuitive, making it a positive experience for first-time users. The design is clean and modern, with a focus on functionality. Labels are used throughout the app, such as during the search process and when scheduling Verbling classes.
The loading times are generally fast, but you need a solid internet connection for the classroom to work smoothly. Verbling recommends that users run an internet speed test to ensure they have a stable internet connection before starting a lesson.
It is necessary to ensure that the video and audio quality of the lessons is high enough to support effective communication. However, we found that most urban areas in the USA will have enough internet speed for Verbling.
Verbling Competitors & Alternatives
Verbling vs Lingoda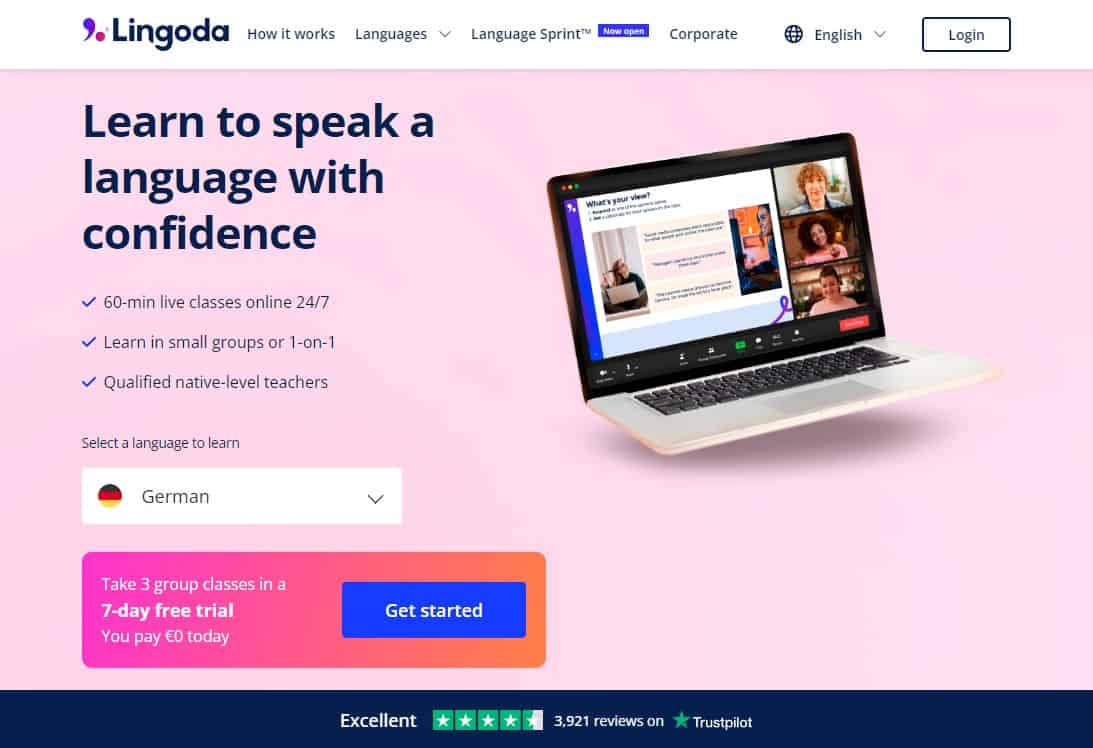 Lingoda provides classes with a small group of other students. Such an approach lowers the price and allows conversing with other learners. While Verbling's discussions feature can give you some interaction with other learners, Lingoda takes it up a notch with live video classes. Find more information in this Lingoda review.
Verbling vs Italki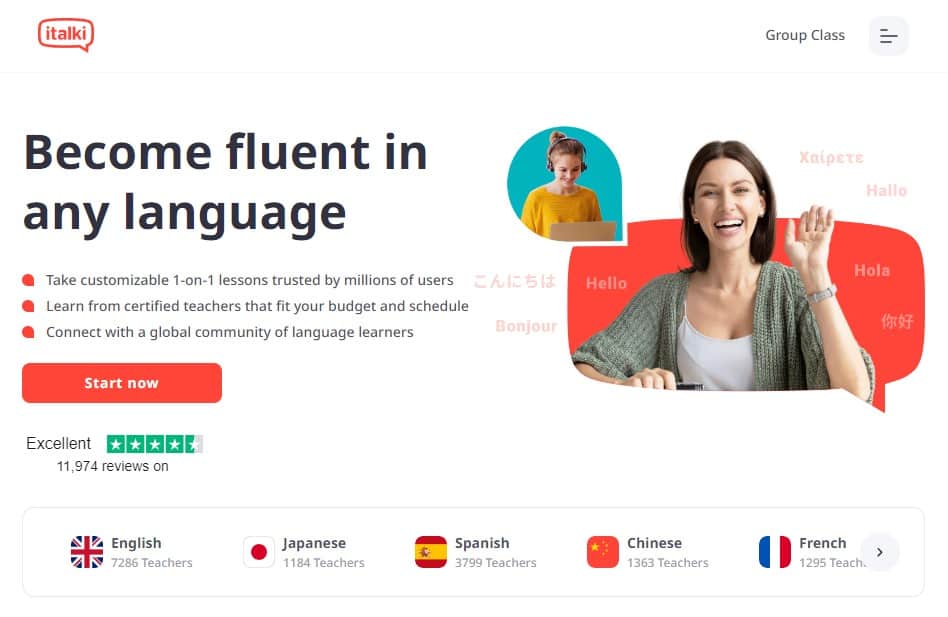 italki is perhaps the most popular platform for finding an online language tutor. It has the most teachers and community tutors. The biggest differences are the video call systems and pricing. Generally, community tutors on italki are cheaper, but Verbling houses only selected ones. Find more information in this italki review.
Verbling vs Preply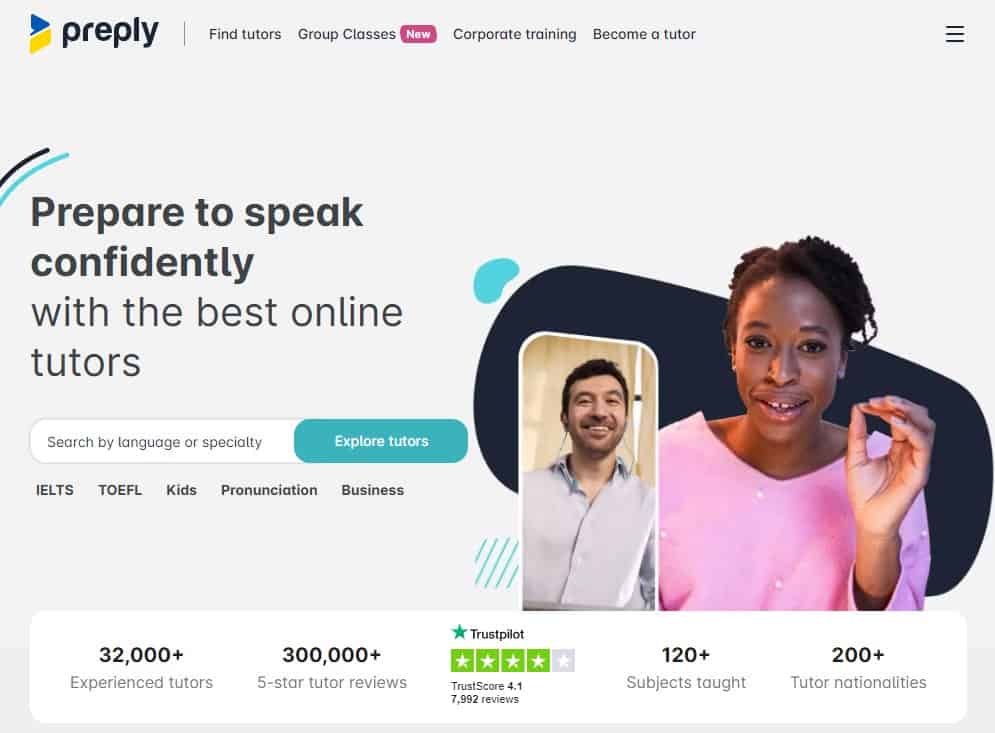 Preply is another major platform for finding online tutors with flexible filtering, scheduling, and refund possibilities. The application process for teachers is a bit stricter on Verbling, but Preply houses much more of them and, often, with lower prices. You can read more about it in this Preply review.
Verbling vs Baselang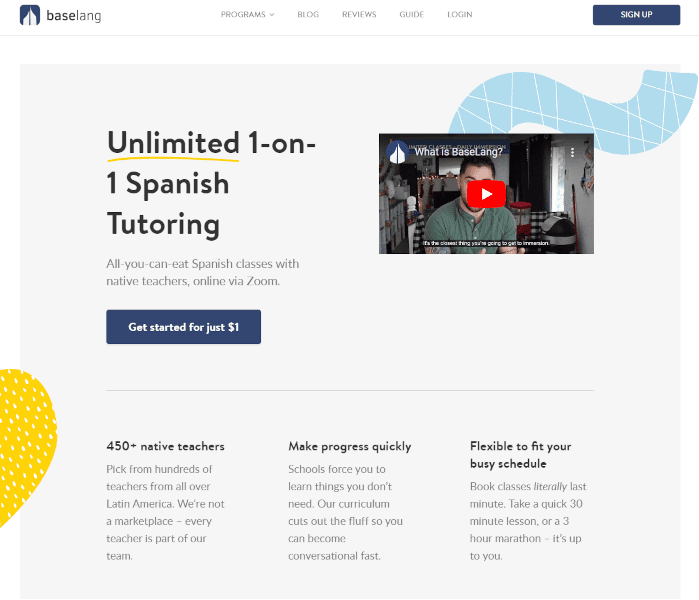 Baselang has a similar concept to Verbling, with structured and affordable one-on-one tutoring. However, Verbling has more flexibility when it comes to prices and learning styles. Baselang is better for those who are looking for a structured learning experience. Learn more about the program in our Baselang review.
Verbling vs Busuu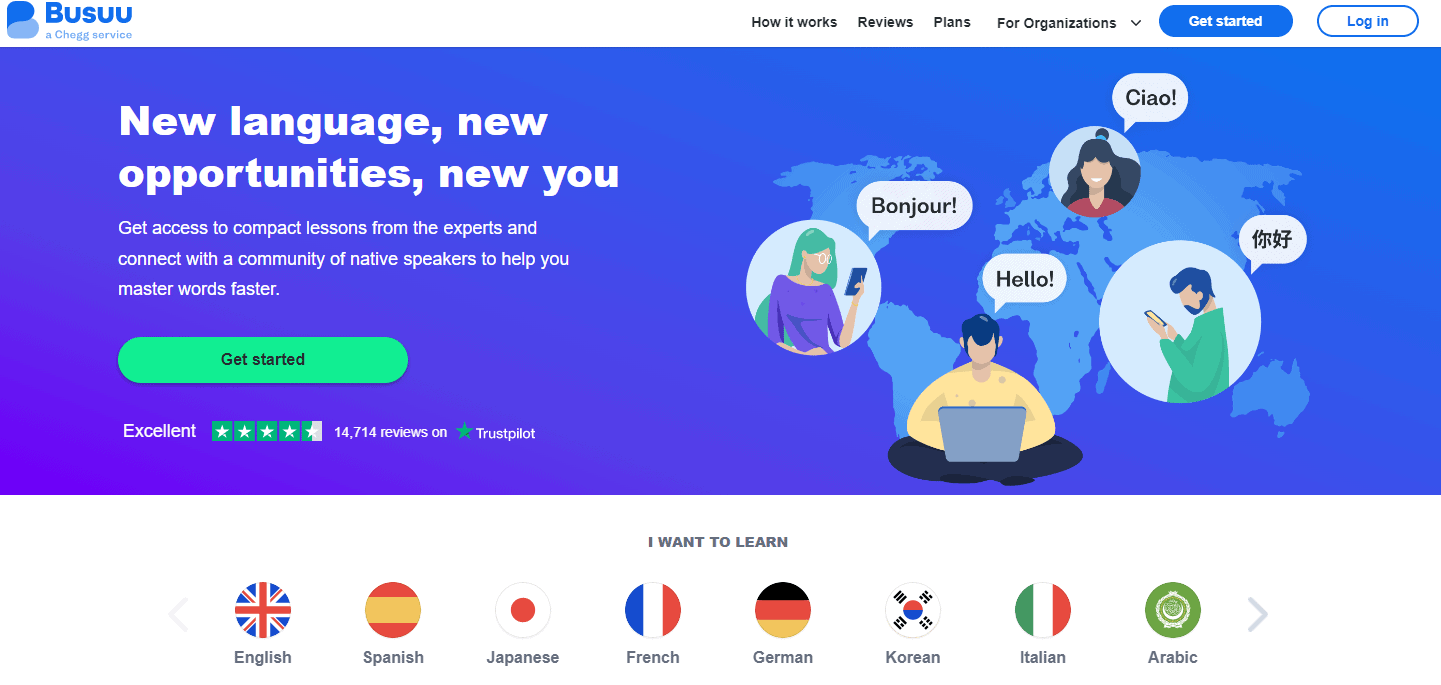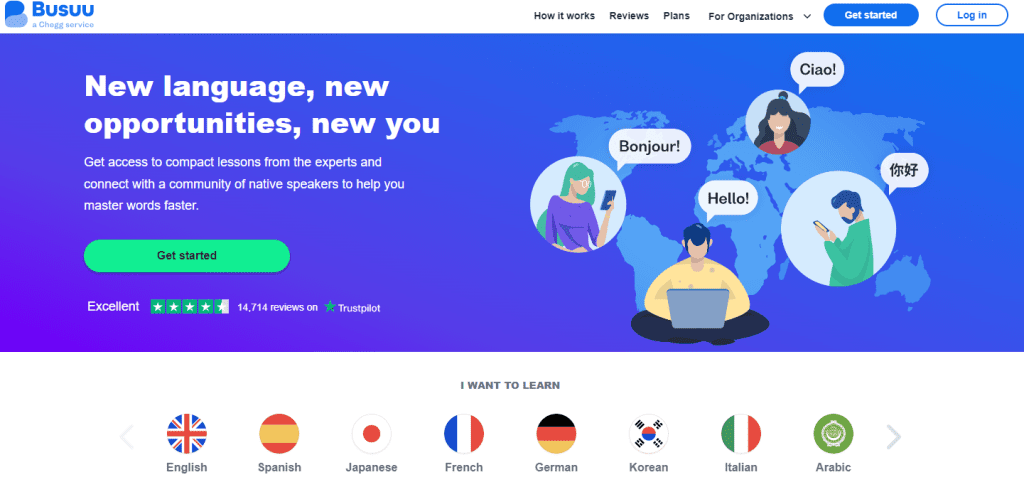 Unlike Verbling, Busuu isn't an online tutoring platform but provides personalized feedback from native speakers. It allows you to learn at your own pace while still getting timely feedback and conversation practice from professionals. If that's what you're after, learn more in this Busuu review.
What Could Be Improved?
One downside of Verbling is the lack of continuity between tutors. If you are taking lessons with a particular teacher and then decide to switch to a different one, you may not have the same level of consistency in your learning experience.
It is because each tutor has their own teaching style, approach, and lesson plans. The difference in teaching styles and lesson plans can make it difficult to build on what you've learned previously and make progress in your language learning journey.
Although Verbling offers a diverse range of language tutors, it's worth noting that some languages have fewer tutors compared to more popular languages. For example, Swahili has only 12 tutors, while there are hundreds of teachers for Spanish classes always available.
Widespread languages need filters for accents and regions. If you want to learn Latin American Spanish, you cannot simply filter for it. Although, most other platforms don't have such filters too.
While the Verbling classroom interface works well, there are no alternatives in case of technical issues. Verbling justifies it as a privacy safeguard, but disallowing all alternatives can be inconvenient.
Verbling Pricing
The cost of Verbling lessons varies depending on the tutor and your target language. The price per hour ranges from $5 to $100 USD, with most lessons falling in the $20 to $30 range.
Tutors on Verbling set their own hourly rate, so the cost varies multiple on factors, such as the tutor's teaching experience and qualifications, language popularity, and lesson length.
Some tutors offer discounts if you purchase a package of multiple lessons at once. This information is visible before booking lessons on Verbling, and it's worth checking out if you want to save.
Free Trial
Some Verbling teachers offer free trial lessons. It's usually a half-hour-long first class to get you on board. The tutor assesses your general target language knowledge to create custom lesson plans for the next sessions. However, you can only get one trial lesson with a first teacher per Verbling account.
Verbling Coupons and Discounts
Verbling offers promotional coupons and discounts occasionally. Other times, a specific teacher may create a coupon code that only works for their services. You may receive 10% to 50% off the hourly charges. Be on the lookout for Verbling discounts on Valentine's, Halloween, Thanksgiving, and Christmas holidays. 
Refund Policy
Verbling states that all purchases are final and can only be refunded in Verbling credit. It is an in-app currency used to book classes with different teachers. The credit expires after 6 months but can be reactivated once by contacting support.
However, Verbling is quite flexible with its refund policy. If a student is dissatisfied with their teacher, they can cancel their remaining lessons and receive a 100% Verbling credit refund.
Verbling Pricing Compared to Competition
Verbling's pricing is competitive and offers good value for students looking to learn a new language online. Students can pay per lesson or purchase lesson packages at a discounted rate.
In addition, Verbling allows teachers to set their own rates, which means there is a wide range of prices to choose from. It makes it easier to find a tutor who fits your budget.
Compared to similar platforms like italki and Preply, Verbling's pricing falls within the same range. However, Verbling offers more flexibility compared to Preply's fixed pricing plan, and professional teachers on italki are more expensive as they require formal certifications.
For more traditional language learning approach, you could try apps in a similar price range like Glossika, Mondly, LingQ, and FluentU.
Customer Support
Verbling support is responsive and helpful and typically responds to email inquiries within 24 hours. The Support tab is in the main dashboard with access to frequently asked questions and helps in troubleshooting most issues.
While Verbling staff may take a day to respond, this is a minor drawback, given that you will always get a comprehensive answer.
Conclusion
Verbling connects language learners with professional teachers for personalized, one-on-one lessons. Although the teachers at Verbling aren't required to have formal certifications, the rigorous application process ensures they possess both knowledge and approachability. It's certainly worth a try!