There is no universal approach to learning a new language. Everyone must find their own way, so tools allowing customization are preferable to most learners. Such is LingQ. It focuses on reading and writing, has a vibrant community, and allows everyone to import their own learning materials.
Language learning must be customizable, but does LingQ deliver enough of it? In this LingQ review, we will look into its features, language courses, costs, and everything else to answer this question.
A diverse language learning Platform you can control
LingQ uses a wide range of custom content to teach different languages. It's simple, interactive, and entertaining. We love how learners can use various learning materials on the platform. They include YouTube videos, podcasts, books, news articles, and songs. The platform puts you in full control of your language-learning journey.
⭐ Rating:
8.7

★★★★★

🥇 Available languages:
41 (see below)
📈 Suits best for:
Novices and Intermediates
🛒 Payment options:
1 Month/6 Months/12 Months/24 Months
💵 Price:
$7.99 – $34.99
⌚ Hours of lesson time:
400+
🔄 Refund policy:
90-day money-back guarantee
🎁 Free Trial:
✔️
Arabic, Armenian, Belarusian, Bulgarian, Catalan, Chinese (Cantonese), Chinese (Mandarin), Croatian, Czech, Danish, Dutch, English, Esperanto, Finnish, French, German, Greek, Gujarati, Hebrew, Hungarian, Icelandic, Indonesian, Italian, Japanese, Korean, Latin, Malay, Norwegian, Persian, Polish, Portuguese, Romanian, Russian, Serbian, Slovak, Spanish, Swedish, Tagalog, Taiwanese Turkish, Ukrainian.
Disclaimer: Lingomee is an independent review site that may benefit from affiliate programs. Buying through our links makes our efforts possible without additional costs to you. Learn more here.
Quick Overview of LingQ
Launched in 2007, LingQ is a language learning tool offering various teaching programs to boost reading and listening skills. The program features diverse lessons curated from mini-stories, news content, podcasts, videos, and even books.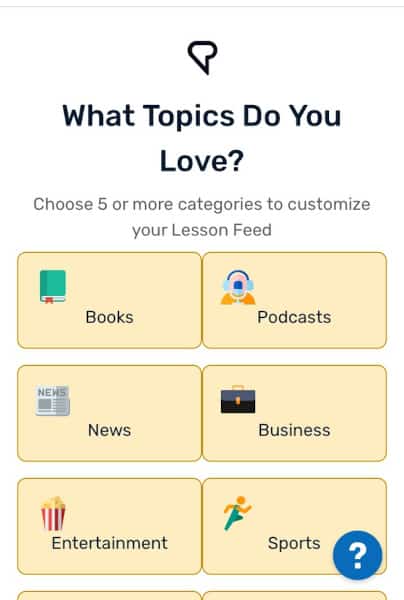 You'll find lessons about greetings and goodbyes, food, health, entertainment, and lifestyle. Broader topics are available as courses that feature many related lessons.
For instance, a topic on computers includes a guided course with lessons about the internet, computer hardware, social media, and more. All the lessons use written and audio content to teach.
The LingQ app has countless learning materials. However, users can import fresh learning materials to customize the experience. Be it PDFs, E-books, articles, YouTube videos with closed captions, or Netflix movies and series with subtitles.  It's convenient for the less common languages with limited content to learn from.
Interesting languages to learn on LingQ:
Main Features
The main attractions of the LingQ app are its flexible learning style. Every LingQ lesson and exercise is personalized. This way, learners get meaningful feedback about their speaking, writing, reading, and listening skills.
The import function is exceptional at customization. It gives users all the freedom to use their favorite content from the web to learn a new language. It's almost impossible to get bored while interacting with your preferred content and topics.
With such personalization, learners can improve their language skills while controlling their learning path. Still, this language learning takes some time to get used to. Especially if you are only using the limited free version. So let's look into each feature to help you get started.
LingQ Reader
This is the page where you read lesson texts, listen to an audio playback of the texts read by a native, and create and review LingQs. It's the main feature of the learning system. All its tools work efficiently. Some, like reading and listening, can function simultaneously.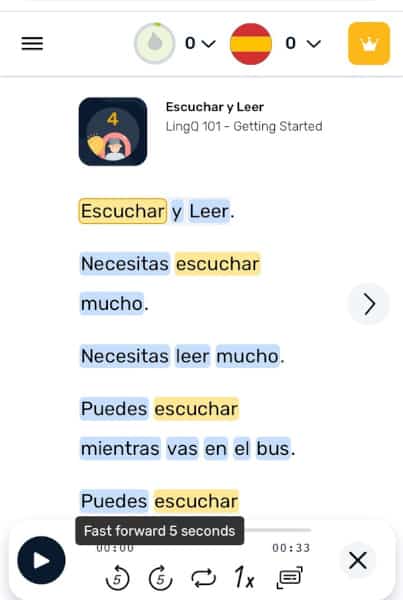 Depending on your reading speed or listening comprehension, you could adjust the playback speed accordingly. Plus, there're fast-forward and rewind features set at 5 seconds each.
The interface is fun and intuitive. It has a progress bar at the top of the page that tracks your learning automatically. If you click any completed section, it takes you back to the exact lesson or page.
Creating Flashcards
Flashcards are the words you save to review and learn more about in the future. The words usually have different color coding depending on your familiarity with them. To start with, unhighlighted words are those you already know, yellow highlights are the ones you're learning, and blue words are completely new.
LingQ uses spaced repetition system to bring up the words in the flashcard deck for review at different time intervals (daily or even months). You can review up to 200 words and phrases in your flashcard in a day.
This system helps you to familiarize yourself with words in different contexts so that you can learn better and fast. Apps like Memrise and FluentU provides similar experience but are less polished.
Uploading Your Own Content
This feature gives LingQ an edge over other language learning programs. The fact that you can add new language-learning materials improves the experience significantly. You can import YouTube videos, podcasts, news articles, songs and lyrics, e-books, or any audio and written content.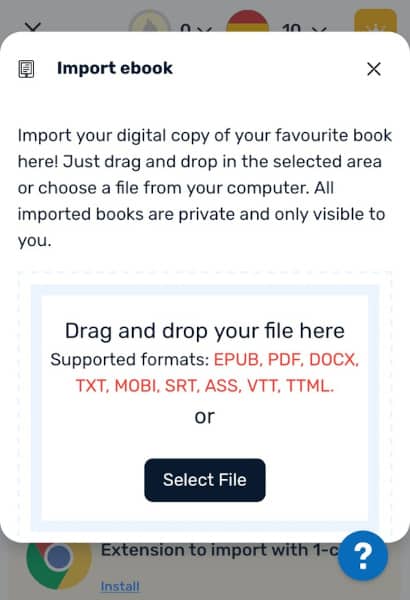 Customizing your LingQ courses and language resources puts you in control of your learning path. As a result, you enjoy quality exposure to unknown words, phrases, context, and native speakers' pronunciations. There are three ways to import content to LingQ.
Importing the external lessons in your library – This is as simple as pressing "Import" on the lessons you like. Usually, the content is from other learners and tutors who found the material useful.
Importing with the LingQ importer browser extension – This option enables you to add your own material. The extension comes pre-installed in the LingQ mobile app.
Manual importation through the library – With this option, you'll import content by pasting text and uploading audio and video. Then, you must add translations and make the necessary edits.
Except for the manual import where you have to put all the details about the material, LingQ creates online lessons automatically with every content importation.
Interacting With Native Speakers
Apart from vocabulary-building tools, LingQ gives you a chance to improve your listening, speaking, and writing skills by interacting with native speakers on the platform. However, to engage a native, you must have LingQ points. It is an internal currency used to pay for tutors or buy premium content. 
The interactions are one-on-one and live on Skype. The tutoring time can be 30, 45, 60, or 90 minutes. It depends on how much you're willing to spend.
Most of the tutors are native speakers assisting to earn points so that they can use them to learn their target languages on the platform. Still, anyone who is a native speaker can sign up on the platform and start tutoring.
Unfortunately, there're no qualifications set for tutors. So it's possible to end up with an inexperienced teacher during live tutoring.
The LingQ Community
LingQ has a vibrant community of language learners ready to offer support and encouragement to each other. It's the perfect place to ask anything you don't understand about the LingQ platform and your target language.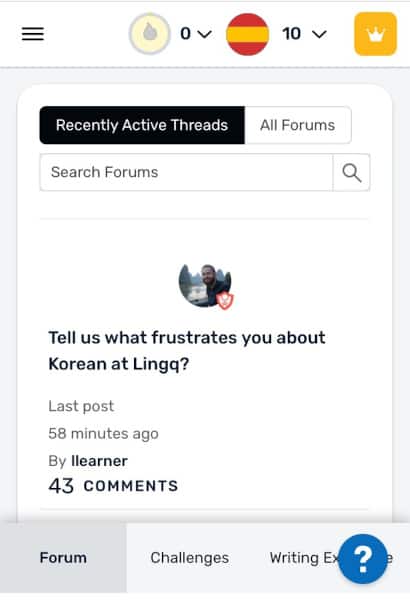 Also, you can participate in friendly competition through challenges  like:
The monthly LingQing challenge – Create as many LingQs as you can in a month.
Streak with steve – Maintain your daily streak for 90 days.
90-day challenge – Meet your coins target in 90 days by learning more vocabulary, reading more words, and spending more hours listening to content.
1000-word challenge – Learn your first 1000 words of the target language.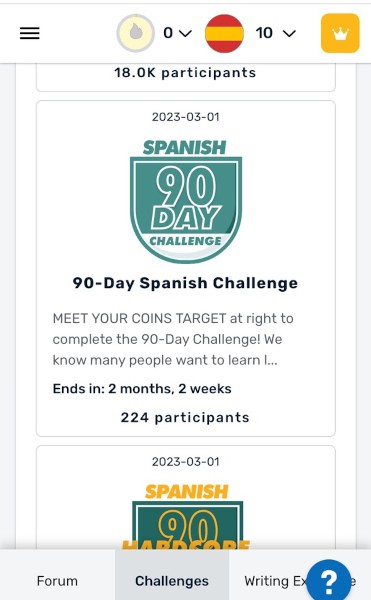 Additionally, you can submit your writing for review and correction by native speakers on the forum for free.
The moderators of the forum do a good job of maintaining respectful interactions among members. Also, they respond and follow up on any critical issues.
Lessons Quality
LingQ's language lessons immerse you in language learning. The lessons are available in text, audio, or both formats. They expose you to key aspects of learning a new language.
Examples of the lessons include mini-stories that feature lots of repetitions, greeting lessons, technology content, food content, podcast material, and many more that you can import to the platform.
The vast library of lesson material enables you to learn a foreign language in various contexts. Be it sports, entertainment, relationships, or education. You'll find shelves that sub-categorize LingQ lessons. For instance, there's a shelf for new content, trending material, and news feeds.
Grammar Instruction
Unlike other paid language learning programs, LingQ has no structure for its grammar lessons. The platform throws you into the new language without any grammar instructions or explanations, expecting you to learn from context.
So, if you prefer learning a language with grammar instructions and guides, you should supplement LingQ with other language apps like LingoDeer that emphasize teaching grammar rules.
Verbal Practice
Verbal practice on LingQ relies on interactions with native speakers, either through paid language teachers or engaging other learners on the LingQ forum. The LingQ community has many native language speakers of your target language willing to help you practice your speaking skills for free.
You'll need another platform for the verbal practice exercises. Usually, tutors reach out on Skype. Hence, you must have a mobile or web app on your device. But, if you engage the native or expert speakers on the community forum, you decide on any other communication platform.
Reading
LingQ lessons focus on reading authentic text and listening to audio content from native speakers. The two offer an interactive learning experience that boosts listening and reading skills while improving grammar and vocabulary. We like how you can read transcripts of learning materials and listen to the audio playback simultaneously.
These include mini-stories, books, news articles, and even subtitles. The number of available materials varies from one language to the next, with the less popular languages having minimal content.
You should note that languages like Korean and Chinese, or Japanese feature their own alphabet, so it could take some time to learn the characters.
Writing
To help improve your writing skills, LingQ features a dictation tool that reads words in the target language for you to type. The function works well for most language programs but has limitations and challenges for languages like Mandarin Chinese, Japanese, and Korean.
Apart from inadequate learning content, you must enable the mentioned language's font on your device to type the letters correctly. Fortunately, you can submit your written material for review by tutors in live lessons or on the LingQ forum. 
Sadly, you'll need LingQ points to book a tutor, and getting help from the community depends on a native speaker's availability. This means it may take some time and money to improve your language writing skills.
Vocabulary
LingQ's vocabulary-building tools are among the best we've seen in many language programs. You encounter many new words, and they build up as you progress through the learning path. It's motivating to see how many words turn from blue to yellow, and eventually, you learn them.
Vocabulary building is an effective way of encouraging learners to master a new language. You can tell your progress in vocabulary by how many LingQs you can turn into known words. LingQs are new words you're learning. They build up whenever you select a translation of any single word. 
You can enhance your knowledge and memorization of the vocabulary further by using Flashcards, Close Tests, Multiple Choice, and Dictation tools.
Repetitiveness
Compared to many language apps, LingQ features one of the largest libraries of lessons. Plus, the teaching materials are diverse, so it's unlikely to encounter any repetitions. Learners can always find new and interesting material or import their own.
The only repetitiveness is the spaced repetition system in Flashcards, Close Tests, Multiple Choice, and Dictation tools. It adds your LingQs to a Due for Review list and schedules them. 
You can set how many words to send for review daily to a maximum of 200. The recommended number of words for learners would be at least 50 repetitions, especially for beginner language learners who don't know most of the vocabulary.
LingQ Review: Ease of Use
The user interface of LingQ is very intuitive. Its seamless prompts make it easy to pick a native language to learn, select a few lessons, and dive into the reading and listening element.
However, first-time users might struggle to figure out different labels and their functions. But, then, the platform is staying true to its belief of immersing learners in customizable language learning.
We like the color coding of words to signify a learner's familiarity with words, as it simplifies the learning process. You can easily tell the complexity of a paragraph with the number of blue words on the screen. 
LingQ Alternatives and Competitors
LingQ vs Lingopie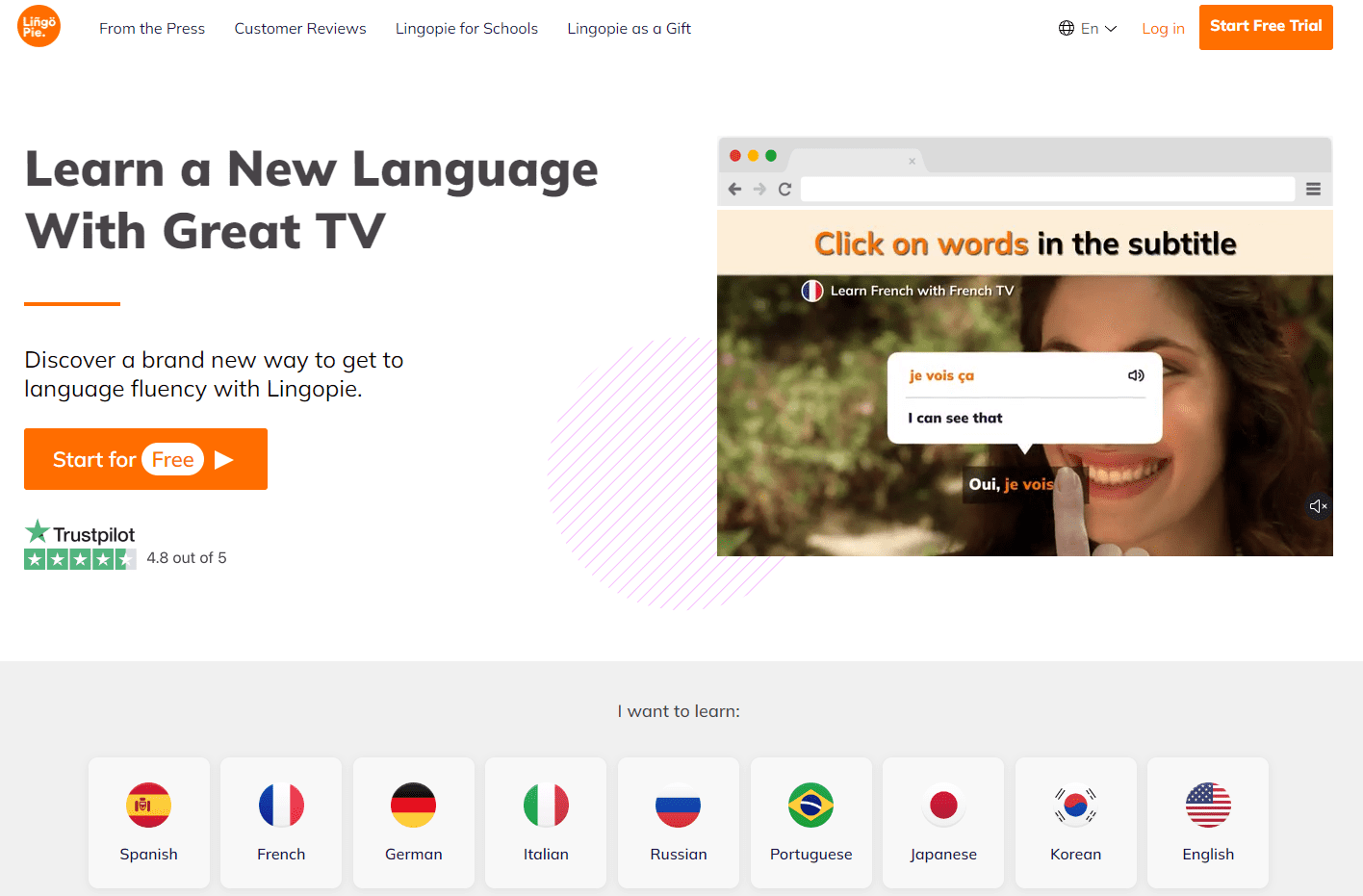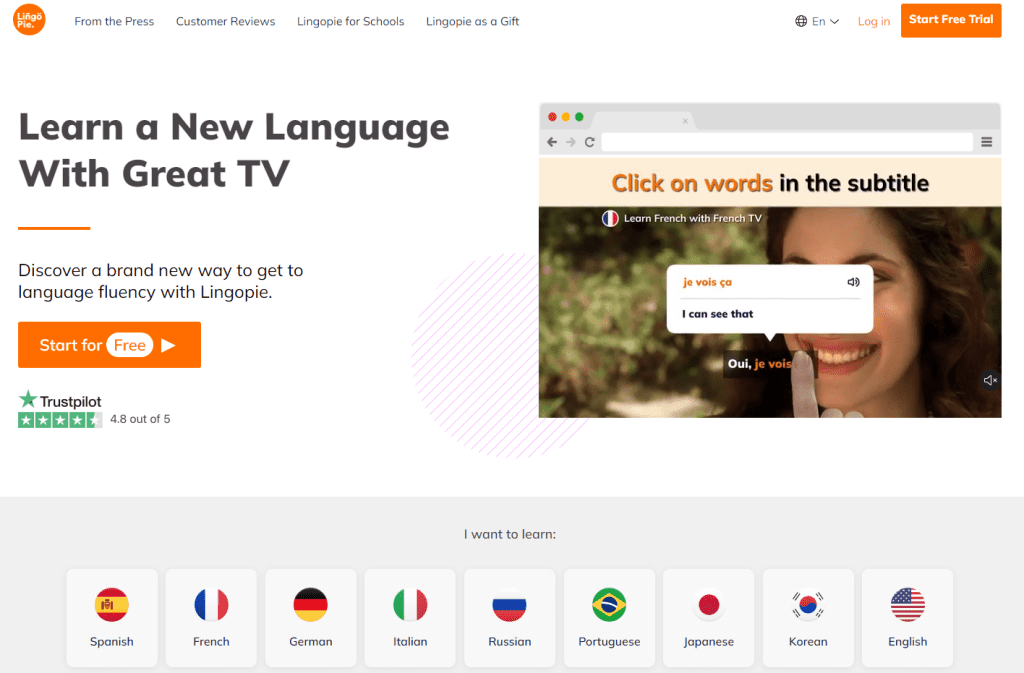 Lingopie gives you a chance to effortlessly learn a language by binge-watching TV. Its design resembles Netflix more than a language-learning app. While LingQ also has a lot of video material, Lingopie is more structured and arguably fun. However, LingQ includes text and audio content as well. Learn more in our Lingopie review.
LingQ vs Lingoda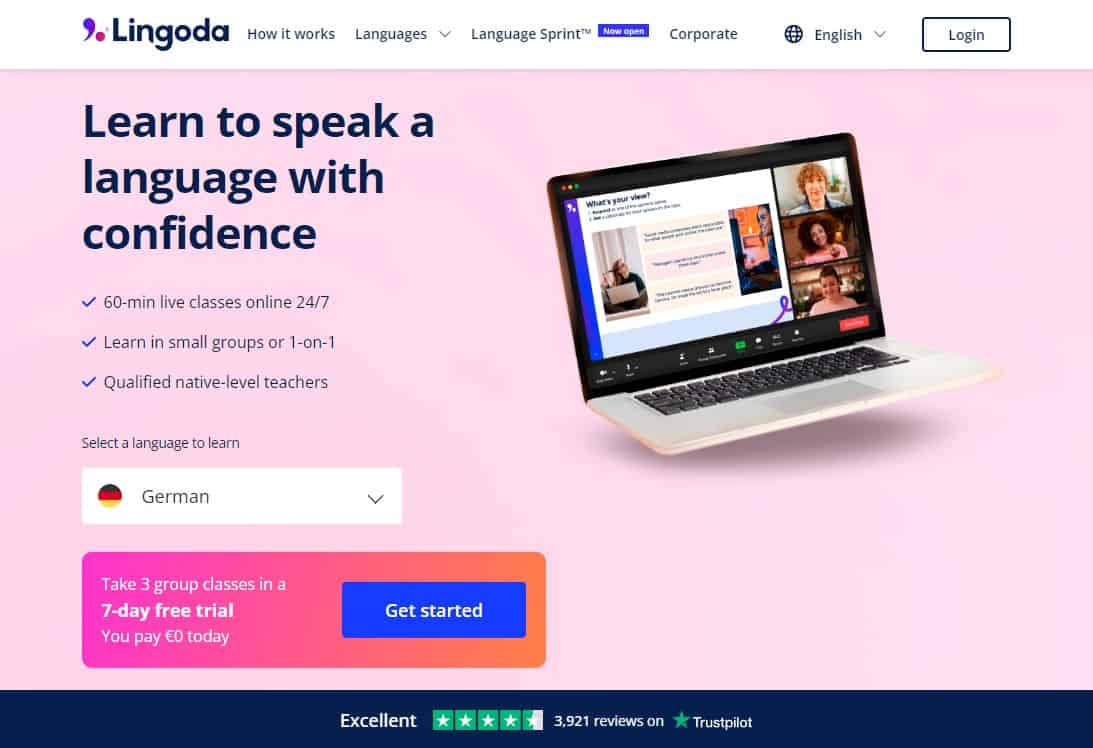 Lingoda aims for more traditional online learning with small group classes available 24/7. Compared to LingQ, Lingoda is more structured, but you won't be able to learn at your own pace so easily and customize your learning materials. If you are looking for structured learning, learn more in this Lingoda review.
What Could Be Improved?
As it is, LingQ is a great language-learning application. Still, there's room for improvement. First, a simple guide would help new users maneuver its feature-filled interface. As a result, they'll save time and start learning immediately.
Secondly, verbal and writing practices should be part of the main system rather than an afterthought. And, they should include measures to vet tutors so that only the best teachers get the job. This way, the LingQ app will attract language learners looking for reliable and efficient language practice services. 
LingQ Pricing
LingQ cost and pricing plans are straightforward. The Premium account provides thousands of hours of audio and text content, unlimited saved words, flashcards, and language challenges.
Also, you can import unlimited content and customize Premium lessons from the material, switch between different levels at will, and pick as many languages as you like.
You don't need set-up fees, long-term contracts, or cancellation fees. However, you should know that changes to a shift of membership level take effect immediately, but the charges will apply on the next billing date.
Premium Subscription
| | | |
| --- | --- | --- |
| Subscription | Price | Payment |
| 1 Month | $12.99 | Charged monthly |
| 6 Months | $11.99  | One-charge of $71.94 |
| 12 Months | $8.99 | One-charge of $107.88 |
| 24 Months | $7.99  | One-charge of $191.76 |
Premium Plus
The Premium Plus subscription offers everything available on the Premium plan, plus an extra 3000 LingQ points that you can use to pay for live tutoring, writing corrections, or premium lessons.
| | | |
| --- | --- | --- |
| Subscription | Price | Payment |
| 1 Month | $39.99 | Charged monthly |
| 6 Months | $38.99 | One-charge of $233.94 |
| 12 Months | $35.99 | One-charge of $431.88 |
| 24 Months | $34.99 | One-charge of $839.76 |
Free Trial
LingQ offers a 7-day free trial that gives you unlimited access to test all its features. After seven days, you can subscribe to any paid version or get a limited free version.
It offers thousands of audio lessons with transcript materials and flashcard quizzes. But you'll only have one audio playlist, 20 slots for saved words and phrases, and 5 customized lessons from imported content.
LingQ Coupons and Discounts
We were lucky to get discount offers during our LingQ review. They were between 3% to 38% on its Premium and Premium Plus plans, for long-term subscriptions.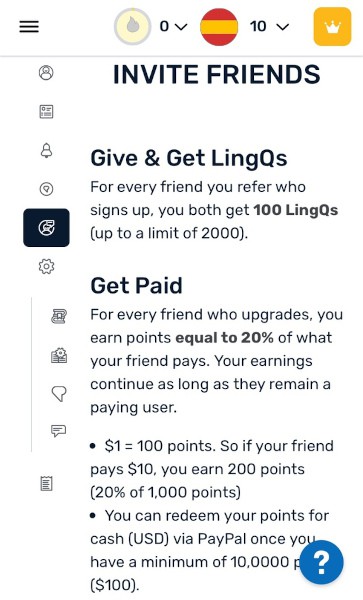 Be sure to watch out for Black Friday sale offers. They also have a referral offer that earns 20% of all payments made by anyone you refer to the app. 
Refund Policy
LingQ has a 90-day refund policy. A client is eligible for a full refund of their subscription fee if they use the app for 90 days without any improvements. But, the learner must meet their LingQ targets in the progress snapshots for those 90 days.
LingQ Pricing Compared to Competition 
Compared to other popular language learning apps like Duolingo Plus, Babbel, or Mondly, LingQ offers good value for money. It features more content, tools, and customization. Whatever it lacks in user experience, it makes up with an interactive system and fresh learning material. 
Even for apps like italki or Preply that also contain live tutoring, LingQ one-ups them with its broad range of free content and the ability to add more. The app is like a one-stop shop for those who want to sharpen different aspects of learning a foreign language. 
LingQ Ratings From Around the Web 
Google Play Store – 4.4 (500k+ Downloads)
Customer Support
LingQ has a responsive customer support team. They were happy to respond to the inquiries through email and the support forum. You should note that the forum feedback was fast compared to emails.
Conclusion
We found LingQ to be an efficient and reliable language-learning app. You only need to figure it out to enjoy your learning experience and gain from the content. It's time to take control of your learning process, and LingQ is a great way to achieve it.