Babble is a unique and affordable option for newbies. The mobile-friendly Babbel Spanish app ensures you learn at your own pace. Native speakers work on Babbel Spanish lessons. They understand that learning Spanish requires a firm foundation of basic grammar and vocabulary.
There are many interactive elements in Babbel's Spanish program. From audio recordings to engaging exercises and images enriching your online classes further. It holds a reputation as one of the best language-learning apps today, but does it make one fluent in Spanish? Let's find out in this Babbel Spanish review.
One of the best language learning apps to speak Spanish fluently
Babbel brings a new language-focused approach incorporating real-life conversations and cognitive techniques throughout the entire course. There are games, stories, and podcasts for memory retention. This language learning program is one of the most scientifically-proven ways to learn Spanish online, and it doesn't cost much.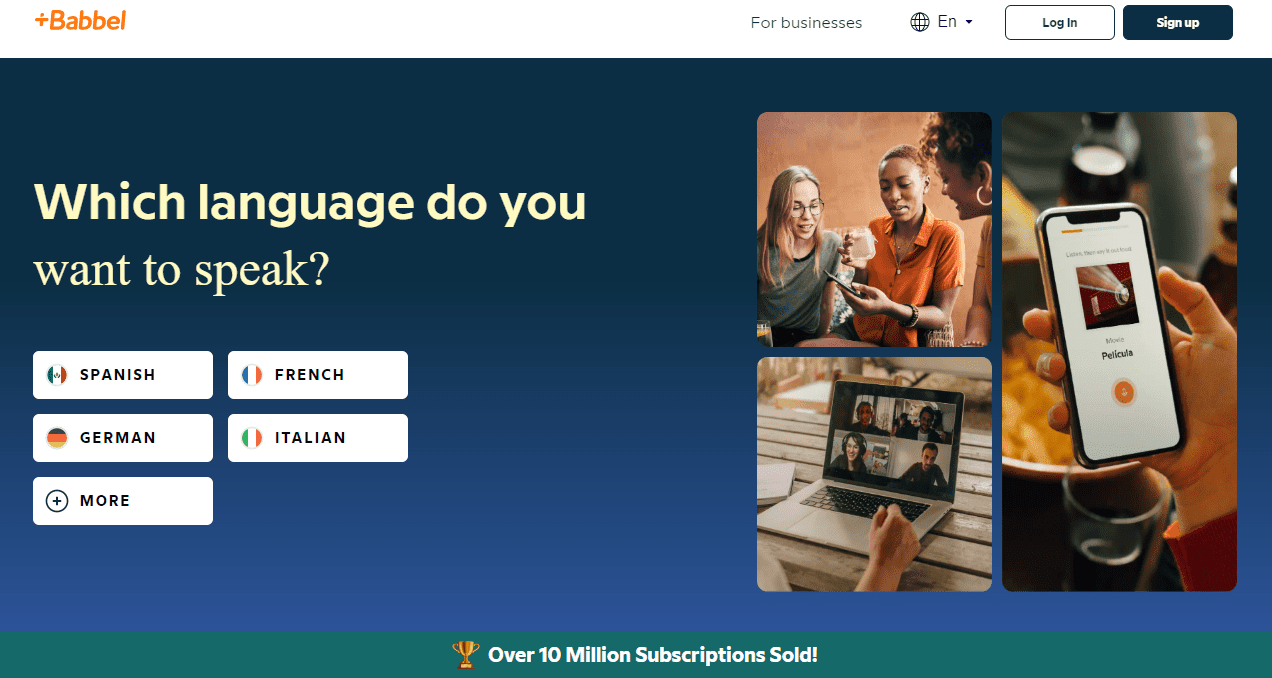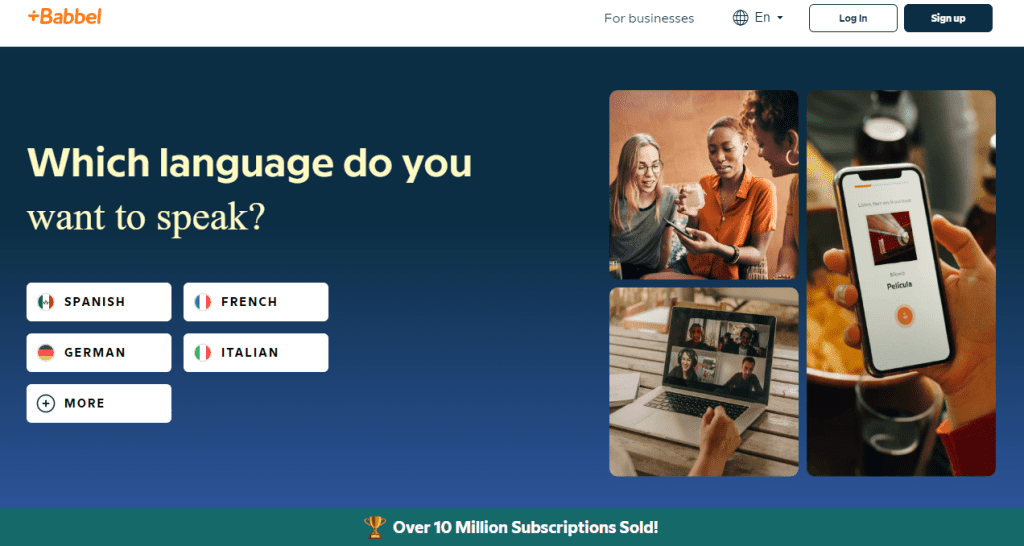 Babbel Spanish Review Summary
⭐ Rating:
9.2

★★★★★

🥇 Available languages:
14 (see below)
📈 Suits best for:
Novices
🛒 Payment options:
3 Months/12 Months/Lifetime
💵 Price:
$14.95 – $349
⌚ Hours of lesson time:
260+
🔄 Refund policy:
20-day money-back guarantee
🎁 Free Trial:
✔️
Spanish, French, German, Italian, Portuguese, Russian, Turkish, Dutch, Swedish, Norwegian, Polish, Danish, Indonesian, and English.
Disclaimer: Lingomee is an independent review site that may benefit from affiliate programs. Buying through our links makes our efforts possible without additional costs to you. Learn more here.
A Quick Look at Babbel Spanish
Babbel started in 2007 by promising to turn beginners into advanced learners through a combination of strategies. It uses spaced repetition and immersion. The language app further has a simplified interface for easy navigation. It's easy to create an account on the Babbel app and get started. 
You can learn 14 languages on Babbel. The best part is you receive instructions in your native language. The algorithm keeps a check on your mistakes. It tailors the course according to your convenience. The curriculum is close to real life through relevant vocabulary and grammar lessons. 
Other language-learning apps often neglect such personalized instructions. It stands as a crucial aspect of the "Babbel method." The app understands different natives learn Spanish in different ways. You have the option to download previous lessons and review them offline. Take a placement test to determine your level to start.
Accessing the full range of resources on Babbel requires a subscription. When you begin your learning process, you need to give the app a few personal details. These can be your name, age, and why you want to learn Spanish. That allows the app to personalize the courses to meet your needs better. We think that this is the best app to learn Spanish for beginners.
Babbel Review: Key Features
Babbel sets the benchmark for other language apps by providing multiple features. There are interactive exercises, Babbel magazine, speech identification, and the Babbel podcast. These features fit perfectly for the Babbel Spanish course. They ensure you are learning Spanish through reading, writing, speaking, and listening.
Interactive Exercises
Spanish learning is incomplete without interactive lessons. Imagine studying Spanish through a mix and match of images, blanks, dialogues, and pronunciation. Yes, Babbel makes it all possible while teaching a foreign language. There are fun games and stories for you to review in every lesson.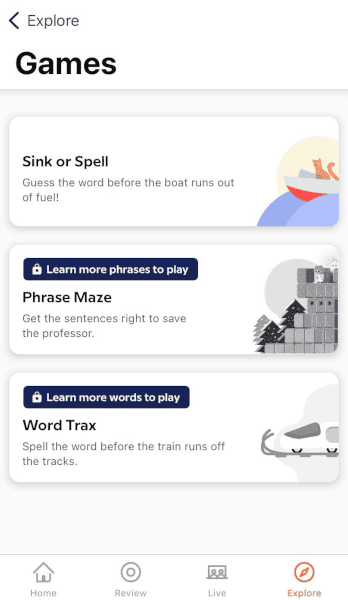 Babbel Spanish program boosts motivation and draws you towards learning daily. You are free to choose how many lessons you take during the day. You can skip lessons if you feel overwhelmed. It allows you to work on the Spanish language at your desired pace.
Babbel Magazine
Babbel works on features like Babbel Magazine to help you learn basic words in Spanish. Babbel magazine brings many articles and short stories to learners every day. It teaches newbies many new phrases and gets them in the habit of reading. You will find content on different topics.
You can study daily news, cultural insights, and tips and tricks for improvement. If you want to become an advanced learner, you must go through these 2-minute stories daily. Yes, finding content in your target language might be a challenge but valuable. Try to mimic these stories to improve your speaking skills.
Speech Recognition
Babbel Spanish program also offers a fantastic speech identification system. Use it for your speech practice. It compares all your pronunciations with a native speaker. Yes, all audio in the database is from people who use Spanish as an official language. 
Accurate speech recognition technology works even in noisy places. There might be a few downsides, but it performs well compared to other language-learning programs. You can rely on its speech identification for practice when you can't attend Babbel Live classes. You can easily set it up for better pronunciation.
Babbel Podcast
Babbel Spanish app leaves no stone unturned in teaching listening and speaking skills. The Babbel Spanish app comes with Spanish podcasts. It is a great chance to heighten your listening skills. These podcasts are interesting, engaging, and boost your Spanish proficiency level.
The themes of the podcasts of the Babbel lessons vary in difficulty. Some are about global news, while others are simple stories. If you like learning with stories method, than app like Spanish Uncovered is another great choice.
In case the podcasts in the Spanish course seem too advanced, you can enjoy the audio recap feature. It divides the dialogues into simple vocabulary and your native language. That way, you can understand the phrases and memorize them.
Babbel Spanish Course Quality Evaluation
Babbel Spanish course isn't one course. There are 80+ Spanish courses available from basic to intermediate level and advanced (CI) courses. There are around 34 courses that focus on vocabulary. If you seek joy in tradition and culture, you can access four courses on this topic. 
There are 6 to 12 lessons in each Babbel course. Each lesson spans about 15 minutes. You will see a popup showing the learning objectives the newcomer course covers. There are matching lessons, vocabulary exercises with images, and pronunciation exercises. From greetings to consonants and grammar, it brushes up all your language skills.
Some languages have vast course material covering all aspects of the language. Courses for other languages do not have such detailed information. Despite this, experienced teachers work on every lesson for a new language. Yale University researchers back all the teaching methods used by Babbel.
Grammar Instruction
You must understand Spanish grammar if you want to speak Spanish well. Babbel language learning app comes with interactive grammar exercises. It covers all aspects of Spanish grammar and provides concise explanations.
These lessons cover everything from conjunctions, adverbs, verbs, punctuation, and consonants. Regular grammar practice keeps your language skills in shape while you ditch the classroom environment.
Verbal Practice
Speaking exercises are a crucial aspect of learning any language. Babbel Spanish enters with a brilliant speech identification tool. It saves time for learners and allows them to practice the new language verbally. It is a great way to develop the desired accent. Instant responses will let you identify your mistakes compared to a native speaker.
Reading
Babbel offers some brilliant reading material for newbies. You can read news articles, tips and tricks, cultural stories, and more on Babbel magazine. The upper intermediate (B2) Spanish course also enters with enticing readings in Spanish. But, finding material in Spanish in Babbel magazine can be time-consuming.
Writing
Babbel Spanish exercises focus a lot on writing. You won't have to start with complex spellings. The activities are short and crisp. You have to add syllables initially. Once you understand them, you can proceed with simple spellings. There is repetition to reinforce the spellings.
Vocabulary
Babbel knows how critical vocabulary is, whether it is a newcomer course or live classes. You will learn Spanish through contextual words. Although some languages like Polish lack extensive vocabulary material, we cannot say that about Spanish. Babbel will ensure you read, write, and speak new words every day. Review tools will help you rehearse what you learned in previous lessons.
Repetitiveness
You might have come across apps like Rosetta Stone with plenty of repetition. You won't face the same problem with Babbel since most courses and content are unique. Experts work on everything from scratch for Babbel Spanish. Only image repetition is evident compared to vocabulary, phrases, and activities. The rest is well-balanced and unique.
Babbel Spanish Review: User Friendliness
Babbel offers a seamless and quick user interface. It redirects you to your desired course by expert language teachers. It won't bombard you with instructions. The app uses pastel colors and a light theme for a visible font for readers. 
Babbel website and app save space. You will not suffer from complex settings or lengthy course plans crowding your screen. The app does a great job of saving your progress. You have a separate tab to review your progress and work on multiple languages.
Babbel Spanish Competitors and Alternatives
Babbel Spanish vs Pimsleur Spanish Review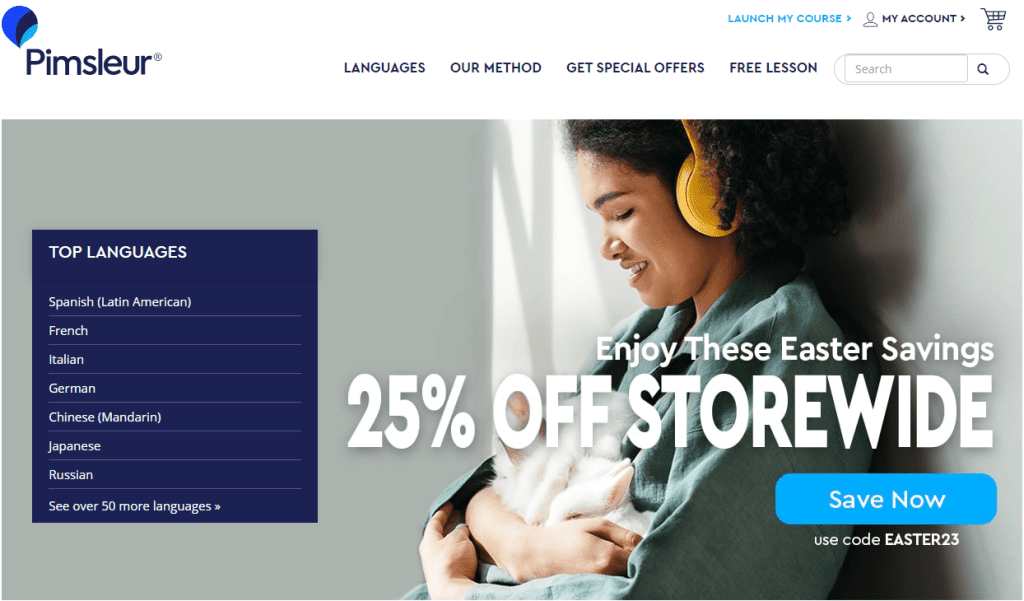 Pimsleur Spanish is an audio-based app tasking you with listening and repeating Spanish words and phrases. Babbel also has some great audio materials, but its approach is closer to a traditional textbook. If you are an auditory learner or learning on the go is important, Find more in our review of Pimsleur Spanish.
Babbel Spanish vs Rocket Spanish Review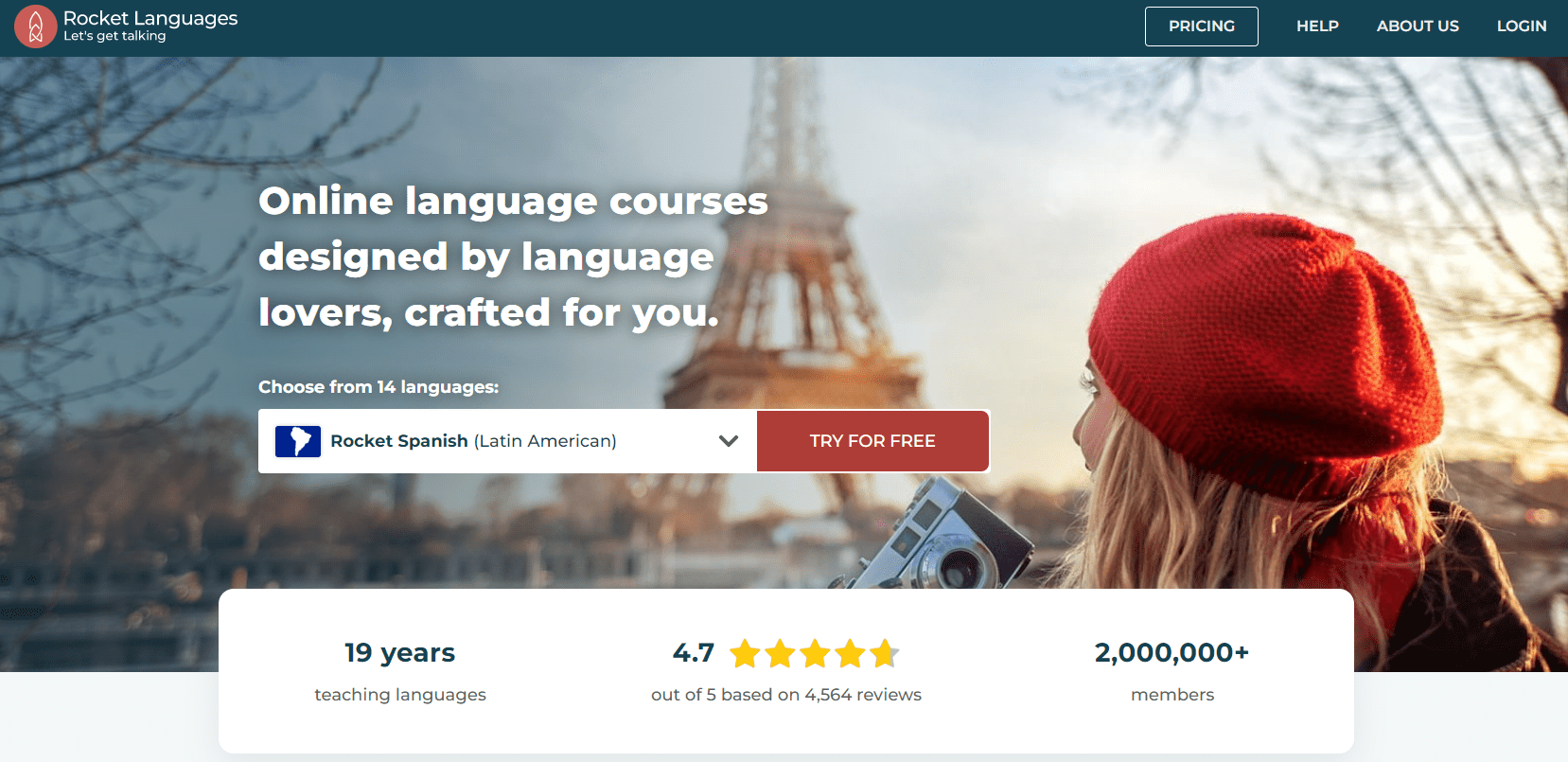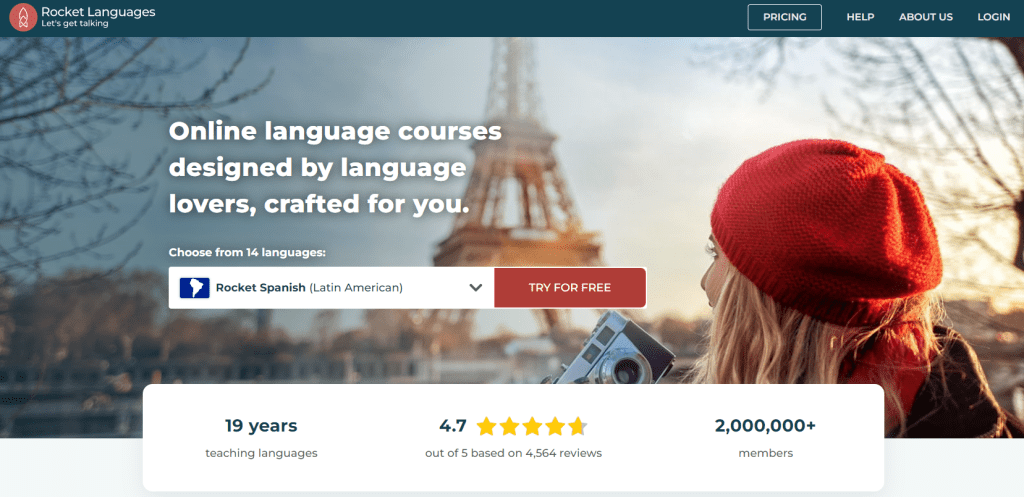 Rocket Spanish focuses on interactive audio lessons with cultural insights and grammar resources. Babbel has slightly better grammar coverage and a textbook-like feel with podcasts and games. If you think the audio approach isn't for you, find more information in our Rocket Spanish review.
Babbel Spanish vs SpanishPod101 Review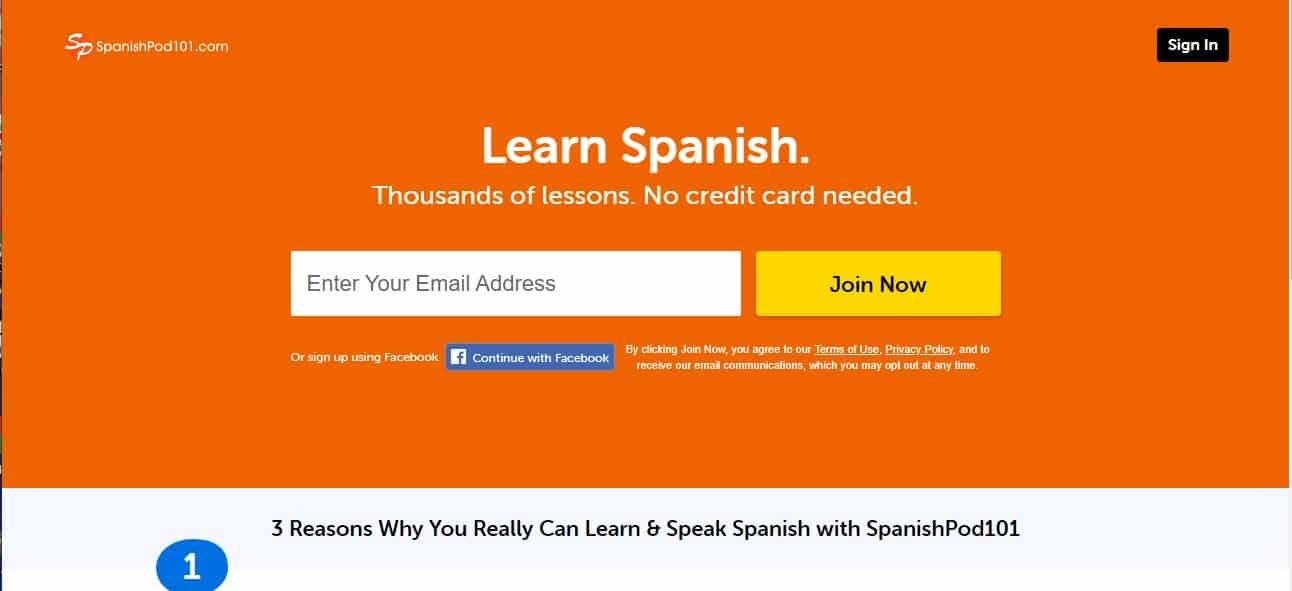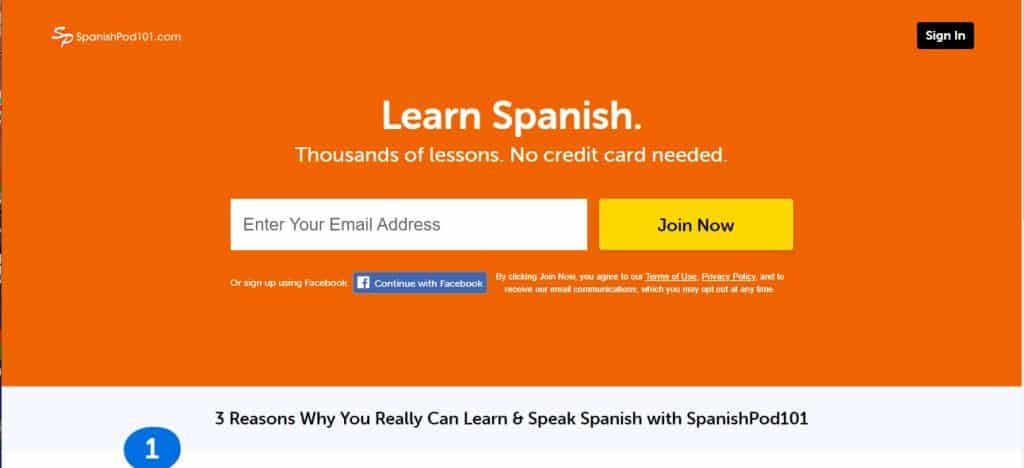 SpanishPod101 provides an extensive collection of podcast-like Spanish lessons. It has a low price tag while still packing some considerable features. Babbel has an undeniably more premium feel to it, with better grammar instruction, voice recognition technology, and games. If you are hesitant about which one to choose, Learn more in our SpanishPod101 review.
Babbel Spanish vs Baselang Review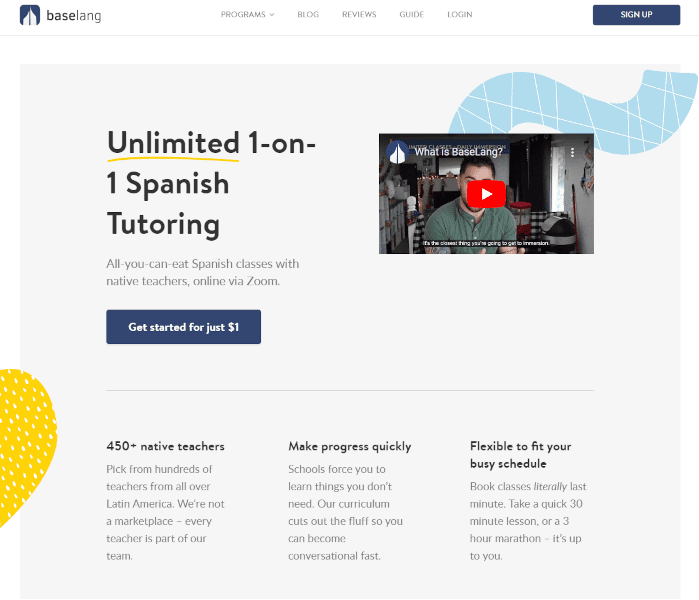 Baselang provides structured and affordable one-on-one tutoring with native speakers. Babbel Live also offers tutoring services, but the core of it is interactive exercises and podcasts. If you want to focus more on online lessons, learn more about Baselang in our Baselang review.
What Babbel Spanish Should Upgrade?
Although Babbel is a brilliant platform for bilinguals, it can work in some areas. The app offers 14 languages with more focus on Babbel Spanish and French. The app could work to introduce other languages in demand with more content. 
There are few resources available for languages like Polish and Indonesian. Such languages have immense global value. A comprehensive course with more lessons can do wonders for learners. 
Babbel Live is a fantastic initiative for immersion. Yet, it is only available in a handful of languages like German, Italian, French, and Spanish. Original readings in other languages will be a great plus.
There are limited intermediate courses. Hence advanced learners cannot enjoy Babbel to the fullest. Adding more advanced lessons will boost learning and usage of the app.
Babbel Spanish Cost
Babbel cost policy is pretty simple. The longer your subscription, the cheaper it is. Try to pick the most suitable option for yourself concerning affordability and duration.
You can easily navigate through the entire course with Alexa. Instruct Alexa the way you generally do. Whether you want a high or low volume, changing Pimsleur lessons, or altering the settings. Alexa allows you to practice convenient lessons while doing chores or moving around the house.
| | | |
| --- | --- | --- |
| Subscription | Price | Payment |
| 1 Month | $13.95 | $13.95 every month |
| 3 Months | $14.33 | $42.99 every 3 months |
| 6 Months | $10.83 | $64.99 every 6 months |
| 12 Months | $7.50 | $89.99 |
| Lifetime | $349 | One charge of $349 |
Free Trial
Babbel Spanish offers a 7-day free trial. Babbel lets you take one free lesson from any language, even if you don't opt for the free trial. It is a great way to test the app even though other apps have more reasonable free trial options.
Babbel Spanish Coupons and Discounts
Not only is Babbel offering discounts on bulk packages but also coupons. There are coupons for teachers, students, and military workers. You can also cut Babbel costs by referring the app to friends. Invite your friends and get 10 cents for every friend that joins.
Refund Policy
Babbel has a 20-day refund policy. In case you feel like Babbel does not align with your learning goals, you can take a refund within 20 days. All you have to do is reach out to their customer support department and follow the standard procedure.
Babbel Pricing Compared to Competition
Apps like Memrise and Lingopie do have cheaper packages compared to Babbel. Yet, we must remember that Babbel offers excellent value and outstanding newcomer course compared to both apps. 
If you like immersion, go for Rosetta Stone Spanish. It is expensive in comparison to Babbel. Babbel's in-depth courses explain why the app has slightly costly packages with better value offers. If you opt for Babbel Live classes, you make an extra monthly payment. So, try to use it at least three to four times a week.
Babbel Evaluations from Other Customers
Google Play Store – 4.7 (50M+ downloads & over 909K reviews)

Apple App store – 4.7 (438K reviews)

G2 – 4.2 

Trustpilot – 3.9
Babbel Spanish Review: Client Support
One of the best things about Babbel's customer support is that they provide multiple options. You can find basic answers on their help page.
You can also use their chat box for simple queries. It will save you plenty of time to practice. Another channel to reach customer support is via email. Drop the team an email. They take a couple of days to respond to complicated queries about refunds and payments. Yet, their team is better than other apps.
Babbel Spanish Review: What Separates it from Others?
Babbel stands as one of the most sought-after apps for a newcomer course. You can learn plenty of grammar, vocabulary, and pronunciation at an affordable price. Use plenty of features like voice recognition technology, Babbel live classes, grammar lessons, and much more. Babbel Spanish is definitely worth a try.