There are a lot of platforms for learning Spanish, but only a few are as well-established as Pimsleur Spanish. This language app takes you through a unique learning process with audio lessons. It's based on the Pimsleur method, which existed since 1963. The audio lessons are helpful for beginners and those who want to improve speaking skills on par with native pronunciation.
This honest Pimsleur Spanish Review will cover everything you need to know about this auditory language learning app.
Best audio lessons to learn Spanish at home and on the go
This Spanish course uses audio lessons from native speakers to help you learn Spanish conveniently. The Pimsleur method is based on the repetition of listening and speaking. But the Pimsleur Spanish program is also packed with many words and phrases, flashcards, a skills section, and more. Language learners will improve in Castilian and Latin Spanish.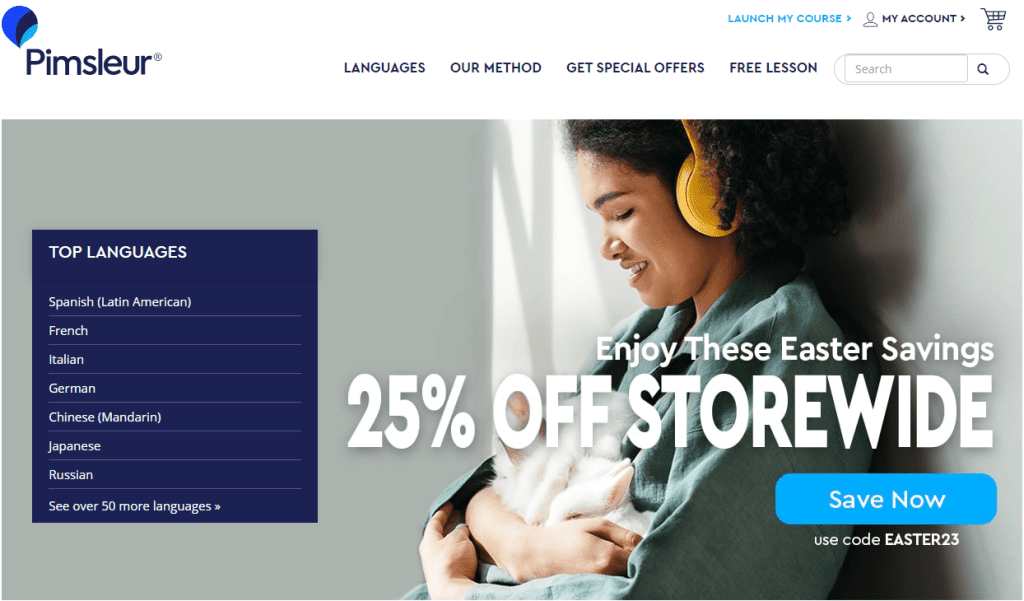 Pimsleur Spanish Review Summary
⭐ Rating:
8.9

★★★★★

🥇 Available languages:
51 (see below)
📈 Suits best for:
Beginners, Intermediate & Advanced Learners
🛒 Payment options:
Monthly and lifetime
💵 Price:
$14.95 – $575
⌚ Hours of lesson time:
300+ Hours
🔄 Refund policy:
30-day money-back guarantee
🎁 Free Trial:
✔️
Here are some of the 51 foreign languages offered by the Pimsleur mobile app: Albanian, Arabic (Eastern, Egyptian, and Modern Standard), Armenian (Eastern and Western), Chinese (Cantonese and Mandarin), Croatian, Czech, Danish, Dutch, Finnish, French, German (German and Swiss), Greek, Haitian Creole, Hebrew, Hindi, Hungarian, Icelandic, Indonesian, Irish, Italian, Japanese, Korean, Lithuanian, Norwegian, Ojibwe, Pashto, Persian (Dari and Farsi), Polish, Portuguese (Brazilian and European), Punjabi, Romanian, Russian, Spanish (European and Latin American), Swahili, Swedish, Tagalog, Thai, Turkish, Twi, Ukrainian, Urdu, Vietnamese.
Disclaimer: Lingomee is an independent review site that may benefit from affiliate programs. Buying through our links makes our efforts possible without additional costs to you. Learn more here.
Quick Overview of Pimsleur Spanish
Pimsleur learning programs have existed for many years. The app's methodology dates back to 1963 when the Pimsleur method was first created. The Pimsleur approach was introduced by Dr. Paul Pimsleur, who noticed that audio lessons are the best for teaching a new language. The method helps you improve your pronunciation as you try to repeat what you have heard.
The app, released in 2018, uses audio lessons from a Spanish native speaker. You listen to the recordings of the dialogue and try to repeat the sentences. Pimsleur Spanish puts your listening skills to the test.
The lessons begin with dialogue with a native Spanish speaker. The dialogue is then translated and used as a learning basis for listening, speaking, and reading lessons. The lessons take around 30 minutes and repeat some vocabulary and new words.
Pimsleur Spanish has 5 learning levels. The first level teaches you the basics of the language. After clearing the first levels, you move to a higher intermediate level of speaking and understanding. At level 5, the conversation moves at a faster speed with the addition of new words and phrases. We think this is the best app to learn Spanish with audio lessons.
Pimsleur Spanish Review: Main Features
Pimsleur Spanish mainly focuses on audio lessons to improve listening and pronunciation skills. It has two separate Spanish courses for Castilian and Latin American Spanish. Despite the differences in the dialects, both versions have the same features. Below are some of the main ones.
Voice Coach
Pimsleur Spanish has a new feature that helps learners learn Spanish pronunciation – The Voice Coach. It lets you record yourself speaking Spanish words and phrases. It records your voice and then shows you a written text of what the app has heard you speak.
Skills
The Skills section is available for premium users. This part shows you the skills you will be improving in each lesson. You can click on each skill and the app shows the words and phrases it will cover. Below you can see the first lesson of the Castilian Spanish Course.
The Pimsleur skills section builds on what you have already learned. You will learn more as you move through the different levels. The app includes new words and expressions as you complete the lessons.
Flashcards
The Spanish lessons come with flashcards that help you go through the previous lessons you have learned. The flashcards have native speakers pronouncing words. The flashcard displays a word in which you are supposed to tap and reveal the explanation. At the end of the round, you will see the words you failed.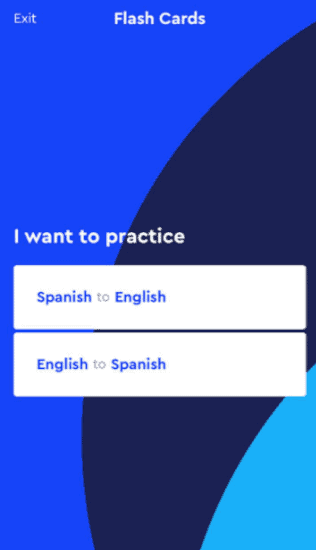 Quick Match
This is a feature that acts as a test for you. It has English sentences with four multiple choices. You have to choose the correct Spanish translation for each sentence. These sentences are taken from the dialogue in the previous lessons. There's an option of listening to them before answering.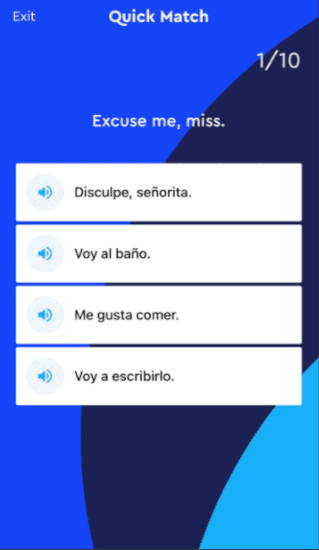 Speak Easy
Speak Easy helps you go through what you have learned. This feature mainly focuses on conversational skills. It gives you an activity in which you assume the role of a native speaker. You listen and try to repeat each side of the conversation.
This feature is supposed to help you start speaking Spanish. The lesson dialogue is divided into different parts. However, the conversations can be a bit slow and you have to be patient when following them. You can also read the conversation as the words are shown like a script.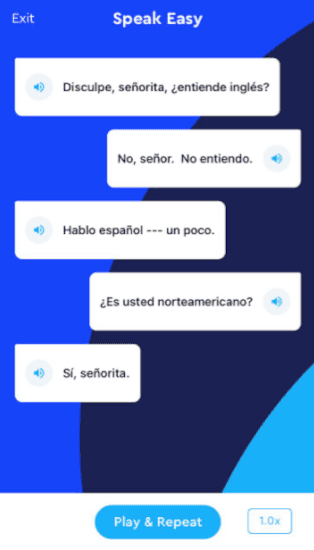 Speed Rounds
Speed round is a game-like feature that asks you to quickly identify the vocabulary. You will need to think quickly when having a real conversation in Spanish, and speed Rounds give you the right practice. It's better to access the speed round after completing some language courses. It's a good way to test your understanding of the Spanish language.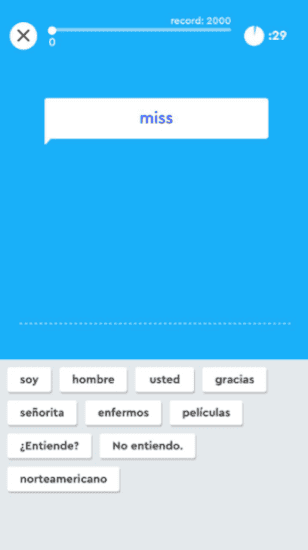 Lesson Quality
Pimsleur Spanish lessons are audio lessons that last around 30 minutes. The course has 5 levels, and anyone can use the learning app, from beginners to advanced learners. The lessons start with native Spanish dialogue. The first levels teach you the basics of South America and the Castilian Spanish language.
The quality of the audio is excellent, and learners get instructions in both Spanish and English. The Pimsleur method is a great way of improving your listening and conversational skills in Spanish.
The lessons have been broken down into smaller bits to make them easier to understand. The audio lesson conversations introduce learners to a few Spanish words. More words are added as the learners get better and move to higher levels.
Grammar Instruction
Pimsleur Spanish mainly focuses on listening and speaking. The lessons don't cover much grammar. However, this approach is good for beginners as it is easier to learn pronunciation before grammar. Practice activities like flashcards help you identify new words and improve knowledge of Spanish grammar rules.
Verbal Practice
The Pimsleur method focuses on the pronunciation of Spanish words. The audio course features native speakers and practice activities for learners. Features like Speak Easy and Voice Coach give learners a chance to practice their Spanish pronunciation. It's also a good way to test your understanding of the Castilian Spanish language.
Reading
The Pimsleur lessons also focus on reading Spanish. The app displays the words you hear in the audio lessons. You get to read what you hear. The learning course gives you the knowledge and makes it easier for you to read Spanish.
Writing
Pimsleur is a classic language-learning app that mainly focuses on speaking and listening. It mainly focuses on improving your verbal skills and does little to give you writing practice. Pimsleur courses may not be effective for Spanish learners who want to write in Spanish.
Vocabulary
The app uses an interactive game to help you practice your vocabulary. The Speed Rounds game requires you to select the vocabulary that you learned in the lesson. You must tap on the words before they hit the bottom. This approach is a fun way of remembering new vocabulary in the Pimsleur course.
Repetitiveness
The language learning app has 5 levels. The levels have dialogues with Spanish speakers and you have to repeat them after hearing what they say. It is easier at first, but the learning method might become a bit repetitive as you become better. The app uses scripted conversations, which might be boring.
However, the conversation being repetitive would mean that you have understood most of the phrases and you can speak Spanish better.
Pimsleur Spanish Review: Ease of Use
Pimsleur is a unique digital platform for almost any target language of your choice. It has a sleek design shared by the desktop and app versions. Everything is put understandably, making it straightforward to use. You will get the main navigation tabs at the bottom of the app. 
Unlike some other language programs, Pimsleur loads quickly, and you can easily go through different sections. Pimsleur uses a blue-and-white interface. The colour mix is attractive and friendly to the eye.
Pimsleur Spanish Competitors and Alternatives
Pimsleur Spanish vs Baselang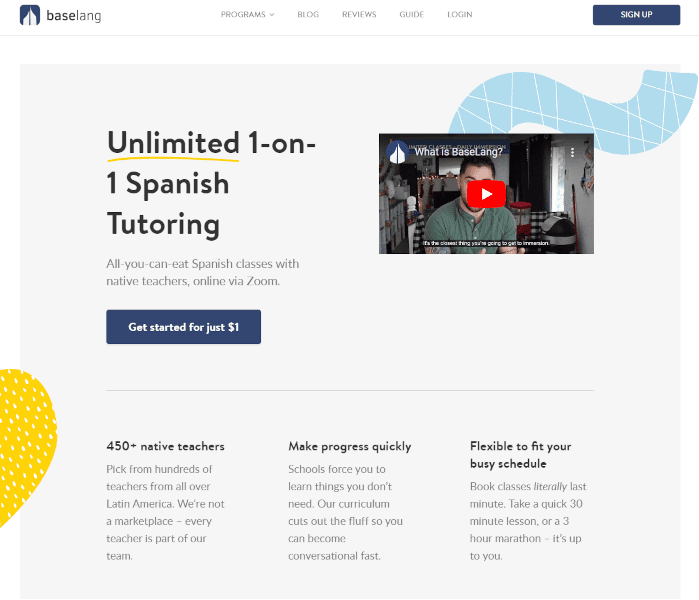 Baselang provides structured and affordable one-on-one tutoring with native speakers. Although Pimsleur's virtual assistant is of high quality, some learners prefer a live person. If you are one of them, Baselang can help you connect with a live teacher easily. You can find more information in our Baselang review
Pimsleur Spanish vs Babbel Spanish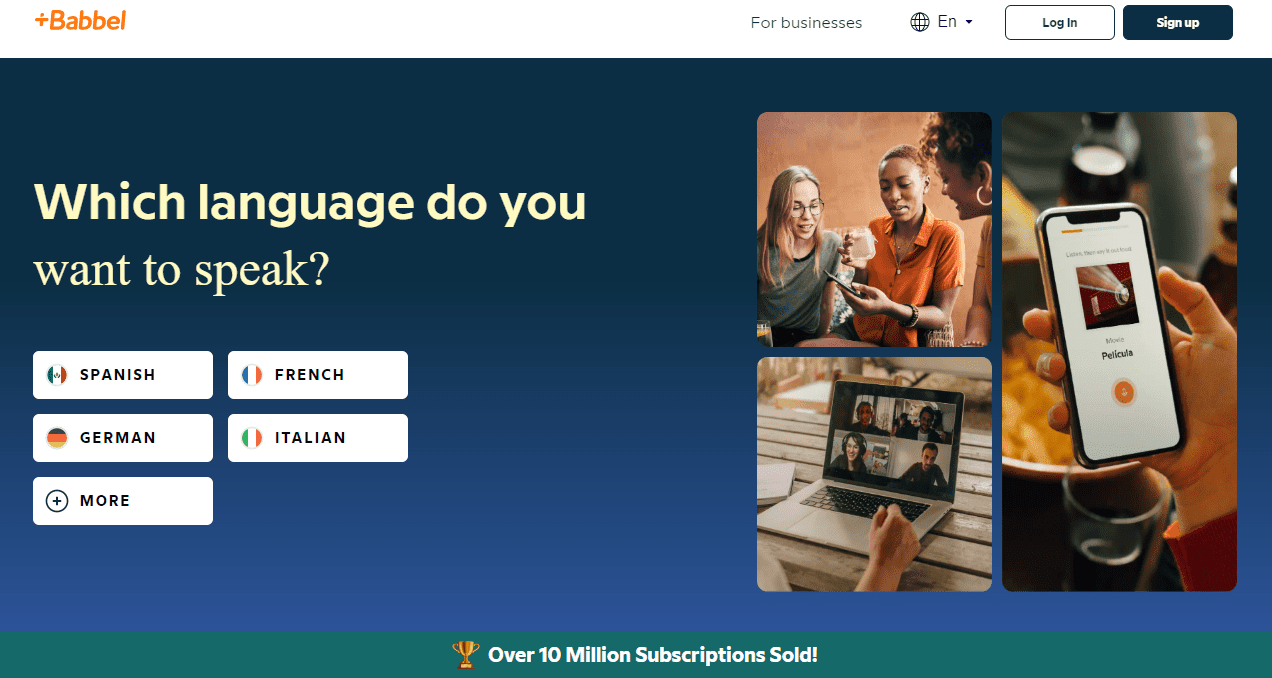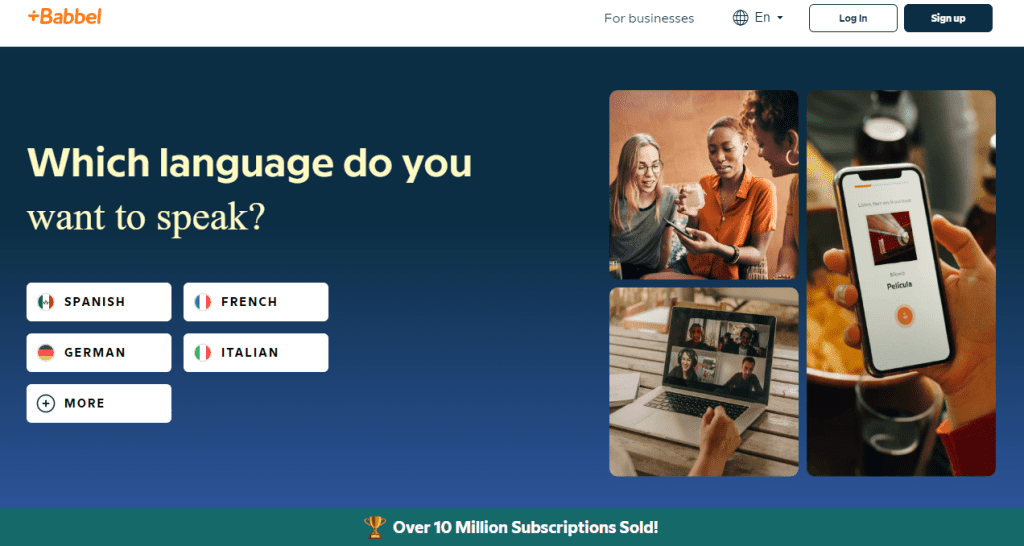 Babbel is a premium-feel language app popular for more than fifteen years. Its Spanish course includes interactive exercises, podcasts, voice recognition, games, and more. While Pimsleur is of comparable quality, its audio approach might not be for everyone. Learn whether Babbel is a good alternative in our Babbel Spanish review.
Pimsleur Spanish vs Spanish Uncovered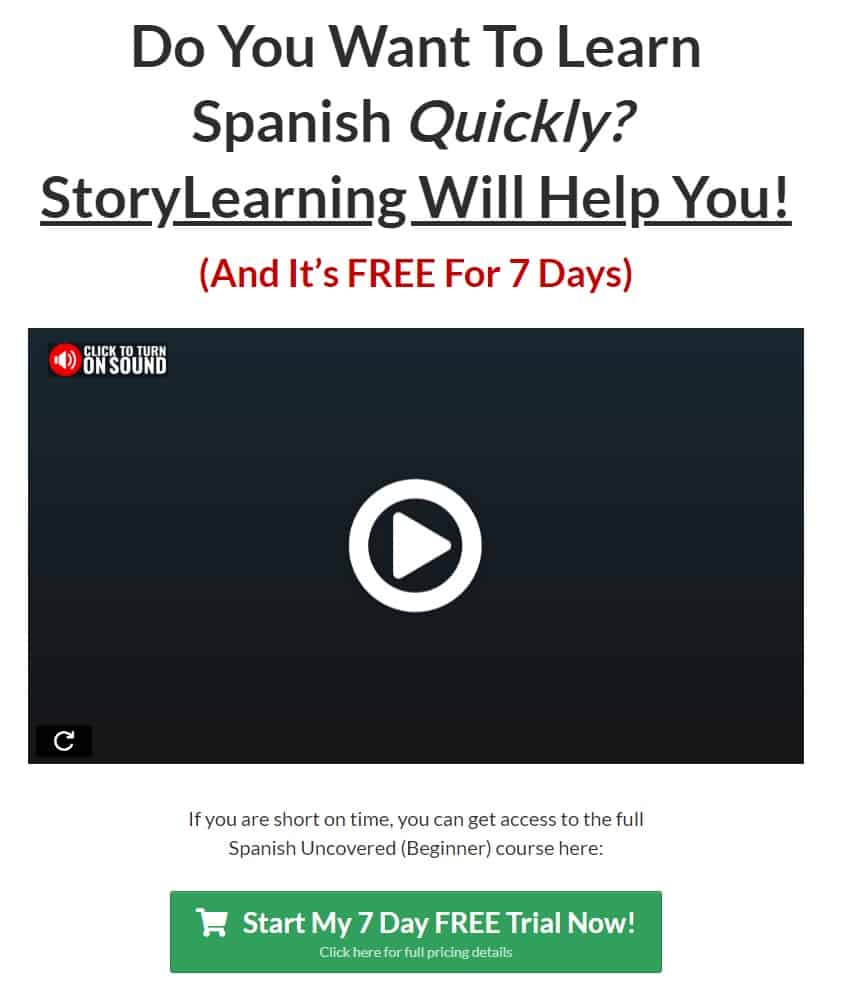 Spanish Uncovered is a unique program best for those who want video lessons to learn with stories. It's clearly created by an expert, but we can say the same about Pimsleur too. The biggest differences lie in the user experience and teaching method. Find more information in our Spanish Uncovered review.
What Could Be Improved?
Pimsleur courses uses audio lessons. There's little learning content for visual learners. The only time they can learn visually is during the practice exercises. Some people understand better by seeing and writing what they learn rather than just listening. Paul Pimsleur did not consider such learners.
Pimsleur courses are paid per level. The pricing can be a bit expensive as other people might prefer a monthly payment plan. The pricing could be adjusted to fit every person. However, such a payment comes with its advantages. You get lifetime access upon paying for each level. 
Pimsleur Spanish Pricing
Pimsleur is one of the most expensive audio courses on the market. However, you can make use of the 7-day free trial to know whether it will work for you. Pimsleur Premium plan gives you access to the whole level when you buy the complete course.
| | | |
| --- | --- | --- |
| Subscription | Price | Payment |
| 1 Month (1 language) | $14.95 | Charged monthly |
| Premium Monthly | $19.95 | Charged monthly |
| 1 Month (All Access) | $20.95 | Charged monthly |
| Individual Courses | $150 | One-time payment |
Free Trial
Pimsleur has a 7 day free trial period. You get access to a free lesson before deciding on when
Pimsleur Spanish Coupons and Discounts
During our Pimsleur Spanish Review, there was a limited offer for Pimsleur courses. You can get the lessons for a reduced price of $99.95. Pimsleur lessons often come with such discounts for foreign language learners.
Refund Policy
Pimsleur languages has a 30 day refund policy. This offer is limited to MP3 products directly bought from their offer website.
Pimsleur Spanish Pricing Compared to Competition
There are many similar language learning apps like Rosetta Stone Spanish, Rocket Spanish, or SpanishPod101. Their premium subscription starts from $11.99, $15, and $10, respectively. They all, except Rosetta Stone, have a strong audio aspect and are a bit cheaper than Pimsleur Spanish.
However, the Pimsleur course is the most trustworthy and has the best functionalities to use on the go. If you are an auditory learner, we recommend it to be the first to try out. Although other apps cover more reading and writing for a similar price, learning Spanish using Pimsleur will be aimed at listening and speking skills more.
Pimsleur Spanish Ratings from Other Users
Google Play Store – 4.6 (1M+ downloads)

Apple App store – 4.7 (10K+ ratings)

G2 – 4.3

Trustpilot – 2.7
Pimsleur Spanish Review: Customer Support
We recommend contacting Pimsleur's customer service through email or give them a call. Phonecall might include additional charges and live chat functions more like an email. Pimsleur's team usually responds within 8 hours.
Pimsleur Spanish Review: Conclusion
Overall, learning Spanish with Pimsleur is effective. The lessons are in the form of dialogue which is a good way to improve pronunciation. Each Pimsleur Spanish audio lesson gives you a chance to repeat after the speaker making it a unique learning experience.