Spanish language is by over 500 million people worldwide, but mastering it can be challenging due to complex grammar concepts and pronunciation. But learning Spanish isn't hard. Especially when you have SpanishPod101 at your disposal. 
SpanishPod101 offers an interactive and fun learning style for Spanish learners of all levels, from an absolute beginner to an advanced level. It utilizes various resources, such as video materials and podcasts, to make the process engaging and effective in overcoming the challenges of learning Spanish. 
But how do you know if the platform suits your learning needs? Find out in this comprehensive SpanishPod101 review. 
Excellent video and audio lessons for Spanish comprehension skills
SpanishPod101 brings engaging features and quality content in its podcast-like Spanish lessons. But it's not just podcasts. All the lessons cover a variety of types – text, video lessons, audio lessons, and interactive quizzes. They will keep you engaged as you learn Spanish at your own pace.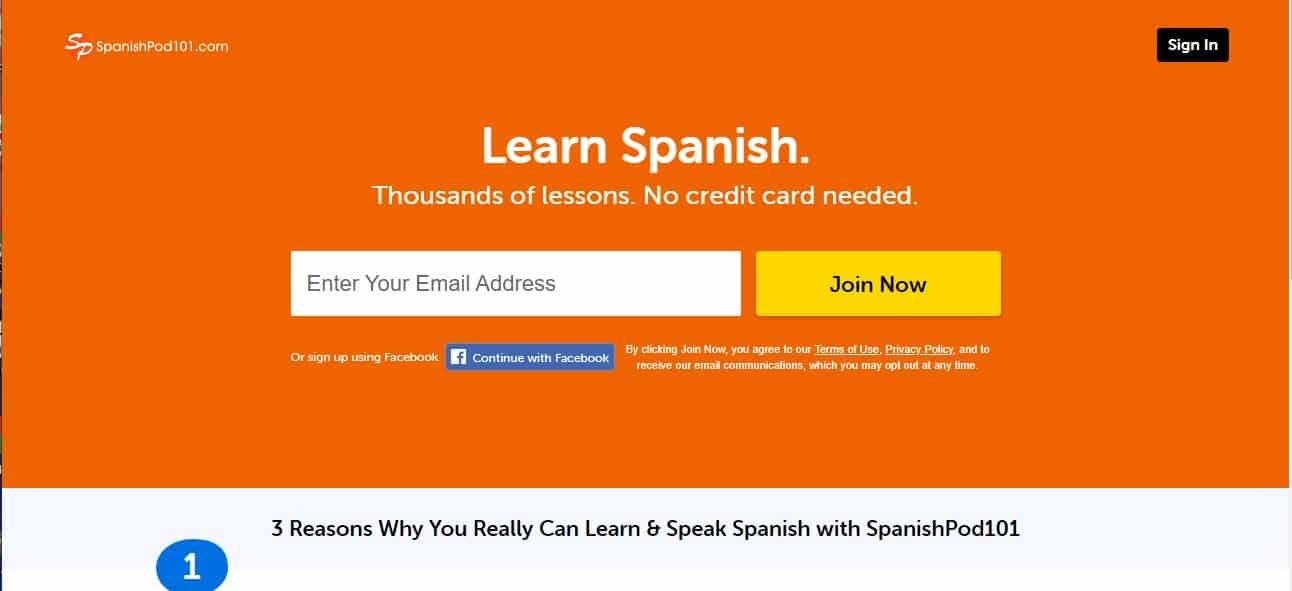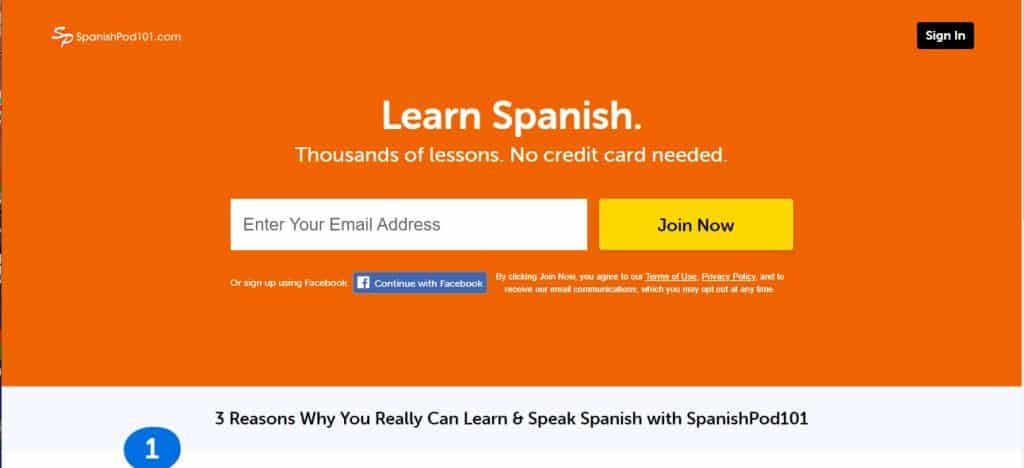 SpanishPod101 Review Summary
⭐ Rating:
8.7

★★★★★

🥇 Available languages:
1
📈 Suits best for:
Intermediates
🛒 Payment options:
Monthly, Yearly, Lifetime
💵 Price:
$8 – $390
⌚ Hours of lesson time:
1000+
🔄 Refund policy:
60-day money back guarantee
🎁 Free Trial:
✔️
Besides the European and Latin American Spanish language, this learning platform offers 33 additional languages, including Afrikaans, Arabic, Bulgarian, Cantonese, Chinese, Czech, Danish, Dutch, English, Filipino, Finnish, French, German, Greek, Hebrew, Hindi, Hungarian, Indonesian, Italian, Japanese, Korean, Norwegian, Persian, Polish, Portuguese, Romanian, Russian, Spanish, Swahili, Swedish, Thai, Turkish, Urdu, and Vietnamese.
Disclaimer: Lingomee is an independent review site that may benefit from affiliate programs. Buying through our links makes our efforts possible without additional costs to you. Learn more here.
Quick Overview of Spanishpod101
SpanishPod101 was launched in 2005 and has since become one of the most popular language-learning apps in the world. It is an innovative platform that helps you achieve your Spanish language-learning goals. So whether you are an absolute beginner or at an advanced level, this platform offers a personalized learning experience to help you learn at your own pace. We could also call this program as one of the best apps to learn Spanish with podcasts.
In addition, the mobile app of Innovative Language Learning offers a variety of features such as a flashcard deck, audio and video lessons, interactive quizzes, dialogues, learning paths, and more. 
One of the features that make SpanishPod101 stand out is its teaching methodology. It is based on the principles of immersive language learning, which encourages you to engage with the language daily through the provided resources, such as articles and video lessons. 
The placement test on SpanishPod101 allows you to determine whether you are beginner or intermediate level. Once this is specified, the platform recommends different learning paths.
Spanish Pod 101: Main Features
SpanishPod101 provides various features to help you improve Spanish with the main focus on listening skills. These features, which include Pathways and Dialogues, work seamlessly to create a comprehensive and immersive experience for any language learner.
Pathways
Pathways offer personalized lesson notes tailored to your interests and goals. You can choose from various themes, including culture, work, or travel, which are highly relevant and unique to the Spanish language. The app will then generate customized learning paths based on your preferences. This keeps you engaged and allows you to focus on the areas of the Spanish language that interests you the most. 
For example, learning about Spanish culture is vital to mastering the language. When you choose the cultural theme, you can immerse yourself in Spanish culture and traditions. This will give you a better understanding of the context when learning Spanish.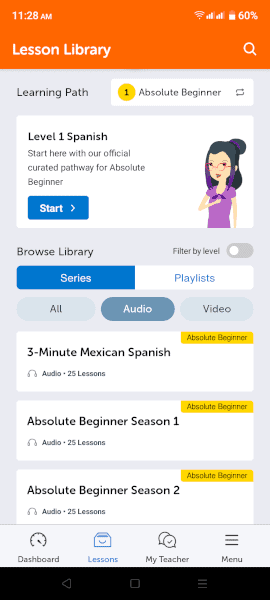 Dialogues
The Dialogue feature is like Spanish podcast lessons with native Spanish speaker conversing about everyday situations. This feature includes dialogue transcripts, vocabulary lists, and cultural insights, helping to understand the context of the conversation.
The topics covered in the dialogues, such as making small talk, are contextually relevant when you speak Spanish. This is crucial to understanding the language's nuances which can vary significantly depending on the region. For example, Costa Rican Spanish and Mexican Spanish have different cultural contexts and key vocabulary.
In addition, the feature allows you to record yourself as you speak and compare your own pronunciation to native speakers of different Spanish dialects. Through this, you can identify areas of improvement and practice to speak Spanish more naturally. If you want practice with real native speakers, than apps like Busuu, Preply, italki or HelloTalk are great choices.
Vocabulary
The Vocabulary feature allows you to save words and phrases with their pronunciation and translation for later study. SpanishPod101 uses spaced repetition, a learning technique that shows the words at intervals to make it easier to memorize them for the vocabulary lists you save.
This feature also offers a variety of exercises and activities, such as a flashcard deck, quizzes, games, word bank, and pronunciation guides to help you retain the key vocabulary you learn.
The pronunciation guide helps you to practice saying the words and get feedback on your pronunciation. They explain the language's phonetic system and provide advanced audio blogs of native Spanish speakers pronouncing the words and phrases.
Lesson Notes
The Lesson Notes feature provides comprehensive and concise notes on the crucial concepts of the Spanish language, such as verbs and grammar bank rules. There are also cultural insights and tips to help you in learning Spanish.
This feature helps you to revise and consolidate what you have learned in the lessons. The notes supplement the audio and video lessons offered on the platform. They provide you with a written reference that you can refer to as you practice your language skills.
The Spanish lessons are fully integrated into the other features of SpanishPod101. It allows you to easily switch between different materials as you practice listening comprehension in all the lessons.
Lessons Quality
Spanishpod101 offers high-quality lessons that are well-structured, engaging, and easy to follow. The lessons cater to Spanish learners of all backgrounds, from advanced to beginner level. They also cover vocabulary lists, grammar explanations, pronunciation, and cultural insights.
One thing that sets Spanishpod101 apart is the use of Spanish native speakers who provide clear and authentic instructions. The lessons focus on audio and video, which helps you to practice your listening and speaking comprehension skills.
They also offer every lesson transcript and translations for the audio and video lessons to allow you to read along as you learn Spanish. However, one area for improvement could be to include more interactive activities to practice writing and reading skills, as most lessons lack them.
The app offers over 1,000 hours of audio lessons you can learn at your own pace. The lessons range from 10-15 minutes to have the perfect on-the-go learning experience.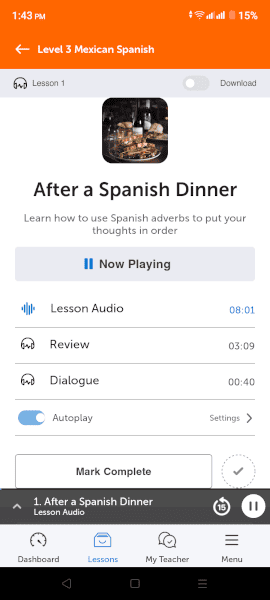 Grammar Instruction
Spanishpod101 review is excellent at teaching grammar, providing the grammar point with clear explanations and various lesson examples. It breaks down the grammar point, the grammar bank, concepts, and advanced lessons into manageable pieces.
These are presented in audio and video, lesson notes, and grammar-focused resources like the Grammar Bank.
For example, video and audio lessons introduce grammar points clearly and concisely through conversations between native Spanish speakers. The grammar point is then broken down into manageable pieces, with clear explanations and examples to help you understand the concept. 
Verbal Practice
Spanishpod101 review offers numerous opportunities for you to practice speaking Spanish. It provides feedback on your tone, stress, and other elements of pronunciation to help you improve your speaking and listening skills.
While the platform does not have a voice recognition system, features such as Dialogues compensate when you learn Spanish. The dialogues allow you to practice speaking skills by recording yourself and comparing your pronunciation to native speakers.
There's also a community forum on SpanishPod101 where you can interact with native language speakers and other learners to practice your speaking skills and receive feedback on your Spanish courses.
Reading
SpanishPod101 offers a larger lesson library for reading practice. It is suitable for beginner and intermediate levels with many articles which covering current events. These offer a great way to improve your skills while staying up-to-date with what's happening in Spanish-speaking countries.
There are also short stories written specifically for Spanish learners. These stories help you improve your reading comprehension skills as you learn new grammar and vocabulary concepts. Every lesson transcript is also made with reading comprehension in mind.
Lastly, cultural insights delve into Spanish-speaking countries' culture, history, and traditions. They are excellent resources for learning more about the culture of the Spanish language. 
Writing
SpanishPod101 has various tasks to practice your writing skills. These tasks are backed up with clear instructions and word bank examples, making them easy to understand. These writing tasks are made by a Spanish teacher and include writing prompts, essay assignments, and sentence-building exercises.
With sentence building, for example, you are provided with a set of words or phrases from which you can practice constructing sentences in Spanish. Such exercises are included in all learning paths. As for the writing feedback, you can submit your writing exercises for a Spanish teacher to review.
Vocabulary 
The Innovative Language app offers vocabulary-building learning tools, including Quizzes, interactive games, and a flashcard deck. Audio lessons are also recorded to help you learn how to pronounce them correctly.
For instance, the quizzes come in different formats, including matching, multiple-choice, and fill-in-the-blank. These are designed to reinforce the key vocabulary words learned and start from the very first beginner lessons.
The flashcards, on the other hand, feature a picture or word on one side and the definition on the other. It helps to associate the words with their meaning, making them easier to recall for those whose learning style is visual. Apps like Drops and Glossika are another great choices for vocabulary building.
Repetitiveness
Lastly, SpanishPod101 offers various activities with so many lessons that you are unlikely to be bored or feel like you are doing the same thing repeatedly. In addition to most lessons, you can use the 'Pathways' feature to tailor your learning path and tailor Spanish lessons to your interests.
SpanishPod101 uses spaced repetition, presenting information at different intervals, allowing you to review and consolidate information effectively. Although it creates some repetitiveness, it is beneficial for Spanish learners who struggle with retaining new information. 
Spanishpod101: Ease of Use
SpanishPod101 has an intuitive user interface that makes it easy to use and navigate. The app's sleek design features a pleasant color scheme and visuals that are appealing to the user.
The Innovative Language app is also highly responsive, and the load times are quick. You are unlikely to experience any downtimes when using the app. Although the app uses stock images, they are tasteful and appropriate.
SpanishPod101 Competitors and Alternatives
SpanishPod101 vs Rocket Spanish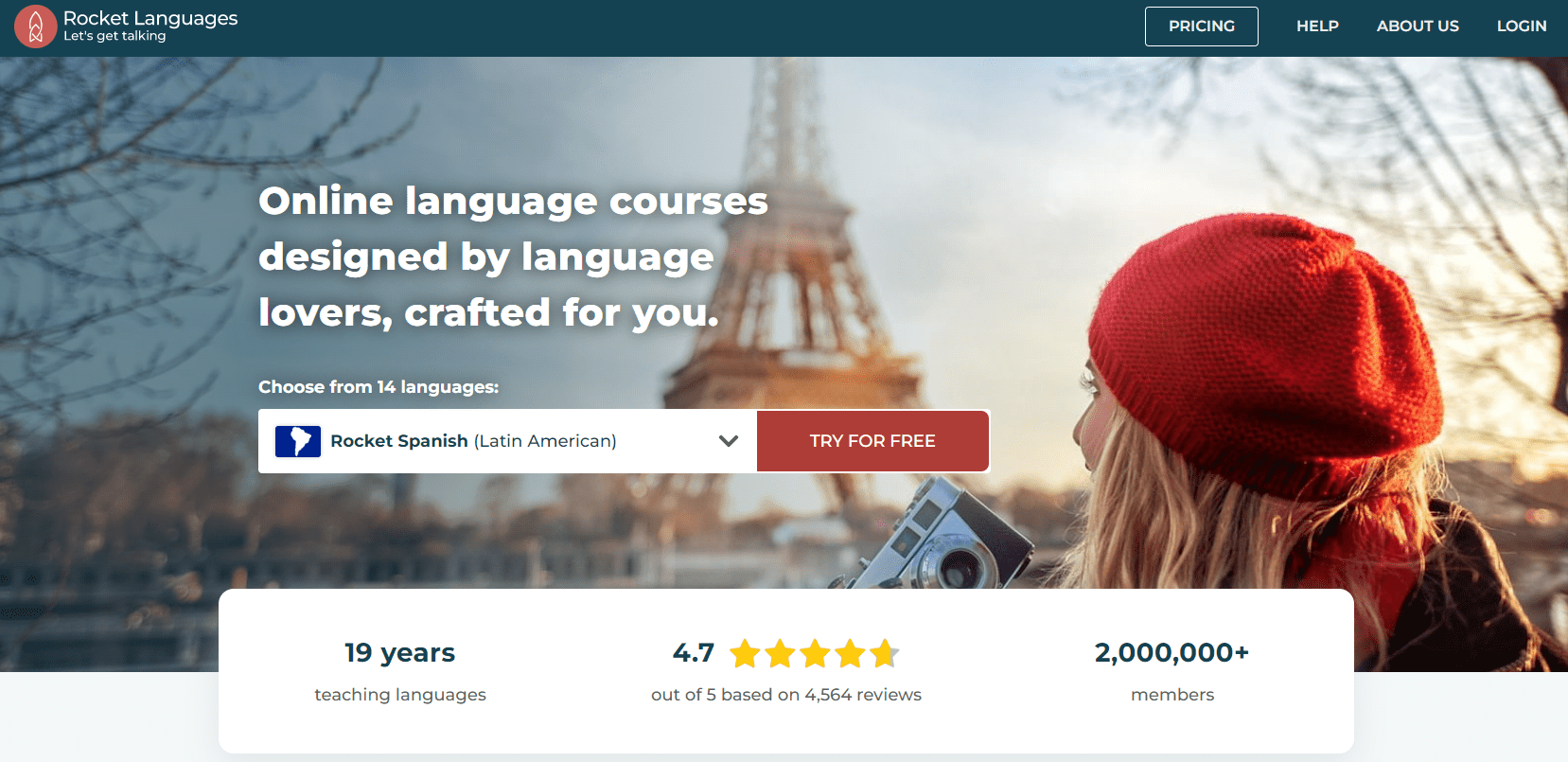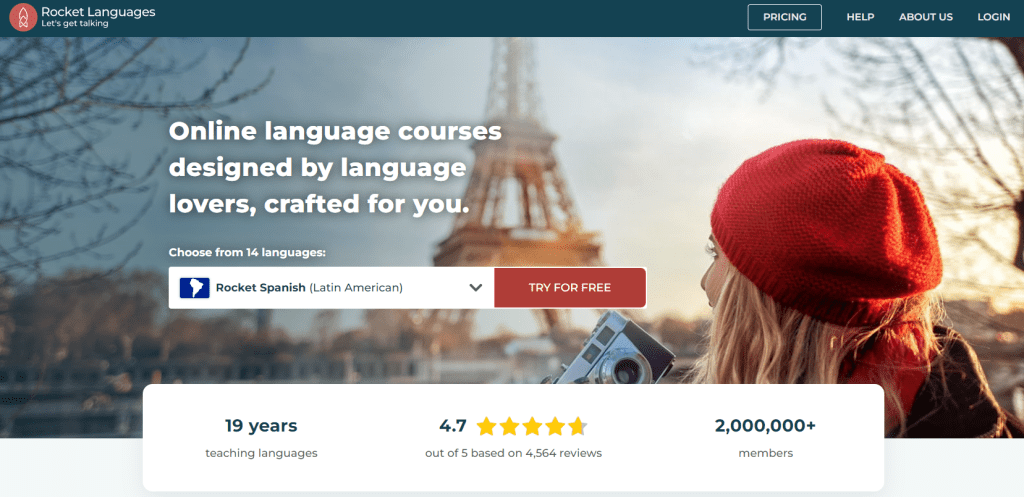 Rocket Spanish focuses on self-paced interactive audio lessons with cultural insights and grammar instruction. In comparison, SpanishPod101 resembles podcasts a bit more and has a different design. Although a bit more expensive, Rocket Languages might be a better option for you. Learn more in our full Rocket Spanish review.
SpanishPod101 vs FluentU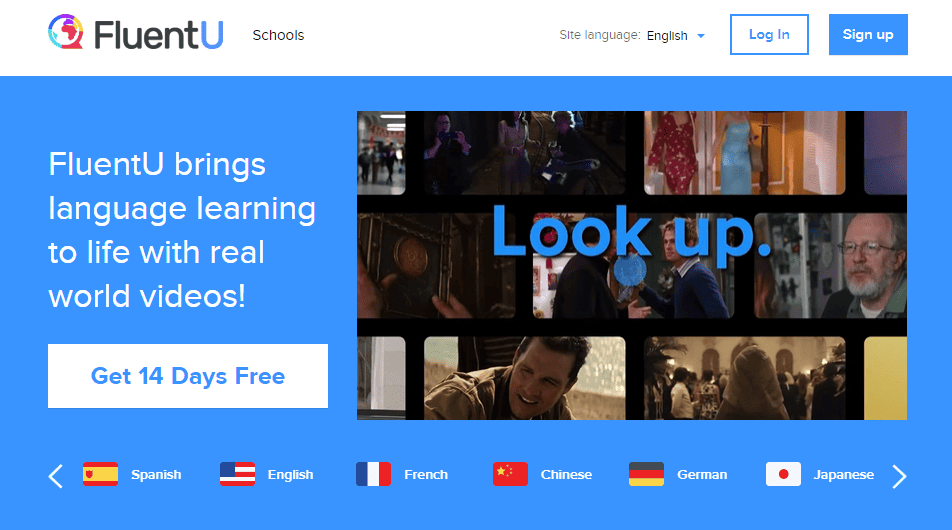 FluentU provides an immersive approach incorporating authentic video content from real-world sources. It provides interactive subtitles, vocabulary flashcards, quizzes, and more. It's a good alternative to SpanishPod101 if you think your learning style is more visual. Find more information in our FluentU review.
SpanishPod101 vs Rosetta Stone Spanish
Rosetta Stone emphasizes language immersion through visual cues with little formal guidance. Although it also uses native speaker recordings, compared to SpanishPod101, it's better suited for visual learners. Both programs are effective, and the choice relies on your learning style. Learn which one to choose by reading this Rosetta Stone Spanish review.
SpanishPod101 vs Spanish Uncovered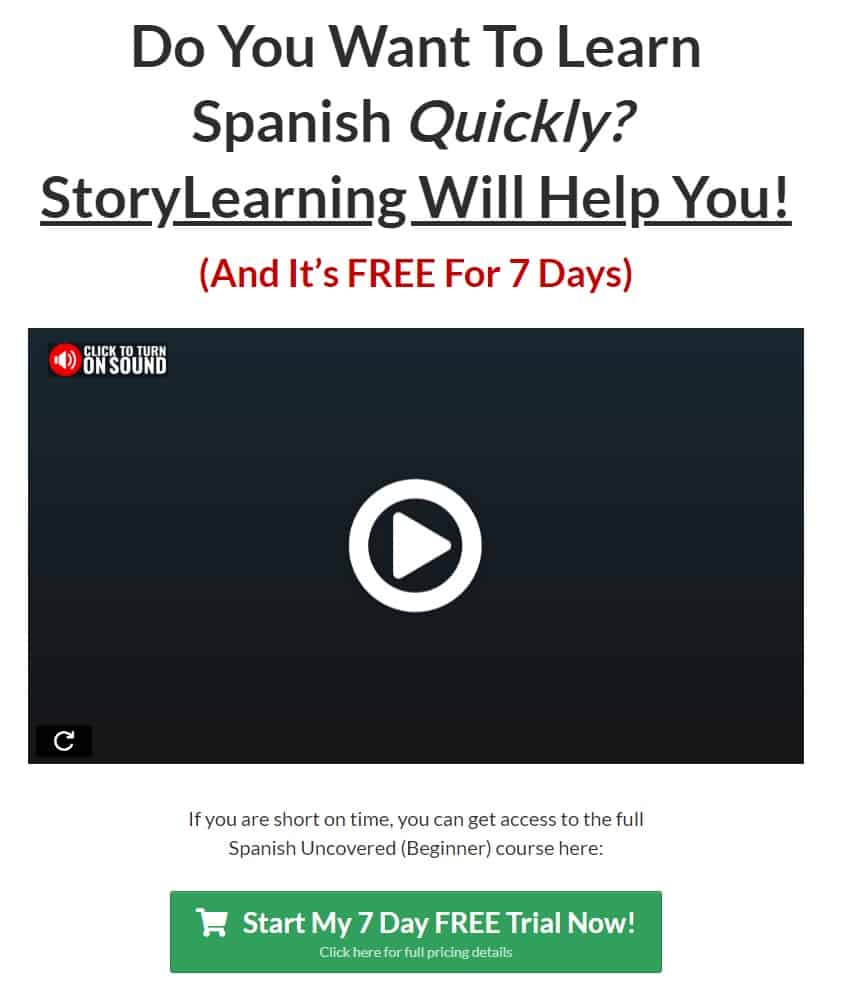 The Spanish Uncovered language course, designed by polyglot Olly Richards, offers a highly effective and engaging approach to learning Spanish for beginners and lower-intermediate learners. Utilizing a storytelling method centered around the narrative "El Hombre Del Sombrero," the course covers grammar, vocabulary, and pronunciation. Find more information in our Spanish Uncovered review.
SpanishPod101 vs Baselang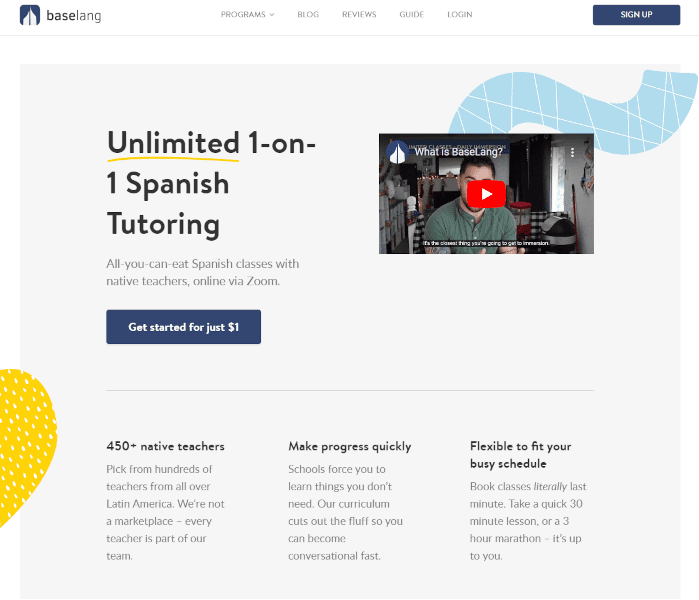 Baselang is an online language learning platform specializing in Spanish, catering to beginners and intermediate learners. Boasting an innovative approach, it provides unlimited one-on-one tutoring, earning a reputation for effectiveness and affordability. Find more information in our in-depth Baselang review.
What Could Be Improved?
While a wealth of content is available on SpanishPod101, not all are equal, and some learning materials can feel outdated. For example, writing exercises in Spanish are from 2016 and may not have the newest cultural trends.  
Secondly, the platform offers limited customer support options. While it is great that it has FAQs and a blog to answer most questions, it could benefit from other options, such as phone calls and live chats.
Lastly, the platform's mobile app is difficult to find. You will not find the app even after searching Google Play Store or Apple App Store for SpanishPod101. It is because the mobile app is called Innovative Language Learning. The platform should make it easier for new users to find the app.
SpanishPod101 Pricing 
The app offers various basic subscription plans for you to choose from. The pricing is based on a cost-per-language policy with different prices for different language resources.
However, when you start, there's a 7-day free trial to try before committing to a basic or premium subscription. The app also offers a free lifetime account to access some materials. To unlock more content materials, you must upgrade to one of the following plans – Basic, Premium PLUS, or Premium subscription.
| | | |
| --- | --- | --- |
| Subscription | Price | Payment |
| Basic 1-month | $8 | Charged monthly |
| Basic 12-months | $62 | Charged yearly |
| Premium 1-Month | $26 | Charged Monthly |
| Premium 12-Month | $180 | Charged Yearly |
| Premium PLUS 1-Month | $49 | Charged Monthly |
| Premium PLUS 12-Month | $390 | Charged Yearly |
| Basic Lifetime | $260 | One-time Charge |
With a basic plan, you get access to in-depth lesson notes, read-along lesson transcripts, and complete audio and video lessons.
With a Premium plan, you get all the benefits of the basic plan. Access to line-by-line dialogue breakdowns, a personal word bank, multiple-choice assessments, lesson vocabulary lists, and 1-on-1 access to a Spanish teacher for personalized assessments. 
With a Premium PLUS plan,  you'll have all the features of the Premium plan with access to a complete video and audio lessons archive. 
Free Trial
The Spanishpod101 review offers a 7-day free trial to try the app and its features. The free trials offer access to the lesson library podcast lessons, lesson notes, and learning tools in the app. Users can cancel their premium subscription before the end of the free trial period to avoid being charged.
SpanishPod101 Coupons and Discounts
SpanishPod101 offers a free account and occasional discounts and promotions on its website and mobile app. You can subscribe to their email list to receive notifications about upcoming sales and deals. Or you can check the mobile app for discount notifications.
Refund Policy & Customer Support
SpanishPod101 offers a 60-day money-back guarantee for their premium subscription. You can cancel your premium subscription and request a refund within 60 days of purchase. Refunds are typically processed within 5-7 business days.
SpanishPod101 offers customer support through email. There's no live chat or phone support. In testing their response time for this SpanishPod101 Review we received a response within 24-48 hours. Other users report similar times and positive experiences with their customer support, citing helpful and responsive native speaker agents.
SpanishPod101 Pricing Compared to Competition
SpanishPod101 offers competitive pricing for their premium and basic subscription compared to other language learning apps such as Pimsleur Spanish, Babbel Spanish, and Memrise.
Their basic monthly subscription is priced similarly to Babble. They all offer a free version with limited features. In addition, SpanishPod101 and Babble have a premium version with more features. Both apps are equally good for beginner-level learners.
However, since SpanishPod101 may be expensive, some users find the lack of cheaper pricing options to be a drawback compared to other apps. We think this language-learning app is best for those who prefer audio lessons above any other learning style.
SpanishPod101 Ratings from Around the Web
Google Play Store – (1M+ downloads)

Apple App Store – (1K+ ratings)

G2 – 4.6

Trustpilot – 4.5
Conclusion
SpanishPod101 is a great language learning platform offering comprehensive audio lessons, video recordings, and study tools. The app is user-friendly, and the content is well-organized. While there is room for improvement, such as better customer support and a more flexible pricing model, the quality of the content makes it worth considering.
SpanishPod101 is especially good for beginner-level learners. So if you want to learn Spanish, we highly recommend giving SpanishPod101 a try. ¡Buena suerte!