Without access to native speakers and tutors, mastering correct pronunciation in a foreign language is a daunting task. While many language apps offer access to these resources, they can quickly become costly due to per-session fees. 
Enter Speechling, a nonprofit language app that provides an affordable platform with thousands of contextual words, sentences, and phrases spoken by native speakers. The speechling app also offers feedback from tutors to help learners improve their pronunciation skills.
But does Speechling deliver on its promises? In this review, we'll examine the app's features and methodology to determine the effectiveness of its unlimited plan.
Great for advanced speakers to practice pronunciation
By analyzing your recordings and providing a personal tutor, Speechling improves pronunciation and listening skills. It offers thousands of high-quality audio lessons from native speakers and uses flashcard-based exercises. The emphasis on pronunciation practice is well-polished, but Speechling lacks other parts of language learning needed for complete beginners.
Speechling Review Summary
⭐ Rating:
8.9

★★★★★

🥇 Available languages:
13
📈 Suits best for:
Intermediates and Advanced
🛒 Payment options:
1 Month/3 Months/12 Months
💵 Price:
$19.99 – $239.99
⌚ Hours of lesson time:
250+
🔄 Refund policy:
Non-refundable
🎁 Free Trial:
✔️
Spanish (Latin America), Spanish (Spain), French, German, Chinese (Simplified), Chinese (Traditional), Japanese, Italian, Russian, Portuguese, Korean, English (US), and English (UK)
Disclaimer: Lingomee is an independent review site that may benefit from affiliate programs. Buying through our links makes our efforts possible without additional costs to you. Learn more here.
About Speechling
Speechling is an educational nonprofit with a mission to make language learning accessible to everyone. The platform is available for download on both iOS and Android devices. It offers a unique blend of language immersion and one-on-one coaching to help learners improve their pronunciation skills in their target language.
At the core of Speechling's approach is its use of high-quality audio lessons of real-life phrases spoken by both male and female native speakers. These recordings enable learners to mimic the natural rhythms and intonations of native speakers, helping them develop an authentic accent and fluent speaking skills.
Another standout feature of this language learning app is the possibility to receive feedback. Language learners can submit recordings of their voices while receiving pronunciation feedback that pinpoints their mistakes and provides the proper way to say common phrases. This feedback encourages learners to practice and repeat without fear of judgment or embarrassment.
The personalization is a bit limited as Speechling does not offer a placement test. Instead, you get to choose your proficiency level among 11 different categories, ranging from "Beginner 1" to "Expert 2."
Speechling Review: Key Features
Speechling is an app for learning proper pronunciation at its core. Therefore, every feature on the platform is designed to improve your speaking and listening skills in the target language. 
Nonetheless, some language resources, such as "Dictation" and "Flashcards," are geared towards helping improve your reading and writing skills. However, they aren't comprehensive enough to give you sufficient practice in those areas.
Unlike other apps that primarily rely on speech recognition software, Speechling isn't repetitive or boring. It employs many features and techniques to make learning fun.
Speechling categorizes its features into three main sections: Skills, Toolbox, and Study. They pack a lot of opportunities for practicing pronunciation and listening comprehension.
Skills
It is the section you should visit first when you start using the Speechling app. We are stating that explicitly since the app doesn't tell you where to start, which makes the onboarding process quite frustrating. As its name suggests, the Skills section allows you to choose the particular aspects to work on.
Speechling Core Curriculum
As the name implies, the Core Curriculum contains Speechling's entire curriculum. While Speechling doesn't require you to follow set online language classes, we recommend starting your Speechling journey by experimenting with the different categories in the Core Curriculum to identify your proficiency level according to Speechling's standards. 
The benefit of doing this is that you will study languages personalized to your language proficiency level.
Speechling Conversations
This feature is for advanced learners looking to practice their speaking skills without following the traditional "listen, speak" format. Here you get to be more creative with your speaking skills.
Answer the Question tests your speaking skills by answering questions on various topics in a foreign language. The aim is to challenge you to use the target language in different ways, helping improve your listening and comprehension skills.
Example sentences may include – "When was the last time you had a nightmare?" in one question, and "What advice would you give to parents?" in the next.
Describe the Image: Here, you will be presented with an image, and you must describe it in a foreign language. This exercise will help you improve your vocabulary and sentence structure while using the language naturally.
Freestyle mode: Allows you to discuss any topic you want in foreign languages. Your tutor will then analyze the recordings you made and give you feedback.
Speechling Conversations is our favorite tool on Speechling since it forces you to apply your skills in a real-world environment where context is key. This is especially true for the "Freestyle Mode," where your tutor will engage you in a casual conversation.
Speechling Foundations
As its name suggests, "Speechling Foundations" helps you learn some of the basic expressions in your target language. Some of the things you'll learn here include numerals, nouns, verbs, adjectives, and the calendar. This section is great for those looking to brush up on the basics, but it might not be enough for a complete beginner.
Speechling Phrasebook
This feature is a collection of some common phrases and is subdivided into different categories, such as "Asking for Help," "Health," "Transportation," and more.
The Speechling Phrasebook is especially handy for travelers looking to learn specific phrases they can use when conversing with locals on a trip abroad.
You could also take a look at our language apps roundups for most popular languages:
Toolbox
Speechling's Toolbox contains the features you'll be using regularly to enhance your speaking and listening skills.
Dictation Practice
This tool helps you learn how to write in your new language. The activity involves listening to a voice recording of a native speaker and then typing what you hear. You check whether you gave the correct answer before proceeding to the next question.
Listening Practice
This feature is for those looking to immerse themselves in the new language without participating actively. Here, you will hear a native speaker say different words and their corresponding translations to improve your listening comprehension.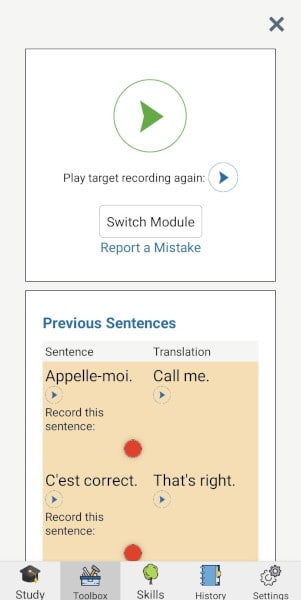 The idea is to get your mind to make associations with certain words subconsciously, which is the whole concept behind language learning through immersion.
Flashcards
Flashcards are excellent vocabulary builders. The premise is simple: you are shown a flashcard containing a written phrase and an audio of the native speaker saying it. You are supposed to translate its meaning in your head, followed by pressing "See Translation" to see whether you got it right.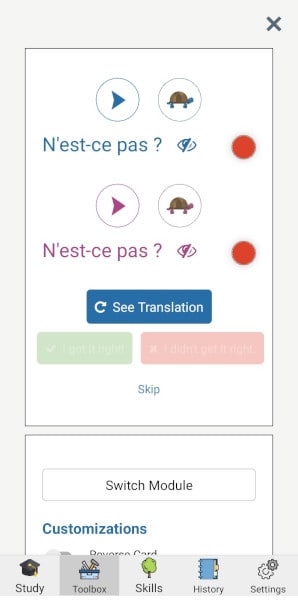 Quiz
The "Quiz" feature is another handy tool for vocabulary practice. As the name suggests, it involves answering a multiple-choice quiz to help cement your current knowledge.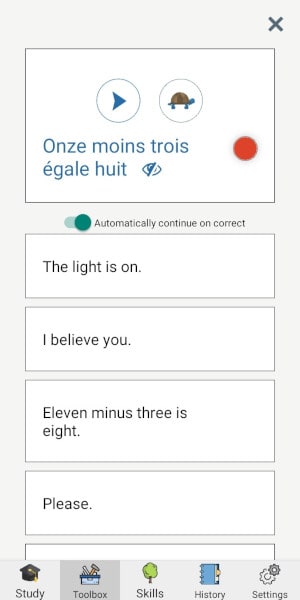 All the questions in the quiz are based on what you have learned already. However, you have the option to make things more difficult when learning a new language by switching modules and choosing a more advanced level.
Fill In the Blank
As its name suggests, this fill-in-the-blank feature will have you fill in an incomplete sentence using the correct word. It is another fun way of learning how to incorporate your learned vocabulary in different contexts, allowing you to master the new language.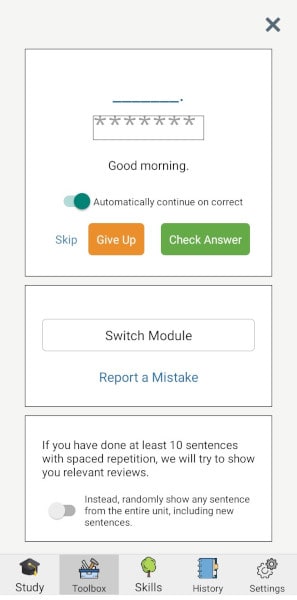 Study
This is where the bulk of your learning will occur. You can choose the most difficult aspects to work on from the Skills section. This section is divided into three subsections.
The Speak section is primarily for speaking practice, where you repeat after the native speaker and compare your pronunciations. You can also forward your recordings to a tutor for review.
The Understand section is similar to the Listening Practice section, as it allows you to listen to a phrase and its translation. However, Understand offers fewer customization features than Listening Practice. Nonetheless, it is an excellent tool for reinforcing previously covered words or phrases and helping to solidify them in your memory.
The Lecture section is a guided lecture that uses spaced repetition to have you practice words covered earlier.
Quality of the Learning Material
Speechling's methodology for teaching new languages is grounded in the use of real voice recordings of native speakers. Unlike other language platforms that use computer-generated recordings, Speechling allows learners to hear the language in real-life situations. Learners even have the option to choose between male or female voices, allowing them to get accustomed to different ways of speaking.
We are also big admirers of how quickly Speechling delivers feedback on your pronunciation. Within 24 hours of submitting our recordings, we received detailed feedback from coaches. 
The coaches go through the recordings, repeating the words that need improvement and re-reading the sentences. This feedback can later be conveniently found in the audio journal.
Speechling provides a unique option to combine different languages. If you already are somewhat proficient in one language, you can receive feedback in the language you are just starting to learn.
For instance, suppose an English speaker is already somewhat proficient in Italian and wants to learn French. He can customize Speechling to receive feedback on French pronunciation in Italian instead of English.
This method allows users to enhance their French pronunciation while simultaneously strengthening their Italian skills. It is advantageous for language learners seeking to develop multiple language proficiencies at once.
Grammar Instruction
Speechling offers some grammar explanations through its exercises and feedback, but it isn't the most comprehensive or structured approach. Speechling focuses on pronunciation and speaking practice, so the grammar instruction is limited to a few exercises. However, the feedback provided by Speechling's tutors can help identify and learn grammar rules with other resources.
Verbal Practice
Speechling is excellent to practice speaking and listening.  The platform offers a wide range of exercises for these skills.  Additionally, the coaches provide timely and personalized feedback to help users improve their pronunciation, intonation, and other aspects of their spoken language skills.
What's more, you can track your progress by utilizing the Audio Journal or History feature on the app. This tool saves all of your own voice recordings and feedback from tutors, allowing you to keep tabs on your improvement over time.
Vocabulary
Speechling offers a range of vocabulary-building exercises, including flashcards and quizzes, to help learners expand their word choice. However, some advanced learners may find the vocabulary exercises too basic or not challenging enough. 
Therefore, while Speechling might provide a decent foundation for expanding your word choice, some other resources might still be needed. Although, a session with a personal tutor from Speechling may help with it. Or you can choose more traditional language learning path and use Glossika, Mondly, FluentU, or LingQ.
Repetitiveness
Speechling exercises can become repetitive for advanced learners who have already mastered the basic concepts. Fortunately, the language learning app provides enough variety in its exercises and content to keep any language learner engaged. Speechling's personalized feedback also keeps users motivated as there is a personal connection with the tutor.
Speechling Review: Simplicity of Operation
Speechling's user interface is well-thought-out and intuitive with clear labels and icons to help the user quickly understand where they need to go to start learning a new language. The use of color and visuals is done in a way that draws attention to important elements and helps to differentiate different sections of the Speechling app.
What Areas Could Be Improved?
One area that could be improved in Speechling is the onboarding process. While the app is user-friendly once you get the hang of it, starting to learn languages can be overwhelming.  There is no clear starting point, and the Speechling app doesn't guide you through the process. 
Additionally, the loading times could be improved, as some users find them a bit slow compared to other language apps.
Another area for improvement is the inclusion of more feedback for free users. We found that the 10 coaching sessions you have in the Speechling free version are not enough to test the tutors.
Lastly, Speechling may not be the best option for beginners who prefer a more structured approach to language learning. Because Speechling uses the immersion technique to teach languages, grammar explanations are not included in the curriculum. However, you can always ask your tutor for explanations whenever you need them.
Speechling Prices
Speechling offers a range of pricing options to suit different language learners' needs. The learning tools are available for free, but users need to pay for an unlimited plan of 1-on-1 coaching. Also for the same price you could take a look at competing apps like Tandem, Preply, Italki, Hellotalk, or Verbling.
| | | |
| --- | --- | --- |
| Subscription | Price | Payment |
| 1 Month | $29.99 | Charged monthly |
| 3 Months | $23.99 | One charge of $71.97 |
| 12 Months | $19.99 | One charge of $239.88 |
Free Trial
Speechling offers an innovative approach to free trials with their Forever Free version. It provides users with access to all the features of the Premium version, except for unlimited coaching sessions.
With the Forever Free version, users are limited to only 10 coaching sessions per month, which is a great way to test the waters and decide if the premium version is worth the investment.
Speechling Coupons and Discounts
While many other language learning apps offer discounts and promotions to attract users, Speechling takes a unique approach by providing scholarships to those in need. To apply for a scholarship, a language learner must submit a video explaining their circumstances and how they can benefit from using the Speechling app.
Refund Policy
Speechling does not provide refunds for its Speechling's unlimited plan subscriptions. They are a nonprofit organization, with all proceeds going to support its mission to make language learning accessible to everyone.
Speechling Pricing Compared to the Competition
Speechling's monthly subscription of $19.99 is a fantastic value for those looking to improve their language skills with the help of a tutor but without traditional lessons. The pricing is not language-specific, and premium users can access coaching sessions with all other features for any language offered.
While some language learning apps offer cheaper monthly subscriptions, they often lack the personalized aspect that Speechling provides. Furthermore, traditional learning methods, such as in-person classes or private tutors, can be significantly more expensive than Speechling's subscription-based model.
All in all, Speechling's pricing strikes a good balance between affordability and quality of service, making it a top choice for language learners. However, if you're looking for a more comprehensive language-learning experience at similar prices, we suggest exploring other platforms like Rocket Languages, Babbel, Pimsleur, or Lingopie, which offer more comprehensive curricula.
Speechling Ratings from Other Users
Google Play Store – 4.6 (100K+ downloads)
Apple App Store – 4.8 (366 ratings)
Speechling Review: Assistance to Clients
Speechling offers efficient and effective customer support via email, with response times typically less than 24 hours. While Speechling does not offer a live chat feature, the company has an extensive FAQ section on its website, as well as a blog that provides answers to common questions. 
Speechling Review: What Sets it Apart?
Speechling sets itself apart with its nonprofit mission to provide affordable education to everyone. Its standout feature is the unlimited coaching sessions, offered at a price lower than the cost of single sessions on other apps. But Speechling is trying not just because of the forever-free plan. It fills a missing link for many language learners – personalized pronunciation coaching.