Whether you're looking to refresh your Spanish skills for a romantic getaway in Galicia or to impress your new employer in Mexico, the Rosetta Stone Spanish Program is your go-to choice. Renowned for their team's expertise in language learning, Rosetta Stone has become synonymous with trusted language education. It effectively caters to the needs of Spanish learners worldwide.
Rosetta Stone Spanish is an excellent starting point for beginners on their language journey. It provides essential grammar knowledge and helps develop foundational conversational skills. With a focus on building a solid base, it prepares learners for further comprehensive learning methods.
While individuals at an advanced level may find Rosetta Stone less suitable for their specific needs, it excels in building a strong understanding of new language. In this Rosetta Stone Spanish review, we will explore the impressive features, acknowledge any limitations, and assess the overall effectiveness of the Rosetta Stone Spanish program.
A Great Spanish Language Learning Resource for Beginners
With interactive lessons, advanced voice recognition technology, and bonus resources, Rosetta Stone takes Spanish learning to new heights. 
⭐ Rating:
8.6

★★★★★

🥇 Available languages:
25 (see below)
📈 Suits best for:
Novices and Intermediates
🛒 Payment options:
3 Months/12 Months/Lifetime
💵 Price:
$11.99 – $179
⌚ Hours of lesson time:
200+
🔄 Refund policy:
30-day money-back guarantee
🎁 Free Trial:
✔️
Arabic, Chinese (Mandarin), Dutch, English (American), English (British), Filipino (Tagalog), French, German, Greek, Hebrew, Hindi, Latin, Irish, Italian, Japanese, Korean, Persian (Farsi), Polish, Portuguese (Brazil), Russian, Spanish (Latin America), Spanish (Spain), Swedish, Turkish, Vietnamese.
Disclaimer: Lingomee is an independent review site that may benefit from affiliate programs. Buying through our links makes our efforts possible without additional costs to you. Learn more here.
A Quick Look at Rosetta Stone Spanish
Rosetta Stone Spanish has been a language-learning platform in the market for three decades. It aims to immerse you in the target language through visuals, audio, and written content. It has evolved from CDs to an online subscription app, but the main focus on dynamic immersion and emulating how children learn a new language remained through the years.
Rosetta Stone offers a popular language course for learning Spanish. The program includes quizzes with pictures, native speaker recordings, and vocabulary words. 
It is important to note that no placement test is available. You must choose your proficiency level manually if you want to learn Spanish. However, the program offers personalized study plans. You can select your plan based on goals like work, travel, family, or basics.
The course heavily relies on authentic videos and images. Audio lessons are recorded in native speakers' voices. They involve matching phrases and words with corresponding images. It helps to learn Spanish in a fun and interactive way. The program improves listening skills, too, by promoting memory recall.
This course will help you learn the basics of both Castilian Spanish and Latin American Spanish. Further in this in-depth Rosetta Stone review, we will explore the core lessons, pronunciation system, grammatical explanations, bonus features, and whether Rosetta Stone work.
This Spanish course offers a unique approach to learning Spanish, but it may only be effective for some. Rosetta Stone is best suited for beginners who want to learn a new language. You could also visit our list of the best apps to learn Spanish.
Rosetta Stone Spanish Review: Key Functions
Rosetta Stone Spanish program offers a range of unique features that set it apart from other language learning programs. It utilizes TruAccent voice recognition software to improve pronunciation. 
But Rosetta Stone also focuses on imagery because visuals help with memorization. Users can also access a wealth of bonus resources to improve their learning journey in reading and writing. All these features create an immersive learning framework with an authentic language experience.
TruAccent Voice Recognition Technology
TruAccent voice recognition technology is a standout feature of Rosetta Stone Spanish.  The technology goes beyond simply recognizing your speech. TruAccent provides valuable feedback on your pronunciation. It accurately assesses how well you pronounced words and phrases. 
Instant and precise feedback is hard to find in any other language learning program. While it may not replicate a real conversation, TruAccent comes close to the experience of interacting with a native speaker.
TruAccent helps Spanish learners practice anytime without embarrassment. It enhances the learning process. It helps you develop native speakers' pronunciation and confidence in speaking Spanish. It is widely regarded as one of the best voice recognition technologies in the industry.
Visual Learning Experience
Imagery is a prominent feature in Rosetta Stone's Spanish Course. It encourages intuitive learning by relying on visual cues. Users need common sense to learn language naturally. The program highlights grammar points through images that reflect their meaning. Unlike other Spanish courses, the Rosetta Stone approach makes learning more engaging for visual learners.
On-Demand Videos
Rosetta Stone has an optional feature for on-demand videos. These videos feature recordings by native speakers. They cover basic conversations and grammar explanations. A wide range of videos is available for both Latin American Spanish and Castilian Spanish. The online subscription to Rosetta Stone helps you learn at your own pace with the help of these videos.
Bonus Resources
Rosetta Stone's Spanish program offers many bonus resources beyond the core lessons. These include short stories for improving reading and listening skills. The phrasebooks help enhance pronunciation using voice recognition technology. Another great app with story mode would be Spanish Uncovered.
Distinction in the Quality of Lessons
The Rosetta Stone lessons are well-organized into daily sessions. Each session takes around 10 to 15 minutes. The Spanish course is immersive as it uses images and recordings of native speakers and doesn't rely on your native language too much. Still, the Spanish learning program is easy to follow.
The core lessons are generally accurate and progress evenly. However, a near-native speaker may find the lessons too easy. While those beginning to learn Spanish may need more grammar rules. The Spanish course consists of 20 learning units with 4 primary lessons. Each lesson includes a 30-minute core learning module.
Rosetta Stone Spanish program includes bonus Spanish practice exercises. It covers fundamental knowledge of Castilian Spanish and the pronunciation system. It also focuses on listening, writing, and Spanish words and phrases. Completing one lesson takes about an hour on average.
Although Rosetta Stone provides a solid learning experience, there is room for improvement. Some lesson work is repetitive, while others use culturally irrelevant images. Learners also complain about the limited English translation. One needs to pay extra to get access to live classes and coaching.
Grammar Instruction
Rosetta Stone covers the basics of grammar effectively. However, it lacks in teaching grammatically complex sentences used in the native language. The program needs to explain concepts like reflexive verbs and imperfect tenses.
Rosetta Stone needs comprehensive coverage of advanced grammar for higher-level Spanish language learners. You can also check our Babbel Spanish review for more intense Spanish grammar lessons.
Verbal Practice
Verbal practice from the beginning is crucial when learning a new language, but Rosetta Stone's Spanish needs to improve. The app needs to offer more real conversation practice. 
You can just repeat the phrases in Spanish and expect to learn them. Rosetta Stone has the best voice recognition technology, but it doesn't encourage learners to practice speaking to a native speaker. For that purpose, you can access live classes and coaching for additional costs.
Reading
Rosetta Stone incorporates adequate reading tasks. The "Explore All Content" section includes lessons on learning the sound of Spanish letters. It facilitates the reading process. But, Rosetta Stone only assists with reading progress by providing basic knowledge.
Writing
Unfortunately, Rosetta Stone neglects writing exercises. It focuses mainly on common words and provides limited writing tasks. The course needs to explain writing systems in the target language adequately.
Vocabulary
The Spanish course helps users with basic grammar and vocabulary. But its vocabulary may need to be more practical for everyday conversations. Rosetta Stone simply helps build a foundation and acquire fundamental language skills. However, additional resources might be needed to learn Spanish vocabulary for everyday use. You could try app like SpanishPod101 as supplemental learning material.
Repetitiveness
All the lessons in Rosetta Stone offer a consistent and structured approach to learning Spanish. Through image and sentence association, learners reinforce their language skills. Although some may find the content repetitive, the shorter duration of each lesson, ranging from 5 to 10 minutes, helps in effective memorization.
Having more fun features like on-demand videos would be nice. The current achievement section with collectible stamps needs to be expanded. It's not the most exciting app, but it can help you learn.
User Friendliness
Rosetta Stone is a user-friendly Spanish language program. Even if you are not tech-savvy, you can use it with ease. The interface is simple, with no unnecessary features. The design and color choices are not remarkable for a foreign language course, but they do the job.
The dashboard quickly leads users to Rosetta Stone lessons without distractions. With no complex customization settings, the app makes the learning path simple. Spanish language learners only need to test the microphone. The voice recognition technology seamlessly integrates into the app and website for the best results.
Rosetta Stone Spanish Competitors and Alternatives
Rosetta Stone Spanish vs Pimsleur Spanish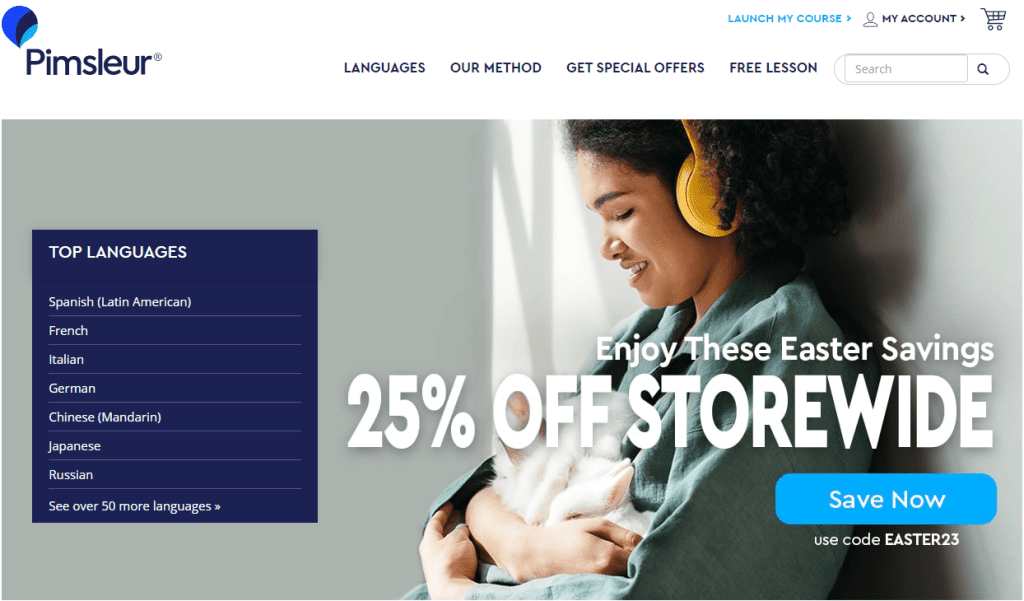 Pimsleur is an audio-based app tasking you with listening and repeating Spanish words and phrases. Rosetta Stone, on the other hand, focuses on visual learning and immersion. Both methods are effective, but it depends on your preferences. If you're an auditory learner, check out our in-depth Pimsleur Spanish review.
Rosetta Stone Spanish vs Rocket Spanish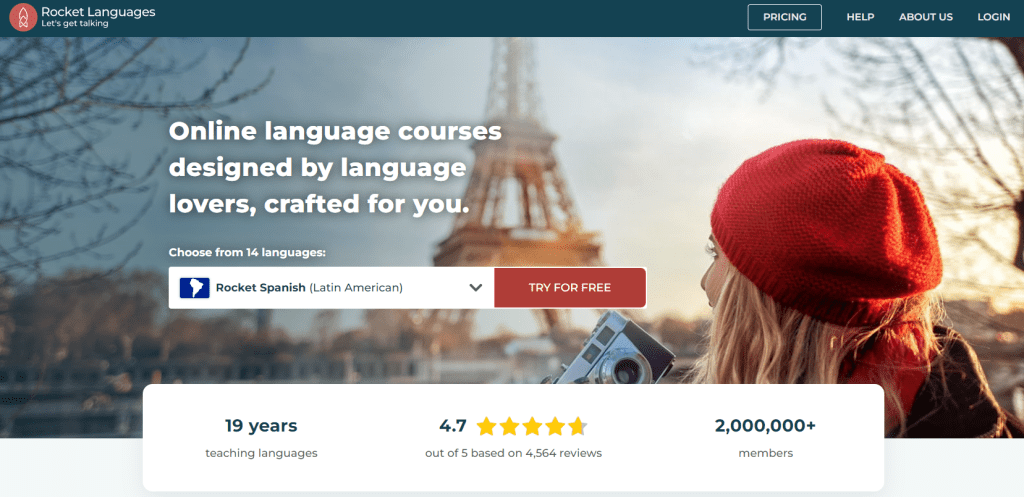 Rocket Spanish focuses on interactive audio lessons with cultural insights and grammar resources. Comparatively, the major strength of Rosetta Stone is its appeal to visual learners and language immersion. Either app can work for most learners, but look for more information in our Rocket Spanish review before deciding.
Rosetta Stone Spanish vs Baselang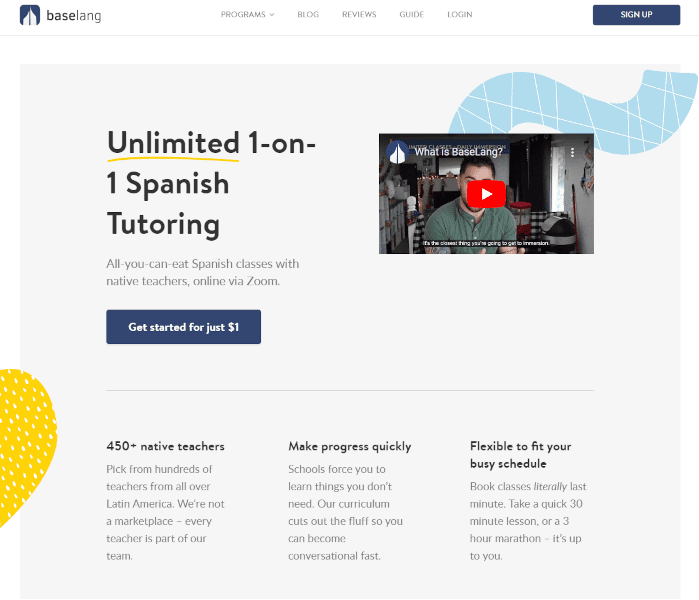 Baselang provides structured and affordable one-on-one tutoring with native speakers. Although Rosetta Stone Spanish can also offer live tutors, the whole approach of Baselang is based on live lessons. If you want to focus more on online lessons, learn more about it in our Baselang review.
What Should Be Upgraded?
One downside of Rosetta Stone's Spanish course has the limited use of English. It can be frustrating for learners who prefer more translation and explanations. Rosetta Stone relies heavily on an immersion approach. Some students find this learning process helpful for learning language naturally, while others may struggle.
Among other Spanish language courses, Rosetta Stone has minimal grammar explanations. The course offers basic knowledge of Spanish grammar rules only suitable for beginners. If you want to learn grammatically complex sentences, you will need other resources besides Rosetta Stone. The program may be less useful for more advanced Castilian and Latin American Spanish learners.
Rosetta Stone focuses a lot on user experience. Several users find the program interface user-friendly and intuitive. A few reviews suggest it needs to improve interactivity and engagement.
Rosetta Stone's Spanish course offers an easy way of learning Spanish. It is a suitable choice for beginners. However, to master Spanish fully, you may want to use additional resources later.
Rosetta Stone Spanish Costs
Rosetta Stone has different subscription plans, including 3-month, 12-month, and lifetime online subscriptions. Rosetta Stone's Lifetime subscription offers the best value overall. You can access more than one foreign language, not just Spanish. Overall, Rosetta Stone is more affordable than other Spanish courses, like Babbel and Pimsleur.
| | | |
| --- | --- | --- |
| Subscription | Price | Payment |
| 3 Months | $11.99 | One charge of $35.97 |
| 12 Months | $7.99 | One charge of $95.88 |
| Lifetime | $299 | One charge for access to all languages |
Free Trial
Rosetta Stone's Spanish program offers a free trial for three days. During the trial period, language learners can only access one language on the web. To explore multiple languages, log in to their mobile app during the trial period. 
Rosetta Stone Spanish Coupons and Discounts
Rosetta Stone offers discounts during holidays like New Year, Christmas, Cyber Monday, and Black Friday. Users can avail of Rosetta Stone Spanish cost reduction by 50%. The lifetime subscription, which costs around $299, is often sold for $180.
Refund Policy
If you are unsatisfied with the core lessons, user experience, or learning path, Rosetta Stone's Spanish course has a generous refund policy. Users can request a refund within 30 days of purchase. The refund process typically takes a few weeks to be processed. You will receive the refund to your original payment method.
Rosetta Stone Spanish Pricing Compared to Competition
Especially for beginners, Rosetta Stone's Spanish program offers great value for money. While there are some free alternatives, like Duolingo, Rosetta Stone's Spanish course stands out in terms of lesson quality. With plenty of bonus features, Rosetta Stone's online subscription is one of the first choices for Spanish learning.
Rosetta Stone's pricing may need to be more flexible. But Rosetta Stone includes the best lifetime subscription. Unlike Rosetta Stone, Pimsleur offers purchasing learning levels separately. Overall, the program justifies its price through its high-quality lessons.
Rosetta Stone Spanish Evaluations from Other Customers
Google Play Store – 4.6 (10M+ downloads)

Apple App Store – 4.8 (188.7K ratings)

G2 – 4.2 

Trustpilot – 3.9
Client Support
Users complain that Rosetta Stone customer support is difficult to reach. The contact options and chat are inconveniently placed. I contacted client support via email, and it took approximately a week to receive a response. Also, no agents are available for chat, even during working hours.
However, it is important to mention that Rosetta Stone has a more responsive channel for billing or refund queries. To ensure users have access to helpful resources and solutions to their questions,  Rosetta Stone has a comprehensive blog and FAQs section.
My Verdict
Rosetta Stone Spanish is definitely worth your money. While it may not be the best Spanish course, it effectively teaches basic grammar, language tips, words, and phrases. Rosetta Stone language learning program is particularly beneficial for beginners. With interactive exercises and bonus resources, it can be an excellent choice for achieving intermediate fluency.