Whether you are traveling to a Spanish-speaking country, wish to converse with Spanish friends, or just want to watch La Casa De Papel, the need to learn Spanish may arise. An easy yet effective learning resource is what you need to ace this beautiful language!
While exploring different Spanish language courses, we found the storytelling methodology of the Spanish Uncovered course to be outstanding. The course takes you through a linguistic voyage, solving the intricacies of Spanish grammar rules as you progress. The well-structured Spanish Uncovered course sets achievable goals for the learners, making the Spanish language easy to master. 
After weeks of first-hand exploration, we are here with our Spanish Uncovered review to let Spanish learners know whether it is a good tool to learn this new language.
Well-Structured Spanish Language Learning Resource Packed With Practice Material
We rate Spanish Uncovered highly because of its engaging language learning process. Story learning is the language learning brand created by Olly Richards, a well-known polyglot and language teacher. It teaches a new language with the help of storytelling, integrating vocabulary, grammar explanations, and other activities in a captivating Spanish story.
Spanish Uncovered Review Summary
⭐ Rating:
9.0

★★★★★

🥇 Available languages:
2 (see below)
📈 Suits best for:
Novices and Lower Intermediates
🛒 Payment options:
Lifetime
💵 Price:
$297
⌚ Hours of lesson time:
100-150
🔄 Refund policy:
365-days money-back guarantee
🎁 Free Trial:
✔️
Disclaimer: Lingomee is an independent review site that may benefit from affiliate programs. Buying through our links makes our efforts possible without additional costs to you. Learn more here.
Quick Overview of Spanish Uncovered
The creator of the Spanish Uncovered course is Olly Richards, a reputed linguist who knows 8 languages. With Spanish Uncovered, Olly takes language learners on a captivating journey. The story-learning methodology of this Spanish language course is what we have all loved since childhood: Storytelling!
In the 20 course modules, the essential components of the Spanish language are woven around the story El Hombre Del Sombrero. Storytelling gives a fun angle to this comprehensive beginner Spanish course. The goal is to teach Spanish via contextual lessons and interactive reviews, building a strong base. 
Spanish Uncovered is a self-study Spanish course. The innovative method of structuring the language learning components around a video lesson story fosters natural thinking and effortless learning. Olly, with his video tutorials, guiding tips, and useful language course material, is a great Spanish teacher who helps you learn Spanish naturally. 
Spanish Uncovered offers learning resources in Latin American Spanish and Iberian (or Castilian) Spanish version. You can pick the one you want or observe the difference in dialect for both versions as you progress. We should also mention that this is one of the best apps to learn Spanish with story learning method.
If you want to test your Spanish skills, a review at the end of Chapter 10 will help you assess where you stand. Or, you can try the placement test to determine your current level of Spanish language. 
Spanish Uncovered Review: Main Features
Spanish Uncovered is packed with features aiming to improve listening, reading, speaking, and writing skills in conversational Spanish. El Hombre del Sombrero is an engaging Spanish tale showcasing basic grammar and commonly used Spanish vocab in its narration. To ease your Spanish learning journey, Spanish Uncovered includes: 
Each audio and video lesson has a  PDF transcript 
Video lessons explaining language elements such as grammar points and Spanish pronunciation
Interactive quizzes
Speaking activities to strengthen your spoken Spanish skills
Language Learning tips from Olly Richards
Cognates and English translation in lessons
Spanish vocabulary lessons
Language Learning Tips 
When you first begin to learn a foreign language like Spanish, the experience can be quite overwhelming. Olly Richards provides useful language learning tips from the introductory module to warm you up for the course. Besides guiding you to navigate the beginner courses, you will get an idea of how to learn any target language. 
The same module has a "Spanish Uncovered Bonus: 100 Most Common Spanish Words." It is a list of Spanish words used in day-to-day conversations. After some days of practicing in Spanish courses, you might be pleasantly surprised after finding yourself flawlessly ordering at a Spanish cuisine restaurant!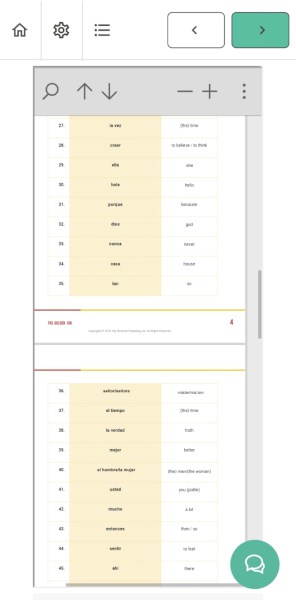 Downloadable Audio, Video, and PDF Lessons
The Spanish Uncovered is an online course, but the downloadable audios, videos, and PDFs make it easy for you to access the resources offline. The downloadable resources are available in both Latin American Spanish and Iberian or Castilian Spanish versions. Each module has an audio of the story chapter, followed by a PDF transcript and lessons on cognates, translations, vocabulary, and grammar. Downloading the material allows you to view and comprehend it later.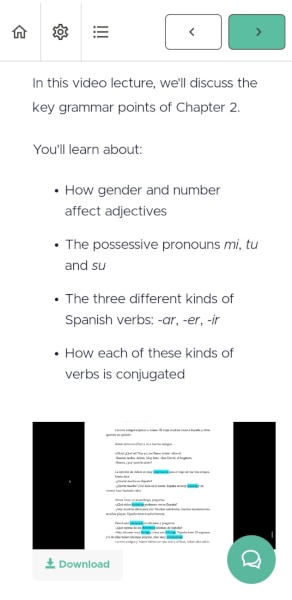 The feature is convenient for brushing up on your skills after moving on to learning Spanish via advanced-level resources. You can practice Spanish grammar and vocabulary via printable worksheets to achieve fluency. Additionally, you can do speaking practice with a native Spanish speaker whenever you want. 
Review Activities and Worksheets
To reinforce what you have learned, each module of the Spanish Uncovered course has lots of activities and worksheets at the end. They are not compulsory to solve before passing on to the next Spanish lesson but serve as a motivation for mastering the new language. Another apps that provide pretty decent audio/video experience are Lingopie and Yabla.
Worksheets and activities are an excellent way to solidify your understanding of Spanish grammar, vocabulary, and cognates that you might have learned in the language courses. There is lots of useful material to fuel your reading, writing, speaking, and listening skills in Spanish. The more you explore them, the more your linguistic proficiency grows!
Expert Pronunciation Training Videos
The explanatory video lessons with Olly Richards throughout the Spanish Uncovered are always helpful. Besides them, a set of expert pronunciation training videos with a native Spanish teacher and vocal coach, Angela Moreno, can help you learn the right way to say Spanish words. She assists you in discovering the secrets of Spanish pronunciation, explaining where to place your tongue and how to shape your mouth just right.
An extra worksheet will guide you further, making these sounds second nature so you can talk like a native speaker.
Lessons Quality
One of the reasons why we suggest Spanish learners to sign up for the free trial of Spanish Uncovered is the way this course is structured. Each of the 20 modules is similar in structure, beginning with an audio of the chapter read by a native Spanish speaker. The PDF transcript in Spanish follows, with the English translation that comes later on. 
There are explanatory video lessons for pronunciation, grammar, vocabulary, and cognates from the chapter. After these comprehensive lessons, there are quizzes and practice material in the form of worksheets and activities. 
The length of pronunciation lessons in Spanish Uncovered is brief, ranging from 3-6 minutes, but vocabulary and grammar lessons for each module are longer, ranging from 18-30 minutes. The longest grammar lesson in the beginner's level is almost 45 minutes long. 
If we add up the time to complete lessons and worksheets, it will take approximately 100+ hours for novices to complete the Spanish Uncovered course. 
Dedicating a minimum of one hour daily to go through the lessons will propel you towards an intermediate level in just five months. 
Grammar Instruction
Rather than forcing the learners to memorize grammar rules, Spanish Uncovered has well-crafted worksheets and detailed videos that help you grab the concept intuitively. Using the text from the entire story as a reference, Olly explains how Spanish grammar works.
As you progress, you will learn the concept and use of Spanish nouns, pronouns, articles (for masculine and feminine nouns), verbs, tenses, adverbs, adjectives, and additional grammar explanations in depth. 
Verbal Practice
Gaining fluency in spoken Spanish is impossible unless you get sufficient speaking practice. While the pronunciation videos in Spanish Uncovered are a stepping stone for speaking Spanish, the course provides carefully designed text material to read aloud for practice.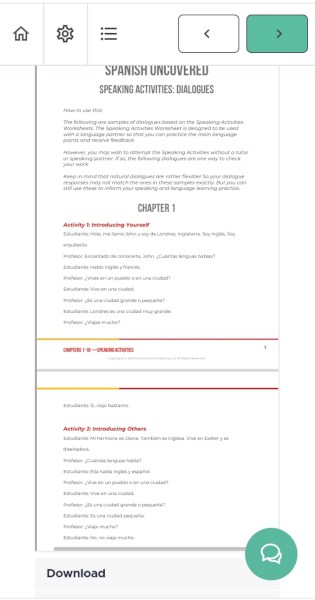 There are several activities, such as introducing yourself in Spanish, or how to say you like something. You can record yourself and get feedback from a Spanish-speaking partner. If you want real native speaker practice, than apps like italki, Preply, and Busuu are great alternatives.
Reading
The PDF transcripts of each video lesson from the story are beneficial for reading practice, even more, if you read them while listening to the audio. Keep on repeating until you can fluently read the text without audio assistance.
Vocabulary
Spanish Uncovered does a great job of expanding the vocabulary of new and intermediate learners in a short time. The cognates and translation lessons remarkably help in understanding Spanish vocabulary. Cognates are words in Spanish that look similar to English words and mean the same. For instance, compañeros in Spanish is a cognate for companions in English.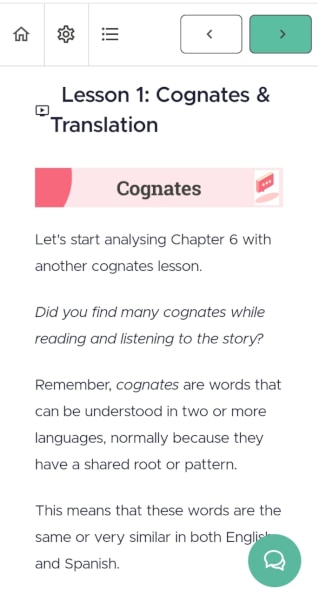 The vocabulary lessons of Spanish Uncovered will help you learn the new vocabulary words that you came across in the current chapter.
Repetitiveness
Storytelling is the intuitive approach for learning Spanish adopted in Spanish Uncovered, making it interesting enough to keep coming back. The curiosity about what will happen next keeps the learner engaged. Moreover, the quiz widgets motivate the learners to achieve a higher level of fluency in Spanish.
Spanish Uncovered Review: Ease of Use
Spanish Uncovered has a simple and effortless interface, making the journey of learning Spanish smoother. While it's easy to find what you are looking for around the course, Olly Richards video about "how to navigate the course" in the Spanish Uncovered introduction module is a great help. 
The user-friendly design shows marked progress and the use of distinct colors for actions, ensuring an enjoyable and effective learning experience. With clear instructions and helpful resources, even first-time users will feel confident and motivated as they process their language-learning journey with Spanish Uncovered.
What Could Be Improved?
While the course explains all the aspects of language in depth, we noticed a lack of visuals which help retain the learning better than text. This goes especially for beginners with no prior knowledge of Spanish, as they find it difficult to recall the vocabulary after a few days.
Another room for improvement is regarding the activities and quizzes, which are a bit too long to keep the learner motivated. Short quizzes are more fun to take and may have a positive influence on overall retention of the language. 
Apart from these, there should be an option to interact with a native Spanish speaker to gain fluency in spoken Spanish as you learn. However, Olly has touched on the topic of finding the right speaking partner in the lessons, including Speaking activities.  
Some of the lesson videos are a bit too long. Understandably, some topics such as complicated grammar points cannot be fast-paced while learning Spanish. Still, we think breaking the topic videos may be helpful for the learners to keep their focus.
We recommend using the free trial period to assess whether the course is well suited to your learning style. 
Spanish Uncovered Pricing
The entire course is available for a flat fee of $297. If you feel that the Spanish Uncovered cost is high, consider that it comes with a 365-day money-back guarantee. With no recurring charges, the valuable resources provided in the course are incredibly effective to reach an intermediate level. You could also take a look at MosaLingua, Rosetta Stone Spanish, Memrise, or SpanishPod101.
| | | |
| --- | --- | --- |
| Subscription | Price | Payment |
| Lifetime | $297 | One Charge of $297 |
Spanish Uncovered Free Trial
Spanish Uncovered offers a free 7-day trial in which the entire course will be accessible to you. You have to enter your credit card details to start the free trial. However, nothing is deducted until the 8th day, when a one-time fee of $297 will be charged for lifetime access. This gives language learners the advantage to use it for a good seven days before deciding to buy it.
Spanish Uncovered Coupons and Discounts
Currently, there are no discounts available for Spanish Uncovered. However, when you sign up initially for the free trial, you will get a one-time offer of a whopping 50% off for Conversations, and Grammar Hero, which are the next courses in the series. 
Olly also offers valuable resources for free when you sign up for the Spanish Uncovered trial, including ebooks, a video masterclass, and a workshop about language learning.
Refund Policy
Spanish Uncovered comes with a 365 days money-back guarantee. So if you think the learning methodology is not suitable for you, you will get a refund. Additionally, Olly claims that he would buy another Spanish course of your choice for you. 
But just skimming through the course won't be enough to grab this generous offer. Your progress will be evaluated, and they will make sure you really dug deep into the course material to determine your eligibility for this guarantee.
Spanish Uncovered Pricing Compared to Competition
There are several Spanish Uncovered alternatives that you can compare and decide the right one for yourself. Rocket Spanish, just like Spanish Uncovered, is available for a one-time payment after a free 7-day trial.  While it has more levels, the unlocked level lessons in Rocket Spanish free trial are limited. The Rocket Spanish language course with all three levels will cost you $449.85.
Another alternative to Spanish Uncovered is Pimsleur Spanish, a subscription-based course. For a monthly subscription of up to $20.99, you will get access to a course that focuses on language learning via audio, helping you speak Spanish fluently.
Another competitor for Spanish Uncovered is Glossika, an audio-focused Spanish course to help you learn Spanish. It provides the flexibility of a subscription model, ranging from $17-30. You are allowed to cancel it anytime, or you can choose to purchase individual modules separately.
The way we see it, Spanish Uncovered differs from its competitors mainly due to its story-based learning. It is a perfect course for those who like to learn with the help of stories. With lots of practice material, it helps learners achieve their language learning goals.
Spanish Uncovered Review: Customer Support
Customer Support can be contacted for any queries via email. We tested Spanish Uncovered support by writing to them and got a reply within a day.  Also, in the technical support section, there are helpful videos from the Customer Support Manager which are sufficient enough to solve your technical issues swiftly. 
Spanish Uncovered Review: Conclusion
Using Spanish Uncovered can be incredibly helpful for beginners or those with some prior knowledge of Spanish. The online course is undoubtedly useful for covering all elements of the language, including basic grammar explanations, vocabulary, and speaking. If you want to experience the story method to learn Spanish, Spanish Uncovered is worth a try. You could also give Duolingo a try before moving to more polished Spanish program.