You probably have heard people saying that learning German is hard. Some may even classify it as the most challenging European language. But what if we told you there's a way to learn German in small structured baby steps until you become an intermediate or expert speaker?
GermanPod101 is a language learning application that simplifies learning German more than ever. With short lessons, a structured approach to learning, and visually stimulating content, the GermanPod101 is the right language application for you.
We will cover everything you need to know about this German course in our comprehensive GermanPod101 Review.
In-depth audio and video lessons for all levels of German learners 
Just as an experienced lecturer instils deep knowledge in his students, so does the GermanPod101. It has a lot of material, broadening the learning scope for both beginner and intermediate learners. GermanPod101 features spaced flashcards, and audio and video lessons which keep the lessons interesting.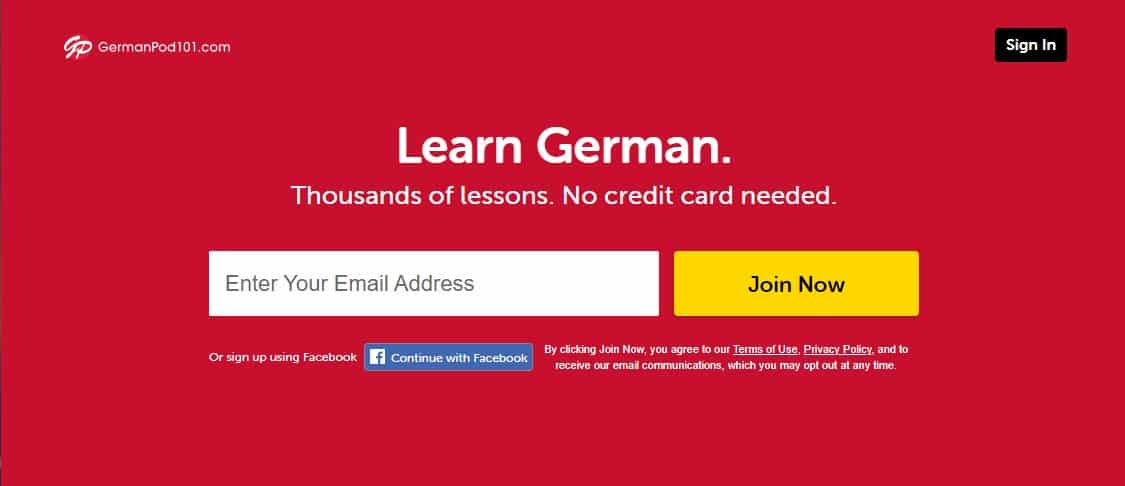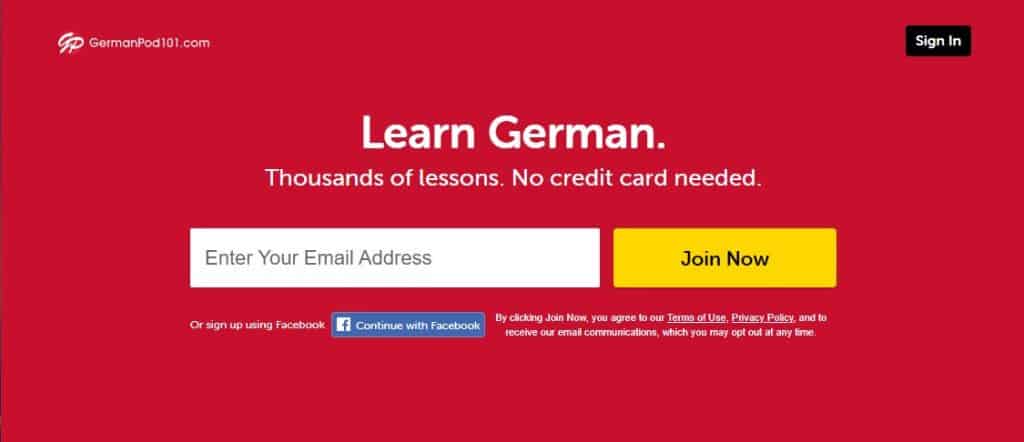 GermanPod101 Review Summary
⭐ Rating:
8.4

★★★★★

🥇 Available languages:
1
📈 Suits best for:
Intermediates
🛒 Payment options:
Monthly
💵 Price:
$4 – $552
⌚ Hours of lesson time:
345+
🔄 Refund policy:
60-day money back guarantee
🎁 Free Trial:
✔️
Besides German, Language POD 101 includes: Afrikaans, Arabic, Bulgarian, Cantonese, Chinese, Cezch, Danish, Dutch, English, Filipino, Finnish, French, German, Greek, Hebrew, Hindi, Hungarian, Indonesian, Italian, Japanese, Korean, Norwegian, Persian, Polish, Portuguese, Romanian, Russian, Spanish, Swahili, Swedish, Thai, Turkish, Urdu, Vietnamese.
Disclaimer: Lingomee is an independent review site that may benefit from affiliate programs. Buying through our links makes our efforts possible without additional costs to you. Learn more here.
A Quick Look at GermanPod101
GermanPod101 is yet another language-learning app developed by Innovative Language. It has been in the market for 18 years, so you can rely on its experience in refined German instruction. It aims at making it easy to understand and speak German.
It also strives to teach learners at their level of mastery. For example, during the signup process, the app will ask you to classify your level of German. Afterwards, learners get a learning path suited to their level. By doing this, it compensates for the lack of a placement test which would be ideal for identifying learners' mastery level. We should also mention that GermanPod101 is one of the best apps to learn German language with audio technique.
The app is also keen on providing a wholesome learning experience. It does this by covering several useful topics in German day-to-day interactions. For example, survival phrases, culture class, getting around, health, restaurant, and phone use.
The app structures the topics in both video and audio forms so it's easier for the learner to understand the context. It also helps that the app uses native speakers to voice the audio and video topics.
The app is available for download on the Apple App Store or Google Play Store. However, learners have to download the Innovative Language learning app, which provides several languages and select that they want to learn German. While this may seem like a downside, the app's interface is user-friendly, even for beginners.
GermanPod101: Key Functions
The learning tools found in GermanPod101 provide the language learner with various features to help them in their German course.
Lesson Pathways
With plenty of content in the GermanPod101, you may not always know where to start and how to set your own pace. Luckily, the Pathways feature solves this problem for you. It provides a step-by-step learning paths you can follow through your German lessons.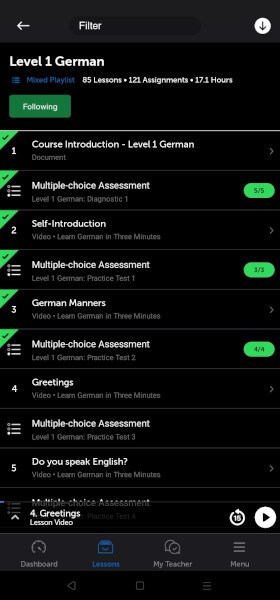 It comprises of notes, audio, video lessons, and assessments. It's structured to let learners start familiarizing themselves with common words and phrases. Pathways gradually lead learners to more comprehensive audio lessons as they become intermediate learners.
Dialogue
Listening and speaking are essential parts of any learning program. That's why GermanPod101 has a Dialogue feature that helps to improve these areas. It includes everyday life conversations in various settings, such as phone calls, restaurant conversations, and social interactions.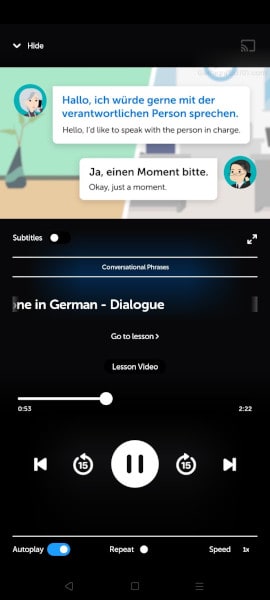 The Dialogue feature contains simple conversational phrases that take only 10 to 30 seconds, so you don't get overwhelmed with a lot of conversational German. It also makes it easier to play them over again to improve your listening skills. 
A German teacher translates the rules of grammar for the particular scenario in the lesson and gives an English translation. You can improve your speaking skills for the language by repeating what you hear in the dialogue.
Vocabulary
Key vocabulary is the building block of every language, and GermanPod101 ensures that they provide appropriate German vocabulary features for every German language learner.
For example, the app provides a list of 800 German core vocabulary words for the beginner level. They're words that every German tutor will deem necessary to grasp before advancing to other levels.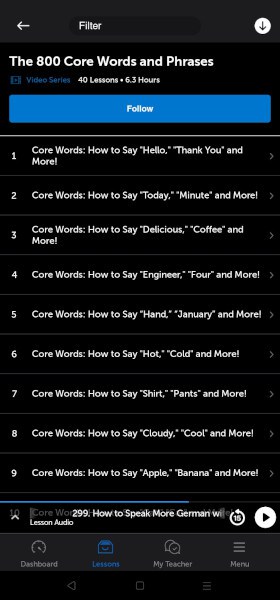 The app also provides a Word Bank to store German words and phrases from all your completed audio lessons. You can then revisit the vocabulary words later for revision purposes.
The vocabulary feature is instrumental in teaching  German pronunciation of different words because a native speaker presents all German words. A bonus is that you get the translated English meaning of the word to know what word you're saying during audio and video lessons.
Lesson Notes
Once you complete audio and video lessons, you'll want the content in notes for revision. The GermanPod101 has thought of this and introduced lesson notes for every lesson.
The Lesson Notes feature serves two purposes. First, they inform the learner of what to expect by looking into the lesson structure. Secondly, they summarize the lesson content and provide lesson transcripts.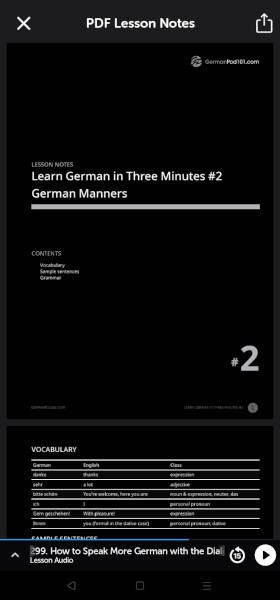 The feature makes Germanpod101 one of the most well-rounded language courses.  It does this by providing an innovative way of audio lessons while still incorporating traditional learning methods.
Distinction in the Quality of Lessons
After going through the audio and video lessons, we found that they win in certain key areas of learning German. First, there is a lot of lesson content, so you have plenty of options for your learning style.
Secondly, we were impressed with the level of German culture, vocabulary, and grammar points that the native teacher provided. In addition, because of the vast content, there're over 345 hours of German lessons. However,  one lesson takes only a few minutes, while a series of lessons can take between 15 and 25 hours.
However, we feel that speech recognition is lacking. Learners result in subjective analysis and ranking of their capabilities in pronouncing German words and phrases, which may not be accurate. Although, learning paths somewhat compensate for this drawback.
Grammar Instruction
We found that the GermanPod101 was an excellent tool for teaching German Grammar. For example, in some videos, a native German tutor clearly shows why the position of a verb changes with interrogatives, a concept any absolute beginner struggles with.
We found this mode of grammar instruction to be consistent at all levels of language learning. Less advanced learners received basic grammar teachings, while advanced learners received more detailed grammar points.
Verbal Practice
While the app provides a decent amount of content for speaking practice in various situations, it still lacks in this area. There's no tool to support speaking and listening skills like a speech recognition software to rank the German pronunciation of words.
The closest the app gets to verbal practice is through the My Teacher feature, which is only accessible under the Premium PLUS subscription. When users purchase this package, they can access a one-on-one live session with a native German speaker who can help with speaking practice and listening comprehension. Other apps like italki, Preply, Verbling, or Tandem are great alternatives for practicing with native speakers.
Reading
There's plenty of reading material in GermanPod101. It's available in short-form and long-form. Features such as Word Bank provide short vocabulary words and phrases to read aloud and perfect your German.
Most lessons provide long-form content through lesson notes, video and audio lesson transcripts. Advanced learners benefit from long-form content because they provide a comprehensive reading experience.
Writing
GermanPod101 provides writing quizzes to sharpen your German writing skills. Even a visual learner will find it useful. The learning program achieves this through lesson assessments. In the quizzes, the innovative language app tests your comprehension of the vocabulary lists and German grammar you learn in all the lessons.
If you subscribe to the premium plus package, you can also write short message sentences to a native teacher. Your German tutor may also send you assignments that include writing to test your grasp of the German language.
Vocabulary
We found that the innovative languages app provides an extensive library of vocabulary words and phrases. The app has a collection of 2000 words that are commonly used in the German language. The words also cover a variety of cultural contexts and niches.
With such a comprehensive vocabulary index, learners can have a rich learning program whereby they don't have to repeat the same words in all the lessons. 
Repetitiveness
Many language learning apps have the downside of being monotonous and boring. That isn't the case with GermanPod101. Yes, there's a lot of information, but innovative languages have integrated various learning tools to make the lessons fun.
For example, apart from the conventional lesson notes style of study, the app has video and audio lessons voiced by native German speakers. It's interesting to hear authentic accents and intonations from real people.
GermanPod101: User Friendliness
The GermanPod101 user interface is fairly easy to use, though the design might feel outdated, considering you must pay a considerable amount for the premium subscription. As with any innovative language program, the signup is quick and easy.
The first page a user sees is the dash with a  black background. It makes it easy to see the different tabs and icons where you can navigate to access different learning tools or change your monthly subscription.
The lesson page might seem confusing at first, and it takes time to get used to where all the different learning tools are. You're best suited to follow the provided Learning Path feature so that you can start speaking German early enough. 
Generally, the innovative language app is easy to use, and we particularly liked how it responds quickly when trying to access all the language's different features.
GermanPod101 vs LingQ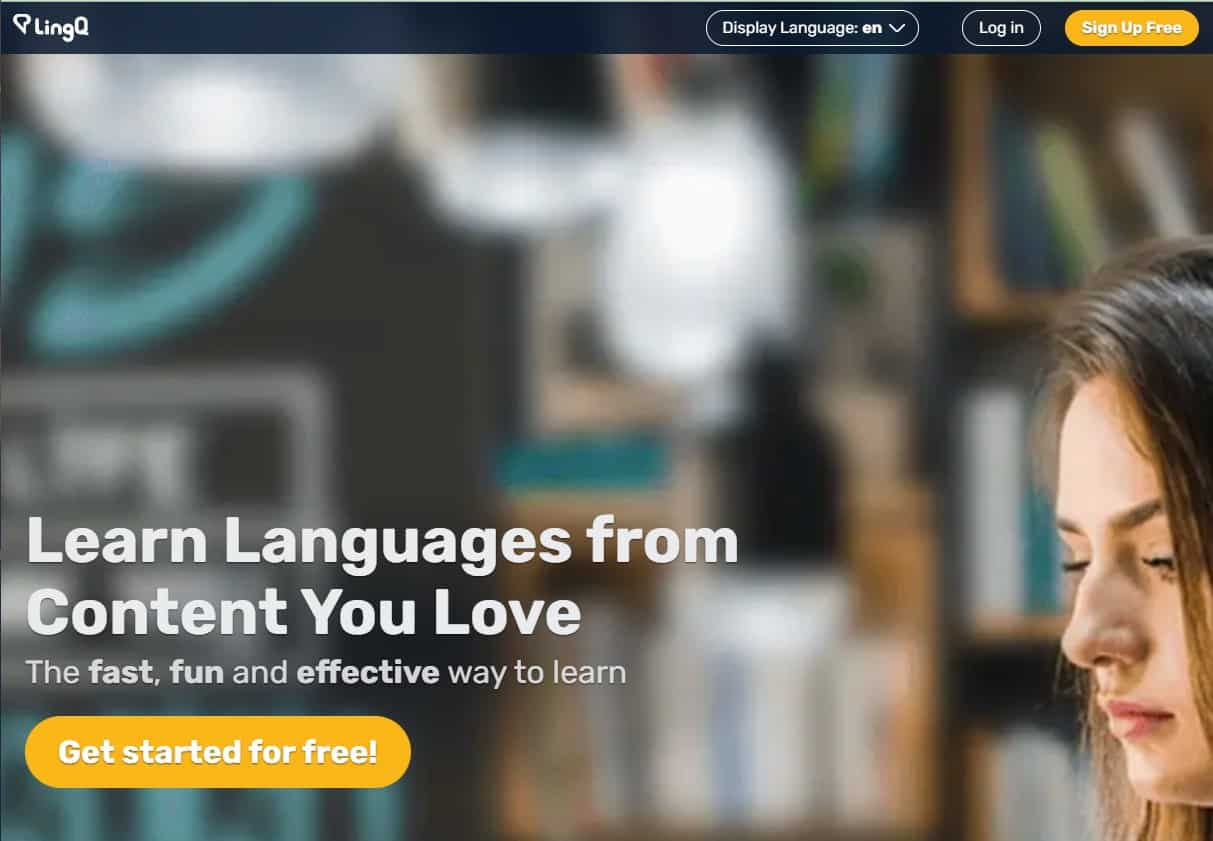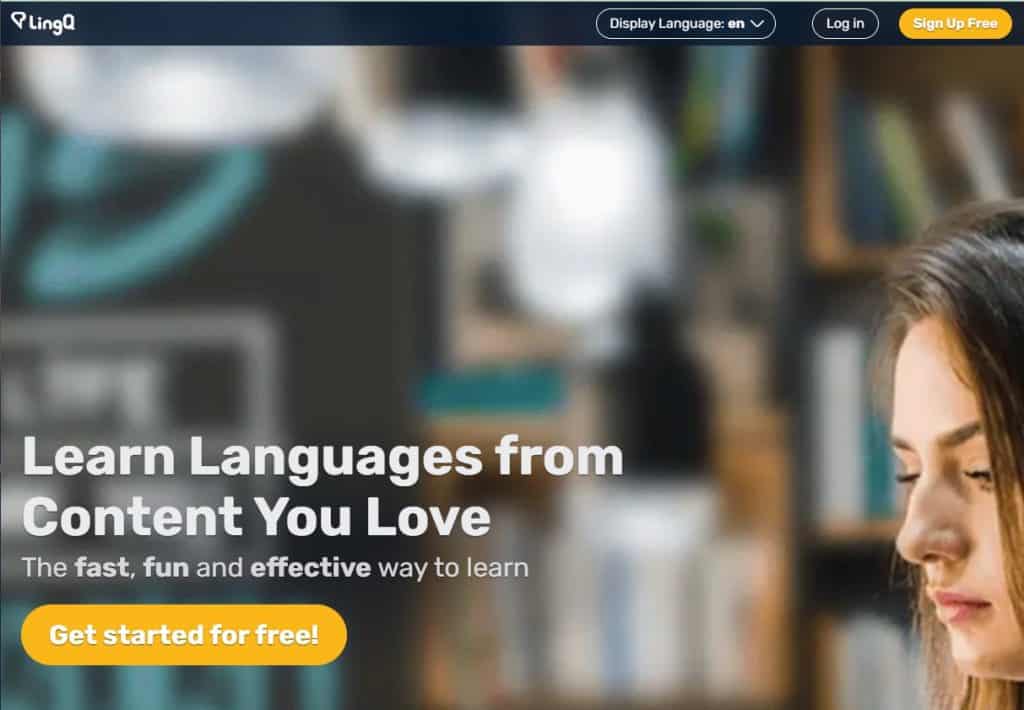 LingQ is based on full customization of your learning with plenty of video, audio, and textual materials. GermanPod101 provides a more streamlined and audio-based curriculum, although it still adapts to your needs. If you are looking for a customizable experience, consider LingQ. Learn more about it in our LingQ review.
GermanPod101 vs Lingopie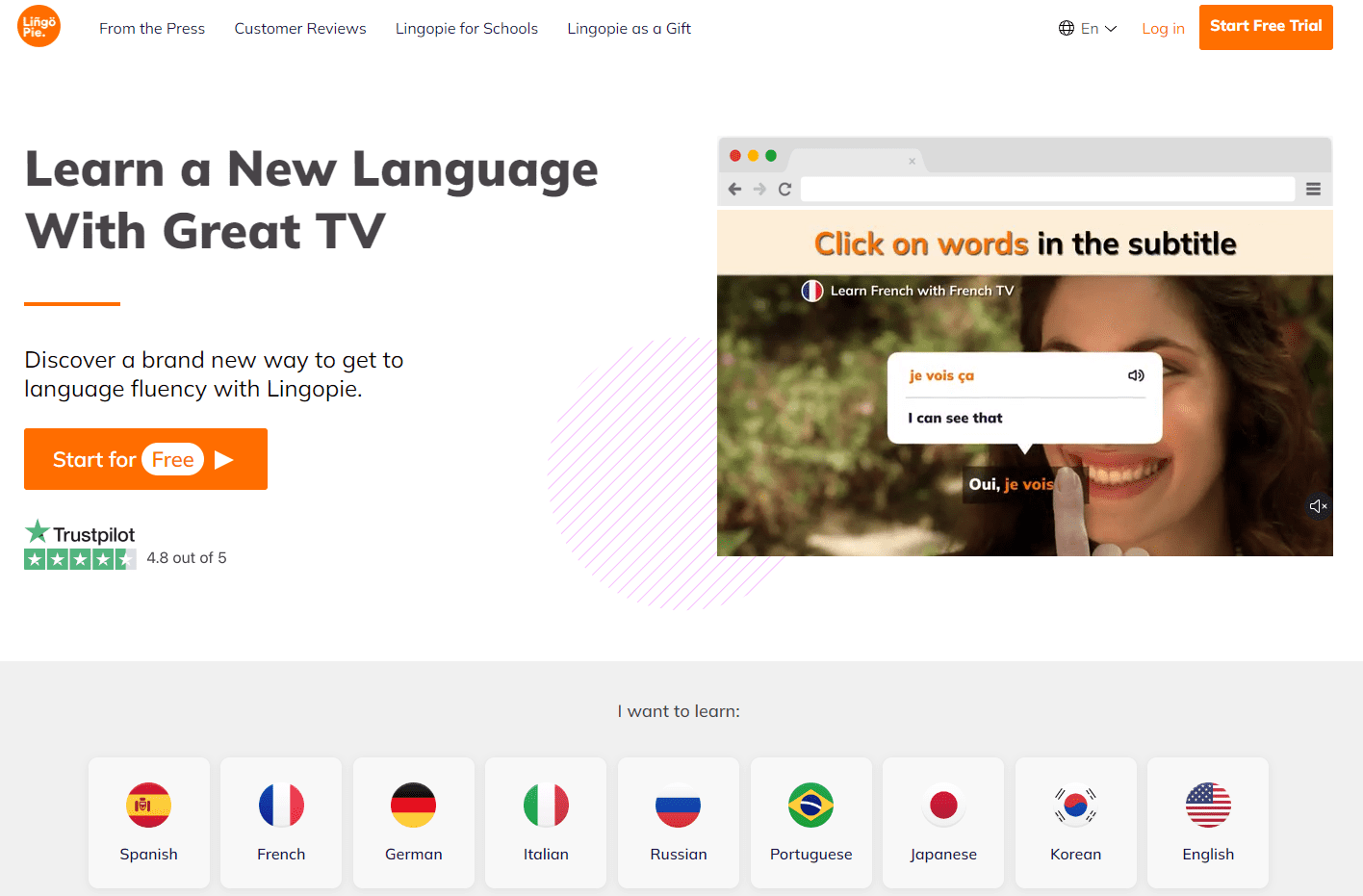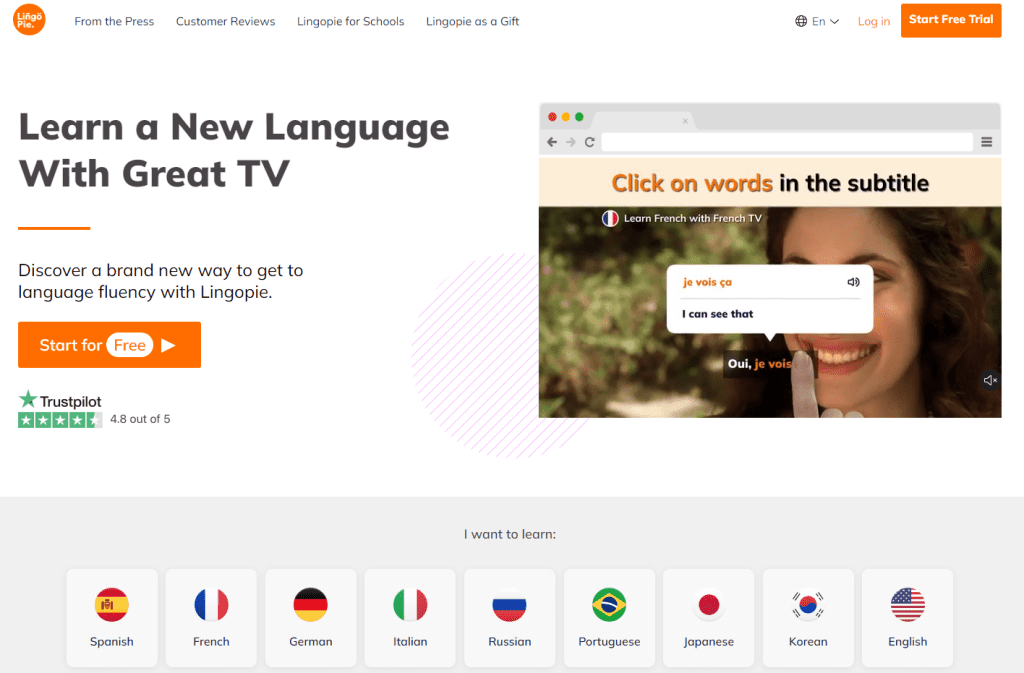 Lingopie gives you a chance to effortlessly learn a language by binge-watching TV. It's nothing like podcasts of GermanPod101 or traditional language classes. If you are more engaged by visual cues and reading subtitles, find more information in this Lingopie review.
GermanPod101 vs Rocket Languages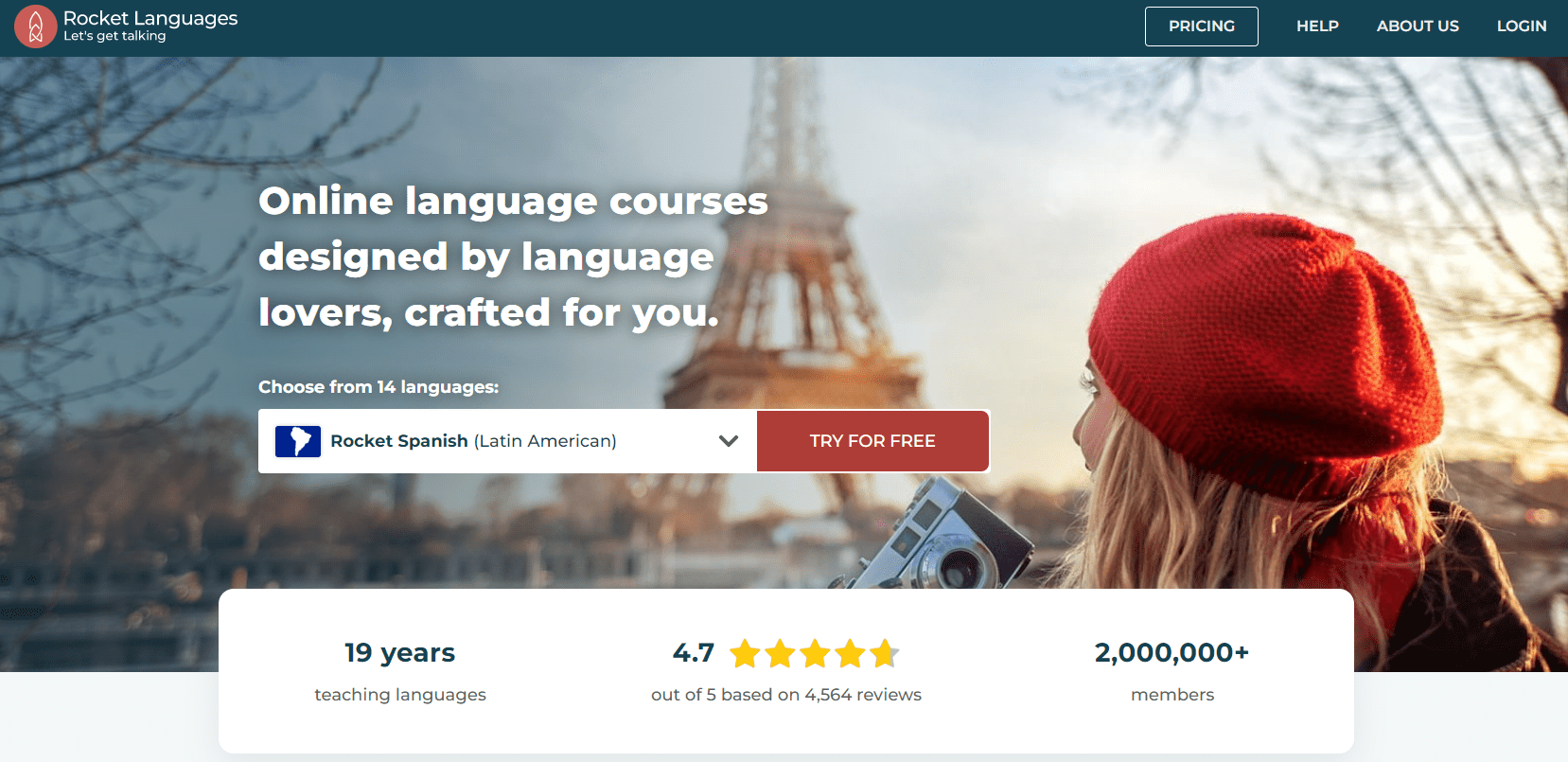 Rocket Languages focuses on interactive audio lessons with cultural insights and grammar resources.  GermanPod101 resembles podcasts a bit more while still packing a range of features for a lower price tag. Still, we recommend trying out Rocket Languages before purchasing GermanPod101. Learn more in Rocket Languages review.
GermanPod101 vs Babbel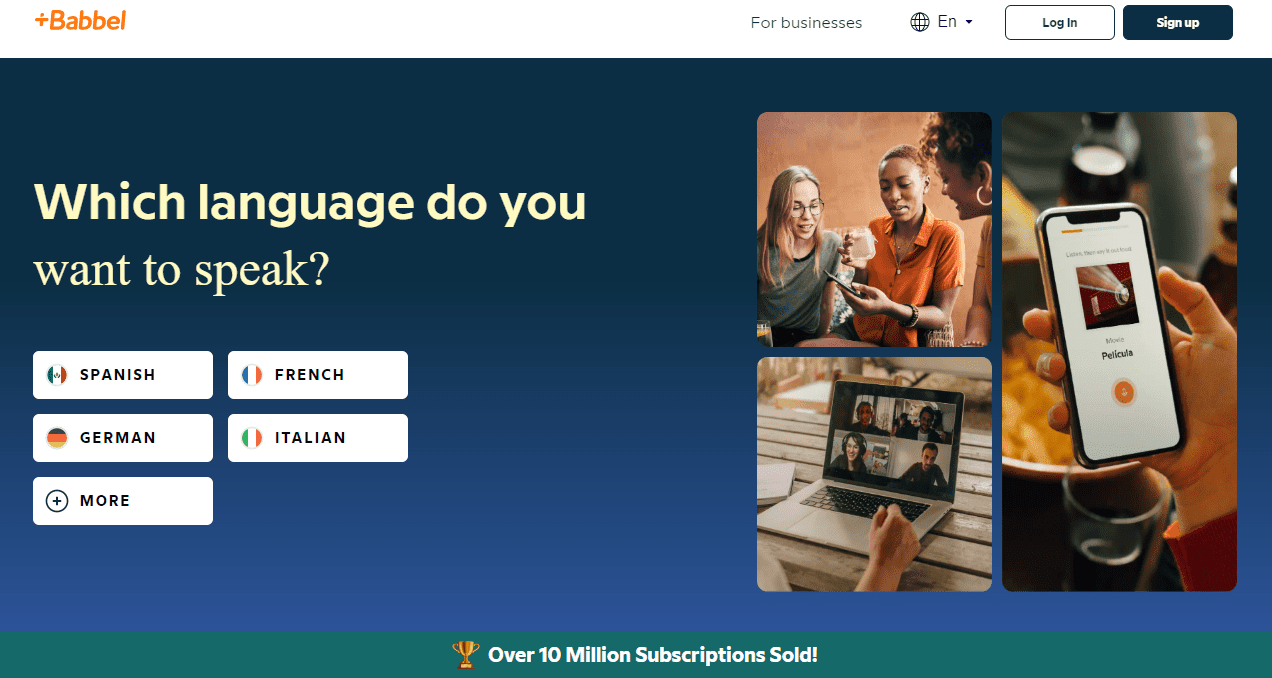 Babbel is a premium-feel language app popular for more than fifteen years. Its Spanish course includes interactive exercises, podcasts, voice recognition, games, and more. GermanPod101 focuses on podcast-like lessons, which might not be for everyone, and Babbel is a tested alternative. Find more information in this full Babbel review.
GermanPod101 vs Lingoda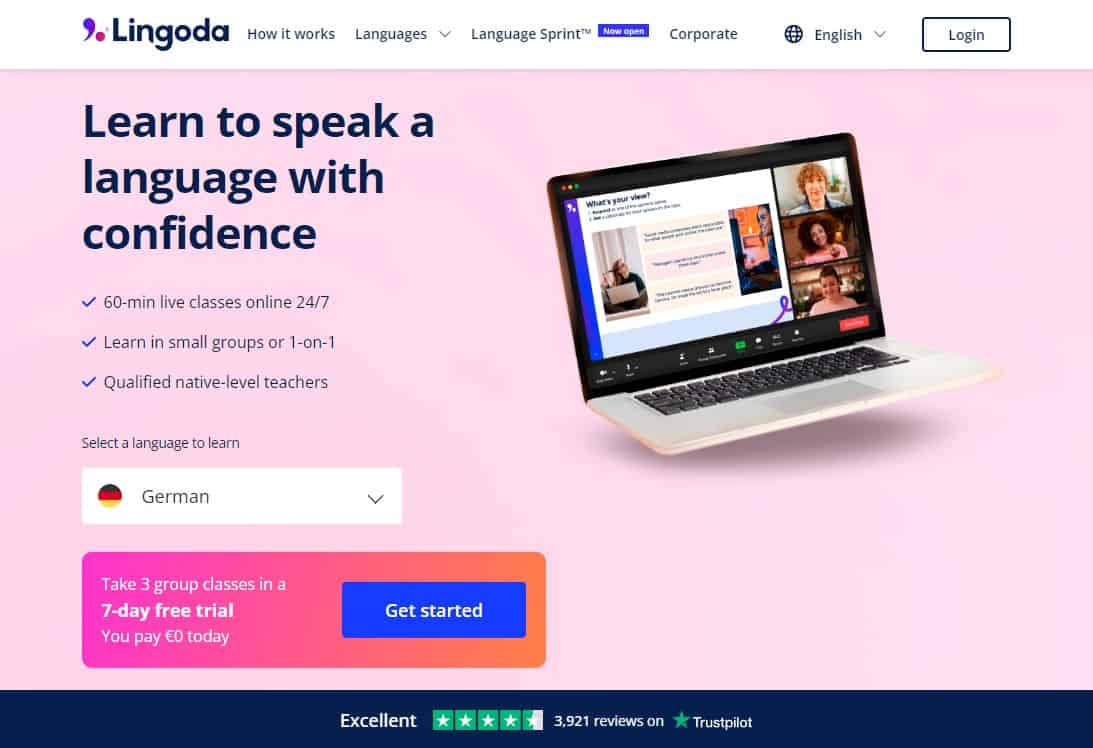 Lingoda provides affordable online group classes available 24/7. The aim is to kick-start your language-learning journey, but we still recommend starting with a self-paced language-learning app. GermanPod101 complements Lingoda in this regard. Learn more about it in our Lingoda review.
What Should Be Upgraded?
Compared to other language learning apps, GermanPod101 lacks a speech recognition system to help in speaking practice. Technological advancements make it a valuable feature in a language app, as you can get instant feedback on whether you're correctly pronouncing vocabulary words.
The other downside is that you have to pay a lot to have full functionality. For example, the My Teacher feature solves the speech practice problem, but you must pay $47 monthly for a premium subscription to access it.
For a German course app that lacks speech recognition, it would be ideal if one could get other useful language-learning features at a smaller fee.
GermanPod101 Costs
GermanPod101 isn't the most fairly priced language learning app in the market, considering it offers one language. However, language learners can still take advantage of the various monthly subscription options. For example, apart from the one-month, it has 3,6,12, and 24-month subscription options. 
GermanPod101 popular subscription is the Premium package, and it offers the following prices.
| | | |
| --- | --- | --- |
| Subscription | Price | Payment |
| 1 Month | $25 | Charged monthly |
| 3 Months | $66 | One charge of  $66 |
| 6 Months | $120 | One charge of  $120 |
| 12 Months | $180 | One charge of  $180 |
| 24 Months | $240 | One charge of  $240 |
| Lifetime | $599.99 | One charge of  $599.99 |
GermanPod101 offers four types of subscriptions which have different pricing for a one-month subscription. 
| | | |
| --- | --- | --- |
| Subscription | Price | Payment |
| Free | Free | No charge |
| Basic | $8 | Charged monthly |
| Premium | $25 | Charged monthly |
| Premium Plus | $47 | Charged monthly |
Free Trial
GermanPod101 has a free trial, giving learners Premium access to a free account for the first seven days if they download the app on their iPhone or Android devices. Afterward, they only get a free lifetime account.
The free lifetime account features include a survival phrases course, access to the first three lessons in every pathway, weekly new lessons, a German word of the day, more than 100 vocabulary lists, and access to a read-along lesson script.
GermanPod101 Coupons and Discounts
The language learning app offers discounts if you opt for the 3,6,12, and 24-month subscriptions. If you opt for these subscriptions, you'll get a subsequent discount for every package of GermanPod101. Students also get a 20% discount on the 12-month subscription plan.
Refund Policy & Customer Support
If GermanPod101 isn't ideal, you can always get your refund back without much hassle. However, the refund is only applicable within 60 days after you have made a subscription. Attempting to recover your money past the 60-day policy will be futile.
The process of requesting a refund is also quick and easy. You can do so by emailing customer service personnel at Innovative Languages. For refunds, they'll get back to you within one business day.
GermanPod101 has a vibrant customer support that seeks to help users with any issues that arise when learning German using the app.
Contacting support is easy. All you have to do is email them. However, you shouldn't expect a fast reply. We found that response time can vary between 1 and 3 business days, probably because of the bulky email requests from other users.
GermanPod101 Pricing Compared to Competition
On one hand, GermanPod101 contains plenty of content and makes learning a perceived complex German language easy. On the other hand, its pricing does not reflect the value for which it offers.
Compared to competitors who may offer more for less pricing, it doesn't compare favorably. For example, while the basic subscription package for GermanPod101 costs $8.00 per month, other apps like uTalk cost $3.99, and MosaLingua costs $4.99 for a one-month one-language subscription.
These apps may be less expensive but offer more features like learning in your native language or other languages than English. Pimsleur may be more expensive for a single language costing $19.95, but it offers speech recognition technology.
The extra money spent in acquiring German language skills in GermanPod101 would be best used in acquiring a language exchange partner. You could also try more traditional language learning programs like FluentU, Drops, Lingodeer, or Memrise.
GermanPod101 Evaluations from Other Customers
Google Play Store – 4.6 (1M+ downloads)

Apple App Store – 4.7 (30.6k Ratings)
Our Verdict
If you consider the effort and time it takes to learn basic German using other applications, GermanPod101 stands supreme. It also provides plenty of audio, video, and note-format content. You have all the content you need to speak and write like a German native.
We also think that its visually appealing content emphasizing German cultural insights helps to engage learners so that German is no longer hard to learn.