With over 100 million students, French is one of the most popular languages. Nowadays, to learn French, you can turn to popular language-learning apps or hire a private tutor. While these can take French learners far some language learning apps don't cover the French language extensively, and hiring a private tutor is expensive.
FrenchPod101 solves this problem. It's a French resource that specifically focuses on teaching this language. However, just because it only teaches French doesn't mean it's the right online resource for you.
In this FrenchPod101 review, we'll cover its features and teaching method to discover if it's the right resource for you to learn French.
A French learning experience with an emphasis on listening comprehension
As the name hints, FrenchPod101 is a French learning platform that teaches through podcast-like audio lessons. It creates a pathway based on the user's proficiency level. The platform includes various teaching materials to improve reading, writing, listening, and speaking skills. With all the features it offers, FrenchPod101 offers an all-inclusive French learning experience.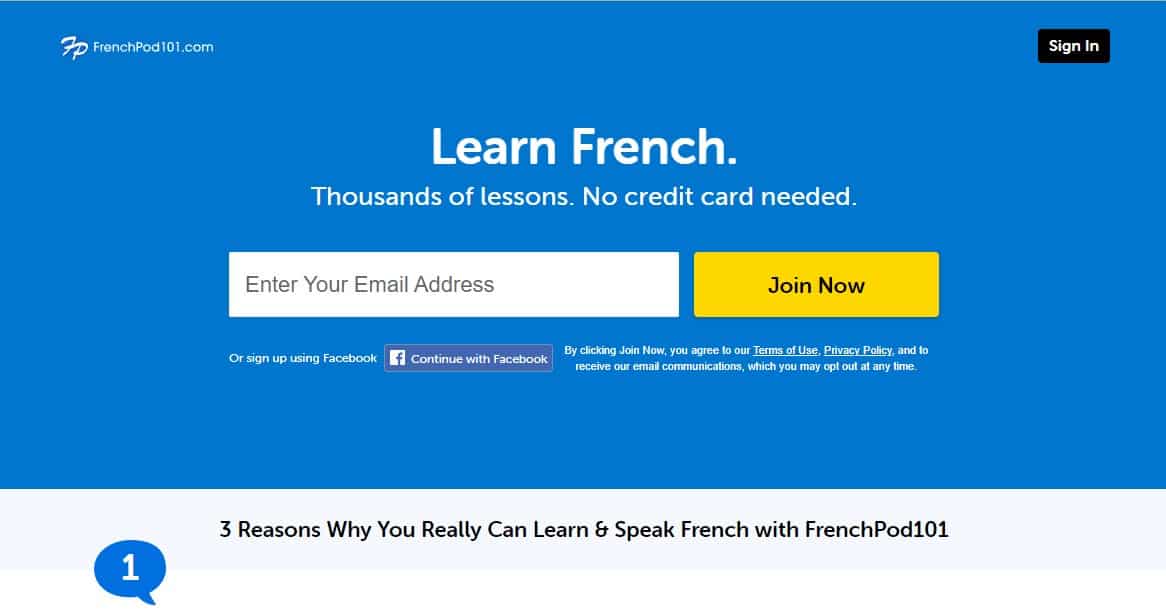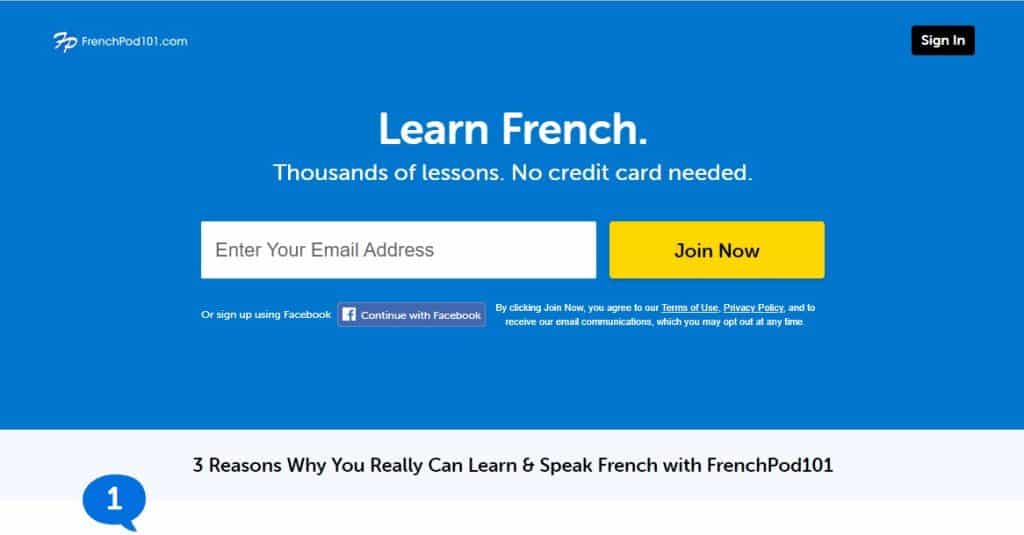 FrenchPod101 Review Summary
⭐ Rating:
8.4

★★★★★

🥇 Available languages:
1
📈 Suits best for:
Novice and Intermediates
🛒 Payment options:
Monthly
💵 Price:
$4 – $552
⌚ Hours of lesson time:
345+
🔄 Refund policy:
60-day money back guarantee
🎁 Free Trial:
✔️
French, Afrikaans, Arabic, Bulgarian, Cantonese, Chinese, Czech, Danish, Dutch, English, Filipino, Finnish, German, Greek, Hebrew, Hindi, Hungarian, Indonesian, Italian, Japanese, Korean, Norwegian, Persian, Polish, Portuguese, Romanian, Russian, Spanish, Swahili, Swedish, Thai, Turkish, Urdu, Vietnamese.
Disclaimer: Lingomee is an independent review site that may benefit from affiliate programs. Buying through our links makes our efforts possible without additional costs to you. Learn more here.
About The FrenchPod101
FrenchPod101 is a part of the LanguagePod series from the creators at Innovative Language. FrenchPod101 specifically focuses on teaching French through audio lessons, videos, interactive quizzes, and more.
You select your proficiency in French, and FrenchPod101 organizes lesson pathways based on your level. You can also take a quick test to see if your chosen proficiency level is correct. Regardless, the podcast lessons in each course cover various subjects that adapt to user progression, from numbers to French food.
Most lessons feature dialogues from native French speakers and review tracks. You first listen to the dialogue, where you can see the transcript with English translations. You can then learn and practice the vocabulary words covered in it with the review track.
You listen to the French dialogue again in the review track, but the host guides you through it. You repeat the French words, guess the translation, and hear the correct answers. These lessons work both ways, so you hear translation from English to French and vice versa to improve listening comprehension.
Along with these, FrenchPod101 has multi-choice interactive quizzes, lesson notes, and transcripts. You can also utilize flashcards and vocabulary lists and use the dictionary. The app also provides feedback on speaking and writing from a French teacher for users with a Premium Plus subscription. We should also mention, that FrenchPod101 is one of the best apps to learn French with podcasts.
FrenchPod101 Review: Key Features
FrenchPod101 has audio lessons with structured lesson pathways from absolute beginner to advanced. The lessons feature native speaker dialogues that familiarize users with French pronunciation, while the flashcards and vocabulary lists help with vocabulary acquisition.
For all audio and video lessons, there are detailed notes that provide in-depth information about what's covered. FrenchPod101 makes learning French convenient with its various features that allow learners to improve at their own pace.
Lesson pathways
The French Pod 101 features audio and video lessons based on user proficiency. The lessons in these pathways show dialogue, key vocabulary, transcripts, and notes. If you want to study a particular word, add it to your vocabulary list or a custom flashcard deck.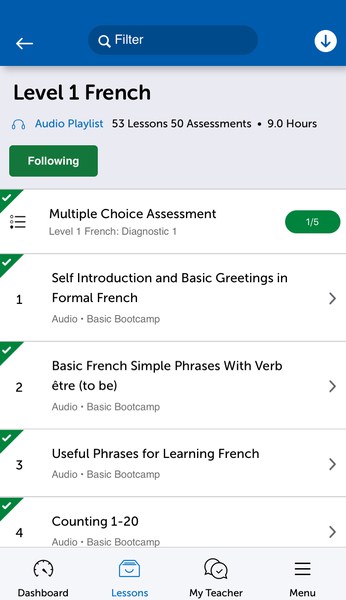 There are tens of lessons and assessments in each pathway, covering different topics, from introducing yourself to negotiating. You can pick a specific topic or go through the entire course. The lesson library for each pathway is structured. You finish a few and take interactive quizzes. But you always have the option to skip ahead.
Native speaker dialogues
Every dialogue in FrenchPod101 lessons features native speakers. These dialogues are presented in a natural way to allow learners to hear how French pronunciation works. The lesson content covers different cultural aspects, but most go over situations you're likely to encounter in real-life situations.
The French dialogues also provide additional information, such as grammatical explanations and translations. In a way, these dialogues are short podcast lessons that turn into bite-size French lessons. You're also asked to take notes, repeat words and phrases, and read detailed explanations from the lesson notes.
Flashcard decks and vocabulary lists
FrenchPod101 has hundreds of flashcard decks and vocabulary lists that cover different topics. You can also create a custom flashcard deck to make your own vocabulary exercises.
Through these flashcard decks, you learn different ways to say thank you, the most common adjectives, and much more with the spaced repetition system. Each flashcard includes translation, example sentences, audio clips, and a recording feature to compare pronunciation.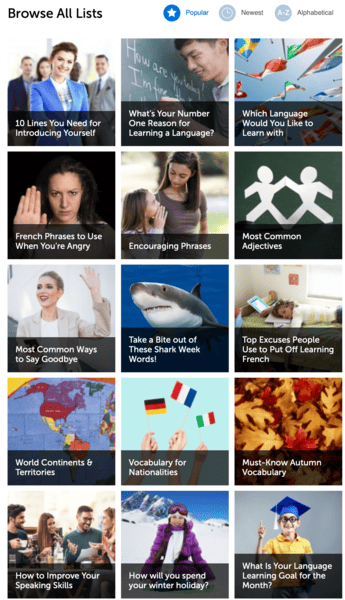 The words from the vocabulary list play the English and French audio with example sentences to help with listening comprehension while giving users enough time to repeat. Whether you pick up key vocabulary through flashcards or vocabulary lists, you can study each word separately with its pronunciation and translation. If you prefer learning with flashcards, than apps like Lingvist, MosaLingua, and Memrise are great choices too.
Lesson notes
While FrenchPod101 teaches French through audio lessons, it also provides lesson notes that help visualize different aspects of the language.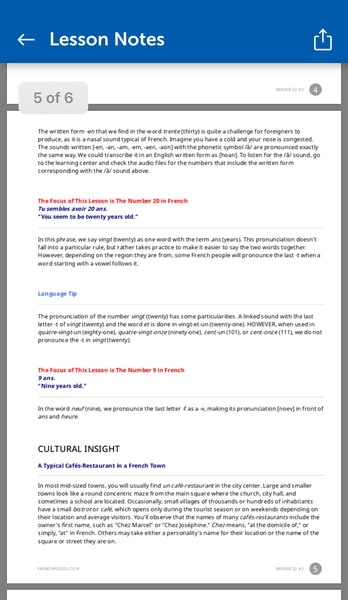 The lesson notes detail what you learned thoroughly. It touches on reading comprehension, sentence structure, French grammar explanations, tips, and French culture. You can download the lesson notes as a PDF file and create an ebook to practice elsewhere.
What we like about the lesson notes is it covers the information in a detailed yet concise manner. Everything feels like created by native teachers and is to the point without unnecessary explanations.
Quality of The Learning Material
FrenchPod101 lessons are short, whether you take an audio lesson or a video lesson. The dialogues are mostly less than a minute, and review tracks go on for a few minutes. The same as audio lessons, the videos are a few minutes long.
While these bite-size lessons are helpful to French learners with limited time, how you learn doesn't change. Considering all lesson pathways can last several hours, going back and forth through countless podcast lessons without any gamification can be demotivating to some. Luckily, you can mark the ones that don't interest you as already completed.
There is more content for beginners than advanced learners. For example, the absolute beginner and beginner pathway takes about 30 hours to finish. In comparison, the upper intermediate and advanced level together take seven hours. Overall, the learning material is disproportionately higher for absolute beginners and intermediate learners than for advanced learners.
Grammar Instruction
From absolute beginner to upper intermediate, pretty much all the FrenchPod101 lessons touch on grammar with detailed notes. The quizzes that you take later also touch upon complex grammar points.
Furthermore, there is a grammar bank where you can search for specific grammar explanations whenever you feel like rehearsing them. All these make FrenchPod101 a good French resource for learning complex grammar points.
Verbal Practice
FrenchPod101 provides lots of listening material. But it doesn't have a feature where users can practice pronunciation. When you're reviewing an audio or video lesson, you're repeating what the native speakers say. While this can help with listening skills, it lacks behind similar platforms in French pronunciation.
FrenchPod101 doesn't specifically target proper pronunciation and doesn't give feedback unless you sign up for the Premium Plus subscription. Every user is left to record his own voice and compare their recordings with the native French speaker from the lesson. If you want practice with native speakers, than Busuu, italki, Preply, and HelloTalk are great alternatives.
Reading
FrenchPod101's audio and video lessons don't cover any reading material. But the platform provides reading practices where you read a paragraph of text and answer a question about it. Depending on your learning path, there are about 10 to 20 reading exercises.
With the detailed lesson notes, FrenchPod101 users get a bit more materials to improve and assess their reading comprehension. However, we found that for reading you will still need some other online resources.
Writing
FrenchPod101 has writing practices but they are only available to users with a Premium subscription. The writing practices are ten to fifteen times long but can be finished in a few minutes if you already are at an advanced level. Premium Plus users get personalized feedback from their French teacher to improve on weak areas.
Vocabulary
Teaching French vocabulary is what FrenchPod101 prioritizes through most of the audio and video lessons. It utilizes various ways to help users memorize new words. The app provides lists of common French words, other word bank, flashcard decks, and a list of key phrases. All these help users build a solid key vocabulary to speak French conversationally. Other apps that does great job at vocabulary building are Glossika and Drops.
Repetitiveness
FrenchPod101 doesn't utilize any gamification, which can feel bland at times. The lesson content that takes a few minutes to finish certainly doesn't help. Sure, the pathway switches the lesson library here and there and asks French learners to take practice quizzes, but even these take a short while to complete.
Overall, we found the FrenchPod101, like most other innovative language products, to be a bit repetitive. If the motivation for learning French is your weak spot, you'll find apps like Mondly, Yabla, or Babbel less repetitive.
Simplicity of Operation
FrenchPod101 keeps everything you need to learn French accessible. Whether you use the browser version or the app, everything you need is one click or tap away. As with all innovative language products, the dashboard houses everything you're learning, including word bank, playlists, and all else you add.
Every French Pod101 audio lesson is in a single place, next to your dashboard. You can filter the lesson library by level, media, and category, such as grammar, French culture, and conversation.
The app and the browser version use bright colors with good contrast that are easy on the eyes. Everything in the app loads almost instantly, but video lessons take a few seconds to begin. You can change text size, enable and disable video subtitles, and change playback settings.
Although the design of the web version feels a bit outdated, combined with other elements the FrenchPod101 is a user-friendly product.
FrenchPod101 Competitors and Alternatives
FrenchPod101 vs Rocket Languages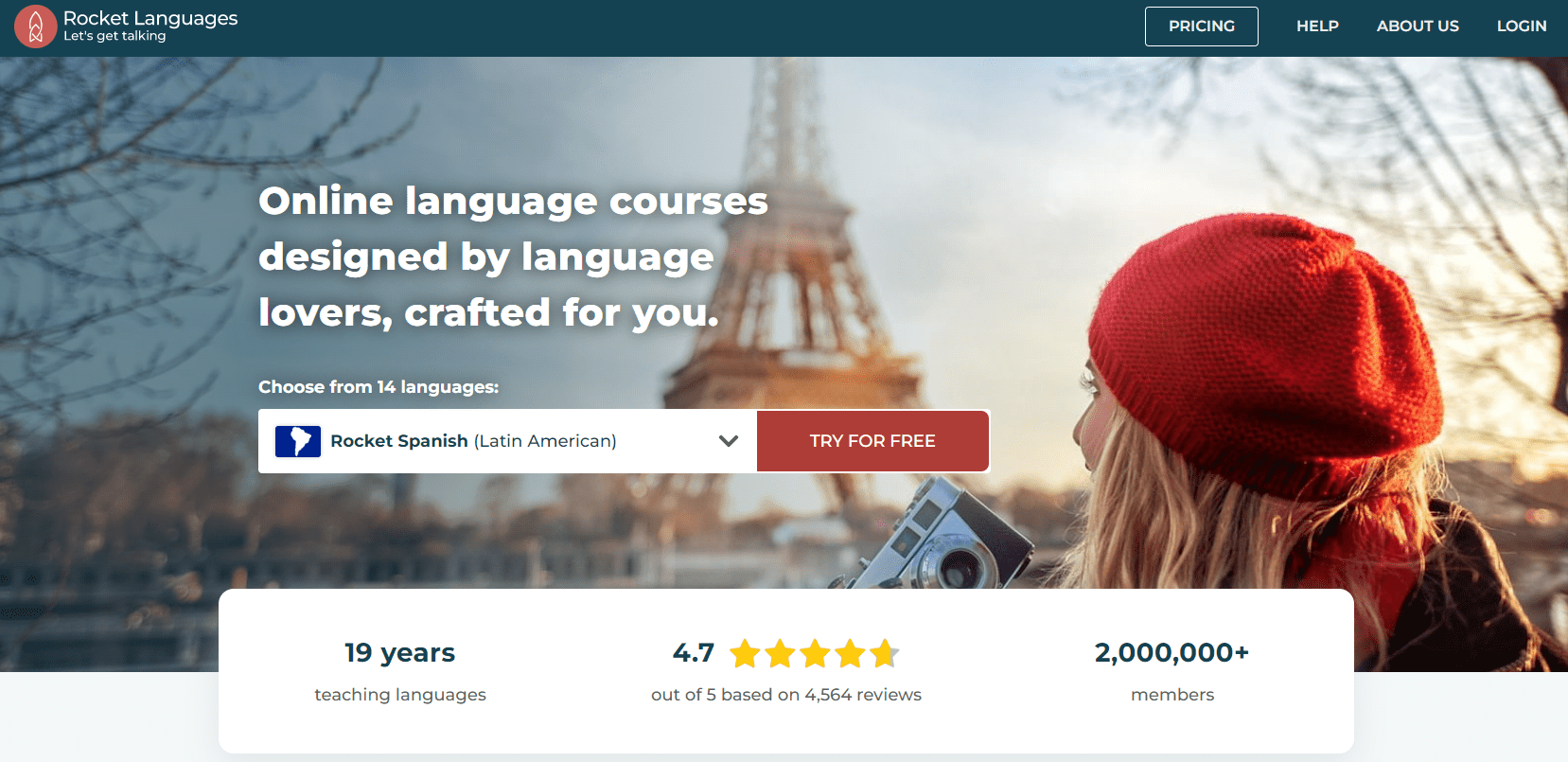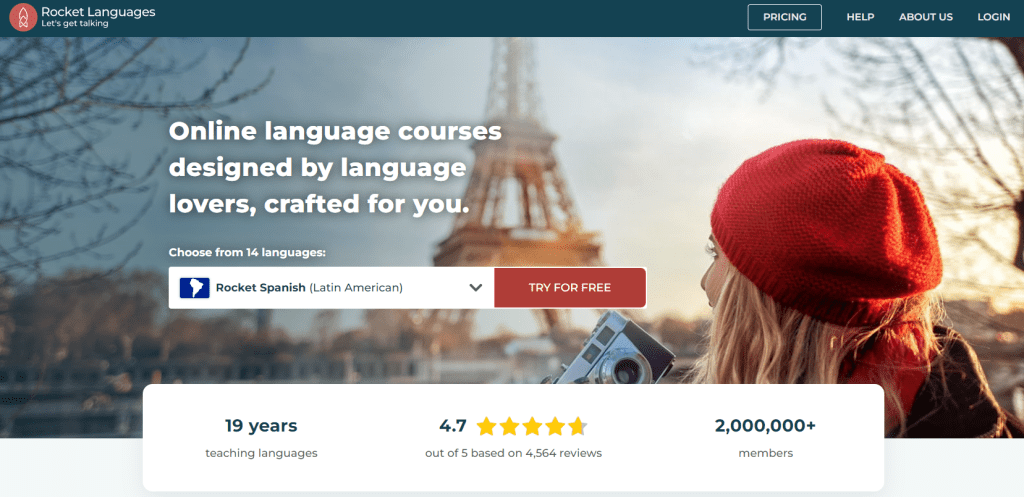 Rocket Languages focuses on interactive audio lessons with cultural insights and grammar resources. FrenchPod101 resembles podcasts a bit more while still packing a range of features for a lower price tag. Still, Rocket Languages has a bit better lesson quality, so it's a good idea to try it out. Learn more in this Rocket Languages review.
FrenchPod101 vs Babbel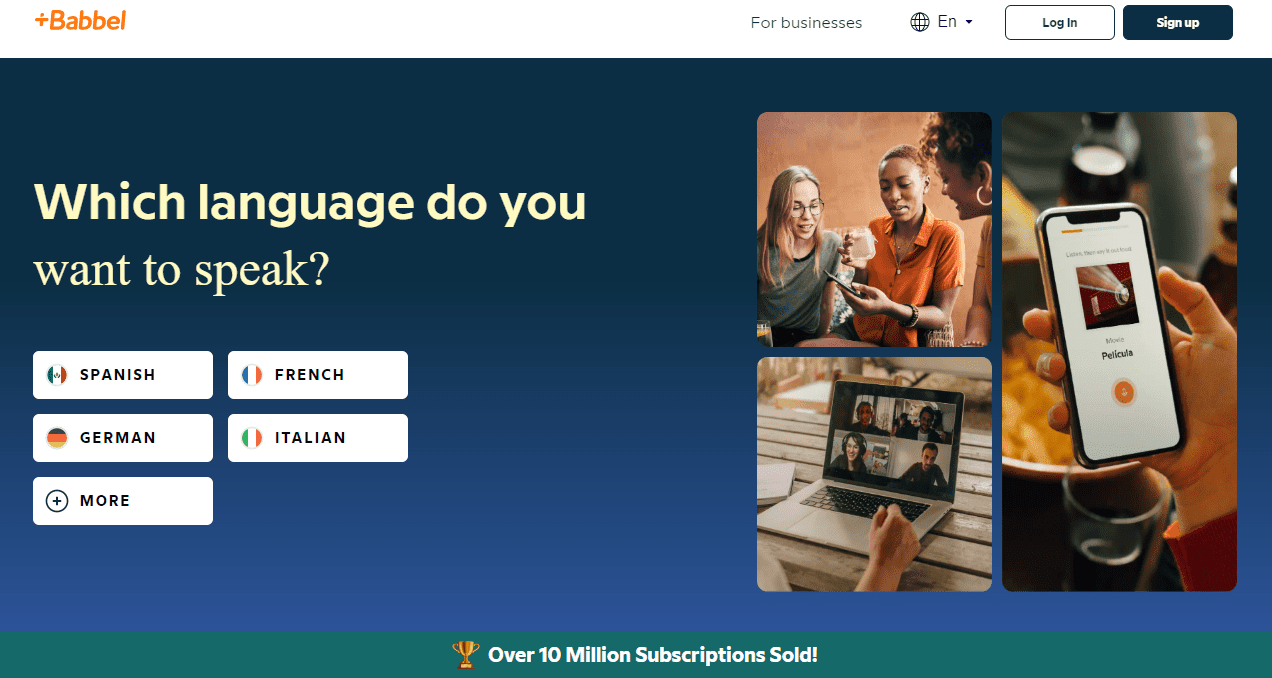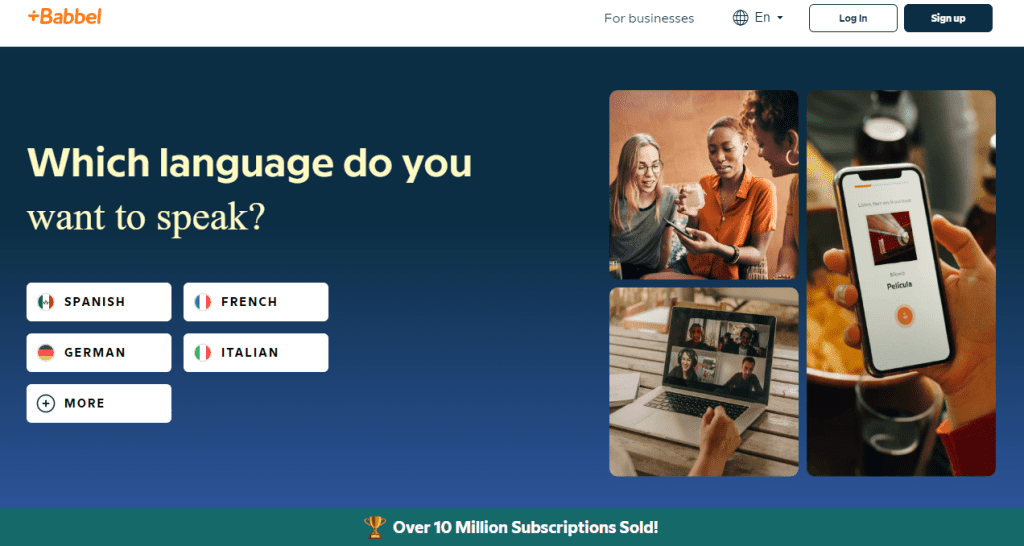 Babbel is a premium-feel language app popular for more than fifteen years. Its French course includes interactive exercises, podcasts, voice recognition, games, and more. FrenchPod101 focuses on podcast-like lessons, which might not be for everyone, and Babbel is a tested alternative. Find more information in our in-depth Babbel review.
FrenchPod101 vs Mondly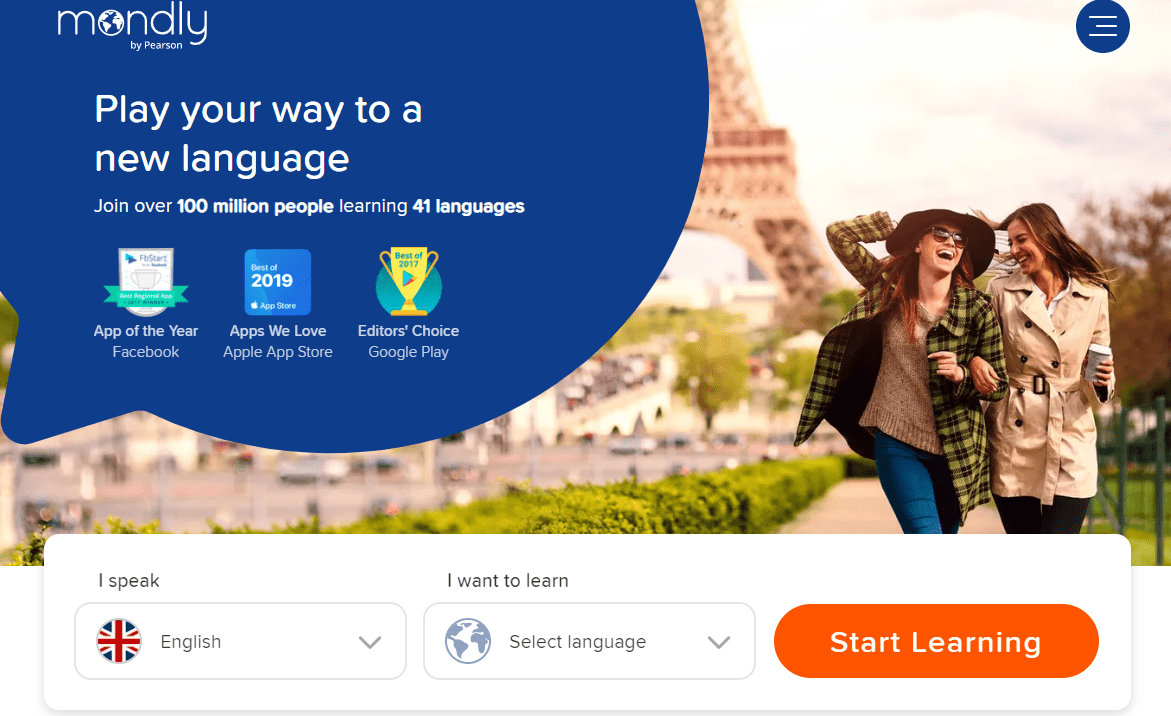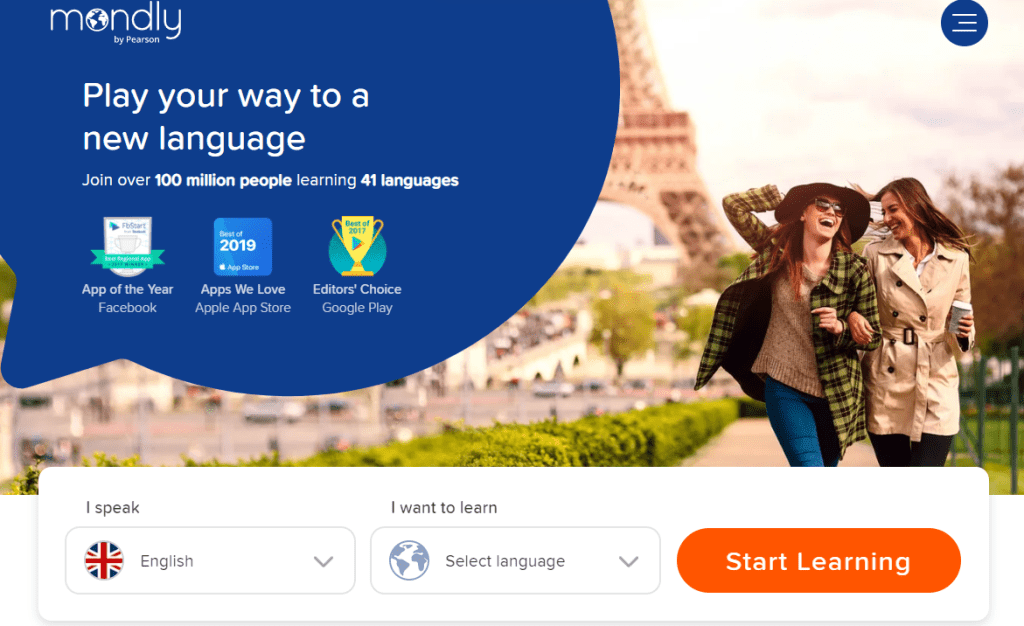 Mondly is perhaps the most innovative language app out there with its virtual and augmented reality games. Not to say that the audio lessons of FrenchPod101 aren't engaging, but Mondly is on another level when motivating students to learn. Learn more about it in our Mondly review.
What Areas Could Be Improved?
While FrenchPod101 covers a variety of topics to build a learning plan, it doesn't categorize its lesson library well. There's a search function to look up content before the lesson begins, but you can't always target French words and phrases relevant to your learning goals.
The interactive exercises are also limited. Even if you pay for the Premium subscription, many of them will be locked. You can access all the interactive features only with the Premium Plus subscription.
Lastly, finding the FrenchPod101 app if you started using the web version is tricky. Nothing will come up when searching the App Store or Play Store for the FrenchPod101 app.
This is because the app is named Innovative language learning, not FrenchPod101. This app features all the languages LanguagePod101 teaches. But if you want to register for learning French, using the web browser is much easier.
FrenchPod101 Prices
When you sign up for FrenchPod101, you will get a free lifetime account. You won't need to pay anything to continue using the app with the free account. The content will be limited, but you can listen to some audio lessons. 
If you want to unlock more content, you can choose one of the following subscriptions: Basic, Premium PLUS, and Premium subscription. FrenchPod101 offers lifetime access for basic and premium. Currently, there's no lifetime access to Premium PLUS.
| | | |
| --- | --- | --- |
| Subscription | Price | Payment |
| Basic 1-month | $8 | Charged monthly |
| Basic 3-months | $21 | Charged quarterly |
| Basic 6-months | $36 | Charge every six months |
| Basic 12-months | $60 | Charged annually |
| Basic 24-months | $96 | Charged every two years |
| Premium 1-month | $25 | Charged monthly |
| Premium 3-months | $66 | Charged quarterly |
| Premium 6-months | $120 | Charge every six months |
| Premium 12-months | $180 | Charged annually |
| Premium 24-months | $240 | Charged every two years |
| Premium PLUS 1-month | $47 | Charged monthly |
| Premium PLUS 3-months | $125 | Charged quarterly |
| Premium PLUS 6-months | $220 | Charge every six months |
| Premium PLUS 12-months | $316 | Charged annually |
| Premium PLUS 24-months | $549 | Charged every two years |
| Basic lifetime | $199 | One Charge of $199 |
| Premium lifetime | $599 | One Charge 599$ |
The basic subscription has all the audio and video lessons but without high quality. The downside to this subscription is it doesn't have any study tools, like spaced repetition, flashcard deck, and voice recording.
The premium subscription includes HD videos and all the study tools. What separates the premium subscription from the premium plus is the connection to native speakers. FrenchPod101 users with a premium plus subscription get personalized feedback and assignments from a French teacher.
Free Trial
FrenchPod101 has a 7-day free trial from the moment you sign up. You don't need to enter your credit card details to experience what the premium subscription offers. After the trial period ends, you only have access to audio lessons through the free account. 
FrenchPod101 Coupons and Discounts
FrenchPod101 occasionally goes on sale for the premium, premium plus, and the basic subscription. Currently, it's 25% off for the basic plan, 30% off for the premium plan, and 35% off for the premium plus plan.
Refund Policy and Customer Support
FrenchPod101 has a 60-day money-back guarantee. You can request a refund for any reason within 60 days of your purchase – a duration not many language learning apps offer. To request a refund, email FrenchPod101.
The only way to contact FrenchPod101 is by email. There isn't a live chat support or a phone number to call. Whether you have a question or emailing to request a refund, the native language support team should get back to you shortly.
There's also a help center that answers commonly asked questions about subscriptions, getting started, account features, and more.
FrenchPod101 Pricing Compared to Competition
The closest alternatives to FrenchPod101 are Pimsleur French, FluentU, Rosetta Stone French, and Rocket French as they all highly focus on listening skills. FrenchPod101 is slightly more expensive than Pimsleur and FluentU.
Since Rocket French doesn't have a subscription, FrenchPod101 is a much more affordable alternative. But once you buy any of the levels Rocket French offers, you keep all the content.
FrenchPod101 is a bit more pricy than the average language-learning app. However, it can be a worthwhile investment if you're only learning French and not after other foreign languages.
FrenchPod101 Ratings from Other Users
Google Play Store – 4.6 (1M+ downloads)
Apple App Store – 4.7 (430K ratings)
Final Words
Our FrenchPod101 review shows that this program covers the French language extensively. You can find lesson notes that give detailed explanations, audio and video lessons that familiarize you with French pronunciation, and content that immerses you in French culture. It's highly effective for its intended purpose to teach you French through audio.